At John To Go, we aim to supply Union County, New Jersey, residents with porta potties that take their comfort, health and safety into account. We're proud to offer our services to numerous cities in the Union County, NJ, area. We're here to provide residents with top-tier porta john rentals near me for various types of events. The cities that we service include Our deluxe porta potty rentals are built to accommodate any type of event, whether it's an outdoor concert or a construction project. To learn more about our rental services or to request a portable toilet rental in Union County, please see below.
The Leading Portable Restroom Company in Union County, New Jersey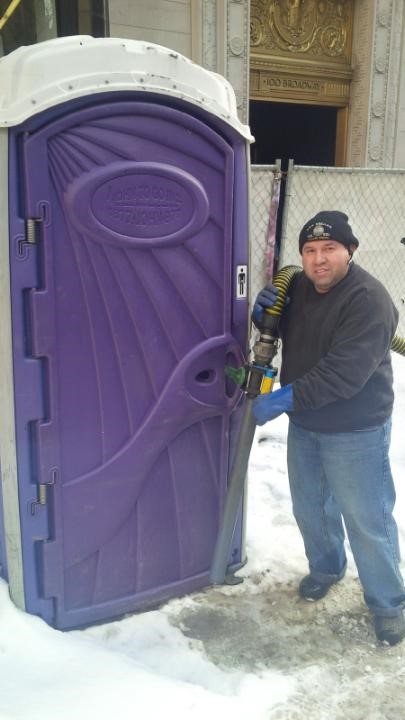 Clean & Well-Supplied Units
We always go the extra mile when preparing porta potty rentals for use. As soon as they're shipped over to you, our nj porta potty units are ready for immediate use. In addition, we fully stock our portable toilets with all the amenities you need. From soap to toilet paper to towelettes, you'll find that your restroom needs are covered. Some of our units even have handrails and sinks. Every last detail is important to us when we set up your portable toilet rental for use. In addition, if you need any special accommodations, such as a mobile restroom with wheelchair access, we'll ensure that your specific needs are met. We haven't succeeded unless every single NJ porta potty rental experience is a positive one!
Helpful & Friendly Professionals at Your Service
No matter what questions or concerns you have regarding your portable toilet rental in Union County, our customer service reps can address them promptly. Our dedicated team consists of the company founder as well as our helpful and experienced business partners. Because our representatives are highly accessible, you'll never have to worry about letting your NJ porta potty rental questions go unanswered. We're always eager to help you out every step of the way when you rent a porta potty near me.
Top-Tier Portable Bathroom Service
At John To Go, we're proud to be the number one choice for porta john rentals near in Union County and beyond. Thanks to our exceptional service and outstanding facilities, our clients have come to rely on us when they need to rent standard porta potties. We also take pride in our friendly, helpful and highly experienced staff members and customer service representatives. You'll quickly discover that requesting a porta potty near Union County is a simple, stress-free task when you choose John To Go.
Our professionalism and dedication to our customers' needs sets John To Go apart from the competition. Whenever you decide you need bathroom rentals near me, you'll be met with a highly skilled team who will thoroughly clean, service and stock your booth according to your specific needs. We even take your financial goals into consideration to ensure that you're staying within your budget.
Easy & Intuitive Process
You can expect the booking process to be as seamless as possible when you need a portable toilet rental in Union County. With experts who are always on call for last-minute requests, John To Go ensures that no customer is left behind. Our professionals also work quickly so that they can provide you with your porta john rental near me when and where you need it. As a result, you can navigate the entire rental process free of stress or worry, landing up with a Nj porta potty rental experience that is seamless and smooth.
Competitive Costs for Each NJ Porta Potty Rental
John To Go offers some of the most competitive porta potty rental costs near me. If you're worried about fitting a porta potty near Union County into your budget, there's no need to stress anymore. Our costs match your bottom line, helping to assure you that you'll be able to meet your financial goals. In addition, our deluxe, well-maintained units ensure that you don't have to sacrifice quality for a lower price.
Multipurpose Units
When you need to rent a porta potty near me, you can depend on our units for a wide range of purposes. Our portable restrooms can be used for construction and renovation projects or roadwork. Many of our customers have found that adding portable bathrooms to their job sites helps reduce stress among employees. This makes a significant difference in productivity levels.
You can also request a porta potty rental near me for special events. It's important to ensure that your attendees are comfortable throughout the event, whether you're setting up a live performance or an outdoor wedding. We give customers the option of renting a portable booth or trailer, depending on their chosen venue and the number of guests.
With John To Go, you can even opt to reserve a portable toilet rental in Union County on a long-term basis. For however long you need a portable toilet john, you can ensure that it serves its purpose effectively. Our highly skilled team will also be there to thoroughly clean and sanitize the booth or trailer and keep it fully stocked for as long as necessary.
Updated Luxury Units
When you need a porta potty near Union County, you can be confident that our luxury units will surpass your expectations. We work diligently to maintain units that smell, look and feel just as fresh as they really are. When your guests take a bathroom break, they won't be able to tell whether they've just stepped into a porta potty or a five-star restaurant bathroom. If you want to see the unmistakable quality of our portable bathroom rental services, contact us for more details and images.
CHOOSE FROM OUR EXTENSIVE SELECTION OF PORTA POTTY RENTALS
Portable Toilet Rental in Union County FAQs
How do you keep a porta potty from smelling?
At John To Go, we take numerous precautions to keep your portable toilet rental in Union County smelling fresh at all times. However, there are a few steps you can take yourself to keep unpleasant scents at bay. When you rent a porta potty near me, be sure to regularly open the door of the unit. This helps prevent unwanted odors from becoming trapped inside. Another helpful strategy is to spray air freshener inside the unit to keep it smelling fresh and clean.
Overall, sanitizing your restroom trailer is essential to minimizing exposure to viruses and bacteria. We're serious about properly sanitizing our port o potties to ensure optimal comfort and safety.
How often does a porta potty need to be emptied?
To keep your portable restroom near me smelling fresh and clean, it's crucial to empty it out on a regular basis. A John To Go expert will stop by your booth or trailer at least once a week to check on the level of toilet water and ensure that there are no problems with the portable toilet. When you request a fancy porta potty near me, you can also count on us to empty the porta john to ensure that it's properly sanitized for your guests.
What is the average cost of a porta potty?
If you're doing research on porta potty rental prices near me, it's important to know how much you can expect to pay. The average cost to rent a porta potty in Union County for a month is about $160 to $500. However, this price varies depending on the duration of your event, the number of guests and other relevant factors. If you need a better idea of the approximate cost, you can use our Event Calculator or Construction Calculator to determine how many units you need.
How do you dispose of waste from portable toilets?
To properly dispose of waste from a portable toilet rental in Union County, our experts attach a large vacuum to the unit once it fills up. The vacuum then sucks out all the waste and transfers it to a sealed container. Once the container is transported to a wastewater treatment plant, it's ready to be safely disposed.

(305) 722-5149
AREAS WE SERVICE IN UNION COUNTY, NJ:
Berkeley Heights
Clark
Cranford
Elizabeth
Fanwood
Garwood
Hillside
Kenilworth
Linden
Mountainside
New Providence
Plainfield
Rahway
Roselle
Roselle Park
Scotch Plains
Springfield
Summit
Union Township
Westfield
Winfield
HEAR FROM OUR CUSTOMERS:
Levana.
Special Events, August 13, 2018
Good customer service & affordable price. I recommend this company for any event.
tov enterprises
Special Events, August 09, 2018
we have a super good experience with the service you provide, very professional and courteous. Thank you
Patria Colon
Special Events, August 09, 2018
Excellent experience. Very reasonably priced! Great customer service. Highly encourage.
Porta Potty Rentals Near You

Find out where to rent portable toilets