JTG Foam Sanitizer Stand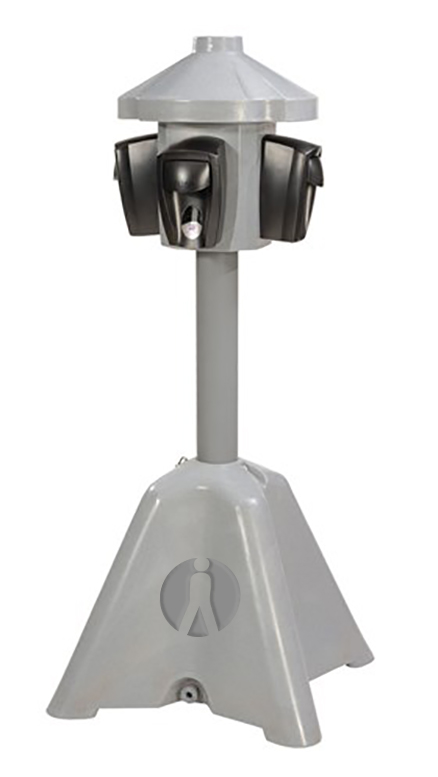 Please select...
Rental Duration Less Than 5 Days - $99 Flat Rate
Rental Duration 1 to 3 months - $99 Per Month
Rental Duration 3 Months and Up - $85 Per Month
PRODUCT INFO
Features
No soap or water needed to protect from germs and bacteria
Four hand dispensers perfect for high traffic sites
Provides enough to sanitize over 5,300 individuals
Provides enough to sanitize over 5,300 individuals
Foam kills 99% of dangerous germs
No waste to discard
Hand sanitizer in all units
Seal canisters to protect from contamination
Durable one-piece construction
Wide weather roof
Hand sanitizer in all units
Unique compact design
Product Description
At John To Go we realize that portable sinks are not always an option for every construction job site or special event, which is why we are pleased to present the SaniStand as a sanitizer alternative.
Here's the most convenient way yet to keep hands clean... even when water is not available! The SaniStand with Alcohol-Free Antiseptic Foam kills 99% of germs on hands, including E. coli and salmonella.
This 60" tall unbreakable polyethylene stand holds four (4) dispensers that are just 43" off the ground with each dispenser filled with 800 ml of disinfecting foam. SaniStand system is perfect for large job sites, events or high traffic public locations, offering peace of mind you are promoting healthy hand sanitation. Great for playgrounds, schools, festivals, outdoor food vendors and construction sites.
Specs
28" x 28" Height : 66""
Weight Empty : 31 lbs