Hosting Your Own Baby Shower Made Easy
While pregnancy is certainly not easy, there are things you can look forward to as you await your newest family member. There's an exciting flurry of events and activities during those important nine months: ultrasounds, getting the nursery ready, buying baby clothes, perhaps going away on a babymoon, and a baby shower.
Baby showers are great opportunities to anticipate and welcome new life. Mothers-to-be can receive warm support from their network of friends and family, exchange tips with other moms, and just have fun!
Whether it's your first time throwing a baby shower or you just need some inspiration, this article will highlight everything you need to know. It will touch on several aspects that are relevant for hosting a baby shower from who should host it, what you should consider, why you might want to host one, and more.
Let's get started!
What Is a Baby Shower?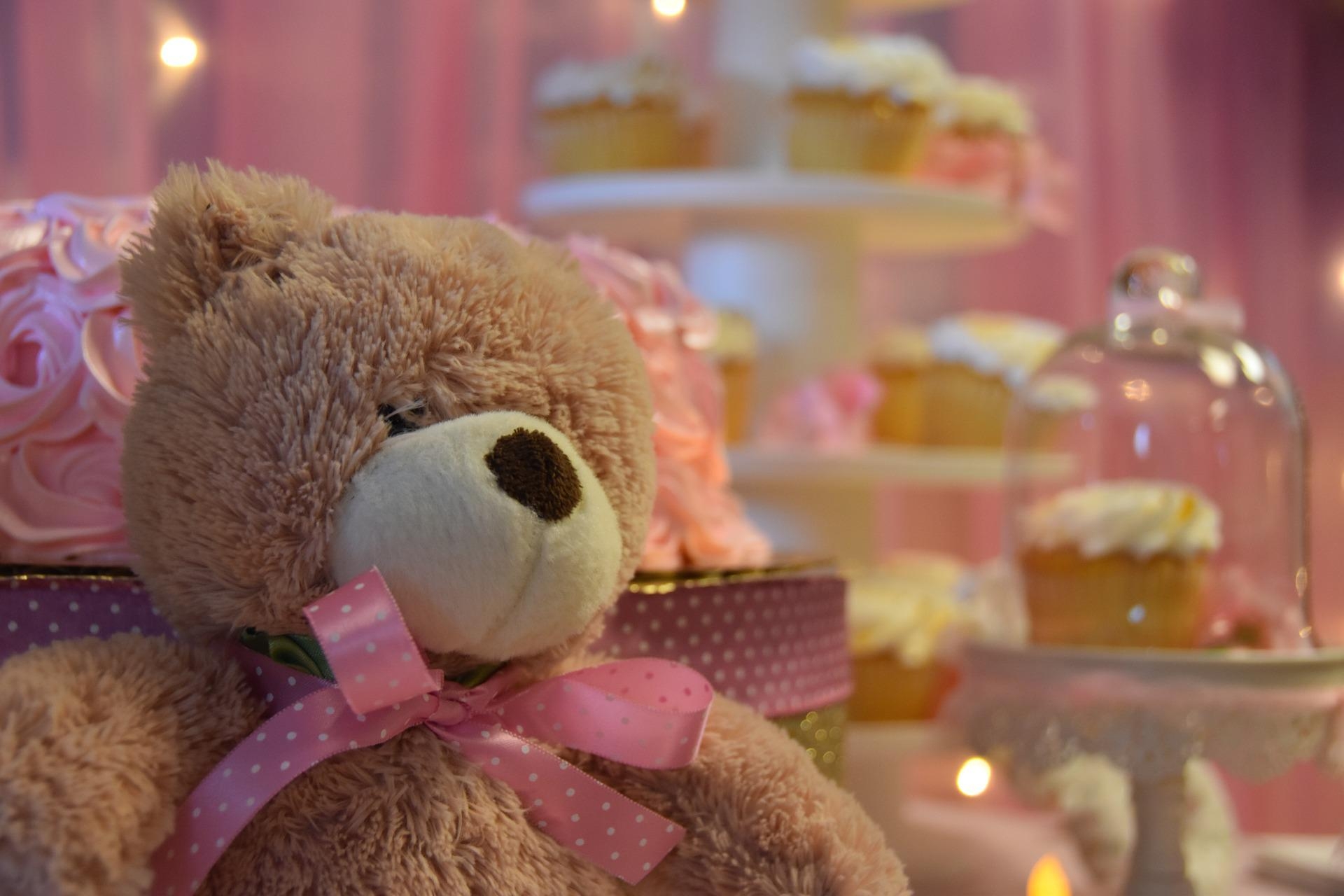 A baby shower event is traditionally held to "shower" gifts on the expectant mom. Gifts usually comprise items she will need when the baby arrives such as diapers, feeding bottles, and baby clothes. Over the years, the baby shower has evolved from a simple get-together to full-on parties and mega events with themes, professional baby shower planners, fancy cakes, dessert tables, and much more. Whatever type of baby shower you decide to host, at the end of the day, it's all about celebrating the mom-to-be and the anticipated arrival of a new bundle of joy.
Can I Host My Own Baby Shower?
Girl, it's your day. You can do whatever you want!
Traditionally, baby shower events are hosted by a family member or a close friend of the mother-to-be. But many parents-to-be are moving away from traditional practices, so it's perfectly fine if you want to host (or co-host) your own baby shower.
Sometimes, co-workers do the honors of throwing a baby shower. Whoever is hosting, he or she takes charge of everything from the invites and the guest list, to the venue, the food, and the party games. The expectant mother is expected to put up her feet, relax, and enjoy being pampered and showered with gifts.
However, there are also great reasons for hosting your own baby shower: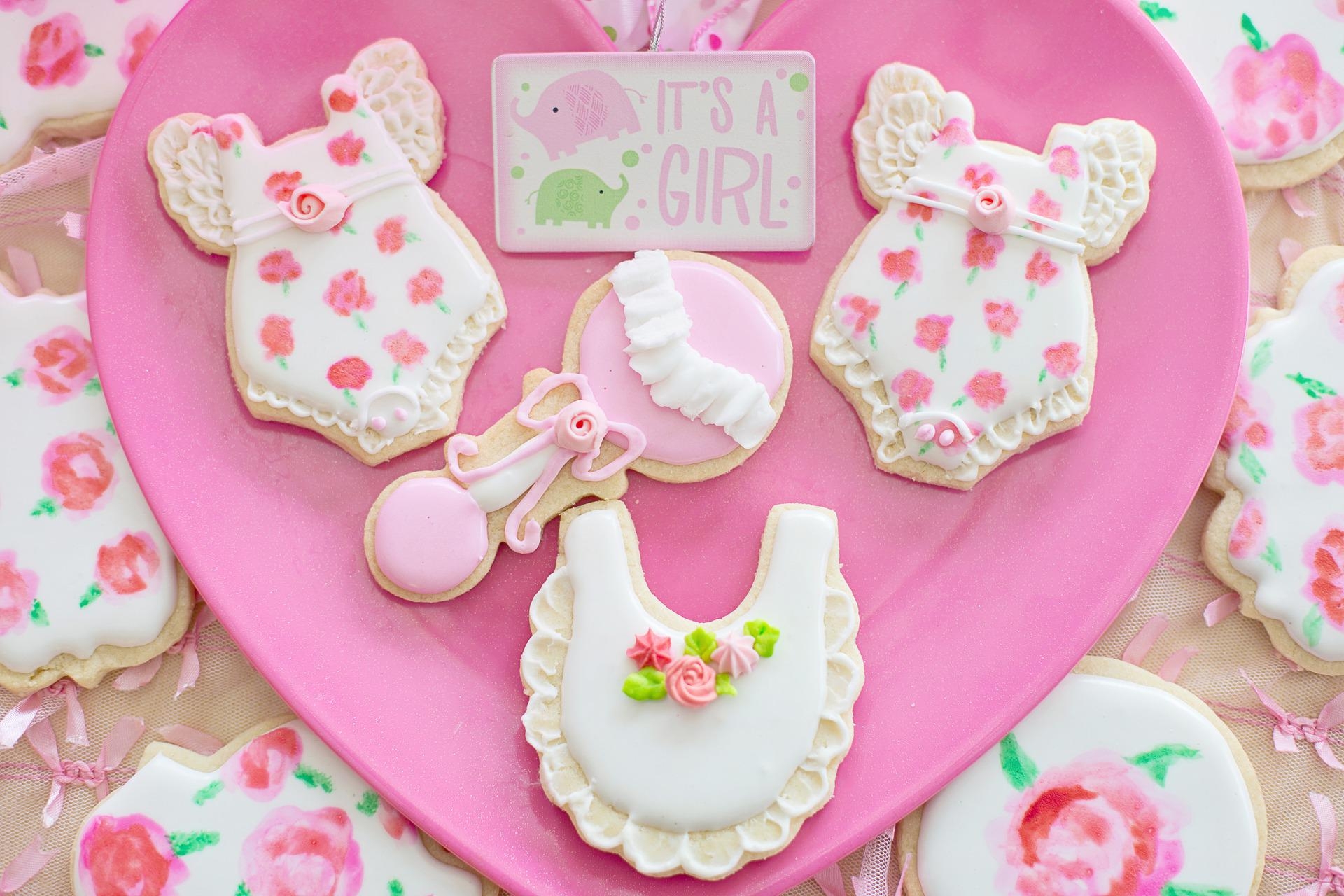 You don't want your close friends or family shouldering the cost of the baby shower.

Your family or close friends don't live close enough (especially if you moved to a new city/country).

Baby showers are not part of your culture (but you don't want to miss out on something fun).

You prefer to do all the planning to ensure that your event turns out exactly how you want it.
Whatever your reason, hosting your own baby shower is more than ok, and we have the best tips for doing it easily and stress-free!
ABC's of Hosting Your Own Baby Shower
Before you begin thinking about hosting your own baby shower, remember a few simple yet essential things:
Don't exhaust yourself by taking on too much.

Your family or close friends don't live close enough (especially if you moved to a new city/country).

Simple but fun is ok.

It's all about sharing quality time with family and friends so do what makes you happy.
Decide on a Date and Time
The baby shower is usually held when a woman is still comfortable and active — usually around the 7-month mark. Consult close family and friends at least a month before your preferred time frame so you can find out which dates work for them.
Wondering what time a baby shower event should be? Curious how long are baby showers typically for? There are no set rules; it all depends on what's comfortable and convenient for you, as well as the theme and venue you prefer.
Decide on a Venue and Theme
Where to have a baby shower is your next decision. Choose a venue that suits your theme and budget.
Hosting a baby shower outdoors is a popular choice as many expectant mothers would rather enjoy time outside before the baby arrives. An outdoor venue is also easier on the pocket compared to a function room in a hotel.
Popular outdoor venues include backyards, farms, public parks (perfect for guests with children), beaches, and picnic areas. Great outdoor themes that will work are afternoon tea parties, Mediterranean, barbeques, and nautical motifs.
As the host, you'll also want to ensure your guests' comfort and that means giving them a convenient way to freshen up and relieve themselves. John to Go is a great choice for its wide range of portable toilets for events, reliability, and the excellent condition of its mobile facilities.
If it's winter and you'd rather be indoors, you can use a hotel banquet hall or even your own living room. Themes could be the wild wild west or spa parties. While themes aren't necessary, they can make your baby shower event more fun.
Send Out Invites on Time
When to send out baby shower invites? Send out invitations at least three weeks before the baby shower event. While a phone call or email is sufficient, you may want to send out beautiful formal invitations by mail or email.
Plan the Food
When hosting your own baby shower, the cardinal rule is to not tire yourself out. So, keep things simple. Finger food and hors d'oeuvres are a great idea. Think mini pizzas, cheese on crackers, fruit and vegetable sticks with dips, tarts, and such.
A potluck is also a brilliant way to have a variety of food without too much effort. You can also have the men cook for you at an outdoor barbeque. Another idea is to plan a theme around a baby shower table. Raid your local bakery for different treats. Here are some great baby shower dessert table ideas.
If your budget allows, get a caterer.
Plan the Decor
The internet is bursting with DIY baby shower decor ideas, but when hosting your own baby shower, you don't have to go overboard. Fresh flowers or pastel balloons are simple yet elegant decor ideas that require minimal effort.
Baby shower banners are also easily available. My favorite idea is to string up a bunch of baby onesies. Super adorable!
If you have a particular theme in mind, plan your decor around it. For example, cowboy hats for a western theme, tall vases of flowers for an afternoon tea party, and so on.
You can also choose to decorate in one color like an all-white event, or a pink and white combo. These decor ideas are useful if you're planning on a gender reveal during your baby shower event.
Register for Gifts
While many consider it tacky to ask for gifts, it's actually a practical and sensible thing to do. Your loved ones can give you things you really need instead of wasting money on items you don't need or want.
If you decide to register for gifts, here's some baby registry etiquette to follow:
Leave the extremely expensive stuff off the list unless your family and friends are ok with buying a group gift.

Think of your guest's convenience by choosing a wide variety of items at fair prices. Ideally, the store you choose should also have a physical and online outlet.
Common gifts you can include in your registry include diapering and playtime gear, baby clothes, nursery essentials, and toys. If this isn't your first pregnancy and you already have baby gear basics, you can ask for cash gifts instead.
Plan Your Entertainment
What's a party without some fun? A typical baby shower program will include fun games that everyone, including the mother-to-be, can participate in.
Great baby shower games include guessing the size of the baby bump, guessing the baby food, diaper the teddy, and other creative activities you can find here.
Opening the gifts will be a major part of your event, so include this in your baby shower itinerary..
Plan Party Favors
Party favors are small thank-you gifts for guests. They don't have to be expensive. Plan on giving something your guests can use.
Potted plants, DIY kits, self-care items, and food are some of the best options. Adding a personal note that thanks them for being there for you during this special time will help them feel appreciated.
Finally, Enjoy Your Day
Hosting your own baby shower doesn't mean you have to be on your toes every minute. It's about celebrating you and a new life so take the time to sit back and enjoy it all.
In fact, why not appoint a second-in-command? Rope in your best friend or partner to help you with your baby shower event. (Trust me no one refuses or argues with a pregnant woman!) This way, you get to host your own baby shower with minimal stress.
Making Baby Showers More Hygienic and Comfortable: John To Go Portable Bathrooms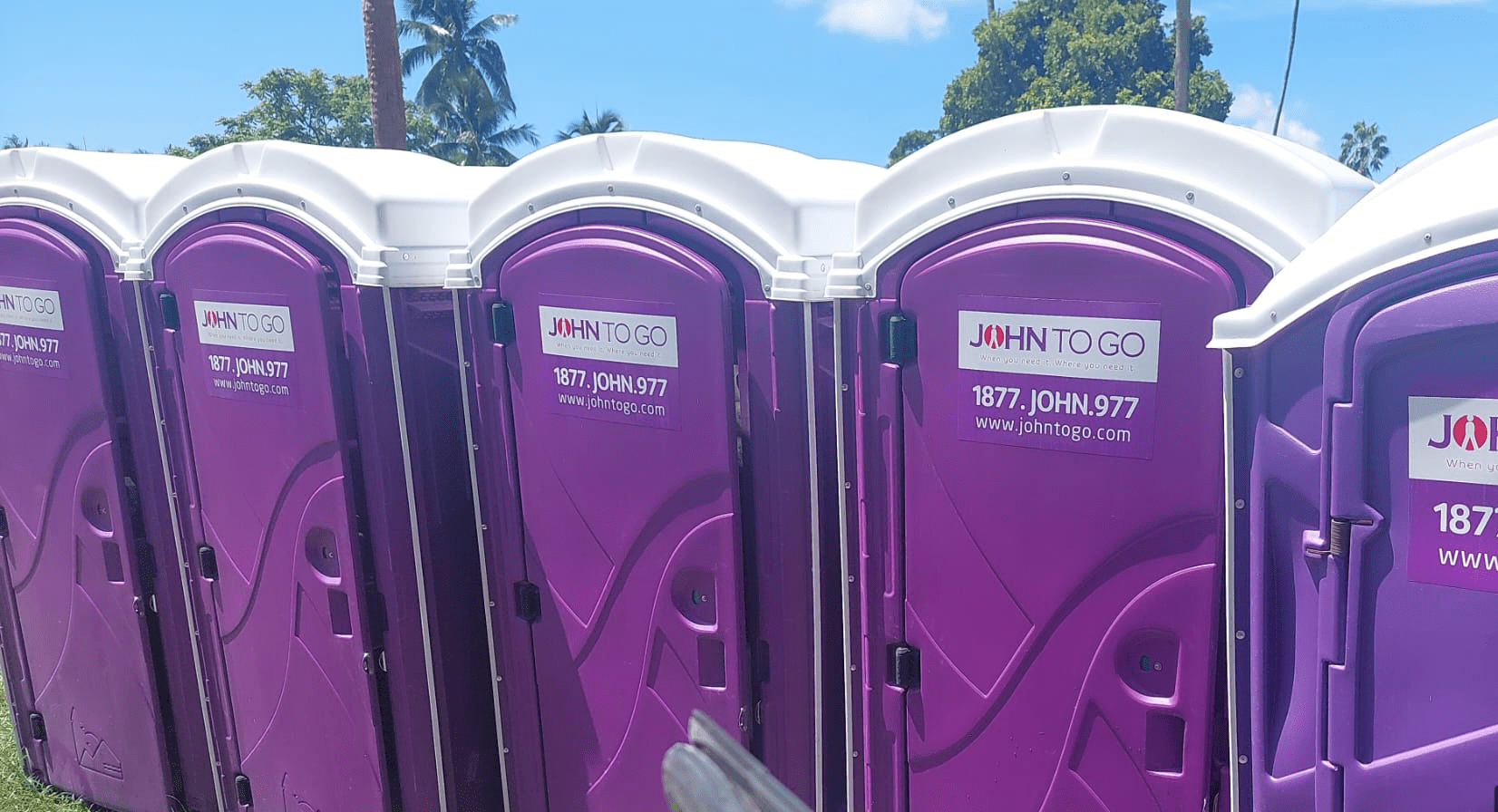 John To Go has been making all types of events, including baby showers, more hygienic and comfortable since 2004. Our wide array of event portable toilet rental units are suited for different needs and event sizes.
Whether you're planning a baby shower on a low budget, a backyard baby shower setup, or an elaborate traditional baby shower, you'll find a variety of portable toilets for events in our catalog of porta potties.
Convenient, Clean, and Well-maintained: JTG Premium Event Unit
For a baby shower celebration with a tight budget, consider the JTG Premium Event Unit. More comfortable than your standard mobile restroom, it has all the basics, including a toilet, nonsplash urinal, and hand sanitizer.
For a Cut Above the Rest: JTG Ambassador Flush Deluxe
If you'd like to treat your guests to a more premium experience, take a look at the JTG Ambassador Flush Deluxe. In addition to the basic amenities, it also has a 22-gallon fresh water sink, a vanity area with mirror and shelf, a paper towel dispenser, and more.
Whether you're hosting your own baby shower or a friend's baby shower, you can count on John To Go to deliver quality, clean, and well-maintained toilet facilities when and where you need them. Just tell us your baby shower time of day and your baby shower program flow so we can provide a seamless experience that blends with your baby shower event.
Explore other models, learn more about our services, and check out the features of our mobile restrooms by visiting the John To Go website.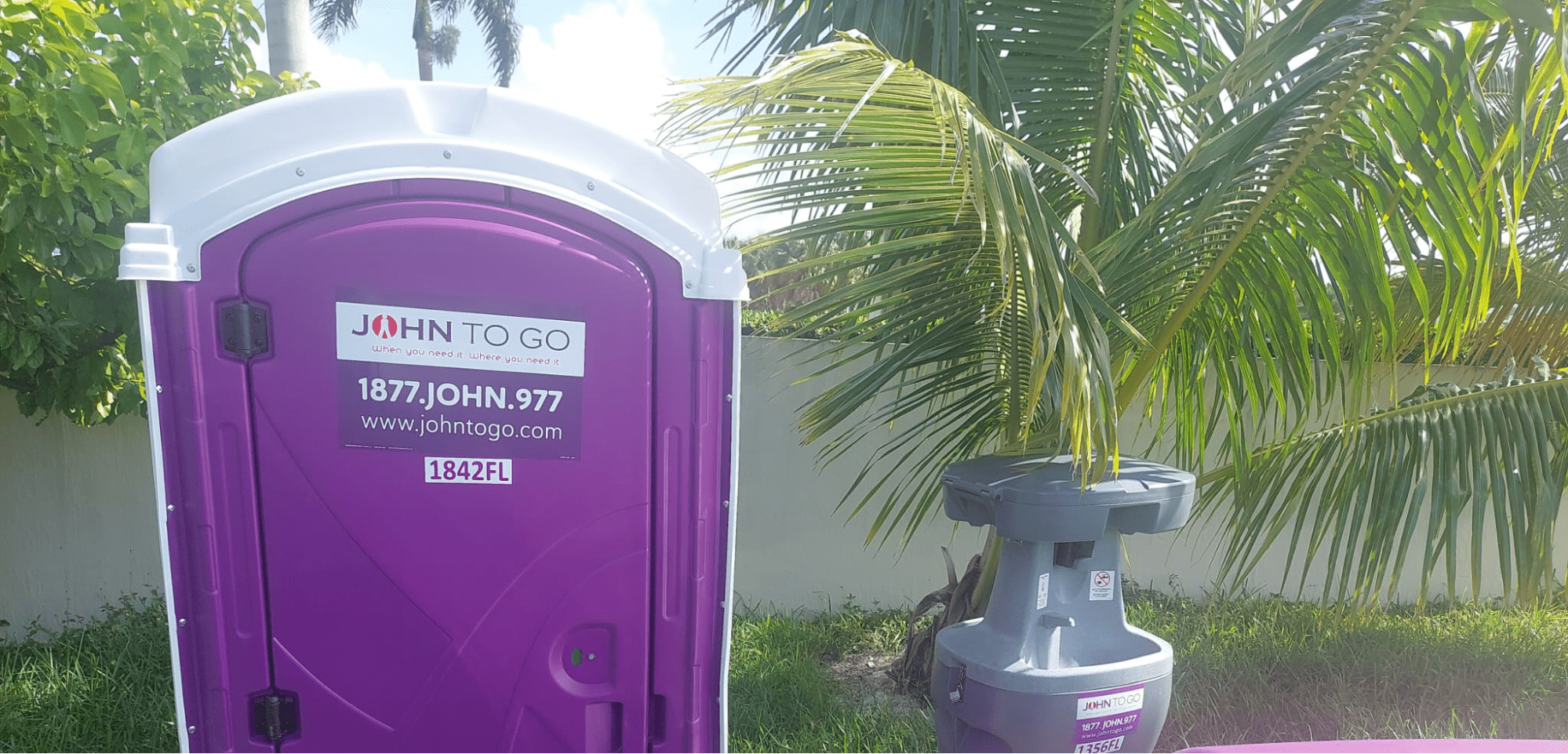 FAQs About Hosting Your Own Baby Shower
Why host a baby shower at all?
You can host a baby shower to celebrate you, your baby, and the journey you're about to embark on. Baby showers are also a great way to get together with friends and family and get their support.
Where can I hold a baby shower?
Some popular venues for baby showers are backyards, beaches, picnic areas, playgrounds, hotel ballrooms, and gardens. It all depends on your theme, the weather and what you want.
How do I arrange bathroom accommodations for an outdoor baby shower?
John To Go leases event portable toilet rental units and has a wide range of models to suit the size and style of your event. If you want your guests to feel like royalty at your baby shower event, consider their luxury porta potty options such as the JTG Ambassador Flush Deluxe or luxury restroom trailers.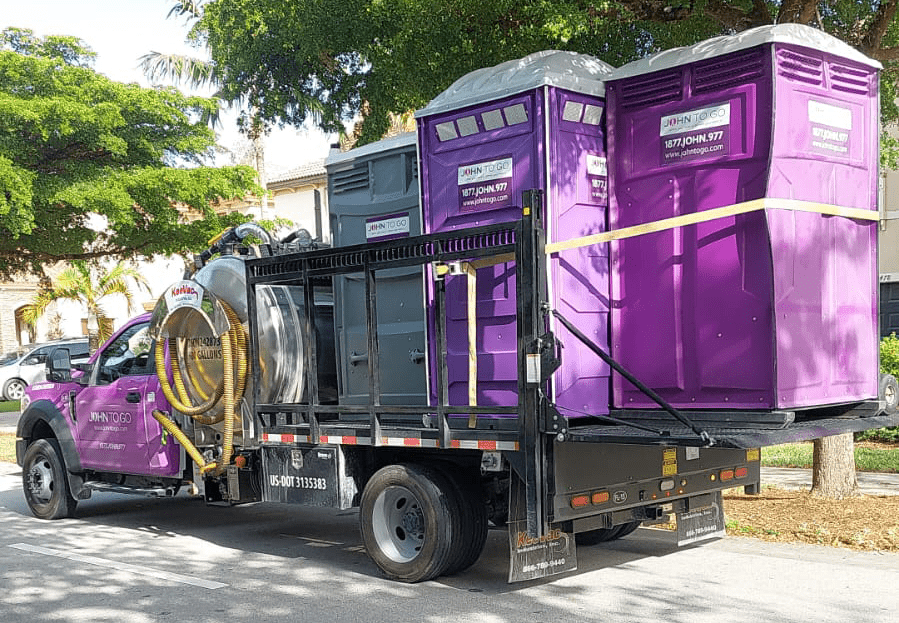 Porta Potties Near Me
When you're researching "porta potties near me," John To Go stands out as the go-to solution for all your portable restroom requirements. We understand that the need for a clean and reliable portable toilet service extends beyond just providing the unit itself.
That's why we focus on offering a comprehensive service package that takes care of all your needs, from the moment you first contact us to the time we complete the pickup. Our diverse range of portable toilet options ensures that we have something to suit every need and budget. With John To Go, you're not just renting a portable restroom—you're investing in a hassle-free experience that covers all the bases.