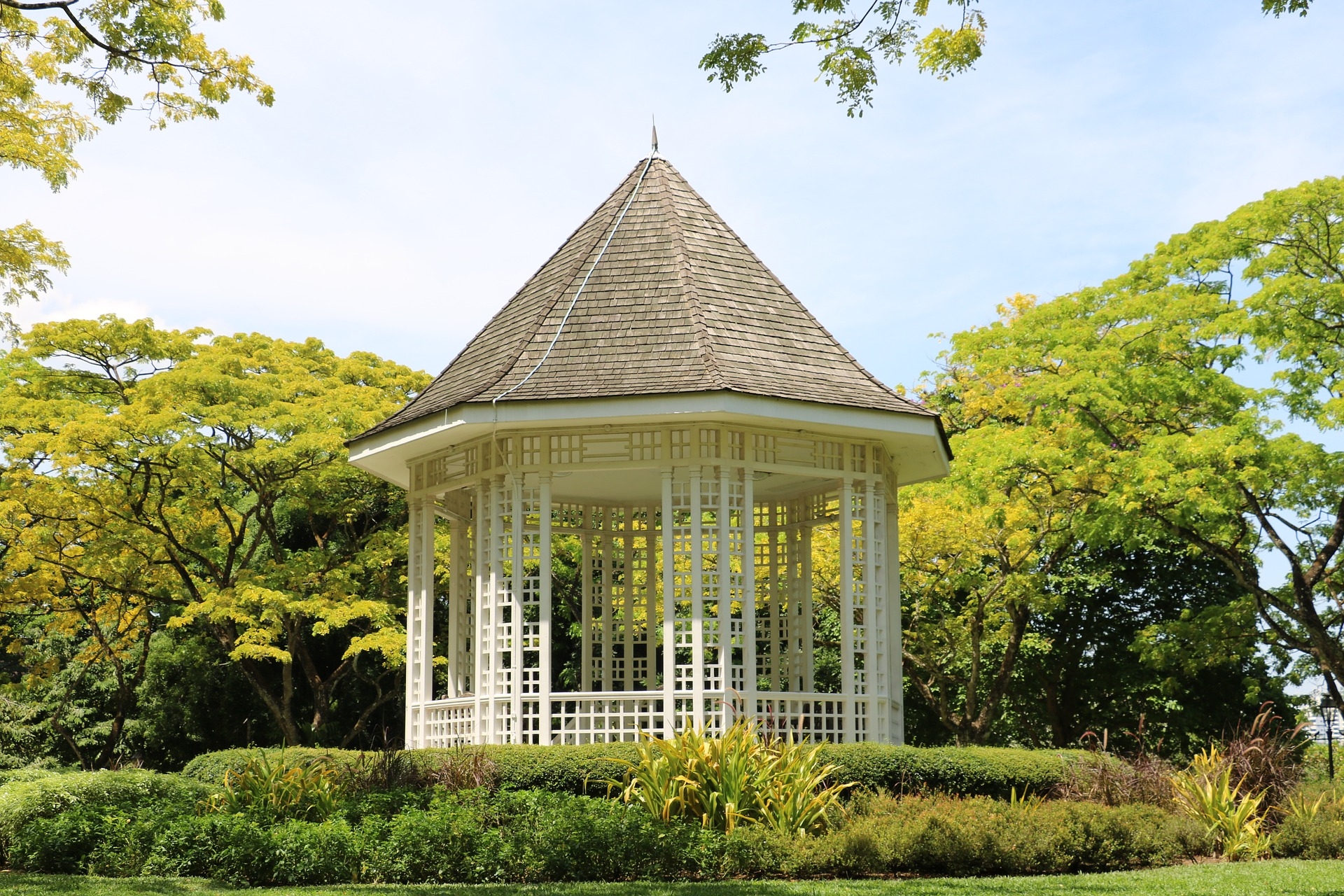 Hialeah, Florida, is home to many unique locations and adventures, such as the Amelia Earhart Biking Trails and the Leah Arts District. Naturally, with these exciting sights and the ideal weather for outdoor adventures, many events and gatherings are held outside.
Whether you're hosting a fun event at the Garden of the Arts or planning a gathering in a corporate setting, you will need a porta-potty you can trust. John To Go is your go-to for all of your portable bathroom near Hialeah needs. Our company offers clean and well-prepared facilities to suit all of your needs. Renting a porta john near Hialeah has never been easier with our streamlined process.
Who Needs a Porta John in Hialeah?
Anyone hosting an outdoor event or a larger gathering where bathrooms are inaccessible or limited should consider renting a porta-potty. Whether you're opting for a fancy restroom trailer or need an extra handwashing station to keep guests healthy, John To Go can help.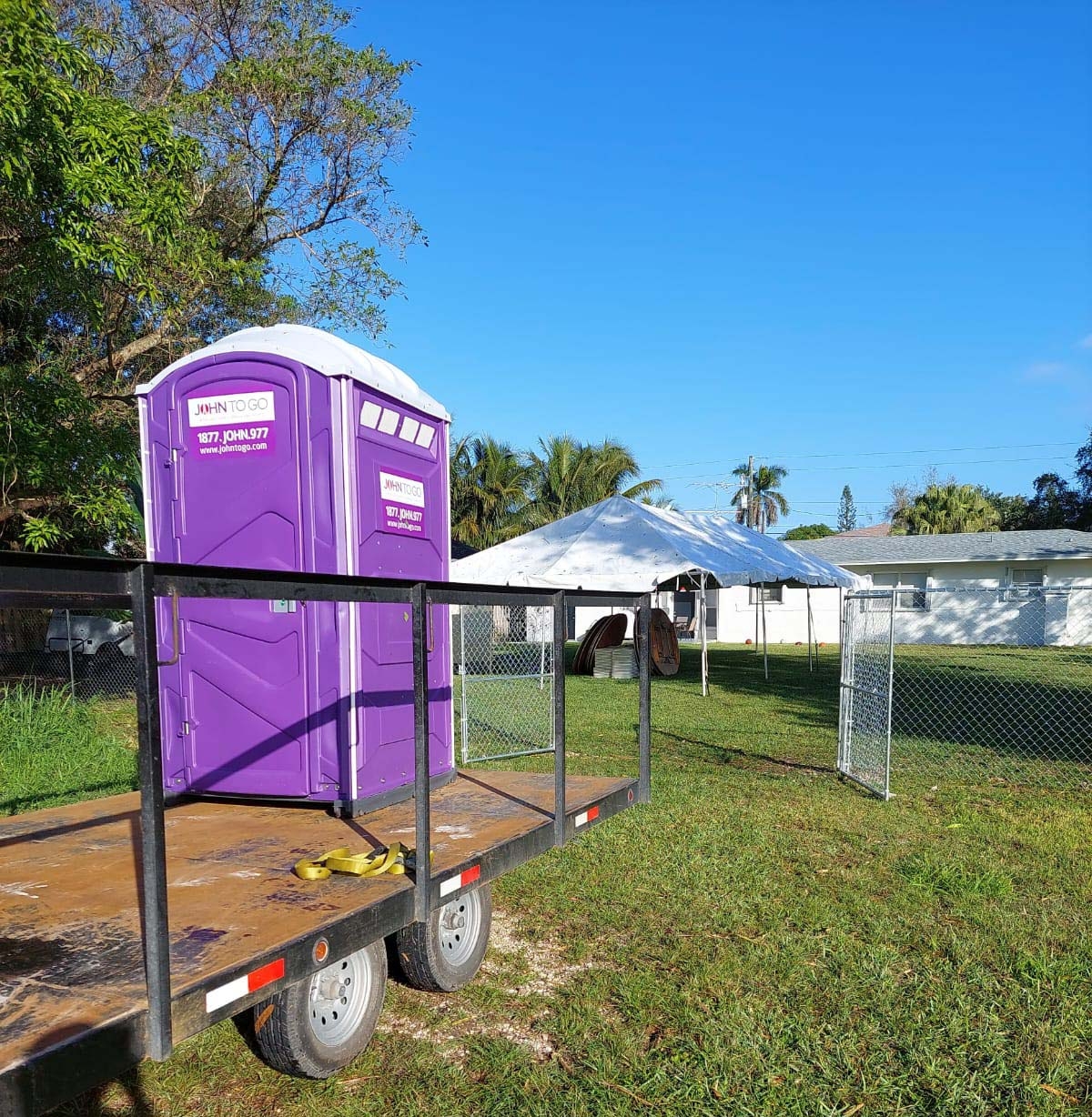 Why Choose John To Go?
When you search for a "portable bathroom near me" or "porta john rental near Hialeah," you will likely come across a few top-notch companies. Why should you choose John To Go over the competition?
At John To Go, our mission is to make sure our clients looking for bathroom rentals near Hialeah receive the best service possible. It starts with our friendly customer service agents who are always eager and willing to help. We can answer all of your questions and concerns, whether you're a new customer looking for a portable potty near Hialeah or a recurring client.
When you rent a port o potty rental near Hialeah for your special event, the last thing you want is for the truck to show up late - or worse, not at all. You can avoid this stress and pressure by going with John To Go. We have many service trucks on the road, which means your porta john near Hialeah rentals will be delivered and removed on time. Our professional staff is always ready to lend a helping hand during and after delivery.
Sometimes, figuring out the details for your bathroom rentals near Hialeah can be complicated, especially if you're trying to compare quotes from multiple companies. Whether you're looking to order online or speak to someone over the phone, John To Go is proud to offer a quick, simple, and streamlined process for all porta-potty rentals near Hialeah with our user-friendly website.
John To Go only offers the best of the best when it comes to porta-potties and portable restrooms near Hialeah. Our units are updated, spacious, and spotless as if they were suited for royalty. You will enjoy perfectly ventilated units that keep the foul odors at bay while our built-in hand sanitizers in each unit ensure guests are comfortable and safe. Being well-supplied, you won't have to worry about running out of must-haves during critical events.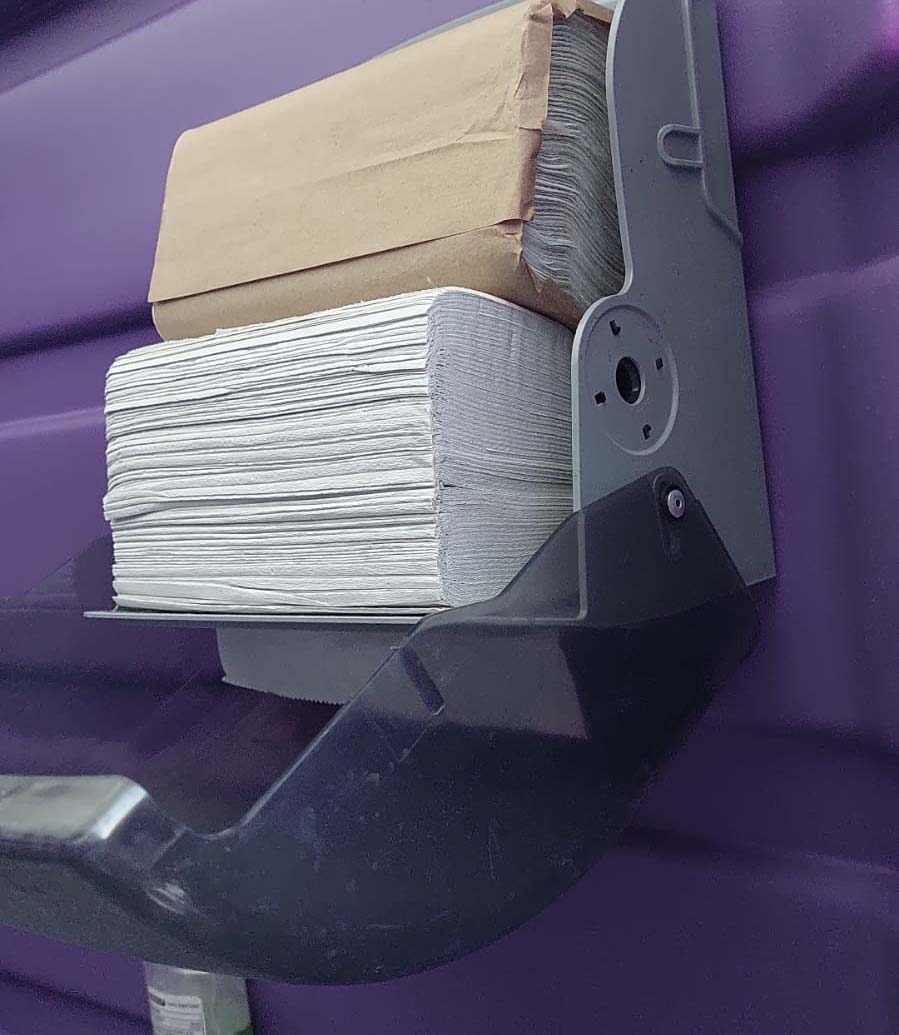 You're Covered in All Weather Conditions
Some companies that offer porta restrooms near Hialeah won't work in all weather conditions. Well, we know and understand that many parts of Florida - including Hialeah - can be subject to rain and other poor weather conditions. When you choose John To Go for your mobile bathroom near Hialeah, you won't have to worry about our services backing down. You're covered in all weather conditions - guaranteed.
Are you concerned about porta potty rental prices near Hialeah? Don't panic. John To Go is dedicated to providing some of the most competitive prices around. We can keep our units low-cost and budget-friendly due to our streamlined and efficient service and products. We don't charge pesky fees like fuel surcharges like some other porta john near Hialeah companies. Instead, we keep our expenses down and pass the savings along to you,.
We Stand Behind Our Products
John To Go has been in business since 2004, and we have always committed to quality - and that won't stop any time soon. Our passion is to provide our clients with the highest quality portable bathrooms, whether it's for construction sites or outdoor gatherings. From the moment you contact our friendly and professional staff to the day we pick up our units from your site, you are guaranteed to have a high-quality and hassle-free experience you won't soon forget.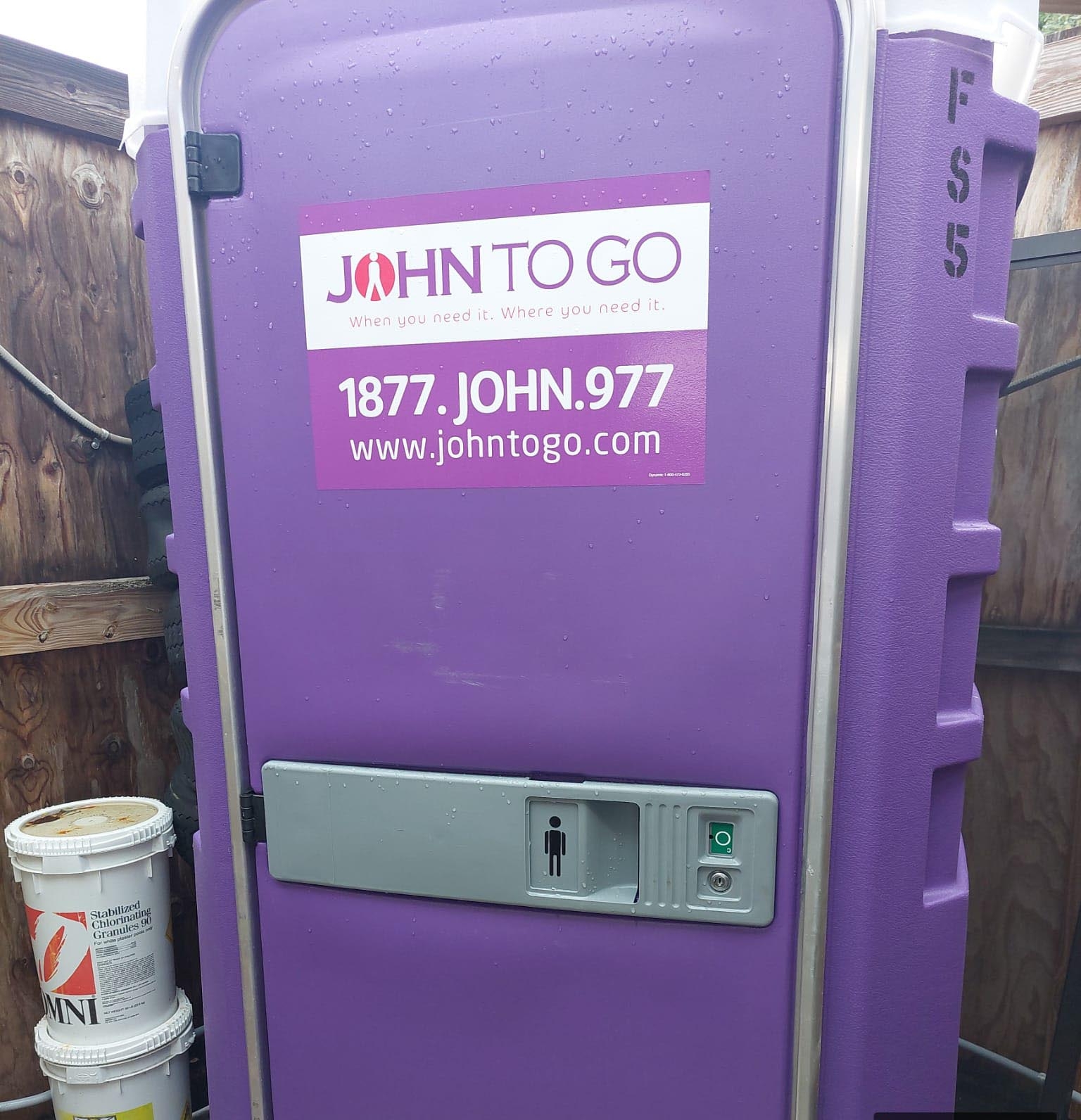 About Hialeah, Florida
Situated in the Miami-Dade County of Florida, Hialeah is a popular city home to a wealth of great sights and adventures. Being the sixth-largest city in Florida, it's no wonder why so many people are on the hunt for a bathroom rental near Hialeah to suit their needs.
Traveling around Hialeah, Florida, you will find plenty of fun activities, especially those situated outdoors. The Amelia Earhart Park is a great place for families, friends, and hounds to gather and enjoy all this lovely park has to offer. Whether you're taking your dog for a fun time in the five-acre park or enjoying the pony rides with your kids, this is a hot spot that may require porta-potties along the way.
If you're looking for an area that's rich in history, you will enjoy the Opa Locka Old City Hall that boasts Middle Eastern influence. On the other side of the spectrum, the Lua Curtiss House No. 1 - built in 1926 - boasts a Pueblo Revival appearance. Both are grand visuals of Hialeah Florida that shouldn't be skipped.
With plenty of outdoor scenery and activities, historical landmarks, and a booming business network (including Cordis International and Citrus Health Network), it's no wonder why "porta john near me" is often searched. John To Go is the answer. We can provide a fancy porta-potty near Hialeah for five-star occasions or provide simpler structures for a mobile toilet near Hialeah for bike-a-thons and other outdoorsy events.
Don't think that John To Go is reserved solely for a porta john near Hialeah, though. We also offer security booths that are great for large-scale events in Hialeah. Our restroom and shower combos can also be a great option for those seeking a port a john rental near Hialeah for construction sites and other messy ventures.
Tips for Renting a Portable Bathroom Near Hialeah
There are a few things to consider when it comes to finding a portable toilet rental near Hialeah.
Type of portable bathroom. There are many options when it comes to rentals. At John To Go, we offer porta-potties, restroom trailers, and ADA-compliant units. We have extras including hand sanitizer and handwashing stations, too.

Cost. The cost of your portable toilet near Hialeah will depend largely on the type you're renting and the length of the rental. For example, a small basic unit for three months will cost under $160 per month, while a high-end luxury unit will be a bit pricier.

Quantity of restrooms. How many porta-potties or restroom trailers do you actually need? If you're unsure, John To Go can help. We offer a handy unit calculator so you can easily discover how many restrooms you will need for your event.

Rental length. Depending on your needs, you might need a portable restroom for a few hours or a few months. It's important to know how long you'll need the restrooms. This will not only save hassle in the future but money too.
CHOOSE FROM OUR EXTENSIVE SELECTION OF PORTA POTTY RENTALS
John To Go is a Convenient and Reliable Porta Potty Rental in Hialeah
Looking for clean and well-maintained portable toilets near Hialeah, FL? Look no further than John To Go. Our convenient and reliable rental services ensure that all your restroom needs are well taken care of, irrespective of the size and nature of your event or project. With John To Go, you not only get a wide selection of portable toilets but also the assurance of punctuality and reliability, essential for any successful event.
Affordable Porta Potty Rentals in Hialeah
Budget constraints should never come in the way of providing essential amenities like portable toilets. With John To Go, you can discover affordable porta potty rentals in Hialeah, FL. Our competitive pricing and flexible rental options make it convenient for you to choose the right portable toilet solution without worrying about breaking the bank. Quality and affordability can indeed go hand-in-hand, and John To Go proves it.
Flexible Rental Periods for Portable Toilets in Hialeah
At John To Go, we understand that different scenarios call for different rental periods. Whether you need a portable toilet for just a day-long event or a long-term construction project, we've got you covered with our flexible rental options. You can count on John To Go for portable toilets in Hialeah, FL, regardless of how long you need them for, ensuring continuity and convenience at your site.
Experienced Customer Support for Portable Toilet Rentals in Hialeah
Your rental experience with John To Go is guaranteed to be smooth and stress-free, thanks to our experienced customer support team. For portable toilet rentals in Hialeah, FL, you can rely on our knowledgeable staff to guide you through the process and address any questions or concerns you might have. We aim to make the entire rental experience as seamless as possible, starting from your first inquiry to the final pickup.
Request a Quote to John To Go for Portable Toilet Rentals in Hialeah
When you're ready to secure your portable toilet rentals in Hialeah, simply request a quote from John To Go. Our user-friendly online form makes it incredibly easy to get pricing and availability information tailored to your specific needs. With John To Go, you're not just renting a portable toilet; you're investing in peace of mind, knowing that your restroom needs will be met professionally and efficiently.
FAQs
What is the average cost of a Porta Potty?
When searching for a portable bathroom near Hialeah, many are concerned about pricing. The actual price will depend on many factors, such as the type of unit you're renting and how long you're renting it for. At John To Go, our cheapest porta potty rental cost near Hialeah starts at under $200 per month for short-term rentals, and under $160 for long-term rentals.
Do porta potties smell?
With any porta potty near Hialeah, you will have some kind of odor. But with John To Go, we make it our mission to ensure our porta potties have minimal scents. We guarantee our units are well ventilated and sanitized regularly to eliminate undesirable smells. With our restroom trailer rental near Hialeah, you can ensure great-smelling and clean units that won't disappoint.
Where to rent porta potty?
If you're planning an event in Hialeah, the best thing to do is search for a "portable bathroom rental near Hialeah." You will come across many companies, including John To Go. Perform research on all companies before making a final decision. We can provide you with a porta potty rental near Hialeah that's sanitized, well-equipped, and high-end.
Can Porta-Potties be used indoors?
If you're looking for a portable toilet john near Hialeah for your upcoming indoor event, you might be wondering if they can even be used in the first place. While there is no law saying you can't use porta-potties indoors, it's recommended to keep them outdoors for sanitary reasons.
Final Words
Consider John To Go for your needs when you're looking for a porta john near Hialeah. We have high-quality, well-equipped, and up-to-date restroom trailers and porta-potties to suit all of your needs. It's never been easier to rent a porta potty near Hialeah with our friendly and professional customer service team and a streamlined and straightforward process.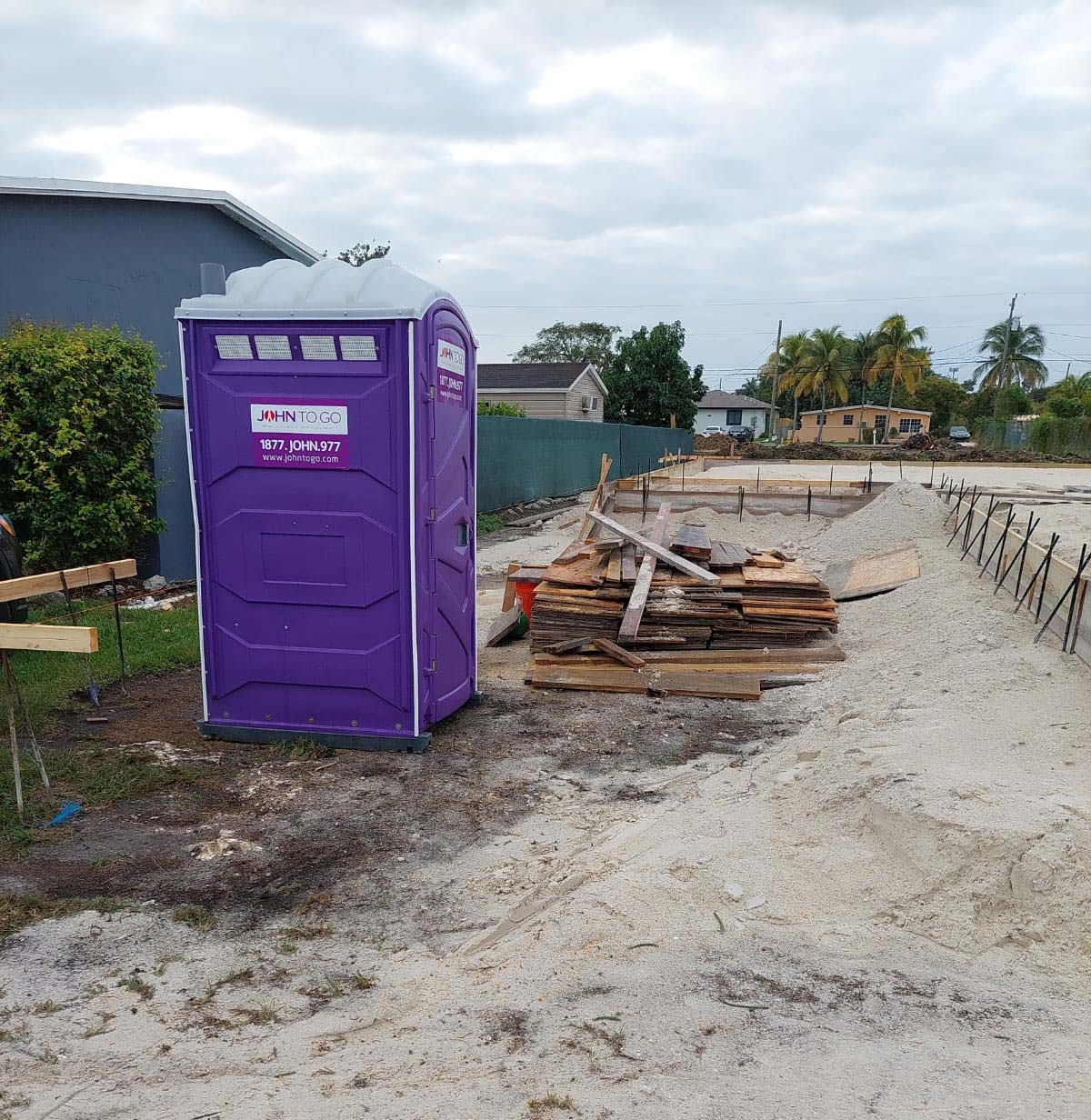 (305) 722-5149
AREAS WE SERVICE NEAR HIALEAH:
Bal Harbour
Bay Harbor Islands
Biscayne Park
Coral Gables
Cutler Bay
El Portal
Florida City
Homestead
Indian Creek
Key Biscayne
Medley
Miami Lakes
Miami Shores
Miami Springs
North Bay Village
North Miami Beach
Opa-locka
Palmetto Bay
Pinecrest
South Miami
Sunny Isles Beach
Surfside
Sweetwater
Virginia Gardens
West Miami
HEAR FROM OUR CUSTOMERS:
Tom Talamini
Special Event - November 10, 2020
5 STAR SERVICE! The staff were friendly and professional. The delivery was on time as well as the pick-up. Bathroom trailer we rented was spotless, smelled nice and was fully stocked with extra paper towels, toilet paper and soap. Bathrooms were nicer than my house bathrooms. Wanted to keep the trailer. All my guests were in AWE of the quality of the bathrooms. Highly recommended.
Joanne De Simone
Special Event - November 06, 2020
This company has the absolute best customer service I've ever had the pleasure of experiencing. They are friendly and super responsive. Just a pleasure to do business with. I can't wait to use their services for my next event!
David Collado Bronx NYC
Special Events, August 15, 2018
Been using John to Go services for the past 10 (+) years for our annual block party celebration in my neighborhood, they are friendly, professional, their products are always clean, reliable and operate as described. Their prices also cannot be beat. I plan to continue using them for many many more years and have also recommended to friends and family. Very Happy Customer, Bronx NYC
Porta Potties Near Me
When you're researching "porta potties near me," John To Go stands out as the go-to solution for all your portable restroom requirements. We understand that the need for a clean and reliable portable toilet service extends beyond just providing the unit itself.
That's why we focus on offering a comprehensive service package that takes care of all your needs, from the moment you first contact us to the time we complete the pickup. Our diverse range of portable toilet options ensures that we have something to suit every need and budget. With John To Go, you're not just renting a portable restroom—you're investing in a hassle-free experience that covers all the bases.