Organizing A Memorable Thanksgiving Party
Thanksgiving is a traditional holiday in the United States, and serves as the perfect time to bring friends, family, loved-ones, and even co-workers together to celebrate.
For many people, this specific holiday evokes powerful memories of times spent with family, delicious Thanksgiving food, and awesome experiences had by all.
Many people travel to visit loved ones around this time.
For some, Thanksgiving is one of the most important holidays on the calendar.
But of course, the most important thing about Thanksgiving are the traditions.
Therefore, Thanksgiving party ideas and Thanksgiving party themes generally come from these traditions—and are a major part of what makes the holiday so enjoyable and memorable.
But here's the issue.
Planning different types of Thanksgiving events for slightly different groups can be a challenge.
And if you have several different types of parties to plan this year, you may be thinking to yourself…
How am I going to pull all of this off?
So in this post, you're going to learn some dynamic tips for how to organize a memorable Thanksgiving party for all of the different social groups in your life.
From harvest season parties for kids or adults, to Thanksgiving celebrations for co-workers and family-members… here's what you need to know.
Let's dive in and talk about it.
How To Plan An Enjoyable And Memorable Thanksgiving Party For Various Groups
It's fun to jump right into brainstorming about different Thanksgiving party ideas and Thanksgiving party themes.
And you may already have some awesome ideas for how you're going to make this the most memorable holiday season yet!
But before you hit the ground running, it may be a good idea to come up with a strategy.
And the very first thing you probably need to get started on the right foot is a Thanksgiving party planning checklist.
This checklist will help you to make a list of everything you need to buy, supply, and prepare to make the event a success.
But of course, creating such a checklist will require you to think through the unique requirements for each different type of party.
So let's jump into planning specific parties for all of these different social groups; to talk about what types of party implements you'll be adding to your checklist.
Don't worry. It's not nearly as complicated as it sounds.
Thanksgiving Party Ideas For Family
Thanksgiving party themes for the family should involve traditional food, decor, and togetherness.
Think of menu items like turkey, ham, stuffing, mashed potatoes, gravy, cranberries, green bean casserole, rolls, creamed corn, and pumpkin pie.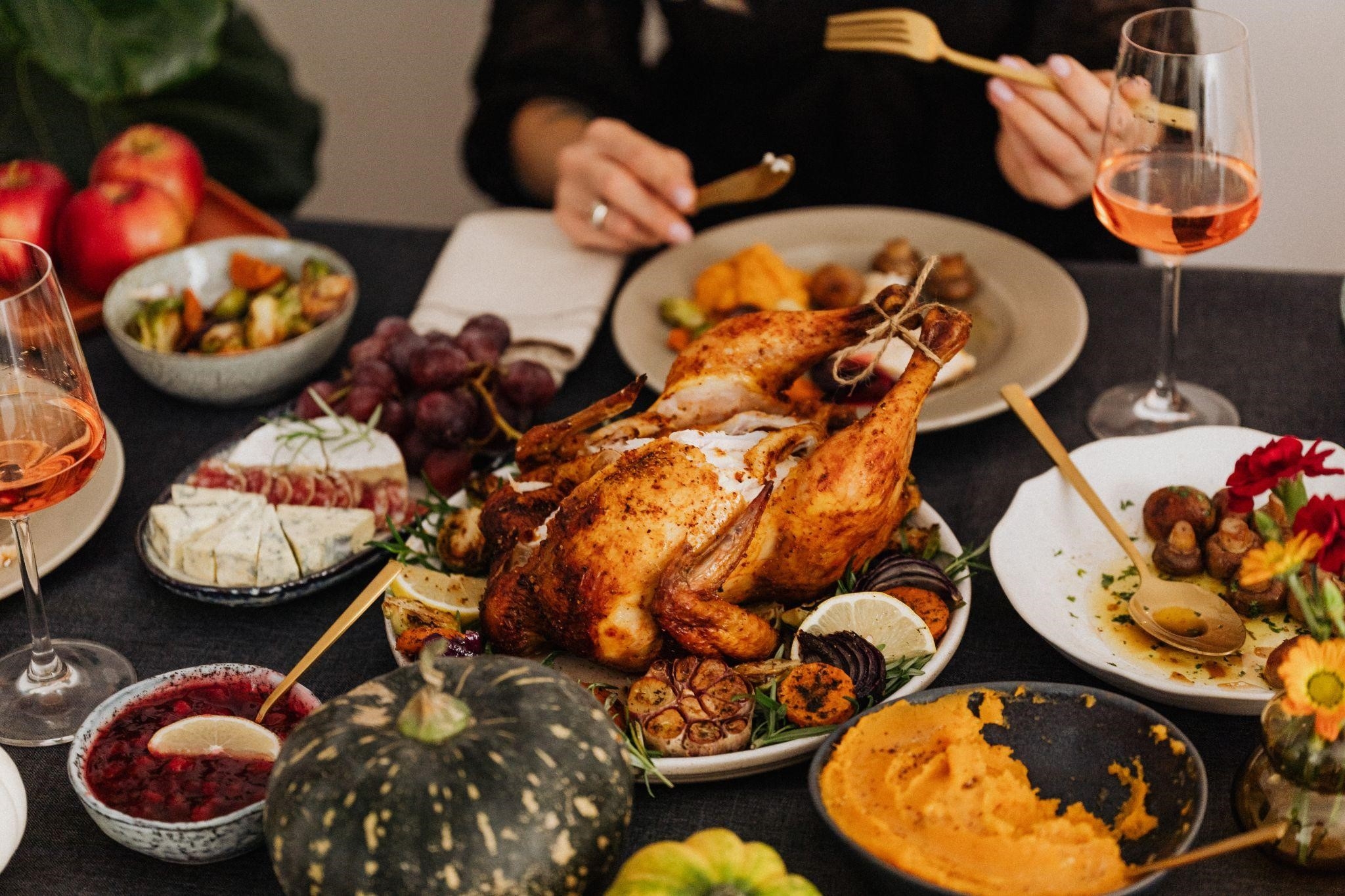 When it comes to planning the decor and the overall theme of the gathering, it's traditional to go for a
thankful themed party.
Thanksgiving is, after all, all about gratitude. And practicing this with your family on Thanksgiving day is a special way to keep the tradition alive.
Thanksgiving Party Ideas For Friends
One of the most popular Thanksgiving party themes for a party with friends is the Thanksgiving housewarming party.
This type of party basically involves helping friends to celebrate moving into a new home.
You set up for this type of party with fall decorations and harvest-themed snacks, treats, and foods.
Of course, Thanksgiving falls right in line with fall housewarming season.
This type of party is pretty simple.
You decorate your friends house, have all of your friends bring food and drinks to contribute, and then you officially welcome them into their new home with a full-fledged holiday celebration.
Of course, a housewarming party can also be thrown just for the sake of welcoming in the harvest season.
It's just a great all-around Thanksgiving party theme to throw with friends.
Thanksgiving Party Ideas For Adults
Throwing a fall or harvest party for an adult crowd works really well around Thanksgiving time because it gives you the perfect backdrop for various different Thanksgiving party themes.
A few different Thanksgiving party ideas for adults could include:
A festive fall foliage party

A ton-of-turkey party

Burgundy and brass

A cornucopia of blessings-themed party

A pie-swap party

A harvest moon party

A Thanksgiving party costume theme

A Thanksgiving party favor bags theme
Of course, you should always theme your party around the foods and beverages you're going to serve—as those are the cornerstone features of any fall or harvest-time party.
And that's exactly what Thanksgiving is all about; being thankful for a bountiful harvest.
For an adult party, you can even look into bringing in a private bar, or at least offer some alcoholic beverages (think wine, mead, craft beer, etc.).
Thanksgiving Party Ideas For Kids
Choosing Thanksgiving party themes for kids will mostly depend on the age group.
For example, if you're throwing a Thanksgiving kindergarten party, it'll be a bit different than the type of party you'd throw for 3rd or 4th graders, etc.
As far as your checklist is concerned, you'll want to make sure that you're including items like:
Thanksgiving party favors

Thanksgiving party supplies

Thanksgiving party poppers

Classroom thanksgiving party food ideas
You can also think up some creative Thanksgiving party names to really give your event idea some pizzazz!
Need some awesome and fun Thanksgiving classroom party options to choose from, or to use for inspiration? Check out this list of awesome ideas.
Just remember—kids generally want to do fun stuff for their holiday parties.
So think of some fun activities that can serve to pass the time. Think of things like:
Outdoor games

Arts and crafts

Group scavenger hunts

Projects
Thanksgiving Party Ideas For At Work
Choosing Thanksgiving party themes for the workplace can be a challenge, depending upon the limitations of the scope of your space.
For example:
If the only space available for a party is the cafeteria outside of the warehouse, then you may need to get creative.
But there are also time constraints to consider.
For example:
Most people will probably be off of work on Thanksgiving day.
Therefore, pre-Thanksgiving parties tend to be pretty popular.
A.k.a., a Thanksgiving eve party night.
So here are some tips for making your Thanksgiving eve biggest party night the best party of the year!
First, plan out your Thanksgiving party at work, and print out some pre thanksgiving party flyers to hang up so that people know exactly when to show up.
You can also print out some invitations.
The Thanksgiving office party invitation wording is critical.
You want to make this party sound like it's going to be awesome (because it is).
Test out some different Thanksgiving party theme names for your Thanksgiving work party, and try to settle on one that you think would be a hit with your crew.
Plan for food, buy decorations, spend some time setting it up—and plan to have an amazing time!
Seeing To Portable Restroom Amenities For Your Thanksgiving Party
If you're planning to throw a Thanksgiving party outdoors, and don't have access to sufficient public or private restrooms, then you may be wondering how you're going to pull it off.
You may be thinking about porta potties, or maybe even changing locations.
Well, VIP To Go has been handling restroom trailer rentals and mobile restroom trailer rentals for events like this for years.
We offer portable restroom trailers and bathroom trailer options ranging from Two Station Trailers to 10 Station Trailers, and more.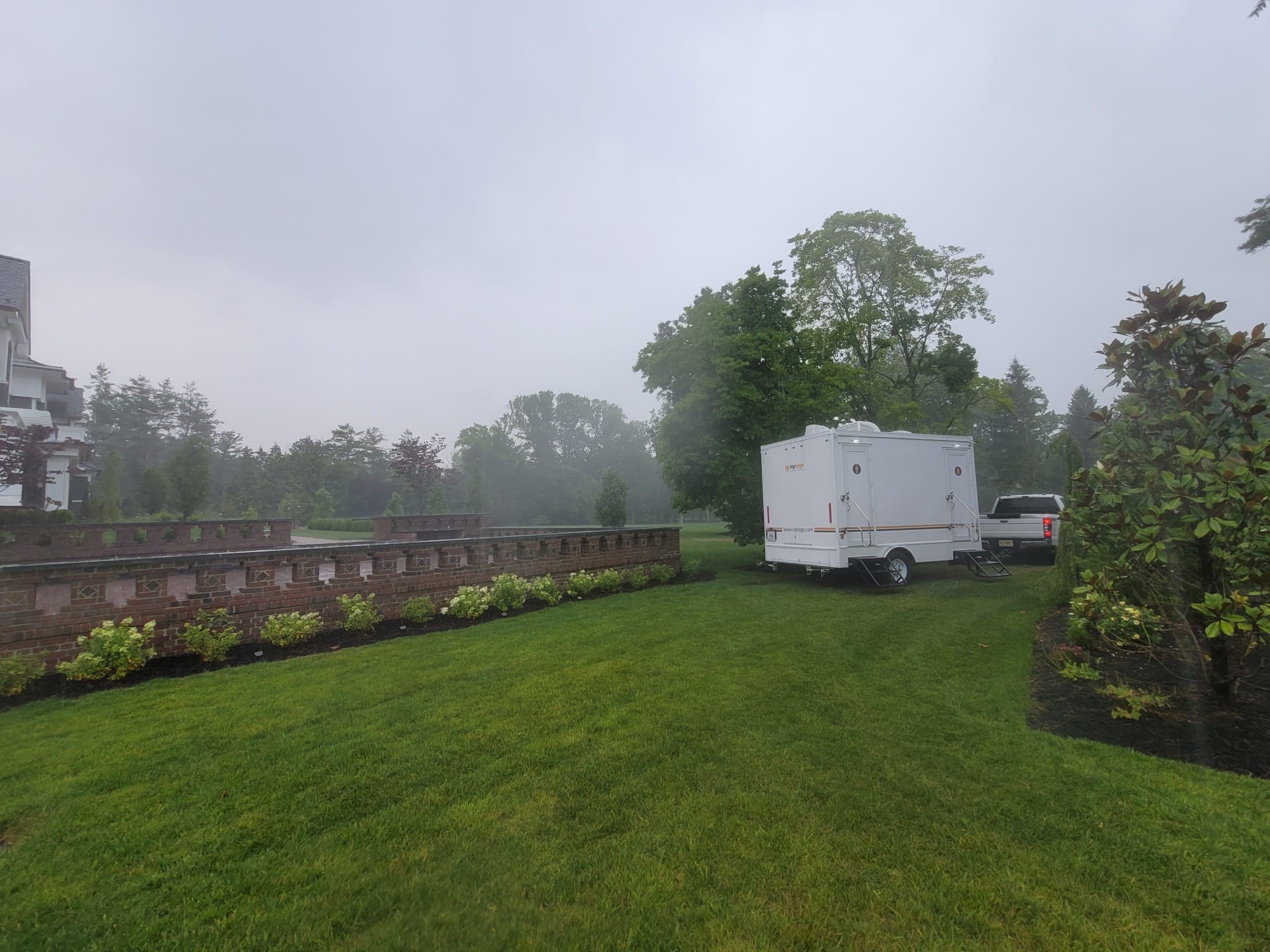 If you're wondering what a restroom trailer is, it's essentially literally a bathroom on trailer wheels, and can be parked wherever is convenient for your gathering, party, or event.
Check out our gallery to see what types of trailers we have available.
A restroom trailer (or even better yet, a luxury restroom trailer rental) could be the perfect option for your Thanksgiving party.
How Much Does A Restroom Trailer Rental Cost?
The cost for renting a restroom trailer is determined by a number of different factors.
The best way to figure out exactly how much it would cost is to contact us for a fast, free, zero-hassle quote.
If you give us just a bit of information about your event, we can get you ready with a quote and get your trailer delivered asap.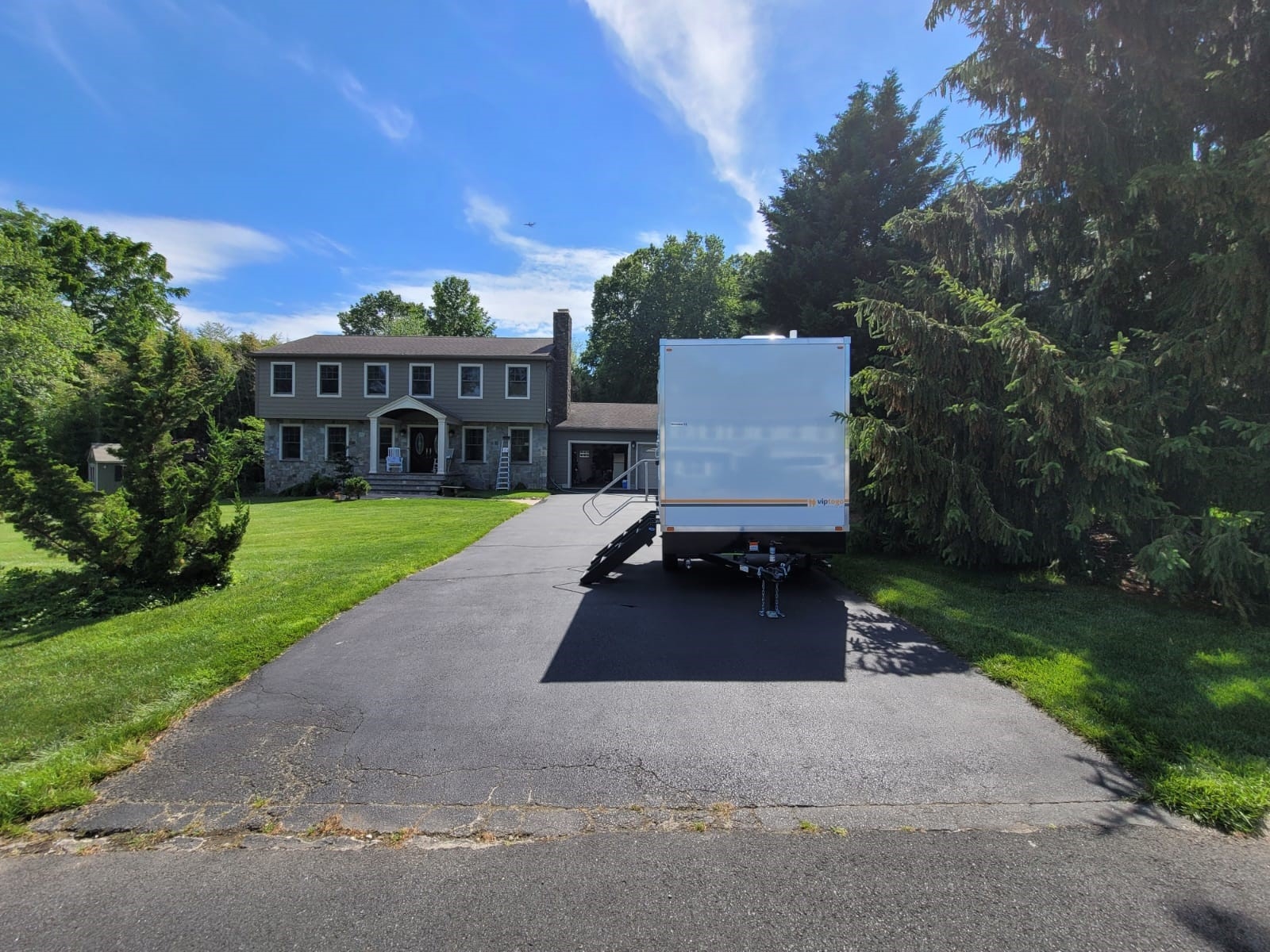 A Few Interesting Facts About Restroom Trailers
Contrary to what some people may believe, restroom trailers are not smelly or unhygienic.
They actually come cleaned, sanitized, and loaded up with a clean water tank. In other words, even if you don't have clean water on-site, our trailers still come with everything needed to function.
They have flushing toilets, separate stalls, and even air conditioning and heating.
For all intents and purposes, using one of our luxury bathroom trailers is really just like using a luxurious public restroom.
And of course, you can choose the size trailer that's perfect for the size of your event.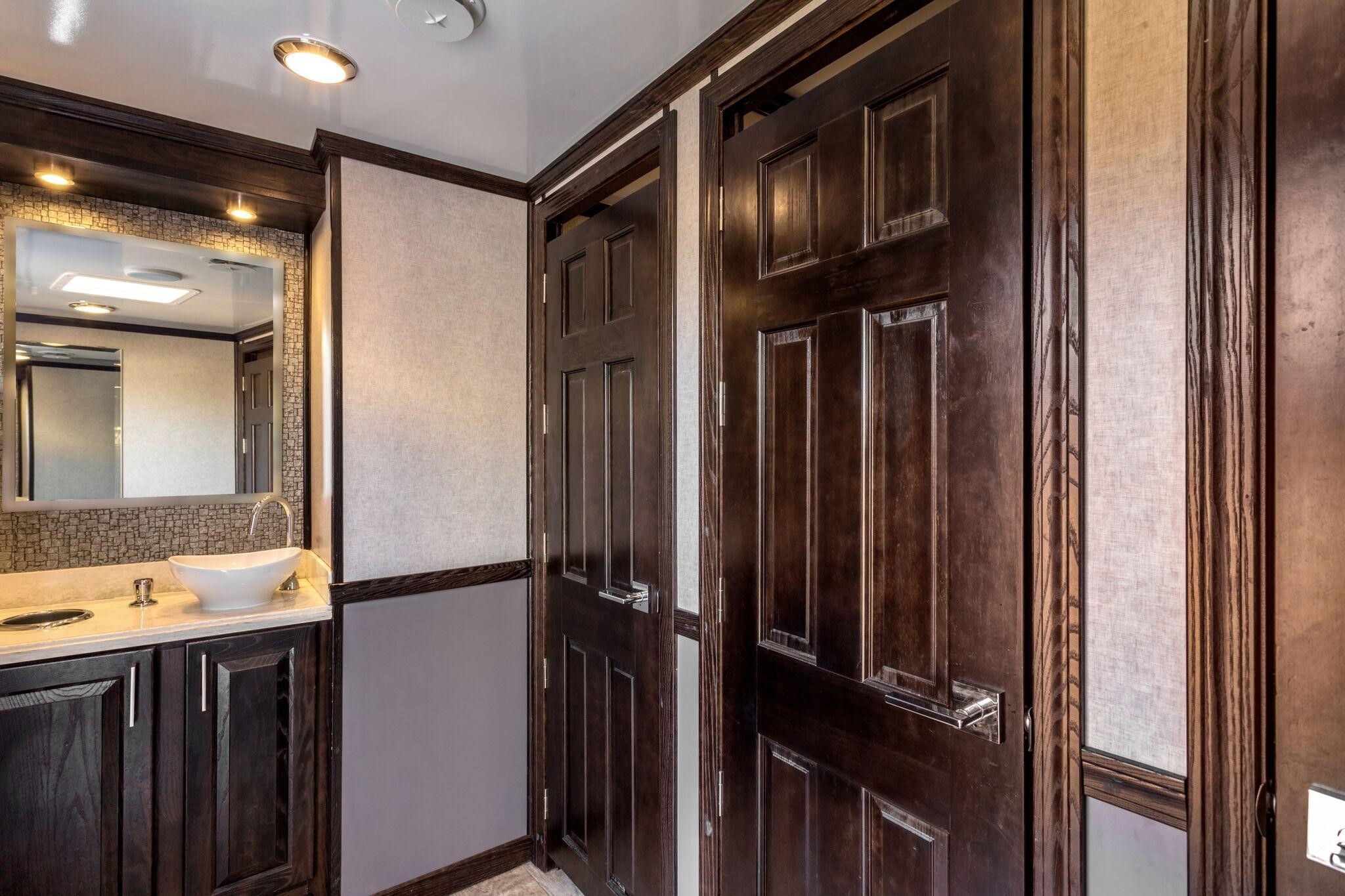 Conclusion
There you have it.
How to organize a memorable Thanksgiving-themed party for literally any social group.
With the holidays approaching, throwing memorable holiday parties is going to be important.
And this guide should get you ready to rock and roll all holiday season long.
Porta Potties Near Me
When you're researching "porta potties near me," John To Go stands out as the go-to solution for all your portable restroom requirements. We understand that the need for a clean and reliable portable toilet service extends beyond just providing the unit itself.
That's why we focus on offering a comprehensive service package that takes care of all your needs, from the moment you first contact us to the time we complete the pickup. Our diverse range of portable toilet options ensures that we have something to suit every need and budget. With John To Go, you're not just renting a portable restroom—you're investing in a hassle-free experience that covers all the bases.