Wedding Restroom Trailers Near Me
Wedding restroom trailers are essential for ensuring a memorable and stress-free day. These luxurious facilities provide convenience and comfort for both guests and the bridal party.
With elegant interiors, running water, climate control, and ample space, they elevate the overall experience.
No need to worry about long lines or inadequate facilities; these trailers offer a touch of sophistication to your special day, leaving you and your guests with cherished memories of a seamless and comfortable celebration.
John To Go is your trusted solution for wedding restroom trailers with nationwide availability, ensuring they are always within reach, no matter where your event takes place. Our extensive network allows you to access our top-notch facilities across the country, offering you the peace of mind that you can find our luxury restroom rentals near you.
Keep reading to discover everything you've ever wanted to know about wedding restrooms, including why they're so important and the benefits of renting one.
Why Choose Wedding Restroom Trailers for your Special Day
Imagine your special day, a wedding filled with love and joy, and in the midst of it all, a serene oasis of comfort and elegance awaits your guests. That's what wedding restroom trailers bring to your celebration.
These trailers are not just facilities; they are an experience. Your guests will appreciate the thoughtfulness behind this choice as they step into a spacious, tastefully decorated haven of tranquility.
In the bustling excitement of a wedding, access to clean, well-maintained restrooms with running water and flushing toilets is a relief. It ensures your guests can freshen up and stay comfortable throughout the event.
But it's not just about functionality; it's about adding a touch of sophistication to your day. These restroom trailers seamlessly blend with your wedding's aesthetic, contributing to the overall ambiance.
Your special day deserves nothing but the best. Wedding restroom trailers offer elegance, comfort, and convenience, ensuring that every moment of your celebration is cherished by all.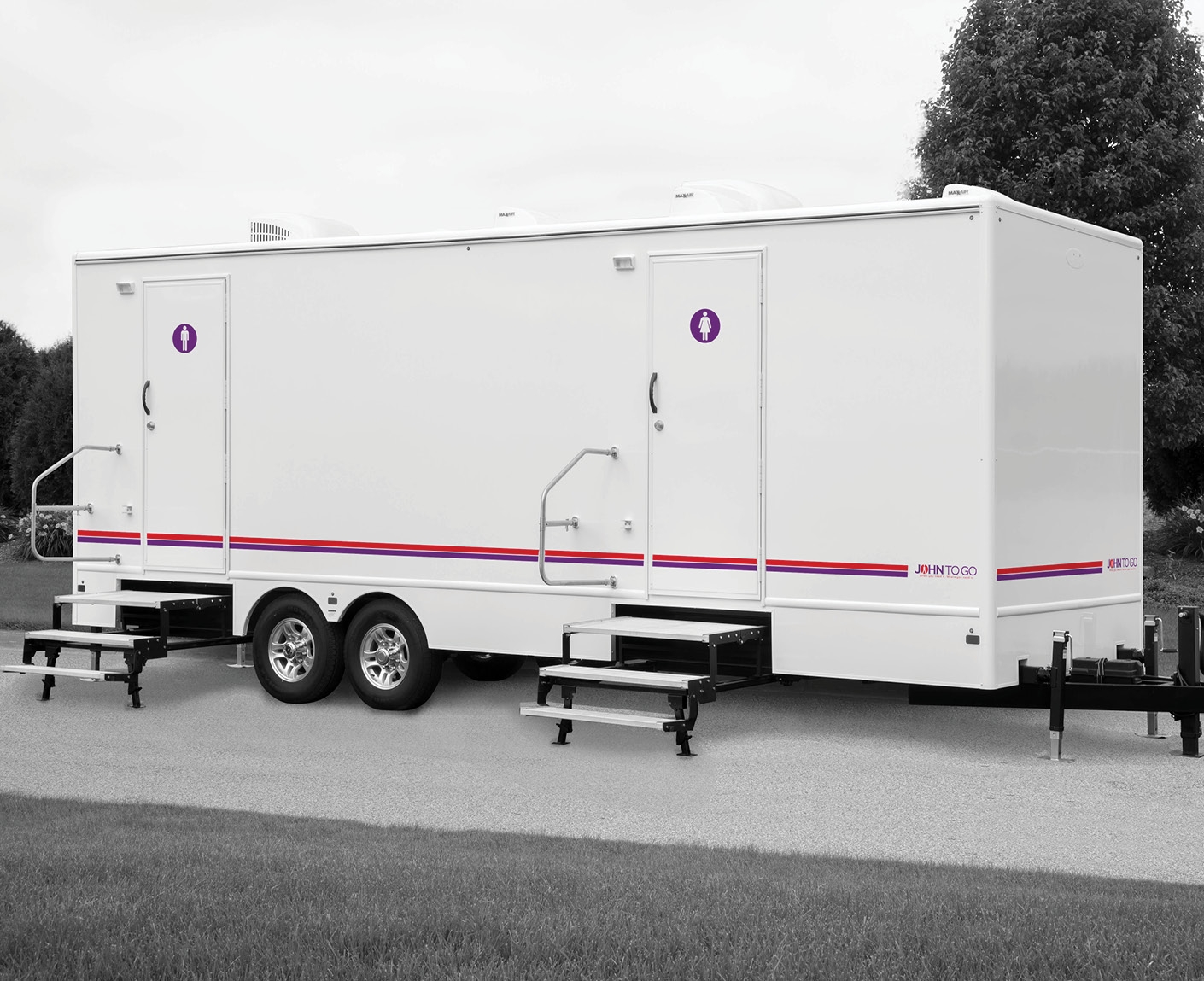 Benefits of Renting Wedding Restroom Trailers
Renting wedding restroom trailers elevates your event.
They offer luxury, cleanliness, and ample space, ensuring guests' comfort. With running water and elegant interiors, they're the epitome of convenience. But there's more to discover!
Stay tuned for a closer look at how these trailers can transform your special day.
How Wedding Restroom Trailers Enhance Comfort and Convenience for Guests
Your wedding day is a momentous occasion filled with love and celebration. Ensuring the comfort and convenience of your guests is paramount, and that's where wedding restroom trailers come into play. These mobile facilities offer a host of features that enhance the overall experience:
Spacious and Well-Equipped Facilities: Unlike traditional portable toilets, wedding restroom trailers provide ample space for guests to move comfortably. They come equipped with modern amenities, including flushing toilets, sinks with running water, and vanity mirrors, creating an atmosphere of luxury.

Climate Control and Air Conditioning: Regardless of the weather, restroom trailers for weddings maintain a comfortable temperature. With climate control and air conditioning, your guests can freshen up in a cool, pleasant environment during hot summer weddings or stay warm during chilly autumn celebrations.

Proper Lighting and Ventilation: Well-lit interiors and proper ventilation ensure guests can use the facilities comfortably, day or night. This attention to detail creates a welcoming and inviting climate-controlled atmosphere.

Accessibility for All Guests: Wedding restroom trailers are designed to be accessible to all guests, including those with mobility challenges. They typically feature ramps, handrails, and spacious layouts to accommodate everyone comfortably.
Wedding restroom trailers play a pivotal role in enhancing your wedding day. With spacious and well-equipped facilities, climate control, proper lighting, and accessibility for all guests, they ensure that your loved ones are treated to a comfortable and luxurious experience. These mobile facilities provide convenience and contribute to the overall ambiance of your celebration, making your special day even more memorable for all who attend.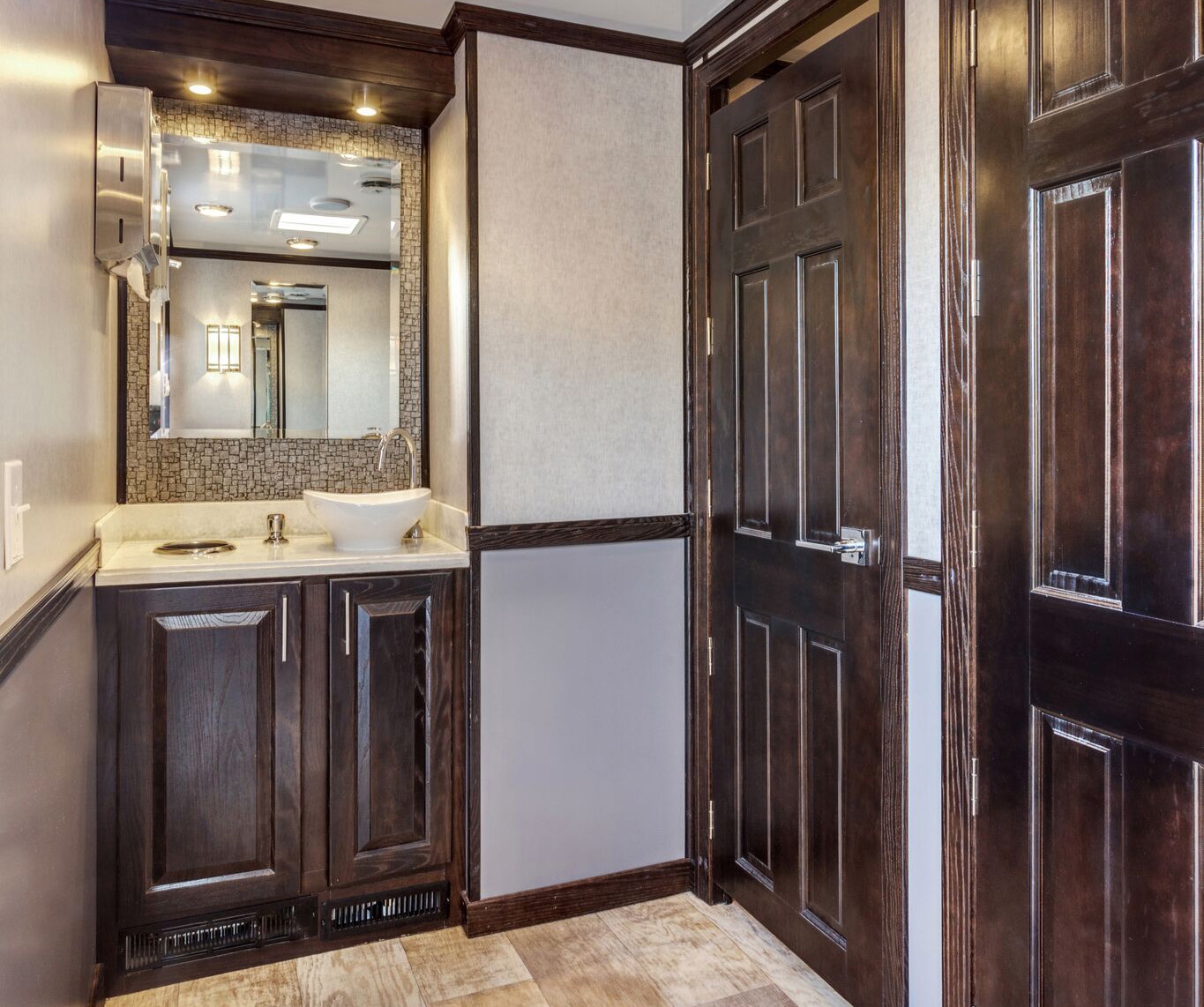 Maintaining Hygiene and Cleanliness of Restroom Trailers for Weddings
Ensuring the cleanliness and hygiene of restroom trailers is crucial to providing a comfortable experience for wedding guests. Here's how it's done:
Cleaning and Sanitary Restroom Facilities: Right from the start, wedding restroom trailers are designed with cleanliness in mind. They are equipped with high-quality fixtures and materials that are easy to clean and sanitize, reducing the risk of germs and odors.

Regular Cleaning and Maintenance: Cleaning schedules are meticulously planned. Professional cleaning crews perform routine maintenance before, during, and after events. This includes disinfecting surfaces, restocking supplies, and checking for repairs or malfunctions.

Use of High-Quality Supplies and Products: Only top-notch cleaning supplies and products are used to maintain these facilities. This ensures that every surface, from counters to fixtures, is thoroughly cleaned and disinfected to the highest standards.

Proper Waste Management: Waste management is a key aspect of restroom trailer maintenance. Adequate waste storage tanks are in place to handle the volume of guests, preventing any overflow or unpleasant incidents. Waste is disposed of in a responsible and eco-friendly manner after each event.
By adhering to these practices, wedding restroom trailers can consistently deliver a pristine and hygienic environment for your special day, ensuring that guests' comfort and well-being remain a top priority throughout the celebration.
Adequate and Private Facilities for Guests
One of the most crucial aspects of any event, especially weddings, is ensuring guests have access to adequate private restroom facilities. Here's why this is paramount:
John To Go Provides a Sufficient Number of Restrooms: The number of restrooms should always match the size of your guest list. Inadequate facilities can lead to long lines and guest discomfort, detracting from the overall experience. Choosing a provider like John To Go ensures enough restrooms to accommodate guests without inconvenience.

Individual Stalls and Dividers: Privacy is vital when it comes to restroom facilities. Individual stalls with sturdy dividers ensure guests have a private space to freshen up and attend to their needs without feeling exposed.

Privacy Features, such as Locks and Soundproofing: Well-designed restroom trailers come equipped with locks and soundproofing to provide an extra layer of privacy and tranquility. This ensures that guests can use the facilities comfortably, free from distractions or concerns about privacy.

Separate Facilities for Men and Women: Separate facilities for men and women further enhance privacy and comfort. It eliminates the need for gender-neutral restrooms and ensures all guests have a dedicated space tailored to their needs.
Incorporating these elements into your event planning, such as those provided by John To Go, guarantees your guests a seamless and comfortable experience, leaving them with fond memories of your special day.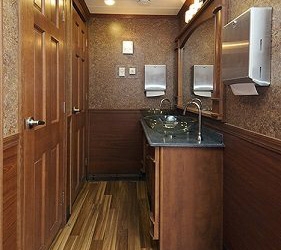 Flexibility in Location and Setup
Flexibility in the location and setup of restroom trailers for weddings is a pivotal factor that can significantly enhance the overall success of your event.
Here's why the flexibility of wedding restroom trailers is so important:
Ease of Transportation and Setup: Modern restroom trailers are designed for ease of transportation and setup. They can be effortlessly delivered and installed at various locations- a lavish ballroom, a rustic barn, or an outdoor garden. This convenience saves time and stress during the event planning process.

Versatility in Placement Options: The ability to place restroom trailers where needed most ensures that your guests have easy access to facilities. You can strategically position them to minimize travel time for attendees, contributing to a smoother event flow.

Customizable Features to Fit Different Venues: Wedding restroom trailers have customizable features that can be adapted to different venues and themes. From exterior decorations to interior decor, you can tailor these trailers to blend with your chosen wedding ambiance seamlessly.

Adaptability to Outdoor and Remote Locations: Restroom trailers offer a practical solution for weddings in remote or outdoor settings. They can function efficiently in locations where traditional restroom facilities may not be available, ensuring that your guests' needs are met, regardless of the venue's remoteness.
Incorporating flexible location and setup options for wedding restroom trailers into your event planning ensures that your guests enjoy convenience, comfort, and a memorable experience, no matter where your celebration occurs.
Factors to Consider When Renting Wedding Restroom Trailers
When selecting restroom trailers for weddings, it's crucial to consider several key factors to guarantee a seamless experience for you and your guests.
These factors encompass the size and capacity of the trailer, ensuring it comfortably accommodates your guest list; the availability of amenities like climate control and elegant interiors to match your event's ambiance; easy accessibility features such as ramps and handrails for all guests, and bottom line - a competitive price package that aligns with your budget.
Careful consideration of these elements will ensure a memorable and hassle-free celebration.
Size and Capacity of Restroom Trailer:
Choosing the right restroom trailer size and capacity is essential. Ensure it comfortably accommodates your guest list to prevent long lines and discomfort. It's crucial for a seamless and enjoyable event experience.

Amenities and Features of Wedding Restroom Trailer:
Features like climate control, vanity mirrors, running water, and elegant interiors add a touch of luxury to your event. Tailoring these features to match your event's needs and ambiance enhances the overall experience, leaving a lasting impression on your guests.

Easy Accessibility and Mobility of Restroom Trailer:
Prioritize easy accessibility and mobility when choosing a restroom trailer. Features such as ramps, handrails, and spacious layouts ensure that all guests, including those with mobility challenges, can use the facilities comfortably. It's an essential aspect of a seamless and inclusive event experience.

Comparable Price and Rental Packages for Wedding Restroom Trailers:
Comparing prices and rental packages for wedding restroom trailers is essential for budget planning. It allows you to find options that align with your financial constraints while meeting your event's needs. Careful consideration ensures a cost-effective yet high-quality addition to your special day.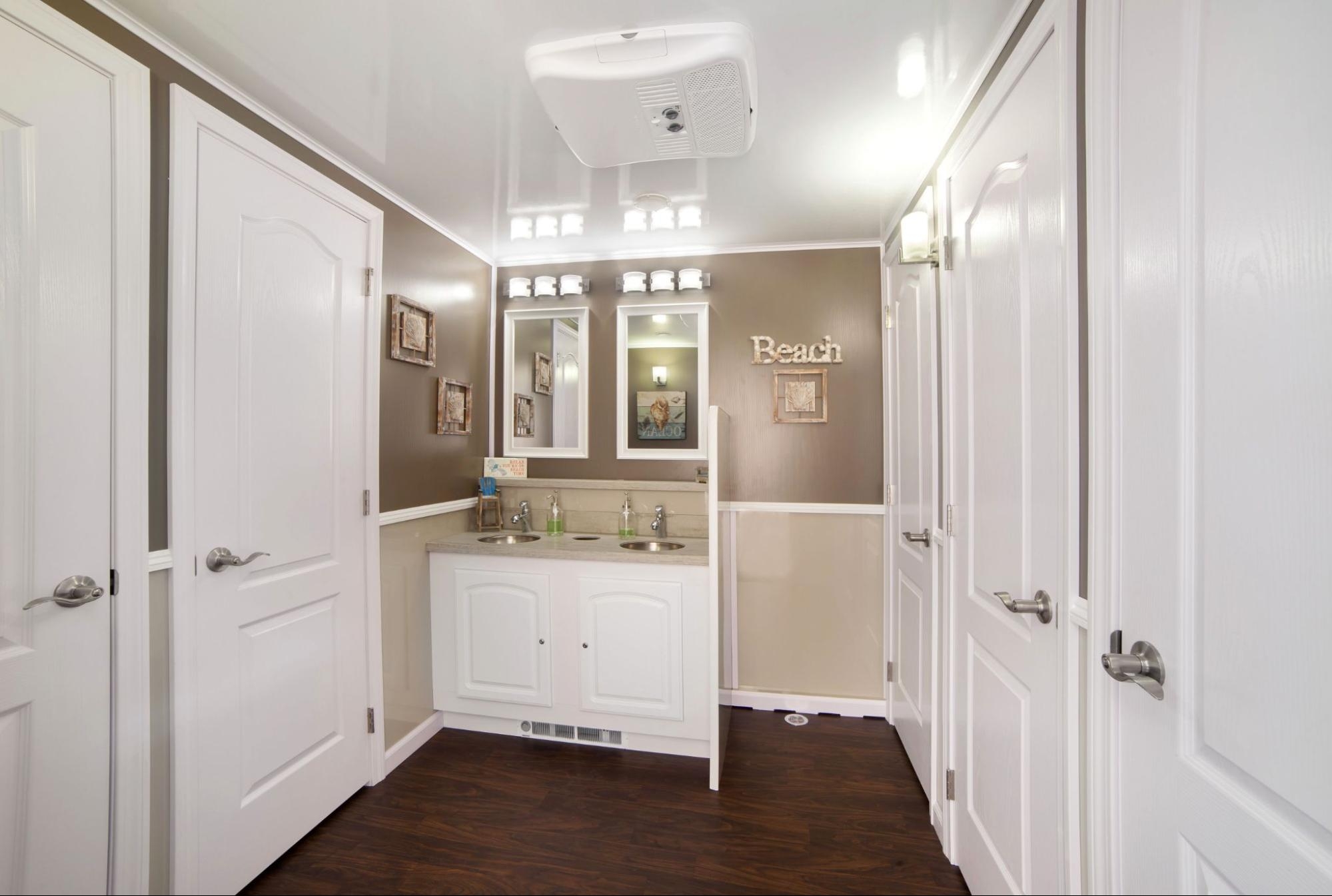 When searching for wedding restroom trailers near you, follow these steps for a smooth and successful process:
Start Early: Begin your search well in advance to secure the best options. Many couples book restroom trailers months before their wedding date.

Research and Reviews: Utilize online resources and read reviews from past customers. This can help you identify reputable rental companies in your area.

Ask for Referrals: Seek recommendations from friends, family, or wedding planners who have experience with restroom trailer rentals.

Visit in Person: Whenever possible, visit rental companies to inspect the trailers and discuss your needs.

Compare Quotes: Obtain quotes from multiple providers and compare prices, packages, and available amenities.

Book in Advance: Once you've found the right restroom trailer for your wedding, book it well in advance to secure your chosen date and ensure a seamless addition to your special day.
John To Go: A Top Wedding Restroom Trailer Rental Company
John To Go stands out as a premier wedding restroom trailer rental company, offering exceptional services that elevate any special occasion. What sets us apart is our commitment to providing top-notch, luxurious facilities tailored to each event's unique needs. Our restroom trailers for weddings boast spacious, well-equipped interiors, climate control, and impeccable hygiene standards.
Customer reviews consistently praise us for our professionalism, prompt delivery, and attention to detail. Clients often highlight their seamless experience, with guests appreciating the comfort and convenience of our restroom trailers for weddings.
With a diverse range of trailers, we offer options that suit various venue styles and guest capacities. Our commitment to excellence ensures that every event, from intimate gatherings to grand celebrations, is enhanced by our thoughtfully designed restroom facilities. When it comes to wedding restroom trailer rentals, John To Go truly stands as a top-tier choice, providing a touch of luxury that leaves a lasting impression on guests and hosts alike.
Reserve Wedding Restroom Trailers
Make your wedding day extraordinary with our top-tier wedding restroom trailers! Contact us now to secure the ultimate in convenience and luxury for your event.
Porta Potties Near Me
When you're researching "porta potties near me," John To Go stands out as the go-to solution for all your portable restroom requirements. We understand that the need for a clean and reliable portable toilet service extends beyond just providing the unit itself.
That's why we focus on offering a comprehensive service package that takes care of all your needs, from the moment you first contact us to the time we complete the pickup. Our diverse range of portable toilet options ensures that we have something to suit every need and budget. With John To Go, you're not just renting a portable restroom—you're investing in a hassle-free experience that covers all the bases.