Why John To Go Porta Potties are the Preferred Choice for Construction Sites
When it comes to construction sites, one of the most essential facilities is often overlooked and underestimated: portable potties. These convenient and practical units are often met with skepticism and concerns about sanitation and cleanliness. However, the truth is far from what many believe. Portable restrooms, such as those provided by John To Go, offer superior sanitary solutions compared to traditional public bathrooms.
We have established ourselves as a preferred choice for construction sites due to our exceptional quality and reliability. Our porta potties are built to withstand the demanding conditions of construction sites. They are constructed using robust materials that can endure heavy usage and harsh weather conditions.
Construction sites often require multiple restrooms to cater to the needs of a large workforce. We offer a range of porta potty options, including standard units, ADA-compliant restrooms, and even luxury restroom trailers.
Construction projects operate on tight schedules, and delays can lead to significant disruptions. John To Go understands this urgency and prioritizes prompt delivery of porta potties to construction sites.
Join us as we delve into the world of porta potties sanitary solutions, unveiling the truth behind our sanitation practices and showcasing the benefits that mobile bathrooms bring to construction projects. Let's ensure your team has access to clean and efficient restroom facilities throughout their demanding workdays.
What Are Porta Potties?
Porta potties, also known as portable toilets or portable restrooms, are self-contained temporary structures designed to provide sanitary facilities in locations where permanent bathrooms are unavailable. They are commonly used at outdoor events, construction sites, campgrounds, festivals, and other temporary gatherings.
Porta potties are typically made of lightweight and durable materials such as plastic, and they are designed to be easily transported and set up. They consist of a small, enclosed compartment that contains a toilet seat or a seat and urinal, as well as a holding tank for waste.
As part of John to Go's porta potties sanitary solutions, consider including the following add-on units with your order:
Hand washing stations

Hand sanitizing stations
Let's take a look at each of them.
Hand Washing Stations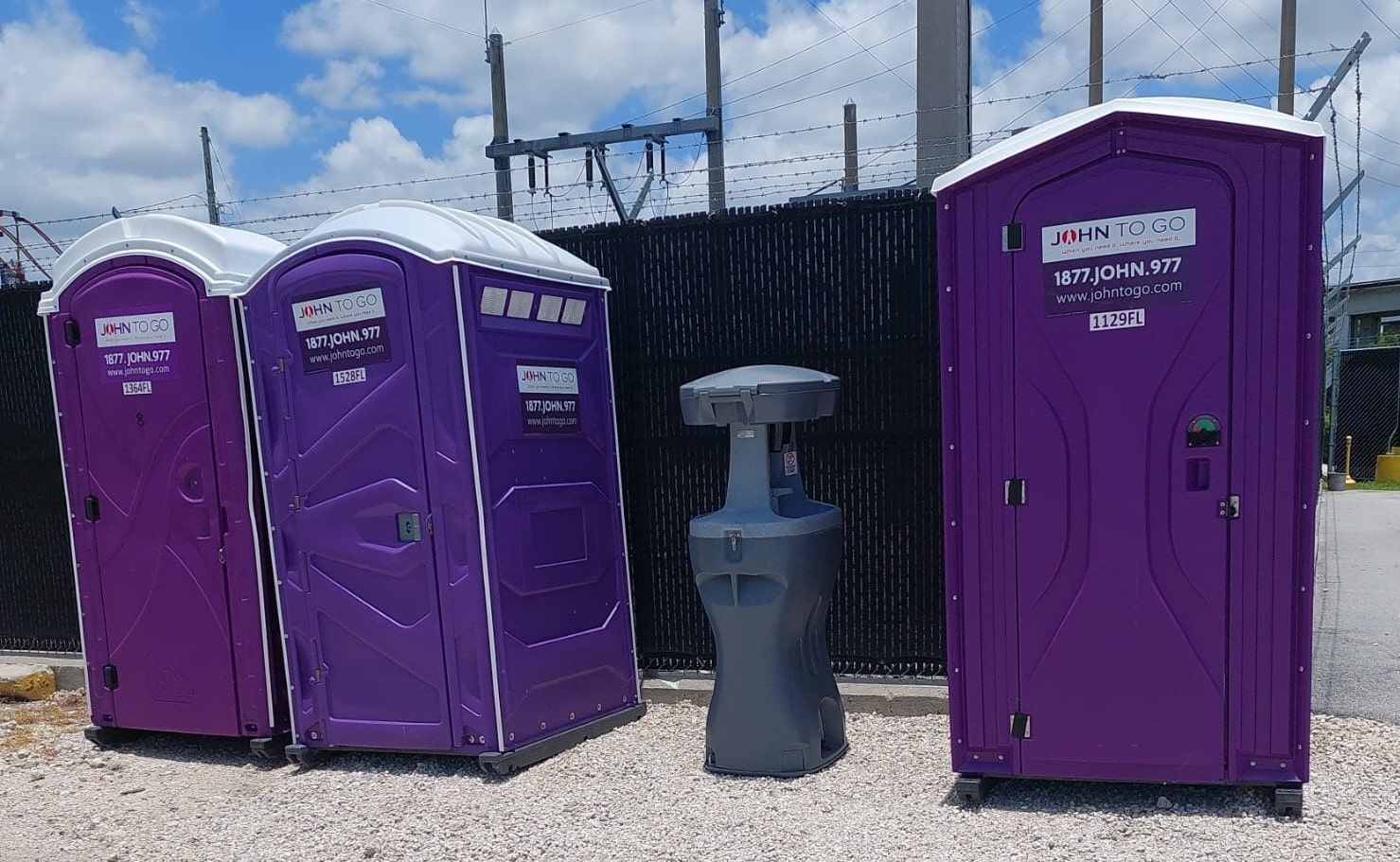 When it comes to porta potties sanitary solutions, John To Go goes above and beyond to ensure proper hygiene. Together with our porta potty portable restrooms, you have the option of renting our free-standing handwashing sink that can go anywhere, providing users with a convenient and effective sanitizing solution.
With our add-on sink, users have access to running water, allowing for thorough handwashing and reducing the risk of germs and contamination. Handwashing stations are specially designed with double-sided entrances, increasing the number of people that can have access to it at a time. Water tanks are also provided, so that you can always have access to water.
The combination of handwashing stations with the porta potties demonstrates John To Go's commitment to providing comprehensive sanitary solutions. Construction sites and events can rely on these portable restrooms and handwashing sanitary solutions to meet the highest standards of cleanliness and hygiene.
Hand Sanitizing Stations
In the wake of the coronavirus pandemic, maintaining proper sanitation and promoting self-hygiene have become top priorities for individuals and organizations alike. Recognizing the heightened awareness around these issues, John To Go goes the extra mile to provide comprehensive hygiene solutions.
John To Go incorporates free-standing hand-sanitizing stations to address the need for quick and convenient hand sanitization. These stations can be strategically placed near the porta potties, allowing construction workers to sanitize their hands effectively before returning to their work.
By offering hand sanitizing stations alongside built-in sinks, we ensure that individuals have multiple options for maintaining cleanliness. This dual approach accommodates different preferences and promotes a well-rounded approach to personal hygiene.
With this inclusive feature, we address the concerns raised by the pandemic and go above and beyond to provide comprehensive hygiene solutions for construction site restroom facilities.
How are Porta Potties Cleaned by Professionals?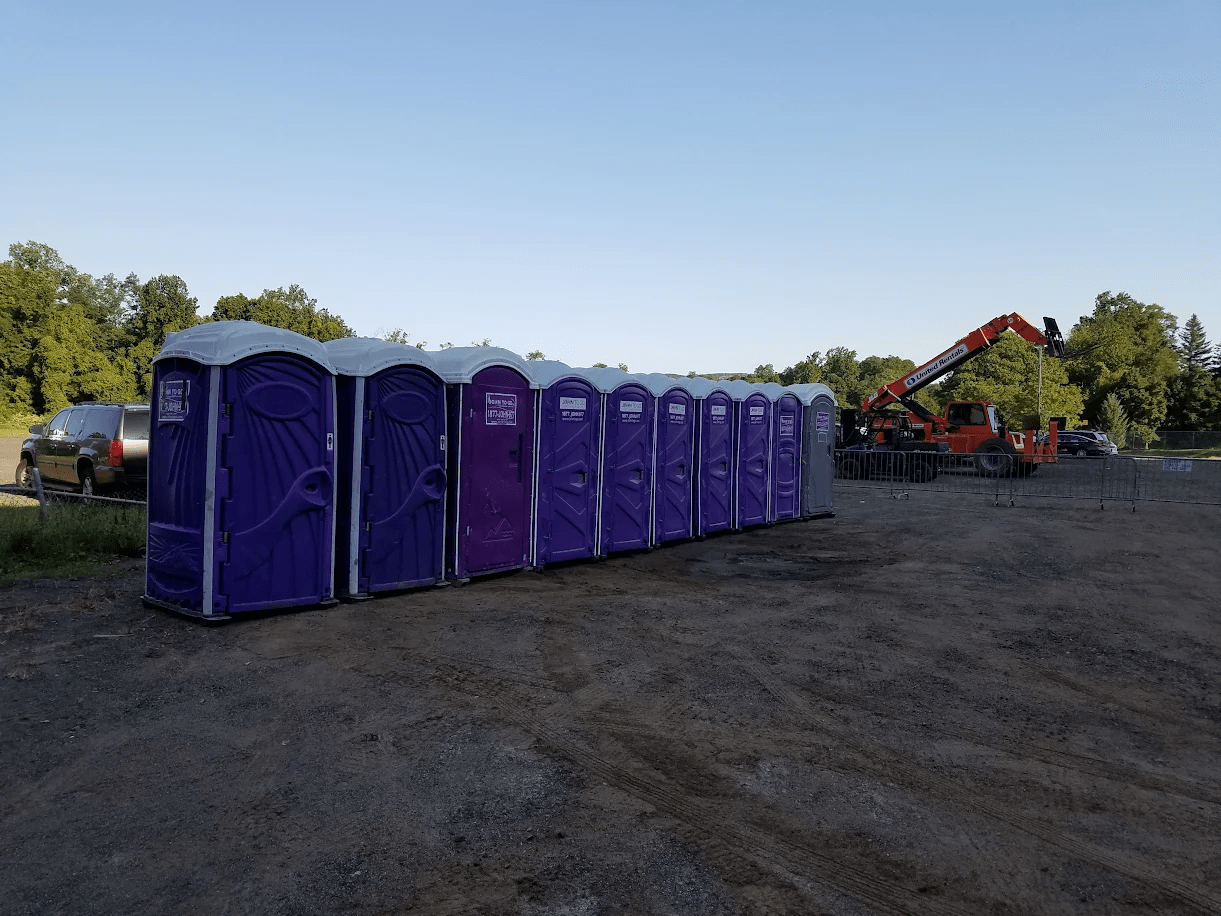 Maintaining the highest standards of cleanliness and sanitation is a top priority for John To Go when it comes to their porta potties. Our portable restrooms are routinely cleaned and sanitized by dedicated professionals, ensuring that users have the safest and most hygienic experience possible.
So, how do we clean porta potties? The process begins with a thorough inspection to identify any areas requiring specific attention. Our trained professionals then proceed to clean and sanitize the units from top to bottom, leaving no surface untouched. Special attention is given to high-touch areas such as door handles, seat covers, and handwashing stations.
Eco-friendly cleaning agents and disinfectants effectively eliminate bacteria, viruses, and odors. In addition, all waste is responsibly disposed of to comply with sanitation regulations and environmental standards.
John To Go's commitment to cleanliness goes beyond routine cleaning. We implement stringent quality control measures as part of our porta potties sanitary solutions before it reaches a construction site. This dedication to cleanliness and hygiene guarantees users a safe and pleasant experience.
Odor Control
When it comes to portable restrooms, one common concern is the potential for unpleasant odors. However, John To Go takes pride in providing porta potties that prioritize cleanliness and odor control through ventilation and effective deodorizing products.
As part of our comprehensive porta potties sanitary solutions, we use specially-formulated products that are designed to neutralize odors at their source, effectively eliminating any unpleasant smells that may arise and providing consistent and comprehensive porta potties sanitary solutions for construction site porta potties.
Are Porta Potties Safe?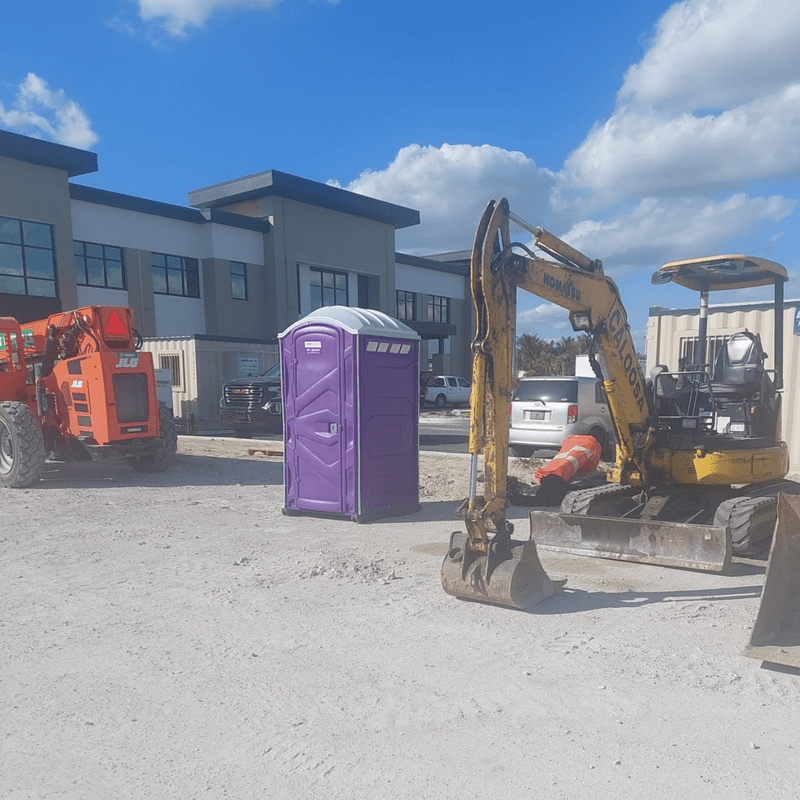 Concerns about the safety of porta potties are valid, but John To Go prioritizes the safety of users by implementing effective waste management practices. Our portable restrooms are designed with waste containment systems to ensure a safe and hygienic experience.
Human waste is securely contained within designated waste tanks when using a John To Go porta potty. These tanks are specially engineered to prevent leakage and exposure, minimizing any risk to users.
But what happens to the waste after it is contained? John To Go takes a responsible approach by taking human waste to a treatment center, which undergoes proper processing and disposal. At the treatment center, the waste is handled according to regulated protocols, ensuring that it is disposed of safely and environmentally friendly.
Rest assured that John To Go portable restrooms are designed to be safe from human waste. With waste containment systems and proper disposal procedures, users can have peace of mind knowing that their health and well-being are prioritized.
So, if you've ever wondered "are porta potties safe?", yes they are.
John To Go Porta Potties Are Cleaner Than You Think
It's time to debunk a common misconception: John To Go's porta potties are cleaner than you might think.
John To Go understands the importance of cleanliness and hygiene, especially in high-traffic areas like construction sites. That's why we go the extra mile to ensure our porta potties are cleaner than ever before.
First and foremost, routine cleaning and maintenance are integral to keeping John To Go's porta potties in pristine condition. Trained professionals regularly sanitize and clean each unit, paying meticulous attention to detail. From the interior surfaces to the waste containment systems, every aspect of the portable restroom undergoes thorough cleaning to maintain optimal cleanliness.
Frequently Asked Questions (FAQs)
How do you keep a portable toilet clean?
Maintaining a portable toilet involves routine cleaning and maintenance. Professional cleaning services typically handle the task, ensuring that the unit is thoroughly cleaned, sanitized, and restocked with necessary supplies. This includes cleaning the interior surfaces, emptying waste tanks, refilling hand sanitizer or soap dispensers, and restocking toilet paper.
What solution is used in porta potties?
Porta potties typically use a specialized chemical solution known as a blue deodorizer or blue liquid. This solution serves multiple purposes, including neutralizing odors, breaking down waste, and helping to control bacteria and germs. The blue liquid is specifically formulated for portable toilets and is safe for the environment.
John To Go offers eco-friendly cleaning supplies that are efficient in sanitizing these portable restrooms. What's more? They aren't toxic.
What chemical can I use in a portable toilet?
As part of our porta potty service, our portable bathrooms are set up for regular servicing, so that the burden of the cleaning does not fall on anyone's shoulders. All you need to do is schedule your porta potties for servicing, and we'll be there according to your preferred timing.
How do you control the smell in a portable toilet?
Several measures can be taken to control odors in a portable toilet. As mentioned earlier, the use of specialized deodorizing products or blue liquids helps neutralize odors. Additionally, proper ventilation is crucial. Many portable toilets are designed with vents or openings to allow airflow, which helps dissipate odors and maintain a fresher environment. Regular cleaning and waste removal are also essential to prevent odors from building up.
What is the most sanitary way to clean a toilet?
With John To Go as your provider, you don't need to worry about a single thing. We will provide your total porta potties sanitary solutions.
How does a porta potty get clean?
Professional cleaning services, available through your preferred porta potty provider, will handle the cleaning of porta potties. Our service experts follow a thorough process to ensure cleanliness and hygiene. They empty the waste tanks, clean and sanitize all interior surfaces, restock supplies, and replenish any necessary chemicals or deodorizers. The porta potty may also undergo inspections to check for any maintenance or repair needs. By relying on trained professionals, porta potties are effectively cleaned and maintained to provide users with a safe and pleasant experience.
Porta Potties Near Me
When you're researching "porta potties near me," John To Go stands out as the go-to solution for all your portable restroom requirements. We understand that the need for a clean and reliable portable toilet service extends beyond just providing the unit itself.
That's why we focus on offering a comprehensive service package that takes care of all your needs, from the moment you first contact us to the time we complete the pickup. Our diverse range of portable toilet options ensures that we have something to suit every need and budget. With John To Go, you're not just renting a portable restroom—you're investing in a hassle-free experience that covers all the bases.