In the face of unpredictable circumstances and urgent needs, Florida residents and businesses can rely on top-tier emergency porta potty services to provide essential sanitation solutions. Whether it's the aftermath of a natural disaster, or other unexpected event, our rapid-response porta potty services ensure that hygiene and convenience are maintained. Offering a blend of swift deployment, high-quality units, and unwavering dedication to customer satisfaction, our services stand as a beacon of support during critical times in the Sunshine State.
Quick Facts on Florida Natural Disasters

Flooding
Florida's combination of flat terrain, rising sea level, and excessive rainfall mean that it's the likeliest state to flood. Floods occur most often during major storm events that produce heavy amounts of rainfall over short periods of time.

Hurricanes
Hurricanes are a natural disaster that leave much damage in their wake. Hurricane season starts around June 1st, when the ocean water temperature starts rising, and lasts until temps begin to drop around the end of October.

Wildfires
Wildfires are fearsome from March to June. During these months, the air is dry, and there is more dead and fire-prone vegetation in the area. Heavy rainfall is typically combined with lightning strikes, which ignite fires that are fueled by plants and vegetation.

Tropical Storms
Tropical storm season occurs from May through October. At this time, Florida sees almost 70% of its year-long rainfall. This is also the time for pronounced winds and high temperatures, creating the perfect climate for tropical storms.
Preparation for Natural Disaster and Emergency Portable Toilet Rental in Florida
Most residents of Florida are adequately prepared with first aid kits, plenty of food and water, and other essentials. However, in the instance where there are wide-scale evacuations, wide-scale intervention is necessary to keep all citizen's safe. Disaster relief sites and disaster recovery resources are essential during a state of emergency caused by natural disasters. These are typically set up by the county's local emergency management agency, FEMA, the American Red Cross, or a combination of all three. Here, residents can find first-aid stations and shelter, typically set up in large areas, such as schools and stadiums.
John To Go is always available to help, and we've created a game plan to provide help when you need it most. Whether you're preparing for a natural disaster that can be predicted, such as a hurricane, or you're seeking assistance after the storm has brought its ruin, we can help. In fact, we proactively take steps to ensure that we are well-staffed and equipped with the maximum number of disaster relief porta potty units in the areas where disaster is expected.
1
Natural Disaster Preparation
Hurricanes are typically predicted 5 to 7 days before they strike an area. During this time, John To Go puts an emergency plan into place. We start by gathering porta potty units, restroom trailers, sinks, and disaster relief shower trailers in a central area next to the area of expected disaster. By pooling our disaster relief porta potty units and other relief resources, we can ensure that we're prepared to respond to your local needs immediately. Our local facilities are well-fortified to keep the equipment safe so that they are good to go as soon as you need them.
From there, we line up staffing to make sure operations run smoothly. Our customer service representatives are on call for when you need us, drivers are on the roads, and our operation team is at the storage facility around the clock to ensure everything goes as planned. With our units and staff at the ready, we are prepared to dispatch portable toilets, restroom rentals, shower rentals, and sinks, as soon as a relief agency contacts us.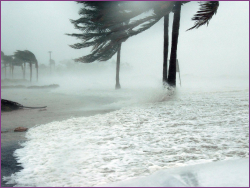 Preparing for a large-scale Florida emergency involves the coordination of many technical arrangements. Beyond a FEMA disaster recovery center, emergency shelter, food, and first aid, restroom trailers for disasters are often needed immediately. Government officials, response teams, utility companies, and evacuated residents are among those who are dependent on portable toilet vendors for emergency response trailer shower units. That's where John To Go's portable toilet emergency preparedness comes into play.
As a large supplier of disaster relief porta potty rentals with a strong presence in Florida, we have all of the essential supplies ready and available to deploy, including: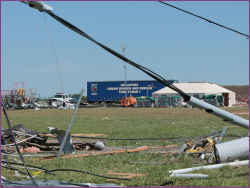 Our units can hold as many as 2, 3, 5, 8, or 10 individuals at a time. Our selection of trailers enable you to serve both large and small crowds of people that have been misplaced.

We have several styles of disaster relief porta potties to choose from, all of which can be utilized in an emergency such as a natural disaster. We also offer handicapped units to service the wheelchair-bound users, as well as premium flushing units with wash and flush capabilities.

Staying healthy while remaining safe from a natural disaster is imperative. That's why we have many hand-washing and sanitizing stations that can be deployed to your rescue station or shelter.

Allowing people a sense of normalcy during a natural disaster is imperative, especially as people are evacuated from their homes for extended amounts of time. A shower trailer allows both displaced people and rescue volunteers to freshen up and retain their dignity.

It may be challenging - if not impossible - to find access to freshwater during a natural disaster. The freshwater tanks will provide you with a supply of water for drinking and cleaning.

These portable rechargeable floodlights take seconds to set up, yet they offer high-lumen floodlight beams that can powerfully brighten an area where disaster relief and recovery efforts are taking place.
CHOOSE FROM OUR EXTENSIVE SELECTION OF PORTA POTTY RENTALS
John To Go takes steps to ensure we can provide relief to residents. Here's how we do it:
Select the best location for placement of disaster relief porta potty units

Our staff understands the importance of finding the right spot for each shower, restroom, and porta potty. The area should be flat (asphalt or concrete is best), and the site should not be in a position where water accumulates or gets absorbed (such as on the grass), where our 5-15K pound heavy trailers will sink over time.

Supply power and water to the units

When a site has power and water supply, we'll connect them to the trailers to get them up and running. If these are unavailable due to the natural disaster, John To Go will supply the units with generators and water tanks.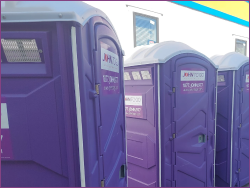 We're not just the go-to company for supplying emergency shower trailers and portable restrooms for disaster relief — we also provide stellar maintenance service. Two of the most essential services we can provide before, during, and after an emergency include:
Maintenance/Cleaning

We pride ourselves on keeping our units fully stocked and well-maintained to provide disaster victimes and rescue volunteers the highest level of service. We generally clean our toilet units on a weekly basis, but you can request multiple cleanings weekly and we'll be happy to accomodate.

Gray Water (Wastewater) Pumping

We pump wastewater for all John To Go porta potties and trailers. Upon request, we can also pump any other trailer or RV set up within the disaster relief area.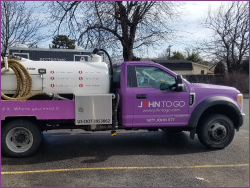 We Provide Quick Assistance
At John To Go, we know that you need help fast when a natural disaster occurs. Here's how we can do that:
Quick Response Time

Our disaster relief porta potty units are just a quick phone call away. When Florida natural disasters are predicted, we gather any available porta potties, restroom trailers, and shower trailers to the closest John To Go warehouse so that they're ready for immediate deployment. As soon as you need them, we'll get them over to you.

24 Hour Porta Potty Rental in FL

Some companies operate from 9 AM and 5 PM. Not so at John To Go. We're on high alert as soon as we learn an impending storm, and won't shut down at 5 PM if you need us later. You can feel confident relying on us for our disaster relief restroom trailers as we are available to respond to your needs around the clock.

Large inventory of emergency porta potty units

With our incredible lineup of disaster relief restrooms stored in strategic locations next to impending storm regions, we'll serve you with restrooms, showers, water tanks, sinks, etc. at a time when you need us most.

Strong Local Presence

For years, John To Go has been a leading porta potty provider across South Florida, and has serviced many disaster sites with restrooms. We are innately familiar with the Florida scene and will provide top-notch service wherever you need it. With multiple bases in Florida, help is never too far away.

Trained Staff

The staff at John To Go are well-trained in how to respond to a Florida state of emergency. Our drivers have well-equipped trucks to drive through the aftermath of a storm, and proper security clearance to get to you. No matter where you are. Quick and efficient, our drivers are capable of getting units out to you in no time.

Efficient Service

Simplicity for clients is a priority at John To Go. We make the process smooth from start to finish. With our automated, online quoting system, you can quickly, and that's precisely why we strive for with 5-star quick and efficient service. With John To Go, it's never been easier to get a porta-potty — whether it's an emergency porta potty unit or not. We'll work with you to finalize arrangements expediently and to get your units on the road for delivery.
Florida is prone to certain natural disasters, and being prepared is key to minimizing the negative impact. When putting together your emergency plan, don't forget necessities like food, shelter, and emergency porta-potty units - just like the ones John To Go can provide.
John To Go is the leading company for emergency porta-potty and shower units. We have an emergency procedure to deploy our units swiftly with a team of expert staff to get them there when and where you need them most. When the next natural disaster strikes, don't hesitate to depend on John To Go for an emergency porta-potty, shower, hand sanitizer, and hand washer station.
Whether you have questions about our units, need to schedule an emergency portable toilet or emergency shower trailer, our staff is standing by to help you every bit of the way.
Porta Potties Near Me
When you're researching "porta potties near me," John To Go stands out as the go-to solution for all your portable restroom requirements. We understand that the need for a clean and reliable portable toilet service extends beyond just providing the unit itself.
That's why we focus on offering a comprehensive service package that takes care of all your needs, from the moment you first contact us to the time we complete the pickup. Our diverse range of portable toilet options ensures that we have something to suit every need and budget. With John To Go, you're not just renting a portable restroom—you're investing in a hassle-free experience that covers all the bases.