Ultimate Planning Guide for Inclusive Events
According to the Centers for Disease Control and Prevention, 1 in 4 adults has special needs. That said, if you're a party planner that has overlooked making specific accommodations for these individuals, you're excluding up to 26% of the population - but it doesn't have to stay that way.
Inclusivity isn't just a buzzword. It's important, and most people - including party planners - are getting on board. However, not everyone knows how to go about it. After all, creating a whole new template for "inclusive events'' sounds overwhelming. Luckily, it's not. You just need the right tools and knowledge in your tool belt to get it right.
If you're focusing on designing inclusive events that can accommodate all individuals - even those with special needs - keep reading. Below, you will find the ultimate planning guide for inclusive events.
Inclusive Event Checklist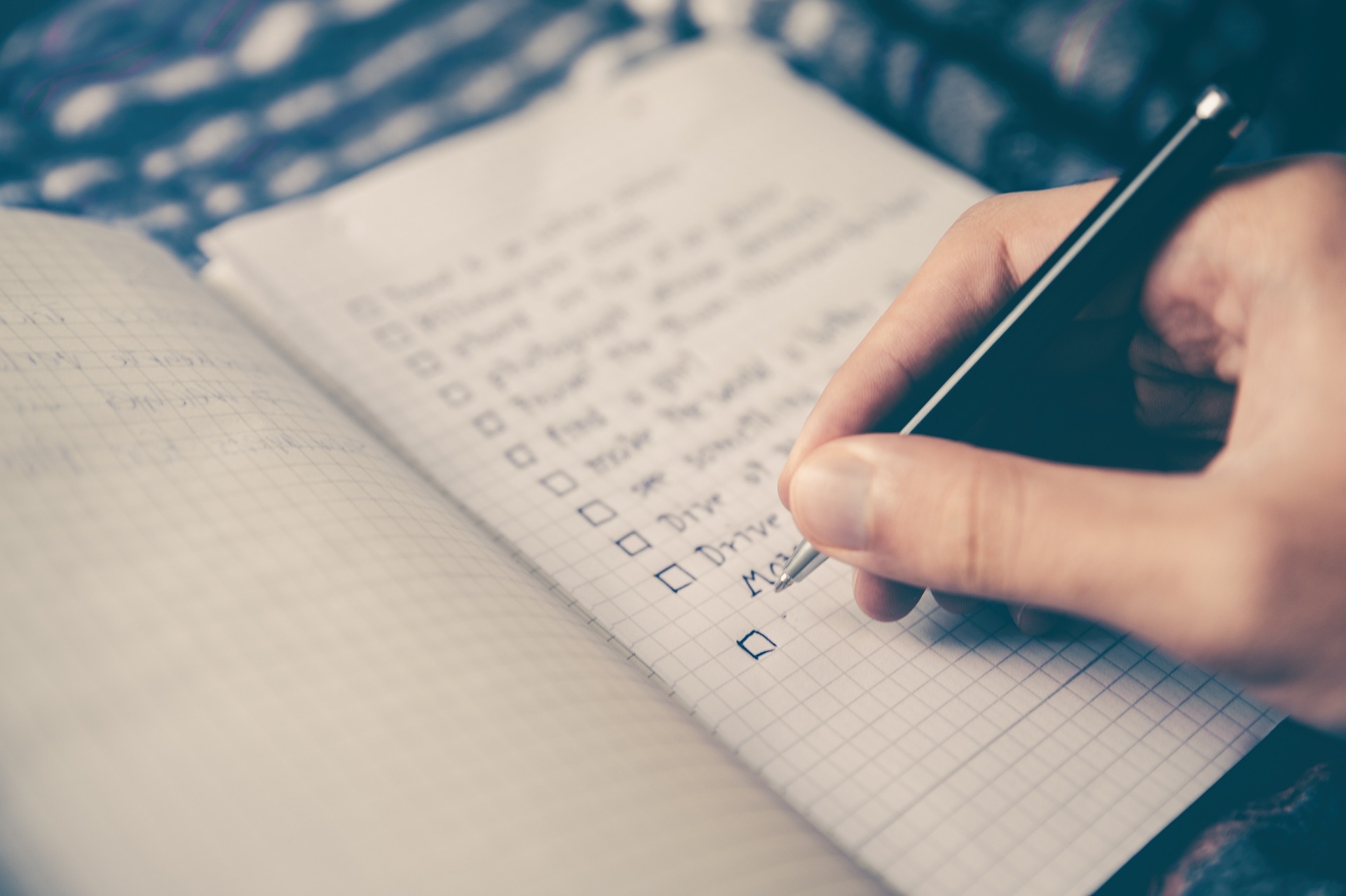 Planning ADA events isn't necessarily challenging. There are just a few more steps to take to ensure that all visitors are accommodated. Please be aware that the checklist below is a general guideline. You will need to check with state regulations and policies to ensure the event can be labeled as a fully-compliant ADA event.
1. Decide on the Event and Correlating Goals
Like any other type of event, the first step is to decide on the event type and any goals associated with the event. For instance, the goal of your event may be to raise awareness about something going on within the community, or it may be about hosting a motivational course for all people to enjoy. 
2. Create a Budget and Team
Once you have decided on the purpose and goals for the event, you'll need to create a budget to accommodate it. You will also need to put together an "all-star" team that can help you before, during, and after the event.
It will help immensely to assemble a team with experience working with people with special needs. So, when compiling your group, discuss whether they have any previous experience in this category.
3. Select a Location, Day, and Time for the Event
Now it's time to start putting together the event, and that begins by choosing a location, day, and time for the event. 
Choose a day that does not compete with any holidays or celebrations. You want all visitors to be able to attend with no conflicting events. It's best to hold events during daylight hours. This will make it easier for guests, and specifically those with limitations, to get to and from the event without worry.
When deciding on a location, ensure the space can accommodate those with special needs. For instance, if you opt for an ADA outdoor event, you will need to make sure there are van-accessible parking spaces, ramps for elevations more than ¼ inches, and routes within the event that are at least 36 inches wide.
If you're planning to hold your ADA event indoors, ensure they are equipped to handle ADA requirements for events, such as signs with braille, wide doorways for wheelchair users, and wheelchair-accessible tables (read more about ADA reach requirements).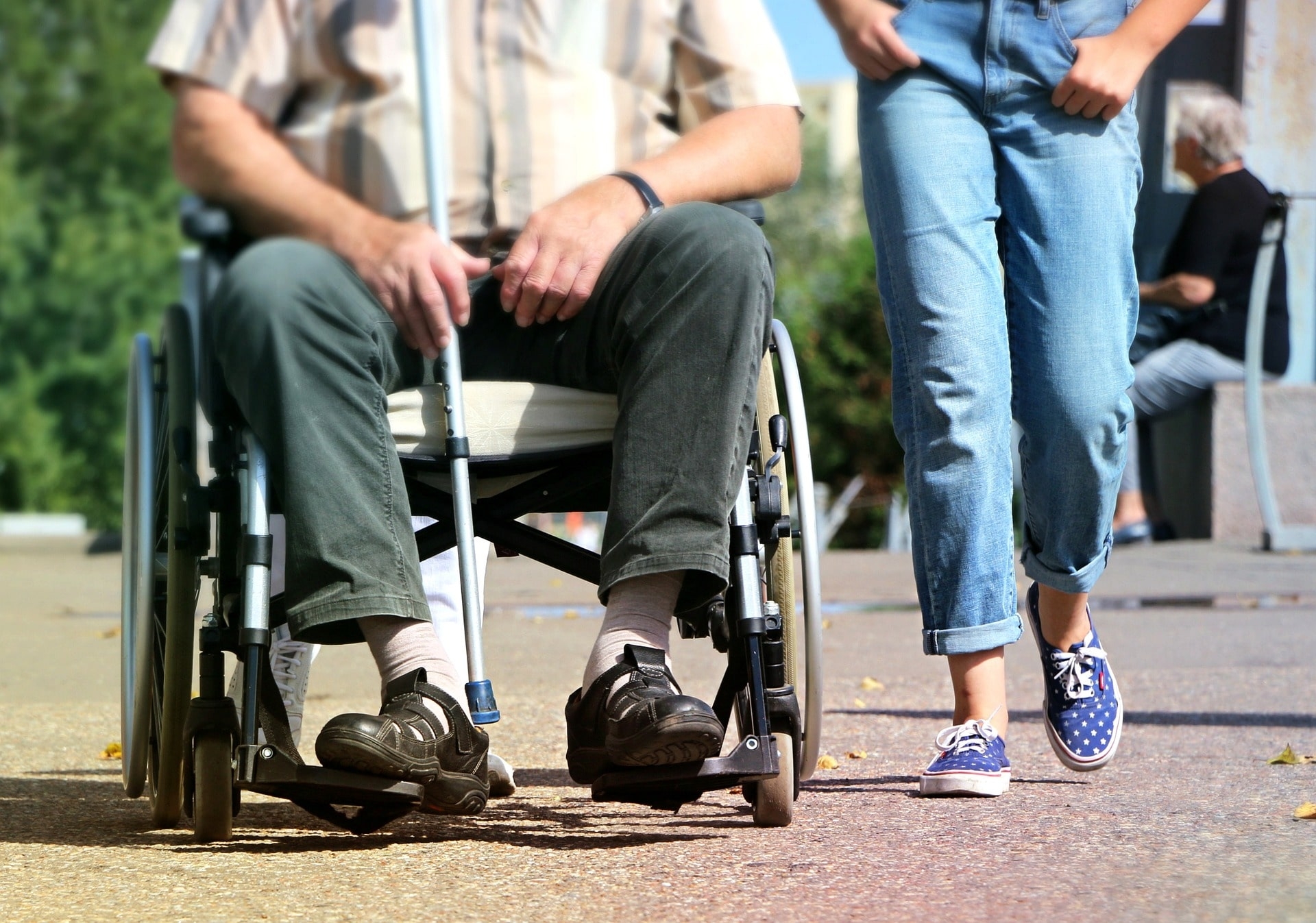 4. Focus on Considerations for Those With Special Needs
You need to ensure you're providing the proper accommodation for the event to all individuals with special needs. That said, when hosting an event, you should always send out a registration form in advance, asking individuals about any specific needs they may have. This will give you a better understanding of what accommodations should be provided at your event so you can plan accordingly ahead of time.
Some of the most common technical considerations for those with special needs include:
Visual
For those with visual impairments, you need to be equipped with the following:
Braille

Easy read signs

Large print

Tactile displays
Motor/Mobility
For wheelchaired attendees, there are other considerations to keep in mind:
Wheelchair-accessible ramps (with doorway access of at least 36 inches)

Portable ramps (when necessary)

Working entrance buttons

Wheelchair-accessible entrance (32 inches wide)

Clear and wide hallways (ADA-accessible route)

Handicapped parking spaces (wheelchair space standards 96"x96")

Wheelchair-accessible tables (maximum 32" height, clearance 28")

Toilet ADA compliant (with specific handicap portable toilet specifications)
Auditory
And for those with auditory impairments, the following should be considered:
Image descriptions for presentations

Closed captioning for videos

Sound devices for hard-of-hearing visitors

Microphones

Reserved front-row seats

CART/ASL Interpreters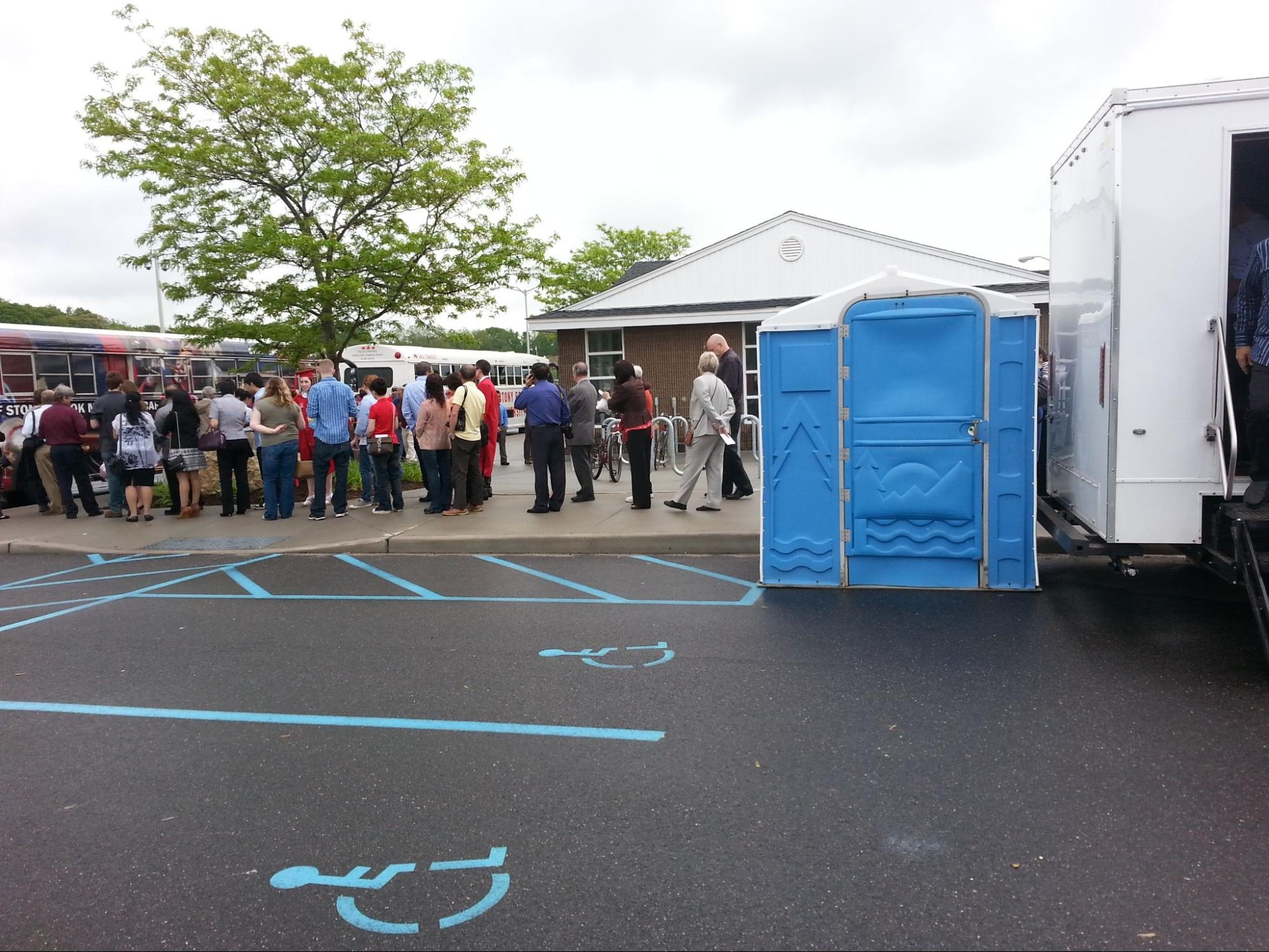 5. Put the Plan Into Action
Now you have a date, time, and location, and know how to make an event accessible for all attendees. With everything put in place, it's time to bring the inclusive events to life.
Note that many inclusive events provide transportation to attendees who may otherwise have a difficult time coming to the event. If you plan to provide transportation, here are a few quick guidelines to consider:
Accessible rider information is required (electronic format, braille, etc.)

Adequate time for boarding and exiting is required

Assistance features, such as lifts and ramps, must be fully functioning

Operators and personnel must be trained

Service animals are always allowed
John To Go Has Handicap Porta-Potty Options for Your Inclusive Events!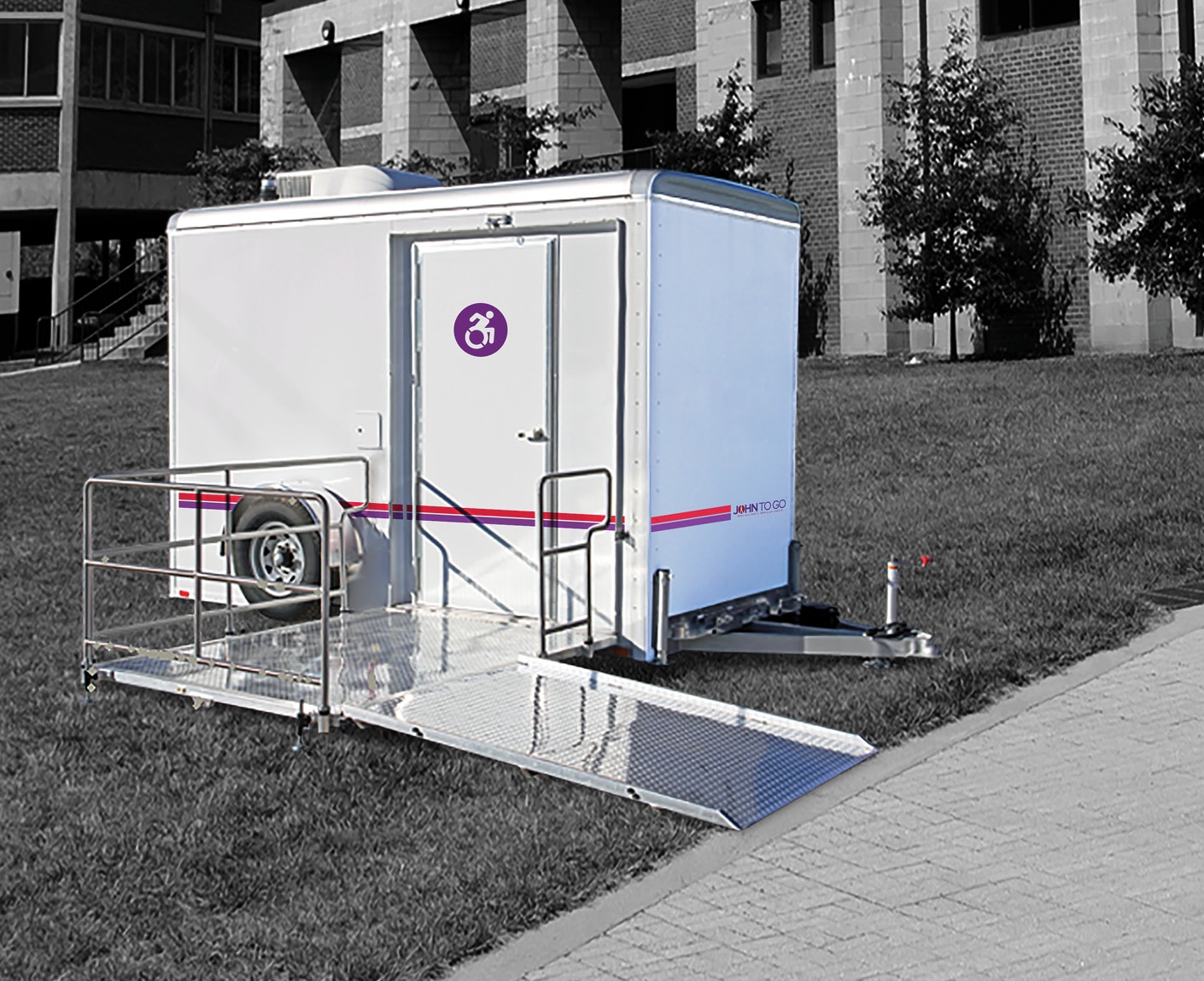 Whether you're hosting your inclusive events outside or inside, you need to make sure that there are enough restrooms to accommodate the needs of your attendees. While the location you choose should have ADA-compliant restrooms, providing more options for your guests is an absolute must.
To ensure your guests have plenty of options to "take care of business," consider event restrooms from John To Go. We have been in the event restroom biz since 2004 and have continued to provide top-notch portable restroom rentals - including ADA-approved toilet rentals - to our customers.
If you're hosting an inclusive event and need an ADA-compliant toilet, John To Go has you covered.
At John To Go, we know the importance of providing portable handicap toilets that are ADA-compliant, luxurious, and comfortable. That's why our ADA toilets are designed using ADA bathroom door requirements (height and width), handrails that are up to par with the ADA grab bar requirements, and our toilet room dimensions provide enough space for three-point turns.
Accessible Restroom Trailers
Are you considering event restroom trailers rather than a single handicap porta-potty? John To Go can help in these situations, too. We offer five-station and two-station event restroom trailers complete with ADA-compliant toilets.
Our restroom trailer rental options come with "regular" toilets as well as an ADA toilet stall that follows ADA lavatory requirements. From the clearly depicted bathroom door sign to the ADA bathroom stall dimensions, and from the accessible toilet to the ADA non-slip surface, guests with and without special needs will appreciate these exquisite trailers.
Do you need a toilet (ADA compliant) but don't want a handicapped porta-potty? Are you looking for a fancier ADA portable toilet? Then you'll appreciate our single ADA portable restroom trailers, the opulent way to "go."
Our ADA bathroom trailers conform to ADA standards, including the proper ADA lavatory height, ADA sink height, and ADA bathroom grab bar requirements. But our handicapped portable toilet trailer takes it a step further with music, skylights, and a modern aesthetic that will be appreciated by all your guests.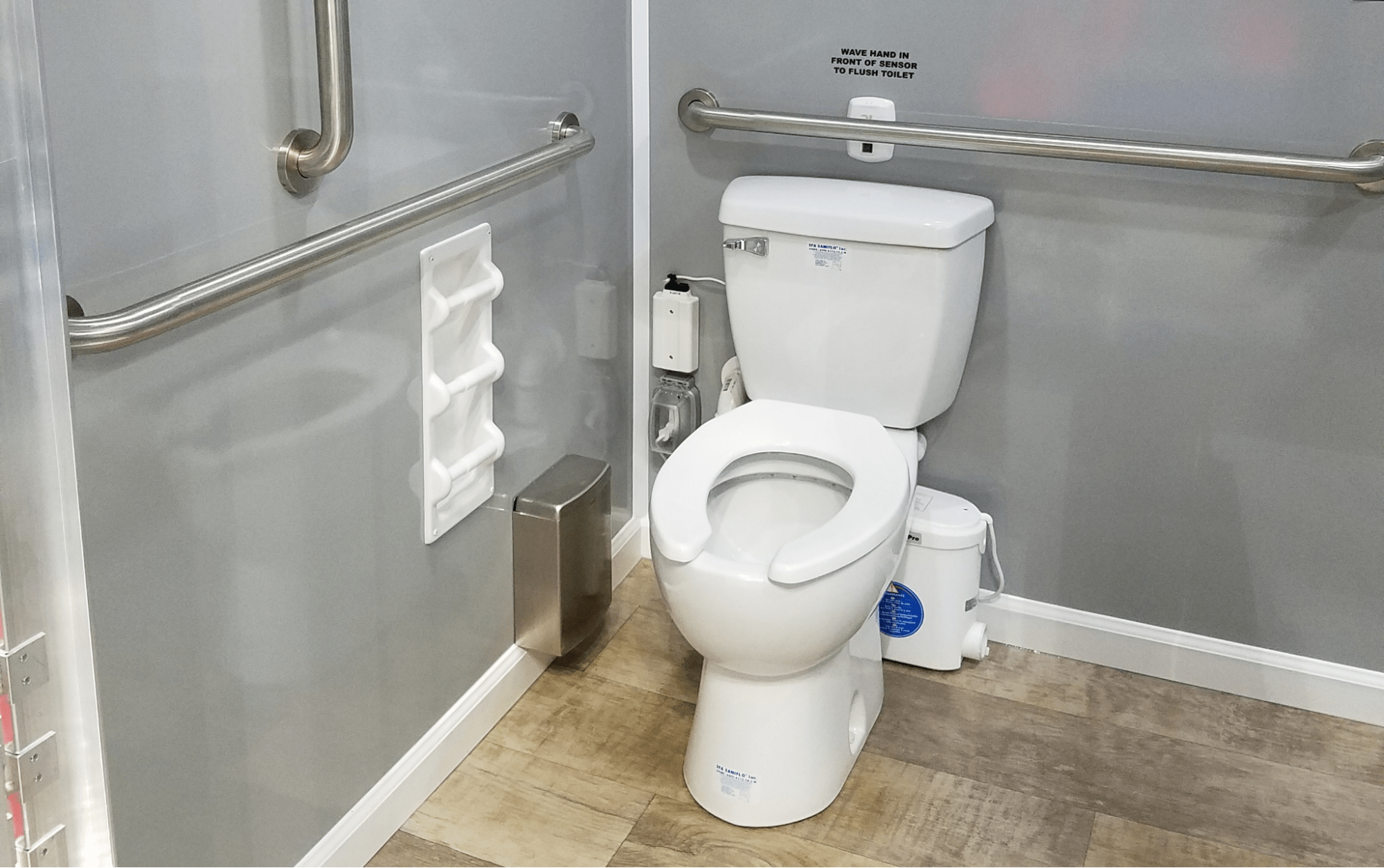 FAQs
How many restrooms do I need for my event?
As a general rule of thumb, you should always have at least one portable toilet for every 50 guests. However, things change when you're hosting inclusive events, and you need to be sure you have the correct number of portable handicap toilet options, too.
That said, you need to have at least one handicapped porta potty per every 20 portable toilets. Although, you can have more or less depending on your needs. For instance, if you know you have a large number of folks with special needs attending your event, you may opt to have several handicap-accessible portable toilets.
Still unsure? We can help! Our customer service team is always standing by to help you with all of your questions, whether you want to know more about the handicap stall dimensions or how many handicap portable potty options you need to facilitate your upcoming event.
Do the porta potties include sinks?
Our wheelchair-accessible porta-potty comes with a sanitizer but not a sink. However, our handicap trailer does include a sink. If you are concerned about sanitation, we also offer handwashing stations that can keep your guests clean throughout the event.
How much in advance do I need to place my porta-potty order?
The sooner, the better. While we always strive to accommodate our customers - even in sudden situations - we often get booked. It's best to contact us sooner than later for your handicap-accessible porta-potty needs (and other portable restroom needs). 
Inclusive Events Are a Must - Just Don't Forget the Toilets!
In this day and age, it's more important than ever to be inclusive. The good news is that putting together inclusive events isn't challenging. Always consult with your local and state guidelines about specific ADA requirements for events, and ask attendees what they'll need to have an enjoyable and successful time at your event. 
And for all of your handicap porta-potty and trailer restroom needs, call John To Go! Our trailer and porta-potty for handicapped individuals are ADA-compliant and will provide a sensational experience for your guests!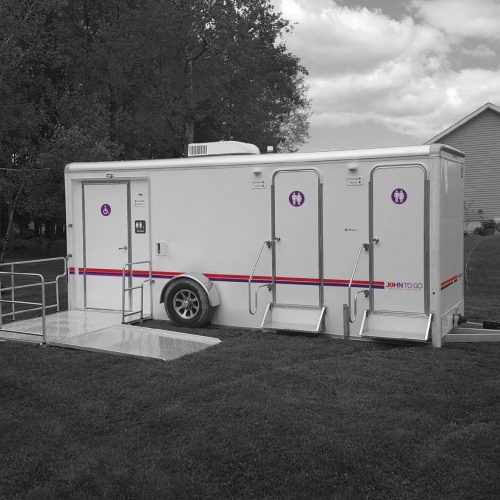 Porta Potties Near Me
When you're researching "porta potties near me," John To Go stands out as the go-to solution for all your portable restroom requirements. We understand that the need for a clean and reliable portable toilet service extends beyond just providing the unit itself.
That's why we focus on offering a comprehensive service package that takes care of all your needs, from the moment you first contact us to the time we complete the pickup. Our diverse range of portable toilet options ensures that we have something to suit every need and budget. With John To Go, you're not just renting a portable restroom—you're investing in a hassle-free experience that covers all the bases.