Selecting a Portable Toilet Provider with Rapid Deployment Capabilities
Choosing the right portable toilet provider for a successful music festival goes far beyond simply ticking off an item on your logistical checklist; it directly impacts the experience of everyone attending the event. The importance of attendee comfort cannot be overstated, as festival-goers are more likely to have a positive impression of the event—and by extension, return in the future—if they have access to clean and conveniently located restroom facilities.
One feature that often separates a good provider from a great one is rapid toilet deployment capabilities. The ability to swiftly deliver, install, and make operational a large number of portable toilets can be a game-changer for an event's success. Rapid deployment isn't merely about speed; it's also about the efficiency and logistics behind that speed. Whether dealing with a sudden influx of attendees or having to change plans due to unforeseen circumstances like weather changes, a provider with rapid toilet deployment capabilities can adapt quickly, ensuring the event proceeds without a hitch.
John To Go Has the Ability to Rapidly Deploy Toilet Units at Music Festivals
When it comes to providing portable toilet solutions for music festivals, the stakes are high. Ensuring timely and effective service isn't just about convenience; it's about health, safety, and the overall experience of attendees. With so much riding on this critical component, it's imperative to partner with a provider that can deliver excellence swiftly and efficiently. John To Go stands out for its rapid toilet deployment capabilities, underpinned by a unique blend of specialized teams, cutting-edge logistics, and a diverse fleet, all of which enable us to meet and often exceed the expectations of festival organizers.
John To Go: Rapid Toilet Deployment Capabilities
In the fast-paced environment of music festivals, where thousands of attendees are eager for a smooth experience, John To Go distinguishes itself as a leader in the industry. With a business model built around rapid and efficient deployment of portable toilets, we've made a name for ourselves in terms of speed, quality, and customer satisfaction. There are several aspects of our business model and structure that enable us to be a top provider in this sector.
Here's how we do it:
1. Specialized Team Trained for Rapid Deploymen
One of our key strengths is our specialized team, trained explicitly for quick and efficient deployment of portable toilets. Each team member understands the nuances involved in setting up facilities at a large event, from the optimal placement for crowd management to ensuring all health and safety guidelines are met.
2. Advanced Logistical Capabilities
Our logistical capabilities set us apart from competitors. We use cutting-edge technology to track and manage our inventory, ensuring that each toilet unit is where it needs to be, when it needs to be there. Our systems allow us to adapt in real-time to the dynamic needs of a festival environment, whether that means dealing with last-minute changes or scaling up to meet higher-than-expected demand.
3. Large Fleet with Diverse Unit Types
We maintain a large fleet of portable toilets, including various unit types to meet different needs—standard units, wheelchair-accessible units, and luxury units, to name a few. This diversity ensures that we can cater to the unique requirements of each festival, providing a more customized and comfortable experience for attendees.
4. Contingency Planning
Preparedness is a cornerstone of our business model. We develop comprehensive contingency plans for each event, covering scenarios from extreme weather conditions to unexpected surges in attendance. This level of planning ensures that we can respond effectively to any situation, minimizing disruptions and maintaining the quality of our service.
5. Transparent and Flexible Pricing Structure
Our pricing structure is designed with transparency and flexibility in mind. We offer competitive rates, but more importantly, we're upfront about all costs involved, avoiding hidden fees that can catch organizers by surprise. This approach builds trust and allows for better budget planning on the part of event organizers.
By focusing on these five core aspects, John To Go has been able to set itself apart as a leader in rapid toilet deployment capabilities at music festivals. Our commitment to excellence ensures that event organizers can concentrate on other aspects of the festival, confident that the sanitary needs of attendees are in capable hands.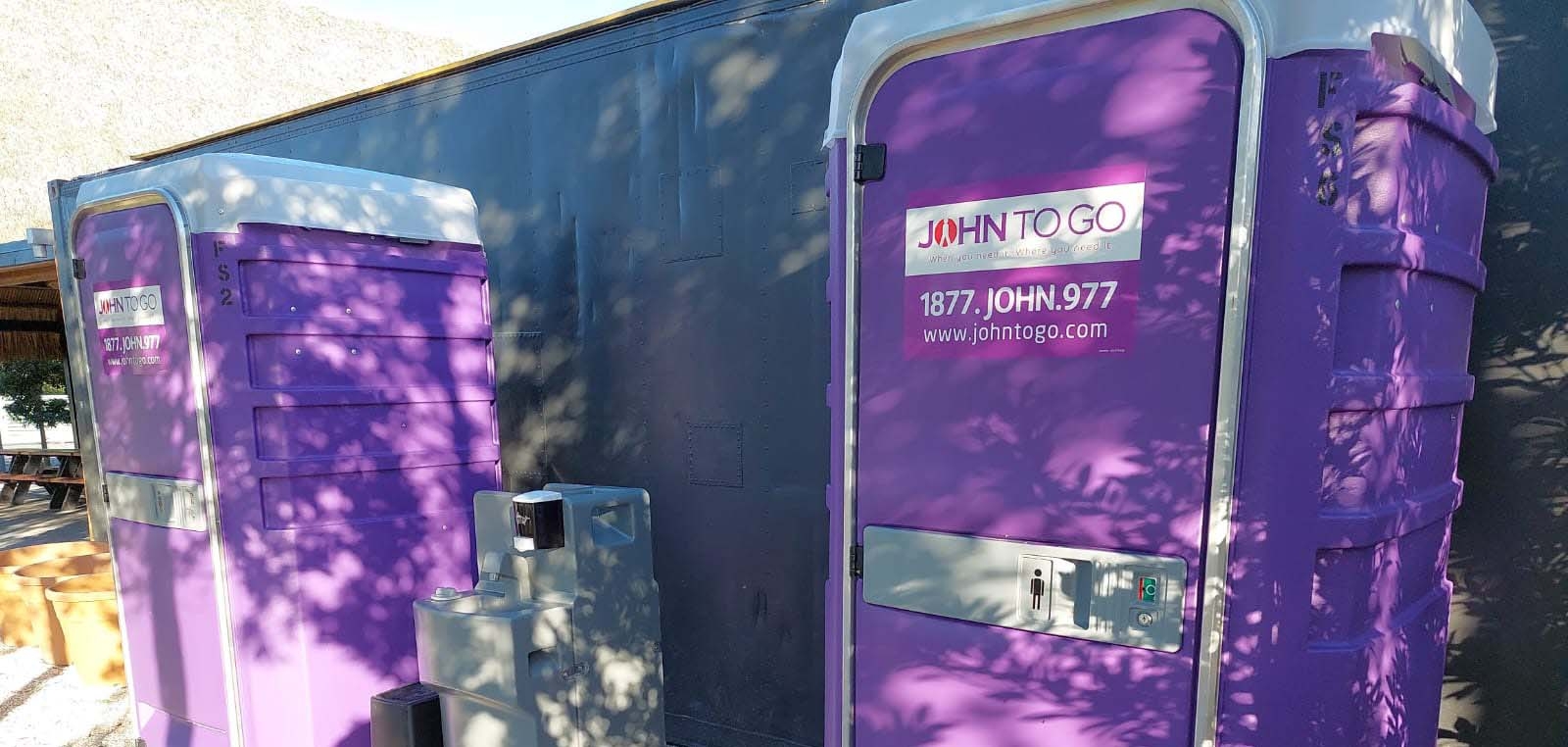 How John To Go Assess Festival Requirements
The process of delivering superior service begins long before the first portable toilet is placed on the festival grounds. At John To Go, we know that each event is unique, and our approach to providing world-class amenities starts with a focused assessment of the festival's specific needs. This isn't just a quick glance at some numbers; it's an evaluation that takes into account multiple variables to ensure the most effective and efficient service possible.
Factors Considered in the Assessment
Expected Number of Attendees: One of the first things we look at is the expected turnout for the event. Understanding the potential crowd size allows us to accurately estimate the number of portable toilet units needed to meet demand without causing long wait times.

Duration of the Event: The length of the festival, whether it's a single day or spans multiple days, significantly impacts the overall needs for sanitation services. Longer events require not only more units but also more frequent maintenance schedules.

Layout of the Venue: The physical layout of the festival grounds is another critical consideration. We evaluate the most convenient and accessible locations to place portable toilets while also considering the flow of foot traffic. This helps in reducing bottlenecks and ensuring that restroom facilities are easily accessible, yet discreetly positioned.

Other Amenities and Locations: We also take into account the proximity of other amenities like food and drink stalls, first-aid tents, and stages. Strategically placing portable toilets near these high-traffic areas can enhance the attendee experience.
By taking the time to conduct this comprehensive pre-event assessment, John To Go ensures that festival-goers can easily and quickly access clean and well-maintained restroom facilities. This meticulous planning not only elevates the attendee experience but also helps festival organizers by simplifying this logistical aspects of event management.
How John To Go maintains High Standards of Cleanliness and Hygiene
For any event, especially a crowded music festival, cleanliness and hygiene are non-negotiable. They're vital not just for the comfort and satisfaction of attendees but also for public health. Recognizing the importance of these factors, John To Go places a high premium on maintaining exemplary standards of cleanliness and hygiene in every portable toilet unit deployed. Here's how we ensure that each unit is sanitized, well-stocked, and ready for use throughout the duration of the festival:
Rigorous Cleaning Protocols: We don't just clean; we sanitize. Each unit undergoes a rigorous cleaning process with disinfectants that kill 99.9% of germs and bacteria. This sanitization routine is carried out before deployment, and scheduled cleanings are performed throughout the event duration to ensure that hygiene levels are maintained.

Well-Stocked Amenities: Nothing is more frustrating for an attendee than finding an out-of-stock restroom. To avoid this issue, John To Go units are well-stocked with essential amenities such as toilet paper, hand sanitizers, and soap. Our staff perform regular checks to replenish supplies, ensuring that attendees have everything they need for a comfortable restroom experience.

Quality Control Checks: Quality control is a key component of our cleaning and maintenance routine. Our trained staff carry out random inspections to make sure that all units meet our high hygiene standards. If a unit falls short for any reason, it is immediately pulled from service for thorough cleaning and sanitization before being made available to attendees again.

Environmentally-Friendly Practices: In addition to our stringent hygiene measures, we also employ environmentally-friendly practices in our cleaning processes. This includes using biodegradable cleaning products and minimizing water usage, thereby ensuring that our operations have a lesser impact on the environment.

Real-Time Monitoring and Support: Through advanced technology and real-time monitoring, we can track the usage and condition of each unit, allowing us to respond quickly to any hygiene or maintenance needs. If a problem arises, our on-site team is alerted immediately, ensuring rapid resolution and minimal disruption to the event.
John To Go takes cleanliness and hygiene seriously, going beyond industry standards to provide a safe and comfortable restroom experience. Our goal is that each portable toilet unit remains in top condition, allowing festival organizers and attendees to focus on what really matters: the music.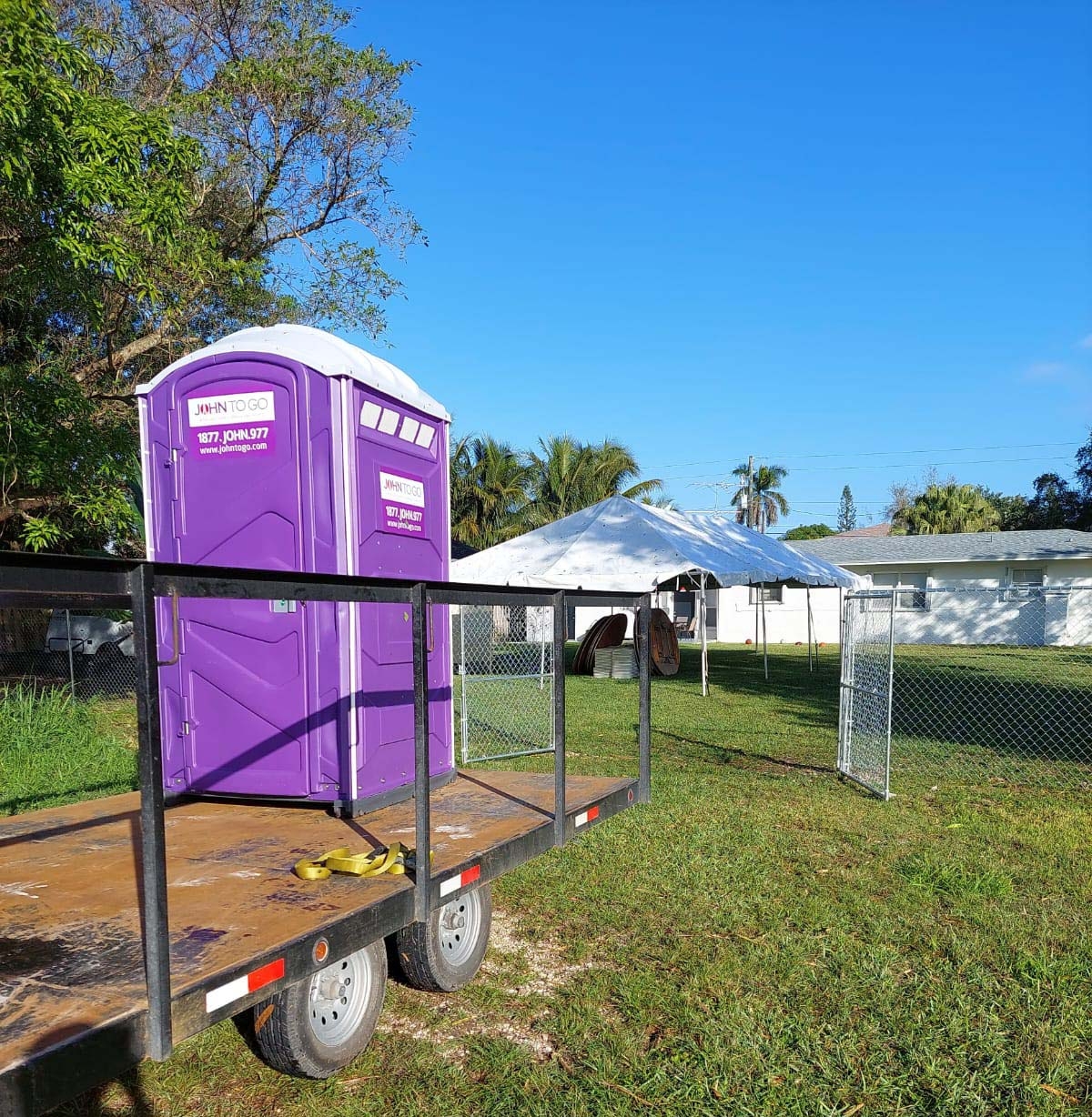 John To Go Offers Additional Amenities to Enhance the Festival Experience
While the core focus of any portable toilet provider is, understandably, the basics of hygiene and functionality, John To Go goes a step further to elevate the overall festival experience. We believe that portable restroom facilities shouldn't just be practical; they should also contribute to the event's overall ambiance and enjoyment. Here's how we make festival restrooms not just functional, but also a comfortable and even enjoyable part of the event:
Hand Sanitizers at Every Unit: In today's health-conscious world, hand sanitizers have become a necessity rather than a luxury. That's why every John To Go unit is equipped with high-quality hand sanitizers. These sanitizers are easily accessible, allowing attendees to quickly clean their hands, contributing to both individual and public health.

Luxury Units for a Touch of Class: For attendees seeking a more refined restroom experience, we offer luxury units that are more akin to a high-end bathroom than a typical portable toilet. These units come with features like flushing toilets, sinks with running water, air conditioning, and even ambient music, transforming a basic need into a luxurious experience.

Attendants on Standby: Nothing speaks to quality service like attentive staff. At larger festivals, John To Go provides professional attendants who are stationed near the restroom areas. These attendants are responsible for maintaining cleanliness, restocking supplies, and assisting attendees as needed, ensuring that each visit to our facilities is as pleasant as possible.

Eco-Friendly Options: For events that aim to be more sustainable, we offer eco-friendly units that use less water and are sanitized with biodegradable cleaning products. This allows festival-goers to meet their needs without compromising their environmental values.

Baby Changing Stations: Understanding that music festivals are increasingly becoming family-friendly events, some of our units are equipped with baby changing stations, making it easier for parents to enjoy the festival without worrying about the practical challenges of infant care.
By offering these additional amenities, John To Go transforms the often-overlooked element of portable toilets into an integral part of the festival experience, making us the provider of choice for event organizers who aim for nothing less than excellence.
John To Go has Flexible Pricing and Agreement Consideration
Finances can often be a major sticking point when it comes to selecting a portable toilet provider for an event. Many providers lure customers in with low upfront costs, only to surprise them later with hidden fees and additional charges. John To Go stands apart in this regard, providing a transparent, competitive, and flexible pricing structure designed to suit various budget needs and instill confidence in event organizers. Here's a detailed look at our pricing approach:
Complete Transparency: From the outset, John To Go prioritizes complete transparency. Our quotes are all-inclusive, clearly stating the costs associated with delivery, installation, maintenance, and removal of the portable toilets. This avoids any unpleasant surprises down the line and allows event organizers to plan their budgets more accurately.

Competitive Rates: Our pricing isn't just transparent; it's also competitive. We constantly monitor industry trends to ensure our rates are not just market-friendly, but also offer value for the high-quality service and amenities we provide. This makes us a cost-effective choice for festivals of all sizes.

Strict Adherence to Contractual Terms: Adhering to contractual terms is a hallmark of our business ethics. When we agree to the terms and conditions with an event organizer, we stick to them religiously, eliminating concerns about potential breaches or service lapses. This fosters trust and establishes a long-lasting relationship with our clients.

Flexible Payment Options: We understand that each event has unique financial constraints and needs, which is why we offer flexible payment options. Whether it's a staggered payment plan or customized billing cycles, we are open to discussing and accommodating different payment structures to ease any budgetary pressures.

Comprehensive Liability Coverage: In an industry where things can go wrong unexpectedly, liability coverage is not something to be overlooked. John To Go provides comprehensive liability insurance, offering peace of mind to event organizers. This coverage protects against any unforeseen circumstances that could otherwise result in financial loss or legal complications.
By offering a pricing model that is transparent, competitive, and flexible, along with solid liability coverage, John To Go proves to be not just a cost-effective, but also a reliable and trustworthy partner for event organizers.
John To Go's Support Services and Assistance
Great service doesn't end after the portable toilets are deployed; it continues throughout the event and even after it concludes. That's where John To Go's robust customer support system comes into play, designed to ensure every interaction you have with us is as seamless as possible. From our responsive service calls to our user-friendly online platform, here's how we offer exceptional support to our clients:
Always-On Support Team: Whether it's a minor query or an urgent service call, our support team is always ready to assist. Trained to handle a variety of situations effectively, our staff ensures that you receive the help you need promptly, reducing downtime and maintaining the event's flow.

24/7 Live Chat Support: Questions can arise at any time of the day or night, especially during a live event that runs around the clock. That's why we offer 24/7 live chat support, enabling you to get real-time answers to your queries, regardless of the time.

User-Friendly Online Platform: In today's digital age, ease of online interaction can make or break customer satisfaction. That's why John To Go provides a user-friendly online platform where you can place orders, check the status of your service, or even modify your requirements with just a few clicks. This system is designed for intuitive use, making the process quick and stress-free.

Emergency Response Measures: In the case of emergencies or unexpected situations, our support system kicks into high gear. We have contingency plans and resources on standby to deal with any eventuality, ensuring swift resolution and minimizing any negative impact on your event.

Personalized Assistance: Understanding that each festival or event has its unique challenges, we also offer personalized customer service. Our team members are trained to understand the specific needs of different types of events, providing tailored solutions that go beyond generic troubleshooting.
Take Action for Swift and Efficient Portable Toilet Solutions
When it comes to choosing a portable toilet provider, rapid deployment capabilities are more than just a luxury; they are often a necessity. Whether you are planning a large-scale event, a construction site, or responding to an emergency situation, having access to sanitation solutions quickly is crucial. Evaluate potential providers on their ability to meet your time-sensitive needs, their track record, and the range of options they offer.
Choose a provider that not only promises quick delivery but has proven to do so consistently. Your event or project's success may depend on this critical decision, so make it wisely.
Porta Potties Near Me
When you're researching "porta potties near me," John To Go stands out as the go-to solution for all your portable restroom requirements. We understand that the need for a clean and reliable portable toilet service extends beyond just providing the unit itself.
That's why we focus on offering a comprehensive service package that takes care of all your needs, from the moment you first contact us to the time we complete the pickup. Our diverse range of portable toilet options ensures that we have something to suit every need and budget. With John To Go, you're not just renting a portable restroom—you're investing in a hassle-free experience that covers all the bases.