The Indispensable Role of Portable Toilets at Music Festivals
Music festivals, with their electrifying performances and infectious energy, have become a prominent part of modern entertainment culture. However, amidst the mesmerizing melodies and captivating beats, there lies an inevitable challenge that both event organizers and attendees face - the need for accessible and adequate restroom facilities.
That's where portable toilets step in, playing a crucial role in ensuring a seamless and enjoyable festival experience. As a leading provider of portable toilets, John To Go has been at the forefront of enhancing festival-goers' experiences by offering top-notch restroom facilities.
This article delves into the paramount importance of portable toilets at music festivals. These events attract massive crowds, leading to long queues at conventional restroom facilities, which can be time-consuming and even cause attendees to miss their favorite musicians or bands.
Let's explore how these portable wonders have become an indispensable aspect of successful music festivals, ensuring both hygiene and uninterrupted enjoyment for attendees while easing the burden on event planners.
Why Do You Need Portable Toilets for Festivals?
The following reasons are why you need portable toilets for festivals:
Keeping the Crowd Clean and Refreshed. With large crowds gathering at music festivals, the demand for restroom facilities skyrockets. Conventional bathrooms often fail to cope with the sheer volume of attendees, resulting in long queues and unsanitary conditions. Portable toilets offer a practical and efficient solution, allowing festival-goers to maintain cleanliness and feel refreshed throughout the event.

Enhancing the Festival Experience. Attending a music festival is all about immersing oneself in the music and ambiance. However, long waits for restrooms can disrupt the flow and enjoyment of the festival. By strategically placing portable toilets throughout the festival grounds, event organizers can ensure quick and easy access to facilities, allowing attendees to focus on what truly matters - the music!
What are the Key Steps to Ensure Sanitation for Music Festival?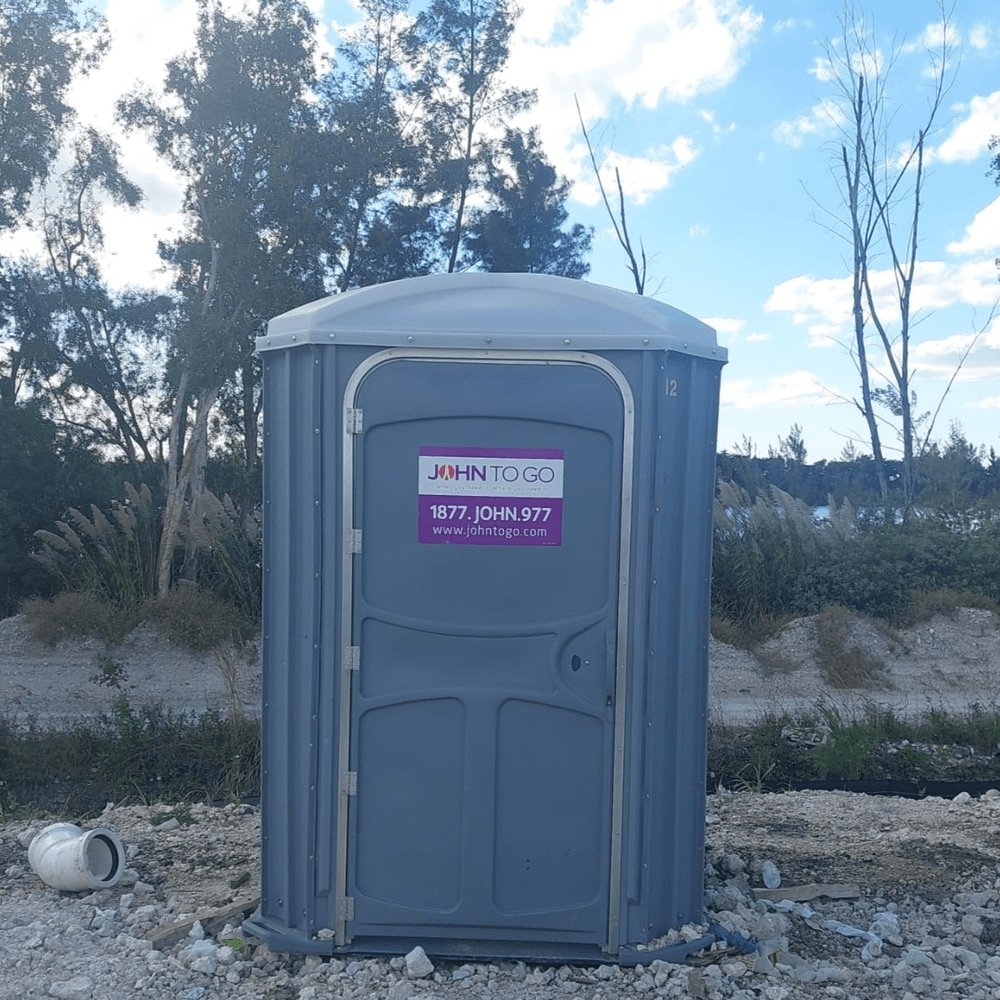 Portable toilets are an essential part of any music festival, providing a convenient and hygienic solution for attendees' restroom needs.
So, what are the key steps you should take to ensure sanitation at your next music festival?
Adequate Number of Toilets at Festivals
The number of portable toilets required depends on the expected crowd size. As a general guideline, event planners should aim for approximately two portable toilets per 75 attendees. This ensures that there are enough facilities to accommodate the crowd, reducing long queues and promoting cleanliness.
John To Go, a trusted provider of portable toilets for festivals, understands the importance of meeting attendees' needs. By offering a wide range of restroom solutions, we assist event organizers in determining the ideal number of toilets required to ensure optimal sanitation throughout the festival grounds.
We understand the importance of being prepared to meet the varying needs of our clients and community. That's why we have invested in maintaining a huge fleet, carefully selected to cater to diverse requirements.
Our philosophy goes beyond merely meeting demand; we strive to exceed expectations. By consistently ordering a slightly inflated amount of festival porta potty units for our inventory, we ensure that we are never caught off-guard. Whether there's a sudden surge in need or a unique request, our expansive fleet is ready to respond.
Maintenance and Cleaning of Toilets
To uphold high sanitation standards at music festivals, regular maintenance and cleaning of portable toilets are paramount. Event planners must establish a well-organized schedule to ensure the facilities remain hygienic and odor-free throughout the event. Proper waste disposal and replenishment of essential supplies are equally vital.
For a hassle-free experience, event organizers can rely on John To Go for comprehensive maintenance and cleaning services. As a leading provider of portable toilets for festivals, we offer professional solutions to keep the restrooms in top condition, enabling attendees to enjoy the event without concerns about restroom cleanliness.
We offer personalized cleaning solutions for portable toilets for festivals, tailored to fit your preferences and the specific needs of your festival. Here are some sanitation scheduling options you can choose from:
Daily Cleaning: For multi-day festivals, our daily cleaning option ensures that each new day starts fresh. Our professional staff will work tirelessly overnight to prepare the grounds for another day of music and celebration.

On-Site Staffing: If continuous cleanliness is a top priority for your event, we offer the option to keep staff on hand for the duration of the music festival. With our dedicated team on-site, we can provide real-time cleaning and maintenance, ensuring sufficient staffing and immediate response to any arising needs.

Customized Cleaning Packages: For organizers with specific needs or unique venue challenges, customized cleaning packages can be created. These tailored plans consider factors like the festival's size, duration, expected attendance, and specific hygiene concerns.

Emergency Cleaning Services: Having a plan for unexpected messes or spills is crucial. Emergency cleaning services provide rapid response to unforeseen incidents, ensuring minimal disruption to the festival experience.
Our commitment to flexibility goes beyond mere scheduling. We understand the dynamics of music festivals, and we adapt our services to work in harmony with the rhythms of the event. Whether it's managing waste, maintaining sanitary facilities, or ensuring that common areas remain welcoming and clean, our staff is trained to handle the unique challenges presented by large-scale events.
Provision of Hand Washing Facility
At music festivals, maintaining proper hygiene goes beyond just providing portable toilets. Event planners should prioritize the inclusion of hand washing facilities alongside the restrooms. Equipping each restroom with handwashing stations, paper towels, and little bins for disposal encourages attendees to maintain cleanliness after using the facilities.
Regularly emptying and restocking these facilities are essential to ensure an uninterrupted supply of soap and paper towels throughout the event. Event organizers can entrust this responsibility to John To Go, a trusted provider of portable toilets for festivals.
Why Music Festival Porta Potty are Important
Portable toilets play a pivotal role in the success of music festivals by offering convenient and hygienic solutions for attendees' restroom needs. These compact facilities strategically placed throughout the festival grounds ensure that festival-goers have easy access to clean and well-maintained restrooms, enhancing their overall comfort and wellbeing.
John To Go, a leading provider of portable toilets for festivals, understands the significance of offering top-notch restroom solutions. With our expertise in event services, including the provision and maintenance of porta-potties, we help create a memorable and enjoyable festival experience for all attendees.
Portable Toilets are Convenient and Comfortable
When it comes to music festivals, the provision of convenient and comfortable restroom facilities is essential to ensure attendees' satisfaction. Portable toilets for festivals offer a practical solution, and John To Go stands out as a reliable provider, offering a wide range of options to cater to diverse needs.
We take pride in delivering comfort and convenience through our festival porta potty offerings. With a variety of sizes, designs, and features available, festival organizers can choose the most suitable portable toilets to match the event's requirements.
John To Go Provides Hygiene and Sanitation Solutions
We stand as a trusted name, offering comprehensive solutions to ensure a pleasant experience for users.
With our portable toilets for festivals, we maintain a rigorous maintenance and cleaning regimen. Our team ensures that each festival porta potty is thoroughly cleaned and sanitized on a regular basis.
This commitment to hygiene helps create a comfortable and safe environment for festival-goers throughout the event.
Portable Toilets Saves Time and Space
At music festivals, time is of the essence, and space is a valuable commodity. Portable toilets for festivals offer a practical solution that not only ensures convenience but also optimizes the efficient use of space.
By strategically placing portable toilets throughout the festival grounds, event organizers can eliminate the need for long restroom lines and crowded facilities. Attendees can quickly access clean and well-maintained restrooms, saving precious time and enabling them to focus on enjoying the music and festivities.
Choosing John To Go allows event planners to optimize space utilization and create a more comfortable environment, making the most of every moment at the music festival.
J2G Toilets are Environment Friendly
John To Go's portable toilets for festivals offer an eco-friendly solution that prioritizes sustainability.With proper waste disposal and treatment procedures, we ensure that our festival porta potties have a reduced environmental impact.
By implementing responsible practices, we help maintain the cleanliness and health of the surrounding area, minimizing the impact of human waste on the festival grounds. Choosing John To Go's environmentally friendly portable toilets for festivals allows event organizers to contribute to a more sustainable and eco-conscious event.
Rent J2G Portable Toilets for Music Festivals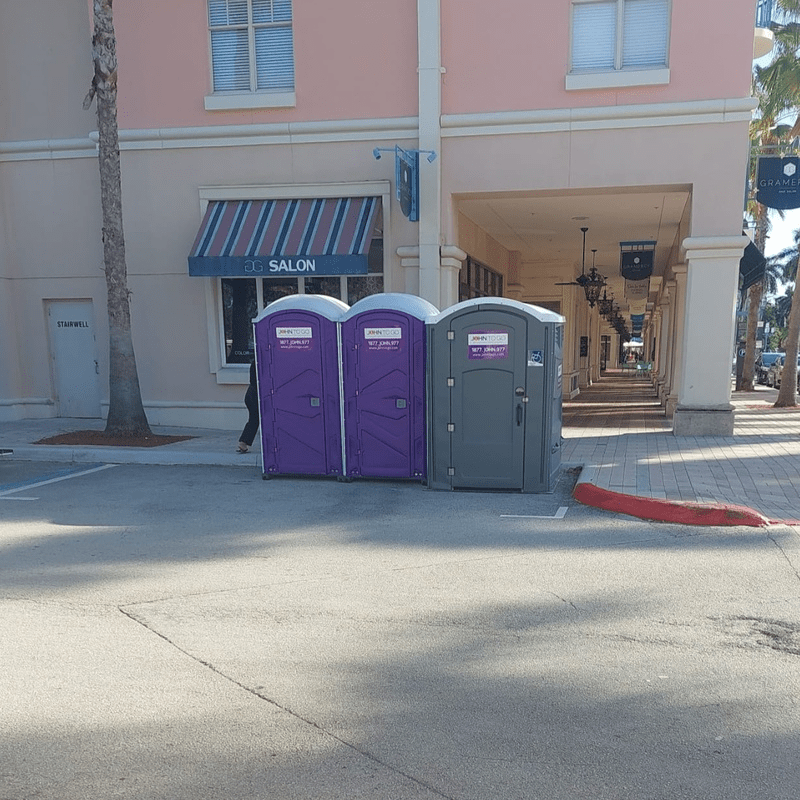 When it comes to ensuring a successful and enjoyable music festival, John To Go offers an array of portable toilet options that cater to diverse needs.
Event organizers can choose from a range of suitable portable toilets for festivals, including:
ADA Handicapped Unit: Designed to accommodate individuals with disabilities, these units ensure accessibility and comfort for all attendees.

Premium Event Unit: Offering spacious and well-equipped facilities, these units provide a premium restroom experience for festival-goers.

Ambassador Flush Deluxe: This upscale porta potty rental unit with a spacious interior full of style and function with flowing fresh water for the sink and toilet, hands-free foot pedals, and a vanity area with a mirror and more.

Urinal Unit: For a solution to backed-up lines at concerts, races, or other special events where adult beverages are consumed, this portable restroom can service up to four men comfortably at one time.

Hand Wash Station: Make outdoor events safer, with this unit that provides 200 hand washings and includes built-in paper towel and soap dispensers.
By renting John To Go's portable toilets for festivals, event planners can customize our restroom arrangements to match the festival's unique requirements.
Contact us to learn about our services and book portable toilets for your music festivals.
Porta Potties Near Me
When you're researching "porta potties near me," John To Go stands out as the go-to solution for all your portable restroom requirements. We understand that the need for a clean and reliable portable toilet service extends beyond just providing the unit itself.
That's why we focus on offering a comprehensive service package that takes care of all your needs, from the moment you first contact us to the time we complete the pickup. Our diverse range of portable toilet options ensures that we have something to suit every need and budget. With John To Go, you're not just renting a portable restroom—you're investing in a hassle-free experience that covers all the bases.