Israel_photo_gallery, CC BY-ND
What Happens At a Bar Mitzvah and Why It's So Significant
A Bar Mitzvah or Bat Mitzvah is one of the most important ceremonies in a Jewish individual's life - a once-in-a-lifetime moment. This ceremony is a celebration of an adolescent boy or girl becoming an adult in the eyes of Judaism. From this point on, the boy or girl will be expected to take on an adult's religious responsibilities and commitments.
Due to the undeniable importance of Bar Mitzvah, plenty of planning and preparation goes into the event. From learning Hebrew to arranging the after-party, there are many essential components to creating a successful Bar Mitzvah or Bat Mitzvah.
Keep reading to discover what happens at a Bar Mitzvah/Bat Mitzvah and other Bar Mitzvah and Bat Mitzvah facts you will want to know.
Significance of a Bar Mitzvah
The first question many people ask is, "Why is Bar Mitzvah important?" Well, a Bar/Bat Mitzvah is a coming-of-age ceremony that celebrates Jew boys and girls becoming adults in the eyes of their religion.
On the day of their Bat or Bar Mitzvah, these young men and women will be held responsible for their actions and be expected to engage in the faith with adult-level accountability for their actions. The day is usually celebrated with a Bar or Bat Mitzvah party in recognition of their reaching this special milestone.
How Old Are You When You Have a Bar Mitzvah?
Plenty of people may be under the impression that a Bar Mitzvah or Bat Mitzvah takes place around an individual's 18th birthday, but this is not the case. So, what age do you have a Bar Mitzvah?
The Bar Mitzvah occurs for boys when they reach the age of 13, while girls become Bat Mitzvah at the age of 12. Keep in mind that the dates are based on one's Jewish birthday according to the Hebrew calendar.
According to Judaism, this is the age when girls and boys reach the maturity level necessary for them to carry the responsibility for their religious choices and decisions.
Difference Between Bar and Bat Mitzvah
Although the ceremonies are both a recognition of reaching maturity and Torah obligation, there is a difference between Bar Mitzvah and Bat Mitzvah celebrations. Here's a quick breakdown of Bat Mitzvah vs. Bar Mitzvah.
A Bar Mitzvah ("son of the commandment") is for boys. On the day of his Bar Mitzvah, a Jewish boy will begin to don tefillin, black leather straps that are placed on the head and arms during weekday prayer. During his Bar Mitzvah synagogue ceremony on the first Shabbos following his Bar Mitzvah birthday he will also often read or chant from the Torah.
A Bat Mitzvah ("daughter of the commandment"), on the other hand, is for girls. Their celebration is quite different, as they will not wear the tefillin or speak in front of the attendees. What happens at a Bat Mitzvah, then? Girls typically celebrate in a smaller forum with family and friends, and will likely engage in new commandments they have not been able to perform before, such as separating the challah dough while reciting a blessing.
What is a Bas Mitzvah, then? If you see this term, don't panic. The term Bas Mitzvah is a different pronunciation for the word Bat Mitzvah, and the two can be used interchangeably.
Typically, this Jewish party is celebrated by one child per Bar/ Bat Mitzvah. However, some people combine Bar and Bat Mitzvah together, for example, if they have siblings of different genders with birthdays close by. This less-common celebration is known as the "B'nai Mitzvah."
Service in a Synagogue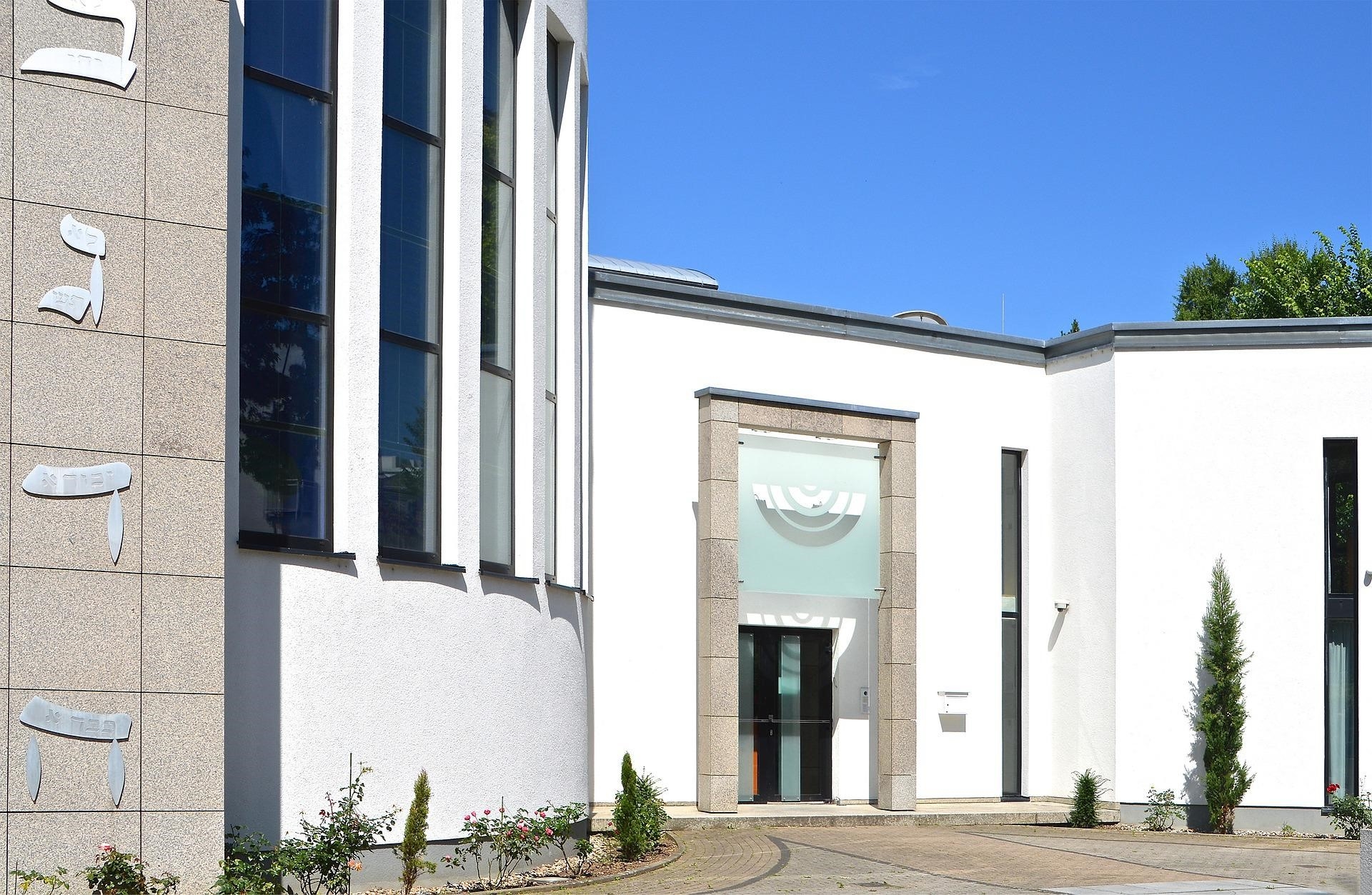 What happens at a Bar Mitzvah service? While some specific Bar Mitzvah traditions will change based on the congregation and a family's specific customs, what happens at a Bar Mitzvah service tends to remain the same as a whole.
A Bar Mitzvah and Bat Mitzvah service will be held during the Shabbat (Saturday) morning services following the boy's Bar Mitzvah. Family members and friends in the area come to services to join in the occasion and hear the Bar Mitzvah boy read from the Torah.
Many Bar Mitzvah traditions are adhered to during the ceremony, including:
Reading/chanting from the Torah

Bar Mitzvah speech (Torah discourse)

Singing

Putting out a spread of pastries and sweets for the participants to partake in after the conclusion of prayers
What Do You Say For a Bar Mitzvah? (And Other Etiquette Tips)
Now that you know what happens at Bar Mitzvah party and some of the typical Bar/Bat Mitzvah traditions, it's essential to understand how to act during one of these events as an attendee. Here are a few etiquette tips.
Dress modestly. Apparel is typically lined out in the invitation. If not, understand that men and women guests should be dressed modestly. A suit and tie for the men and a modest dress for the women.

Arrive on time. The family celebrating the Bar Mitzvah/Bat Mitzvah will appreciate your attendance at the services.

Congratulate the new "adult." What to say, at a Bat Mitzvah or Bar Mitzvah? Well, Mazel tov! of course! Feel free to congratulate the new Jewish adult as well as their loved ones on this milestone.

You're expected to engage in the Bar/Bat Mitzvah. When everyone sits or stands, you do the same.

Send a gift. The most common gift for a Bar/Bat Mitzvah is cash. This is money that will be spent towards a college fund or traveling abroad to Israel.
The Bar Mitzvah After-Party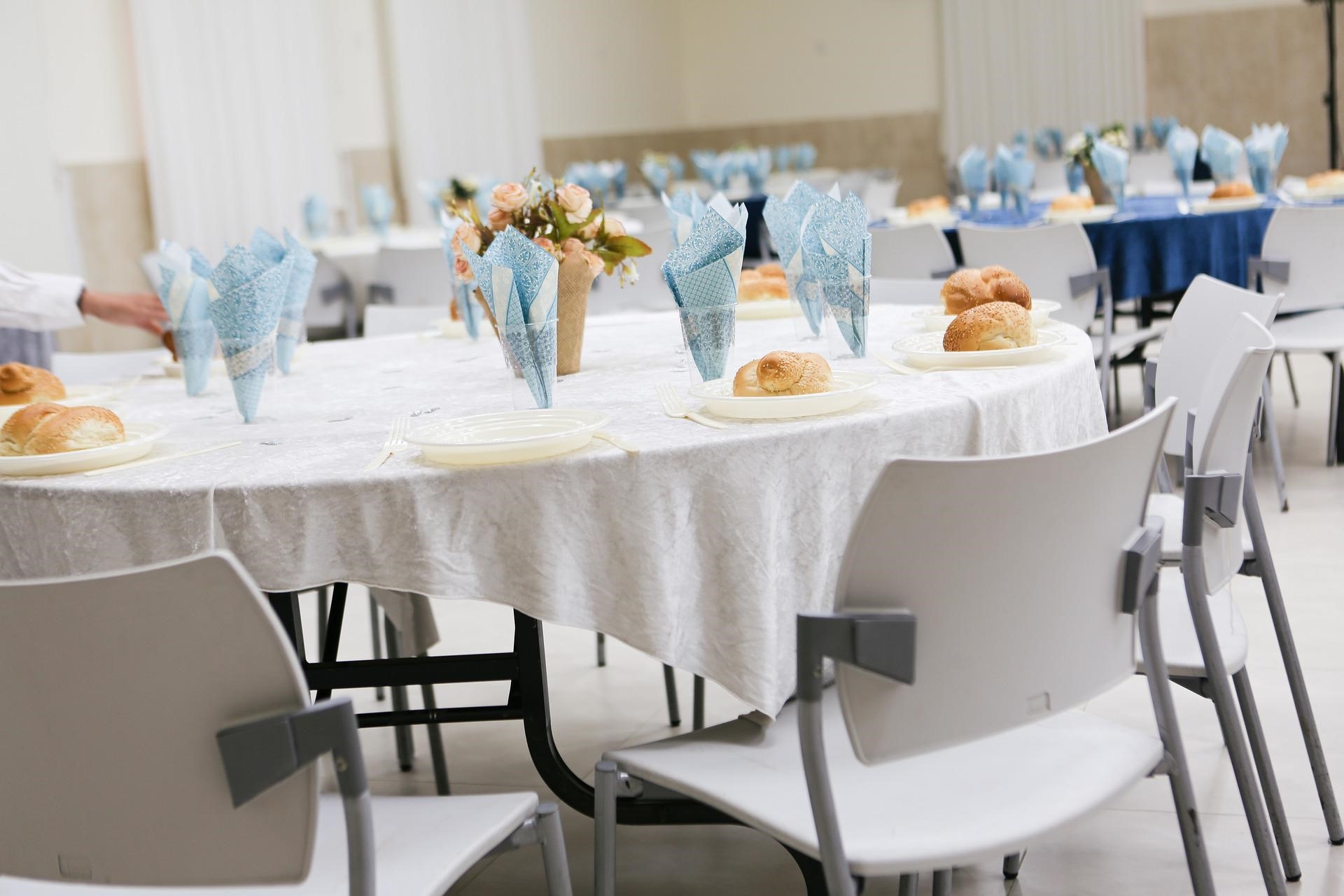 What happens at a Bar Mitzvah ceremony in a synagogue is quite serious and meaningful. The Bar/Bat Mitzvah typically spends months learning and preparing for it, allowing them to feel confident in their newfound responsibilities.
But the ceremony doesn't stop there.
Like any other major event, like a wedding or graduation, a Bar/Bat Mitzvah ceremony is also celebrated on the boy's actual birthday with a massive party celebration.
Bar Mitzvah party traditions typically include a wide range of food for guests to munch on, a DJ or band playing some wonderful tunes, and plenty of socializing and dancing. It is a big hoorah for the new adult, so you can almost expect the Bar or Bat Mitzvah to be hoisted into the air while guests dance in a circle around them.
Outdoor Bar Mitzvah Party Ideas
Whether preparing for a Bar Mitzvah or Bat Mitzvah, an outdoor venue is an ideal choice. That's because many indoor spaces won't accommodate a large number of attendees. And, if they can, there may be a lack of space and amenities to keep guests happy. So, with an outdoor space, you can be as lavish or as simple as you'd prefer and create the Bar Mitzvah party of your dreams.
Of course, if the season is conducive to an outdoor event you will need to plan certain things ahead. For example, tables and chairs, tents, and catered food will need to be lined up.
You shouldn't forget about outdoor restrooms, too - and we can help.
Why Choose J2G For Your Bar Mitzvah Party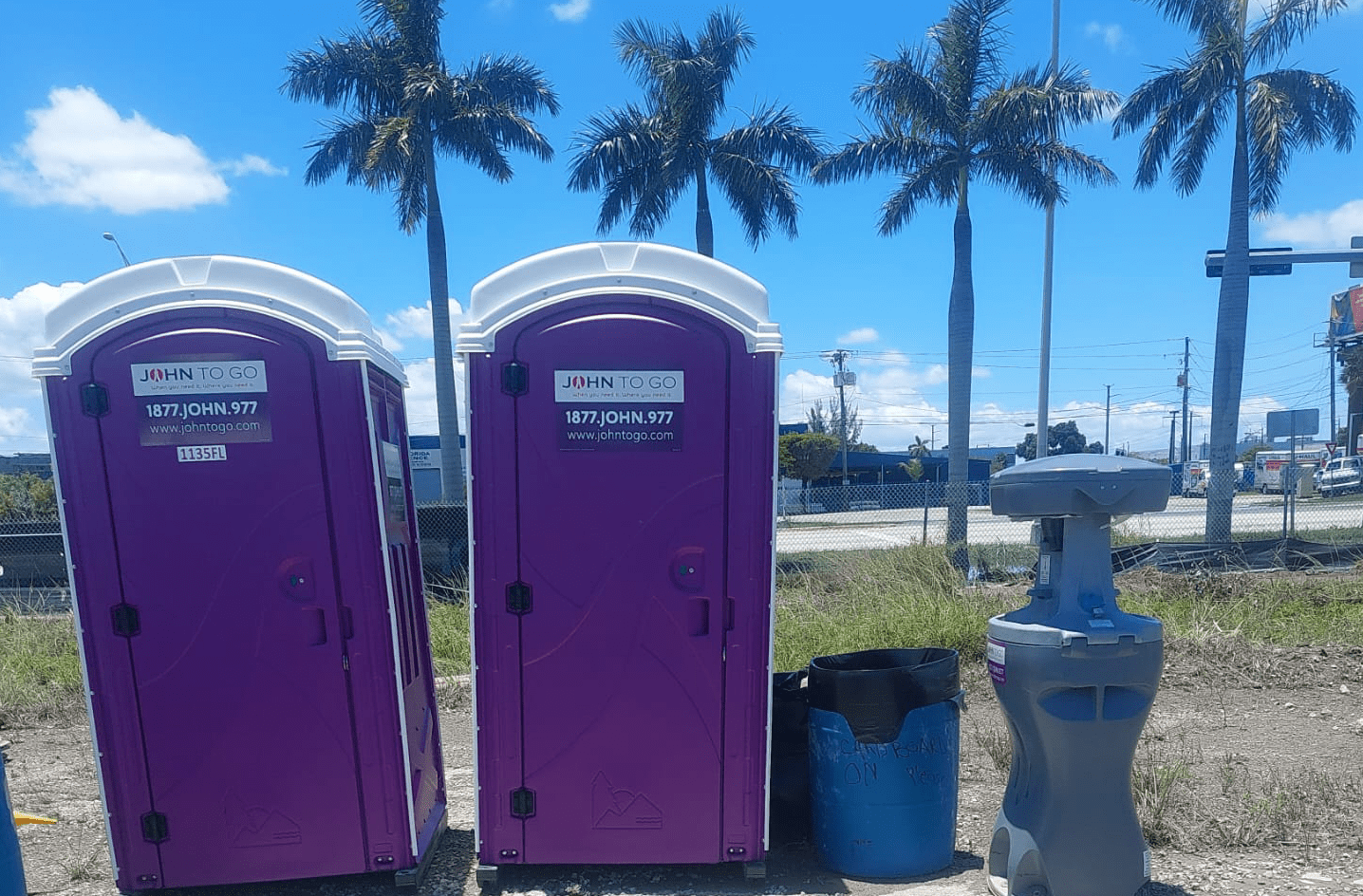 John To Go is the go-to for special events big and small - including Bar and Bat Mitzvahs. We've been in the business since 2004 and have made a name for ourselves in the luxury portable toilets industry.
We pride ourselves on offering the best outdoor porta-potty rentals, so your guests can feel happy and confident using our portables. We even have deluxe porta-potty trailers that are so over-the-top that your attendees may forget they're not at an upscale hotel.
Whether you opt for a fancy portable toilet rental or need specific accommodations like a handicap porta-potty rental, we've got you covered.
Our team of experts is always standing by to help you when you need it most. Whether it's a last-minute decision or something you've planned for weeks, it's our goal to accommodate you and provide the best service possible.
Our mission is to provide the most luxurious, sanitized, and stocked porta-potties and trailers, taking the worry about answering Mother's Nature calls during a Bar Mitzvah party.
Ready to get started but don't know where to begin? Our website has a handy unit calculator to help get the ball rolling. If you still have questions, feel free to strike up a chat with one of our online representatives or give us a call.
At the end of the day, you will love our porta potty rental options - and the impossibly affordable price tags that come along with them.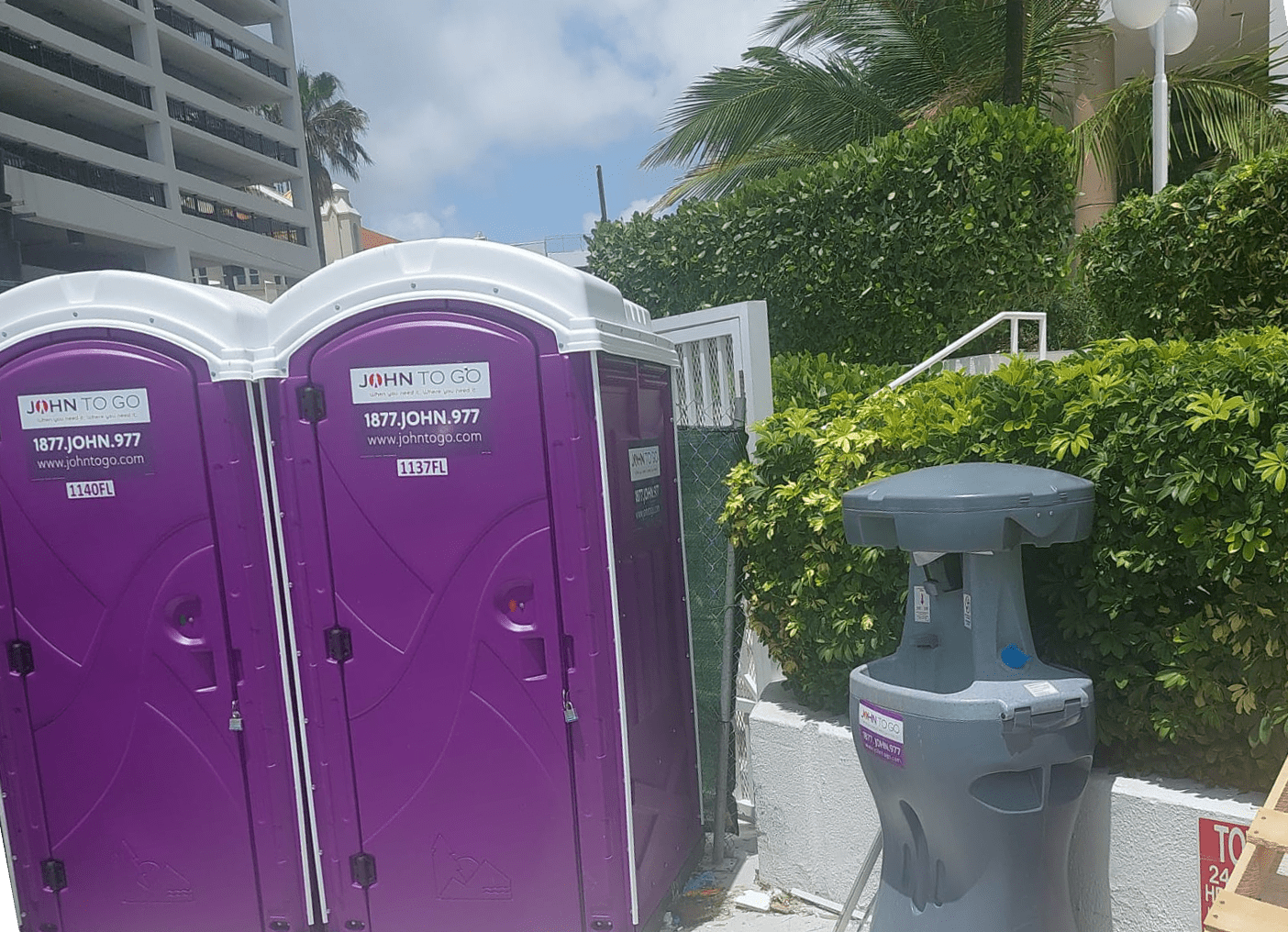 Enjoy the Celebration!
There you have it! We've answered the question "what happens at a Bar Mitzvah?" and learned plenty of Bar Mitzvah facts, from what age do you have a Bat Mitzvah to Bar Mitzvah: what to expect. It's clear that this celebration is of great importance to those practicing the Jewish faith, and it will continue to be a tradition in the upcoming years.
If you're planning a Bar Mitzvah for your son or a Bat Mitzvah for your daughter, consider opting for an outdoor venue. These venues will provide you with enough space and options to feel satisfied with your event.
Just don't forget the porta-potties!
When you're ready to plan a Bar or Bat Mitzvah party that friends and loved ones will remember for a lifetime, give us a call. We're standing by, ready to help you with this very important event.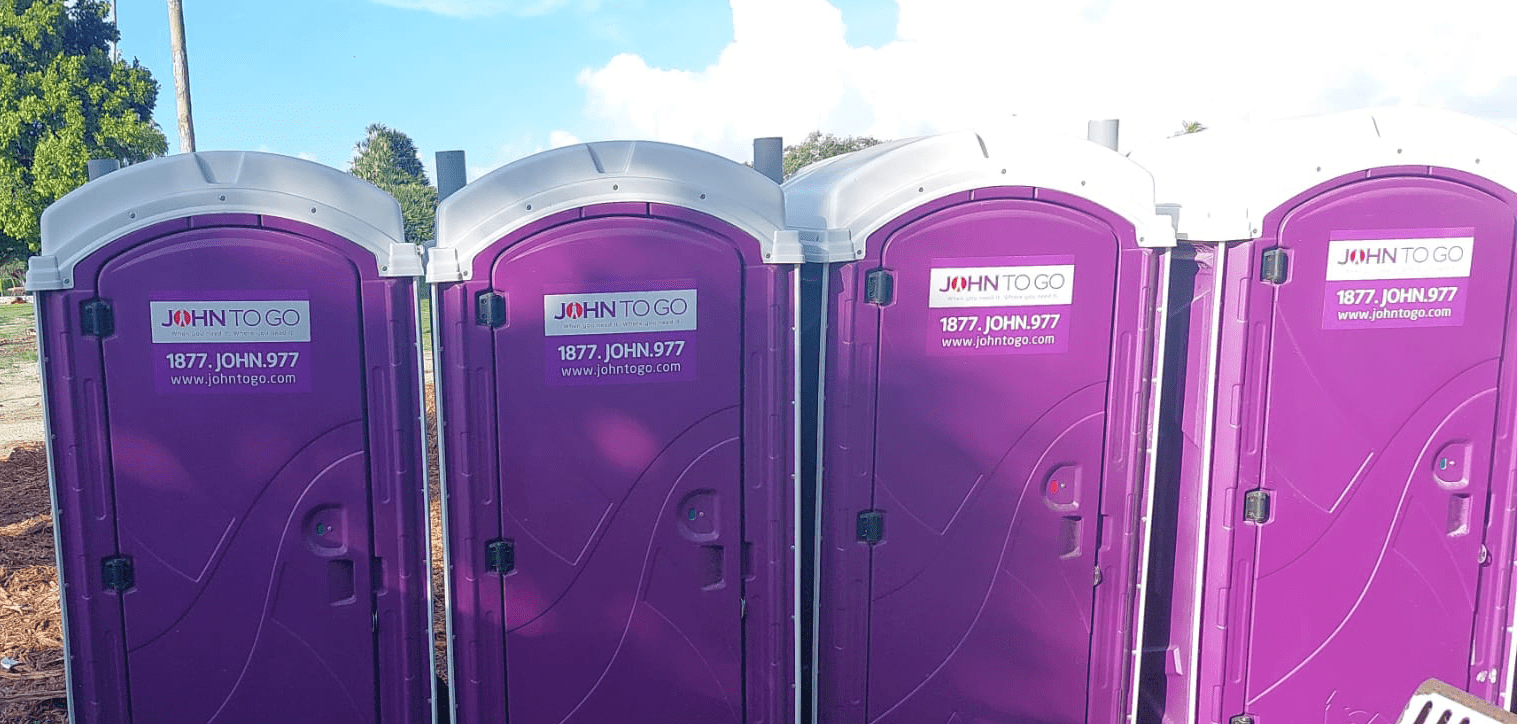 Porta Potties Near Me
When you're researching "porta potties near me," John To Go stands out as the go-to solution for all your portable restroom requirements. We understand that the need for a clean and reliable portable toilet service extends beyond just providing the unit itself.
That's why we focus on offering a comprehensive service package that takes care of all your needs, from the moment you first contact us to the time we complete the pickup. Our diverse range of portable toilet options ensures that we have something to suit every need and budget. With John To Go, you're not just renting a portable restroom—you're investing in a hassle-free experience that covers all the bases.