Special Events—John To Go!

Planning a special event is a feat in itself. From creating the perfect guest list to keeping everything on schedule, there's a lot of work that goes into planning a successful party or event. From outdoor party events to a family get together, every event is special and must be treated as such. But with a lot on your plate, it's easy to let things fall through the cracks.
You need a comprehensive event planning checklist to help you plan adequately for an event. One of the most important things to consider when planning an event is a restroom trailer rental. Without quality portable restroom trailers, your guests may experience several inconveniences that they will not forget in a hurry. And you don't want to be the host of such an event. But don't worry! Here at John To Go, our team helps make sure your events are memorable for all the right reasons. With plenty of clean portable restrooms that are perfect for your next event, JTG has got you covered—no matter what event type you're hosting! Learn more about the different types of events our restroom trailer rentals are perfect for!
Tips for Hosting Different Types of Special Events
1. Corporate Events

As a business, it's important to bring your employees together every now and then. Whether you're hosting a team-building exercise, planning a seminar, or providing a networking session for your employees to connect with other professionals, the best corporate events have plenty of restrooms available for guests.
If you're planning corporate events, here are some things to consider:
The first thing to do is to make sure you have comfortable corporate event venues. You can do a "corporate event venue near me" search and select one that not only suits your needs but also matches your budget. A good corporate event venue with breathtaking corporate event decor is important.

Choose corporate event locations based on the settings you prefer (e.g.,indoor or outdoor corporate events).

Spice up the event with corporate event entertainment (like employee outdoor team building activities).

You may need corporate event catering services and corporate wine event experts if the event will go on for hours.

Use relatable corporate event themes such as team building and safety training.

Know how many people are coming to the event so you can have enough space for everybody, but not too much empty space.
All the above will inform your corporate event rentals decision. For example, food and drinks can influence how many restrooms you'll need for the event.
2. Personal Events

Another type of a special event you can plan is personal events like outdoor parties, family spring holidays, etc. If you're like most people, you find planning personal events—such as weddings, birthday parties, or family reunions—challenging. You might even find the process so intimidating that you avoid it altogether. But planning a night outdoor event, be it a wedding or family gathering, a fall festival, Chanukah party or Halloween event doesn't have to be difficult. Here's how to go about planning a personal event.
Set a budget: While the event you're planning is a special event, you don't want to spend more than you can afford.

Select a venue: Think about what type of event you're having and choose a location that suits it, like a restaurant for an intimate dinner party or backyard venues for a casual barbecue outdoor party.

Get the word out: Create an invitation that'll make people want to come. Then send them out early enough to give people time to plan ahead.

Make a list: Think about what you'll need to bring to the venue and when you should get there. Also account for details you don't want to forget, like napkins with your monogram on them or port o potty rental units.

Think of what to serve: Before making any final decisions about catering options for the event, think about what type of food you'll serve at your party and how much alcohol will be consumed (if any).

Hire a photographer: Consider hiring a professional photographer or videographer if possible—these people can capture memories that might otherwise go unseen during this special time in life!
Getting estimates from qualified contractors is an essential step to preparing for site construction and getting the project ready to roll out.
Planning events is a lot of fun, but it can also be stressful. It's important to have a clear idea of what you're trying to achieve so that you can plan your event and make sure it's a success! Planning a thanksgiving gathering? Check out these thanksgiving party ideas.
3. Charity Events

Hosting a charity event can be an incredibly rewarding experience, both for you, the organizer, and for your community. A charity event is a special event that helps you raise money, awareness, and support for your cause while fostering goodwill and strengthening your community ties. The most important thing to remember is that people are coming to support a cause that's near and dear to their hearts, so keep it light! There are many different components that go into planning a successful charity event. These include:
Pick a theme related to your cause.

Choosing the right venue (depends on the type of event).

Finding volunteers who are willing to help with everything from planning to running the actual day of the event.

Getting sponsorships from businesses local to you or larger companies that want their names associated with a good cause (or both!) is key.

Planning out every detail, including food and drinks, entertainment, decorations, etc., making sure there will be enough parking spaces available near the venue so attendees don't have trouble getting there on time, for example.
If you need some fundraising ideas, here are a few of our favorites:
Fundraising Auctions: Auction off prizes, gifts, and other items to the highest bidder. Popular items include gift baskets, art, vacation packages, and celebrity appearances.

Sports Events: Organize a sports tournament and charge an entry fee for teams who want to participate. Get sponsors for the event to help with costs, or sell advertising space during the tournament to local businesses.

Walks or Runs: Arrange a walk, run, or bike ride through your community (or nearby trails), and ask participants to pay an entry fee or sign up as sponsors. Offer special incentives for people who raise certain amounts of money, like t-shirts or gift cards.

Talent Shows: You can host a talent show where participants play a musical instrument, paint a picture, perform stand-up comedy, perform a dance, and so on.
CHOOSE FROM OUR EXTENSIVE SELECTION OF PORTA POTTY RENTALS
Outdoor Party Ideas
Throwing a party and need some outdoor party ideas? Whether you're looking for outdoor event planning tips, outdoor event venues, or simply want to make a splash at the next cookout you attend, there are lots of outdoor events to enjoy! While outdoor party planning, such as an outdoor night wedding, can be stressful, it doesn't have to be.

There are many outdoor party wedding ideas. For example, you can enjoy a nature themed wedding, a rustic spring wedding, a rustic garden wedding, or an elegant outdoor night wedding. If you're planning an outdoor gathering, don't forget to take the elements into consideration.
If your event is in the summer, consider a misting tent for cooling! Or if it's chilly out, provide space heaters or portable fire pits for people to warm themselves. When you host an outdoor party and people are comfortable, they're more likely to have fun and enjoy themselves. Also, if you're hosting at night, you need excellent outdoor event lighting.
With so many options, it can be hard to make a decision on event venues outdoors. That's why we've put together a list of our top suggestions for top outdoor party venues for your next big bash.
In your backyard: If you've got a spacious yard, it's the perfect outdoor event space for a get-together with friends and family. You can set up lawn games like cornhole and horseshoes and decorate with citronella candles to keep the bugs at bay. For added comfort, add cushions to your outdoor chairs so everyone can relax and enjoy themselves during the party! Backyards are also good night outdoor wedding venues.

At the beach: Nothing says summer like a beach party! You can provide towels for guests who want to swim in the water or lay out on sand dunes nearby. You can also think up some lakeside wedding ideas and enjoy nature!

On your roof deck: Rooftop parties are all the rage these days, especially during the warmer months as temperatures rise and the appeal of the outdoors is back. You can hold a special event on the roof deck as you take in the view below.
Meeting Your Restroom Needs for a Special Event—JTG
Don't let the need for a clean and functional bathroom ruin your otherwise fantastic event! Renting mobile restroom trailer units is an affordable way to ensure that guests aren't forced to make use of an unsanitary or ill-equipped bathroom area to take care of their business. If you're planning an event, JTG can help you find the right bathroom trailer rental for your needs. Our porta john rental units come in a variety of sizes and can be placed anywhere on-site. This way, you can make sure that all of your guests have access to clean and comfortable porta potties at all times during your event.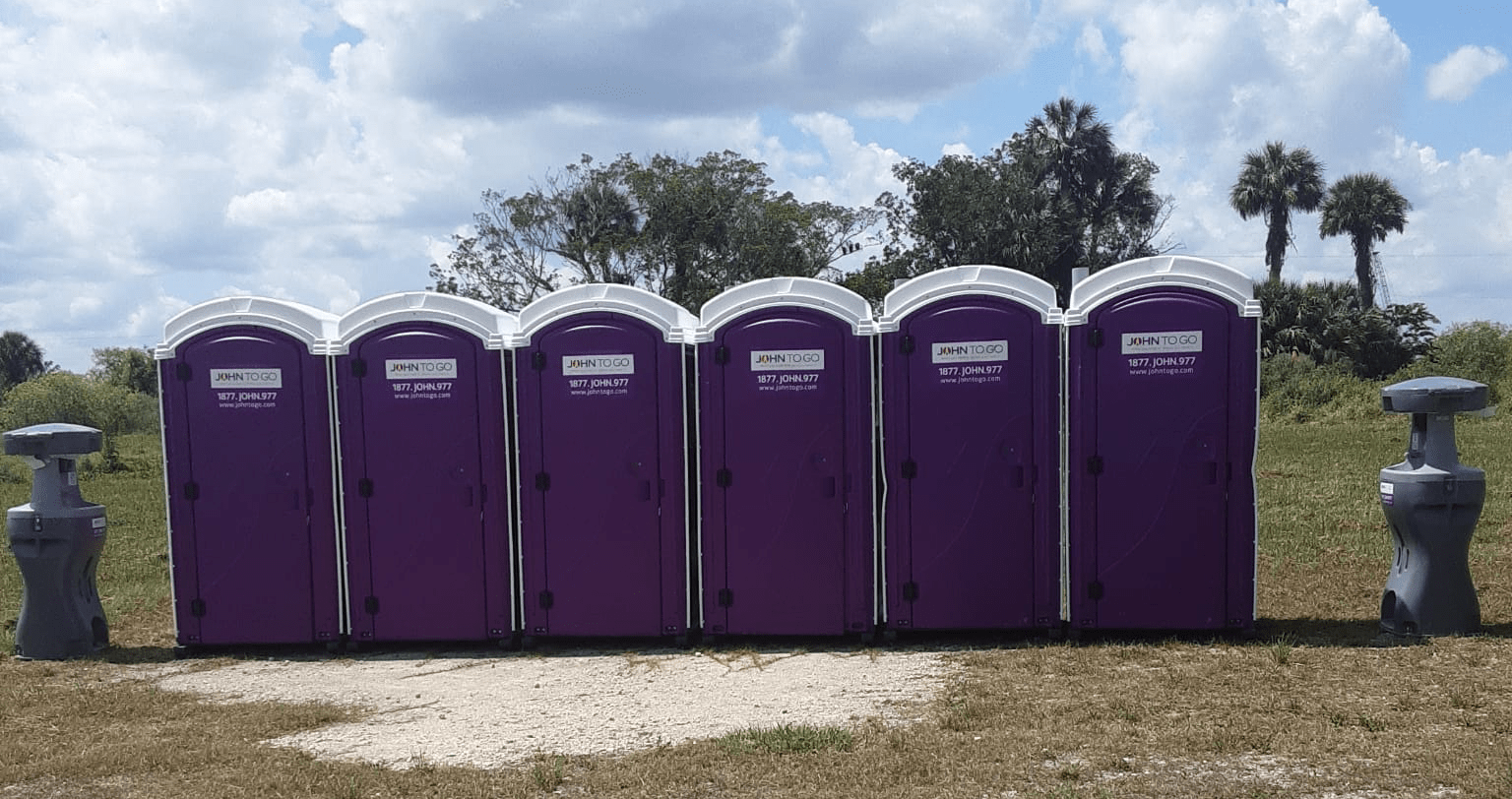 Should you rent a porta potty or a bathroom trailer? There are a variety of factors that go into this decision, which we'll walk you through. First is the size of the event. The size of your event will be the most important factor in deciding between a portaloo rental or a bathroom trailer. A good rule of thumb is to plan for one restroom for every 50 guests. If you have more than 100 people, we recommend using a bathroom trailer. But if your party is smaller than that, a porta potty is the way to go.
Another thing to consider is the type of event. For example, if you're hosting an outdoor wedding, we would recommend using a bathroom trailer because it's so stylish and provides all of the amenities that you'll need for such an important occasion. However, if you're hosting a beer festival, we recommend using multiple porta potties and washing stations instead!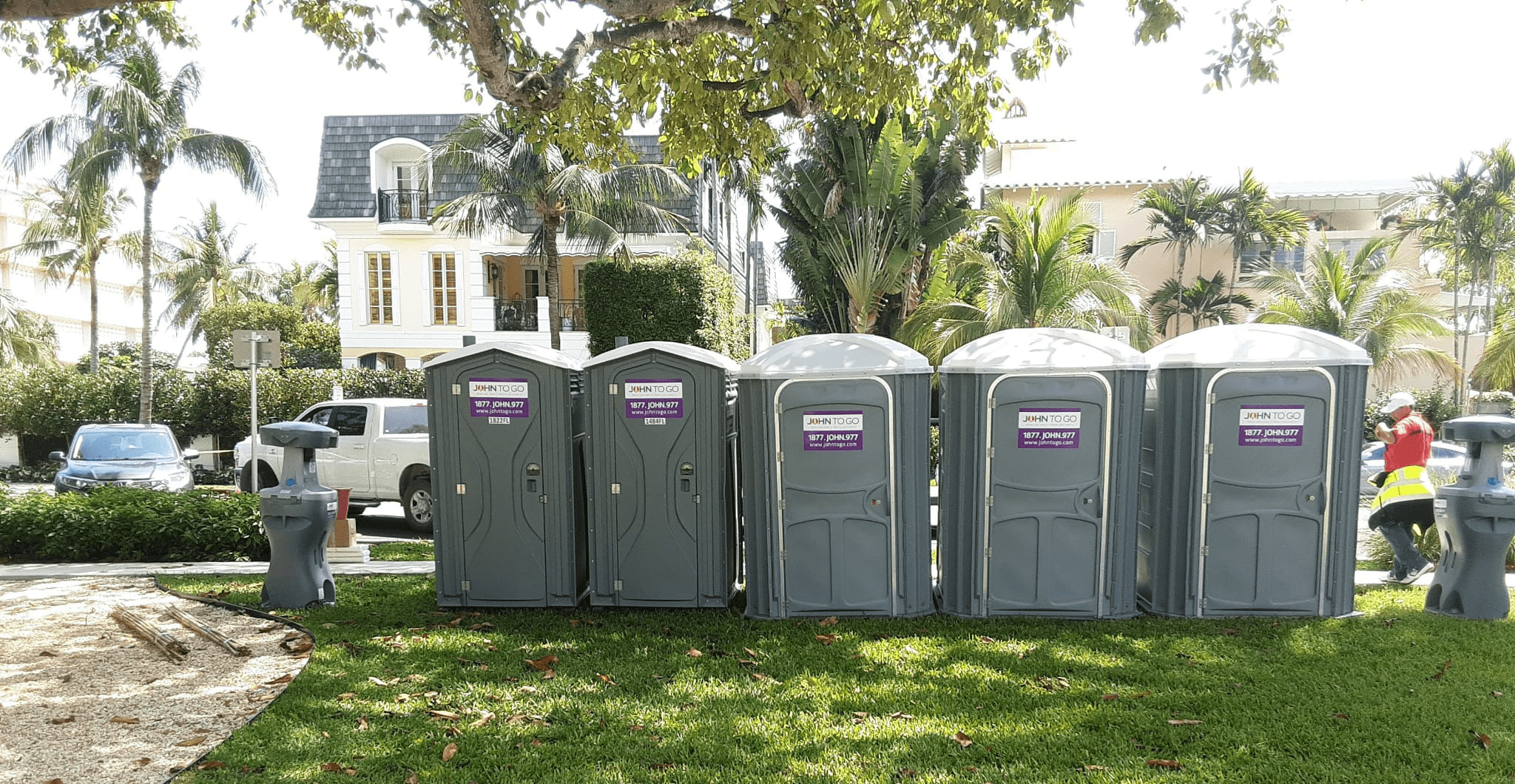 Why Choose John To Go?
We've been working with event planners and hosts for many years to provide onsite porta potties, luxury restrooms, and hand-washing stations to keep your guests healthy, safe, and happy. No matter what kind of event you're planning: corporate events like retreats and conferences; personal events like weddings and birthday parties; or even charities looking for help with fundraising auctions and more! But what is the average porta potty rental cost? The average porta potty costs about $125 to $185 per month. A restroom trailer rental cost is north of $900 and is worth every extra penny!
At JTG, we believe in giving you everything you need to plan a great bathroom strategy for your guests. From determining how many people will be attending your event to maximizing space (and minimizing stench) in your restroom area, JTG has got you covered! Need a restroom trailer, bathroom on trailer, or luxury restroom trailer rental unit for a special event or outdoor party? We can offer all that and more! Get your porta potty rental units with just a few clicks!
WHAT OUR CUSTOMERS ARE SAYING





Lip Ferraro
July 21, 2018
I contacted John to Go to empty and dispose of my RV black tank waste, and they responded quickly with a good quote… They were so efficient – I don't even know when it was they came.





Tim Dwan
July 29, 2018
The unit we ordered met our needs, and most importantly, it arrived right on time.





David Collado Bronx NYC
August 15, 2018
I've been using John to Go services for the past 10 (+) years for the annual block party celebration in my neighborhood. Their prices cannot be beat and the units operate precisely as described… I continuously recommend them to family and friends.





Applewood Orchards
Special Events, September 16, 2018
The John to Go team has bailed us out of a number of situations and consistently provided first class support!





Kathleen Cebollero
Special Events, August 23, 2018
JOHN TO GO was the only company I could get in touch with and would work with me on a Sunday. They had a personable gentleman deliver and pick up the unit at the park that same day, per the park requirements… With all this, the price was reasonable. THANK YOU!





Andrea Proeschel
Special Events, March 12, 2018
The guests at my daughter's wedding were amazed at how luxurious the rolls Royce portable bathroom could be, to the extent that word was spread to use the restroom ☺.
Show All
Porta Potty Rentals Near You

Find out where to rent portable toilets