Construction Site Services: How John To Go Can Help
Any manager of a construction site knows that there are seemingly endless moving parts to manage. From preparing estimates to ensuring a job well done that is in line with local safety regulations, it can all be overwhelming. The last thing you want to be stressed with is trying to find top-notch facilities such as construction site toilets.
That's where John To Go comes into place.
John To Go helps simplify your job by providing several top-notch construction porta-potty options. Not only that, but we have an excellent portfolio of other handy rentals, including showers, lighting, water tanks, and so much more.
But why should you choose John To Go, and how can we serve you?
Keep reading to find out why John To Go is the industry's most reliable and sought-after construction porta-potty servicer.
Construction Site Services - Construction Porta Potty Options and Beyond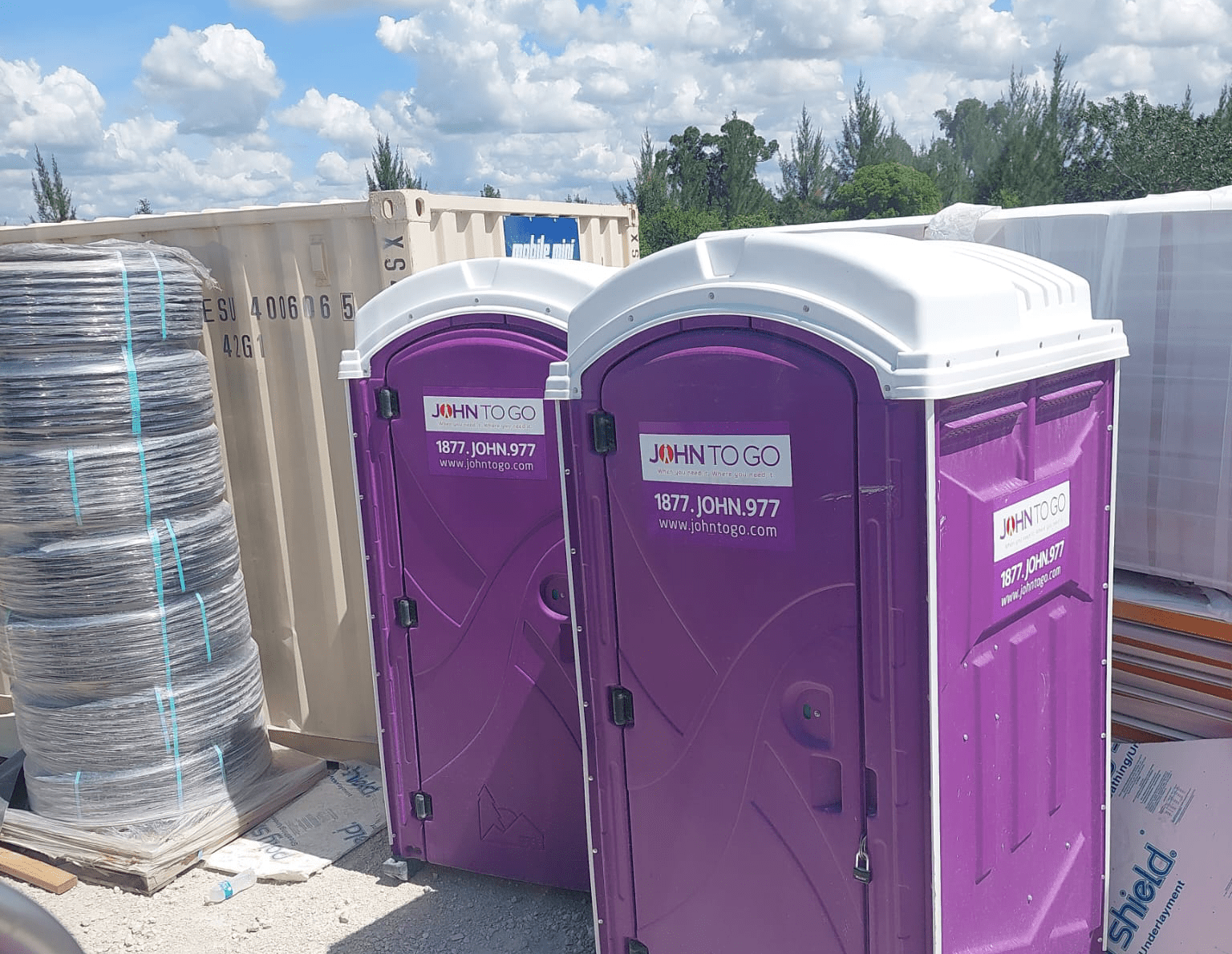 At John To Go, we have a wide range of construction site products that go hand-in-hand with your construction project needs. Below, you will find everything from top-notch porta-potties specifically designed for construction usage to handy products like lights, water tanks, and sinks.
1. Purple Porta Potty
First up as the most popular construction porta potty is our Purple Porta Potty. This spacious, sturdy construction site restroom features a roomy, well-lit interior with top-notch ventilation. Uniquely designed to be durable and sturdy, you and your construction workers can safely and securely enjoy this top-of-the-line, ultra-clean construction toilet rental.
2. Hi-Rise Unit
Our hi-rise option is a more exclusive temporary toilets construction site option. The self-contained construction bathroom is specifically crafted to roll onto construction elevators or be moved by a crane with a strong sling. The exterior is made with strong steel and polyethylene to withstand just about anything, all while ensuring your comfort and privacy.
3. Urinal Unit
Large projects with many workers in tow will appreciate the John To Go Urinal Unit. Unlike our other portable restroom solutions, the urinal unit is a simple walk-through unit with four spaces for men to "go" when necessary. Equipped with two 70-gallon waste tanks and hand sanitizers, it's the ideal choice for long-term use at the construction site.
4. Freshwater and Saltwater Tanks
John To Go isn't just the leader of construction portable toilets. We offer a slew of other construction site services, including our freshwater tanks and saltwater tanks, both of which can be incredibly handy while on the job site. Each tank can equip up to 300 gallons of water, easily becoming your right-wing man during expansive projects. Not only can our construction tanks help for construction purposes, but they can also be used to provide fresh drinking water or work closely with shower units to ensure there's enough water for everyone to enjoy.
5. ProPower Light
Dreaming of working into the night? Whether you're trying to escape the heat or want to finish a project quicker (all while being safe), having a heavy-duty bright light on the construction site is a must. And our ProPower Light is exactly what you're looking for.
Our industrial-duty ProPower Light is designed with a rechargeable and unbreakable polycarbonate lens that won't succumb to the elements - even during more intense construction activities. It is fully deployed in as little as 30 seconds (or less), providing you and your workers with six ultra-bright LEDs in a uniform flood pattern. Compact and foldable, yet can handle winds up to 40MPH. An overall impressive light every construction site will be blessed to have.
6. Shower and Toilet Trailer Combo
Construction jobs can leave workers looking messy and unkempt. Equip your construction site with one of our handy shower and toilet trailer combos, allowing employees to rinse off before traipsing home. Workers will enjoy having a private area where they can answer Mother Nature's call before washing up in the crystal-clean shower unit.
Only looking for showers? We also offer a prestigious 8-Station Shower Trailer described as being "as comfortable as your own home." Each shower provides plenty of privacy and an air conditioning and heating unit to keep you cozy from beginning to end.
7. Sink Trailer
Don't want to employ an entire shower and bathroom unit? Then you can opt for a sink trailer instead. Our sink trailer comes with 12 convenient spots for employees to wash their hands before heading off to their lunch break. With hot and cold at the ready, everyone can find their ideal temperature. This not only helps construction workers stay clean but can potentially cut down on illnesses, too. It's a win-win.
We also offer convenient hand-washing stations for smaller projects that might not need 12 stations for employees. These stations are portable and compact and come with paper towels and soap to get the job done. Provides up to 200 hand-washing sessions!
Why Choose John To Go For Construction Site Services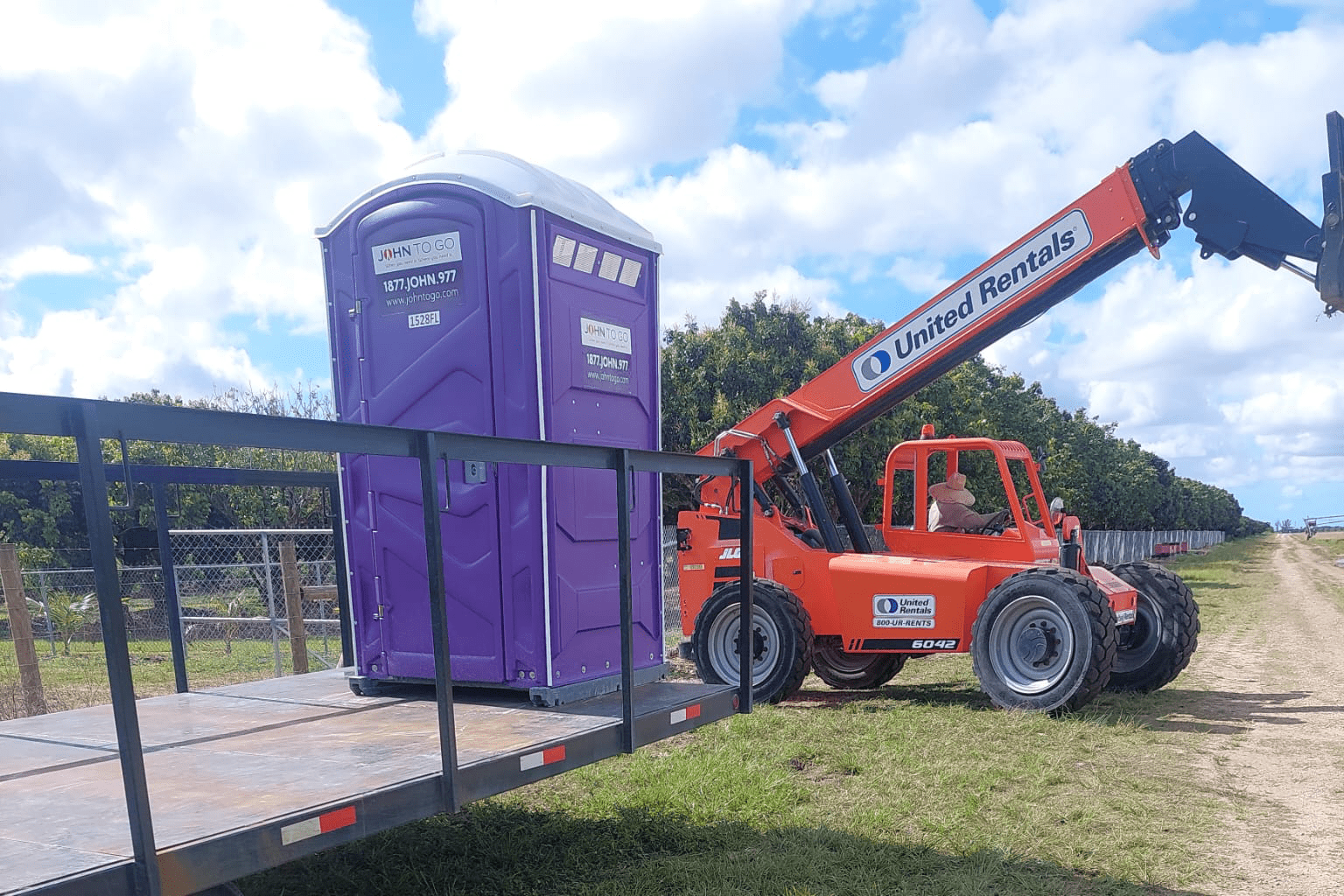 Needless to say, John To Go has a lengthy list of construction site services to make your job easier, from portable toilet construction site units to sinks and water tanks. But why should you choose us over the competition? Here are the top five reasons.
1. Proven Track Record
John To Go has been a family-owned business in the industry since 2004 - almost two decades! We have continued to provide over-the-top service to our clientele, which is why we have such a high return rate of customers. Go ahead - check out the reviews from real customers who enjoyed our services and products!
2. Updated Products
At John To Go, we aim to deliver nothing but the best of the best. That's why all our units - including our construction trailer with bathroom and urinal units - are rolled over after 18- 24 months. Not only are they contemporary, but we ensure all our units and rentable products are of the highest quality and expertly cleaned.
3. Excellent Customer Service
Here at John To Go, we know the importance of customer service. That is why we always greet our guests with a smile and work tirelessly to ensure your satisfaction. Don't believe us? Give us a call or chat online on our website today. We can answer all your questions, from "How much do portable toilet rental for construction sites cost?" to "How many construction site restrooms do you need?"
4. Ready When You Are
Sometimes, it can be challenging to find porta-potty rentals, especially if you need them sooner rather than later. John To Go understands that things come up - especially in the construction realm. That said, we always strive to make our products available, even at the last minute. As our service areas grow, we aim to stay a step ahead by incrementally increasing the size of our fleet to ensure enough units for last-minute requests. We do everything in our power to ensure we can deliver your construction site services when and where you need them.
5. Great Prices
We don't want you to spend an arm and a leg on your construction porta potty and related products. That's why we offer competitive prices that can fit your budget. We also have specials on porta-potty rental units that you take for several months at a time. Get in contact with one of our friendly customer service agents to find out more construction porta potty options today!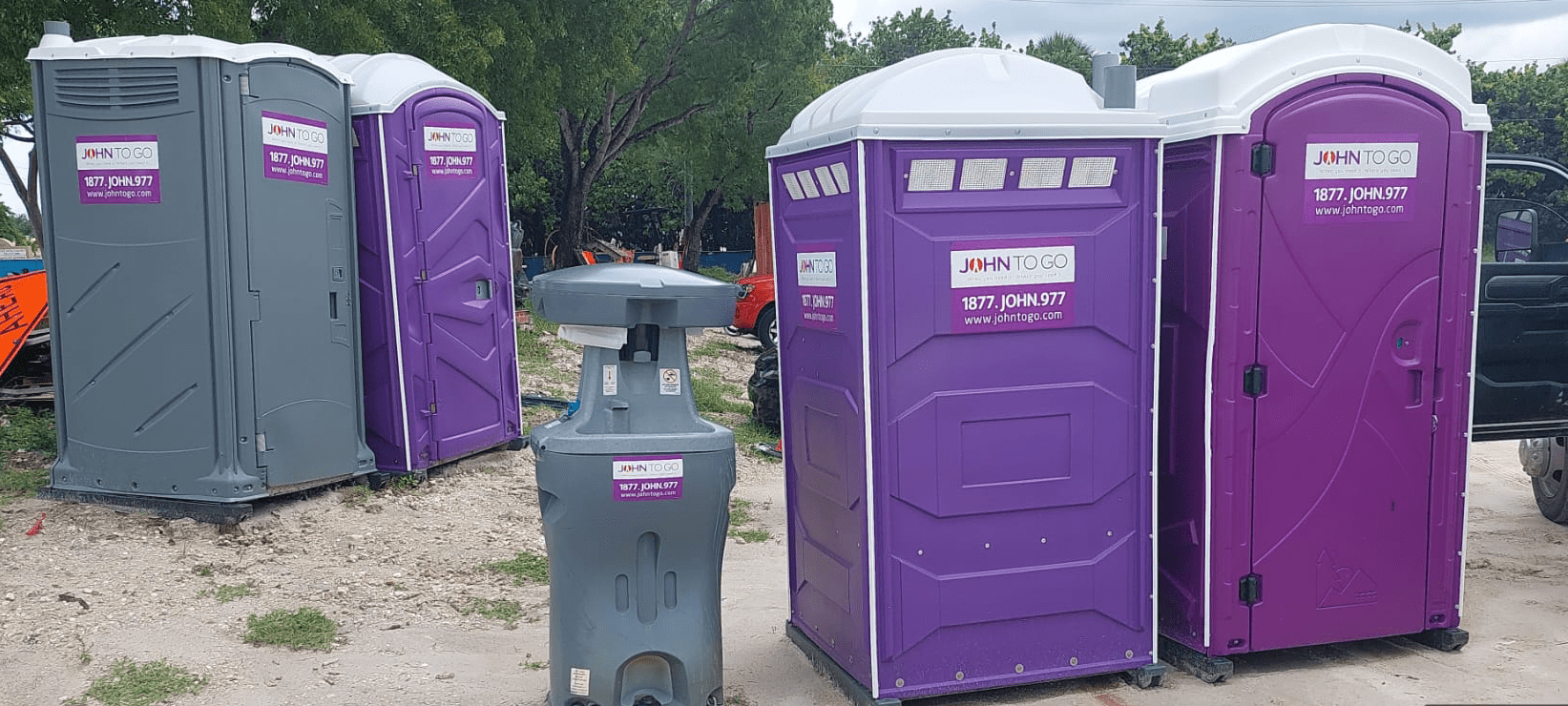 John To Go Knows NYC Construction
Do you need a porta-potty rental New York for your construction site? Then you need a company that knows the ins and outs of dealing with construction, specifically in New York City - and John To Go is here to answer the call.
John To Go has had a steady and prevalent presence in New York City for years. That said, we are well aware of the regulations, tight spaces, and other nuisances of delivering construction porta-potty units to the area.
Again, make your job easier - not more complicated - and opt for John To Go for all your porta-potty rental NYC unit needs. We can take the guesswork out of things, ensuring all your construction site services are delivered without any hassles, mishaps, or violations that NYC is notorious for!
John To Go is the Leading Company for Construction Site Services
Whether you need to stick to the basics - a construction porta-potty - or you're looking for other items, including showers, sinks, water tanks, and more, John To Go is here to help. We can streamline your construction site with our various products. And with our vast knowledge of NYC regulations, space restrictions, and more, it's never been easier to get top-tier equipment at your construction site.
John To Go has been the leading porta-potty (and more) company since 2004, and we can't wait to help you at your next construction site. Give us a call today to learn more about our construction site services, rates, and more.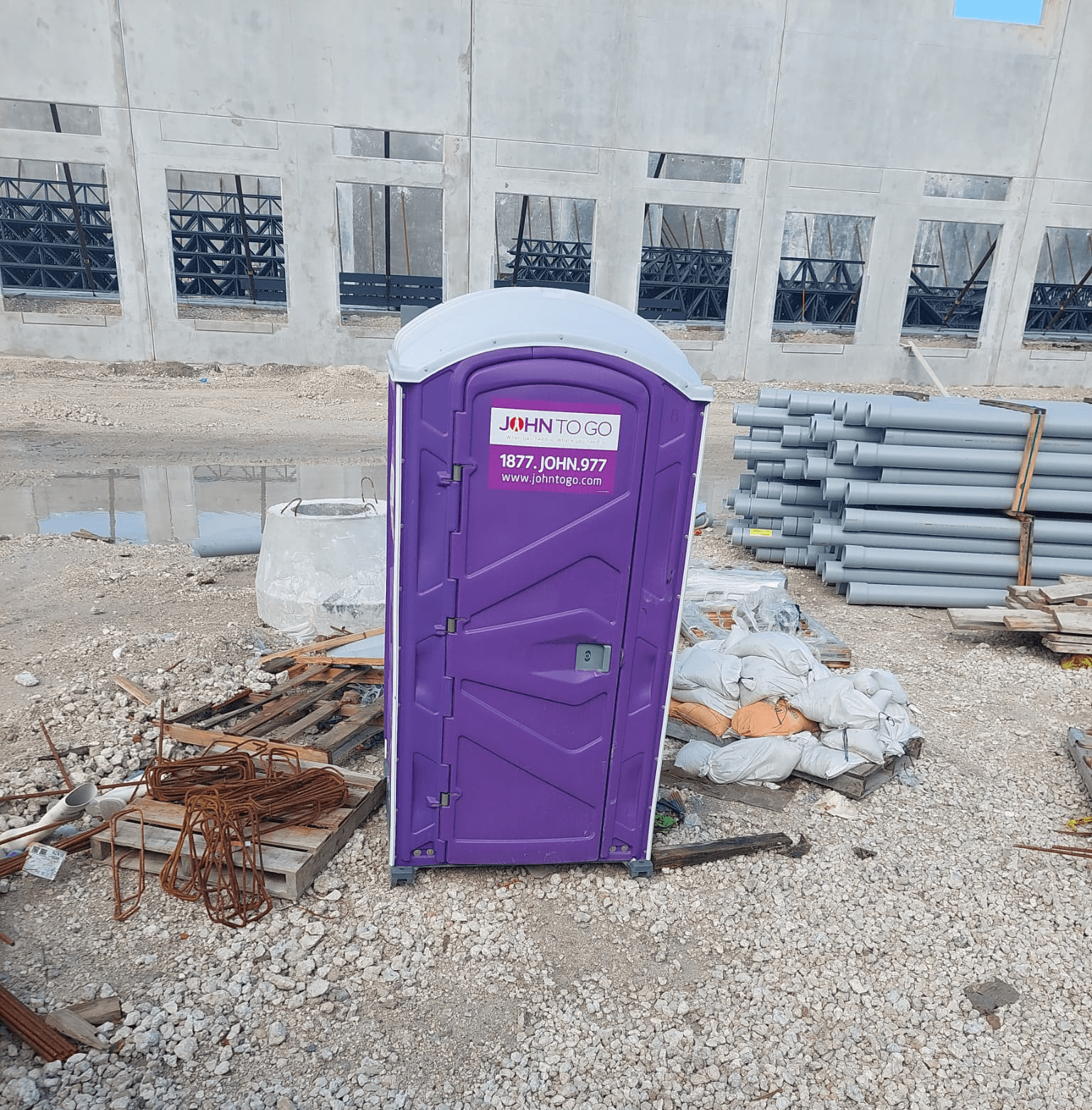 Porta Potty Rentals Near You

Find out where to rent portable toilets