Campsites Made Comfortable: Summer Camp Porta Potty Rental
Summer camps offer an exceptional opportunity for children to explore the great outdoors, develop new skills, create lasting friendships, and build unforgettable memories. Immersed in nature, children can learn about their environment while participating in various fun and educational activities, all orchestrated with summer camp themes and lots of creativity. However, one of the challenges camp organizers often face is providing adequate restroom facilities, particularly in remote locations.
Remote locations may lack access to proper infrastructure, making it difficult to install and maintain traditional restroom facilities. This can lead to concerns about hygiene, sanitation, and overall camper comfort. Additionally, as camps grow in popularity and registration numbers increase, the demand for outdoor restroom facilities for summer camps rises, putting further pressure on organizers to find efficient and cost-effective solutions.
In order to address these challenges, camp organizers must find creative and practical approaches that maintain the focus on providing a positive and enjoyable experience for campers. Renting porta potties for summer camps has emerged as a popular solution, as they can be easily transported, set up, and maintained in various settings, regardless of the camp's size or location.
By incorporating outdoor restroom facilities for summer camps into their planning, camp organizers can ensure that campers have access to clean, well-maintained facilities throughout their stay. This not only helps maintain hygiene and sanitation standards but also contributes to a more comfortable and enjoyable camping experience.
John To Go's summer camp porta potty rental service offers an ideal solution for this situation, ensuring camp attendees have access to clean and well-maintained bathroom facilities. In this blog post, we'll explore the many benefits of portable restrooms for summer camps, their organizers, staff, and guests alike.
Enhancing Summer Camp Experiences with John To Go's Portable Restroom Solutions
John To Go's portable restrooms for summer camps offer numerous benefits that help camp organizers effectively address the challenges of providing adequate restroom facilities:
1. Flexibility
Summer camp porta potty rental allows for a high level of flexibility, as porta potties can be rented for specific time periods. This enables camps to avoid year-round commitments, using the facilities only when needed. Additionally, these portable restrooms can be placed in strategic locations throughout the campsite, ensuring campers have convenient access to facilities whenever necessary.

2. Cost-effective options
Portable restrooms for summer camps can be a cost-effective solution. John To Go offers seasonal discounts for extended summer use, helping camp organizers save money while still providing adequate outdoor restroom facilities for camp attendees. This approach eliminates the need to pay for year-round use, allowing organizers to keep the facilities only as long as needed.

3. Hassle-free maintenance
One of the most significant advantages of renting porta potties for summer camps is the hassle-free maintenance provided by John To Go. The company takes care of servicing and maintaining the porta potty units, freeing camp organizers from the responsibility of upkeep and allowing them to focus on other aspects of camp management.

4. Variety of portable restrooms for summer camps
John To Go carries a wide range of portable toilets for summer camps, ensuring that every camp can find the most suitable option based on their size and specific needs. The extensive selection includes basic porta potties, deluxe flushing oversized units, portable handwashing and sanitizing stations, urinals, and more, catering to diverse requirements and preferences.

5. Convenience of campsite porta potty rental
Renting portable restrooms for summer camps is a straightforward process with John To Go. The company handles the delivery and setup of the units at the camp location, which allows camp organizers to concentrate on other aspects of camp management without worrying about restroom logistics.

6. Improved camper experience by renting porta potties for summer camps
Adequate portable restroom facilities contribute to an enhanced camper experience. With enough portable restrooms available, camp attendees will not have to endure long lines or overcrowded facilities. As a result, campers can enjoy a more comfortable and enjoyable camping experience, ultimately contributing to the success of the summer camp or camping site.
In summary, John To Go's summer camp porta potty rental service is a practical and efficient solution for camps seeking porta potty sanitation for summer camps with flexibility, cost-effectiveness, and hassle-free maintenance. John To Go's portable restrooms for summer camps, along with the additional benefits of variety, convenience, and an improved camper experience, make an excellent choice for camp organizers.
Comprehensive Range of Well-Priced Portable Toilets For Summer Camps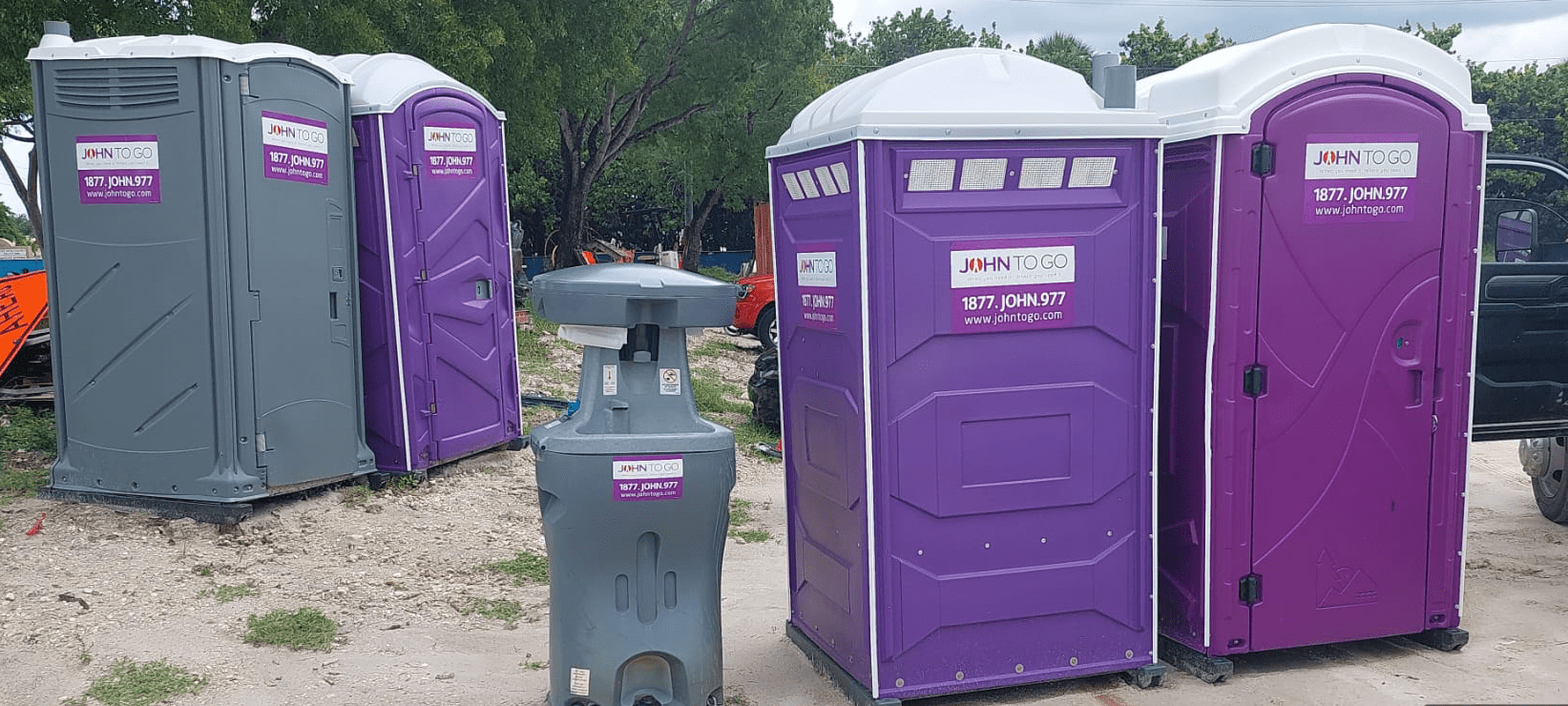 At John To Go, we understand that each camp organizer seeking summer camp bathroom rentals has unique requirements when it comes to restroom facilities. That's why we offer a wide selection of products designed to cater to various needs, preferences, and budgets. Our well-priced options ensure you can provide top-quality summer camp bathroom rentals that will please all parties involved.
Here is a brief summary of several of our campsite porta potty rental options available:
Our ADA Handicapped Accessible Unit is fully ADA compliant, meeting all requirements for door size, handrails, interior turning radius, door closing speed, ramping, and direct side transfer. The extra-wide doorway allows easy access for wheelchair users, ensuring a comfortable and accommodating experience for all.
The Purple Porta Potty features a clean, well-maintained, and high-quality portable toilet. Designed with simplicity, sturdiness, and spaciousness in mind, this standard porta potty is an excellent choice, offering porta potty sanitation for summer camps at an economical price. Camps seeking outdoor restroom facilities for summer camps rent multiple units to accommodate the size of their crowd.
If you're seeking to provide an upgraded campsite porta potty rental, our Premium Event Unit offers a top-quality restroom experience. This spacious and comfortable porta potty offers an expanded interior with a translucent roof for a bright and inviting interior, Premium event units serve as the perfect restroom solutions for summer camp administration, staff, and guests.
The Ambassador Flush Deluxe offers a luxurious experience with flush and wash capabilities. With a stylish, modern interior, this event restroom includes a recirculating toilet and vanity area with a sink, soap, mirror, and other amenities. Hands-free sanitary foot pedals provide a convenient and hygienic experience that takes porta potty sanitation for summer camps to the next level.
Our Hand Wash Station is an ideal sanitation solution when water is scarce but essential. Providing up to 200 hand washings per 8-1/2 ounce metered wash, portable hand washing stations for summer camps ensure a convenient and sanitary experience with campers and staff.
The Foam Sanitizer Stand offers hand sanitation for guests at your event. With the capacity to kill 99% of germs and provide enough sanitizer for thousands of uses, this stand is perfect for high-traffic use as part of your summer camp bathroom rentals, maintaining hygiene standards without generating any waste water or paper.
10 Pointers on Optimizing Porta Potty Placement for Large Campgrounds
When setting up a large campground for the season, one of the key factors to consider is the placement and accessibility of portable restroom facilities. By strategically positioning porta potties around the campsite, camp organizers can ensure that all campers have easy access to clean and well-maintained restrooms. Here are several suggestions to help you optimize bathroom placement and create a comfortable and enjoyable camping experience for all attendees.
Determine the number of porta potties needed: For large campgrounds, consider the number of campers and staff, as well as the duration of the camp. A general rule of thumb is to provide at least one portable restroom for every 50 people. For larger events or longer durations, you may need to increase the number of units accordingly.

Provide accessible units: Include ADA-compliant portable restrooms to ensure that all campers, including those with disabilities, have access to appropriate facilities.

Strategically position units: Place portable restrooms in areas that are easily accessible and close to high-traffic locations, such as dining halls, activity centers, and sleeping quarters. Ensure that the units are visible and well-marked to help campers find them easily.

Space units evenly: Distribute porta potties evenly throughout the campground to minimize walking distances for campers and avoid overcrowding at any particular unit. This will help reduce wait times and ensure that all campers have access to facilities when needed.

Provide lighting: Install adequate lighting near porta potty locations to ensure that campers can easily access them during nighttime hours.

Maintain clear pathways: Keep pathways to and from portable restrooms clear of obstacles, ensuring that campers can safely and easily reach the facilities.

Consider terrain and accessibility: When positioning summer camp bathroom rentals, take into account the terrain and any potential accessibility issues. Place units on level ground and avoid areas that may become muddy or slippery in wet conditions.

Monitor usage: Regularly check the usage of portable restrooms and adjust their placement if needed, ensuring that they are optimally located to serve campers effectively.
Create privacy screens: If possible, use natural elements or temporary fencing to create privacy screens around portable toilets for summer camps, providing campers with a comfortable and discreet environment.
Plan for servicing and maintenance: Schedule regular servicing and maintenance of your outdoor restroom facilities for summer camps to ensure cleanliness and hygiene. Make sure that there is easy access to the units for maintenance personnel.
By following these suggestions, camp organizers can ensure that portable restrooms are accessible and well-positioned throughout large campgrounds, contributing to a comfortable and enjoyable camping experience for all attendees.
Renting Porta Potties for Summer Camps? We're Ready!
As summer camp season approaches, John To Go is ready to support camp organizers in providing a safe and enjoyable environment for all campers. With our wide selection of high-quality portable restrooms, convenient rental options, and professional maintenance services, we are committed to ensuring that campgrounds have the best restroom solutions for their needs.
Partner with John To Go this summer and rest assured that your campers will have access to clean and well-maintained facilities, allowing them to focus on having a fun and memorable summer camp experience.
Reserve your summer camp porta potty rental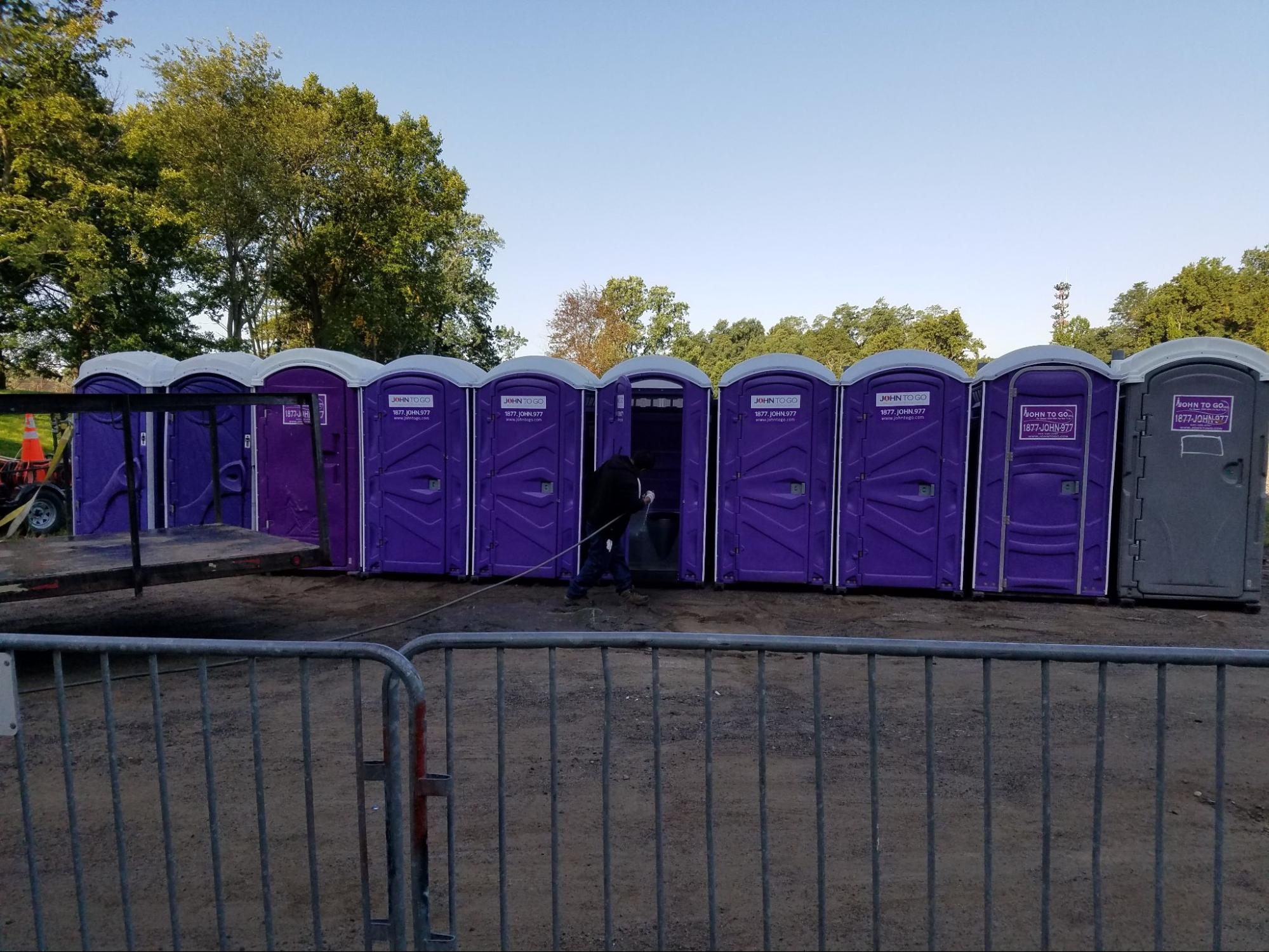 Porta Potty Rentals Near You

Find out where to rent portable toilets