Effortless Porta Potty Rentals
The John to Go Advantage: How We Make Renting Porta Potties Easy and Convenient
At John To Go, we understand that the process of reserving a portable bathroom rental for your event or project can be overwhelming. As a leading provider of porta potty and restroom trailer rental services in the U.S., we make it easier than ever to reserve and receive high-quality portable restroom facilities for any event or project.
In this article, we'll explore how we've streamlined the porta potty and restroom trailer reservation process every step of the way, from research to drop-off and pick-up, to servicing and customer service.
Effortless Porta Potty Rental with John to Go
Event planning can be a stressful and overwhelming experience, and it's important to work with reliable and trustworthy partners that can help make the process as smooth and easy as possible. At John to Go, we are committed to making your porta potty rental experience positive, pleasant, and easy as possible.
From the moment you contact us, our team is focused on providing you with personalized service and support, tailored to meet your unique needs and requirements. We take the time to understand the scope and nature of your event or project, providing customized recommendations to ensure that you have the right porta potties or restroom trailers for your specific needs, and to ensure that you are in compliance with OSHA portable potty rules and regulations.
Once you have selected the products and services that you need, our online booking system allows you to reserve your porta potties or restroom trailers at your convenience, with options for flexible scheduling, drop-off and pick-up on your terms, and reliable and professional servicing.
We also provide ongoing customer support and communication, so you always know what to expect and can reach out to us at any time with questions or concerns. Our goal is to ensure that your portable toilet rental experience with John to Go is stress-free, easy, and enjoyable.
So whether you are planning a small-scale event, a large-scale concert or festival, or a construction project, we are committed to providing you with the support and service you need to make your portable toilet rental a success. Our expert team has years of experience in the portable restroom industry, and we bring that expertise to every rental we provide.
Let us take care of the details, so you can focus on enjoying your event.
Research Phase: Getting All the Info You Need
Our website offers detailed product descriptions of all our porta potty and restroom trailer options, including their dimensions, features, and capacities. We also provide pricing information and detailed quotes, making it easy to determine the cost of your rental based on your specific needs and requirements.
Narrowing Down Your Selection
We offer a wide range of porta potty options to choose from, making it easy for you to find the perfect match for your needs. Our porta potty options range from basic models to high-end luxury models, ensuring that there is an option for every budget and requirement. Our basic models offer a standard level of functionality, providing the essential features needed for a safe and hygienic restroom experience.
For those who require more amenities and comfort, we offer a range of deluxe models that include features like hand sanitizers, foot flush, and lighting, among others. These deluxe models offer an upgraded level of comfort and convenience for guests and workers alike.
In addition to our porta potty options, we also offer restroom trailers that provide a larger statement in terms of comfort and class. Our restroom trailers are perfect for high-end events and projects, offering a luxurious and upscale restroom experience for guests.
Our restroom trailers come in a variety of sizes and capacities, ranging from small models with just a few stalls to larger models with multiple stalls, sinks, and other amenities. They are equipped with modern and high-end finishes, including marble countertops, modern lighting fixtures, and spacious storage areas, providing a luxurious and comfortable restroom experience.
Once you have decided which portable restroom facilities are best for your event or project, the next step is to make a reservation. Our online booking system allows you to select the exact porta potties or restroom trailers that you need, and choose the dates and times that work best for you. We offer flexible scheduling options and can accommodate both short-term and long-term rentals. Once you have completed your reservation, you'll receive a confirmation email with all the details of your rental, so you can rest assured that everything is set up and ready for your event.
Drop-Off and Pick-Up: On Your Terms
We understand that timing is everything when it comes to event planning, and we work with you to schedule the drop-off and pick-up of your portable restroom facilities on your terms. Our team is flexible and can work around your event schedule, ensuring that the porta potties or restroom trailers are delivered and picked up at the times that work best for you.
Dependable and Professional Servicing
In addition to drop-off and pick-up, we provide regular servicing to ensure that your portable restroom facilities are clean, hygienic, and fully stocked with supplies. Our team of professionals is dependable and experienced, and we can come as often as you specify to ensure that the porta potties or restroom trailers are always in top condition. For high volume traffic, we can even provide multiple servicing sessions per day, ensuring that your guests or workers always have access to clean and comfortable restroom facilities. With John to Go, you can rest assured that your rental will be a hassle-free experience, from start to finish.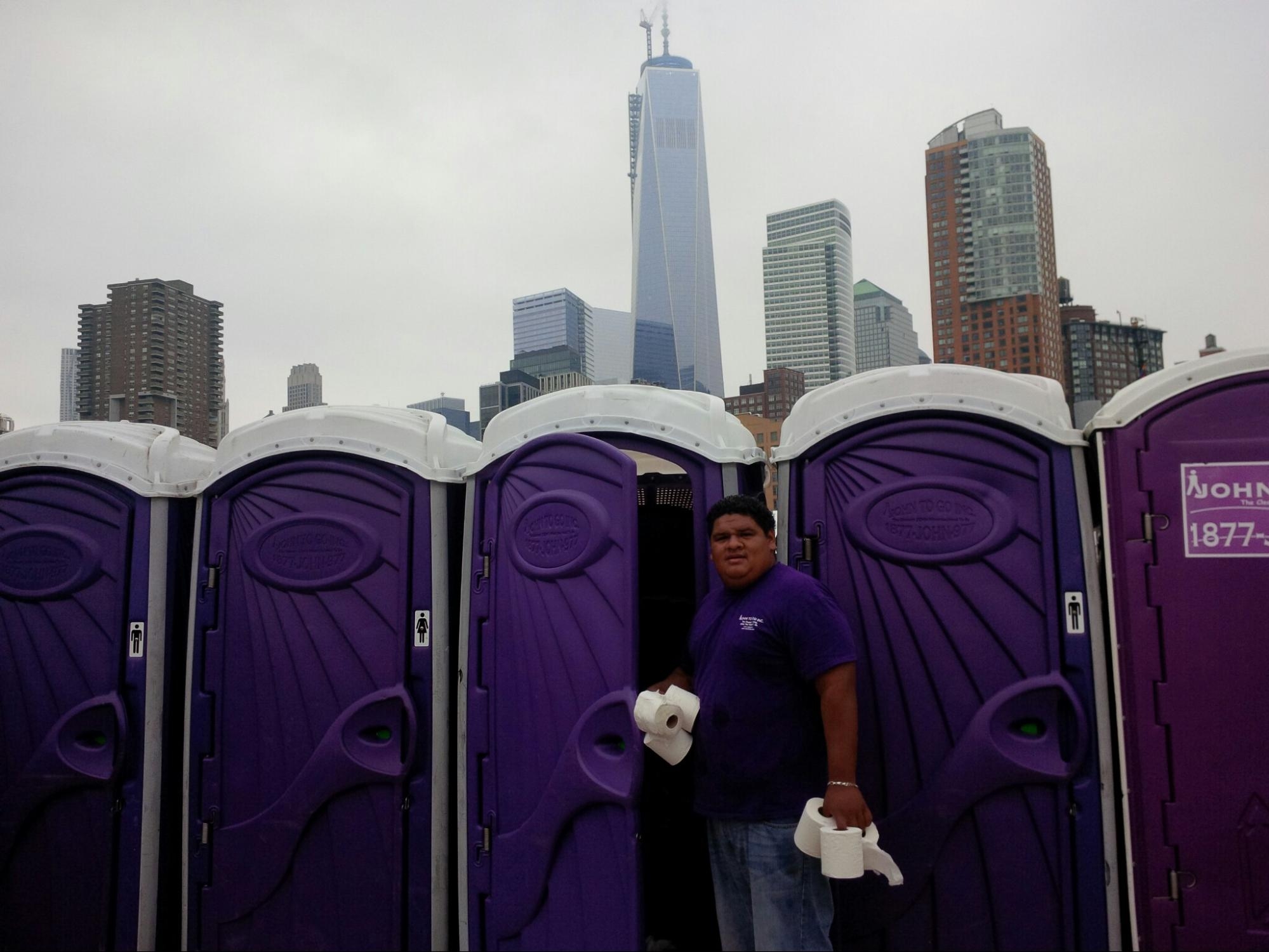 Customization for Specific Needs
We understand that there may be unique situations that require additional customization or special accommodations. At John to Go, we are passionate about providing portable restroom facilities that are safe, reliable, and comfortable, and we are committed to doing whatever it takes to ensure your satisfaction. Whether you need additional servicing, a custom layout, or any other special request, we are here to help and will do everything in our power to meet and exceed your expectations. Our expert team is dedicated to going the extra mile to accommodate your specific needs. So, if you have any specific requests or requirements, don't hesitate to reach out to contact us. We are always here to help and are dedicated to providing personalized solutions that meet your unique needs and exceed your expectations.
Customer Service: Our #1 Priority
It's our firm belief that every customer should receive individual attention, and we work closely to ensure their every need is met. We understand that renting porta potties or restroom trailers can be a stressful and overwhelming experience, and we are dedicated to providing exceptional customer service every step of the way. With a 97% customer retention rate, we are proud of our reputation for delivering top-notch service and support to our customers.
If you have any questions or concerns about your rental, we offer multiple options for reaching our customer service team. Our chat agents are online around the clock (we mean that literally), and will be happy to assist you with any questions or issues you may have. We also provide an emergency contact number that you can call in case of any complications or unexpected issues during your event.
We Want To Make It Easy For You
Planning an event can be an overwhelming task, with myriad details to consider, from the venue and guest list to food and entertainment. Amid this complexity, the straightforward and efficient process of reserving porta potties from John To Go can significantly lighten the load. Having a reliable vendor that can take the load of sanitation needs off your shoulders can make event planning more manageable and stress-free.
From the moment you contact us, we will be there to guide you through the entire process. We offer a wide variety of portable restroom options to fit your specific needs, and our white glove treatment ensures that every aspect of your reservation is taken care of with the utmost attention and care. With flexible scheduling and 24/7 customer support, you can rest assured that we are here to help make your event a success.
With a wide variety of different portable restrooms to choose from, John to Go has units that can accommodate any need, from small events to large construction sites. Whether it's a basic single unit or a luxury restroom trailer, John to Go has the perfect solution to meet each customer's unique needs.
We understand that every event has unique needs, which is why we offer a wide variety of units to choose from, ranging from standard portable restrooms to luxury restroom trailers. Our flexible scheduling options allow us to accommodate any event, from small gatherings to large festivals.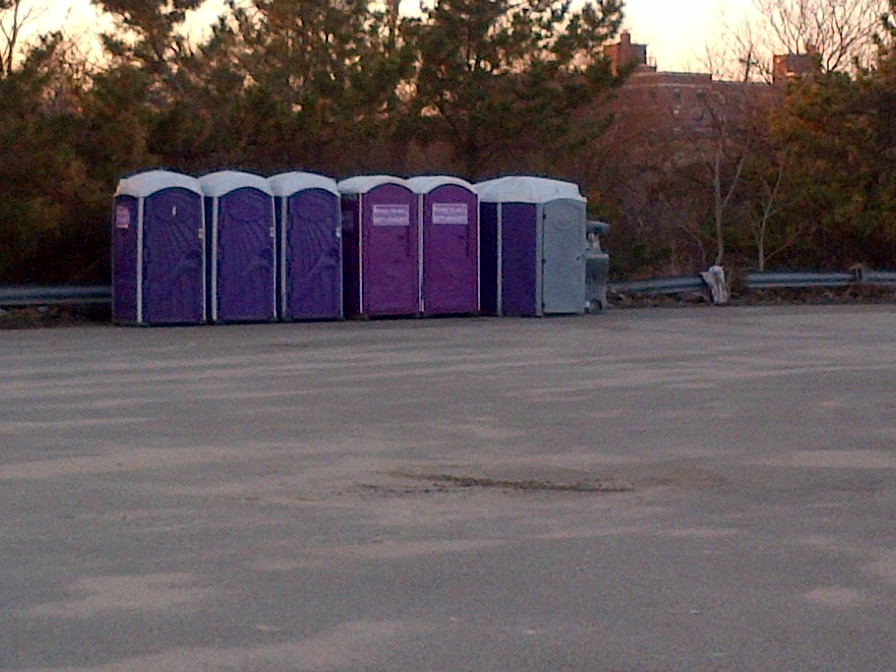 Porta Potties Near Me
When you're researching "porta potties near me," John To Go stands out as the go-to solution for all your portable restroom requirements. We understand that the need for a clean and reliable portable toilet service extends beyond just providing the unit itself.
That's why we focus on offering a comprehensive service package that takes care of all your needs, from the moment you first contact us to the time we complete the pickup. Our diverse range of portable toilet options ensures that we have something to suit every need and budget. With John To Go, you're not just renting a portable restroom—you're investing in a hassle-free experience that covers all the bases.