Safe Construction is Becoming More Accessible
Like most other major industries in 2022, the construction industry is evolving. This is beneficial to construction workers across the globe, as this industry is notorious for injuries ranging from minor to severe.
From workplace accidents related to falls and faulty equipment to improper training resulting in the incorrect use of equipment, many dangers await the day-to-day construction crew.
Companies have realized the needs for new advancements and updates that can promote optimum health and safety for employees. This results in further improvements being made, from wearables to drone usage and beyond.
With construction safety week right around the corner, it feels essential to discuss improvements, both technological and in practice, with workers across the globe.
What is National Construction Safety Week 2022?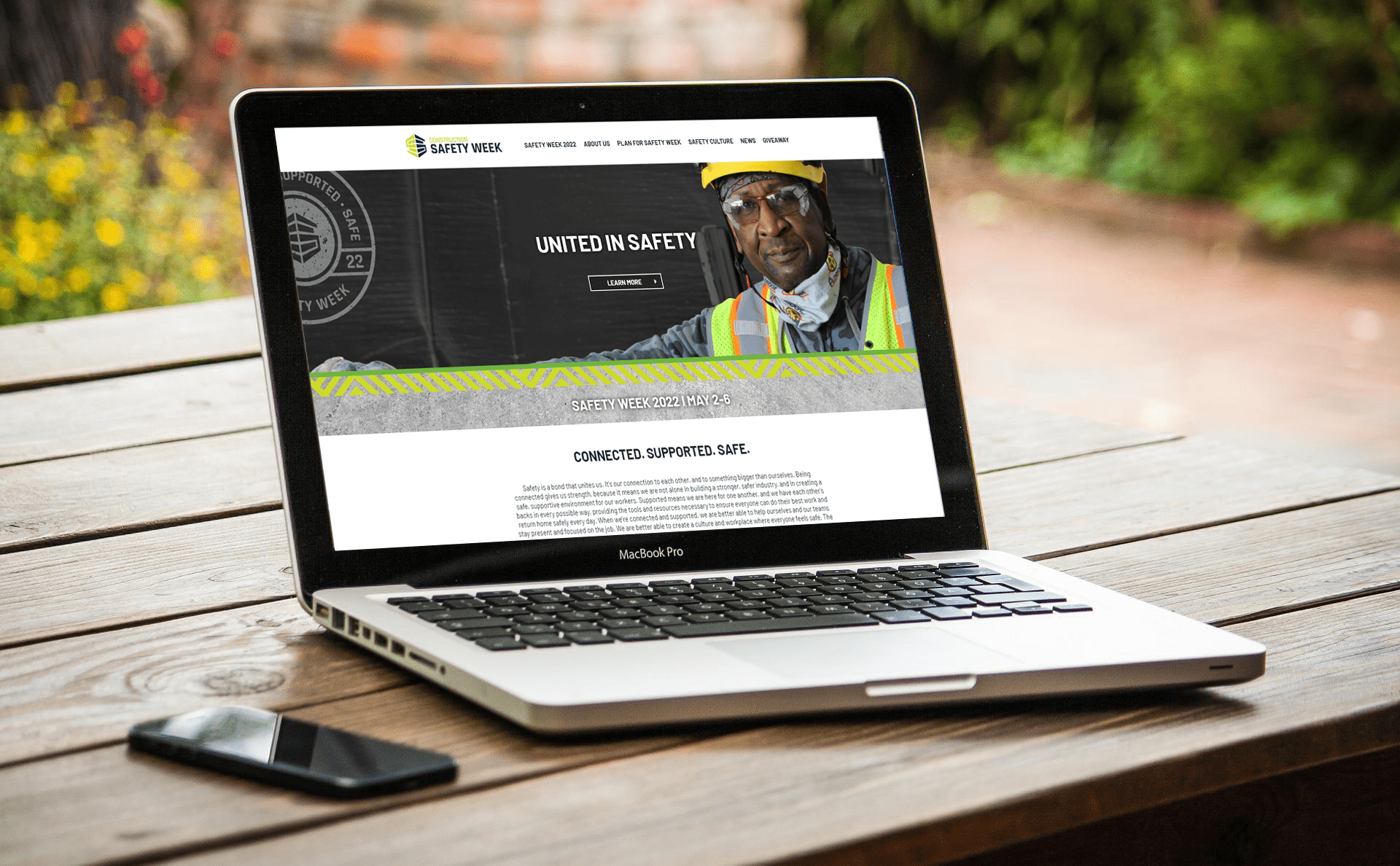 Construction Safety Week is an annual event focusing on improving construction worker safety with improved safe construction practices. It is taking place May 2-6, 2022, with a theme of "Connected. Supported. Safe." The organizers are holding a multitude of events, from safety demonstrations to mental health support and beyond.
For those that cannot attend this inclusive and educational event in person, there are many online resources to benefit construction teams. For example, OSHA has created the "Stand-Down" initiative that encourages construction workers to step back and take a moment to learn and understand fall hazards and prevention.
Events at National Construction Safety Week
Construction workers don't need to attend the in-person safety week to get involved. The website has many beneficial resources and construction safety articles, from handy and educational "Toolbox Talks" to share with employees to banners and logos to get the word out.
For those who are blessed with the opportunity to visit Construction Safety Week in person, there is a full schedule to look forward to. Each day has its own "theme." Many companies, including Aldridge and Hensel Phelps, will have demonstrations to thrill the mind.
Monday, May 2: National construction week begins with the "Remain Connected" theme. Here, construction workers are encouraged to share their thoughts and feelings on safety. Employees should be met with understanding and education during this time.

Tuesday, May 3: Tuesday evokes the "Be Supported" theme, in which construction workers will show support to their fellow employees. This includes programs geared towards addressing physical and mental challenges, one of those construction site safety topics less talked about.

Wednesday, May 4: This day is focused on construction site safety tips, new and old. This is the day when improvements and new developments for safety and health are discussed. However, safety fundamentals and concerns, like properly-sized PPE and gear, will also be at the forefront.

Thursday, May 5: On Thursday, the importance of safety training in construction and other safe construction tips will be shared through demonstration. Men and women of all ages and backgrounds are encouraged to participate and share their viewpoints.

Friday, May 6: The final day is a "Thank You" day for all construction workers. Construction safety companies will applaud the men and women while reinforcing essential site safety tips.
Why is Construction Safety Important?
Safety measures in construction work are essential. First and foremost, construction site issues amount to nearly a quarter of all work-related fatalities, injuries, and accidents. By utilizing the best safety practices in construction, you can ensure workers make it home safely.
But safety measures in construction work aren't just crucial to the safety and well-being of employees. The benefits extend to the company and clients.
One significant way that safe construction impacts companies is by insurance prices. The more accidents and injuries a company incurs, the more money it will have to spend on insurance. This can be detrimental to the financial aspect of a business.
Another significant impact is on clientele. Customers want a reputable company that they can depend on without fearing work-related accidents and injuries occurring on their property.
Advancements in the Construction Realm
National Construction Safety Week is designed to promote safety in the construction realm. It emphasizes all construction areas, from the importance of proper training to providing mental health outlets for struggling employees.
However, safe construction goes beyond events and chitter-chatter. Although events like National Construction Safety Week are essential to promote secure construction, it's also vital to stay updated with the latest advancements.
Technology has improved all areas of life, from transportation to communication. It has also made strides in construction. So, while on the construction safety topic, it is essential to understand how new safety measures in construction work are being created and implemented.
At this point, most people are well aware of the response to the common question, "How does health and safety affect construction?" Consider wearables if you're looking for innovative ways to enhance worker safety in buildings and outdoor spaces.
Wearables are uniquely-designed clothing articles worn while on the construction site. They track and monitor individuals, especially those working in hazardous locations. These high-tech wearables detect essential elements, including gas, heat, and movement (or lack thereof).
The wearables will alert management and co-workers of any severe issues that need to be addressed. Therefore, employees can get the help they need more readily.
Drones may be a safe and fun hobby for some, but in the construction world, they're a tool that can save lives while also being an incredibly efficient job site tool.
Drones can be used in many ways on the job site. However, they are typically used in worksite inspections and to survey locations for potential hazards before a construction crew is given the green light to proceed.
This high-tech tool is also available to supervisors to monitor the work site throughout the day. Without needing to be in person, supervisors have better access to their employees and can quickly survey the situation.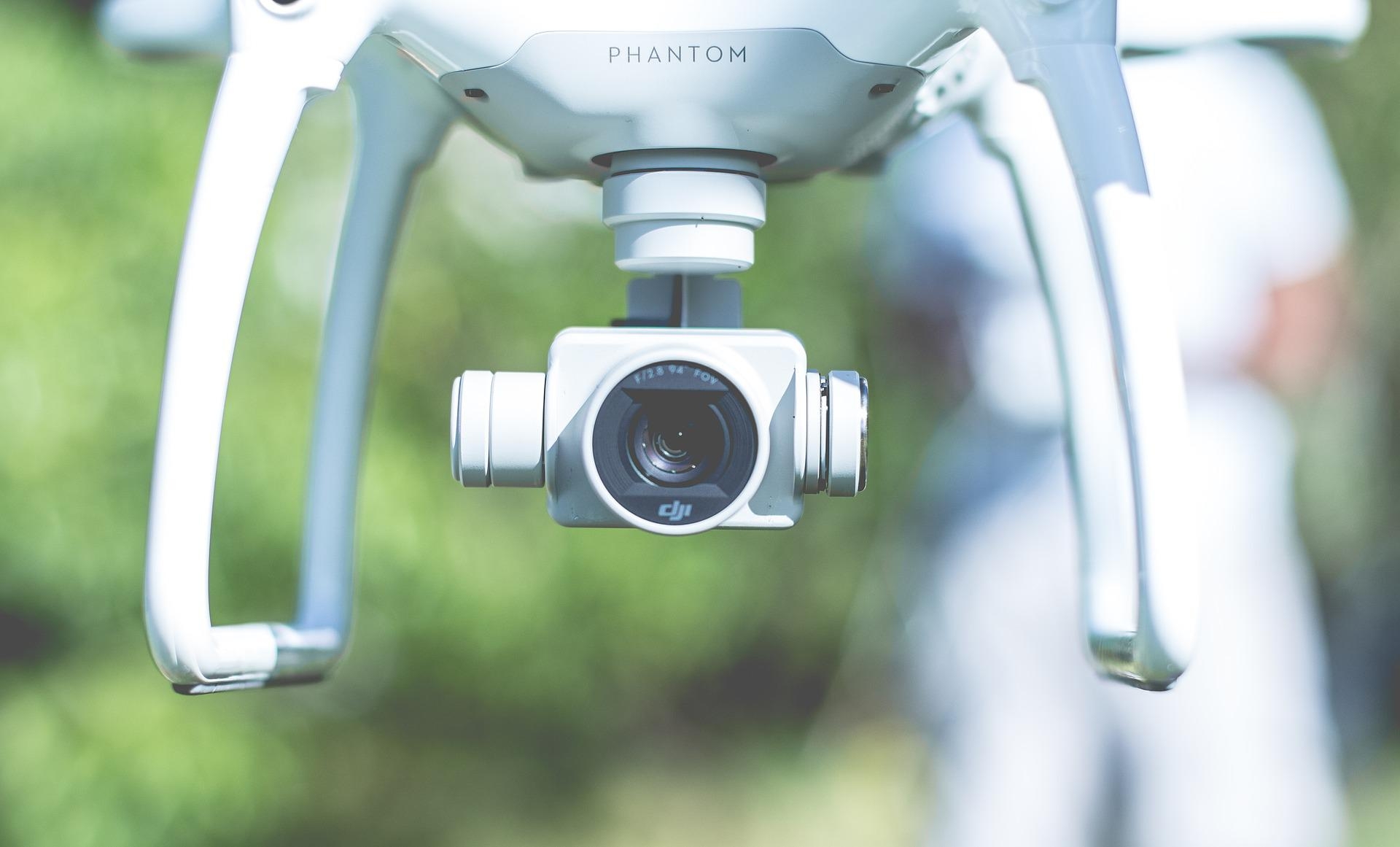 Online Training Programs and Safety Apps
In this technologically advanced world, there is an app for almost anything, including safe construction. There are two ways in which online resources can help your workers stay safe:
Digital safety processes. Many paper documents, files, checklists, etc., go into a successful and streamlined company. Swapping to an app-based program can enhance efficiency, organization, and safety.

Online training programs. Unfortunately, most construction site accidents occur from a lack of training. But in-person training can be hard to come by, especially during these times. To ensure your employees receive proper education, consider online training programs (on-going, preferably).
How John To Go Can Help
At John To Go, we're committed to safety, especially when providing individuals with clean and sanitary spots to answer nature's call. We know and understand that most construction sites will need construction site portable toilets for a lengthy amount of time, and we're here to answer the call.
We have a wide range of portable toilets for construction sites, including our dependable construction porta potty. This construction porta potty rental is specifically designed for construction workers.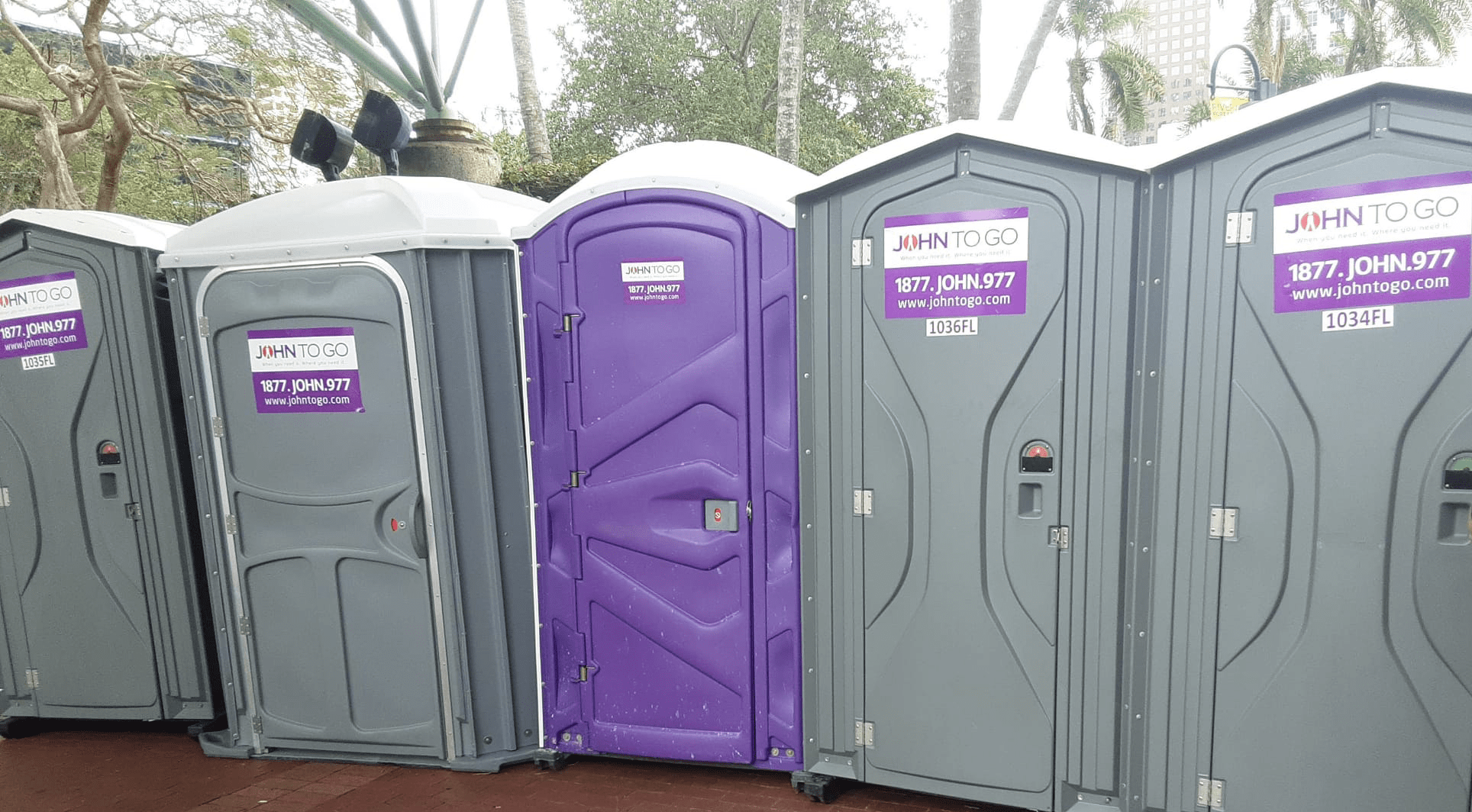 Not only is it sturdy and reliable, but this unit (alongside our other construction portable toilets) is sanitized and deodorized for the health, safety, and appreciation of construction workers.
Hi-rise construction companies will appreciate our hi-rise porta potty option as well. These exquisitely crafted units are highly portable with a strong steel frame. They're also equipped with a sturdy sling to easily be lifted by a crane when necessary.
The best part is that we offer long-term rentals to accommodate your lengthiest projects. Our porta potties will be serviced weekly throughout the duration of your rental (you can also choose to schedule more frequent servicing, if necessary). This ensures that your portable restrooms are in tip-top condition from the beginning to the end of the construction.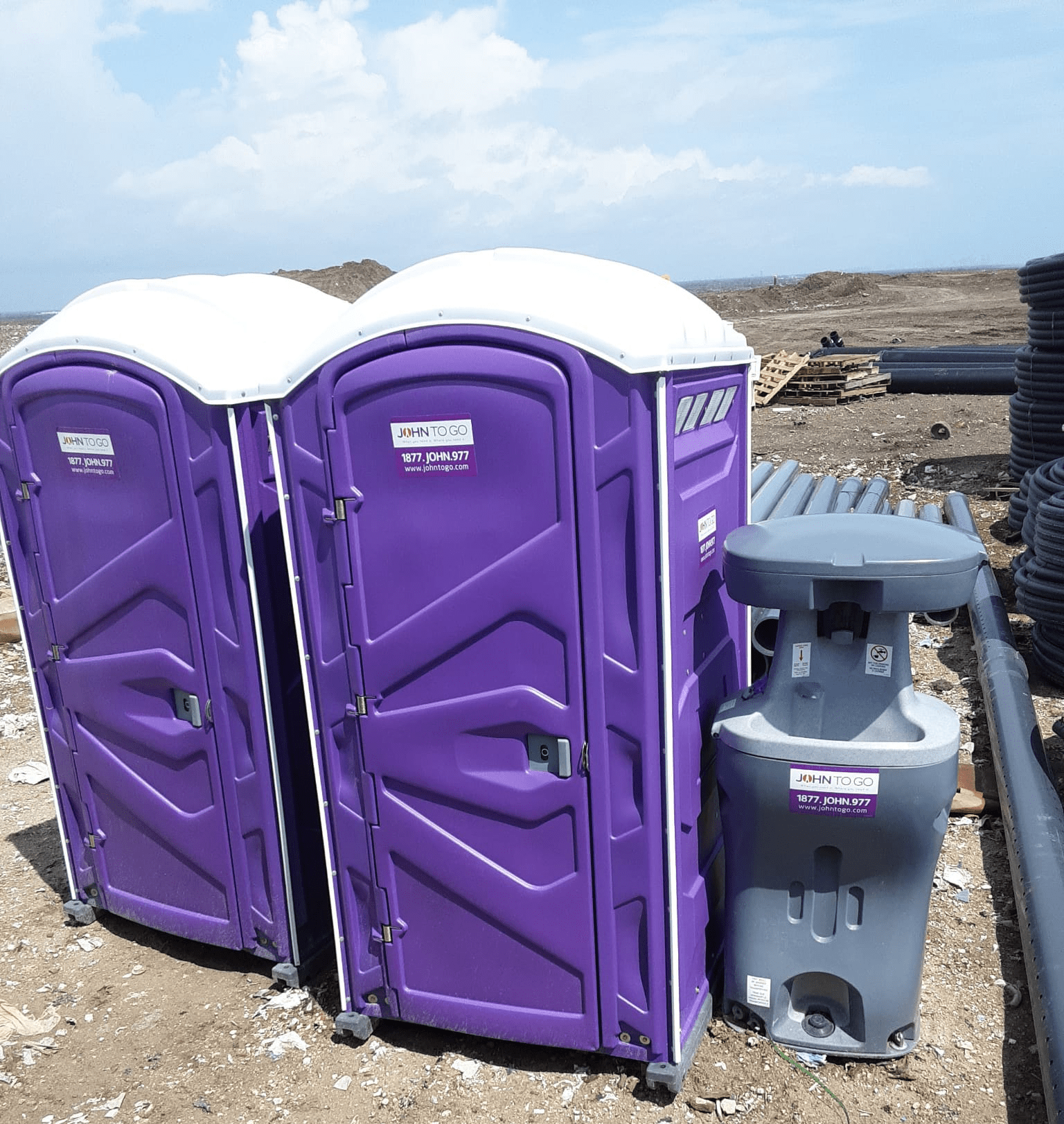 How Many Porta Potties Per Person Construction?
Are you wondering how many porta potties per person in a construction environment? The general rule of thumb is one construction site toilet per 20 people. So, a crew of 40 construction workers would need at least two construction site restrooms. However, nobody will complain if you go above and beyond with more than one porta-potty construction site per 20 people. If you need additional help understanding how many porta potties to rent for your construction site, you can always refer to our handy unit calculator. This tool will provide essential information, such as how many porta potties you need and which ones to consider for your construction site.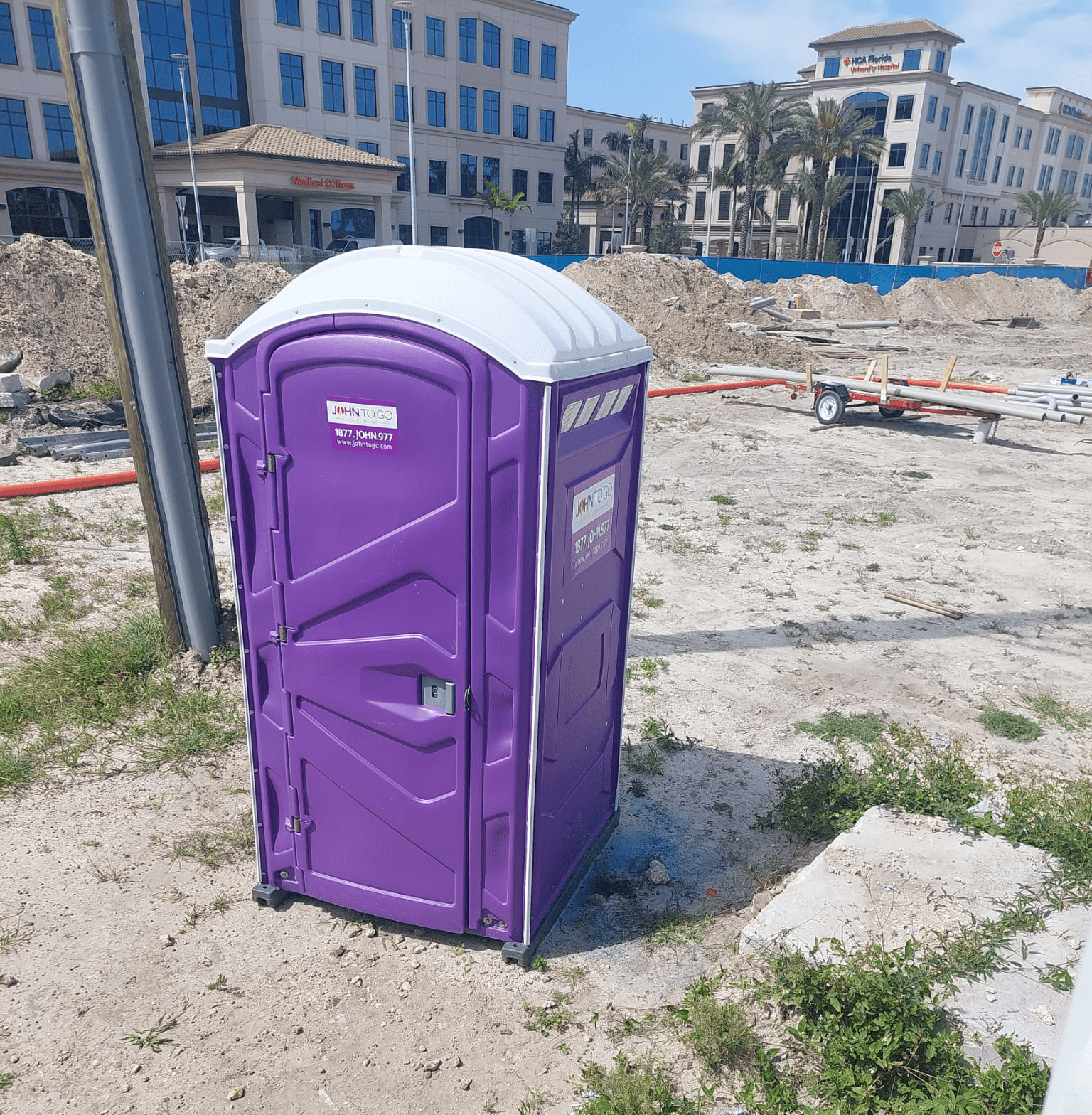 Porta Potties Near Me
When you're researching "porta potties near me," John To Go stands out as the go-to solution for all your portable restroom requirements. We understand that the need for a clean and reliable portable toilet service extends beyond just providing the unit itself.
That's why we focus on offering a comprehensive service package that takes care of all your needs, from the moment you first contact us to the time we complete the pickup. Our diverse range of portable toilet options ensures that we have something to suit every need and budget. With John To Go, you're not just renting a portable restroom—you're investing in a hassle-free experience that covers all the bases.