Portable toilet rentals might not be the subject of everyday conversations, but if there is no restroom available when you need it, that will be the only thing you can talk about. As a coastal neighborhood, Monmouth County, New Jersey is teeming with people and events. Chances are, you'll need a portable restroom to deal with the crowd overflow of boating and fishing events, seasonal visitors, nature lovers, and the like, in a place like Monmouth County.
People often associate portable toilets with narrow, claustrophobic closets teeming with germs. Others mistakenly think that portable bathrooms are a last-resort option for desperate people when there are no other toilet options. With John To Go however, nothing could be farther from the truth. A John To Go porta potty can provides the cleanliness and privacy people expect from a traditional restroom.
Events, construction sites, fairs, conventions, parades, and other venues which deal with a large crowd - be it on a temporary basis, or a long-term basis - may require multiple toileting facilities for employees and guests.
Portable toilets meet the need, and attendees appreciate the convenience. Portable toilets keep your venue sanitary by providing safe and clean human waste disposal, and a way for individuals to sanitize their hands and avoid spreading germs to others.
Where Can I Rent a Porta Potty Near Me?
Being on the coast means that Monmouth County is a popular area for New Jersey residents and neighboring states. Festivals, fireworks, picnics, concerts, and other outdoor events in places like Asbury Park (one of the largest seaside towns in NJ) and the Jersey Shore create a need for toilet facilities. To meet the needs of guests, It is not unusual for businesses, families, and government organizations to want to know, "Where can I find portable bathroom rentals near me?" The answer is "John To Go."
If you host a family reunion, wedding, or other large outdoor gathering, chances are, you do not want your bathrooms handling the flushing and waste that comes from a crowd. Although you might know many people attending your event, you may not feel comfortable with people roaming in and out of your house to use the bathroom. With portable toilets on-site, you can close your doors and keep your guests outside where you have invited them. You do not need to worry about clogged commodes, germs, and cleaning and disinfecting your bathrooms once your event is over.
Get a Wheel Chair-Accessible Porta Potty
Finding handicapped-accessible restrooms can be challenging for older adults or individuals with physical challenges who attend outdoor events. However, you can rest assured knowing that John To Go offers wheel-chair accessible, handicapped units that adhere to Americans with Disabilities Act (ADA) guidelines, making your event inclusive for anyone who would like to join the fun.
Construction Sites Can Be More Productive with Portable Toilets
If you're a contractor in Monmouth County, you know how essential portable toilets at construction sites are. They ensure that the construction workers feel safe, well taken care of, and they don't have to spend time leaving the site to look for a restroom.
Construction workers must eat and drink to maintain the energy needed to for walking and lifting heavy objects. Eating and drinking mean trips to the bathroom. Waiting for a lunch break to use a public facility is not reasonable. When the body signals that it's time to go, putting off using the restroom can be unhealthy. Having several porta potties on-site makes it easy for workers to go when they need to go, and it means that they will not lose valuable time away from the job site.
Porta Potties for High-Rise Construction
Have you wondered, "Where can I rent a porta potty near me that will work at a high-rise construction site? For the convenience of construction workers at multi-story or high-rise worksites, we offer units designed for lifting and placing on floors where the workers spend most of their time. With these portable toilets, there is no need to go to ground level for a restroom break. The John To Go high-rise porta potty fits inside construction elevators and comes with a steel sling that makes it easy to lift and transport it. The unit comes equipped with a hand sanitizer dispenser that makes it convenient for workers to keep their hands clean and avoid spreading germs.
Our construction site units are super practical; your employees will be happy to have a restroom close by, in a tight spot, or high up on a rooftop. Believe me, they never like thinking about the alternative. You can select a porta potty for construction sites near Monmouth County that are well-ventilated, affordable, and offers the privacy your workers need.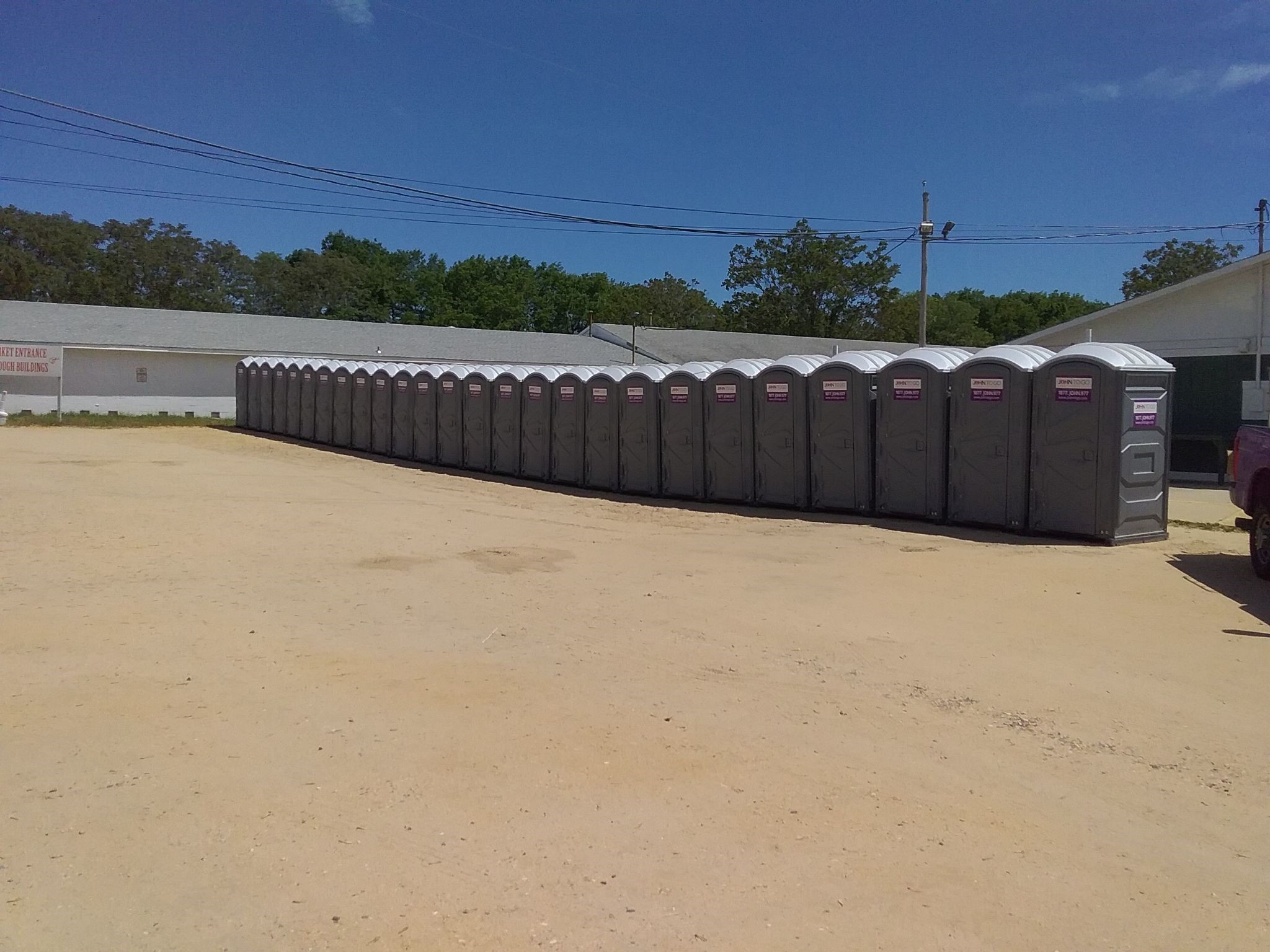 Remodeling Restrooms at a Business
If you are remodeling a restroom at your business, it is unnecessary to shut down your operations because the toilet facilities are temporarily out of order. Portable toilet trailers take the porta potty to a new level. When your customers or guests step inside one of our bathroom trailers, they will be surprised at the space and the features, including traditional sinks, commodes, and luxurious countertops. People who are reluctant to use a porta potty will find portable toilet trailers clean, spacious, and welcoming. Select luxury restroom trailers with the number of sinks, stalls, and urinals to accommodate your guests. When your guests enter a John To Go portable restroom trailer, they will think they have stepped into an upscale hotel restroom, and they will rave about the experience.
From Carnivals to Concerts, A Port O Potty Will Meet the Need
Monmouth County has its share of street festivals, a county fair, and music concerts. These events can attract thousands of guests, creating considerable demand for toilet facilities. When event attendees are spread out over a large venue, having all the toilets in one space can be challenging for guests. With our porta potties, you can rent several units and place them strategically throughout your event site. Having adequate toilets can make the experience more enjoyable for your guests. They do not need to worry about pushing through crowds to find a place to relieve themselves. Families with young children will enjoy the convenience when their little ones suddenly need to go. Whether you prefer single porta potties or toilet trailers, John To Go can work with you to find the best solutions for your event.
How Much Does It Cost to Rent a Portable Toilet in Monmouth County, New Jersey
The cost to rent a porta john depends on the unit you select. Once you look at all our options and decide what works best for your situation, we can give you a more accurate quote. However, if you are looking for a basic porta potty near Monmouth County, NJ for a construction site or outdoor events, you can rent one for about $160 per month.
At a construction site, you may require fewer full toilets but need more urinals. If it meets your employees' needs, equipping your construction site with fewer full toilets can save money, being that urinals start at under $300 for 4 urinals.
For events where a premium porta potty is necessary, expect to pay around $300 per month. We will work with you to find the toilet solution that fits your budget and meets your guests' needs without sacrificing quality and sanitation. Waste removal and cleaning are available as well, at additional costs.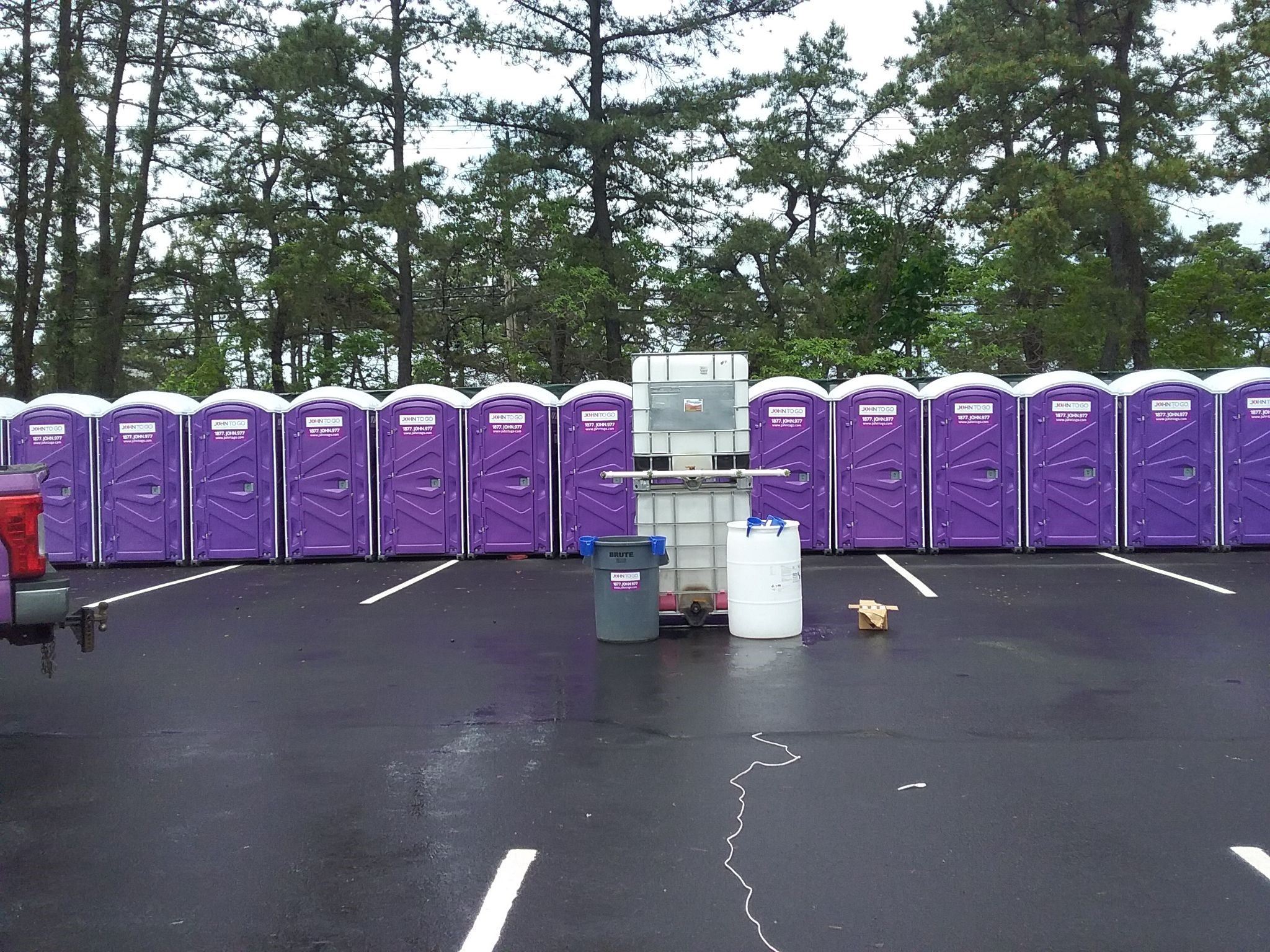 When you select our portable toilets, you know you are getting the best portable toilet rental in Monmouth County. We are family-owned, and we treat our clients like family. Our reputation for friendly service speaks for itself, which is why we are the top portable toilet provider in Monmouth, New Jersey, and surrounding areas. We will review every option to help you arrive at a rental cost that is affordable.
CHOOSE FROM OUR EXTENSIVE SELECTION OF PORTA POTTY RENTALS
Frequently Asked Questions
For how long can I rent a Porta Potty Near Me?
You can rent our units as long you need them. We will work with you to plan for cleaning and waste removal so that you can provide clean and sanitary toileting environments for your employees or guests.
How can I be sure the toilet I rent is safe?
We remove and dispose of waste and clean each toilet carefully before renting. You can trust John To Go to use environmentally-friendly and safe cleaning products. We do not cut corners. When you rent our toilets, you can be sure that the units will be delivered clean, sanitized, and safe for your employees or guests.
Is There a John To Go Porta Potty Rental Site Near Me, In Monmouth County?
We service Monmouth, NJ, and surrounding areas. All you need to do is call us, let us know your portable toilet needs, and we will help you determine the type of porta potty to deliver to your site. We run an efficient operation, so you can count on us to deliver porta potties or bathroom trailers to you when you are ready for them.
John to Go can help you prepare for outdoor events or large gatherings by supplying portable toilets and other needs. If you conduct business across New Jersey and surrounding areas and need portable toilets or luxury restroom trailers, we are the company to call. Toilets are not the only service we offer. We can also provide guard booths and floodlights for construction sites. Call us today to learn more about renting a porta potty in Monmouth County and to get a free quote.

(305) 722-5149
AREAS WE SERVICE IN MONMOUNTH COUNTY, NJ:
Allenhurst
Allentown
Allenwood
Asbury Park
Atlantic Highlands
Avon-by-the-Sea
Belford
Belmar
Bradley Beach
Brielle
Cliffwood Beach
Deal
East Freehold
Eatontown
Englishtown
Fair Haven
Fairview
Farmingdale
Freehold
Highlands
Interlaken
Keansburg
Keyport
Lake Como
Leonardo
Lincroft
Little Silver
Loch Arbour
Long Branch
Manasquan
Matawan
Monmouth Beach
Morganville
Navesink
Neptune City
North Middletown
Oakhurst
Ocean Grove
Oceanport
Port Monmouth
Ramtown
Red Bank
Robbinsville
Robertsville
Roosevelt
Rumson
Sea Bright
Sea Girt
Shark River Hills
Shrewsbury
Spring Lake
Spring Lake Heights
Strathmore
Tinton Falls
Union Beach
Wanamassa
West Belmar
West Freehold
West Long Branch
Yorketown
HEAR FROM OUR CUSTOMERS:
Tom Talamini
Special Event - November 10, 2020
5 STAR SERVICE! The staff were friendly and professional. The delivery was on time as well as the pick-up. Bathroom trailer we rented was spotless, smelled nice and was fully stocked with extra paper towels, toilet paper and soap. Bathrooms were nicer than my house bathrooms. Wanted to keep the trailer. All my guests were in AWE of the quality of the bathrooms. Highly recommended.
Joanne De Simone
Special Event - November 06, 2020
This company has the absolute best customer service I've ever had the pleasure of experiencing. They are friendly and super responsive. Just a pleasure to do business with. I can't wait to use their services for my next event!
David Collado Bronx NYC
Special Events, August 15, 2018
Been using John to Go services for the past 10 (+) years for our annual block party celebration in my neighborhood, they are friendly, professional, their products are always clean, reliable and operate as described. Their prices also cannot be beat. I plan to continue using them for many many more years and have also recommended to friends and family. Very Happy Customer, Bronx NYC
Porta Potty Rentals Near You

Find out where to rent portable toilets