From a backyard family BBQ for 10 to a balloon birthday bash for 100 to a community summer festival for 1,000, nature's call needs answering. Get to know John to Go, on the porta potty rental scene since 2004, servicing waste needs and managing each customer's special requests with its trademark attention to detail and cheap porta potty rentals.
"We have always kept a vision for the company with the idea of being big enough to compete with the big players, yet small enough that we are hands-on in providing you an unprecedented experience in service and equipment," says a spokesperson for John to Go, whose cheap portable toilets are top quality and easy as pie to order.
Wherever your business may go and grow, John to Go is determined to service you with a rent a john near you. The company services the 5 boroughs of New York City, Northern New Jersey, Rockland, Orange, Putnam, Westchester, Dutchess, Sullivan and Ulster counties, amongst many others. With service trucks stationed throughout the region, they get to you quickly and easily to make sure that your John To Go units are clean and comfortable for your employees and guests.
Areas We Proudly Service:
UNITS FOR EVERYTHING
Settings for cheap porta potty rentals abound. Entertainment venues like concerts, movie shoots and sporting events which, even if they have indoor restrooms, often need additional ones to accommodate the large crowds. Worker sites like construction, landfills and oil fields will often require portable toilet rentals, and even celebratory gatherings like weddings, birthday parties and family anniversaries where the crowd gets a bit bulky, might require a few units. Some businesses which see seasonal bursts like agriculture may require months-long portable bathroom rentals as well. Hopefully rare, yet unavoidable, are emergency situation and natural disaster sites which require porta johns.
With a broad array of venues and requests, John to Go will help you with a rent a john near you. We provide a variety of different models which can suit various settings, From Construction Toilets to Restroom Trailers, from Shower Trailers to Fresh Water Systems, from Portable Sinks to Handicap Restrooms to Mobile Flush Toilets, 'there are options' is perhaps an understatement.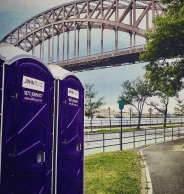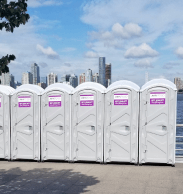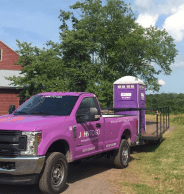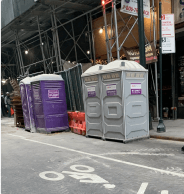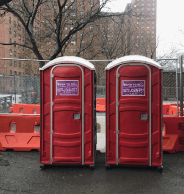 At a height of 92 inches and a depth and width of 48 by 46 inches, Standard Units are quite roomy, but for those with special needs, the American Disabilities Act approved Handicapped Units are larger, at 62 by 62 inches, providing ample space for maneuvering and are wheelchair accessible. These facilities also come with a safety bar and a larger seat for comfort. Providing other innovative pieces like the Hi-Rise Model and the Lift Unit, the company has a variety of options to service disparate construction site needs. And for those who want a little luxury, the Ambassador Oversize Flush Unit comes outfitted with running water and flush capabilities as well as some other splurges like a full length mirror, courtesy shelf and extra purse hooks. When it comes to porta potty rentals, there are choices.
Many of the units come with special features like a translucent roof for more natural light, generous ventilation, an outside occupancy indicator and non-splash urinals. There are a number of available add-ons, like handwashing stations and sanitizer stands which are particularly in demand during this global moment of greater attention to hygiene, as well as lighting which can brighten the interior.
For larger events, John to Go trailers offer variety with anywhere between two and ten stations per unit. A convenient sink trailer is also available with 12 stations, mirrors and paper towel dispensers. With other perks like heating, cooling, sound systems and even a fireplace option, the John to Go trailers can easily accommodate more upscale affairs. And just in case anyone's planning an overnight, there are shower trailers available as well.
UPDATED AND UP-TO-DATE
As experts in providing cheap porta potty rentals for varied needs, we ensure you'll have a positive experience with our product and service. Do not be misled by the term cheap porta potty rentals, which may lead you to mistakenly assume that the low pricing indicates poor quality. Committed to providing consumers with the most contemporary equipment, John to Go will roll over their equipment every 24 months to give their customers the best of what the industry has to offer, from portables to trailers to trucks to tanks.
Although this is not a product that changes too often, John to Go has an eye on constantly updating its inventory. The shelf life of a unit is generally two years, not because it is no longer serviceable, but because the company insists on providing only top-of-the-line products for its clients when it comes to finding the best in the cheap portable toilet industry.
One of its popular models is the Ambassador Flush Deluxe unit which provides flush and wash capability. With a foot-controlled flush mechanism as well as a foot-controlled sink, this product is outfitted with no-touch features for greater sanitation. It's also got some detailed enhancements like a paper towel dispenser, a coat hook and a vanity shelf as well.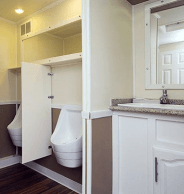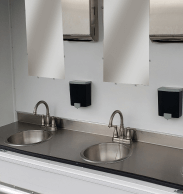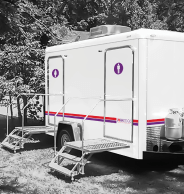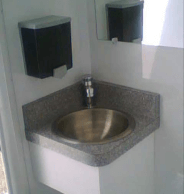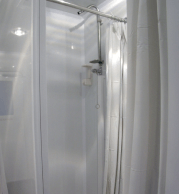 SERVICE IS KEY WHEN IT COMES TO FINDING A PORTA POTTY RENTAL NEAR YOU
As a family business, John to Go customer service is friendly and efficient. Between Abe, Victor, Chaya and Sam, consumers can expect a quick response from one of the crew. Whether during holiday season or just a regular busy time for your industry, they are committed to meeting your 'rent john near me' requests and providing seamless assistance.
"They really go out of their way to make things work," says a John to Go employee. "One of the things the company emphasizes is customer service and that really shows. If a customer calls up with a complaint or concern, John to Go will never start arguing about whose fault the problem is, they'll just take care of it immediately."
Attention to detail is important to the company, which is why the staff is focused on all the big and little things that John To Go users will find important. Ease of access, running water, amount of users and many more details are taken into account when John To Go helps users book units for an event, job site, etc.
With 36 service trucks and an additional one added to the fleet every 3 months, John to Go has its many drivers and vehicles at various locations so their turnaround time is excellent. They can get around to clients without delay because of this, a benefit which is particularly appreciated during the cold and snowy season when a unit may need immediate servicing. Even stormy weather does not interfere with their operations. "They always get their drivers out," the employee says.
SANITATION
With their high-quality restrooms, John to Go also uses the best cleaning products on the market as well as green deodorizing chemicals. Keeping up a steady servicing schedule can help reduce exposure to bacteria and viruses, so the company is devoted to properly maintaining your units.
After the contents of the porta john are removed, the basin is filled with fresh water and cleaning agents to keep it clean. The next step involves a thorough washing of the facility, its seat, walls, sink and urinal. Finally, the unit is restocked so its supplies never run low. You can feel confident that when you rent a john near you, your unit(s) will be fresh looking and sanitary, fully equipped with everything needed for the duration of your rental.
BOOK NOW
With an easy-to-use website, customers can simply skim through the various John To Go porta potties and accessories, select the one most suitable to their needs, include some add-on features if desired, and add it all to their cart. The process is then complete after payment is inputted, and the product delivered without any further steps required.
With a range of options out there, John to Go is committed to providing clients with the best quality for the best price. So now your backyard family BBQ for 10, your balloon birthday bash for 100 or even your community summer festival for 1,000, will be a brilliant success with nature's call well heeded.
We're Here to Service Your Needs:
Porta Potty Rentals Near You

Find out where to rent portable toilets