Who Uses Our Porta Potties?
A wide variety of businesses use our portable bathroom rental services in Morris County, New Jersey. Our portable bathroom rental NJ services are available for a construction site, weekend event, concert, carnival, county or state fair, wedding, or other business or event - we're happy to provide a portable toilet rental in Morris County. All types of businesses have used our rentals for years. We're happy to provide portable toilet rentals to your business, too.
Excellent Customer Service
Night or day, our chat support team is standing by to solve problems, answer questions, take emergency requests, and accept your feedback. If you need to rent a porta potty near Morris County, our customer service representatives are standing by. We'll do our best to answer questions about our coverage area, service plans, fees, and anything else you need to know. about portable bathroom rental NJ.
Streamlined Processes for Pickup, Servicing, and Drop-off
When you need a portable toilet rental in Morris County, take comfort in knowing John To Go is located near you. We've perfected our processes for dropping off new units, servicing units on properties, and picking up porta potties when you're done with them. If you need us to make your service calls more or less frequent or you need more or fewer rental toilets, just let our customer service representatives know. We can work you into our service rotation quickly and smoothly. We can get there if you need us to drop off or pick up more porta potties. We're a great local company standing by to service your varied portable bathroom rental NJ needs.
What is Our Coverage Area?
We're licensed to provide portable toilet rentals and cleaning services in all five boroughs of New York City, Upstate New York, and New Jersey.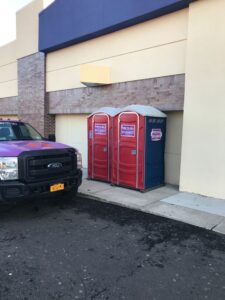 Do You Have Flushing Porta Potties?
Yes, we do! We're proud of the fact that we can offer our customers fancy porta potties that use recycled water, so they don't require electricity or a hose. These portable restroom rentals come on a trailer, and they have lights, running water, and flushing toilets. We understand that using portable toilets is difficult for some people, and we want the experience to be as pleasant as possible. That's why we've invested in the best quality party potties with the plushest amenities available. We even have portable trailers complete with showers and vanities. If you want to rent a porta potty in Morris County that's surprisingly nice, John To Go has the best price on what you need.
Why Are We Leaders for Portable Bathroom Rental NJ?
John To Go is a New Jersey and New York leader in port-a-john rentals because we care about our customers. We want you to feel like you're getting good value for your money. We know how important something like a clean portable restroom is during an event or on the job. The last thing we want is customers to walk away from us after having a bad experience. So we listen to our customers' feedback and we make changes when we need to. Your happiness is important to us.
Updated Units
We update our stock of portable toilet and shower rental units every year. We don't want old, broken down, outdated porta johns out in the field. It doesn't matter whether we're taking the port o potty to a construction site, an emergency storm shelter, or a luxury wedding event, we want your employees and guests to feel comfortable using our restroom trailers. We even want guests who need wheelchair access to have clean units with handrails, well-stocked supplies, and plenty of room to get in and out of the bathroom. We also want to make sure our portable showers have enough water to accommodate guests' needs.
Our customers deserve the best of what we can provide, so we make sure every unit is clean, sanitized, updated, well supplied, in perfect working order, and has all the amenities we can possibly provide in a porta potty. Many of our units come with sinks, showers, running water, and more. You can even rent hand sanitizer stations to put outside the bathrooms. When you get your portable toilet rental in Morris County, you can bet it's going to be a good unit.
Reducing Exposure to Viruses and Bacteria - Sanitizing Your Portable Toilet
When you fill out your online form, it's important to tell us about how many people will be using the port-a-johns. If the units are in a heavily trafficked area, it's vital that they're serviced sooner rather than later. We don't want people entering over-used units and exposing themselves to viruses and bacteria. We are happy to sanitize and clean your portable toilets, so if you tell us an accurate estimate of how many people will be using the portable bathrooms, we can let you know how often they'll need to be serviced.
Can You Service Other Company's Toilets?
It's more important to use sanitized bathrooms now more than any other time in living memory. When other companies can't or won't service their rental toilets often enough, we'll do the job for a $50 fee. We want you to be safe. We don't want to step on other company's toes, but sanitation is too important to neglect. If you need help, we'll help you.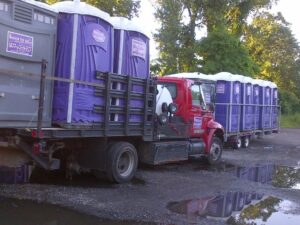 Excellent Delivery Service
It's easy to schedule a portable toilet rental in Morris County. Simply let us know when you need the unit to be delivered and list any special instructions. We'll deliver your porta potty as unobtrusively as possible and let you get back to work. We've perfected our delivery service so it's as effortless as possible for our customers.
CHOOSE FROM OUR EXTENSIVE SELECTION OF PORTA POTTY RENTALS
Easy Online Booking Process for Portable Bathroom Rental NJ
Our prices are transparent and posted on our website to make the decision-making process easier. Our detailed descriptions list everything you need to know about our portable toilet rentals, but if you can think of something we haven't listed, contact us over the phone or by chat support or email. When you're ready to book your portable toilet rental, you can easily schedule and pay for your unit online with our user-friendly booking process.
We Stand Behind Our Products
Our products are so popular in part because of their high quality. If you're looking for portable rental bathrooms in Morris County, New Jersey, allow us to take care of you. Not only do our products withstand bad weather and the abuses of everyday use, but we also stand behind our products in the event of a problem. If trouble arises, visit our helpful customer service representatives on chat support 24/7.
We Cover You in All Types of Weather Conditions
We understand that when your porta potty needs servicing, picked up, or dropped off, it doesn't matter if the weather is bad or not. The job needs to be done. We've been in business since 2004. During that time, we've serviced our rental port o potties through rain, sleet, snow, or shine. When you need us to be there, we'll be there.
Schedule your portable bathroom rental NJ delivery
When you need a porta potty near Morris County, let us know as soon as possible. We will schedule your delivery the day before or the day of your event so you aren't paying for extra time when toilets aren't being used. This is a great way for you to save money. We like to help our clients find affordable solutions whenever possible.
Schedule pickup
When you're done with your portable toilet rental in Morris County, we have service people locally available. We're happy to pick up your rental unit quickly. We can do same-day drop off and pick up, or we can pick up your rental unit the day after your event. We don't force our customers into minimum monthly or weekly contracts to pay for time they won't be using the port o potties. You pre-schedule your dropoff and pickup dates and times using our online form. We'll come and pick it up at the scheduled time.
Competitive cost
Our porta potty rentals are competitively priced. We want you to get great value at the best price because we know it keeps customers coming back year after year. Unlike some of our competitors, we don't hide our pricing. Everyone pays the same low prices, and what we charge is posted clearly on our website for the sake of transparency. We also offer discounts when you rent multiple units, so we know you're getting the best price around. Honesty, fairness, and integrity in our pricing structure are vital to build and keep your trust. The main factors affecting your final price are:
Pickup and delivery costs
Rent-a-john rental length
Quantity of rent-a-john units to be rented
How often the units will need to be maintained
How Much Does a Porta Potty near Morris County Cost to Rent?
The price of your porta potty rental depends upon which type you want to get. We have plain models, handicap accessible models, high-rise toilets for high-rise construction sites, fresh water systems, portable toilets on trailers, hand sanitizer stands, cistern tanks, and more. Visit our portfolio page for pricing information. If you need a porta potty near Morris County, give us a call today.

(305) 722-5149
AREAS WE SERVICE IN MORRIS COUNTY, NEW JERSEY:
Boonton
Butler
Chatham Borough
Chatham Township
Chester Borough
Chester Township
Denville Township
Dover
East Hanover Township
Florham Park
Hanover Township
Harding Township
Jefferson Township
Kinnelon
Lincoln Park
Long Hill Township
Madison
Mendham Borough
Mendham Township
Mine Hill Township
Montville
Morris Plains
Morris Township
Morristown
Mount Arlington
Mount Olive Township
Mountain Lakes
Netcong
Parsippany-Troy Hills Township
Pequannock Township
Randolph
Riverdale
Rockaway Borough
Rockaway Township
Roxbury Township
Victory Gardens
Washington Township
Wharton
HEAR FROM OUR CUSTOMERS:
Darlene Harris
Special Events, August 02, 2018
Service was Great. We had the purple ones. For it to be a bathroom, i must say it was pretty and clean. Not an eye sore for my event. Communication was Great. The drop off area was perfect! The driver even sent me a pic to confirm my spot. We will definitely use John 2 go for our next event!!! Thank you!!
Donna Grogan
Special Events, August 02, 2018
The port a john's are as attractive as can be. The staff was phenomenal.
Robin Klein
Special Events, August 02, 2018
We have nothing but great success with John To Go. We've used them two years in a row and each time the service was exceptional - both office and delivery personnel professional and very personable. The unit was very clean, well-stocked and actually had a nice Fragrance. We will continue to use them and highly recommend them as well.
Porta Potties Near Me
When you're researching "porta potties near me," John To Go stands out as the go-to solution for all your portable restroom requirements. We understand that the need for a clean and reliable portable toilet service extends beyond just providing the unit itself.
That's why we focus on offering a comprehensive service package that takes care of all your needs, from the moment you first contact us to the time we complete the pickup. Our diverse range of portable toilet options ensures that we have something to suit every need and budget. With John To Go, you're not just renting a portable restroom—you're investing in a hassle-free experience that covers all the bases.