With exotic beaches and all-year-round great weather, it's no surprise that Boca Raton is one of the top tourism spots. That makes it perfect for many outdoor Boca Raton events and celebrations, ranging from extended family vacations to networking events, holiday parties, charity events in Boca Raton, and much more!
For outdoor events like these, venue planning can take a lot of time.
How? Well, because you'd have to look for a venue with good, clean bathroom facilities. Many people at events complain about how there's no bathroom. However, to save you from this hassle, just run a simple search for "porta potty rental near me."
A portable bathroom rental near Boca Raton is a great option to opt for when you're struggling to find the perfect venue. With this, you can book an event pretty much anywhere, and you won't have to worry about your guests' sanitizing needs.
Besides the leading entertainment at your event, the guest's comfort is also your top priority. They'll be much more at ease if they know there are luxury portable restrooms just around the corner.
If your next worry is finding a vendor that will service you with porta toilets near Boca Raton, don't worry because we've got you covered! John to Go can offer you a restroom rental near Boca Raton. We assure you, our services are undoubtedly first-rate! With our strong focus on Southern Florida, we have plenty of trucks on the road and units in our warehouse to meet your needs!
Whether you're planning Boca library events or Boca Halloween events and decide to search for "luxury porta potty rental near me," our quality of service will leave you satisfied! So, what are you waiting for? Book a Porta-potty near Boca Raton now!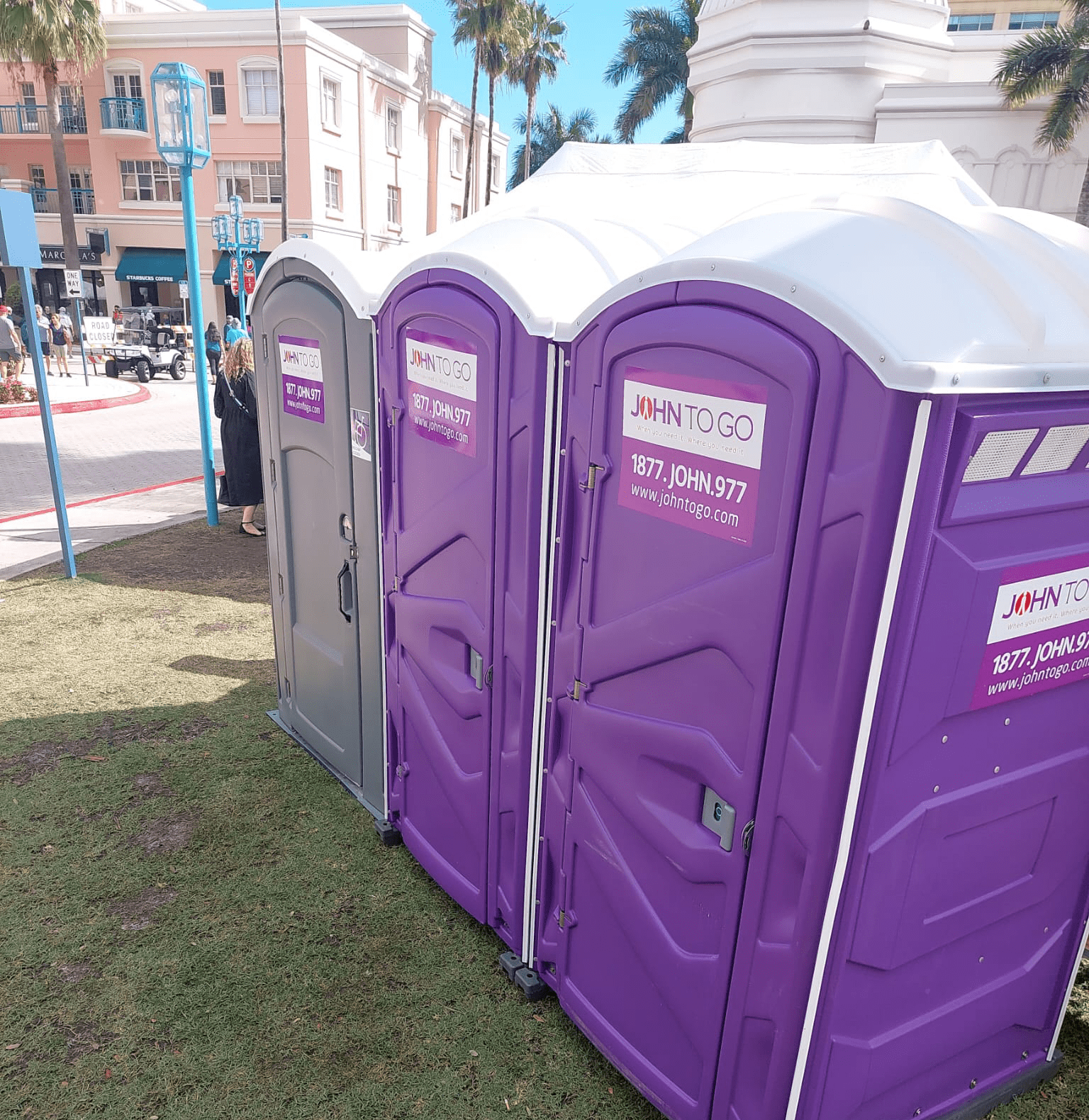 Find a Portable Toilet Rental Near You
If you're an event organizer, bathroom facilities won't always be available. In this case, a portable toilet service would be a huge help to not only you but also your guests! Similarly, a construction site might lack a bathroom facility too. If you are a site supervisor in Boca Raton, you could consider renting a portable restroom for the duration of the project.
For these purposes, our team at John to Go is always at your service. If you're looking for bathroom trailer rentals near Boca Raton, we have a team of professionals ready to provide you with the best quality service for your Boca Raton events.
Depending on your need, we offer multiple facilities for potty rental near Boca Raton. These include a handicapped unit, a freshwater system, a hand wash station, restroom trailers, and more!
Why Choose John to Go for Portable Restrooms Near Boca Raton?
At John to Go, we treat our customers with utmost care for their sanitization and needs. That is why most event organizers and individuals prefer John to Go for porta potty rental near Boca Raton. Take a look at all we offer!
Have you ever had an emergency and needed to order a bathroom rental near Boca Raton on very short notice? Instead of searching "portable toilet rental near me" and sorting through the list of results, just contact us!
At John to Go, offer quick and immediate services. If you ever have a last-minute need for a porta john rental in Boca Raton, we can get to you pretty fast, and we will do our utmost to accommodate. And we'll be honest about telling you the turnaround time you can count on, so we don't set expectations that we can't deliver on.
If you're worried about the hassle after hiring us, fret not! Whether you made a reservation for Boca Raton family events or a charity event, we assure you that you won't need to worry at all!
We understand that organizing the event is already a tough job. That's why we're always prepared with everything you could possibly need!
John to Go even offers options for deluxe porta potty near Boca Raton, well-known for cost-efficiency and reasonable rates. However, at the same time, our quality is at its finest.
We have our own internal system, which most porta potty companies near Boca Raton don't have. That is why we're available to offer our services at considerably lower prices than others.

The fuel charge that goes into our delivery and other things aren't added to the cost as an additional item. The price quoted will not grow - there are no hidden costs.
You could browse through our portfolio of portable toilets near Boca Raton to familiarize yourself with our options and then contact us for a free quotation!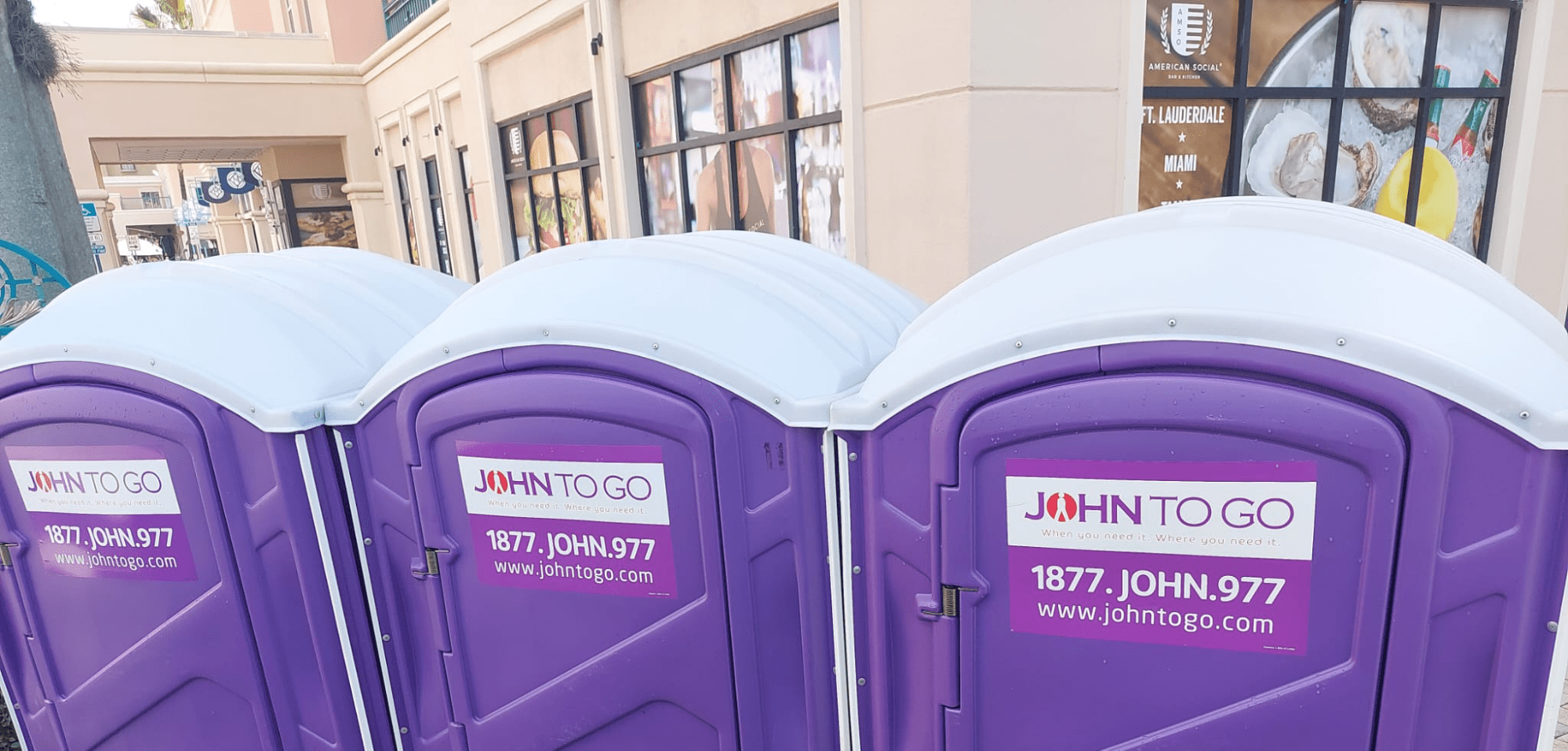 Wide Range of Bathroom Facilities
We don't just offer portable bathroom facilities. There are many more services that go into fulfilling your restroom needs. It includes handwashing, freshwater tanks when there's no water supply nearby, a flush system, etc. Over here, at John to Go, we've got you covered with all that and more!
Here is a list of a few things we offer: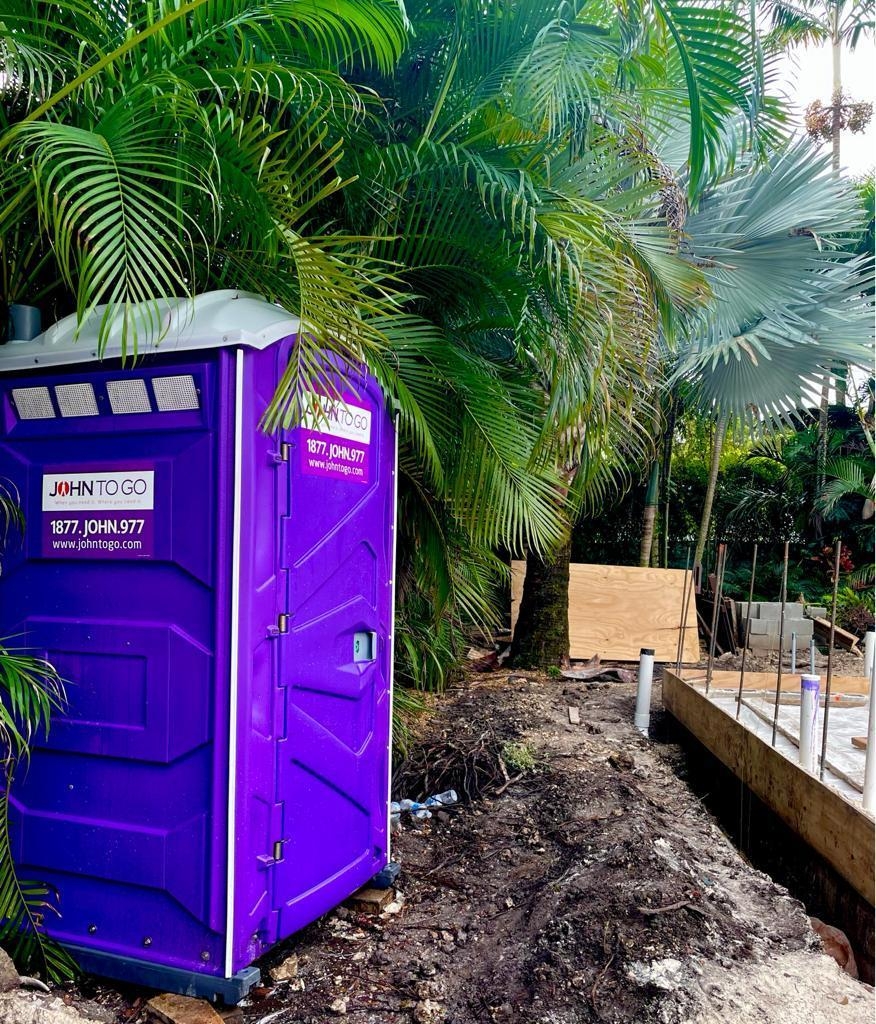 Clean and Sanitized Service
We know how important hygiene and clean service are. That's why our JTG team provides you with nothing but the best quality. If you specifically search for "porta john rental near me," then we assure you, you'll get your money's worth of clean and sanitized service.
Our team of professionals follow all the required health regulations.

Our units are always cleaned with quality-grade green cleaning products. That leaves no room for any unsanitary conditions in our units.

We can provide a hand sanitizer to ensure the portable restroom's hygiene levels. We can completely understand the importance of good hygiene practices!

If you order portable potties near Boca Raton for an extended period, you can request maintenance and servicing.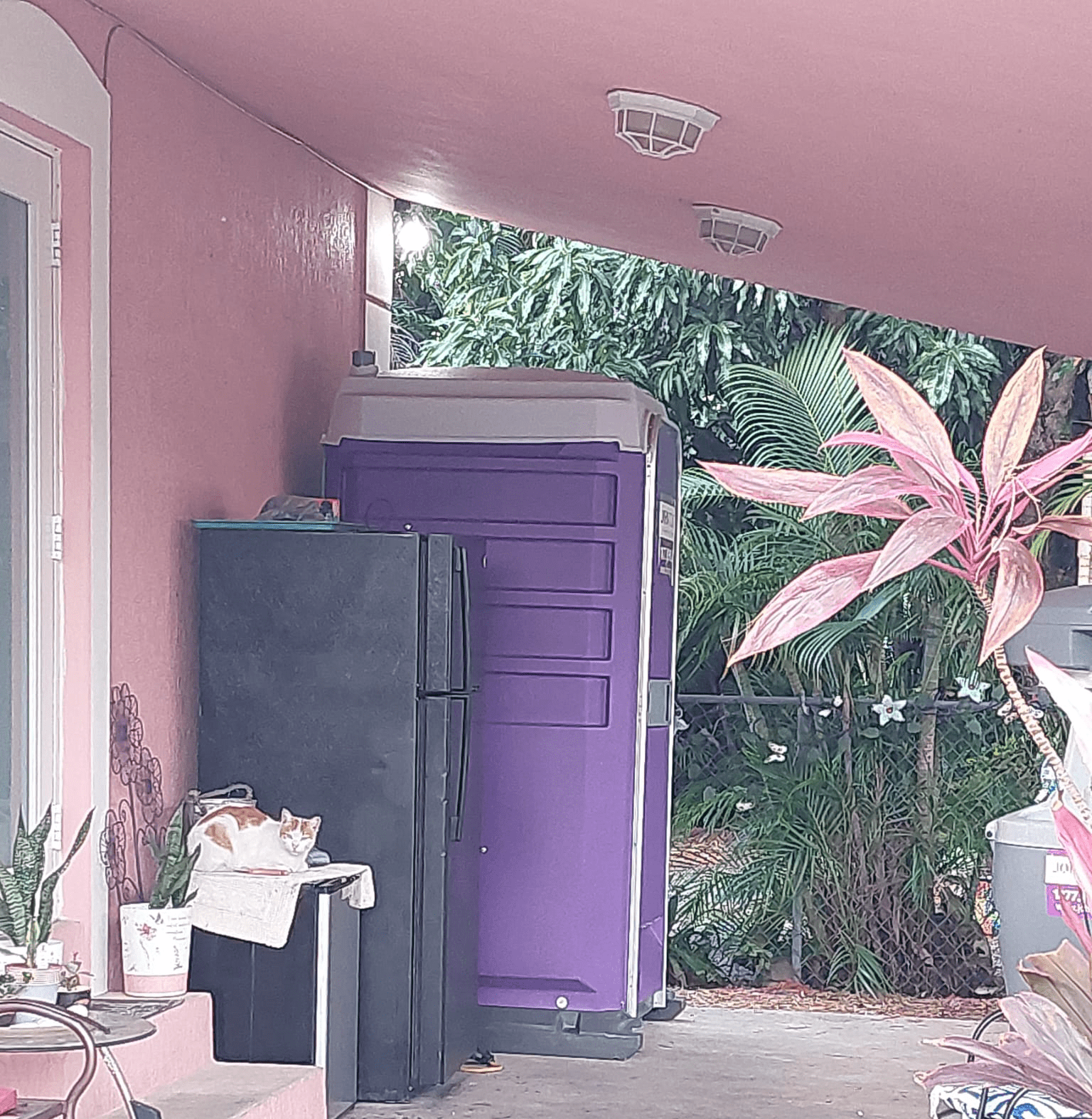 CHOOSE FROM OUR EXTENSIVE SELECTION OF PORTA POTTY RENTALS
FAQs
Here are some questions you might have about our portable bathroom rental near Boca Raton. Hope they help!
What is the average porta potty cost near Boca Raton?
Well, the cost differs according to your needs. However, for separate units, the price of a singular unit can start under $160 and go as high as $500. But again, it varies with your requirements! We can offer from the most budget-friendly to deluxe flushing porta potty options, depending on your needs for portable toilet rentals near Boca Raton./p>
What parts do portable toilets consist of?
Portable toilets consist of these four parts
Potty Seat

Wastage Tank

Flush System

Pressure System
In simple words, when you flush the portable toilet, the waste will be flushed to a tank. Since there is no sewer system, that's where the waste goes.
This tank is located inside the unit but underneath the toilet seat. The tank also contains chemicals to help break down solids, toilet paper, etc.
A hidden water tank supplies the water needed to flush the portable toilet. We provide regular maintenance to ensure that your unit doesn't smell and is properly cleaned!
Can porta-potties be used indoors?
Even if there's no specific law about whether or not you can use a portable toilet indoors, the essential thing to note is that porta john units do emit gases as they fill up with use. That can cause sanitization issues for some individuals.
How often does a porta potty need to be emptied?
Per the basic thumb rule, a portable toilet needs to be emptied at least once a week if less than ten people use it across the week. If you have more people using it, then it's better to clean it every few days. However, if you don't know how to clean a portable toilet, you don't need to stress out. You can contact our team for regular checkups and cleaning services if you have the porta potty for a long period.
Final Words
In some cases, portable toilets can become really essential. Primarily when you work in a construction company, this can be a vital thing for your employees. For an important event, it can be a game-changer. However, don't worry because John to Go has the perfect solution to all these problems for you! Rent a porta potty near Boca Raton today!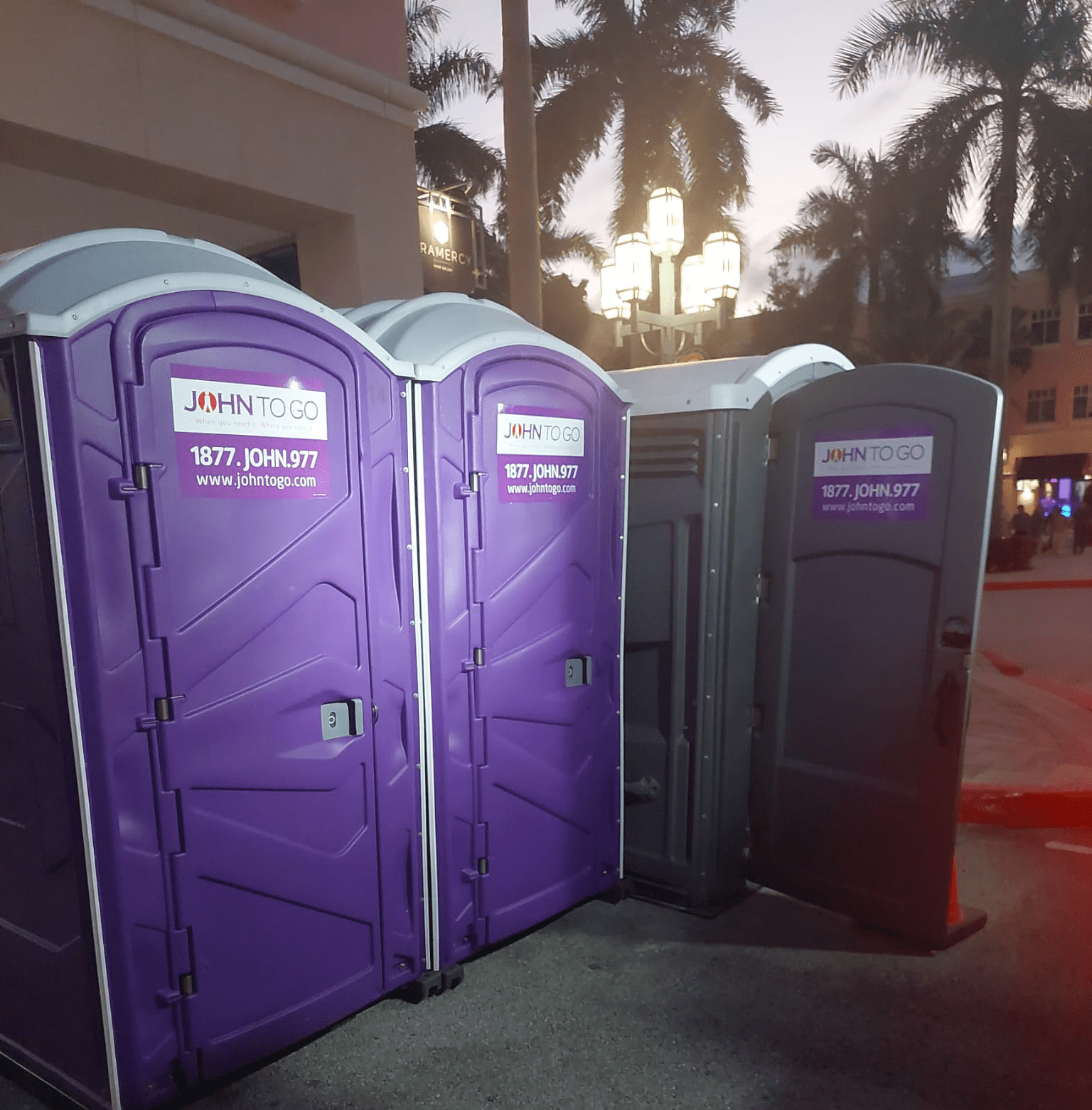 (305) 722-5149
AREAS WE SERVICE NEAR BOCA RATON:
Atlantis
Boynton Beach
Delray Beach
Greenacres
Haverhill
Jupiter
Lake Clarke Shores
Lake Worth Beach
Lantana
Loxahatchee
Mangonia Park
North Palm Beach
Palm Beach
Palm Beach Gardens
Palm Springs
Riviera Beach
Royal Palm Beach
Wellington
HEAR FROM OUR CUSTOMERS:
Tom Talamini
Special Event - November 10, 2020
5 STAR SERVICE! The staff were friendly and professional. The delivery was on time as well as the pick-up. Bathroom trailer we rented was spotless, smelled nice and was fully stocked with extra paper towels, toilet paper and soap. Bathrooms were nicer than my house bathrooms. Wanted to keep the trailer. All my guests were in AWE of the quality of the bathrooms. Highly recommended.
Joanne De Simone
Special Event - November 06, 2020
This company has the absolute best customer service I've ever had the pleasure of experiencing. They are friendly and super responsive. Just a pleasure to do business with. I can't wait to use their services for my next event!
David Collado Bronx NYC
Special Events, August 15, 2018
Been using John to Go services for the past 10 (+) years for our annual block party celebration in my neighborhood, they are friendly, professional, their products are always clean, reliable and operate as described. Their prices also cannot be beat. I plan to continue using them for many many more years and have also recommended to friends and family. Very Happy Customer, Bronx NYC
Porta Potty Rentals Near You

Find out where to rent portable toilets