Fort Myers is one of the hottest vacation spots in Florida, with tourists flocking the place throughout the year. With plenty of natural reserves, scenic beaches, and historical locations - this is a great spot for outdoor events.
So, if you're organizing such an event, you might eventually google "porta potty rental near me." Sanitization is essential to keep your guests comfortable, and a portable bathroom rental near Fort Myers will be a good option to consider.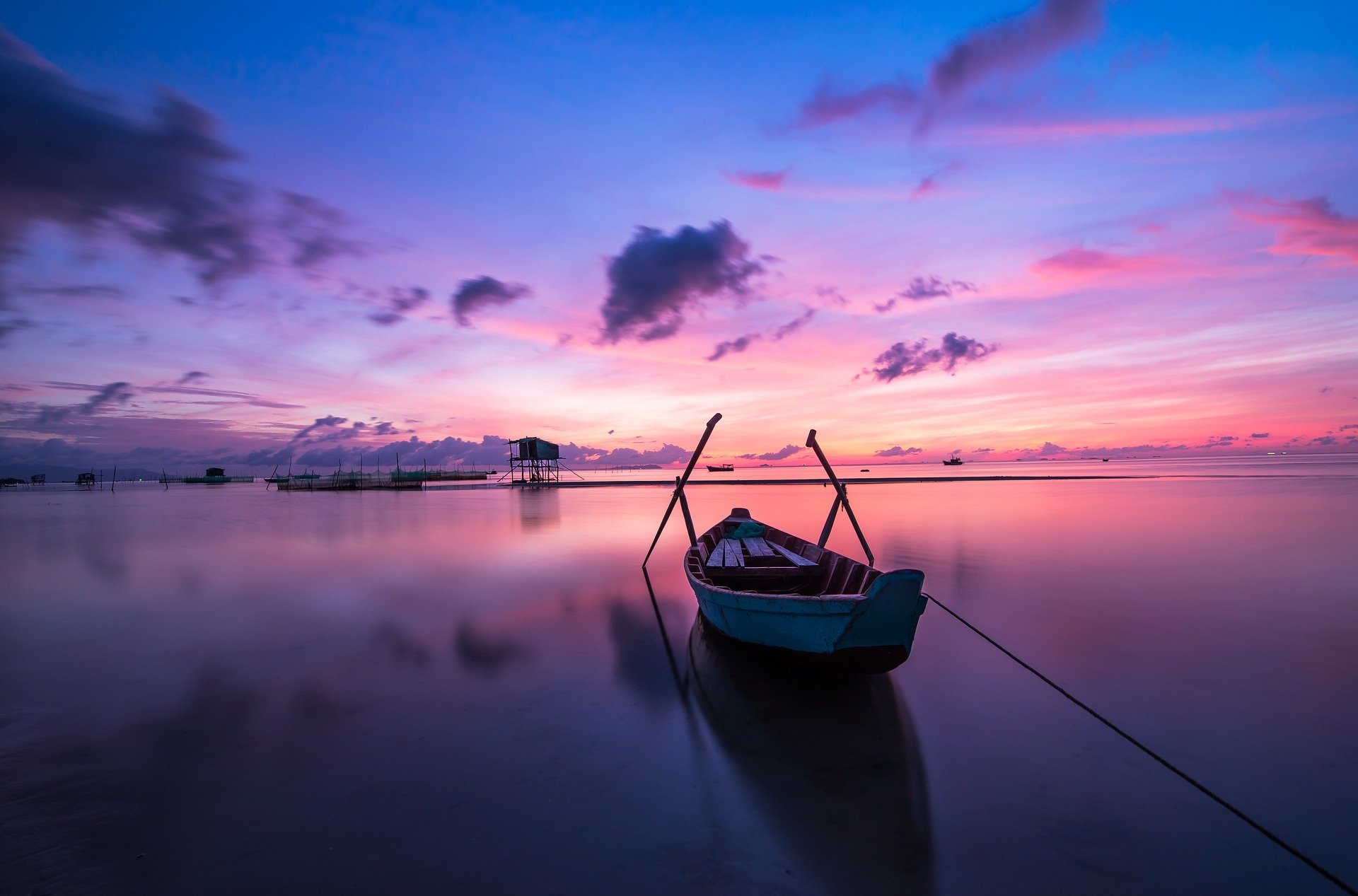 Along with food and entertainment, a Fort Myers porta potty rental vital for ensuring convenience. You don't have to worry anymore, as John To Go offers you the best Fort Myers porta potty rental services for any outdoor event, matched with a reasonable cost to rent a porta potty.
Be it a business event or running a job site, our top-notch portable bathroom solutions will offer your guests the highest standards of hygiene and comfort.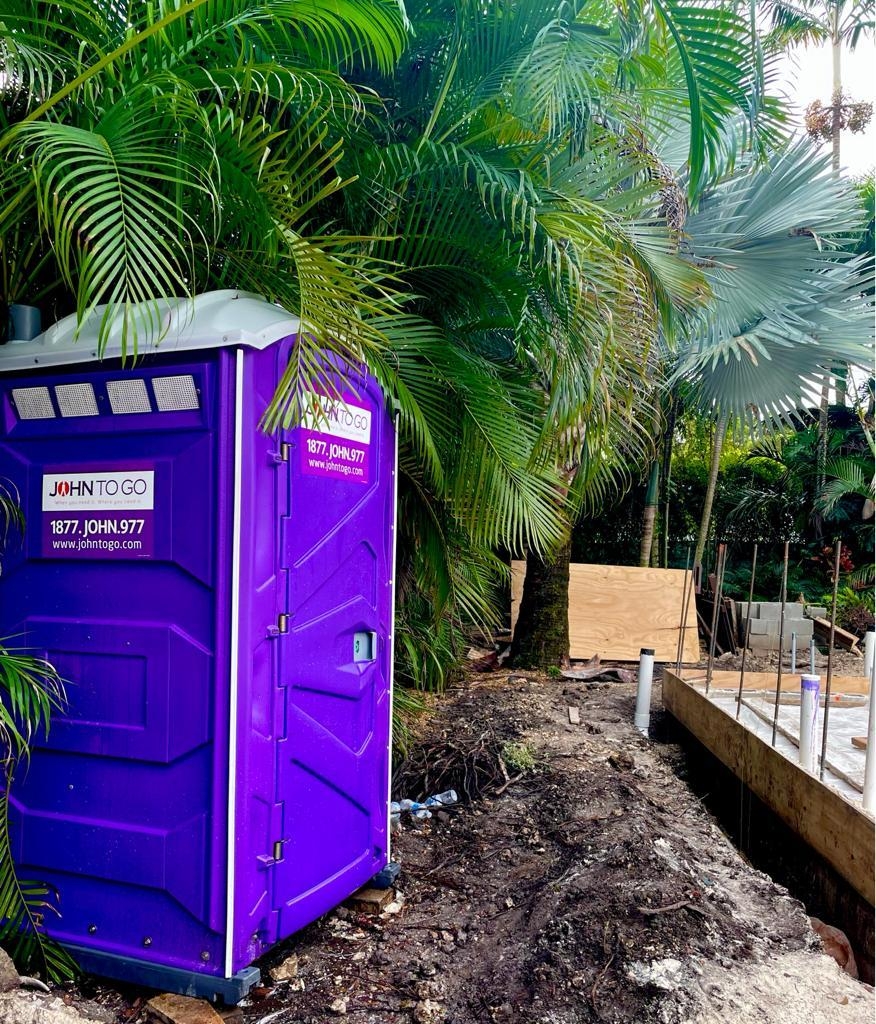 Portable Bathroom Rentals Near You
If you are just a traveller exploring Fort Myers, there might be a situation when you have to attend nature's call. Locating a public restroom might be difficult if you don't know the place well.
Similarly, if you're hosting an outdoor event, it's not always possible to have enough restroom arrangements. John To Go provides multiple options for Fort Myers porta potty rental that can serve as a portable bathroom, which will be a boon for accommodating your guests' hygiene and sanitary requirements.
That's why our team at John To go is always ready to provide you with the best sanitization and portable bathroom services for Fort Myers porta potty rental.
If you want to rent a porta potty near Fort Myers, we carry a constantly-updated inventory of modern portable bathrooms, sanitization stands, washing stations, and even portable lights in the locality. We take all your needs into consideration to simplify the process of port o potty rental in Fort Myers on your behalf.
We have a huge customer base and a team working throughout the county. So, whatever your needs are for porta john rental near Fort Myers, we'll be there for you!
We have a huge fleet of trucks always on the road so that you can expect prompt service from us.

We will help you meet hygiene standards and OSHA requirements to provide your guests with maximum comfort.

Whether you're looking for a fancy porta potty near Fort Myers or a regular option, we have a huge selection of options to choose from.
Our professionals will also help you select the right service type according to your requirements. You will be glad to know that we also have a monthly rate on rentals for porta potty near Fort Myers for your convenience, so that your ongoing cost to rent a porta potty remains lower.
CHOOSE FROM OUR EXTENSIVE SELECTION OF PORTA POTTY RENTALS
What We Offer at John To Go
Fort Myers is one of the most visited tourist destinations in the country, home to an array of museums, sea excursions, exciting nightlife, and plenty of things to do. Even if you find food and accommodation easily, finding proper sanitization and bathroom facilities might be tricky.
While exploring Edison & Ford Winter Estates, Captiva Island, or Manatee Park - locating a public bathroom might be problematic in such crowded places. We will be your friend in need and provide you with a porta potty near Fort Myers during such situations!
Over the years, we have taken excellent care of our customers and provided premium quality portable restrooms near Fort Myers. You will probably see our porta potties in specific locations while touring.
There are many aspects of John To Go's Fort Myers porta potty rental service that have earned us our popularity.
High-Quality Portable Bathroom Services
Our portable potties offer you nothing but the best when it comes to hygiene and quality. If you are searching "porta john rental near Fort Myers," you can ensure that each unit will be delivered properly maintained and cleaned.
Our professionals follow the quality and hygiene standards while maintaining the portable restrooms.

The units are spotless and well ventilated. You can also order a hand sanitizer or washing station for every unit to make you and your guests comfortable.

We clean these units using the best deodorizing and hygiene products to keep the bathrooms smelling fresh and new!
If you have rented a portable restroom for an extended period, you can contact us for scheduled maintenance. Our professionals will come regularly to perform the cleanups that keep your Fort Myers porta potty units hygienic.
A Plethora of Restroom Options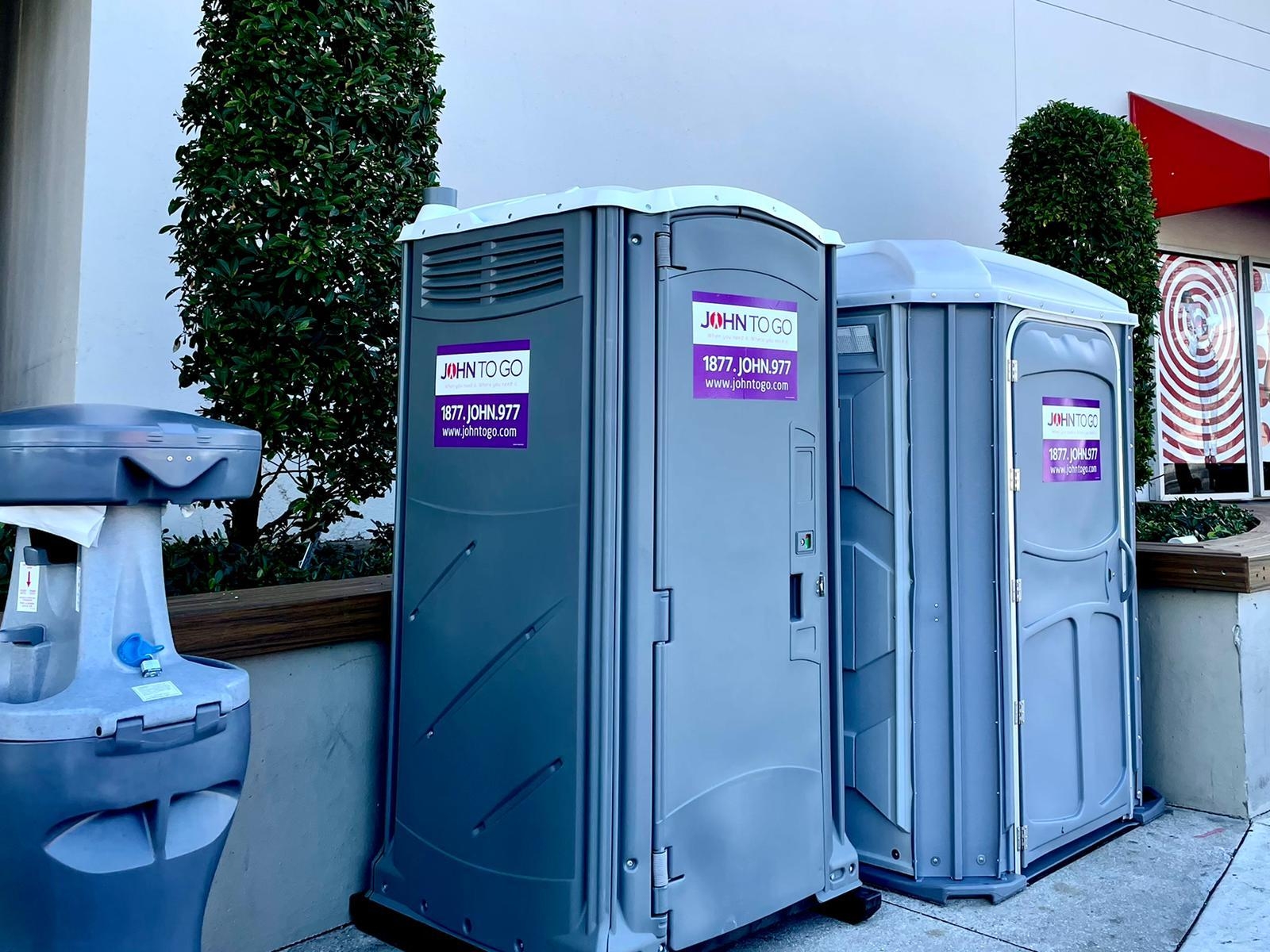 We provide you with a wide variety of portable restroom services to meet your requirements. Our options include urinal units, guard booths, construction toilets, restroom trailers, and sanitizer stands.
That's why customers consider us one of the best portable potty services in Fort Myers and the surrounding area.
Our portable toilet John To Go units come with the highest quality of hygiene and cleanliness.

We will offer you a huge variety of features and prices according to the needs of your outdoor event or personal use, so that your cost to rent a porta potty remains within your budget.

Our portable restrooms come in a variety of styles, sizes, and types that you can pick according to the number of guests.
If you visit our website, you will find a unit calculator that will help you find the correct number of rental units required for your guests. So, you'll save money and time on selecting suitable bathroom rentals from John To Go.
Affordable Pricing
Our team at John To Go is committed to providing our customers with the best products and services at the most reasonable prices. Since we believe that availing users of maximum hygiene doesn't have to be expensive, we offer the best quotes on porta potty rental prices near Fort Myers.
If you contact us with your requirements, we'll help you select the best service package within your budget. We keep our prices low to accommodate various types of customers.
We can provide the best pricing because of our internal system that removes unnecessary expenses.

So, we don't charge our customers for fuel surcharge or any additional costs.

Our pickup and delivery expenses are also affordable so that we can offer you the best quote as per your needs.
You just have to reach out to us and discuss your requirements for porta potty rentals, and we'll set you up with the rest. Or, better yet, you can go online and find out the cost to rent a porta potty near you by entering your location, dates, and type of units preferred.
Prompt Delivery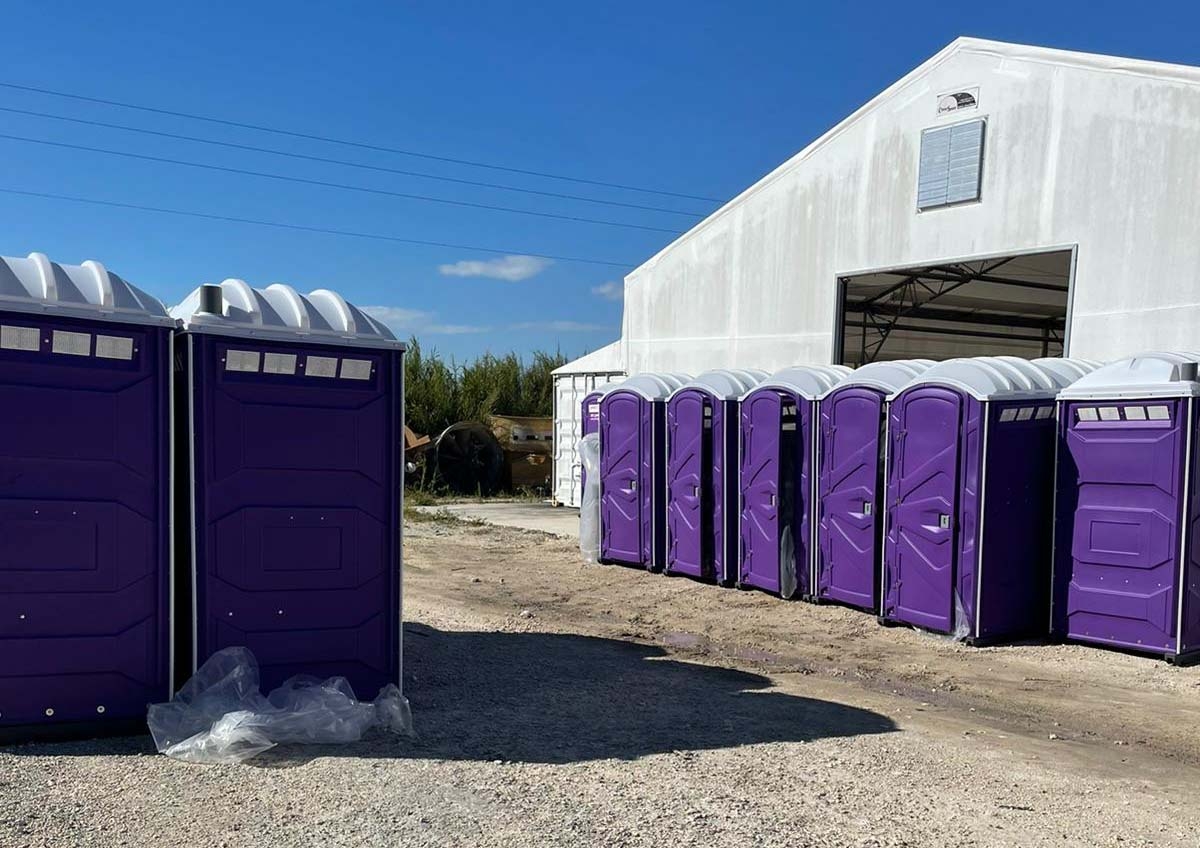 While looking for bathroom rentals near Fort Myers, you might not have much time on your hands. That's why our team at John To Go is always prepared to deliver the services you need in a quick time!
You have to contact us and schedule your porta potty delivery timings. Our team will confirm the order and schedule delivery according to your specifications.
With a fleet of more than 36 trucks constantly on the move, we provide the most efficient and quick delivery timings. Our professionals will be there with your portable toilet rental near Fort Myers on time for pickup and delivery.
We will take care of your needs and ensure that you receive the most convenient service. Even if it's raining heavily or snowing, we'll send you the portable restroom ASAP!
Convenient Order Placement
As we are dedicated to providing the utmost convenience to our customers, we make sure that ordering our services is hassle-free. You just have to visit our online platform for port o potty rental in Fort Myers to get started.
Check out our various porta potty services and products to find one that suits you. All the important specifications and information is available here.

Just choose a product, mention the delivery location, number of units, and book it.

After we receive the product's payment, our team will send the porta potty products to your preferred location.
You can also use our online unit calculator to make the process even more convenient.
That's it! Our highly efficient and reliable Fort Myers porta potty rental services will help you tackle your hygiene requirements promptly.
Frequently Asked Questions
Here are some FAQs to help you get more clarity on our Fort Myers porta potty rental products and services.
1. How often does a porta potty need to be emptied?
As a rule of thumb, porta potties can be maintained properly by cleaning them once a week. However, this will depend upon the number of people using the unit and the duration of the event.
2. What is the average cost of a porta potty?
The basic porta potty rentals start under $160 per month. You can check out the construction units if you're searching for our most affordable option. For short-term rentals, the cost is very affordable, and for long term rentals, the cost goes down even more. With our end user in mind, we strive to keep the cost to rent a porta potty as reasonable as possible.
3. What facilities do you provide with a standard portable restroom unit?
John To Go includes a hand sanitizer and several rolls of toilet paper to customers with every porta potty unit.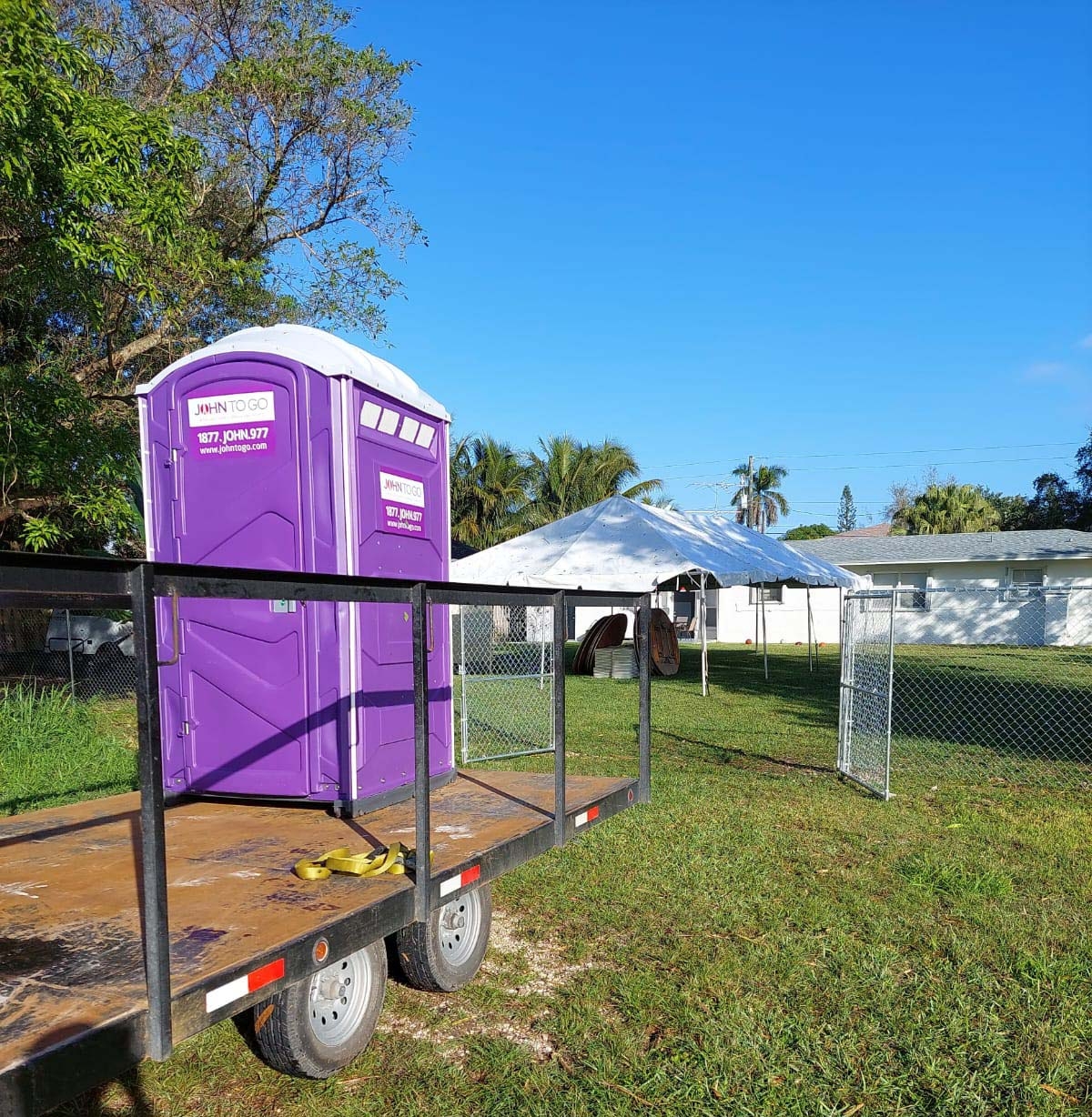 (305) 722-5149
AREAS WE SERVICE NEAR FORT MYERS:
Alva
Bokeelia
Bonita Springs
Buckingham
Burnt Store Marina
Cape Coral
Captiva
Charleston Park
Cypress Lake
Estero
Fort Myers Beach
Fort Myers Shores
Gateway
Harlem Heights
Iona
Lehigh Acres
Lochmoor Waterway Estates
Matlacha
Matlacha Isles-Matlacha Shores
McGregor
North Fort Myers
Olga
Page Park
Palmona Park ​
Pine Island Center ​
Pine Manor ​
Pineland​
Punta Rassa ​
San Carlos Park ​
Sanibel ​
Saint James City ​
Suncoast Estates ​
Three Oaks ​
Tice ​
Villas ​
Whiskey Creek ​
HEAR FROM OUR CUSTOMERS:
Tom Talamini
Special Event - November 10, 2020
5 STAR SERVICE! The staff were friendly and professional. The delivery was on time as well as the pick-up. Bathroom trailer we rented was spotless, smelled nice and was fully stocked with extra paper towels, toilet paper and soap. Bathrooms were nicer than my house bathrooms. Wanted to keep the trailer. All my guests were in AWE of the quality of the bathrooms. Highly recommended.
Joanne De Simone
Special Event - November 06, 2020
This company has the absolute best customer service I've ever had the pleasure of experiencing. They are friendly and super responsive. Just a pleasure to do business with. I can't wait to use their services for my next event!
David Collado Bronx NYC
Special Events, August 15, 2018
Been using John to Go services for the past 10 (+) years for our annual block party celebration in my neighborhood, they are friendly, professional, their products are always clean, reliable and operate as described. Their prices also cannot be beat. I plan to continue using them for many many more years and have also recommended to friends and family. Very Happy Customer, Bronx NYC
Porta Potty Rentals Near You

Find out where to rent portable toilets