We're More Than Just Porta Potties for Outdoor Events!
We know first-hand how stressful it can be to plan an outdoor event. The last thing you need is for a porta potty to run out of toilet paper mid-event. Or worse, for your guests to have to hold their breath as they try to avoid the porta potty's odor—and then get a whiff of it when they finally let go. At J2G, we obsess over making sure these kinds of things never happen on our watch when you use our porta potties for outdoor events.This is why we provide a full suite of amazing add-ons that are guaranteed to make your life easier.
Porta potties are an economical way to manage restrooms for outdoor events because you don't have to excavate for bathrooms or wait for a septic system to be installed. They have been used for decades at outdoor events and in remote locations. As more outdoor events became more popular, there was a need for different variations of porta potties, as well as add-ons that can enhance the comfort and hygiene of your guests. Get set up with options that include a portable hand washing station, a hand sanitizer station, and even a portable outside light.
Different Porta Potties for Outdoor Events
Portable toilets can take all sorts of shapes and sizes. The most common variety of porta potties are the standard portable toilets. There's also an ADA-accessible porta potty for guests that can't use standard toilets and construction units for use on construction sites.
Portable toilets can come with sinks. A porta potty with sink fixtures has a portable hand washing station, so guests don't have to search for soap or water to wash their hands. Of course, guests appreciate this type of portable toilet with sink combo. And if you have a special event like a large party or wedding, you can opt for flushable portable toilets. Give your guests luxurious treatment and do a "fancy porta potty rental near me" search to get some fancy porta potty rentals that feature a foot-controlled flush mechanism, a vanity, courtesy shelf, and expanded space! You can let your guests or workers know that you're thoughtful by adding a hand sanitizer station to your porta potties. And if you're hosting a one-day event that may extend into the night or plan to rent porta potties for months, you'll certainly require a portable outside light.
The good thing is that you don't have to start planning how to set up a hand sanitizer stand, an outdoor hand washing station, or a flood light stand for your outdoor porta potty. When you rent your porta potties from J2G, we can get all of these ready for you as soon as you want them. This is one of the reasons why we're truly more than just porta potties for outdoor events! And you can enjoy all of this whether you rent a fancy porta potty or not!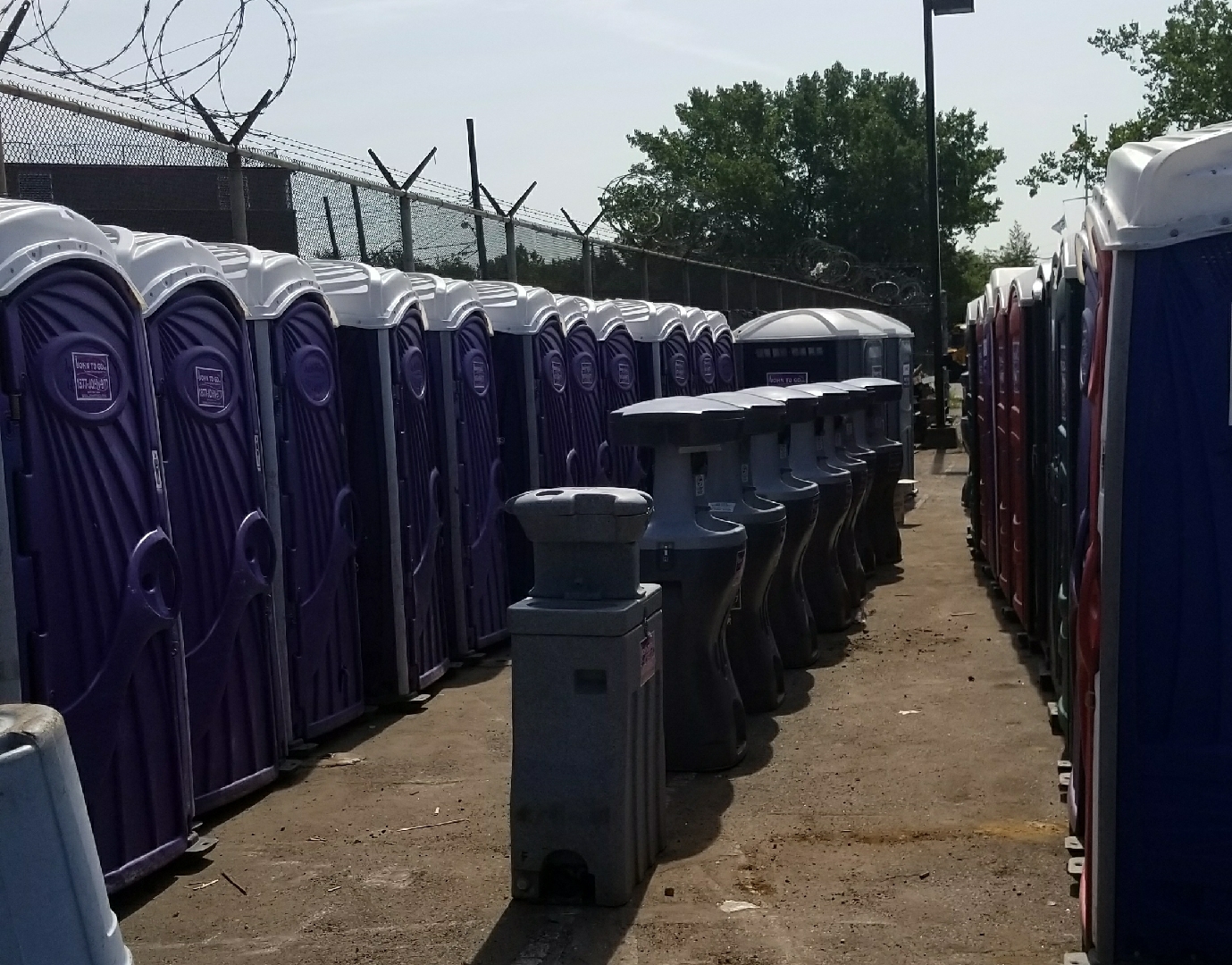 Hand Sanitizer Stations with Porta Potties for Outdoor Events
Hand sanitizers are vital when using a portable toilet. In fact, many states have regulations that require their use. They bring a personal hygiene solution to portable toilets, and without them, bacteria can spread quickly. With them, you can reduce the risk of an unwanted visit to the doctor. This is why you absolutely need a hand sanitizer station for each outdoor restroom at your events.
Even when renting portable toilets come with sinks, soap, and paper towels are not enough in face of the high levels of bacteria that are present in our environment. Crowded restrooms and busy food trucks are everywhere at outdoor events, so you don't want your guests to share germs with a group of people they just met. Neither do you want them to return to their food or drinks with germ-laden hands. All that shaking hands and rubbing elbows can make for some nasty germs! Therefore, you should consider renting a porta potty with a hand sanitizer machine in it.
At J2G, we deliver porta potties for outdoor events with hand sanitizers to make sure your guests are clean and healthy. Our portable toilets and hand sanitizers go together like peas and carrots. Plus, we make sure that each hand sanitizer dispenser stand in our porta potties comes with an automatic hand sanitizer. We go the extra mile to ensure that the sanitizers we use leave hands feeling soft and moisturized rather than dry and cracked.
If you're an event planner, always remember that clean, convenient, sweet-smelling hand sanitizers can boost your public image! Portable bathrooms for parties and other outdoor events can be gross without no high-quality hand sanitizer on board. That's why at J2G, we help outdoor event planners create the best experience for their event attendees. Our touchless hand sanitizer dispenser with stand poles can easily fit near any porta. Now your guests will feel more confident in the facilities you've provided!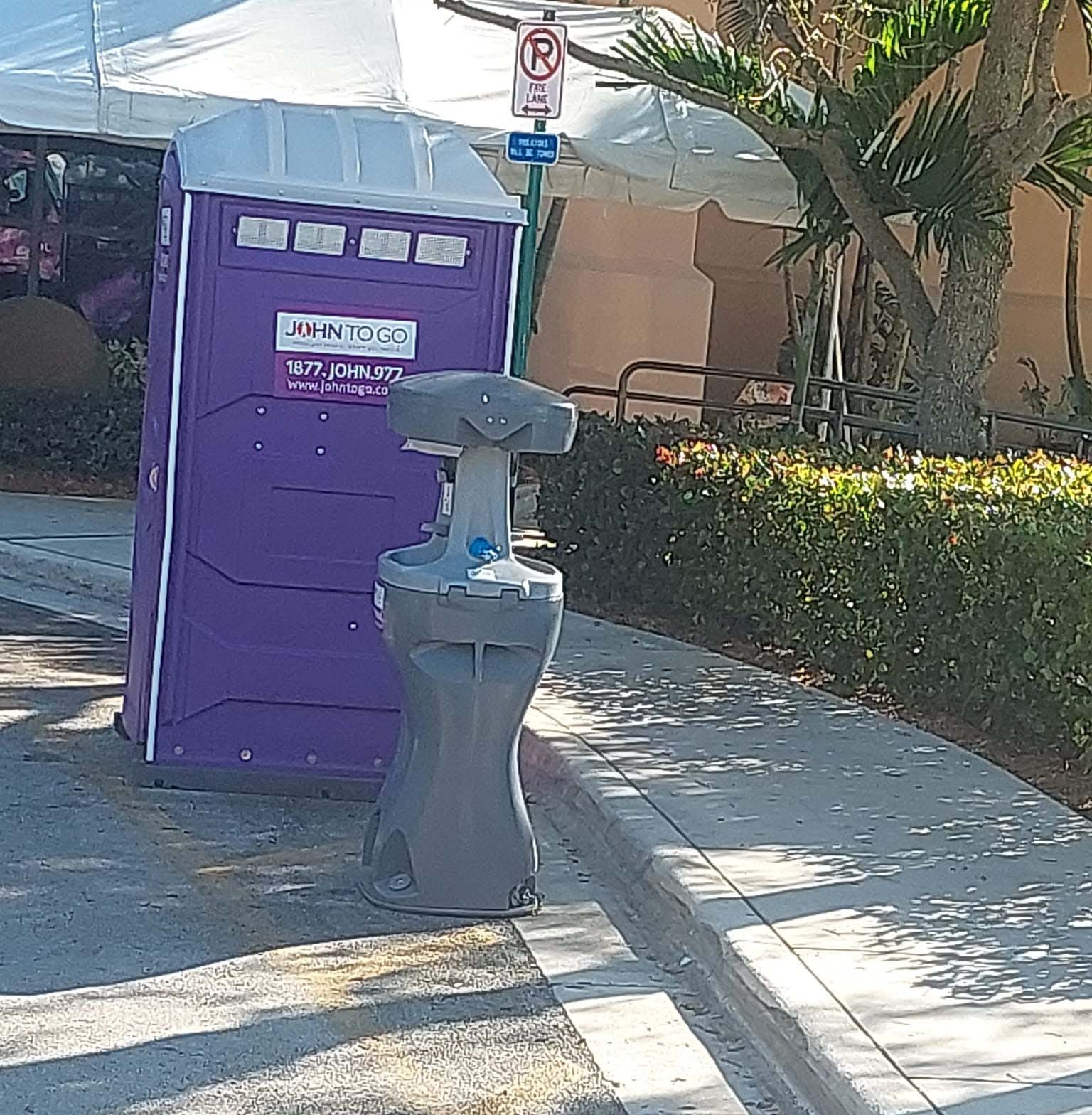 Portable Hand Washing Stations for Outdoor Porta Potties
Even after using the hand sanitizer station, guests may still need to wash their hands at the portable hand washing station. This is because hand washing is one of the best ways to stay healthy!
A proper outdoor wash station includes a portable bathroom with sink combination to allow people to quickly and easily wash their hands, which can prevent illness. Portable toilet and sink rentals are becoming more popular for outdoor events. Some of the greatest benefits that a portable wash station can offer include allowing your guests to keep their hands clean and decreasing their chances of spreading germs. In addition to removing germs, hand washing can improve moods and confidence. Therefore, combining portable toilets and sink arrangements is important so guests can wash their hands after using the porta potty.
We offer portable hand washing stations for outdoor events, from weddings to tailgates to festivals. The hand washing stations are inside the porta potties and are hose-less. A portable hand sink can come in various shapes and sizes but shares basic similarities. Our Fresh Hand Wash Station dispenses an 81/2 ounce metered wash and provides 200 hand washings. Delivered to your site, complete and ready for operation, the Fresh Hand Wash Station makes outdoor events safer, more sanitary and provides an unsurpassed level of convenience and comfort.
But a portable hand washing station is not only required inside or close to a porta potty. You can have them in other areas of the event to encourage people to wash their hands and reduce the likelihood of spreading bacteria, especially where food is being served and clean hands are a must. With the J2G outdoor hand wash station, you can provide your guests with a convenient place to wash their hands when water would not otherwise be readily available. These hand washing stations are also safe for food preparation staff and guests waiting for their meal. So, if you're planning an outdoor event, you should consider having a portable hand washing sink at strategic areas of the event.
Without a doubt, hand-washing stations are a must for outdoor events. So, if you rent special event portable toilets, don't forget to add hand washing stations as an important item in your rental order. Oh, and did we mention that J2G hand washing stations are available separately? Because if you've already rented one of our nice porta potty units, you can simply add on a hand washing station instead of renting another porta potty or mobile restroom!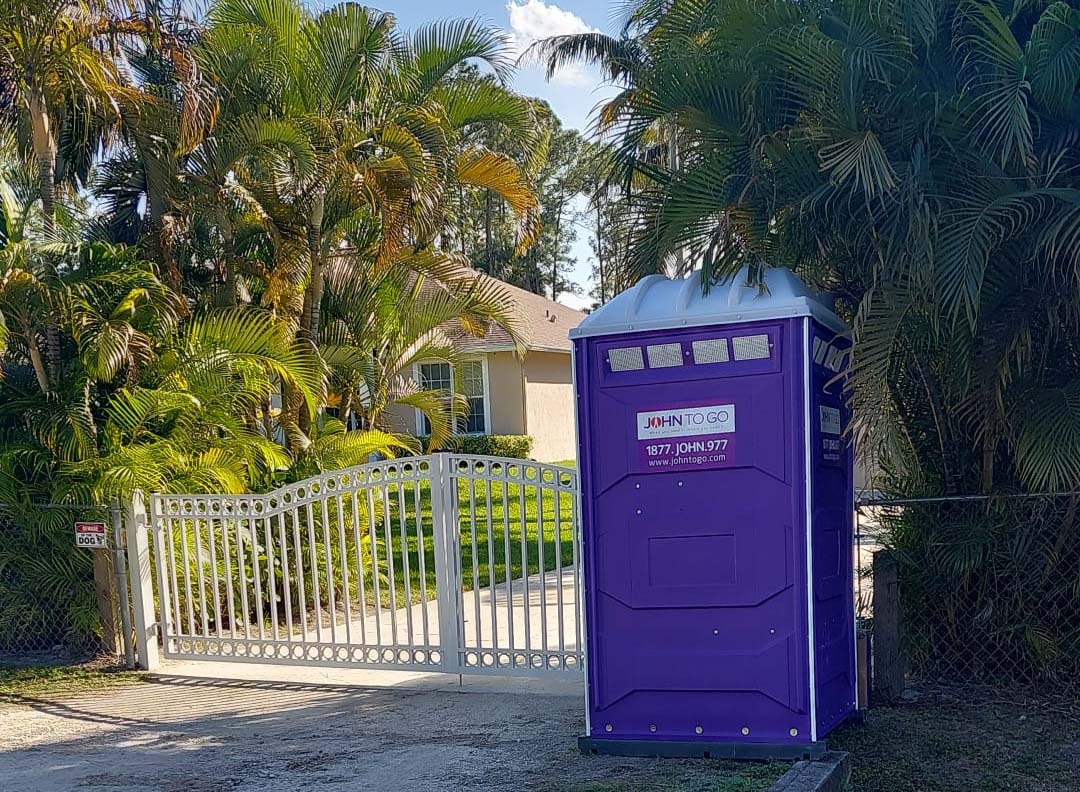 Portable Outside Lighting for Outdoor Porta Potties
The porta potty outside event area, on construction sites, campgrounds, etc., is one of the most important parts of any outdoor event. However, the usual problem is that they lack adequate lighting. This is because most organizers find outside lights for porta potties pretty expensive. Moreover, these lights have a hard time standing up to the elements at outdoor events. But with J2G's top-notch portable outside light, you can enjoy your outdoor event at night without breaking the bank.
Portable outdoor lights for porta potties are important for outdoor events that may extend into the night or that are held in the dark. Most outdoor bathroom portable toilets are not equipped with lights, making it harder for people to find them in the dark. Imagine how embarrassing it would be if a guest couldn't find the bathroom at your party in the dark. If you want your guests to be able to easily go to the bathroom at night, our portable outside light will make sure they can find their way.
If you're overseeing a construction site, you may need temporary construction lights on the site. This ensures that workers are able to easily find the porta potties at night and that they are also safe. With durable led construction lights from J2G, people on the site can use the portable bathrooms at night. And if you're an event planner, our portable LED light may have other exciting uses. For example, not only do they help guide your guests to the restrooms at night, but they can also add that little extra touch when creating a festive atmosphere!
A portable outside light that's suitable for porta potties for outdoor events is also important:
For Personal Security: Excessive darkness can encourage criminal acts. A well-lit porta can make it safer for individuals using an outdoor restroom.

To Enhance Comfort: Darker surroundings have been proven to have a direct correlation to fear and psychological stress.

For Ease of Access: The use of outside lights for porta potties also benefits in particular situations where individuals may need to locate necessary facilities in a hurry.
J2G provides outdoor lights for porta potties for safety and comfort. With our J2G Portable Outdoor Light, your guests no longer have to worry about the darkness!
Water Storage Tanks Supply for Outdoor Porta Potties
At J2G, we have both saltwater tanks (best for colder winter months to prevent freezing of the water) and freshwater tanks (for warmer months) to suit your event needs! Without a constant supply of water, it will be difficult to maintain an outdoor wedding porta potty, for example. With a constant supply of water, guests can also enjoy running water in the portable hand washing station. If you already have a tank on site or at the event center, we can help you supply saltwater or freshwater when your water supply is low and you need more water!
Water storage tanks also come in handy for farming and planting, new construction, plumbing, testing, and more.
We're More Than Just Porta Potties for Outdoor Events!
Our porta-potty units are self-contained and have plumbing connections for fresh water, drain water, and sewer gases. And like a regular home toilet, they come with seats and lids. You can use them at campgrounds, concert venues, and special events! And if you're in charge of a camping adventure, we can help you set up the camping wash station and provide you with a mobile sink wherever needed! We know that we can help you make your guests comfortable because we have a 98% customer retention rate and an excellent track record for customer service!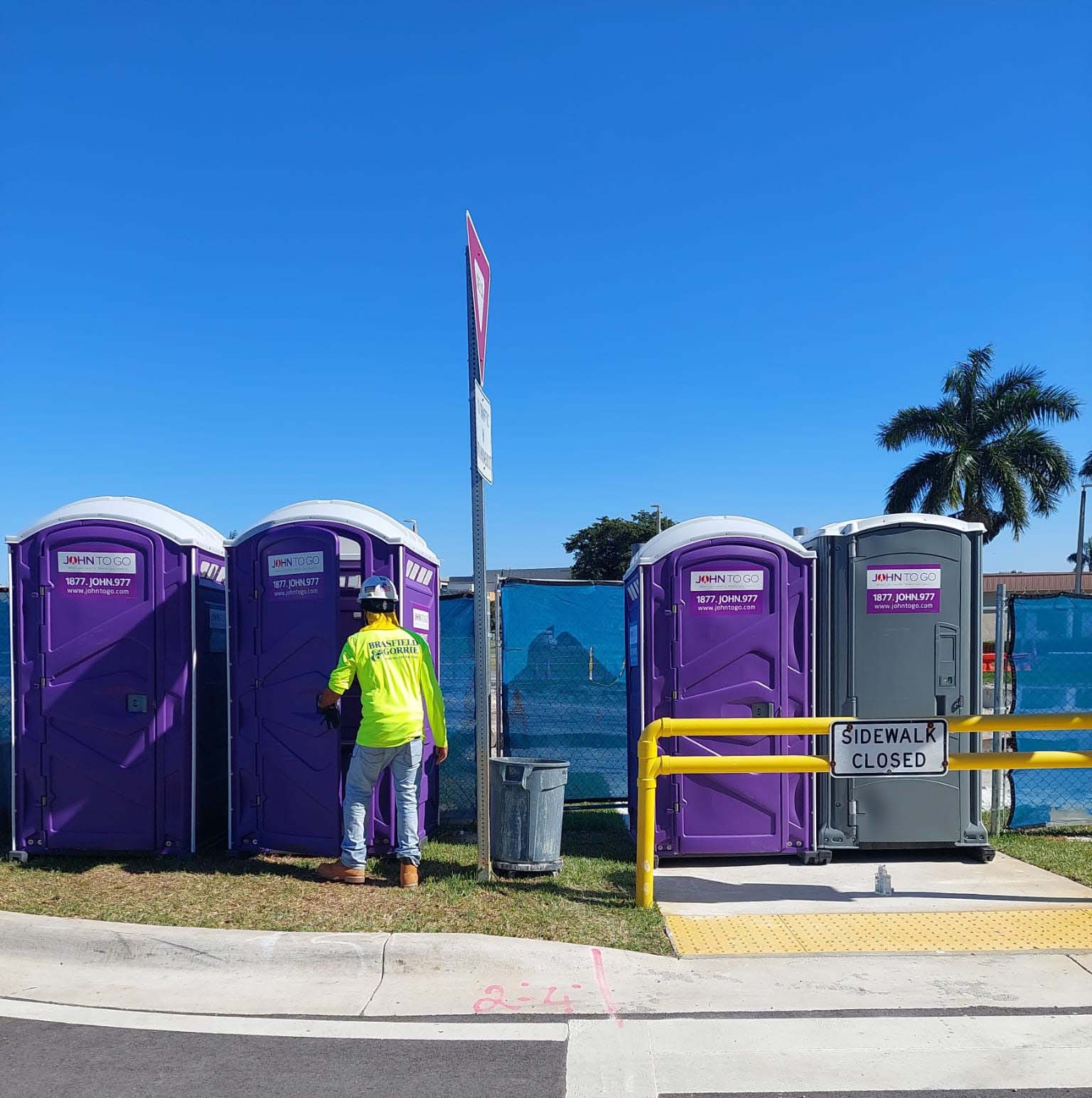 Enjoy a clean and safe restroom with John To Go! Our experts are always standing by, ready to help you and to serve your every need quickly and effectively. The good thing is that you don't necessarily need to rent a high end porta potty to enjoy all these benefits! So, even if you don't plan to rent a deluxe porta potty, you can still request a hand sanitizer station, a portable hand washing station, and a portable outside light!
How Many Porta Potties Per Person for an Event?
So, how many porta potties do you need per person for an event? Well, it depends. As a general rule, if your event will last about 4 hours (with no food or alcohol served), you'll need at least one porta potty for every 100 people or guests.
Conclusion
Porta Potties can be used for camping, construction sites, recreational events, and much more. A portable hand washing station and hand sanitizer station are necessary for all outdoor events to keep germs at bay.
Whether you need a high-rise porta potty (for high-rise construction projects) or a porta potty for camping in the woods, we're your go-to porta potty rental! Our high-quality, affordable porta-potties are designed to accommodate your needs no matter what the occasion may be. Call us today for impeccable 5-star service!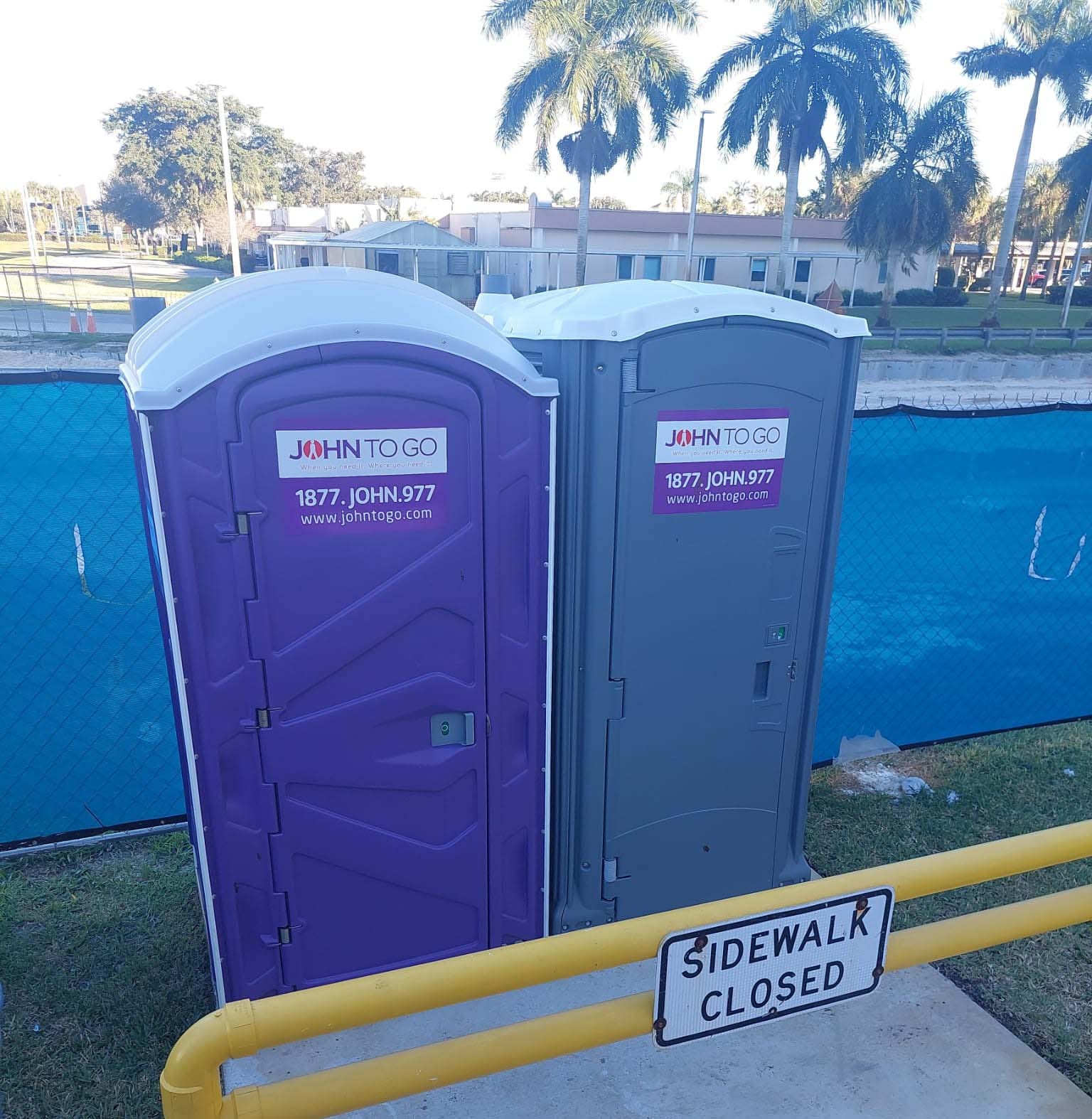 Porta Potty Rentals Near You

Find out where to rent portable toilets