John To Go: A Reliable Partner for Your Construction Needs
You need portable toilets for your construction site, and we have the answer to your needs.
But why choose John To Go for your construction site toilets?
This article will explore how John To Go emerges as a trusted and reliable partner for all your considerations when seeking a portable toilet for construction site use.
Discover the key reasons why John To Go's construction site toilets, services, and solutions are indispensable on construction sites.
From enhancing worker productivity and hygiene to ensuring client satisfaction and environmental responsibility, we'll delve into the diverse advantages that make John To Go an invaluable ally in the construction industry.
Top-Quality Toilets for Construction Site
John To Go provides exceptional portable toilets that distinguish themselves from typical options found on construction sites. Notable for their robust construction, resilient materials, and capacity to endure the demanding conditions of construction sites, they excel in durability and reliability.
These premium units prioritize hygiene and have features like hand sanitizers and waste containment systems.
These top-quality construction site toilets ensure worker comfort and safety and reflect positively on your project's professionalism.
When it comes to construction site sanitation, John To Go's superior portable toilets are the benchmark for excellence, setting a new standard for cleanliness, convenience, and sustainability.
Here is a comprehensive look at our groundbreaking portable toilet options and why they're the premier toilets for construction site:
Standard Portable Toilets
Standard portable toilets for construction site are a common choice for both residential and commercial construction sites, offering basic sanitation facilities for construction crews.
Our standard construction site toilets, available in professional purple or grey, consistently deliver a contemporary, well-ventilated restroom solution. They are meticulously maintained in pristine condition and stock is replaced every 18-24 months to ensure you always receive the latest and best models.
Our extensive inventory of porta potties and urinals are ready to accommodate high demand and last-minute requests, guaranteeing a seamless and reliable service.
Deluxe Portable Toilets
Deluxe portable toilets represent an upgraded and more comfortable option for construction sites. Deluxe portable toilets are ideal when you want to enhance the restroom experience for guests or workers, offering a higher level of convenience and comfort than standard models. Their premium features make them a preferred choice for projects where user satisfaction is a priority.
With our easy online ordering system, you can quote, reserve, and checkout online (we're the only porta potty provider that makes it that easy). We offer flexibility to meet your specific needs - just ask for the customization you require, and we'll go the extra mile to accommodate your requests. We also understand that plans can change, so we allow full cancellations up to 48 hours before delivery, no questions asked.
Our commitment to customer satisfaction extends from the ordering process to the quality of our deluxe portable toilets.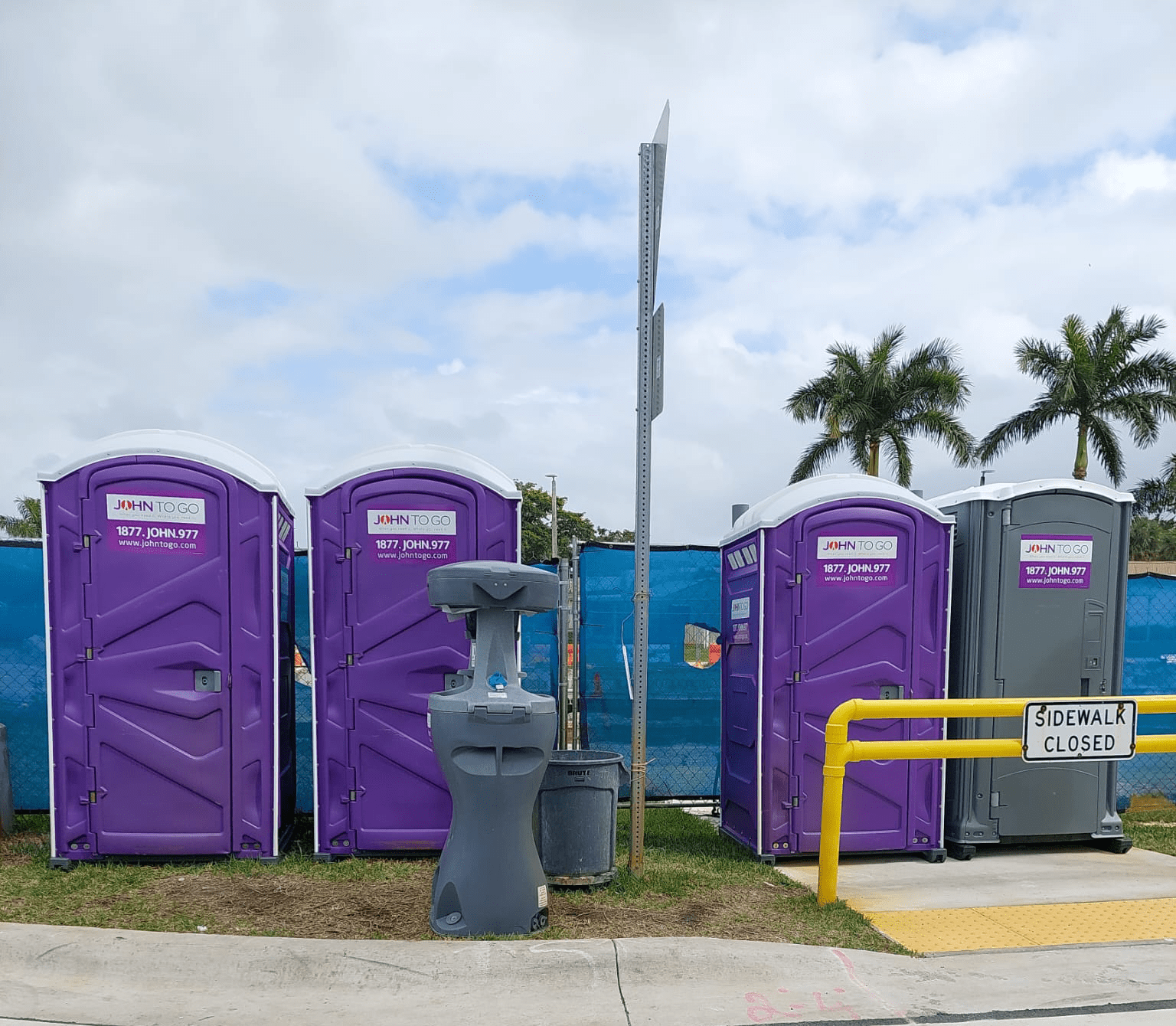 High-Rise Portable Toilets
High-rise and lift portable toilets for construction site are specially designed for construction sites and tall building projects.
These units are equipped with features that cater to the unique needs of workers in high-rise settings. They often include secure anchoring systems to withstand wind and height-related challenges, ensuring safety.
Additionally, high-rise portable toilets offer space-saving designs to fit into compact areas while providing essential restroom facilities. These specialized units are crucial in maintaining worker comfort and productivity in elevated construction environments.
Premium Portable Toilets
Premium portable toilets represent the epitome of comfort and convenience in the world of portable sanitation, equipped with a range of upscale features such as flushing toilets, sinks with running water, interior lighting, and air conditioning, delivering a genuinely luxurious restroom experience.
Premium portable toilets offer the highest level of hygiene and comfort, making them the top choice when excellence and user satisfaction are paramount.
ADA-Compliant Portable Toilets
ADA-compliant portable toilets prioritize equality and convenience for all, making them an essential choice for events, construction sites, and public spaces, where accessibility and respect for diverse needs are crucial.
They adhere to the Americans with Disabilities Act (ADA) guidelines, featuring wider doors, spacious interiors, and handrails to facilitate easy entry, maneuverability, and safe use for wheelchair users and those with mobility challenges. The presence of accessible toilet paper dispensers further enhances user convenience and hygiene.
Mobile Restroom Trailers
Mobile restroom trailers provide an elegant and versatile solution tailored for high-end outdoor events, upscale construction sites, and temporary facilities. This luxurious alternative starkly contrasts standard porta potties, offering a superior level of comfort and sophistication that befits the most discerning clientele.
Mobile restroom trailers are a popular choice when you want to provide high-quality sanitation facilities for your guests or workers, combining functionality and aesthetics to elevate the overall restroom experience in any setting.
Why Choose John To Go Portable Toilet for Construction Site?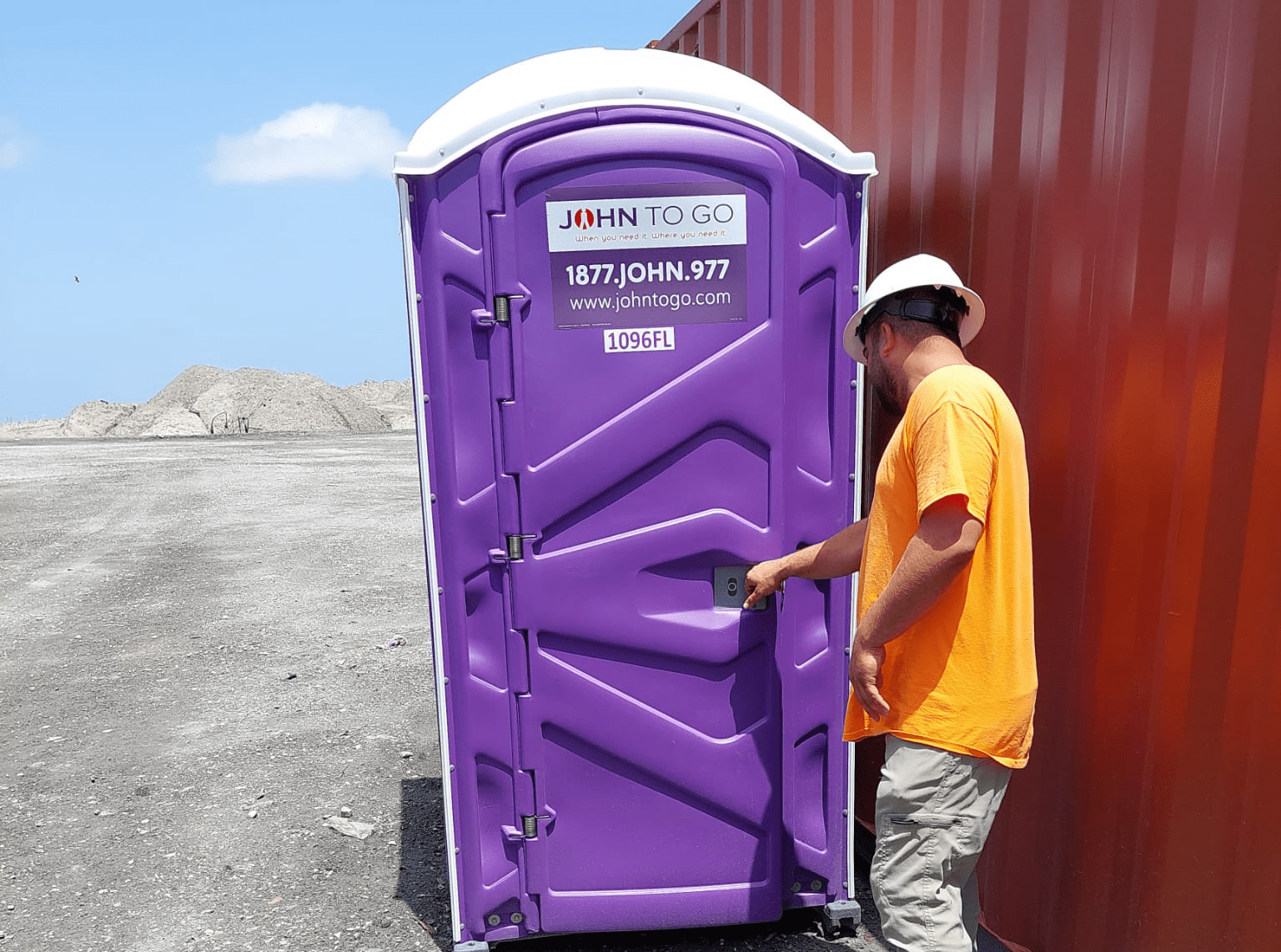 Selecting John To Go toilets for your construction site represents more than just a sanitation choice; it's a transformative decision. Our top-tier units are meticulously crafted with the workforce's well-being in mind, placing hygiene and comfort at the forefront.
You'll find a diverse range of porta-potty options to suit your needs, from basic to spacious units, foot-operated flushing models, and specialized designs tailored for construction sites. Moreover, we offer portable restrooms and shower trailers to meet your on-site facility requirements comprehensively.
Our competitively-priced porta-potty rentals always strive for quality and attention to detail. We understand the importance of immediate support, so we provide a 24/7 chat service staffed by live agents who ensure your questions and concerns are addressed promptly and effectively. Your satisfaction is our priority.
Our commitment to excellence revolves around two core principles: exceptional customer service and reliable servicing and maintenance. Our company treats every customer like a VIP, ensuring 100% satisfaction. Your needs are our priority, and we're dedicated to delivering an unmatched experience.
We stand by our promise of reliable servicing and maintenance, adapting our schedule to your preferences. When we say we'll be there, we mean it, so you can trust that your unit will be consistently sanitized and maintained in fresh, pristine condition, ensuring a hassle-free experience for all.
Read on to discover how our portable toilet for construction site can transform your job site, ensuring safety, boosting morale, and even positively impacting your project's reputation.
Convenience for Workers
Convenience for workers is paramount on any construction site, and it begins with accessible and well-maintained construction site toilets.
Portable facilities save valuable time by eliminating the need for workers to leave the site for restroom breaks. With on-site restroom facilities, workers can focus on their tasks, increasing productivity.
Moreover, convenient restrooms enhance worker morale and job satisfaction, fostering a more positive work environment. Providing workers with the necessary amenities benefits them and contributes to a more efficient and successful construction project.
Increased Productivity of Workers
Increased productivity of workers is a direct result of well-maintained and accessible portable toilets on construction site. They eliminate time-consuming offsite bathroom trips, allowing workers to focus on tasks and maintain workflow efficiency.
When workers access convenient restrooms, they are more likely to remain motivated and satisfied, positively impacting their performance.
A content and efficient workforce is a key ingredient in a successful construction project, and providing proper sanitation facilities plays a crucial role in achieving this goal.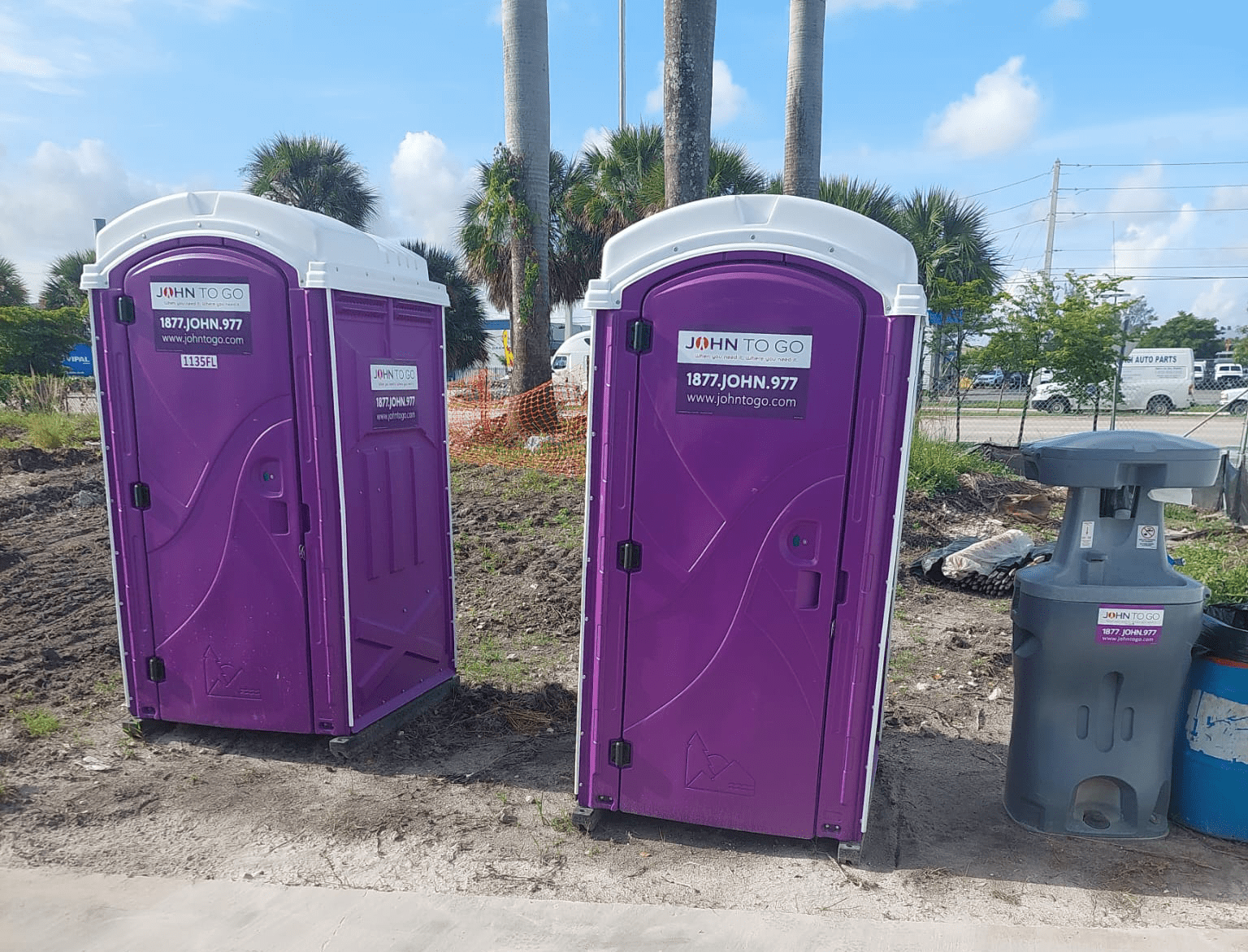 Cost-Effectiveness of Portable Toilets
Our portable toilets for construction site offer a cost-effective solution for sanitation needs on construction sites.
Portable toilets are a budget-friendly alternative compared to the expenses associated with building and maintaining permanent restroom facilities. They reduce labor and material costs while providing essential amenities for workers.
Additionally, the time saved by workers not having to travel offsite for restroom breaks can enhance productivity, translating into potential cost savings on project timelines.
Choosing our portable toilets is practical and economical, ensuring sanitation needs are met without straining the project budget.
Construction Site Toilets Boosts Morale and Hygiene on Construction Site
Boosting morale and hygiene on a construction site is effortless with the presence of proper sanitation facilities like our portable toilets. Accessible restrooms save time and enhance worker comfort, leading to improved morale.
Maintaining high hygiene standards through these facilities reduces the risk of illnesses, contributing to a healthier and happier workforce. When construction companies prioritize their workers' basic needs, it fosters a positive atmosphere, elevating morale and job satisfaction.
Ultimately, a content and healthy workforce is more productive and contributes to a successful construction project.
Features of John To Go Construction Site Toilets
John To Go construction site toilets offer more than meets the eye. Designed with features that prioritize worker comfort and hygiene, they're already a game-changer.
But what distinguishes us, and how can we elevate your workspace with our construction site toilets?
Uncover the surprising advantages that make our toilets a must-have for any project.
A roomy interior
The roomy interior of our portable toilets provides comfort and convenience. With ample space, users can move comfortably, making them an ideal choice for construction sites and outdoor events.
A translucent roof for natural light
Our portable toilets for construction site feature a unique translucent roof design that allows natural light to illuminate the interior. This innovative feature enhances visibility and creates a more inviting and pleasant restroom experience.
Zero splash urinals
Our portable toilets have zero-splash urinals, ensuring a cleaner and more hygienic restroom environment. These urinals minimize splashing, providing a more pleasant experience for users while maintaining sanitation standards on construction sites and at events.
Generous ventilation
Our restroom options feature generous ventilation, ensuring a fresh and odor-free restroom environment. This ventilation system enhances user comfort and creates a more pleasant atmosphere, making them an excellent choice for construction sites and events.
Outside occupancy indicator
One unique feature of our portable toilets for construction site is the outside occupancy indicators, a practical feature that indicates whether the restroom is in use. This helps users quickly identify an available facility, saving time and enhancing convenience on construction sites.
Reserve a portable toilet for construction site
FAQs
What are the benefits of construction site portable toilets?
Construction portable toilets, especially those provided by John To Go, stand out as the ideal choice due to their exceptional durability and stability. These units are built to withstand the rigors of construction sites, offering a reliable and long-lasting solution. With a substantial fleet, they ensure easy availability and the flexibility needed to meet the demands of any project.
Our commitment to convenience and customer satisfaction is at the core of our service. With our user-friendly online ordering system, you can quickly obtain quotes, make reservations, and place orders – a unique feature that sets us apart as the only porta potty provider offering a simple online option. We value flexibility, so feel free to request any customizations you need, and we'll go the extra mile to accommodate your preferences.
Additionally, we understand that plans can change, so we allow full cancellations up to 48 hours before delivery, no questions asked. Furthermore, our 24/7 chat service with live agents is always at your service, ensuring that your questions are addressed promptly and effectively, contributing to a hassle-free experience. Your convenience and peace of mind are our top priorities.
How many toilets do you need on a construction site?
The number of bathrooms for a construction site depends on factors like the workforce size and project duration. John To Go can assist in determining the correct quantity and provide portable toilets tailored to your project's needs, ensuring proper sanitation facilities for your construction site. As a general rule of thumb, rent 1 construction porta potty for each 10 workers.
How often should a porta potty be emptied?
The frequency of emptying a porta potty depends on usage and specific requirements. With our reliable servicing and maintenance, we'll tailor the service schedule to meet your needs. We're committed to providing the necessary care as often as required, ensuring that your unit is consistently sanitized and maintained in fresh condition. Rest assured, we'll keep your porta potty in optimal shape and ready for use as agreed upon.
Porta Potties Near Me
When you're researching "porta potties near me," John To Go stands out as the go-to solution for all your portable restroom requirements. We understand that the need for a clean and reliable portable toilet service extends beyond just providing the unit itself.
That's why we focus on offering a comprehensive service package that takes care of all your needs, from the moment you first contact us to the time we complete the pickup. Our diverse range of portable toilet options ensures that we have something to suit every need and budget. With John To Go, you're not just renting a portable restroom—you're investing in a hassle-free experience that covers all the bases.