Affordable Porta Potty Rentals from John To Go: Your Best Sanitary Solution
In today's fast-paced digital age, it's refreshing to find a company that still values genuine, human connections. At J2G, despite our growth, we continue to center our operations around an understanding of individual needs and circumstances, specifically by taking the lives of our customers into consideration.
With an understanding of the unique challenges faced by a hard-working parent, a devoted spouse, or an individual struggling to make ends meet, our leadership believes in meeting each customer's individual needs. It's not just a theoretical idea but a commitment that's reflected in our day-to-day operations and the structuring of business. At J2G, our goal isn't just to deliver a service, but to create a solution that genuinely caters to each customer's unique circumstances.
Understanding that many customers face financial constraints, we've chosen to prioritize affordability and flexibility for our cheap portable toilet rentals for events. By offering competitive pricing for portable toilet rentals without compromising quality, we seek to ease the financial burden of our customers while still delivering top-notch service.
In a business landscape where profits often take precedence, we remain committed to our foundational values. Our success isn't just measured by growth and revenue, but also by our unwavering dedication to understanding and meeting the unique needs of each of our customers.
Putting Customers First: The Unique Approach of J2G to Affordable Porta Potty Rentals
In the competitive landscape of porta potty rentals, we have a firm belief in prioritizing customer needs, and have established a reputation for delivering top-notch service while maintaining financial flexibility for its clients. Let's take a closer look at how we maintain this balance, offering premium services without compromising on cost-effectiveness, and always putting the needs of the customer at the forefront of their operations.
Flexible Pricing Models: At J2G, we understand that every customer has unique financial needs and constraints. We offer flexible pricing options for restroom rentals that cater to these different requirements, providing options such as tiered pricing for our range of porta potty rentals, from basic units to luxury restroom trailers. We take pride in offering a wide spectrum of porta potty options, designed to cater to a range of needs and budgets. Our extensive selection means that we can provide the right sanitation solution for any event or project, from budget-friendly porta potty rentals for events to cheap portable toilet rentals for emergency situations.

Our most basic porta potty units provide a practical and cost-effective solution for situations where simplicity and affordability are key. They come equipped with all essential features, including a toilet seat, toilet paper holder, and hand sanitizer, offering a clean, functional space for users. Despite being our most straightforward option, these units still adhere to our high standards of cleanliness and maintenance.
For those seeking a step up in comfort and convenience, we offer enhanced bathroom units. These include additional features such as a flushing toilet and a sink with running water, providing a more homelike experience for users.
For those seeking a step up in comfort and convenience, we offer enhanced bathroom units. These include additional features such as a flushing toilet and a sink with running water, providing a more homelike experience for users.
Our deluxe flushing units go a step further, offering an upgraded experience with a spacious interior, a foot-operated flush.
Finally, for the ultimate in portable sanitation luxury, we offer restroom trailers. These units take the concept of the porta potty to a whole new level, offering a fully equipped bathroom experience similar to that of a hotel setting. Complete with flushing toilets, sinks with hot and cold running water, mirrors, lighting, and even climate control, restroom trailers are an ideal choice for upscale events, weddings, or any situation where an extra touch of class is desired.

Long-term Commitment with Price Lock: We are willing to commit to your order even 24 or 36 months ahead of time and honor the original price, even if we've had to raise the price in the meantime. This allows our customers to budget effectively and avoid unexpected cost increases.
No Hidden Fees: We don't believe in hidden fees or unexpected charges. We will work with you to determine the best rental option for your needs and budget, and we will always provide a clear and detailed quote upfront. You can trust that the price you see is the price you'll pay.
Last-Minute Cancellation Policy: We understand that plans can change, and therefore, we offer a generous cancellation policy. Customers can cancel their order up to 48 hours before delivery without incurring any penalties. This provides a safety net for those who may be dealing with uncertain circumstances.
Discounts: For customers requiring a large number of units or those seeking a long-term rental, we offer volume discounts. This helps with cost-effective restroom rentals for construction sites, seasonal parks, tourist attractions, and other outdoor entertainment venues.
Payment Options: We are fully aware of the diverse financial circumstances of its customers and the need for flexible payment solutions. Consequently, we offer a variety of payment options to accommodate these varied needs. Customers can choose to pay upfront or, in some cases, we can arrange a payment plan that allows them to spread the cost over a longer period. We firmly believe that financial constraints should not be a barrier to accessing quality sanitation solutions, so we strive to make our payment process as flexible and straightforward as possible.
In the dynamic world of business, it can be a challenge to find a company that genuinely prioritizes the best interests of its customers. We've always believed in serving our clients in a manner that extends beyond the transactional nature of commerce. Our focus is on delivering exceptional service, even if it means sacrificing potential business sales in the short-run.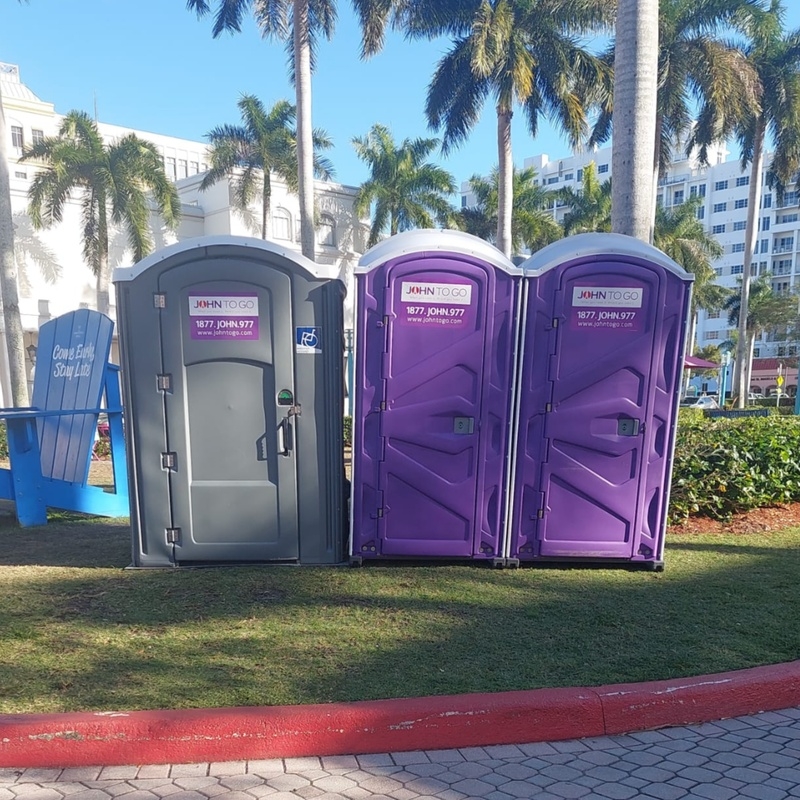 Offering Quality at Competitive Prices
At J2G, our commitment to offering the best options without compromising quality is central to our operations. This principle is especially evident in our affordable porta potty rentals. We understand that in the realm of portable sanitation, our clients desire competitive pricing for portable toilet rentals, while also receiving products and services that are uncompromising in quality.
Our approach isn't rooted in a cheap mindset. We understand that the concept of affordability extends beyond mere pricing. It's about delivering value – a balance of fair pricing and excellent service. In our case, we offer budget-friendly bathroom rentals that meet and exceed industry standards. We consistently refuse to cut corners, understanding that the excellence of our services directly impacts the experiences and satisfaction of our valued customers. Instead, we provide high-quality, sanitary, and reliable solutions that ensure the best possible experience for our clients.
Our affordable, flexible pricing options for restroom rentals, whether for emergency situations or planned events, are designed to serve you better. Our aim is to be your reliable partner for competitive pricing for portable toilet rentals, offering exceptional solutions that cater to your unique needs.
Here are some of the ways we maintain our unwavering commitment to quality:
High Standards of Sanitation

The cornerstone of our service is our commitment to impeccable sanitation standards. We meticulously clean, disinfect, and deodorize each unit after every use using high-grade cleaning products. This ensures that every user experiences a clean, comfortable, and hygienic environment when they step into a John To Go porta potty. In our eyes, quality begins with cleanliness, and we spare no effort in delivering on this front.

Rigorous Quality Control Process

Our commitment to quality is reflected in our rigorous and systematic quality control process. Each porta potty undergoes an exhaustive inspection before and after each rental to ensure it meets our exacting standards. From checking for damage to ensuring all facilities are functioning correctly, we follow strict protocols and rigorous standards. This comprehensive approach allows us to identify and resolve any potential issues before the unit is delivered, guaranteeing a flawless experience for our customers.

Dependable and Timely Service

We recognize the importance of reliable service to our clients. That's why we've streamlined our logistics and operations to ensure punctual delivery and pick-up. Our professional team works swiftly and efficiently to install and dismantle the units, minimizing disruption and ensuring your event or project runs smoothly. This focus on reliability underlines our commitment to quality and customer satisfaction.

Top-Quality Units and Amenities

Our units are constructed from robust, high-grade materials, designed not only to withstand diverse weather conditions but also to endure frequent use while maintaining structural integrity and cleanliness.

Understanding the varying contexts in which our units are utilized, from outdoor festivals to construction sites, we've specifically selected materials that resist wear and tear. The sturdy plastics used are resistant to impact, safeguarding the units from potential damage during transportation or installation. They are also resilient against harsh weather conditions, be it blistering heat, frigid cold, or heavy rain. This ensures that our porta potties remain functional and comfortable for users, regardless of the external environment.

Exceptional Customer Service

Our dedication to quality extends to our customer service. We have a highly skilled and responsive customer service team ready to assist with any inquiries, concerns, or special requests. Their proactive approach and ability to offer timely, effective solutions highlight our commitment to quality and dedication to customer satisfaction. At J2G, we're not just about providing a product – we're about delivering an experience. And at the heart of that experience is our unwavering commitment to quality.
We're here for you
J2G's approach to business is centered on a deep understanding of and respect for our customers' needs. We believe that by prioritizing our customers' needs, we can contribute to their success, while also creating a successful and sustainable business model. In the end, our customers' success is our success, and that is a principle we stand by in every aspect of our operations.
EXPLORE AFFORDABLE PORTA POTTY RENTALS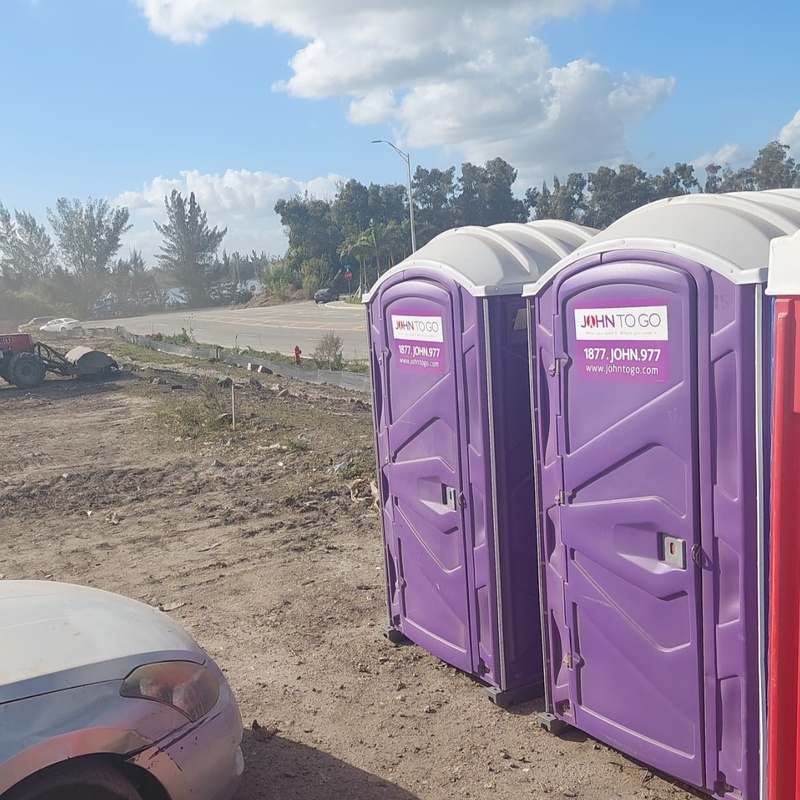 Porta Potties Near Me
When you're researching "porta potties near me," John To Go stands out as the go-to solution for all your portable restroom requirements. We understand that the need for a clean and reliable portable toilet service extends beyond just providing the unit itself.
That's why we focus on offering a comprehensive service package that takes care of all your needs, from the moment you first contact us to the time we complete the pickup. Our diverse range of portable toilet options ensures that we have something to suit every need and budget. With John To Go, you're not just renting a portable restroom—you're investing in a hassle-free experience that covers all the bases.