Porta-potty rental is something you don't give much thought to until, suddenly, you're giving it a lot of thought. Many people go through the same process before looking into rentals; they're planning a grand sporting event, a dream outdoor wedding, or working on a long-term project in a remote area. People are always prone to looking at the fun, exciting details before getting into the nitty-gritty, and there's not much that's grittier than the logistics of human waste disposal. Suddenly, you have all sorts of questions regarding portable toilet rental in Hudson County, New Jersey.
How much does portable toilet rental cost, what kind of options are there, how many units do you need per person? Most people think of porta potties as unpleasant and unsanitary, but it doesn't have to be so; there are all sorts of options to make sure you always have a pleasant, comfortable experience. Find out how and uncover the other answers to your questions about portable toilet rental in Hudson County, New Jersey.
Portable Toilet Rental in Hudson County, New Jersey
There are all sorts of people that might need to look into portable toilet rental in Hudson, New Jersey. Ever since the governor extended quarantine exemptions to an array of construction companies, local construction has been resurging.
If you work in Hudson County construction, you know just how important portable toilets are to keeping everything running smoothly. Here at John To Go, we've worked with construction extensively and have a set of tailor-made portable toilets to make your work crew more efficient.
For instance, working on a multi-story building while drinking a lot of water in the hot Jersey summer could have workers running up and down to relieve themselves. Economize on time while improving on comfort and safety with the John To Go Lift Unit, which a crane can carry up to different stories. This is just one example of the ways that John To Go understands our customers.
However, our understanding of our customers doesn't end at construction. We also serve Hudson County events and celebrations, such as fairs, concerts, and festivals. When it comes to provisioning portable restrooms, each of these events have their own unique requirements to provide the best experience.
The Hudson County Fair is a great example; for more than a week, people come from across the county to enjoy carnival games and street food. Just think of the number of porta-potties, the quantities of waste to dispose of, and the size of the venue. What that means for bathroom rental NJ is that you'll need to have enough toilets for the number of people you expect to serve, first of all. But you also need to position them around big attractions, and in reasonable proximity to places where people are eating so that people won't have to run around looking for one. Renting a few portable urinals is also a good idea, even if it might seem counterproductive. They're easier to clean and lower-cost, and a fairgoer using a urinal is an extra toilet free for anyone who needs it.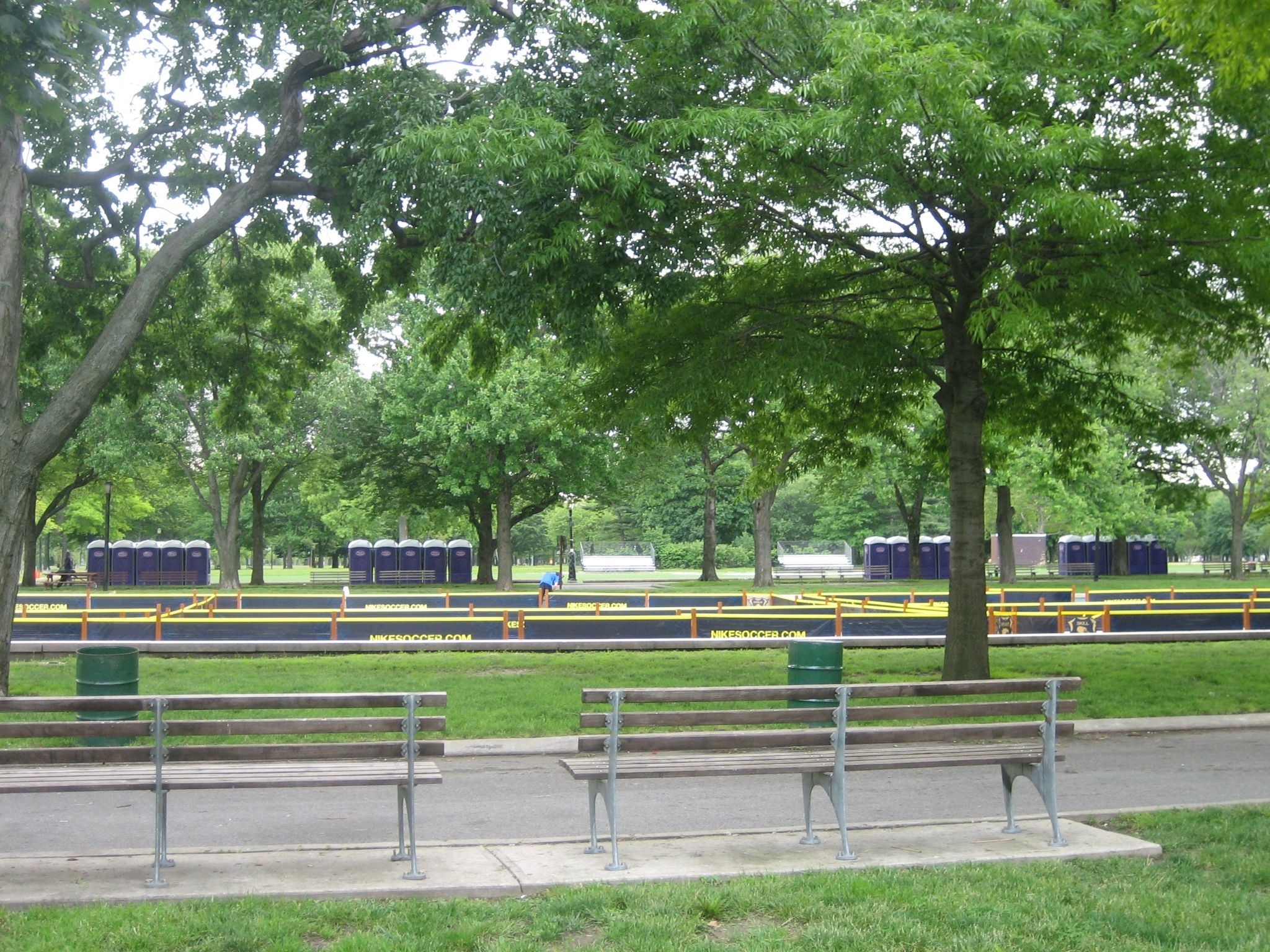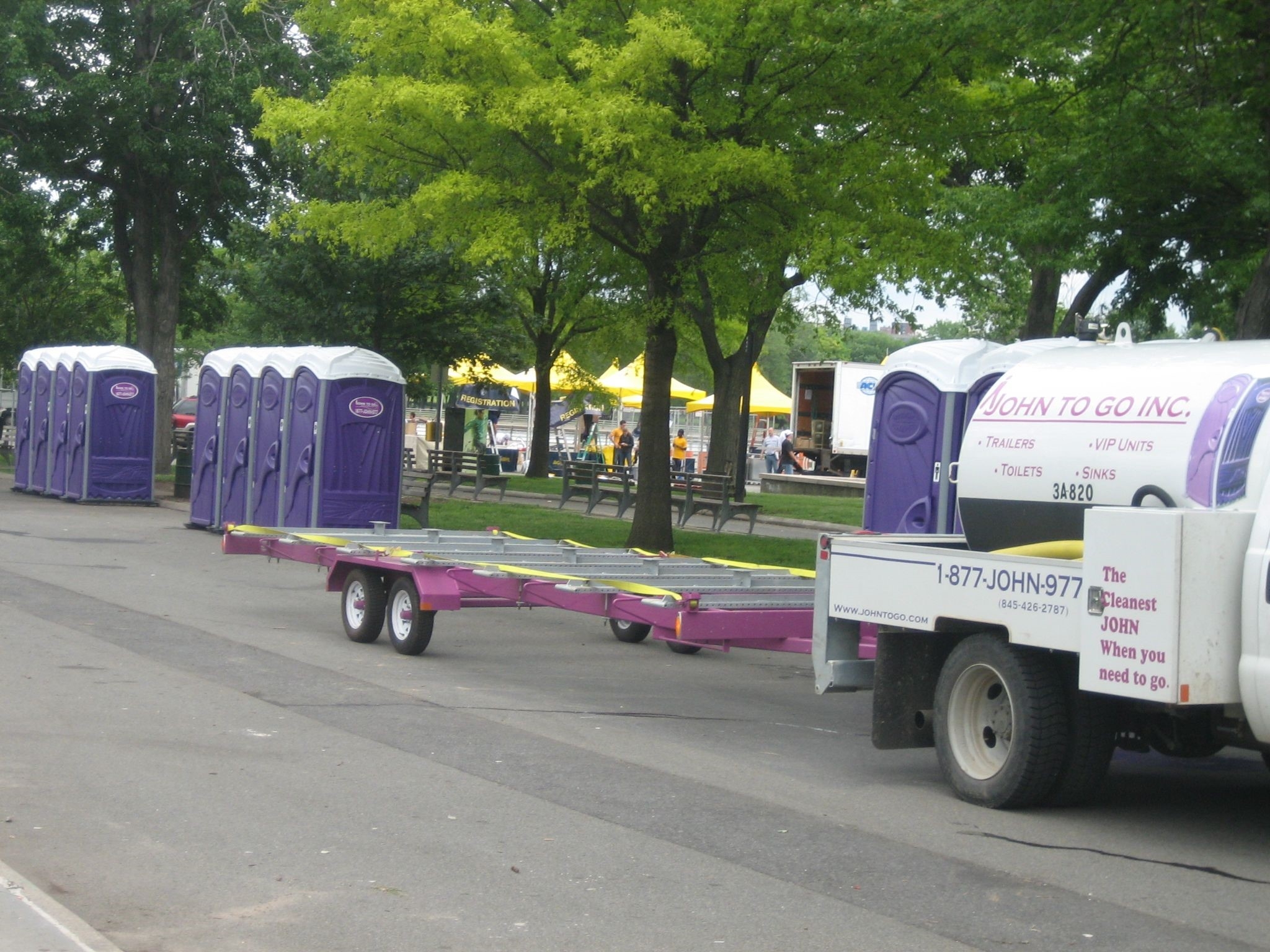 Different events have their own requirements, though. Jersey City is no stranger to concerts and live music events, and these events often need extra portable toilets to keep up. The high volume of people packed into a small area eliminates a lot of the complicating factors that other events like fairs have to deal with. As a result, a comfortable, ultra-high capacity restroom trailer such as the luxurious Rolls-Royce eight-station can be perfect. It can store large amounts of waste, completely eliminates the odor problems of traditional porta-potties, and is sufficient to serve hundreds of people on its own.
But not everyone who needs a portable toilet is a big event organizer or construction company. Planning a lovely, self-organized wedding in West Hudson Park, for instance? If so, you'll probably need portable toilet rental in Hudson County, as well. Keep it simple, clean, and stylish with something like the two-station Vegas restroom trailer, which has enough capacity to support most larger weddings on its own. Or maybe you're planning an excursion further out in New Jersey, maybe to the Brendan T. Byrne State Forest. If so, the Ambassador Flush Deluxe will keep you and your group comfortable during your journey through nature.
How Expensive is Portable Toilet Rental in Hudson County, New Jersey?
Cost is one of the biggest concerns for anyone that needs a portable toilet rental in Hudson County, New Jersey. However, there's actually no simple answer to how expensive a porta potty rental is. This is because there's a wide range of options, but also because different circumstances have different requirements.
For instance, if you're running a construction operation during the summer, you might be able to economize on the cost by using a mix of urinals and toilet stalls. A portable urinal is more cost-efficient than a full toilet, and it'll still add restroom capacity that helps you get more for less.
You also need to take comfort and amenities into consideration. Here at John To Go, our simplest porta potty comes with many amenities such as a spacious interior and generous ventilation; these make the porto potty more comfortable and sanitary. We rent it for under $160 per month, and it's perfect for construction or outdoor events. However, we also have premium porta potties that might cost as much as $300-$500 per month. It all depends on your needs and the options you take. Waste disposal and cleaning will also cost extra, but you may be able to perform these services on your own in some cases.
Hudson County Porta Potty Rental Options
John To Go provides our Hudson County community with a wide variety of different portable toilet options. For instance, our popular and highly rated John To Go construction unit comes with a baseline set of quality of life features that offer a reasonable experience.
If you need to support a group that's mostly men, then you can rent a urinal unit. A John To Go urinal has a similar cost to one of our porta potties but comes with four slots where your group can relieve themselves sanitarily and with respect to public decency laws.
John To Go also stocks a variety of specialized portable toilet solutions that will help you do what you need to do. Our specialized John To Go Hi-Rise unit has an ultra-portable, narrow, and wheeled design that makes it suitable for high-rise construction.
You can also choose John To Go for other specialized units, such as ADA-certified porta potties that are suitable for disabled people. If you're running a community event, it's vital to have at least one such unit to be inclusive of our community.
Overall, options include, but aren't limited to porta potties that are:
Basic and affordable
ADA compliant
Amenity-rich and luxurious
Specialized to support specific jobs
Portable urinals
Equipped with hand-washing stations
CHOOSE FROM OUR EXTENSIVE SELECTION OF PORTA POTTY RENTALS
Restroom Trailers and Fresh Water Systems in Hudson County, New Jersey
Restroom trailers are the largest and most expensive option for portable restrooms. They have a high capacity for waste storage and come the closest to replicating the clean, convenient restroom experience that we often take for granted. They typically come with several toilet stalls and urinals, such as the suitably luxurious Rolls-Royce bathroom trailer. A restroom trailer is meant for a high-end experience, as well as to handle extremely high capacity in a very short period of time. One trailer can be sufficient for as many as 50 to 75 people.
Restroom trailers aren't necessarily suitable for most use cases. On the other hand, what if you're arranging a sporting event, concert, a big holiday celebration, or a massive wedding? When you're looking for a portable toilet rental in Hudson County, New Jersey to cover one of these needs, then a restroom trailer is the perfect solution for you. No matter what kind of portable toilet you're looking for, though, you should always trust John To Go.
Why Choose John To Go for Bathroom Rental NJ?
John to Go has been an industry leader for over fifteen years. We're the first choice of many different companies and individuals throughout Hudson County and New Jersey, and this isn't an honor that we take lightly. There are a variety of steps we've taken to secure our place as Hudson County's best portable toilet provider over the years and keys to our continued success.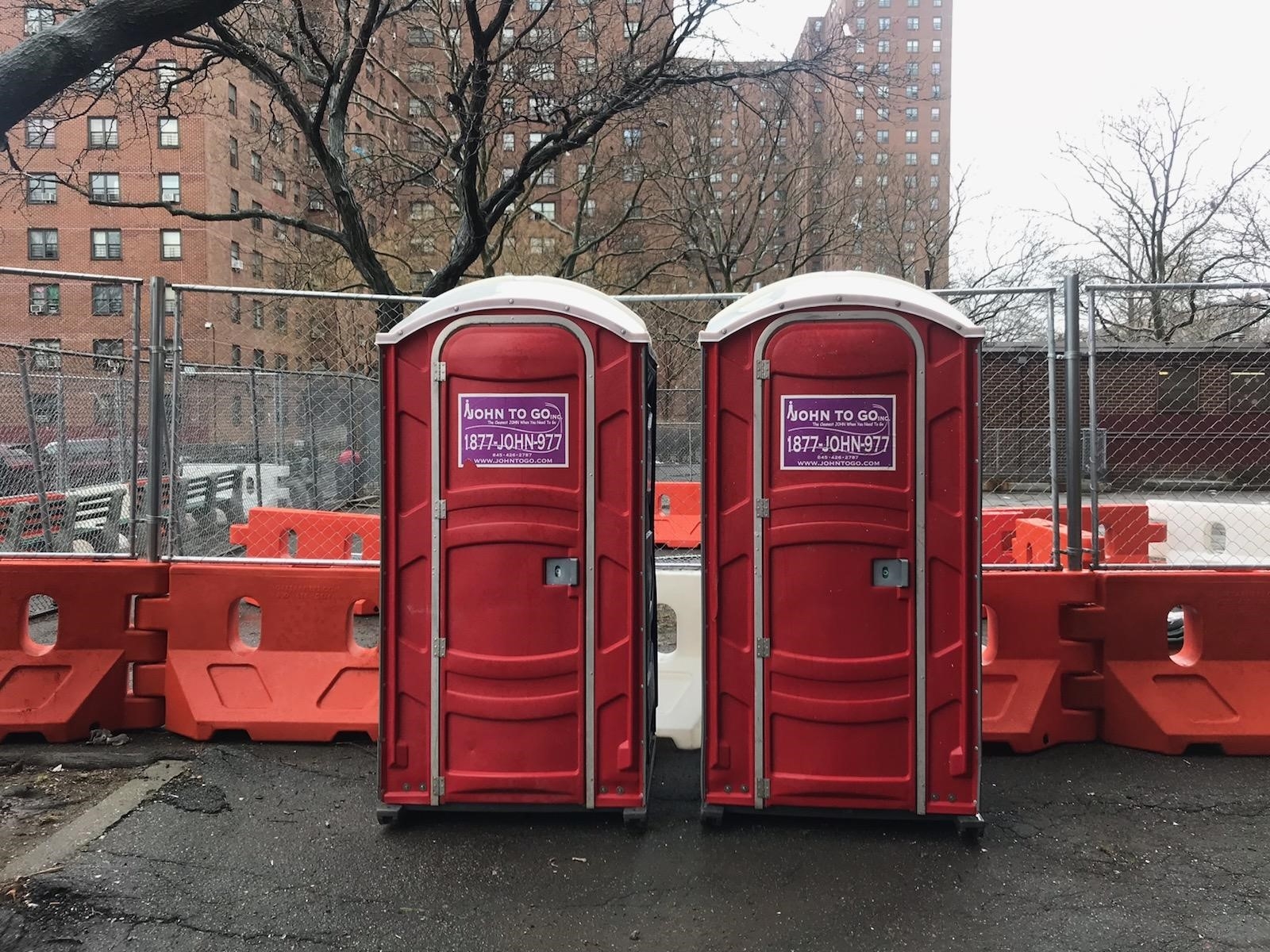 A Family-Owned, Proven Business
The heart of John To Go is our devotion to the customer and a drive to build and grow our family-owned business. We take pride in serving our neighbors and the local community with quality services, and every successful job is an achievement we share. When you choose John To Go, you'll always be able to count on professional services for all your bathroom rental NJ needs. Our professional staff is here to serve you - get to know Abe, Victor, Chaya, and Sam. Effort and attention to detail drive our teams in every job.
Attention to Detail
Here at John To Go, we spare no expense to provide the best porta potty services in Hudson County. One of the ways we stay sharp and keep our competitive advantage is by rolling over our stock every two years. This isn't just our rentals, but every piece of the fleet from the trucks to the cleaning equipment. We're always working to provide the most advanced, comfortable, and convenient products of the portable restroom industry to our customers. Additionally, our team appreciates the paramount importance of hygiene and cleanliness; our rentals always shine like a new purchase.
Safe and Environmentally Friendly
Once a client returns a rental to us, we take great care to clean them properly. Haphazardly cleaning with toxic chemical cleaners and dumping without care wouldn't only jeopardize your health, but would also harm the environment of our beautiful state. John To Go uses safe, environmentally friendly cleaners on every bathroom rental in NJ to protect your health as well as our New Jersey community.
Long-Term Rentals
There are many occasions where you might need to rent a unit for more than just a couple of days. In this case, you'll run into a variety of challenges. Waste disposal is the most pressing problem, as few operations are readily equipped to safely dispose of human waste in large quantities. Additionally, prices may start to become unmanageable. If you need long-term support, then that's exactly what John to Go will provide. Let us know exactly what you need, and we'll offer you a quote on what we can do and what it'll cost, with the potential for bulk discounts as well as managed waste disposal and routine cleaning.
Portable Restrooms Across New Jersey
Business and pleasure can each take you a long way across our state. We appreciate that our community in Hudson County often requires our services beyond the local area, and our team has the certifications to support your needs. John To Go has the legal, logistical, and professional assets to provide porta potty rentals, waste disposal, and cleaning services across the entire state.
Porta John Rental and More in Hudson County, NJ
John To Go is Hudson County's leading porta potty rental company, and we've worked hard to maintain this title for years. We offer a wide breadth of the latest and greatest bathroom rental NJ options - including portable restrooms, urinals, porta-potty units, and other remote plumbing solutions for you to choose from.
Whether you need help arranging an outdoor occasion, a sporting event, or provisioning a construction site, we can help. However, that's not all that we offer; you can also come to John To Go for related equipment, such as construction flood lights or guard booths. Give us a call to learn more about the ways that we can support your plans and business with our bathroom rental NJ.

(305) 722-5149
AREAS WE SERVICE IN HUDSON COUNTY, NEW JERSEY:
HEAR FROM OUR CUSTOMERS:
Keith Albert
Special Events, March 14, 2018
Great company, they were very helpful and responsive.
A K
Special Events, March 13, 2018
Stony Point PAL used John To Go at our event and was very pleased with the service and communication. Great company to work with. Thank you.
Telia Jones
Special Events, March 09, 2018
Very good business, very professional, great prices, will highly recommend.
Porta Potty Rentals Near You

Find out where to rent portable toilets