Who Uses Our Porta Potties?
Whether you are hosting an event in Passaic County or have site workers spread out in the field for extended periods, access to porta potty rental can save the day. John To Go makes renting a portable toilet in Passaic County, New Jersey easy, convenient, and cost-effective. We deliver high-quality, comfortable porta potties customized to meet your unique needs.
Why rent a John To Go porta potty in Passaic County, New Jersey
A portable toilet is a necessity during your outdoor events, including festivals, concerts, marathons, construction sites, and many more. When you are hosting more guests than usual or don't want people going through your home, and supplemental porta potties on-site will come in handy.
Our job is to make available a porta potty rental near you. Some of the popular portable toilets that we provide for our residential and commercial clients in Passaic County, New Jersey, include:
Porta Potty Rental for Construction Projects
Construction projects of various sizes will definitely do with a porta-potty. Construction workers typically spend endless hours on-site, and they need comfortable bathrooms located within site. Far away bathrooms lead to longer bathroom breaks and more time wasted.
We service many construction sites in Passaic County, New Jersey, and we always receive stellar feedback on our units and services. For example, a construction contractor, Peter McDonald describes John To Go as "Exceptional service, reasonable rates, and bathrooms that are clean, and sanitized….pleasant to use at all times."
If you need a reliable portable toilet provider for your construction project, remodeling, or road repair, contact John To Go today. It doesn't matter whether the project will last a few weeks or several months, count on us to keep your bathroom well stocked and clean for the entire contract time iwith a porta potty rental near you.
Porta John Rental for Special Events
Special events undoubtedly cannot be complete without a porta john rental. An insufficient number of bathrooms, long queues, and dirty bathrooms can ruin your event's experiences. At John To Go, our focus is comfort, orderliness, cleanliness, and appearance. We always strive to provide bathrooms that match the quality of your events. Whether you are hosting a wedding, fairs, family barbecues, or parties, we will provide ideal units for your specific purposes. All we need is your location and the number of expected guests, and our well-trained staff will take care of the rest.
One of our long-time Passaic County customers, Patricia Campbell (event organizer and wedding planner), has this to say about our services "John To Go has the friendliest staff, luxurious units, and stellar services for every budget…fresh, clean, and ready to use bathrooms. I will definitely recommend them over and over again."
John To Go Portable Restrooms Rental Options in Passaic County
We provide a range of options for portable toilets and portable rental restrooms in Passaic County. Depending on your needs, you can choose basic and small to larger units with various amenities. Some of the popular options include:
Standard porta potties
Standard porta potties are designed only to allow one person in the restroom at a time. Although sizes can vary, most standard portable toilets are 35 square inches. There are also various options within the basic standard units, including a single, non-flushing toilet, a flushing toilet, a separate urinal, toilet seat covers, hand sanitizer, or a hand washing station. We also provide adequate toilet paper to cover the length of the rental period.
Note: A standard toilet may come with a 70-gallon tank attached, which is ideal for an event with 50 guests, which doesn't last for more than four hours. As a rule of thumb, expect 30 percent more usage if you are serving alcohol.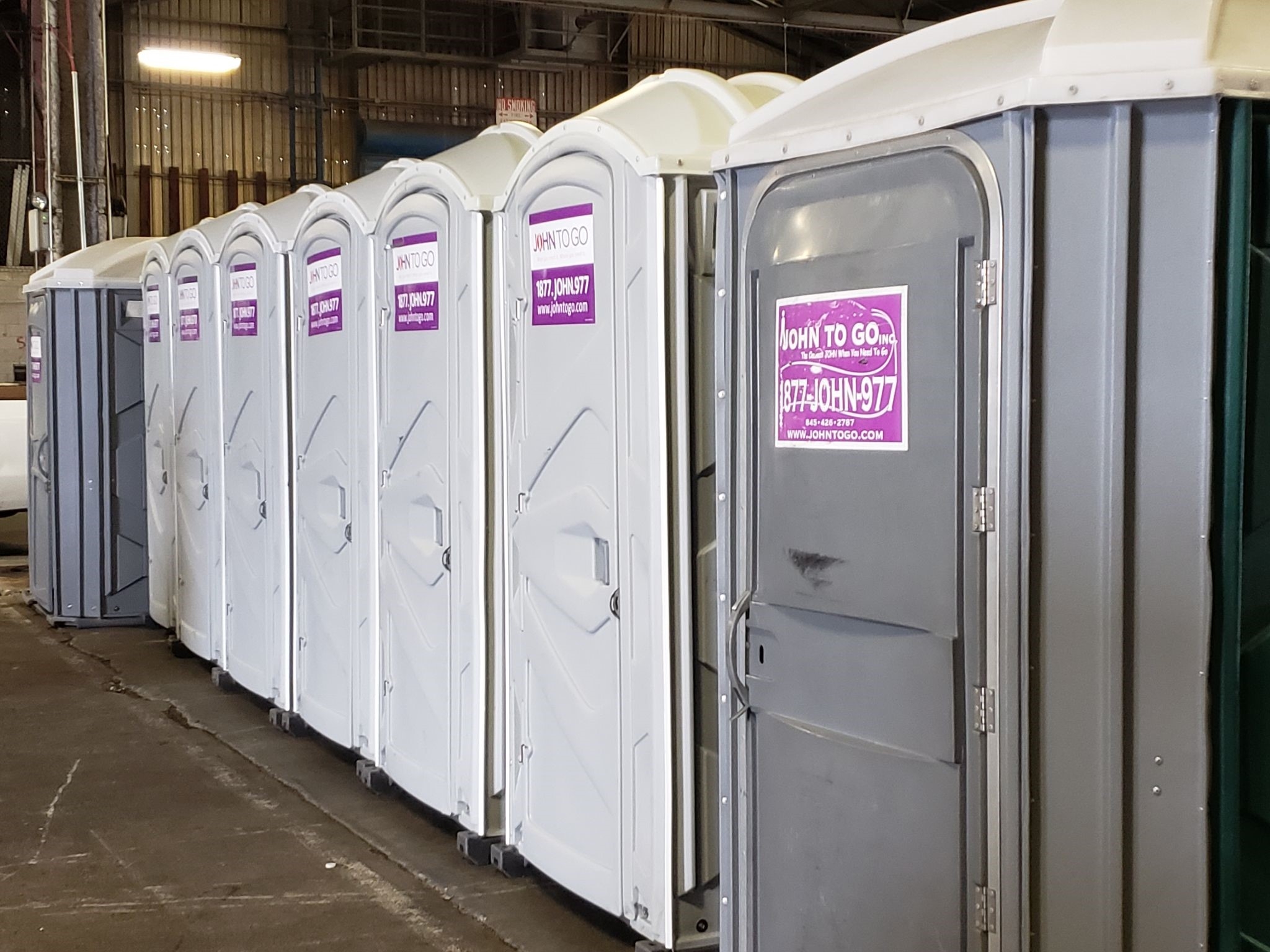 Wheelchair Accessible/ Handicap bathroom rental
At John To Go, we understand some of your guests may require wheelchair-accessible options. We provide ADA Compliant Portable Restroom with wider doors, larger interiors, and handrails for safety. Although sizes can vary, most handicap bathroom rentals are between 62 and 77 square inches. All our wheelchair-accessible options pass all safety codes and are designed to serve your disabled guests' needs better.
Bathroom rental tied to main sewer line
Some of porta john rental near you in Passaic County is designed to be connected to the main sewer line for a full flushing and exceptional smelling experience. These units are ideal for long-term rentals such as construction sites with long-term contracts. Although it will cost you a little more than standard porta-potties, the short-term expenses can be recouped by the reduced need for regular servicing.
Full-range portable trailer bathroom rental near you
If you are hosting an upscale event, you definitely need exclusive bathroom options. Our highly customized trailers will not only get the job done, but you also get several options to choose from:
Mobile Restroom trailers: they come as two or more standard porta potties on wheeled trailers. These units are ideal for agriculture work environments and the mobile construction crew.
General-purpose restroom retailers in Passaic county- these trailers are designed to offer mobility and cost savings. They are perfect for disaster sites, assemblies, and events. They feature larger restrooms with handwashing stations inside. Most units are equipped with towels, mirrors, and more.
Luxury john restroom trailers: the luxury John restroom trailers boast a long list of amenities, including full electricity, air conditioning, cabinets, toiletries, and furniture for waiting areas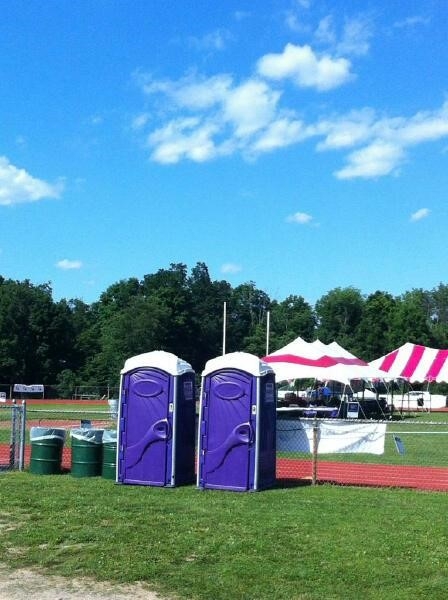 Why John To Go Is the Right Provider for Porta Potty Rentals in Passaic County
Quick response time: At John To Go, we have invested in highly interactive procedures that kick in immediately from the initial phone call or online request. This ensures you receive your equipment and services quickly, even with short notice.
Diverse equipment: John To Go has more than 40 service trucks in the tri-state area with a new one added each month. Come rain, shine, snow, ice, or smog; you can be sure to get our services on time, all the time.
Trained professionals: With trained professionals that deliver and service the units, the provider ensures there is no downtime or negative experience for your guests. Service workers are well trained on cleaning and disinfecting each customer's porta John rental with high-grade disinfectants. John To Go enjoys unrivaled positive reviews online thanks to their high level of professionalism.
Expansion and improvement: the provider is dedicated to constant expansion and improvement. We retire our units every two years to ensure customers are receiving top-of-the-line options within the industry.
CHOOSE FROM OUR EXTENSIVE SELECTION OF PORTA POTTY RENTALS
FAQs About Porta Potty Rental in Passaic County, New Jersey
What are portable toilets made of?
Porta potties are made from robust, lightweight plastics. They come with non-slip rubber flooring and translucent roofs to let inadequate sunlight. They also have ventilation systems to keep odors out.
Do porta potties smell?
If you have used a substandard smelling porta potty before, you may be nervous about renting one for your project or event. However, at John To Go, we use the best cleaning and deodorizing products available on the market. This guarantees that your toilets smell fresh and are pleasant to use. You'll be glad to have John To Go available for a porta potty rental near you.
How do porta-potty users wash their hands?
Most porta potties are not equipped with handwashing water points. Instead, they feature a hand-sanitizing dispenser mounted on a wall. However, during large events, hand washing points can be strategically stationed outside the units for the guests and everyone else to use
How is human waste disposed of in portable toilets?
At John To Go, we dispose of the wastewater according to the local wastewater facility regulations. We care about our environment, and with port o potty rental from John To Go, you can rest assured the waste is being disposed of in the most sanitary way.
How often do you empty a portable toilet?
John To Go provides weekly services for all our in pottie John rentals. Additional cleaning services are available upon request.
How do I keep portable toilets from freezing in cold water?
A big concern of porta potty rentals in Passaic County is the cold, freezing winter weather. During the usual cold months, our highly trained staff mixes antifreeze with deodorizing water in the tank. This keeps the water fluid and unfrozen for extended periods. It means that you can still hold events in winter or continue with your construction works without worries about toilet malfunctioning.
How much does port o potty rental in Passaic county cost?
The overall cost of our portable toilets will depend on your needs. The standard units may cost $160 per month, with more upscale options going for $295-$500 for a month. We also provide add-ons, including freshwater tanks, hand washing stations, and powerful lights. John To Go also provides security booth rentals and restroom trailers.
Can Porta Potties be used indoors?
Although you can use porta potties indoors, you must remember, they do release gases that are not ideal for indoor environments, so it's best to keep the porta potty rental near you for the outdoors.
Call John To Go for Passaic Porta-Potty Rental Near You
John To Go is a conscientious, family-owned, and customer-focused company. We spare no effort in providing the best for our customers. When you need porta potties in Passaic for any event or occasion, John To Go is your top choice. Get in touch with a representative to learn more about how we can help you with your needs.

(305) 722-5149
AREAS WE SERVICE IN PASSAIC COUNTY, NEW JERSEY:
Bloomingdale
Clifton
Haledon
Hawthorne
Little Falls
North Haledon
Passaic
Paterson
Pompton Lakes
Prospect Park
Ringwood
Totowa
Wanaque
Wayne
West Milford
Woodland Park
HEAR FROM OUR CUSTOMERS:
Scotchtown Builders
Special Events, August 08, 2018
we have a super good experience with the service you provide, very professional and courteous. Thank you
Myriam Murphy
Special Events, August 03, 2018
I was very impressed with the service provided and the cleanliness of the john
Arlene Christopher
Special Events, August 02, 2018
Reliable cheap great service. Friendly staff .helpfull.clean toilets also .recommended to anyone
Porta Potty Rentals Near You

Find out where to rent portable toilets