How to Celebrate an Engagement with a Great Party
This is it. What you've been waiting for ever since you started dating and first thought this one might be the one. Your engagement.
It's time to start planning for your wedding and dreaming about the future. But there's actually so much that happens in between where you are now and getting to that wedding. One of those things is the engagement party. But if you're not sure how to celebrate an engagement don't worry, because we're here to help.
What is an Engagement Party?
An engagement party is exactly what it sounds like. It's an opportunity for you and your special someone to celebrate your engagement. It's not a run-of-the-mill party - it's all about you and your special someone and the fact that you're making a promise to commit to each other.
How to Celebrate an Engagement
So, just what do you do to plan your engagement party? The truth is there are plenty of things to think about - whether you're considering a garden party engagement, an engagement party on a budget, or even a cocktail engagement party. The important thing is to have an event that fits you and your special someone, and really celebrates the occasion of your engagement.
If you're looking for some ideas and assistance with how to celebrate an engagement, you need to start thinking about each of the different aspects that go into it, and if you're thinking about engagement party outdoor ideas, you'll definitely have some important considerations.
Engagement Party Locations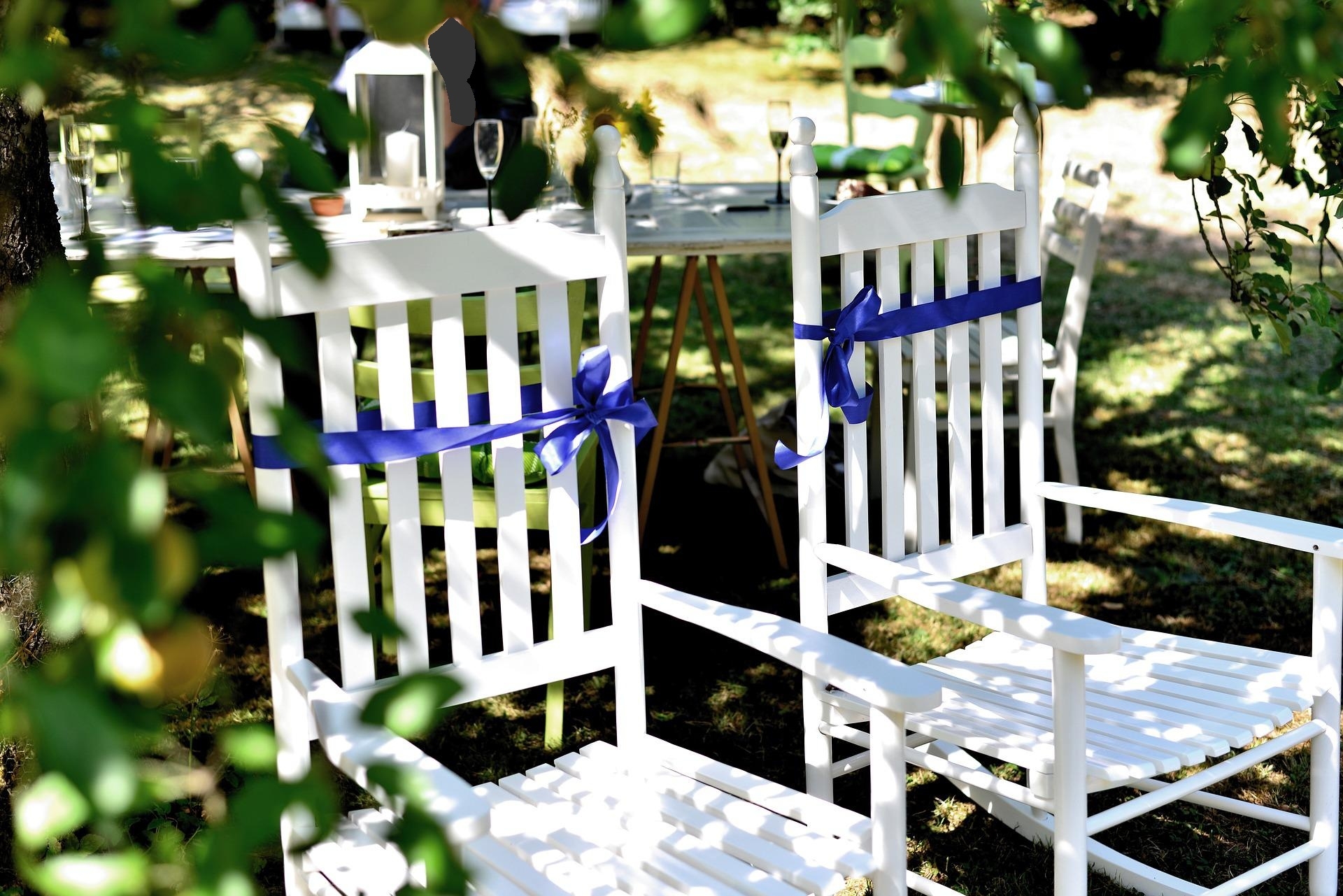 When it comes to engagement party spaces, you'll have plenty of options, but it's definitely important to think about places that mean something to you and your special someone. Maybe you met at a local coffee shop or your favorite thing to do together is go to the local vineyard. If that's the case, those are great places to have an engagement party.
The great thing about engagement party outdoor ideas is that you and your loved ones can really spend some time together, and you don't have to worry about decorating a fancy venue, or a lot of the expense. Outdoor locations are usually less expensive and they give you even more freedom and flexibility for what you want to do.
But if you're looking for engagement locations near you, you can always have a small backyard engagement party or look up entirely different or creative alternatives for places to hold engagement party celebrations.
Do you want an engagement shower that's more elegant and stylish or are you looking for something rustic and casual? It's going to be up to you once you figure out the right places to hold engagement party. And then start thinking about things like the season you're going to be having your party in.
Some summer backyard engagement party ideas might include a true garden party with lots of flowers and maybe even a tea party if you're into more charming Victorian style.
Or maybe you need winter engagement party ideas like a hot chocolate bar and your favorite warm foods.
Some engagement party themes for fall might be rebirth and new beginnings, or even Halloween if you're so inclined.
Of course, there are plenty of different options for outdoor engagement party ideas and engagement party colors. With an outdoor engagement party, you're going to have the weather and the part of the country you live in dictating some of what you can do. But if you really want to celebrate engagement, it's a great way to do it.
The engagement party venues that you're considering will also dictate what you can do as far as theme. A rustic barn might not lend itself as well to a tea party. But someone's backyard garden would. That means the best venues for engagement parties will depend on your interests and what style you really want.
Another option is that you could choose your engagement venues first and then decide on the theme after.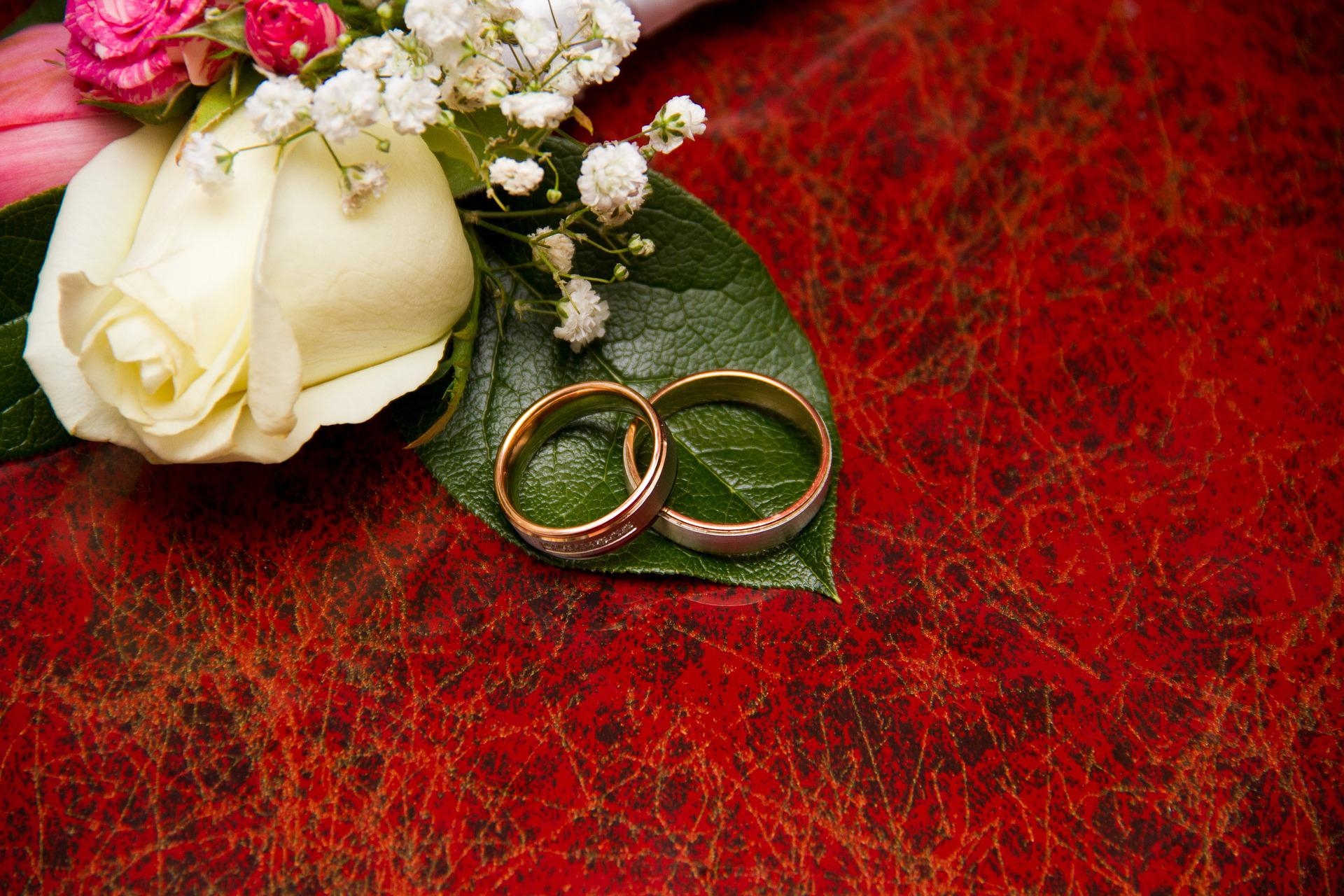 Another fun part of how to celebrate engagement is with the décor. After all, celebrating an engagement is all about having some fun, right? You may want to know how to throw an engagement party on a budget, but that doesn't mean you want to skimp on décor, like cute engagement signs or fun centerpieces. You want to know how to celebrate engagement in an inexpensive but still nice-looking way.
You can use flowers as a great way to decorate and it can be expensive or budget friendly, however you choose. With flowers you can use wildflowers or ones that you grow yourself to save money. Or you can purchase beautiful flowers, centerpieces and more to increase the style and make them truly gorgeous, but on less of a budget.
You can also use decorations like banners and tablecloths to really make your space look special. When it comes to affordable engagement party ideas you can skip a lot of that as well, and simply set out some fun pictures of you and your special someone or some of your favorite candy or other treats. (Plus, this fits right into the next category of food for engagement party at home.)
No matter what the theme you want for your party you definitely need food for an engagement party, right? Well, you'll want to think about the foods that you like and that your partner likes. The food you choose could depend on what you're looking for. If you want engagement party food ideas casual style, you could choose sandwiches or even go completely casual with foods on the grill.
If you're looking for something more stylish, like a cocktail engagement party, you could serve hors d' oeuvres. That could be a number of different mini items like mini tacos, filo snacks, and a whole lot more. In fact, just about anything could be a cocktail dish with a little bit of editing.
Finally, if you want a truly elegant affair you may want to look at catered foods that will really class the thing up. You'll definitely have fun choosing the dishes that you like best, and you can give your guests something more to enjoy as well.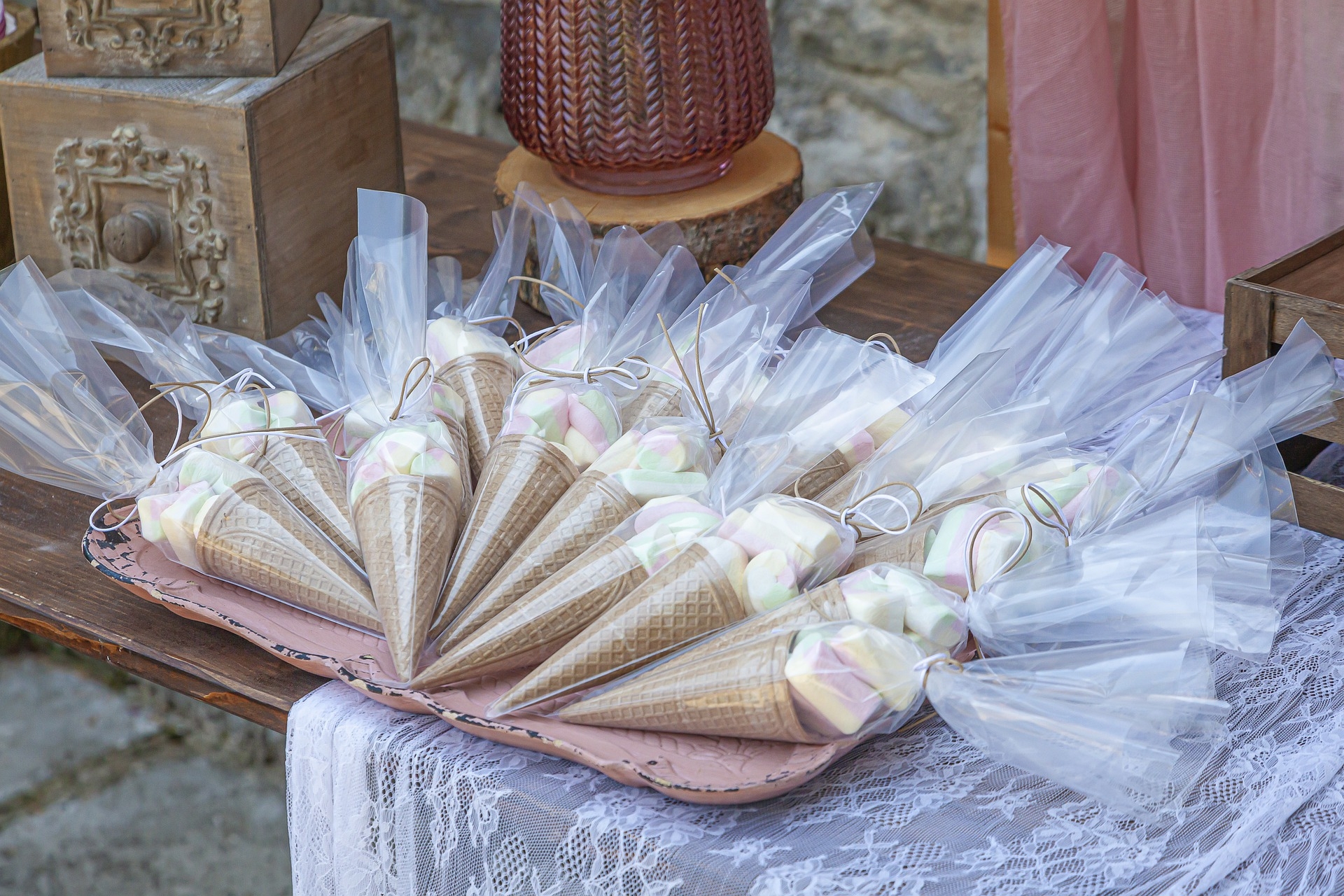 Should you have party favors for your engagement party? Well it's going to be entirely up to you. You could choose to have some party favors for people that show up to your party. These could be little mementoes that include photos of the two of you, bubbles, or some type of treat that they can enjoy.
Favors are definitely not required and not all engagement parties will have them, but you can use them to have a little more fun or to show your guests you care about them. You want to celebrate, after all. In general, favors can be just about anything you like that fits you and your partner (and is fun for your friends).
Some people might be wondering if they should bring gifts to an engagement party. Now, it's not necessary to have gifts but some people like to do so anyway. The specific type of gift is up to the person who brings it, but engagement party gifts will generally be smaller items or perhaps money that can be used toward the wedding celebration and planning.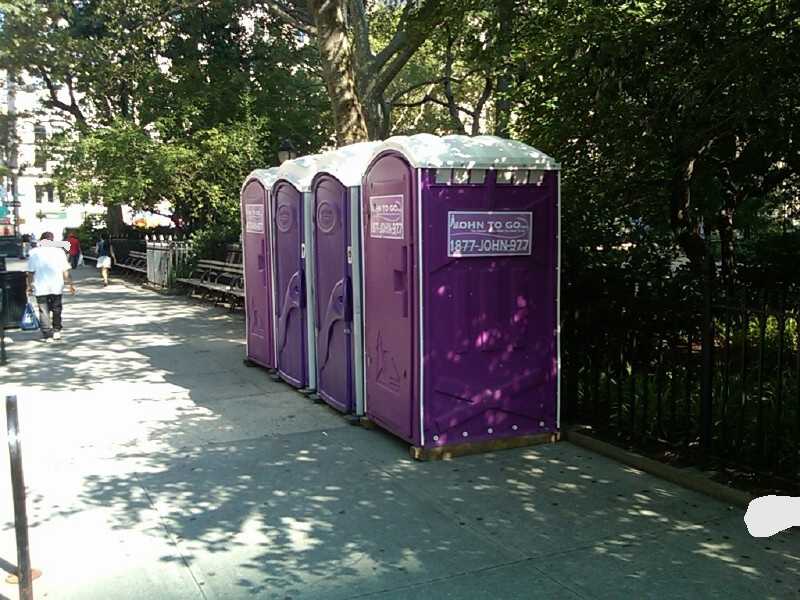 When it comes to planning a wedding event outside, you definitely want to have all the things you need to make your guests comfortable. And that includes having porta potties for special events. You want to make sure that you have something that will keep your event clean and your guests happy too. Portable restrooms will help with that.
Of course, you don't want just any adult porta potty for your engagement party, bridal shower, or anything else. You want a fancy porta potty that will fit your theme and your needs for the day. That includes a porta potty that's higher end than anything you've used before.
John to Go offers not only high end porta potties, but restroom trailers as well. These provide you with all the features you can expect from a standard bathroom, but outdoors. In fact, you'll get sinks, separate stalls, air conditioning, speakers for music and sound, and a whole lot more in these trailers, which makes your guests even happier.

When it comes to porta potty rentals for parties you want more than just the standard. You want luxury event options and event portable toilet rental that will work for all of your needs, no matter how many people are coming to your celebration. Not only that, but you want something that is going to set your event apart from others, and provide an even better experience for your guests.
A handicapped unit will allow for even more comfort for all of your guests, making it easier for everyone to get around. You could also choose a premium event porta potty that will give a little more space or an ambassador porta potty for the best of our quality and features. But regardless of the specific unit you choose, you'll benefit from John To Go's customer-centric business model, clean and sanitary portable restrooms, and reasonable rates.
So whether you're seeking mobile restrooms for a construction site, seasonal rental, disaster relief situation, or just a neighborhood event, we guarantee you'll be pleased with the service you receive!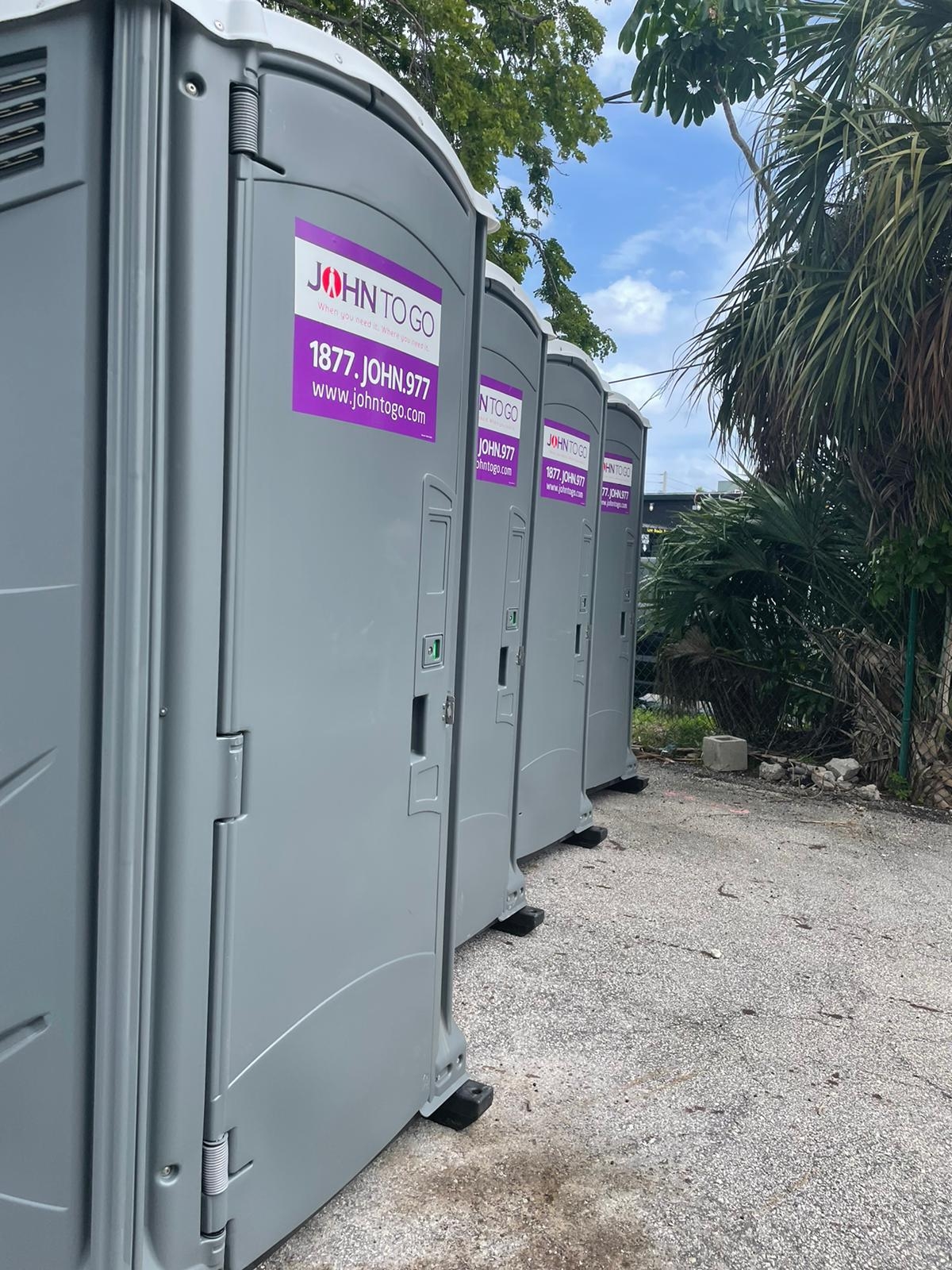 Porta Potty Rentals Near You

Find out where to rent portable toilets