Seasonal Long Term Porta Potty Rental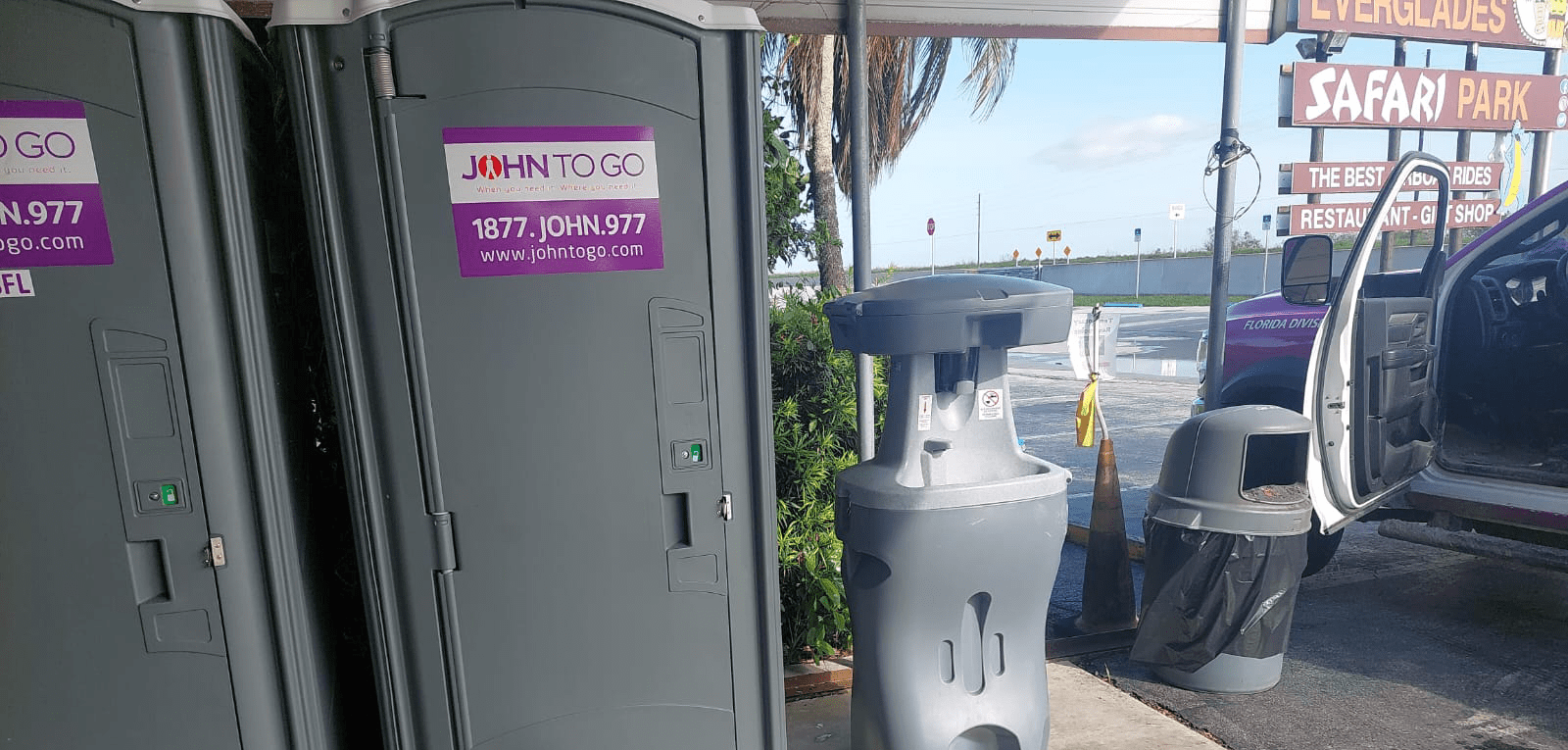 Long-term porta potties are an excellent choice for events or seasons when you need to expand your restroom availability for a high-peak season. Long-term porta potties can be rented for weeks to months at a time, giving you the convenience of porta-potties-on-demand for an entire season's worth of events.
A seasonal long term porta potty rental is more cost-effective than a short-term rental because you get better deals and perks for long-term rentals. Also, when you rent outdoor bathrooms you have the assurance and peace of mind of knowing that your location is equipped with the facilities you'll need for the season, without the stress and hassle of dealing with frequent bathroom shortages.
If you're running an outdoor event or business and want it to run smoothly, you need to make sure that everyone has an easy time finding an outdoor porta potty rental that's accessible and clean. That's where long term porta potty rental comes in. With a reliable, convenient solution like these porta potty rentals, your guests will be able to focus on the fun things in life—not have to worry about finding a restroom in a moment of desperate need.
Long Term Porta Potty Seasonal Rentals: Meeting the Demand
As humans who enjoy a range of recreational activities and sports during various seasons and in different settings, your need for porta potties fluctuates. Restroom facilities that are sufficient for a quiet day will not cover visitor's needs during prime season. To give you that flexibility and coverage, here are some venues and events that benefit from John to Go's products and services:
Public or national parks
Parks and other recreational facilities are perfect for visitors, hikers, and families because they let kids run free and have fun playing in nature. But what's not so great about parkgrounds is that there are often limited restroom options available, as the grounds usually span many acres, and a built-in public park bathroom may be limited to one or two visitor centers or the main service building.
Public and national parks usually see a higher volume of visitors in the cooler morning hours as well as after work and school hours, on weekends, or on holidays. So, if you manage an outdoor sports area, an event area, or a park system, you'll frequently have onlookers, visitors, families, or participants at your location for hours at a time.
If you want to invite visitors to enjoy and appreciate your park and activities even more (which will encourage return visits), you should provide them with portable restroom facilities. With an outdoor porta potty rental, you can keep visitors, parents, children, and hikers comfortable no matter how long they stay at the park. And that's where we come in. At John To Go, we offer different types of on-site public bathroom park units that are aesthetically pleasing, well-kept, and user-friendly for both the old and young. And with seasonal rentals, you can rent them only for the season or time frame that they are on demand, so you are not paying for outdoor bathrooms during off-peak times.
Beaches are one of the most beautiful places on earth, but they also have their limitations when it comes to restrooms. If you've ever been to a beach, you know that there are a lot of people out there. And while the sand and sun are great, they can lose their appeal when you're pressed and need to use the restroom but can't find any.
When you're out on the beach, you want to be able to relax and enjoy yourself. But what do you do if there aren't any available restrooms nearby?
Over time, many have built their own beach houses, but most of the time, that's barely enough. Summer vacation means lots of beach days with many people at the beach. In seasons like this, you want to make sure there are enough outdoor porta potty rental units for beach visitors to use. You can choose to use a monthly porta potty rental where you rent portable restrooms for months at a time for the entire summer period.
Restroom trailers are also a very important addition to the restroom facilities at the beach. Usually, restroom trailers with showers are preferable as they provide a safe, clean place to change and wash up after swimming.
When you're playing golf, you want to enjoy the experience. As a golfer, you know that the only thing worse than missing your tee shot is having to wait for a porta potty. If you own or run a golf course, it's important that you have enough portable toilet units to cater to golfers and sightseers on your course.
The summer months can be busy for golf courses, and with the active season comes more people who are eager to play the sport. It's important for a golf course to be able to comfortably handle all of its guests, but it can also be difficult when there are more people using the facilities than they have available. Going for long term porta potty rental units in the summer is an excellent way to solve this problem while also saving you money on maintenance costs by removing costly plumbing work from your facility's yearly budget.
Skiing is one of the most popular winter sports, with millions of people hitting the slopes each year. There are lots of activities for people to do in a ski resort, from snowboarding and snowshoeing to ski jumping and downhill skiing. But if you run a resort, you'll know that it's not just about hitting the slopes and having fun. For example, what do you do when people need to go to the bathroom in between runs?
If you're looking for a way to keep your business running smoothly during this busy time, consider renting outdoor porta potty rental units at your ski resort. With porta-potties onsite, you can rest easy knowing that your facility can accommodate the all-around needs of its guests without any issues. That's why we offer portable toilets in upstate New York, Maine, New Hampshire, Vermont, and lots more!
At John To Go, we offer heated restroom trailers and will roll them into your resort before the season's first snow hits! Our restroom trailers are designed to be clean, sanitary, and comfortable. The temperature inside the trailers can be manually adjusted and the flooring is made of durable materials with a non-skid backing to prevent slipping or sliding. Our restroom trailers also come in various sizes and are equipped with modern plumbing fixtures and amenities.
Festivals are a great way to bring people with similar interests together from all walks of life. You can choose to host seasonal events or festivals centered around culture, food, music, or what have you. As an outdoor event organizer, there are many things you must put in place to ensure that your events run smoothly. And one of these is a long term porta potty rental.
Sadly, people sometimes come to events or festivals that last for hours without having a suitable restroom to answer nature's call. When people attend events or festivals that stretch for hours at a time, they will need to use the restroom at one point or another. And if they cannot find outdoor porta potty rental units when they need it, it doesn't speak well of you, your business, or your event planning skills.
As a business owner hosting a corporate event, you can rent porta potties for long term use and request to have the units branded in line with your business. This can help promote your brand to the world, as a mobile bathroom is a destination that most visitors will pass through at some point during an event.
As an example of our experience servicing seasonal events, for many years we've been providing nice porta potties for the BRIC event (BRIC Celebrate Brooklyn!) in Prospect Park, NY.
BRIC is one of the city's foremost summer cultural attractions, with a free outdoor performing arts festival that runs continuously for 12 weeks of summer. In conjunction with the City, they make use of the city's parks, providing locals with seasonal outdoor entertainment, outdoor food festivals, street food experiences, musical experiences, and lots more!
BRIC attracts upwards of 200,000 attendees from across New York City each season. We supply several dozen porta potties and a few large restroom trailers to accommodate the needs of the crowds. With our large selection of units and supportive customer service, we make it a smooth experience for management and visitors alike.
CHOOSE FROM OUR EXTENSIVE SELECTION OF PORTA POTTY RENTALS
Florida's winter is a time of year when Florida is not only beautiful and vibrant but also an ideal place to enjoy your favorite outdoor events. From festivals and sporting events to seasonal celebrations and cultural events, there are plenty of opportunities to enjoy Florida's pleasant winter season.
Florida's winter season is unique with its own unique set of events to celebrate and enjoy. Christmas season begins on December 1st and lasts until January 6th, and it is a focal point of the season. People from all over the world come to see their families and friends, have fun, and spend time with them. During this period, there are many parties, concerts, shows and more.
"Winter Festival", which lasts from December 17th until January 7th, is another seasonal event that attracts crowds. During this period, a variety of festivals are held in many towns around Florida, and they include contests, competitions, and other popular attractions and activities.
If you want to make sure that everyone attending your event has a great time, you will need porta potties on site. Your best bet is a reliable long term porta potty rental to serve you throughout the seasonal events during this period. So, whether you're hosting a 5K run, offering food, or running parks, we can provide clean, heated bathrooms to ensure your guests are comfortable.
John To Go Meets Your Long Term Porta Potty Rental Needs for Your Seasonal Rentals!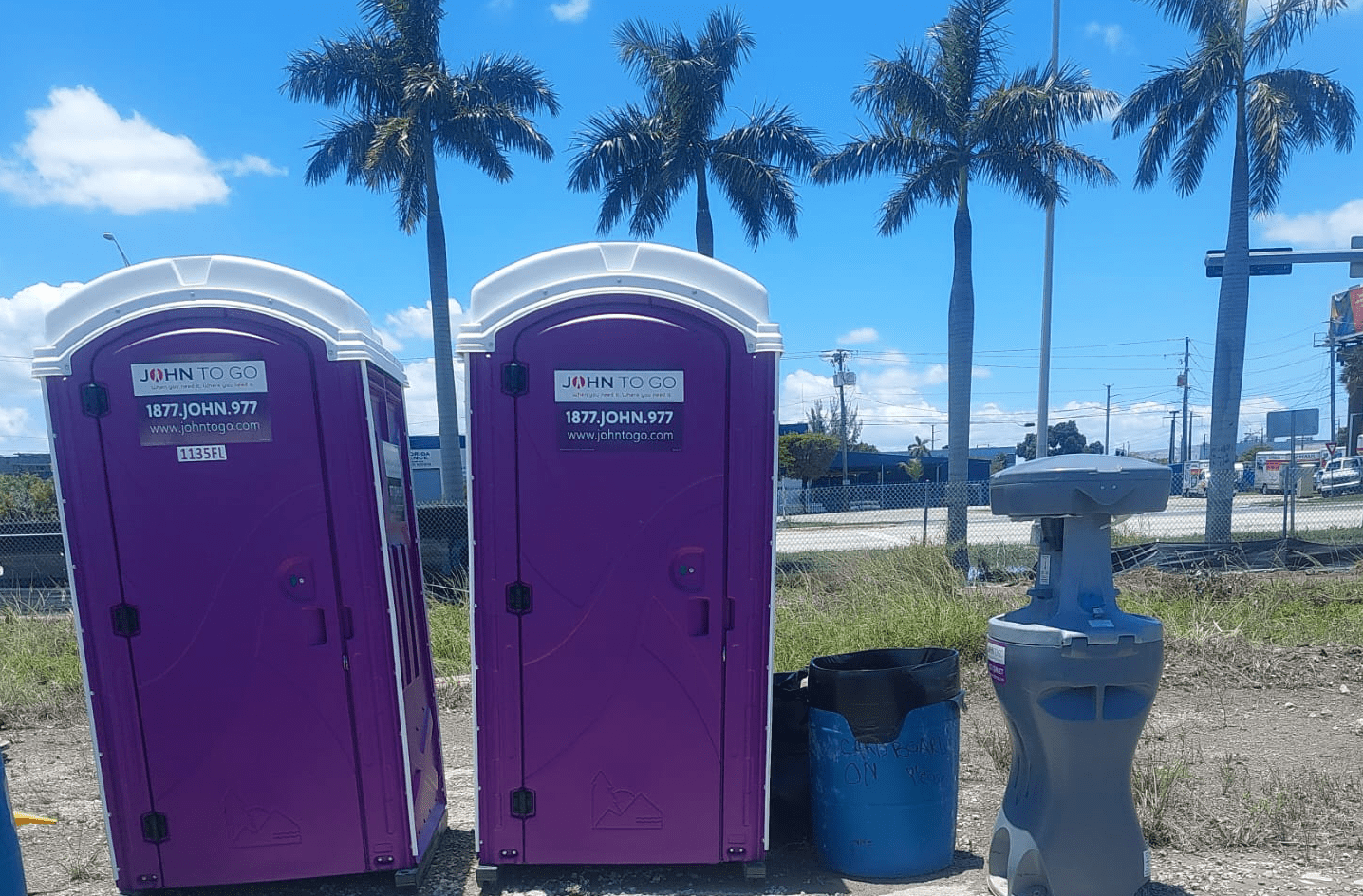 If you're renting a long-term porta potty, you want to be sure that you're getting the right one for your needs. So, whether in spring, summer, or winter, you can count on John To Go for your outdoor bathroom rental. And whether you plan for more or fewer people at your event, we can help you meet all your porta potty needs. After all, you don't want to waste time and money on something that doesn't satisfy your needs.
At John To Go, we understand this very well. That's why we have an array of outdoor porta potty rental units available at affordable prices—from basic to premium models! We also have these options available in a wide variety of sizes and styles. So, whether you need something small but solid, medium-sized or oversized with flush capabilities, we can help you find it!
You can get a deluxe porta potty rental or even a luxury upscale porta potty rental for luxury resorts, golf courses, etc! Our goal is to make sure that your long term porta potty rental experience is as pleasant as possible. That's why we offer such a wide selection of models with all sorts of features. With so many units available for rent at once, we make sure to have them ready for you when needed.
And what if you want a luxurious mobile bathroom with music and other amenities? Or maybe even something that has its own power source so that it doesn't need electricity? Well, we've got that covered too with our selection of luxury restroom trailers!
Our strong customer service and support make us the best choice for all your seasonal rental needs. We are always ready to listen to you, answer your inquiries, as well as thoroughly clean, service, and stock your rental units as often as needed!
But what's the cost of outdoor toilet rentals at John To Go? Our portable bathrooms for rent start at as low as $140 per month! And when you rent for an extended period of time, we discount your pricing (the longer you rent, the lower the rate!)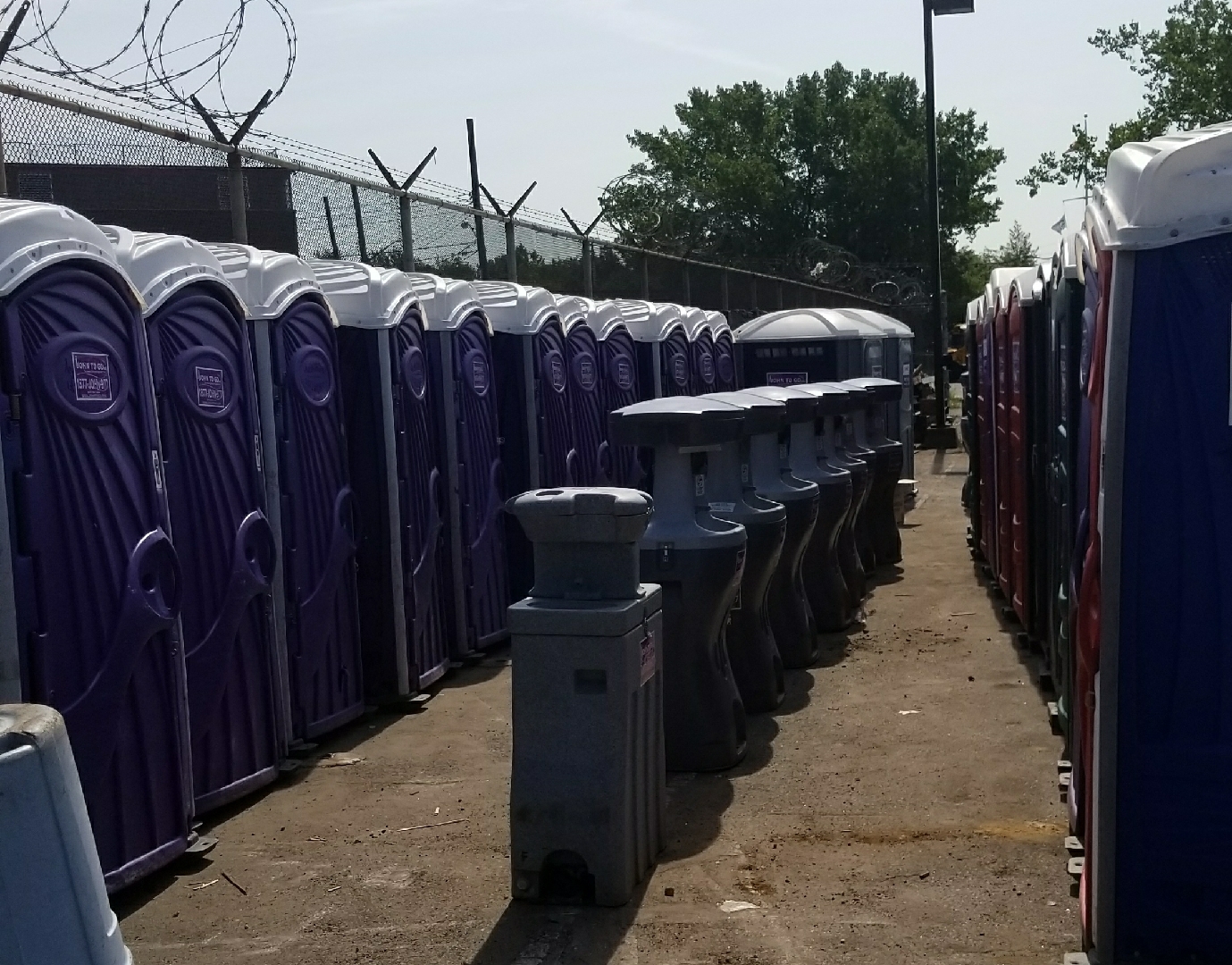 FAQs
What is the porta potty rental cost at John To Go?
So, what is the porta potty rental cost per month at John To Go? And what is the porta potty with sink rental cost? A premium JTG porta potty event unit costs about $195 to $215 per month. The basic construction unit costs $145 to $195 per month, and the ADA handicapped unit costs about $290 a month.
If you need a flushable porta potty, you can get the Ambassador flush Deluxe ranging from $310 to $365 per month, with the Ambassador oversized flush unit price ranging from $440 to $500. You can also rent urinal units from $264 to $310.
What are the perks when I go for a long term porta potty rental option?
Together with the peace of mind knowing you are set up right, long term porta potty rentals give you discounted rates. At John To Go, when you rent porta potty units for an extended amount of time, you get discounted pricing. Rentals over 3 months in duration save on the $50 delivery fee. That means if you want to rent a porta potty for 4 months, your cost per month will be reduced! John To Go also offers up to a 12% discount when you rent 5 or more units at a time!
What's it cost to rent a porta potty for 6 months?
How much does it cost to rent a porta potty for 6 months? If you need to rent a porta potty for up to 6 months, the cost will depend largely on which porta potty unit you choose and the frequency of servicing you require. Get immediate pricing on our website based on your specific needs, or reach out to us and we'll be glad to do the legwork for you. When ordering for a 6 month period, you can feel confident that your porta potty needs will be taken care of - to the T!.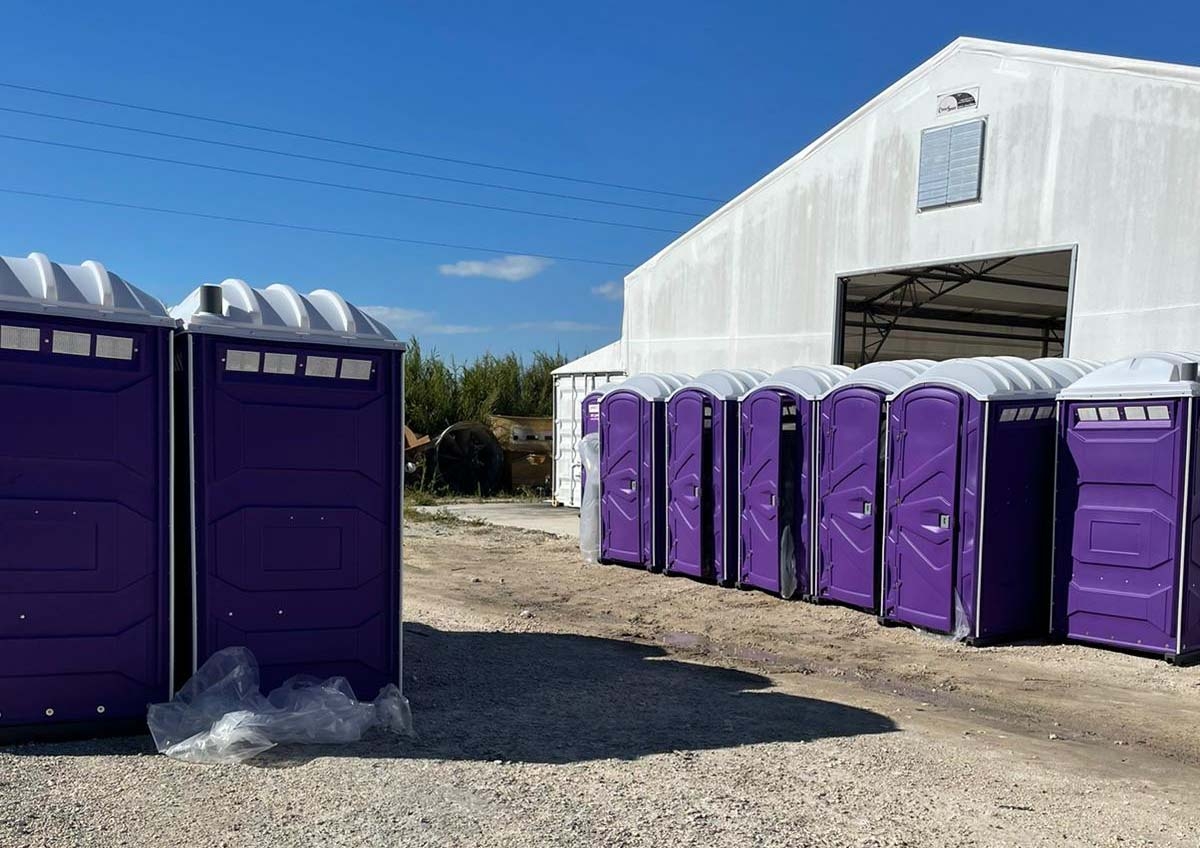 WHAT OUR CUSTOMERS ARE SAYING





Lip Ferraro
July 21, 2018
I contacted John to Go to empty and dispose of my RV black tank waste, and they responded quickly with a good quote… They were so efficient – I don't even know when it was they came.





Tim Dwan
July 29, 2018
The unit we ordered met our needs, and most importantly, it arrived right on time.





David Collado Bronx NYC
August 15, 2018
I've been using John to Go services for the past 10 (+) years for the annual block party celebration in my neighborhood. Their prices cannot be beat and the units operate precisely as described… I continuously recommend them to family and friends.





Applewood Orchards
Special Events, September 16, 2018
The John to Go team has bailed us out of a number of situations and consistently provided first class support!





Kathleen Cebollero
Special Events, August 23, 2018
JOHN TO GO was the only company I could get in touch with and would work with me on a Sunday. They had a personable gentleman deliver and pick up the unit at the park that same day, per the park requirements… With all this, the price was reasonable. THANK YOU!





Andrea Proeschel
Special Events, March 12, 2018
The guests at my daughter's wedding were amazed at how luxurious the rolls Royce portable bathroom could be, to the extent that word was spread to use the restroom ☺.
Show All
Porta Potty Rentals Near You

Find out where to rent portable toilets