Renting Portable Toilets, Mobile Restrooms & Shower Trailers near Rockland County, NY
When it comes to running a job site or an event of any type you want to make sure that you have all of the equipment you need to take care of the people there. This includes having a portable bathroom rental that is sanitary and comfortable for workers and visitors.
If you're required to meet specific OSHA requirements, finding a reputable company near you to service your porta potty rentals is the best way to do it. You can rest assured that you'll have exactly what you need to meet all the OSHA porta potty rental requirements — and then some — for your Rockland County site when going with John To Go. They have 36 trucks on the road, spread throughout the region, and they are constantly adding more trucks to the service fleet. They will make sure to keep your porta potty rental clean and well-supplied.
Events can be a whole lot of fun for all of your guests, but when those events are held outdoors and you don't have portable toilet rental arrangements for your guests, you're not being much of a kind host, are you?
That's where John To Go can help. We can provide you with the Porta potty rental that you need to make sure your event is clean, comfortable, and hygienic. Furthermore, your porta potty rental will remain in compliance with local ordinances of local and nearby government requirements and will keep your guests happy.
Our team, at John to Go is the top supplier of all forms of portable restrooms, sanitizing stations, sinks, and more conveniences that you'll need in conjunction with a John To Go portable toilet rental and more throughout Rockland County, NY. That means when you work with us you're going to have everything that you need for your porta potty rental, whether it's for a few hours, a few days or even permanently.
The options are endless when it comes to choosing the right bathroom rental, NY for your next event or job site. That's because there are all different types, styles and sizes of of porta potty rental units available. We know that you want to get everything your team needs and we will help you to do it by offering you the ideal portable toilet rental options.
From there, you can even choose an option that fits your budget and choose to rent or buy. That way, you'll have the services you need for whenever you need them. We make sure to offer some of the most competitive porta potty rental prices in Rockland County, NY so you don't have to worry about getting the right deal. You can count on us to take care of you and use any of our porta potty rentals anywhere in and around Rockland County.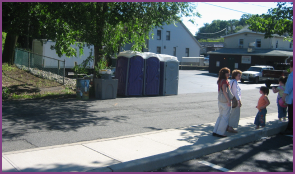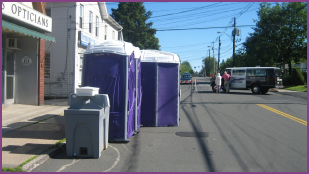 Portable Toilet Rental in Rockland County
Rockland County, located just 30 miles north of New York City, boasts extensive parklands, historic grounds, spectacular scenery, outdoor recreation...and plenty of opportunity for portable bathroom rental NY!
With a third of the County's area as parkland, John to Go's portable toilet rental in Rockland County fills a much needed niche. Rockland boasts a wealth of State Parks with spectacular scenery, whether it's Bear Mountain State Park, Harriman State Park, Nyack Beach State Park along the Hudson River, or Rockland Lake State Park. For visitors attracted to these sites as foliage is in full bloom, during the heat of the summer, or as leaves change colors in the full, bathroom rental NY are available to ensure visitors' needs are attended to.
And if recreational activities suit your style, there's plenty of opportunity for you in Rockland County as well. Ranging from swimming and fishing to hiking and boating, from camping and horseback riding to skating and sledding, you can keep active with healthy pastimes year-round. As you spend time outdoors, you'll surely notice John to Go port a potty rental NY portable restrooms along the way. For those going off the beaten track (literally) for an extended group camping experience, restroom trailer rental NY with shower units are available to you with a standard that may be higher than your home accommodations! And if you're one of those avid golf and tennis players who anxiously anticipated playing from season to season, you've probably already benefited from bathroom rentals in the various grounds you've been to.
If you drive around the local streets, you'll notice that portable toilet rental in Rockland County is well in demand there as well. Suburbia hosts expanding communities that require construction to support the housing needs of a young, growing population, and many development projects are underway. Each construction site needs porta john rental NY arrangements for the duration of the work.
As leader in the porta potty rental NY industry, John to Go's position as one of 'The Big 5' in portable toilet rental NY is a reputation they truly deserve. For clients who want long-term rentals to those seeking short-term portable restrooms NY with last-minute notice, John to Go will not let you down with your portable toilet rental! Run by a management team that models flexibility and accommodation, each client's request is valued and addressed. The impeccable service that's given for each and every porta potty rental NY makes you feel like you're the only customer out there...but rest assured you're in good company! Because there are many porta john rental NY clients who feel just as satisfied (and gratified) as you do with their porta potty rental! And if you ever need support with your portable toilet rental in Rockland County, you know that John to Go will be there for you in a timely manner! In order to service their customer base for portable toilet rental in Rockland County, they keep a fleet of trucks in the vicinity to allow for quick response time. And porta potty rental nj prices are so reasonable it makes port o potty rental a no-brainer! So go ahead and reach out for any porta potty rental NY needs you may have, big or small!
Rest assured that regardless of where you're traveling in Rockland, or how you're spending your time, you can fall back on portable toilet rental in Rockland County to handle your porta potty NY needs! So whether you're touring the parkgrounds, playing golf, or shopping at the Palisades Center, you can be sure John to Go has you covered with the best rent a porta potty NY options!
Choosing the Top Porta-Potties For Your Event
Are you looking for porta potty rentals, NY but aren't quite sure what you're looking for? You have likely seen porta-potties around town and even while you're traveling before. But if you're not really looking they may all look the same. The truth is, they're definitely not.
There are plenty of different types of porta potty rentals out there and we have them all. So, it's going to be up to you to decide just what you need most for your location. Feel free to contact us for any questions you may have.
Here's what to look out for before renting a porta potty in Rockland County, New York:
Pickup and delivery cost – One factor that you can take a look at are the pickup and delivery costs for the porta potty rental unit that you select. Each unit is going to be a little different in each of these areas because they are different sizes or require different setup to make sure they're ready to go. If you have a budget in mind, this is something to look at closely.
Rental length – How long do you need the unit for? Shorter lengths of time may not require as advance of features as longer spans. If you're renting a unit for only a short period of time, such as a few hour event, you may be able to get a smaller or less advanced unit. On the other hand, events that will take several days, or if the nature of the event is such that you want to treat your guests, more royally, or you have a need for a porta potty on a job site somewhat long term, your needs may be very different and you may need more than just the basic amenities.
Quantity of rentals – How many port-a-johns do you actually need for your site? You can choose a single unit or multiples. In fact, you can choose as many as you want for the size event you are having.This also varies depending on the specific type of unit you decide to rent.
Maintenance needs – How long you're going to have the porta potty rentals also will dictate more of how much maintenance they will need. You can set up a schedule with us to decide when our team will come out to conduct routine maintenance, but it's recommended that this be done regularly, especially on porta potty rental units that will be out for extended periods of time.
Taking a look at each of these different factors will help you figure out more about what model of porta john rental you want for your event as well as what the porta potty rental costs will be.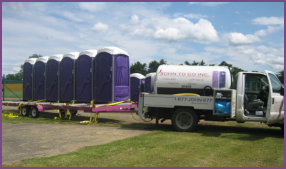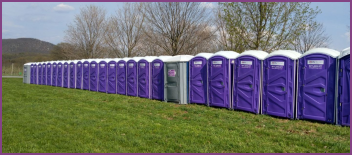 Port a Potty Rental NY Ready to Go
We provide all of our units according to your needs. All you have to do is let you know the exact number of porta potties you need, when you need them and where you want them delivered. From there, we make sure to get it done.
Your event is going to be a big hit, and with the porta potties you need ready to go, it's going to be a whole lot more comfortable for everyone as well. Not only that, but you can rest assured that we have a team that's there for you, whenever you need us.
We pride ourselves on making sure that everyone who needs porta potty rental in Rockland County can count on us to get it to them super quickly. And that's not all. We walk you through every step of the portable bathroom rental process to make the entire process quick, easy and affordable for you.
Rockland County Porta Potty Rental NY Options
If you're looking to purchase your own portable toilets for permanent or continued use we have plenty of options and models available for you. On the other hand, if you're looking for porta potty rental options all you need to do is decide which of the many models we have available are going to provide what you need for your Rockland County, NY event.
CHOOSE FROM OUR EXTENSIVE SELECTION OF PORTA POTTY RENTALS
FAQs - Porta Potty Rental in Rockland County, NY
We're going to take a closer look at some of the top questions that you may have before you decide to rent a porta potty NY from John to Go in Rockland County.
How much does it cost to rent a porta potty?
Basic portable toilet john's, typically used for construction sites, start at under $200 per month. If you're looking for an event space unit the cost starts at under $300 per month. The cheaper porta potties are very simple, no frill units, while the upgraded units may include flush capability, individual wash stations, and some other amenities not found in cheaper portable bathrooms.
How often does a porta potty rental need to be emptied?
In general you should empty a portable toilet at least once per week. This may vary depending on the number of people you expect to be using it in a single day. For example, large, ongoing events may need to have their unit emptied more than once per week to keep it sanitary. John to Go services its porta potty rental units once a week at a minimum, and offers additional cleaning services to make sure that everyone is safe and comfortable with their portable toilets. We keep trucks stationed within close proximity to all of our units and can be there in a jiffy in case of emergency.
How much water do you put in a porta potty?
When you're filling up the water tank on a porta potty you will need it to be approximately ¾ full. You can open the plastic cap at the corner of the toilet and fill the tank up with clean water. Do not fill it more than this or less as this can affect the way that the unit works and most definitely how often it needs to be emptied before the porta potty rental will start to smell.
What is the best porta potty?
The highest quality porta potty that we have available is the JTG Ambassador Oversize Flush Unit. With this unit you get not only the largest size porta potty available but also flush features and an individual wash station inside the unit. This makes it even easier and more comfortable for those who need to use the facilities.
Can porta potties be used indoors?
Porta potties are not designed to be used indoors. While it is not specifically forbidden, it is generally not considered sanitary or safe because gases are released as the tank fills. This can cause health concerns when the unit is used indoors.
If you're looking to rent a porta potty in Rockland county you can start booking right here. Or else, you can contact our team via live chat, by phone, or by submitting a contact form. We can get you the portable toilet rental in Rockland County that you need, and we can make sure that your porta potty rental is ready to go in no time.

(305) 722-5149
AREAS WE SERVICE IN ROCKLAND COUNTY:
HEAR FROM OUR CUSTOMERS:
Applewood orchards
Special Events, september 16, 2018
Have used your folks for years and think you do a great job. Your team has helped us out of a number of situations and has consistently provided first class service and support!!
Andrea Proeschel
Special Events, March 12, 2018
The guests at my daughter's wedding were amazed at how luxurious the rolls Royce portable bathroom could be, to the extent that word was spread to use the restroom
David Collado Bronx NYC
Special Events, August 15, 2018
Been using John to Go services for the past 10 (+) years for our annual block party celebration in my neighborhood, they are friendly, professional, their products are always clean, reliable and operate as described. Their prices also cannot be beat. I plan to continue using them for many many more years and have also recommended to friends and family. Very Happy Customer, Bronx NYC
Porta Potty Rentals Near You

Find out where to rent portable toilets