When you're hosting an event you want to make sure that everyone in attendance is going to be comfortable. That means making sure there are plenty of chairs, plenty of drinks and snacks, and one thing you might not think about. Porta potties.
The good news is, you can rent a porta potty near Sarasota County easily, as long as you know who to call. And you can get exactly the size, style, and more that you're looking for. All you need to do is decide just what that is. Or call to find out more about porta john rental near Sarasota to get some advice for your next gathering.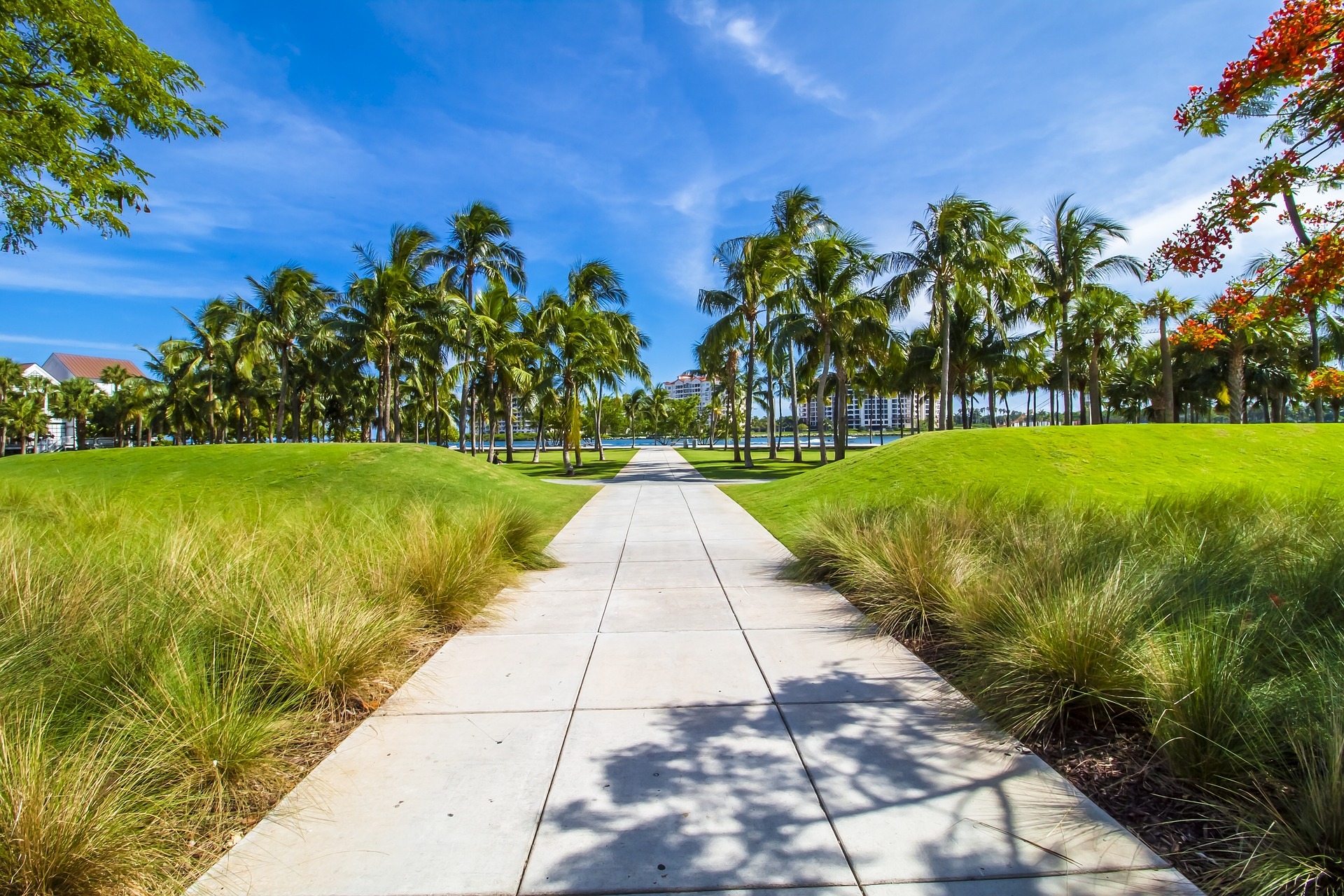 Choosing the Right Port o Potty Rental in Sarasota
If you're considering Sarasota porta potty rental, you need to start by thinking about just why you need portable restrooms. Obviously you want to make sure that your guests are going to be comfortable, but just what kind of guests are you having over?
Are you expecting the general public at local parks and beaches?
Or are you expecting your friends and family at a backyard barbecue?
Are you expecting a construction crew at a worksite?
Or are you expecting partygoers at a concert or special event?
By knowing what kind of crowd you're looking at, you can make better decisions about your portable bathroom rental near Sarasota. Because you'll know how many people to expect and therefore how many portable toilets you should have. And John to Go can help.
For larger events, or those that are open to the public, you will likely want at least one handicapped unit. This ensures an inclusive event where all of your visitors can comfortably use the facilities. That's important when you're going to have a lot of people around. What's great is that John to Go offers certified ADA porta potty rentals near Sarasota. But that's not all.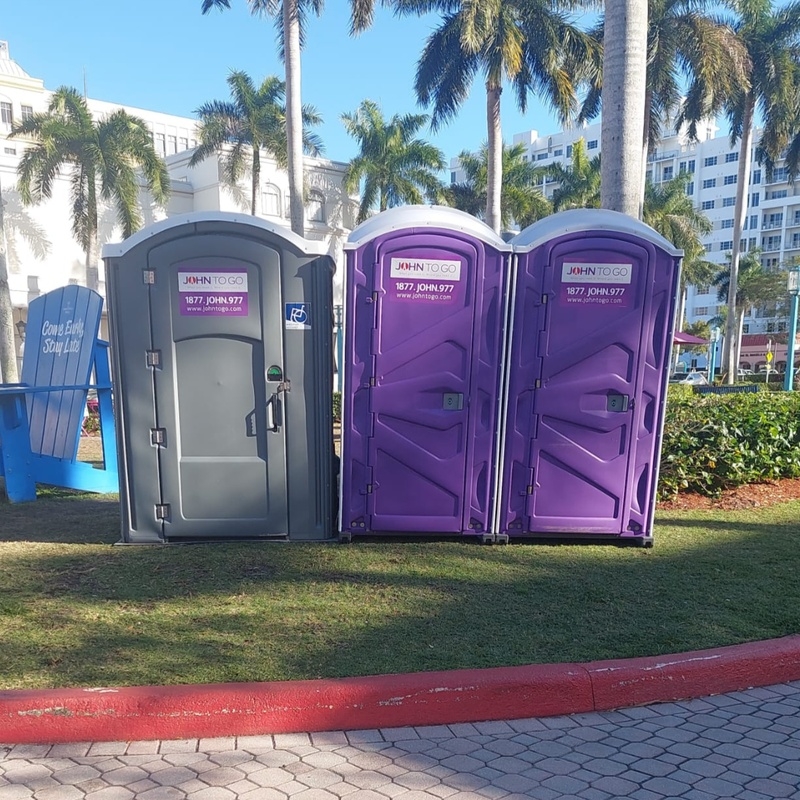 For those who are running a construction site, there are specific construction portable restrooms near Sarasota. These options are designed to be comfortable, useful, and efficient in a construction setup, where it's important to have the right amount of space inside the port o potty, without taking up too much room on the outside at the same time.
Of course, there's always the possibility that you're not running a construction site all at one level. And if that's the case you may need to rent a porta potty near Sarasota that has a few more unique features. The lift unit porta potty will allow you to easily get the private space you need, no matter where you're actually working. That way, you can move it easily from one floor to the next as your project continues.
Another option is the high-rise porta potty, which can be moved along whenever and wherever you need. It fits right into construction elevators or it can be lifted with a sling. So all you need to do is decide where to put it for now, then move it along as the job moves. It keeps you and your team a lot more comfortable, without setting up a bathroom station too far from the work zone.
But you might not need to rent a porta potty near Sarasota that's designed for anything specific. That's where the premium options come in. You can get a high quality porta potty rental near Sarasota that's going to keep your guests, visitors, or anyone else more than happy to hang out at your event for a long time. (At least, if you want them to hang out for a long time.)
In fact, there are actually several different high end options that will give you everything you need to keep your space clean and fresh. But if you're really looking for top-of-the-line porta potty rentals near Sarasota, you'll want the deluxe option that features a flushing porta john, a fresh water sink, a shelf, coat hook, and a whole lot more.
But even that's not all when it comes to porta john rental near Sarasota. There are even larger and more comfortable systems that will help you create exactly the look you're going for. These include the ambassador oversized unit, which ramps up the quality, features, and more by adding things like additional hooks, motion-activated lights, and plenty of space on the inside.
Port o Potty Rental in Sarasota County - What You're Going to Get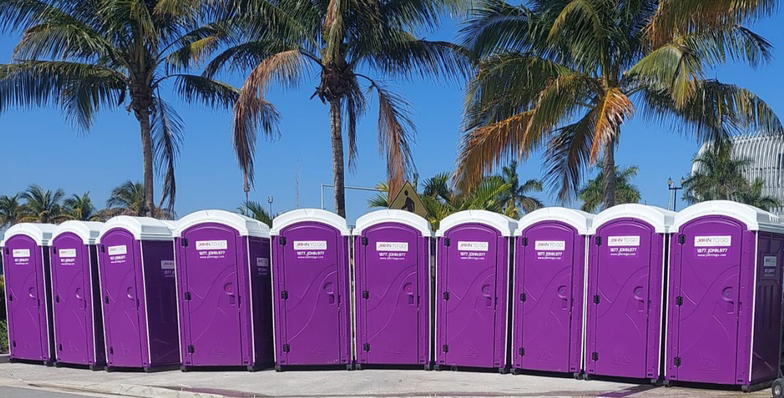 Unfortunately, porta potty rentals near me tend to get a bad rap from most. People think that they're dirty, too cramped, that they smell, and many worse things. But the good news is, when you're working with John to Go, that's definitely not what you're going to experience. And you're going to wonder why you put up with those subpar options for porta potty rental near Sarasota. That's because you can choose port a potty rental near Sarasota that includes:
Fresh water sinks
A vanity area
Recirculating toilets
Motion-sensor lights
A coat hook
Paper towel dispensers
Foot controlled flushing
Hand sanitizer
A courtesy shelf
Bright interior
Non-splash urinals
Excellent ventilation
And a whole lot more
If you're looking to ramp up your experience you can also add-on other features to make things even more comfortable for your next crowd.
For example, add a hand wash station if you have several portable toilet john's in your location. Or add a freshwater system or a freshwater tank that will keep your restroom station functioning for a whole lot longer, especially in areas where you might not have water access. But even that's not all. You can add a foam sanitizer stand for times when a little more cleanliness is needed, or some extra lighting when you're going to be out in the dark.
Whatever you need, we can help you out.
Why Work with John To Go?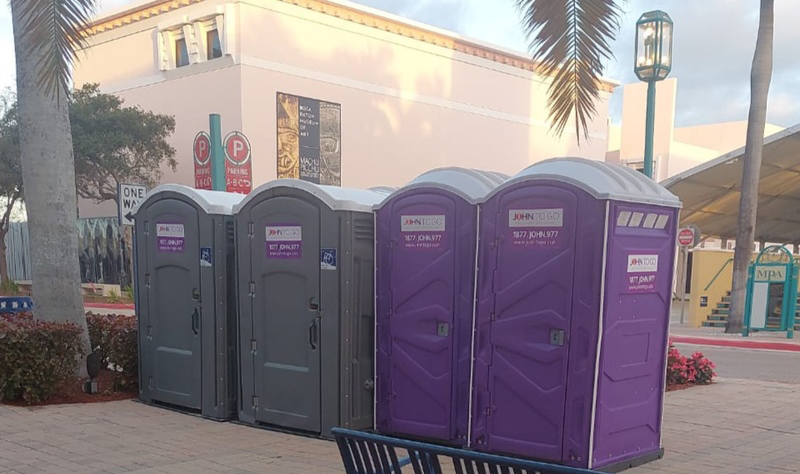 If you're looking for bathroom rentals near Sarasota, you want to know you're working with the best. Luckily, that's exactly what you're going to get with John to Go. You'll have plenty of options for different types of portable toilet rental near Sarasota. And you'll get a whole lot more as well. That's because we also offer:
Plenty of service trucks for delivery, removal, and maintenance
Easy quote systems to know porta potty rental prices near Sarasota before you start
Easy processing and delivery
Updated and high quality units every time
Well-supplied units so your guests have everything they need
Frequent sanitizing for added safety and hygiene
Entirely online booking process
Scheduled delivery and pickup when you need it
Professional team to provide excellent service
At John to Go we stand behind our products, and we make sure that everything you receive from us is not just what you expect, but better than you expect. So if you're looking for porta potty rentals near Sarasota, look no further than us.
CHOOSE FROM OUR EXTENSIVE SELECTION OF PORTA POTTY RENTALS
FAQs
When it comes time for you to rent a porta potty near Sarasota you want to know that you're getting what you really need. And that you are going to have all of your questions answered. So, we're here to answer some of your most common questions.
Do Porta Potties Smell?
Porta potties that are not well maintained and frequently cared for can smell, but at John to Go we set up a maintenance schedule that works for you to make sure your units always smell fresh and clean. We want your guests, team, visitors, and anyone else to be comfortable when they use these units.
What is the Best Porta Potty?
There are plenty of different types of port a potty's out there so this is going to depend on the specific situation that you're in. If you're running a construction site, then a construction unit is the right way to go. Or if you're looking for something that really showcases a premium, high end event you may want to consider the ambassador deluxe option.
The best option is going to be one that keeps you and everyone else using the facilities feeling comfortable and well cared for.
How Do They Clean Portable Toilets?
Portable toilets are cleaned with chemical cleaners and sanitizers in much the same way as you would clean your own bathroom at home. Except we make sure to take extra care with our cleaning process because we understand that public bathrooms are entirely different than your private one.
Our cleaning process includes the best chemicals and products we can find, and a thorough scrubbing that makes sure each time you rent one of our systems it's safe and ready to go. You'll be more than happy with the way it looks and the way it functions for you.
Where to Rent a Porta Potty near Sarasota County
Are you looking for the best place to rent a porta potty? Well then, look no further because John to Go has everything you're looking for and everything you didn't know that you needed. All it takes is a few minutes on our website to set up exactly what you need, get a quote, and schedule your delivery. You'll be ready to go in no time.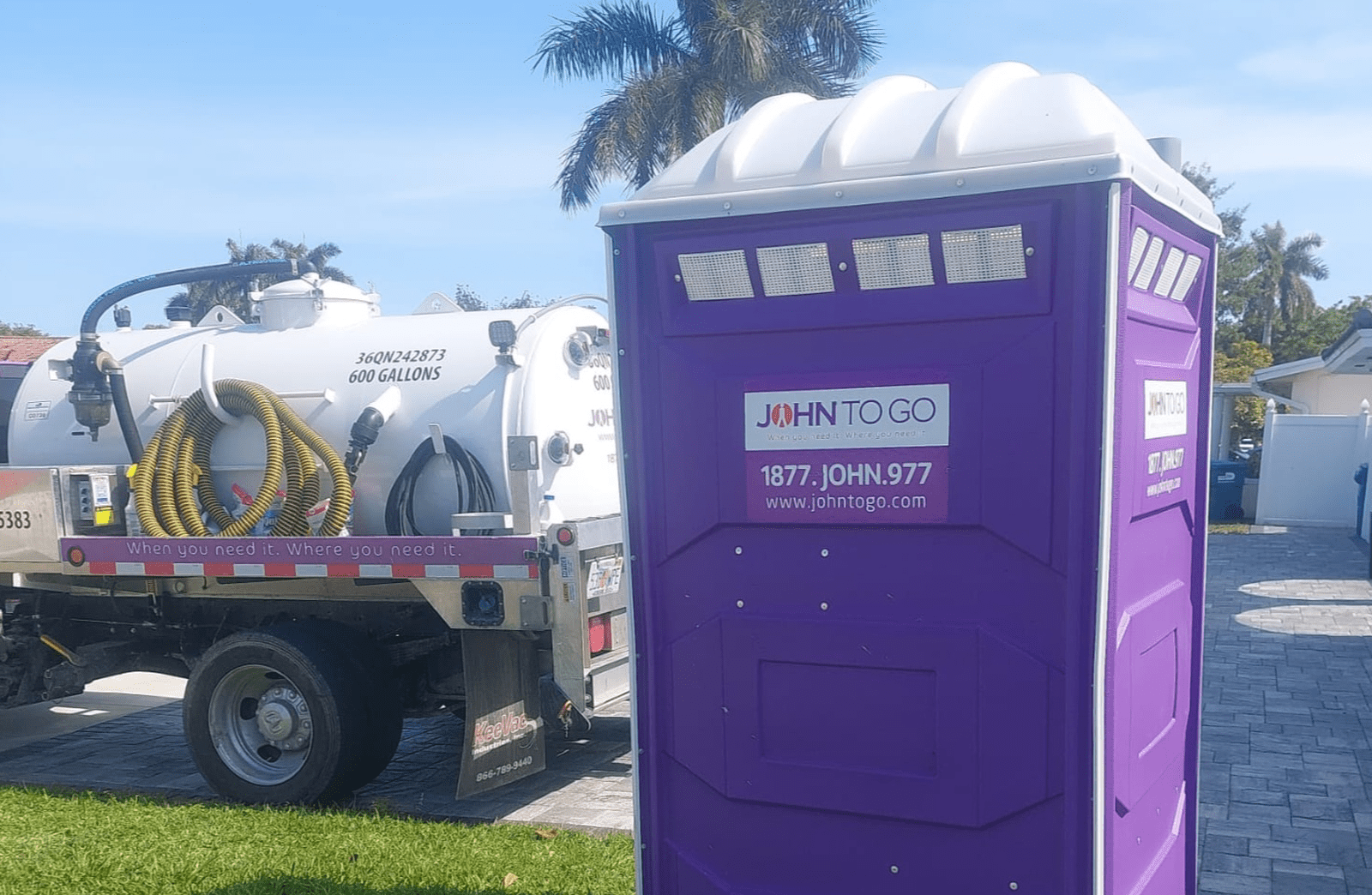 (305) 722-5149
AREAS WE SERVICE IN SARASOTA COUNTY:
Bee Ridge
Desoto Acres
Englewood
Fruitville
Gulf Gate
Kensington Park
Lake Sarasota
Lakewood Ranch
Laurel
Longboat Key
Nokomis
North Port
North Sarasota
Old Miakka
Osprey
Palmer Ranch
Pinecraft
Plantation
Ridge Wood Heights
Sarasota
Sarasota Springs
Siesta Key
South Gate Ridge
South Sarasota
South Venice
Southgate
The Meadows
Vamo
Venice
Venice Gardens
Warm Mineral Springs
HEAR FROM OUR CUSTOMERS:
Tom Talamini
Special Event - November 10, 2020
5 STAR SERVICE! The staff were friendly and professional. The delivery was on time as well as the pick-up. Bathroom trailer we rented was spotless, smelled nice and was fully stocked with extra paper towels, toilet paper and soap. Bathrooms were nicer than my house bathrooms. Wanted to keep the trailer. All my guests were in AWE of the quality of the bathrooms. Highly recommended.
Joanne De Simone
Special Event - November 06, 2020
This company has the absolute best customer service I've ever had the pleasure of experiencing. They are friendly and super responsive. Just a pleasure to do business with. I can't wait to use their services for my next event!
David Collado Bronx NYC
Special Events, August 15, 2018
Been using John to Go services for the past 10 (+) years for our annual block party celebration in my neighborhood, they are friendly, professional, their products are always clean, reliable and operate as described. Their prices also cannot be beat. I plan to continue using them for many many more years and have also recommended to friends and family. Very Happy Customer, Bronx NYC
Porta Potty Rentals Near You

Find out where to rent portable toilets