Top Five Florida Small Business Ideas for Future Entrepreneurs
It's no secret - Florida's economy is boosting in every sense of the word. That said, it's been a magnet for residents and businesses alike. And with so many benefits to owning and operating a company in Florida, it's really no wonder why the average Joe or Joan is considering starting a small business in Florida.
That begs the question - what are the best business ideas in Florida?
If you're thinking about opening a small business (or many small businesses in South Florida and surrounding areas), you need to know which ones are "booming" so you can get in on all the hype.
Keep reading to discover the top Florida small business ideas and why Florida should be your go-to for opening a small business (plus some other handy info, such as where to get help on your new entrepreneurship adventure).
Top 5 Florida Small Business Ideas to Consider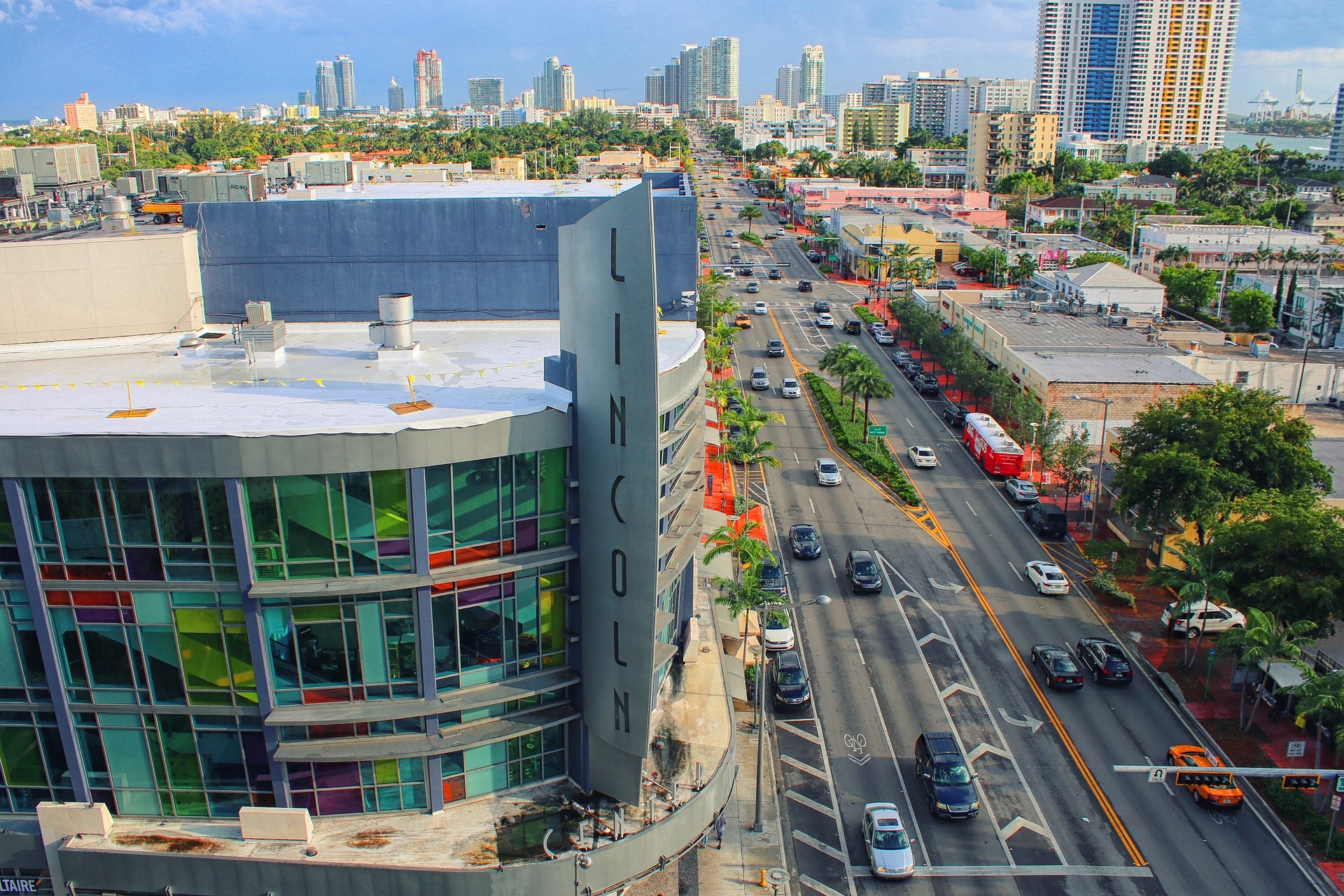 When it comes to opening a small business in Florida, you really can't go wrong with any idea. With a massive burst in population and so many top-notch benefits to owning a company in Florida (more on that later, folks!), all signs point to "success."
But why risk it with any ole idea?
Here are the top five small businesses ideas, Florida peeps:
1. Food Truck
Food trucks have certainly become a hit across the country. Whether you're selling street tacos or making fantastic funnel cake creations, there's a market for your product. And this couldn't be any truer for Florida.
Florida is well-known for being ethnically diverse, with many different types of cuisines from north to south. Pair that with the perfect year-round weather, and you're practically destined for success with a food truck.
2. Landscaping/Gardening
A landscaping or gardening company is another best business to start in South Florida - and again, it all comes down to Florida's perfect weather from January to December.
With perfect weather comes front and backyards that are plenty lush. Yet, nobody wants to deal with their overgrown grass, shrubs, and gardens. So, why not have these homeowners and businesses shuffle their landscaping needs off onto your company?
3. Real Estate
As mentioned previously, Florida's population is growing by leaps and bounds. And with more residents comes a higher need for housing.
If you're someone who has the desire to make a sale, joining the real estate industry may be a great idea.
But why settle for any real estate office? You can always take the high road and open your own real estate office. There are plenty of business brokers South Florida who can help you out every step of the way.
4. Tourism
Florida is a tourist destination; there's no doubt about it. This is especially true during the chilly winter when people flock to the "Sunshine State" in search of higher temperatures to warm their bones.
Well, why not take advantage of Florida's impressive number of tourists?
With so many wonderful, beautiful, and downright enchanting places Florida offers, it's a breeze to find yourself in the ideal spot for a tour opportunity. Start with a single tour until business takes off - then expand from the top to the bottom of Florida!
5. Piggyback Off Other Businesses
Starting your own small business can be daunting. If you'd rather take over a small business already in motion, it's entirely possible in Florida.
There are plenty of businesses for sale in South Florida. From bistros to daycares, hotels to boxing clubs, you can easily find a company for sale in South Florida that suits your needs.
The perk here is that the bulk of the hard work has already been done for you. All you need to do is step in and make the business what it was always meant to be - and eventually reap the profits!
Why Florida?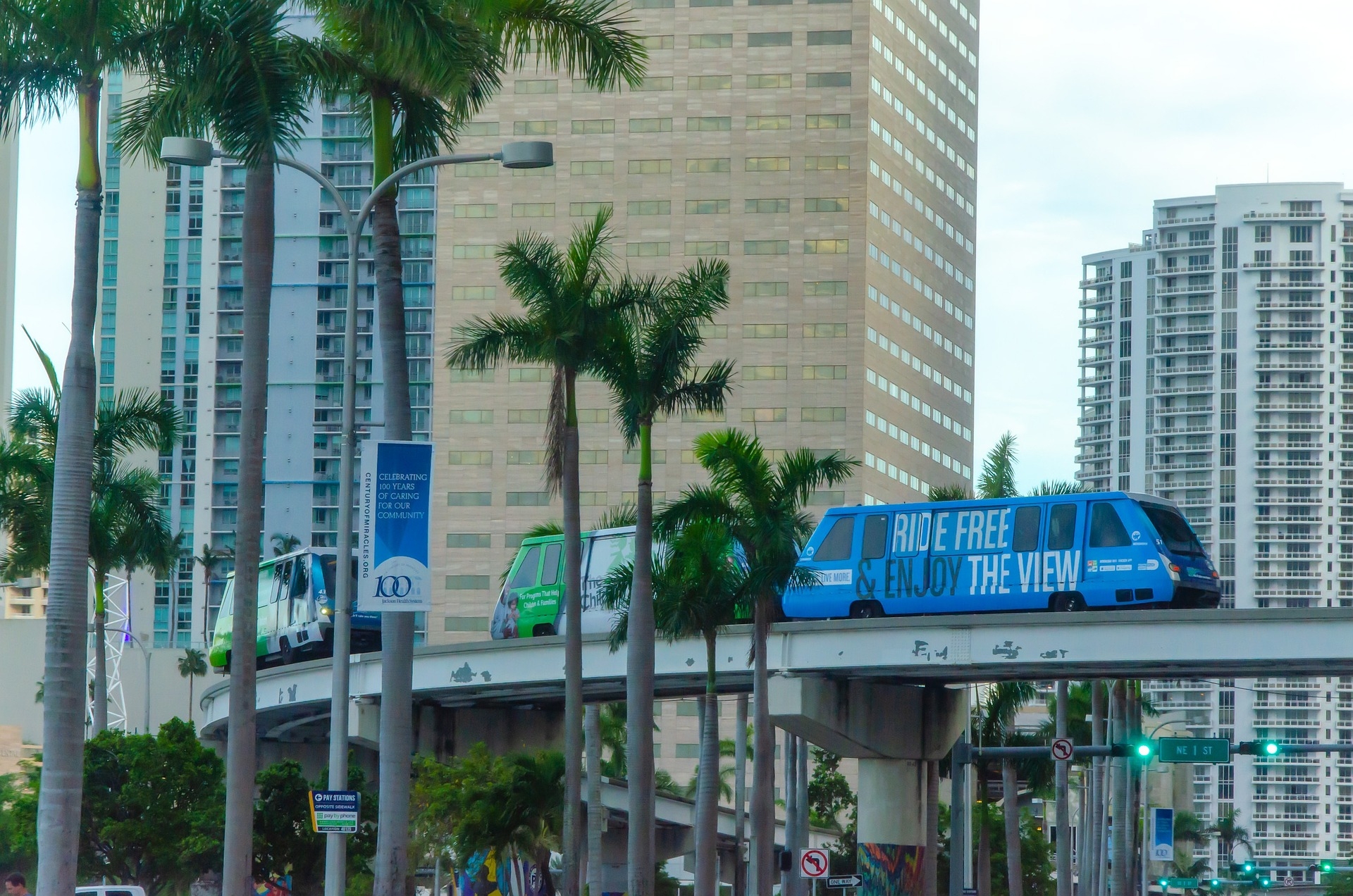 Okay, so there are clearly plenty of top-notch Florida small business ideas that can be very successful. But why choose Florida for your startup? Here are the top reasons why you should bring your small biz ideas to the Sunshine State:
Opening up a small business and allowing it to flourish can be tricky under certain circumstances, whether it's related to politics, weather, or population. When opening in Florida, you can rest assured you'll have plenty of happy nearby customers and warm weather year-round.
Not only is this great for business - it's advantageous for overall well-being, too.
Let's face it - Florida is booming in population, and that's not even counting all of the tourists. With so many potential customers - especially a younger crowd - you have a higher chance of being successful.
Perhaps the biggest reason why companies are starting up in Florida (and moving to the area, too) is because of the lower costs compared to other states. For instance, Florida does not have a state income tax, and the corporate taxes are far lower in comparison - both major wins for companies, new and old.
How John To Go Can Help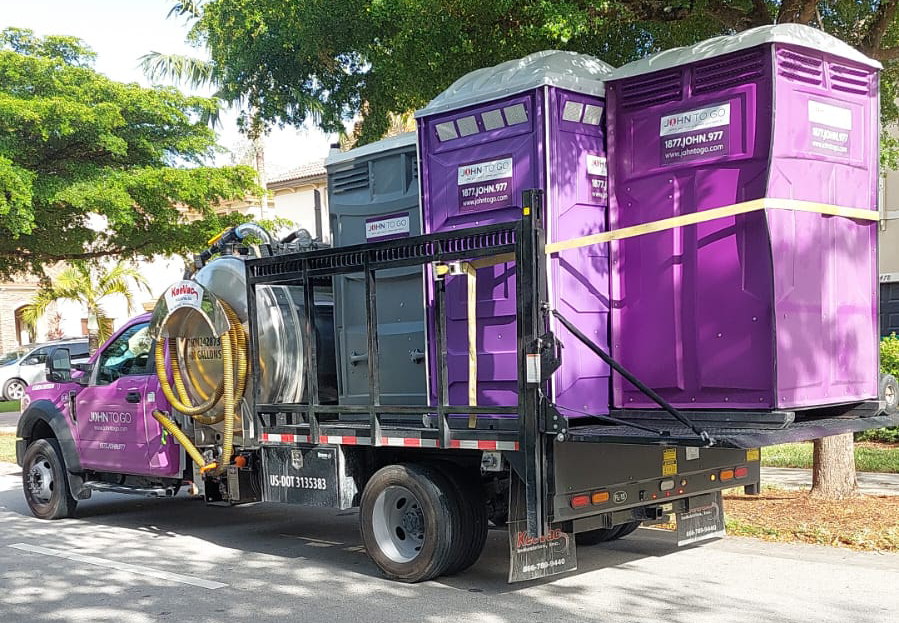 As part of its expanding service area, John To Go has a strong presence in South Florida, where we provide unmatched service and premier portable restroom rentals that offer luxury, comfort, and cleanliness.
How can we help those who are considering small businesses in South Florida?
Well, whether you find yourself in the same line of business, need to utilize our services on a regular basis, or find your future work location under renovations and need temporary porta john toilet solutions, we can help.
Why Choose Us
When it comes to choosing a business for your restroom trailer rental, there is only one business that will offer impeccable, friendly, and dependable service every time: John To Go.
Our company focuses on providing pristine porta-johns that look and feel so luxurious you might forget you're using a port-a-john altogether. Our units come sanitized, fresh, and ready to go, so whether you need a short-term event restroom trailer or long-term porta potties, John To Go is here to help.
Not only will you enjoy our expansive collection of restroom trailers and porta-potties, but you'll love our easy reservation process and unbeatable prices. We don't even charge a fuel surcharge, which you'll find with other businesses when searching for "porta potties near me."
What We Offer
From opulent restroom trailers and porta-potties to friendly and dependable service, it's clear why John To Go is the ultimate choice for temporary restrooms in the South Florida region.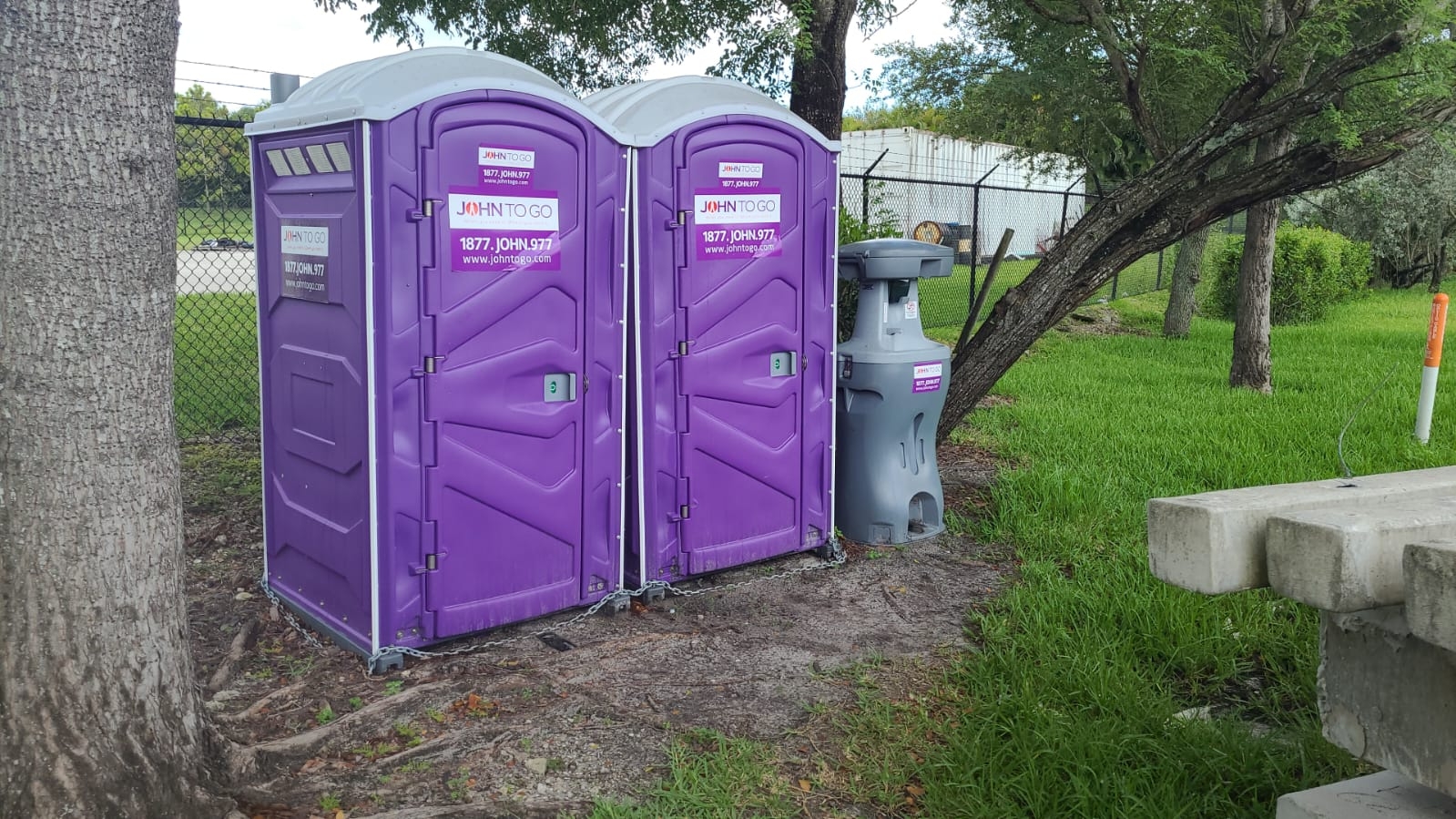 What do we have to offer, though? Our extensive collection includes the following: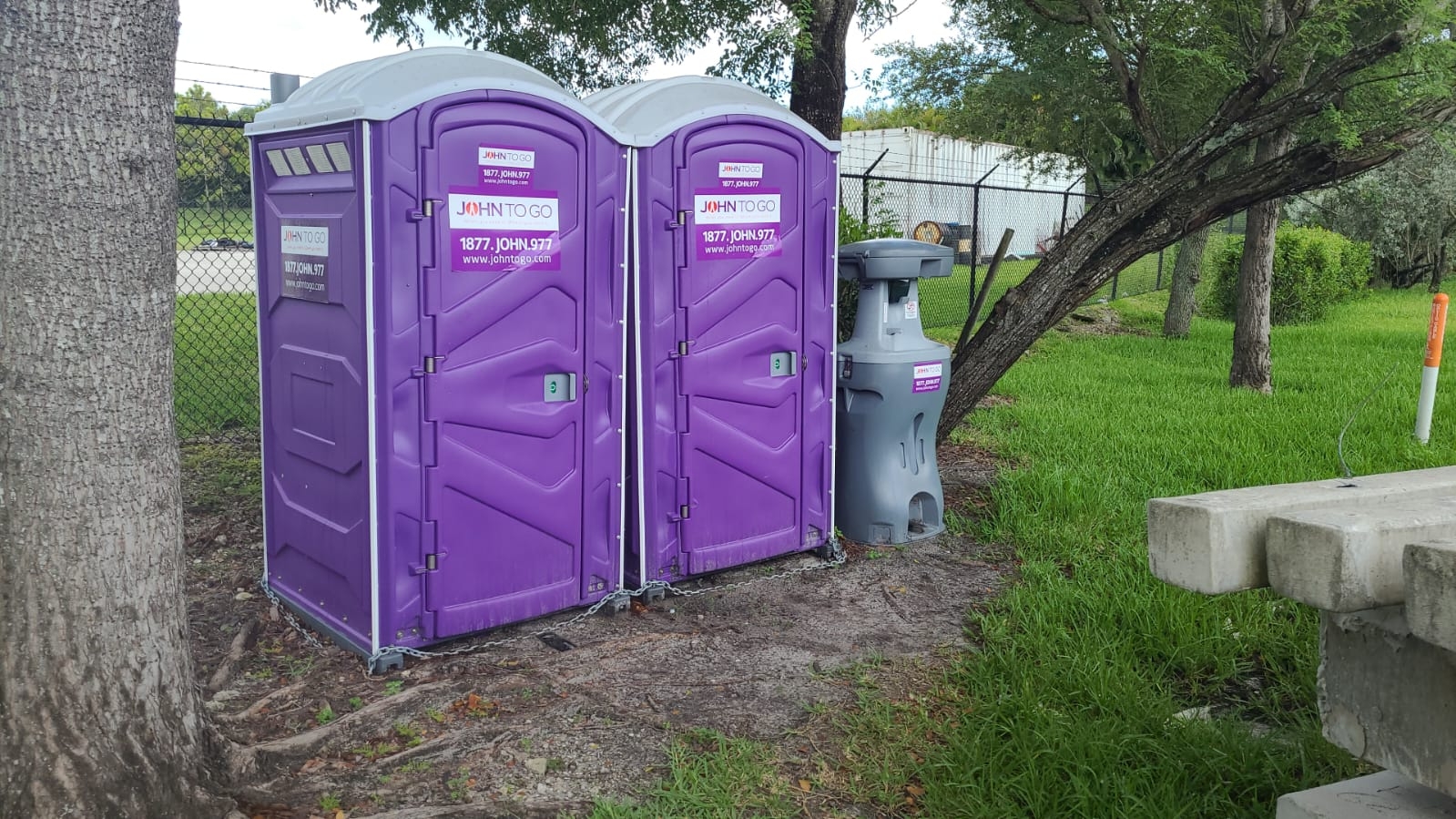 FAQs
How much does it cost to rent a porta john?
The price of a porta john depends on many factors, such as the unit chosen and how long you'll need the unit. When making a reservation, you'll notice that we offer discounted pricing for long-term use. Want a quote? Contact one of our staff members today!
How many porta potties do you need for 1000 guests?
As a general rule, you should have at least one porta-potty for 50 people. Need more help deciding how many restrooms to rent? Head on over to our handy website and use our unit calculator, or reach out to our 24-hour chat support service for further assistance.
How long before you have to empty a porta potty?
A porta-potty should be serviced at least once a week. If you choose John To Go, you can rest assured we will keep your restrooms exquisitely clean and regularly serviced, especially for long-term rentals.
Starting a Small Business in Florida is a Top-Notch Idea
With Florida's impressive growth, it's become the first-class spot to start up a small business. Some best Florida small business ideas include food trucks, landscaping companies, real estate, and tourism. You can also purchase an existing company if you don't want to start from scratch.
For all of your porta-potty and restroom trailer needs, don't hesitate to give John To Go a call! We've been servicing the South Florida area for years, and our level of service is unmatched.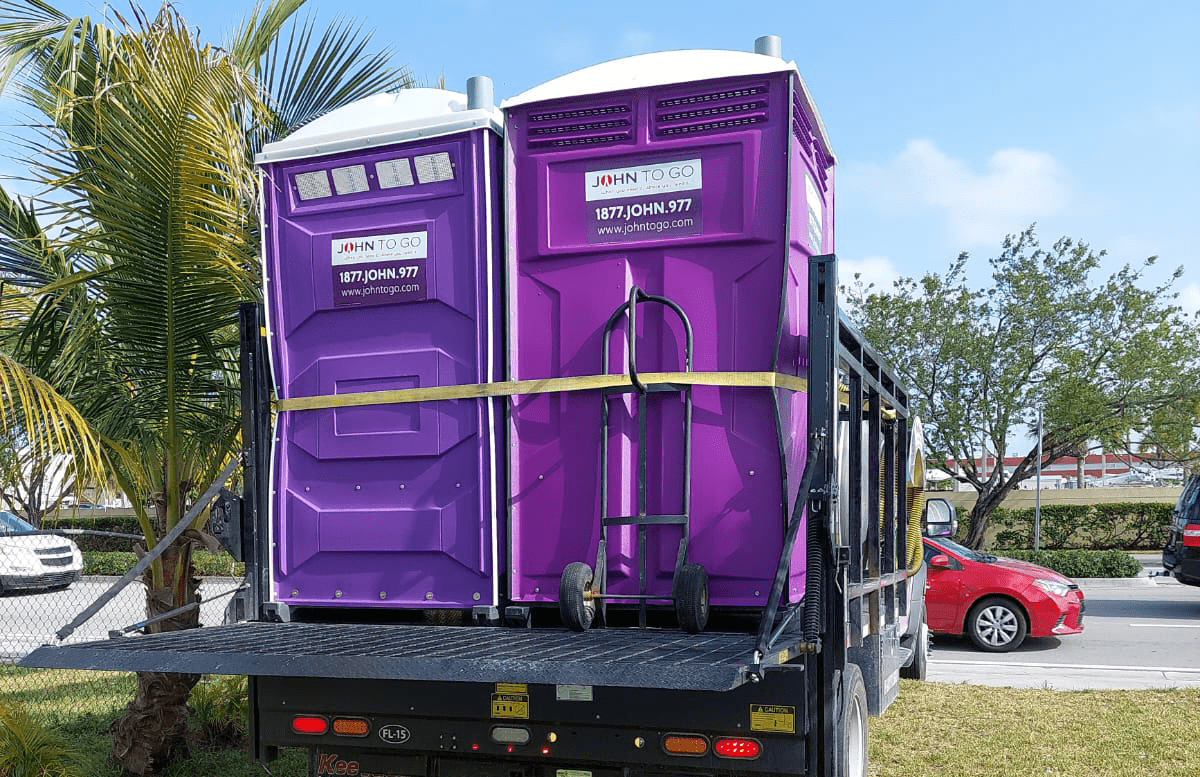 Porta Potty Rentals Near You

Find out where to rent portable toilets