Outdoor events and festivals are a marvel. While you're setting up and planning towards a successful event, one of the necessities that should be in place is a porta potty. In fact, the importance of porta potties cannot be over-emphasized.
Admit it; no one likes to be inconvenienced. And you don't want to inconvenience your guests to the point of having them drive several miles away to find public restrooms. You want to provide them with on-site impeccable portable restrooms near Lee County.
If your site in Lee County needs to meet specific OSHA regulations, you need the services of a Lee County porta potty rental. John To Go is a professional company that offers high-quality portable restrooms near Lee County for your guests or workers. We provide porta john rental near Lee County, matched by our exceptional service that keeps the porta potties clean and well supplied.
John To Go is staffed with an experienced team that understands your outdoor needs for porta john rental near Lee County and provides them efficiently. In keeping your event hygienic, clean, and comfortable for your guests, John To Go puts special consideration in providing only the best port o potty rental in Lee County. More so, they also ensure that your events meet local and state requirements and standards.
John To Go provides the range of portable sanitizing stations, hand wash stations, restroom trailers, along with porta potty rentals near Lee County. No matter the number of guests present or the duration of the event, you can partner with John To Go to take care of your needs.
These porta john units are available in different sizes and types, and it is our duty to offer suitable porta potty units for your event. We even provide units to rent or buy based on your available budget.
Lee County Porta Potty Rental
Lee County boasts several expansive parklands, historic landmarks, outdoor hotspots, and recreational locations. It's no surprise that the county is a preferred destination for visitors looking to experience premium fun and relaxation.
Over the years, countless outdoor seasonal festivals and events have been held in the county, boosting visitors and locals alike. Thus, if you're planning an outdoor event and need to rent a porta potty near Lee County to care for your guests' needs, we are here for you!.
Portable bathroom rental near Lee County is in demand due to the frequency of events being hosted in the county. Apart from that, construction activities in the development of houses and other infrastructures require an on-site porta potty to care for the workers' restroom needs. Real estate construction works are scattered across the county, with companies and firms renting a porta potty for their convenience.
More so, adventurers planning a family or group camping experience may require a porta john rental near Lee County. Renting a portable restroom for an event, construction activity, or camping will make the experience worthwhile. John To Go is here to help you make your event, outdoor activity, or camping trip enjoyable and hitch-free.
As a leading company in porta potty rentals, John To Go is your preferred partner, offering high-quality portable restrooms, even on short notice. For your long-term projects or short-timed events, you can count on John To Go to provide excellent porta potty for your unique needs.
What's more? Our top-notch services ensure these units function as promised and keep your site clean, environmentally friendly, and hygienic. Regardless of where you're using in Lee County, you can rest assured that John To Go will handle your concerns.
Why Use John To Go for Portable Restrooms Near Lee County?
John To Go takes pride in its leading Lee County porta potty rental status, offering specialized services for various needs. If you still need a little convincing to patronize our impressive service, here's a couple of reasons why.
Premium Units
One of the fantastic benefits you get from patronizing John To Go is that you will get spacious, properly-maintained porta potty rentals for your outdoor events, construction activities, and camping needs.
These units are specially designed with excellent ventilation and hand sanitizers to make your guests and visitors feel comfortable while using them. We also utilize high-quality products to detoxify and clean the units, ensuring it is always smelling fresh and looking clean.
Our portable units are also well-supplied, ensuring you never get a breakdown of service or supplies. We always desire to provide the best porta potty rental near Lee County.
OSHA Standard
Here at John To Go, we never sacrifice the quality of our portable restrooms. Our experts constantly update our units according to local, state, national, and even international standards.
So, if you're looking to meet regulatory OSHA standards for your outdoor events, you can count on John To Go to deliver efficiently.
Strength and Durability
One of the unique reasons you should patronize John To Go for porta restroom rentals near Lee County is the strength and durability of our units. These units are specially made with industry-grade materials that can withstand external physical pressure.
Whether you're renting or buying these units to take care of your outdoor needs, they're an excellent investment. They are designed to last for a very long time.
Weather-Resistant
Another benefit you get from John To Go is that you can count on these units to service your needs no matter the weather condition. Whether it's the blistering cold or the sweltering heat, you can count on John To Go to cover your needs. We are just a call away.
Many Service Trucks On The Go
We have well over 36 service trucks on the road, bringing you exceptional service. Meeting your needs is our ultimate goal. So, the next time you're planning an outdoor event, reach out to us. We are your best bet towards ensuring your guests and visitors are comfortable.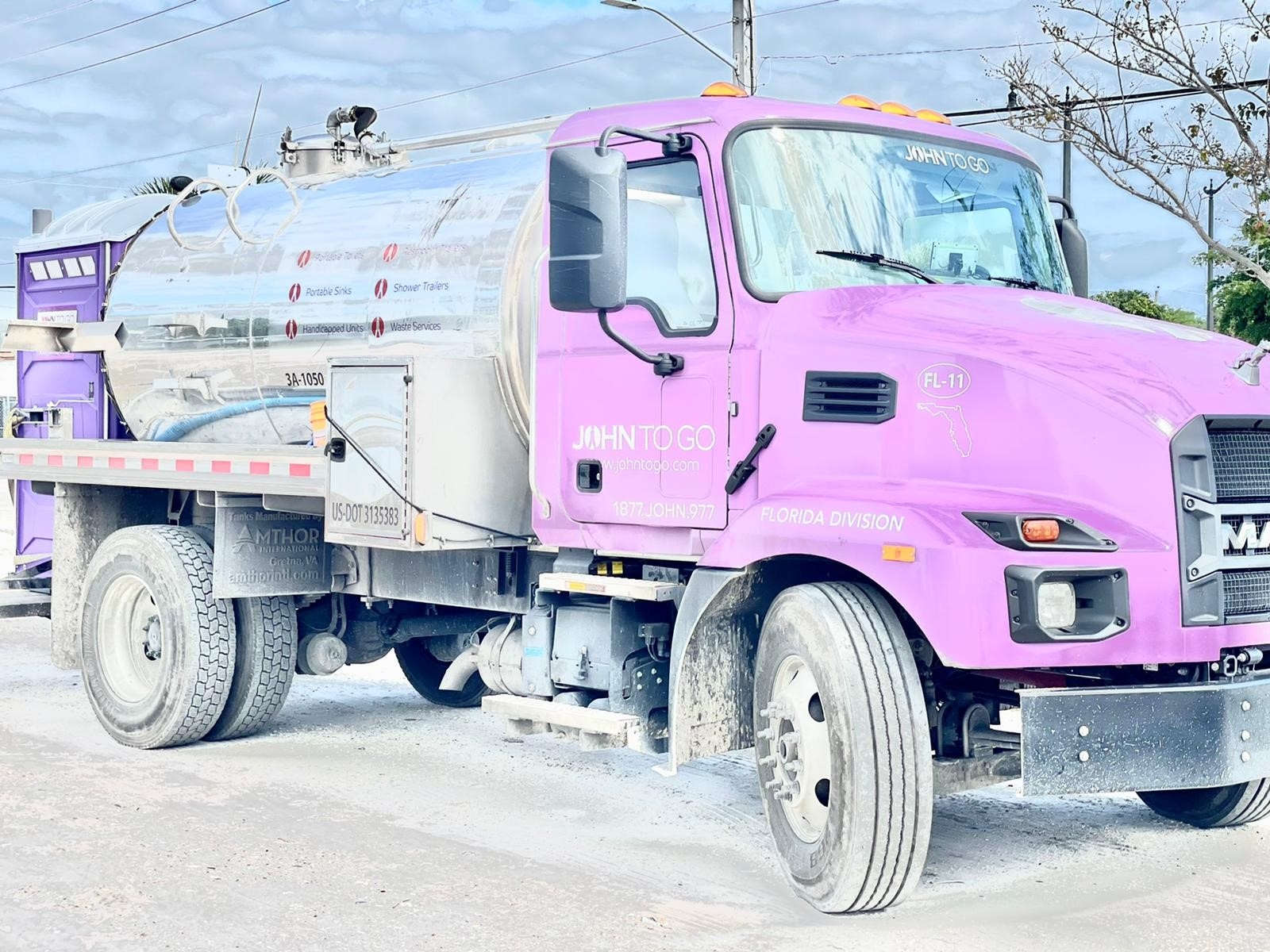 Perfect, Smooth Process/System
What makes our service fascinating is that you can view our full line of rent a john porta potty units for Lee County and order them seamlessly. On the plus side, our website has a unit calculator, providing you with accurate estimates, quick quotes, and booking options.
Competitive Pricing
One thing you can count on is that our porta potty rental prices near Lee County are pretty affordable. You don't need to break the bank to get efficient porta restrooms for your outdoor needs.
One of the reasons for this is that we are equipped with an effective system that cuts down expenses to the barest minimum. Most porta potty rental companies place a fuel surcharge on potty rentals to clients. John To Go doesn't do that.
Thus, reach out to us if you're looking for a cost-effective rent a porta potty near Lee County.
Portable Toilet Delivery
We deliver porta potty units near Lee County and install them for a hitch-free experience. All you have to do is schedule a rental delivery from our website, and we'll be there to provide what you need.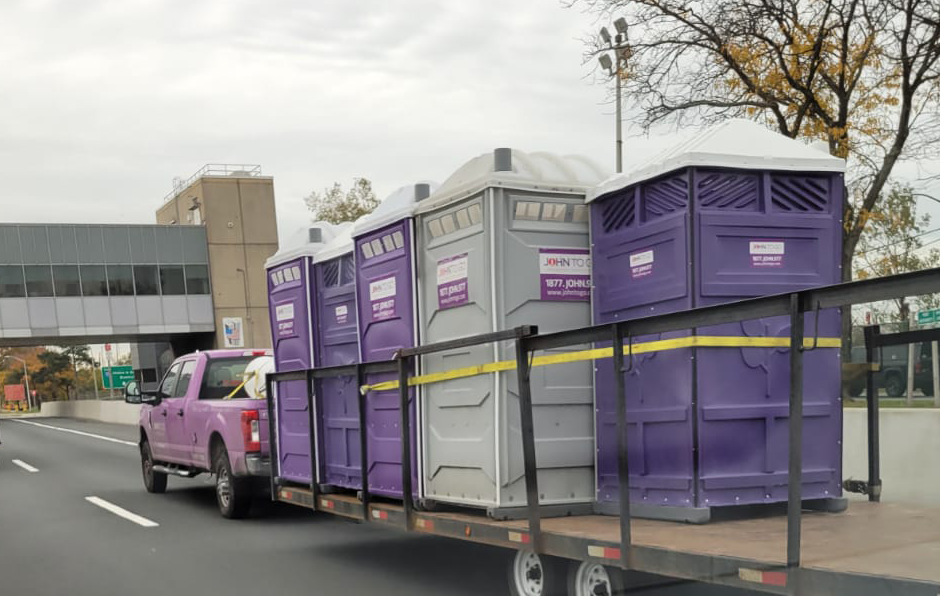 What to Know While Getting A Porta o Potty Rental in Lee County
There are some factors you need to consider before renting a fancy porta potty near Lee County. Some of these factors include:
Duration of Rental
One of the significant factors you need to consider is the duration of your outdoor project or event. Are you planning to host a festival for a couple of hours? Is it a project that is bound to extend to several weeks or months?
You can view our full line of available porta potty units and rent and book them for your outdoor needs, no matter the duration.
Number of Units Needed
Another factor you should look at is the number of units that will be suitable for your needs. If you're hosting an outdoor event, you should sufficiently plan for your guests.
With our unique unit calculator, you can input the expected number of guests alongside the event duration. And you will instantly see the number of units that you need.
Maintenance Requirements
Porta potty rentals near Lee County should be scheduled for regular maintenance. But it all depends on the duration of your planned event. Maintenance of these units involves restocking toilet paper, checking the water levels, removing waste, detoxifying the unit, and refreshing the air.
You can contact John To Go for scheduled maintenance to keep your Lee County porta potty rental fresh and clean.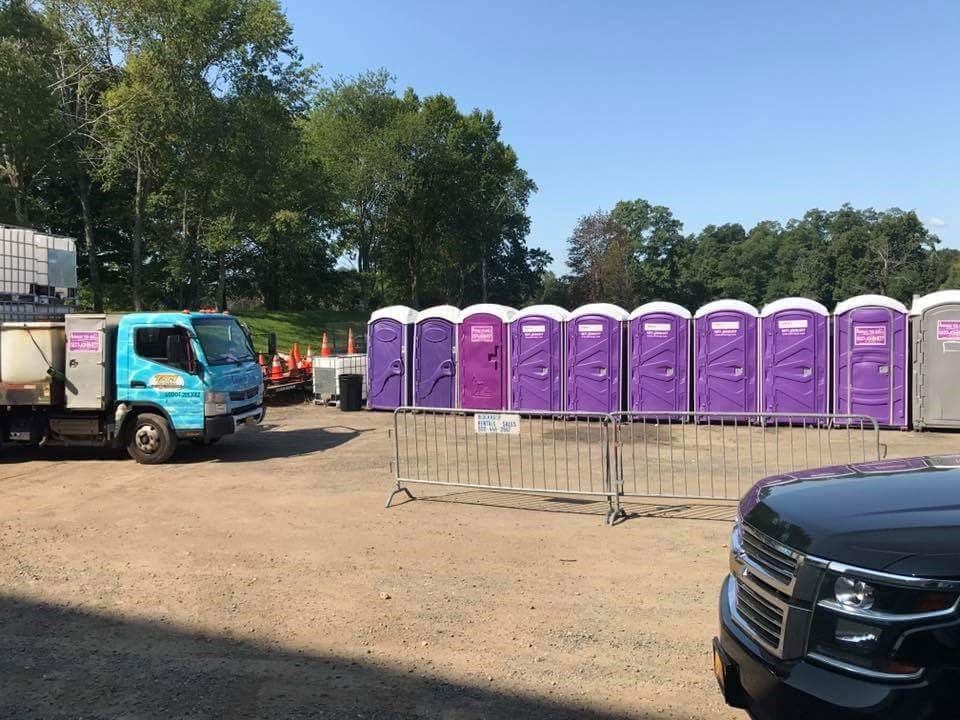 CHOOSE FROM OUR EXTENSIVE SELECTION OF PORTA POTTY RENTALS
FAQs
Do Porta Potties smell?
Porta potties, when constantly used and not efficiently maintained, are bound to develop an offensive odor. It is essential to hire a professional service like John To Go to carry out regular maintenance to keep the porta potty fresh and clean.
Where to rent porta potty near me?
You can always contact John To Go to rent a porta potty near Lee County or anywhere included in our growing area of service coverage. Our services are guaranteed to give your guests the comfort that they deserve.
Is it bad for your health to use a porta potty?
Porta potties are specially designed for outdoor use. So, it is safe to use them. However, they should be maintained to ensure they're hygienic for use.
How often do you empty a porta potty?
It is recommended to empty a porta potty unit at least once per week. It mainly depends on the number of persons that make use of them every day. If you're hosting an outdoor event with limited porta potty units, you may need to empty them more than once weekly.
John To Go offers premium porta potty units that are emptied once a week. It offers additional cleaning services to make the units hygienic, comfortable, and safe for usage. We've got service trucks stationed nearby in case of any emergency.
How do you empty a porta potty?
When you rent a porta potty from us, our technicians come around to empty and clean the unit at least once weekly. They are tasked with connecting a vacuum into the holding tank, which suctions the waste. After which, the porta potty can be fully utilized for at least another week.

(305) 722-5149
AREAS WE SERVICE IN LEE COUNTY:
Alva
Bokeelia
Bonita Springs
Buckingham
Burnt Store Marina
Cape Coral
Captiva
Charleston Park
Cypress Lake
Estero
Fort Myers Beach
Fort Myers Shores
Gateway
Harlem Heights
Iona
Lehigh Acres
Lochmoor Waterway Estates
Matlacha
Matlacha Isles-Matlacha Shores
McGregor
North Fort Myers
Olga
Page Park
Palmona Park
Pine Island Center
Pine Manor
Pineland
Punta Rassa
San Carlos Park
Sanibel
Saint James City
Suncoast Estates
Three Oaks
Tice
Villas
Whiskey Creek
HEAR FROM OUR CUSTOMERS:
Tom Talamini
Special Event - November 10, 2020
5 STAR SERVICE! The staff were friendly and professional. The delivery was on time as well as the pick-up. Bathroom trailer we rented was spotless, smelled nice and was fully stocked with extra paper towels, toilet paper and soap. Bathrooms were nicer than my house bathrooms. Wanted to keep the trailer. All my guests were in AWE of the quality of the bathrooms. Highly recommended.
Joanne De Simone
Special Event - November 06, 2020
This company has the absolute best customer service I've ever had the pleasure of experiencing. They are friendly and super responsive. Just a pleasure to do business with. I can't wait to use their services for my next event!
David Collado Bronx NYC
Special Events, August 15, 2018
Been using John to Go services for the past 10 (+) years for our annual block party celebration in my neighborhood, they are friendly, professional, their products are always clean, reliable and operate as described. Their prices also cannot be beat. I plan to continue using them for many many more years and have also recommended to friends and family. Very Happy Customer, Bronx NYC
Porta Potty Rentals Near You

Find out where to rent portable toilets