Nestled in the northern part of Miami lies the suburb of North Miami. Like the rest of the surrounding area, it has pristine beaches known for sport fishing, and a plethora of golf courses. Regardless of the season, the city always has something going on, from beer fests to beach parties.
Located just 10 miles away from Miami, North Miami is also a popular tourist attraction. It is home to the Oleta River State Park, the largest park in the Florida State Park System. Residents here enjoy the city's proximity to nature, the coasts, and the balmy breeze that North Miami is known for.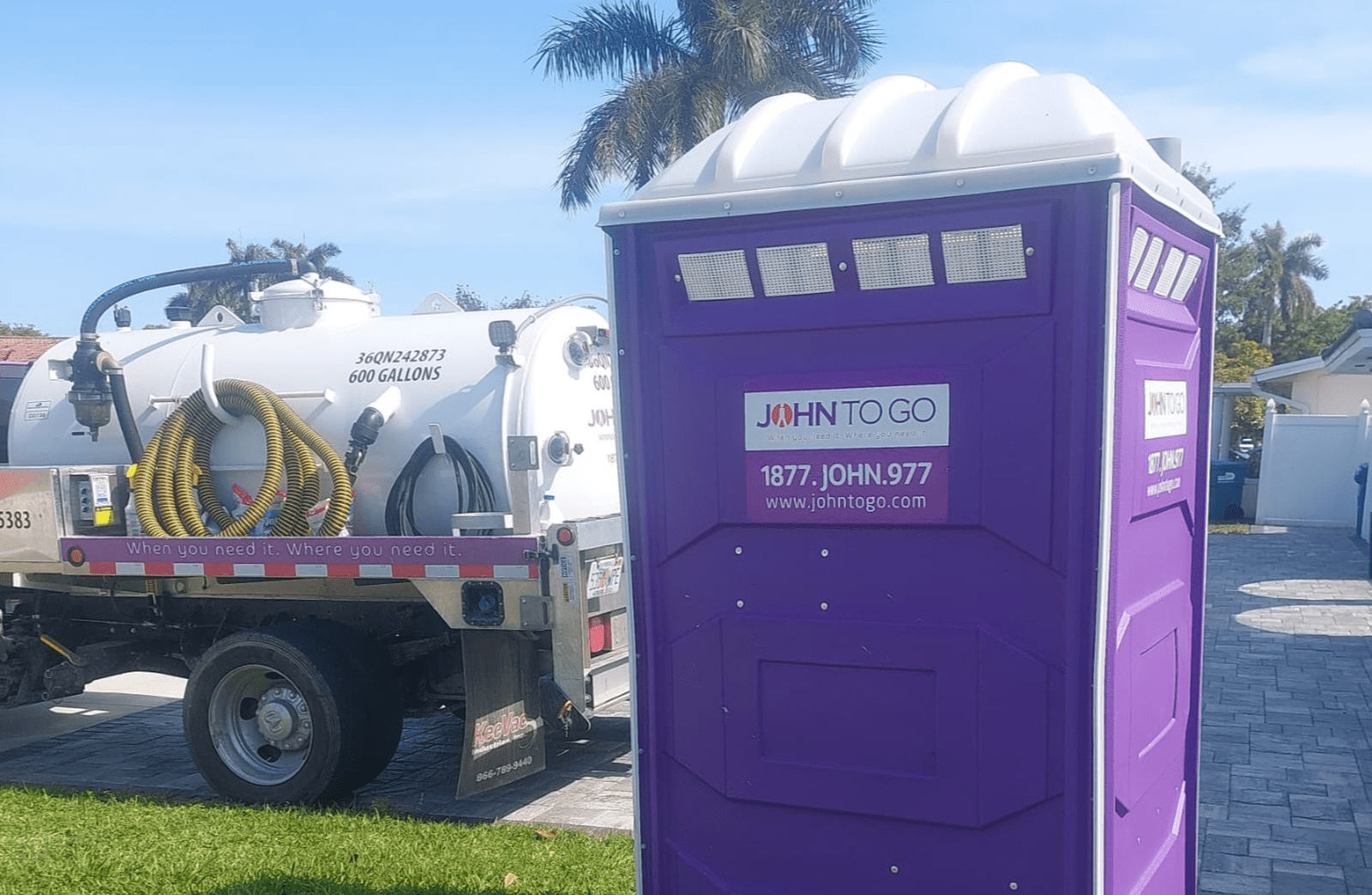 A town with a generally young population, it plays host to several annual public and private events. If you're planning an event, you can rely on the North Miami porta potty rental services of John To Go.
Whether you're organizing an employee event, managing an ongoing project like a construction site, or are hosting an outdoor event, sanitation and health are two of your major priorities. For the comfort of your guests and workers, remember to add 'rent a porta potty near North Miami' to your planning checklist.
John To Go offers premium porta john rental near North Miami to serve the sanitation needs of this populous city.
John To Go Serves South Florida: Porta Potty Rentals Near North Miami, FL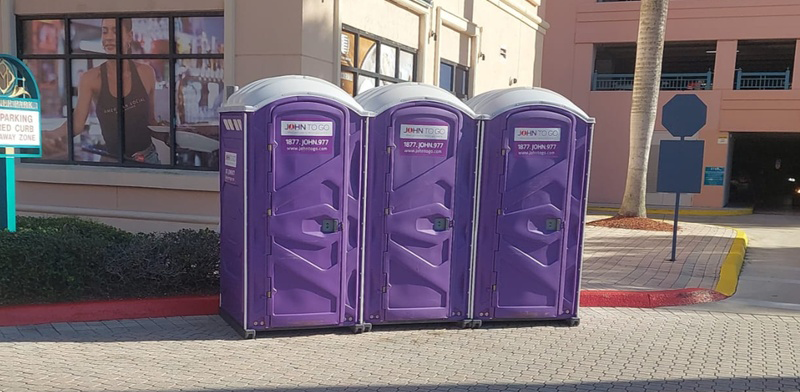 Flanked by tropical beaches, there isn't a better place for an outdoor event. Whether you're a resident planning a family reunion or outdoor holiday party, or you're a Florida event manager, getting a porta john rental near North Miami is the key to your guests' comfort.
The high concentration of tourists and natural beauty of North Miami explains why there are so many events and festivals going on at all times. To meet the need to rent a porta potty near North Miami, John To Go offers a wide range of portable bathroom rentals near North Miami, the Biscayne Bay Area, and all of South Florida.
If you want to rent a porta potty near North Miami, take a look at some of the units we offer.
VIP Events
Whether it's a glamorous party or a fancy corporate event, a restroom trailer rental near North Miami offers perfect luxury porta potties for your guests. These trailers were built with state-of-the-art sanitation and luxury features.
John To Go restroom trailers come in a wide array of sizes, ranging from 2 to 10- station trailers. Offering several configurations of urinals, sinks, and toilets, they can support anywhere from 100 to 1,000 users with porta potty rentals near North Miami. Here are two of our popular restroom trailers:
Two Station Stylish Restroom Trailer
The entire bathroom trailer includes two private toilet stalls and sinks, one urinal, counters, a grooming mirror, and exterior LED lights. It also comes with a stainless steel sink, a sleek black and white marble floor, a skylight, and an AC unit with heat.
This 8' trailer serves 50 to 125 people and is made for partying — compact enough for a North Miami beach party or any outdoor area.
Two Station Rolls Royce Restroom Trailer
As the name suggests, this fancy porta potty near North Miami is made to impress. It has elegant, warm wood interiors and all the luxuries of home. Twelve feet in length, this trailer offers 2 private rooms — one for women and one for men. It includes a sound system, luxury lighting, and AC with heat.
Construction Projects
Planning a construction project? Then you might need a clean and sanitized porta john rental in North Miami for your workers to use. Providing access to clean water and hygienic toilets are John To Go's top priority.
For major or minor construction projects, John To Go's North Miami porta potty rental ensures that construction workers get the optimal comfort for their sanitation needs. This not only adheres with Occupational Safety and Health Administration (OSHA) requirements but also increases efficiency and safety in the workplace.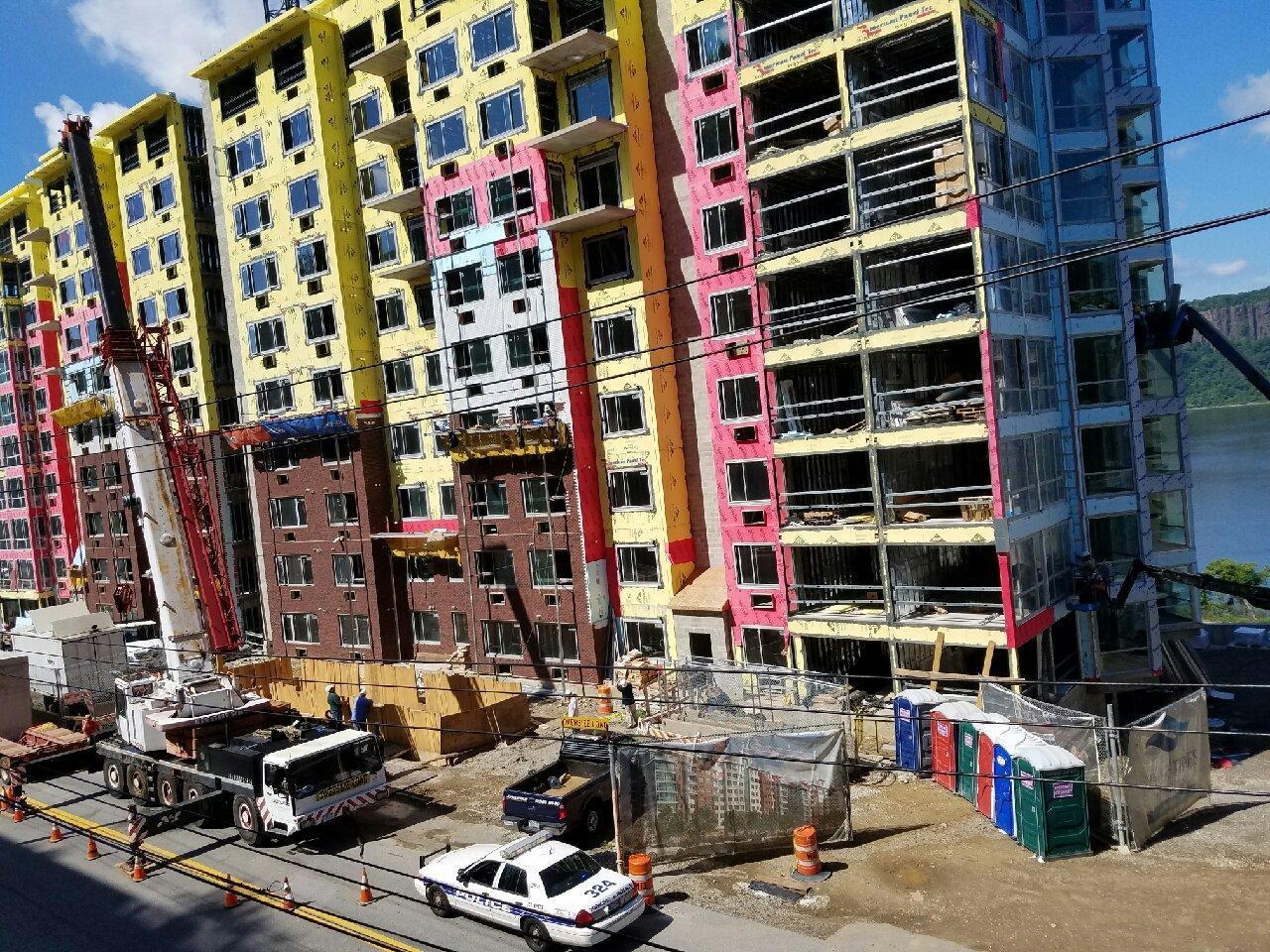 John To Go Construction Unit
This portable toilet john is well maintained, clean, and of the highest quality. The John To Go Construction Unit has generous ventilation, a translucent roof for bright interiors, an outside occupancy indicator, hand sanitizers in all units, and more convenient features.
Its dimensions are 92 inches in height, 46 inches in width, and 48 inches in depth, making it a spacious and comfortable rental unit.
This unit "goes where the work is." Taking portability to the next level, this mobile unit is specifically designed for high-rise construction projects. It can be easily lifted by a crane or rolled onto construction elevators, providing comfort on the go for workers on higher levels of a construction site.
ADA-compliant Restroom
John To Go port o potty rental in North Miami provides ADA-compliant units to promote inclusivity and provide utmost comfort to people with disabilities.
Single and multi-station ADA trailers with ramps are part of our wide range of restroom trailer rental near North Miami. Getting a porta john rental near North Miami for your event means never having to worry about your guests going without the restroom facilities they need.
John To Go ADA Handicapped Unit
The extra-wide doorway of this ADA Handicapped unit provides easy wheelchair access. With a door-mounted mirror and handle, a larger seat for comfort, and sturdy interior safety bars for additional support, this unit is 100% ADA-compliant.
Why Consider John To Go for Porta Potty Rentals Near North Miami?
John To Go port o potty rental in North Miami provides services for all, whether you're a top manager at a firm planning a three-day corporate extravaganza for your employees, or a university student throwing a small party for your friends! Find units and trailers that complement the needs of your event.
Our line of porta potty rentals near North Miami consists of standard-sized to oversized and flushable deluxe event porta potties, urinals, and a range of large restroom trailers that can service 500 to 1,000 people or more. We have portable restroom facilities for construction sites, events, and ADA-compliant units for people with disabilities. Choose among them, or mix and match, depending on your needs.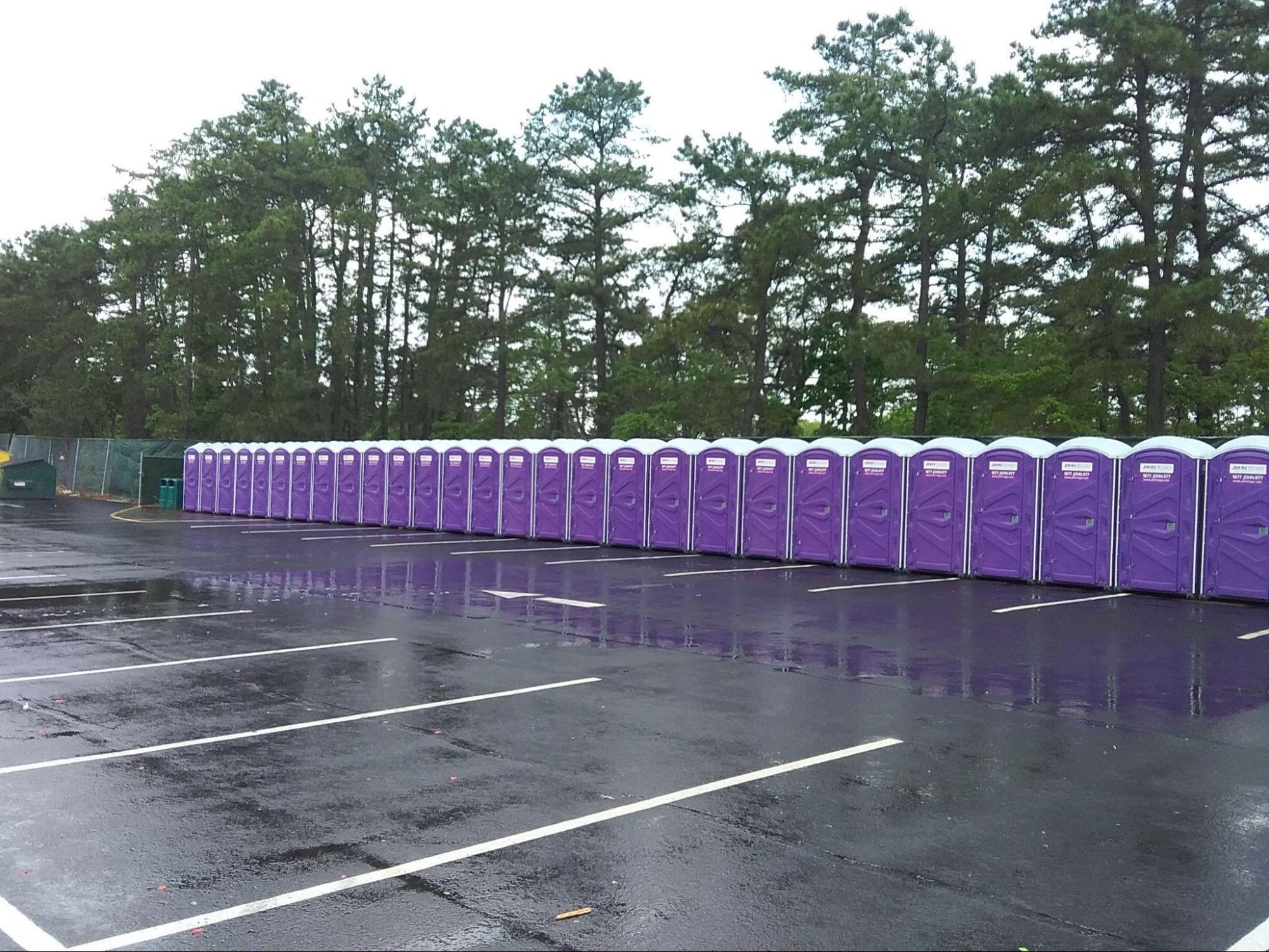 We Supply a Wide Range of Facilities
From restroom trailers to portable toilets, we offer an extensive selection of leasable units with different configurations, sizes, and features.
Our port o potty rental in North Miami delivers professional services like cranes that lift and move the porta potty units directly to your location. The inclusive handicapped units provide comfort for all your guests. We cover every hygiene need you may have, from hygienic amenities like sanitizing stations, hand washing stations, clean urinal units and toilets, flush capabilities, and much more.
Saltwater and freshwater tanks are also available for proper drainage and sanitation. John To Go North Miami porta potty rental also has floodlights for evening or nighttime affairs.
Our professionals understand your event's requirements. Our easy online booking process and excellent delivery services are unparalleled. Even on short notice, John To Go porta john rental near North Miami offers reliable mobile bathroom units.
We'll never keep you waiting for deliveries. We've got you covered and will deliver our facilities on time, even if it's a last-minute rental. John To Go has the expertise and capability to meet any event specification, whether you need restrooms on short notice, have a specific servicing schedule, or have other unique requirements.
We provide routine cleaning and servicing of all John To Go North Miami porta potty rental stalls to ensure they are properly maintained.
We stand behind our products and will be there for you even in harsh weather conditions. To keep our facilities clean and usable, we use effective yet pleasant cleansers that aren't too harsh for people.
CHOOSE FROM OUR EXTENSIVE SELECTION OF PORTA POTTY RENTALS
Porta Potty Rental FAQs
What is the average cost of a porta potty?
The cost of portable bathroom rentals near North Miami varies depending on the type of unit or trailer. Stand-alone units start at $140 per month, whereas luxury units with premium features can cost $350 per month. The size of your event and guest list will also affect porta potty rental cost near North Miami based on the number of units you need on hand. John To Go offers cost-competitive portable restrooms near North Miami that provide value for money. We stand behind our service and guarantee your satisfaction.
Do porta potties smell?
Our porta potties are well constructed and maintained with appropriate sanitation processes. We use the best cleaning supplies with deodorizing properties so they always smell fresh. We provide cleaning and maintenance services every week, or even more often, according to the schedule you request. Rent a porta potty near North Miami for your next event!
Where to rent a porta potty near me?
With the click of a button, you can rent a porta potty near North Miami. Visit the John To Go website to peruse our wide range of portable toilet rentals near North Miami. Schedule the length of your rental, as well as an ideal drop off, pick up, and cleaning schedule. Our professionals will work tirelessly to accommodate your specifications.
We also have an event calculator to help you gauge the number of portable toilet units you'll need based on the length of your event and the number of guests. While you can always (literally- 24/7!) consult with our Customer Service team, you can get a good initial idea of how many porta potties you'll need with our online tool.
Ready to Serve Your Needs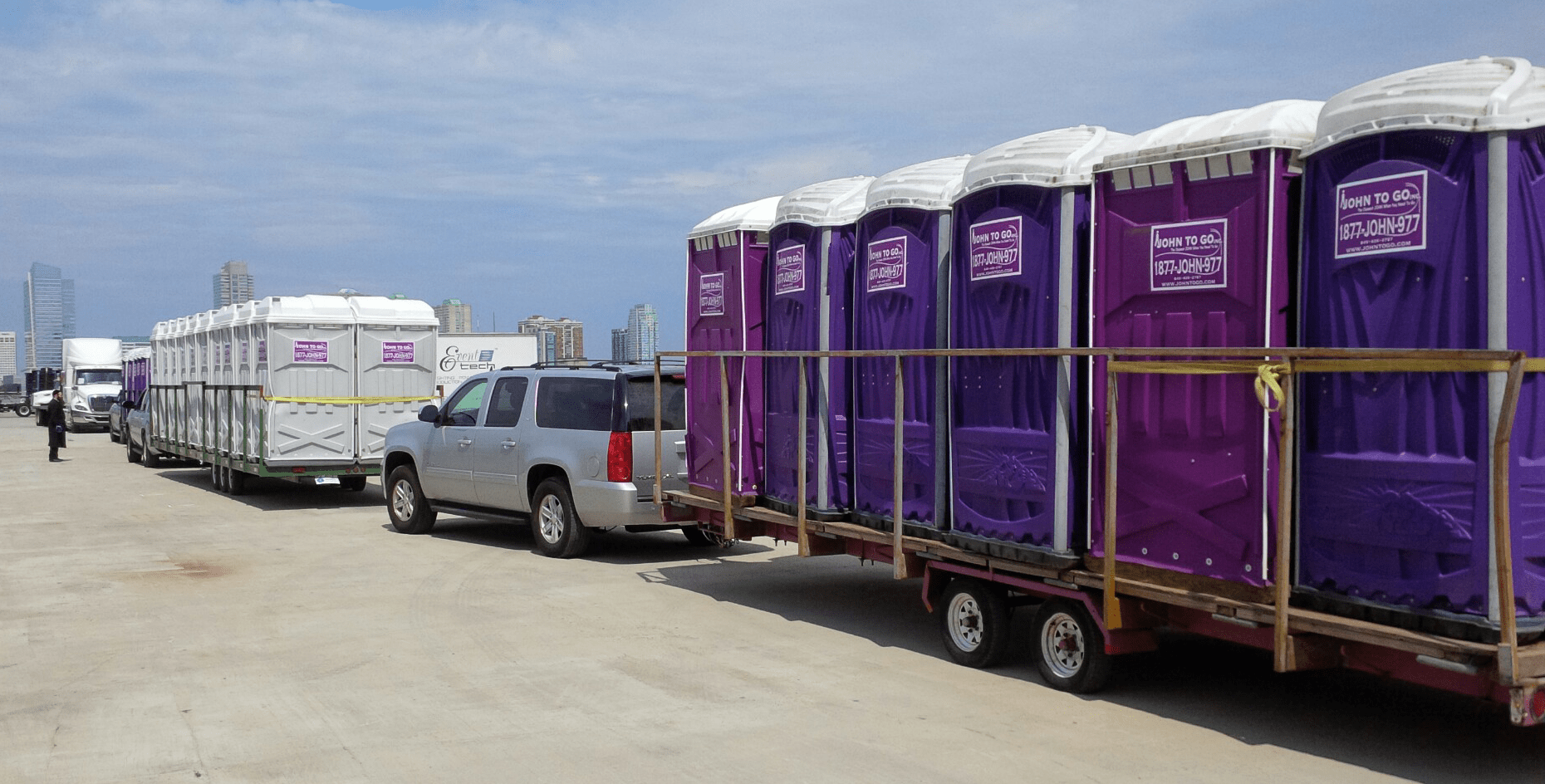 Whether for construction, special events, disaster relief, seasonal rentals, or long-term use, John To Go has you covered with the best porta potties in New Jersey, New York, and all of South Florida.
We've worked with private and public contractors, government agencies, businesses, and residents to not just meet, but exceed their sanitation needs. Contact us and let us help you with your next porta potty rental.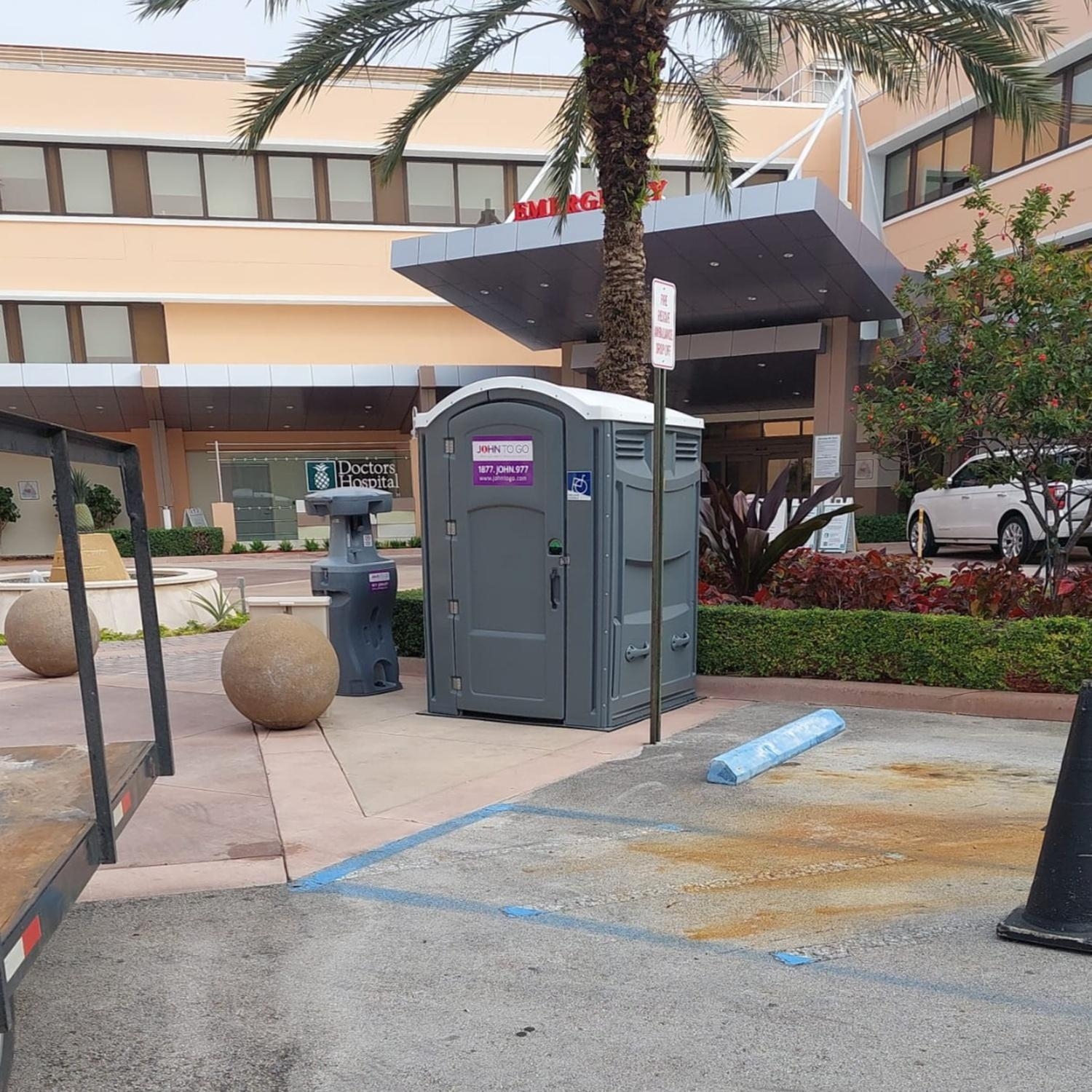 (305) 722-5149
AREAS WE SERVICE NEAR NORTH MIAMI:
Bal Harbour
Bay Harbor Islands
Biscayne Park
Coral Gables
Cutler Bay
Golden Beach
Homestead
Indian Creek
Key Biscayne
Medley
Miami Lakes
Miami Shores
Miami Springs
North Bay Village
North Miami Beach
Opa-locka
Palmetto Bay
Pinecrest
South Miami
Sunny Isles Beach
Surfside
Sweetwater
Virginia Gardens
West Miami
HEAR FROM OUR CUSTOMERS:
Tom Talamini
Special Event - November 10, 2020
5 STAR SERVICE! The staff were friendly and professional. The delivery was on time as well as the pick-up. Bathroom trailer we rented was spotless, smelled nice and was fully stocked with extra paper towels, toilet paper and soap. Bathrooms were nicer than my house bathrooms. Wanted to keep the trailer. All my guests were in AWE of the quality of the bathrooms. Highly recommended.
Joanne De Simone
Special Event - November 06, 2020
This company has the absolute best customer service I've ever had the pleasure of experiencing. They are friendly and super responsive. Just a pleasure to do business with. I can't wait to use their services for my next event!
David Collado Bronx NYC
Special Events, August 15, 2018
Been using John to Go services for the past 10 (+) years for our annual block party celebration in my neighborhood, they are friendly, professional, their products are always clean, reliable and operate as described. Their prices also cannot be beat. I plan to continue using them for many many more years and have also recommended to friends and family. Very Happy Customer, Bronx NYC
Porta Potty Rentals Near You

Find out where to rent portable toilets