As migration to Florida is surging, the area has become a location of choice for families, professionals, and businesses. Several years back, the city of Doral was identified as one of the 15 fastest growing cities in the country. It's home to several Fortune 500 companies and offers a positive employment outlook. Many entrepreneurs who are interested in targeting the Latin American market establish their businesses here. Doral's biggest companies include Hellmann Worldwide Logistics, Swiss Chalet Fine Foods, and Montenay Power.
However, you'll find more than big businesses in this city. Downtown Doral spans 250 acres and has become a sought-after place to live and work. You'll find no shortage of luxury residences, chic stores, and exciting new restaurants here.
Known as the third best city in the US for retirement, Doral is also flourishing with residential and commercial construction projects.
Indeed, Doral has much to offer whether for business or leisure. With its warm weather, diversity, job opportunities as well as shopping, dining, and entertainment options, Doral is a vibrant and attractive place to live and raise a family. Its popularity and positive reputation also makes it a place to host large-scale food, wellness, and entertainment events.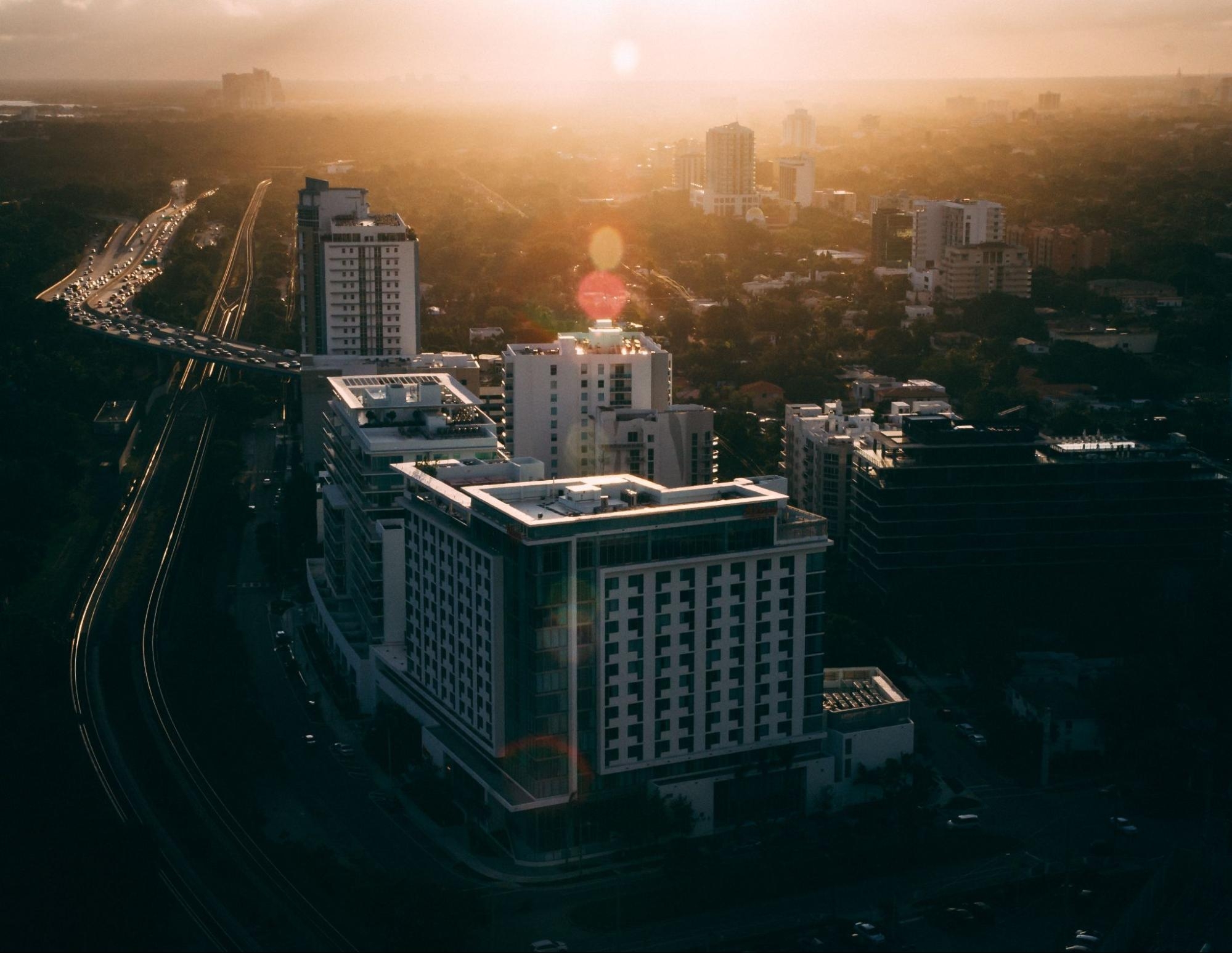 John To Go (JTG), a leading portable restroom company that's been around since 2004, caters to this need by offering porta potty rental near Doral. We make event and project planning much easier for project managers and event organizers by leasing our mobile bathroom facilities.
In addition to giving people a convenient way to relieve themselves, having porta potties is also a requirement of the Occupational Safety and Health Administration (OSHA). Contractors are required to provide one toilet for 20 employees or fewer. If a job site has more than 20 employees, contractors need to give them access to at least one toilet seat and one urinal. Providing access to these portable bathrooms is thus also a matter of compliance with existing employee health and safety standards.
Port o Potty Rental in Doral: John To Go's Most Popular Rentals
Companies that provide porta potty rental near Doral make event and project planning easier by offering their services to the public. One such company is John To Go (JTG), a leading portable restroom company that's been active and growing steadily in the South Florida area, accounting for a large percentage of Doral porta potty rental.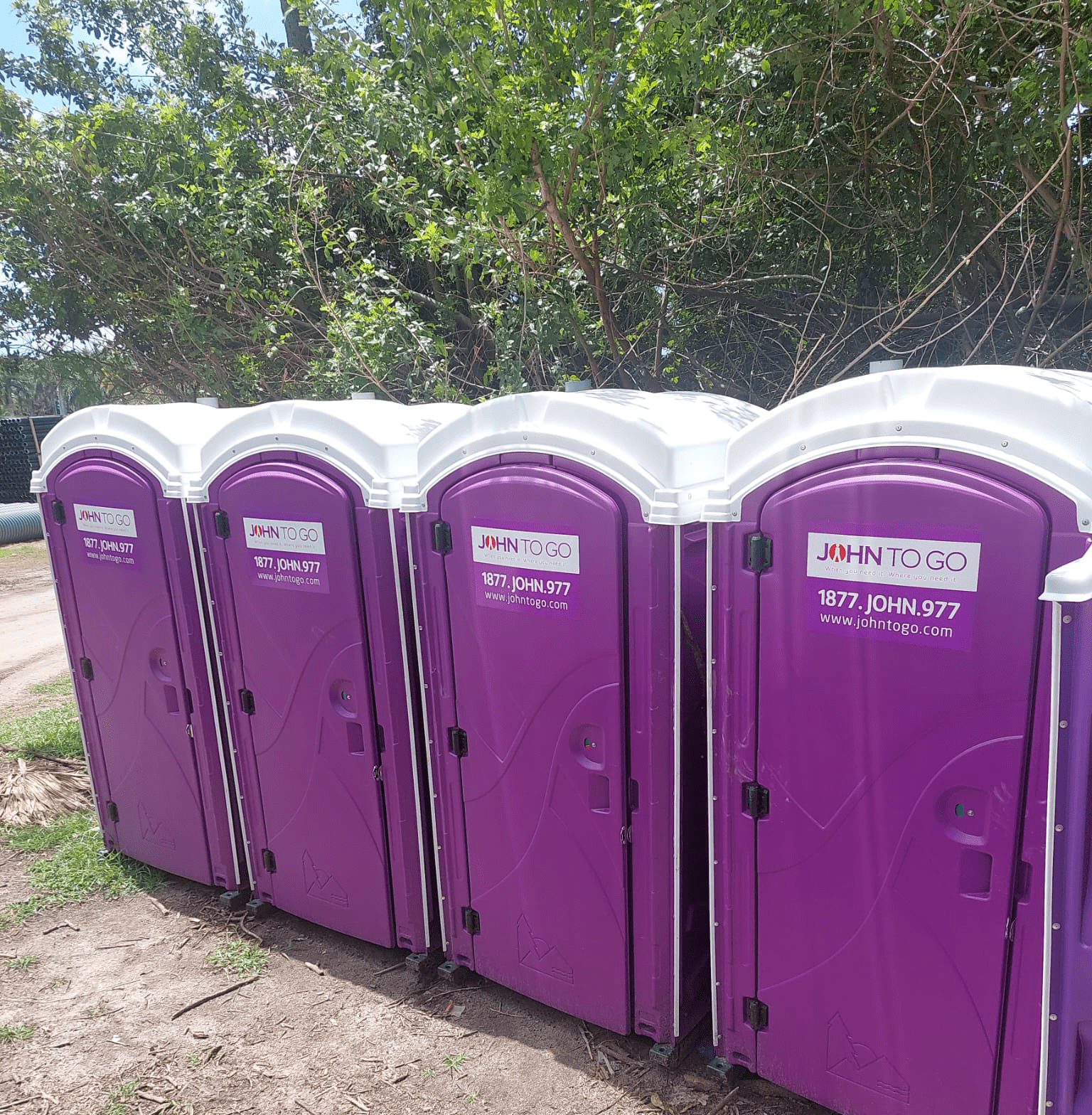 John To Go: Port a John Rental Near Doral
Looking for a porta potty rental near me? With a very strong presence in South Florida, and nearby areas, John To Go has a wide range of portable toilet john solutions for a variety of needs. So that we can meet the growing demand for Doral porta potty rental, we have specially-designed products for construction sites, events, disaster relief, people with disabilities, and more.
John To Go mobile restrooms range from spacious and more luxurious porta-johns to more basic models. Our portable facilities can come with freshwater systems, portable hand sanitizers, sinks, pumping services, and Americans With Disabilities Act or ADA-compliant features.
Regardless of which you choose, all JTG mobile restroom units have:
Ample space inside
Designs that optimize natural lighting
Good ventilation
Reliable and durable interior lock
Occupancy indicators
Hand sanitizers
Port o Potty Rental in Doral: John To Go's Most Popular Rentals
John To Go offers various porta potty rentals near Doral for a variety of needs. Our most popular models include those tailored for construction sites, ADA-compliant toilets, and portable event toilets.
Interested in a port a potty rental near Doral? Let's take a closer look at some of these options:
For Construction Sites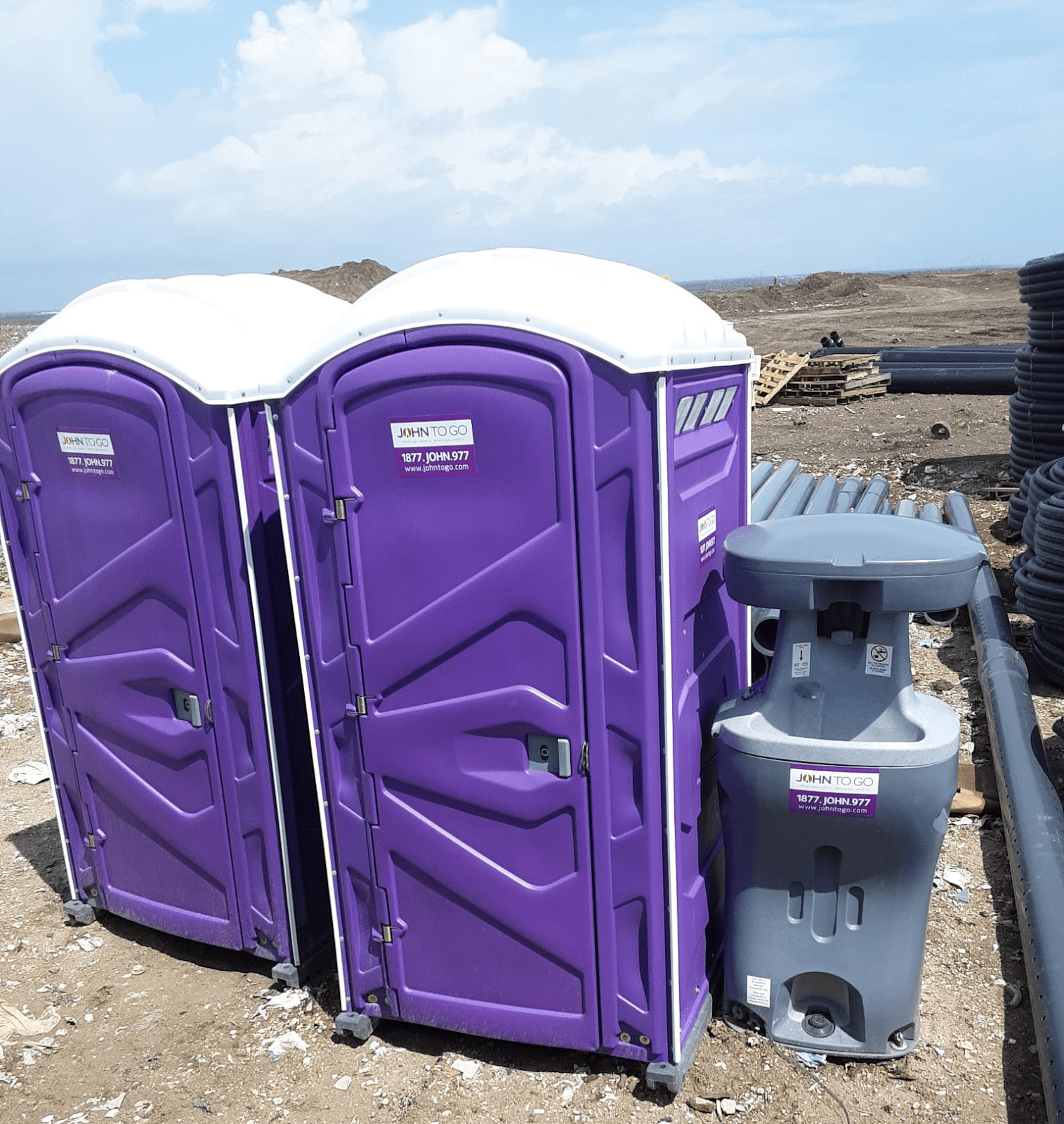 JTG has several options for Doral porta potty rental for construction sites, from basic urinals to toilets that are tailored to the specific setup of the construction site you're working at.
Also known as the 'Purple Porta Potty' due to its bright purple exterior, the JTG Construction Unit is one of the portable restrooms near Doral that you can consider for your construction site. It's a budget-friendly option priced at less than $140 monthly and has all the basic amenities.
This is a viable and popular solution for all types of construction projects whether they be residential, industrial, or commercial developments. The Purple Porta Potty can also be used for outdoor family gatherings or outdoor events. You can count on this hardworking unit to be sturdy, spacious, and equipped with basic features.
High-rise developments often need more portability and this is where John To Go's Hi-rise model excels. This extra portable version can easily be wheeled into elevators or onto sturdy scaffolds with its solid steel castors.
You can hoist it via a crane with its sturdy detachable sling, bringing it straight to your workers on different floors as necessary.
The Hi-Rise can take a tougher beating than other porta potty units with its durable steel frame and polyethylene construction, locking casters, and an exterior that is built for privacy and durability.
If you're looking for a portable bathroom rental near Doral to support your multi-story construction, it doesn't get any better than the JTG Hi-Rise. Priced at a little over $200 monthly, it has many special features that make it ideal for this type of application.
Another great option for multi-level construction projects is JTG's Lift Unit. Marginally taller and wider, the Lift has more space than the Hi-Rise with a slightly higher lease price.
This bathroom rental near Doral offers a strong durable construction and a sling for lifting to high areas. If you're working on a project with several floors, the JTG Lift gives you the ability to bring the bathroom to the workers, minimizing loss of work time.
For large events or projects with a higher than average number of workers or guests, JTG's Urinal Unit comes to the rescue. Capable of accommodating up to four men at a time, this urinal facility makes strategic use of space to deliver maximum utility with its convenient walk-through design and 70-gallon waste tanks. Each unit is also delivered with a hand sanitizer to accompany it.
Aside from construction projects, this model is also ideal for large high-traffic events like marathons, festivals, rock concerts, church events, bazaars, health fairs, and more.
If you need a port o potty rental in Doral to support a large number of people, you can lease the JTG Urinal Unit. This model can also be rented to complement JTG porta potties with toilets and sinks.
For ADA-Compliant Toilets: ADA Handicapped Unit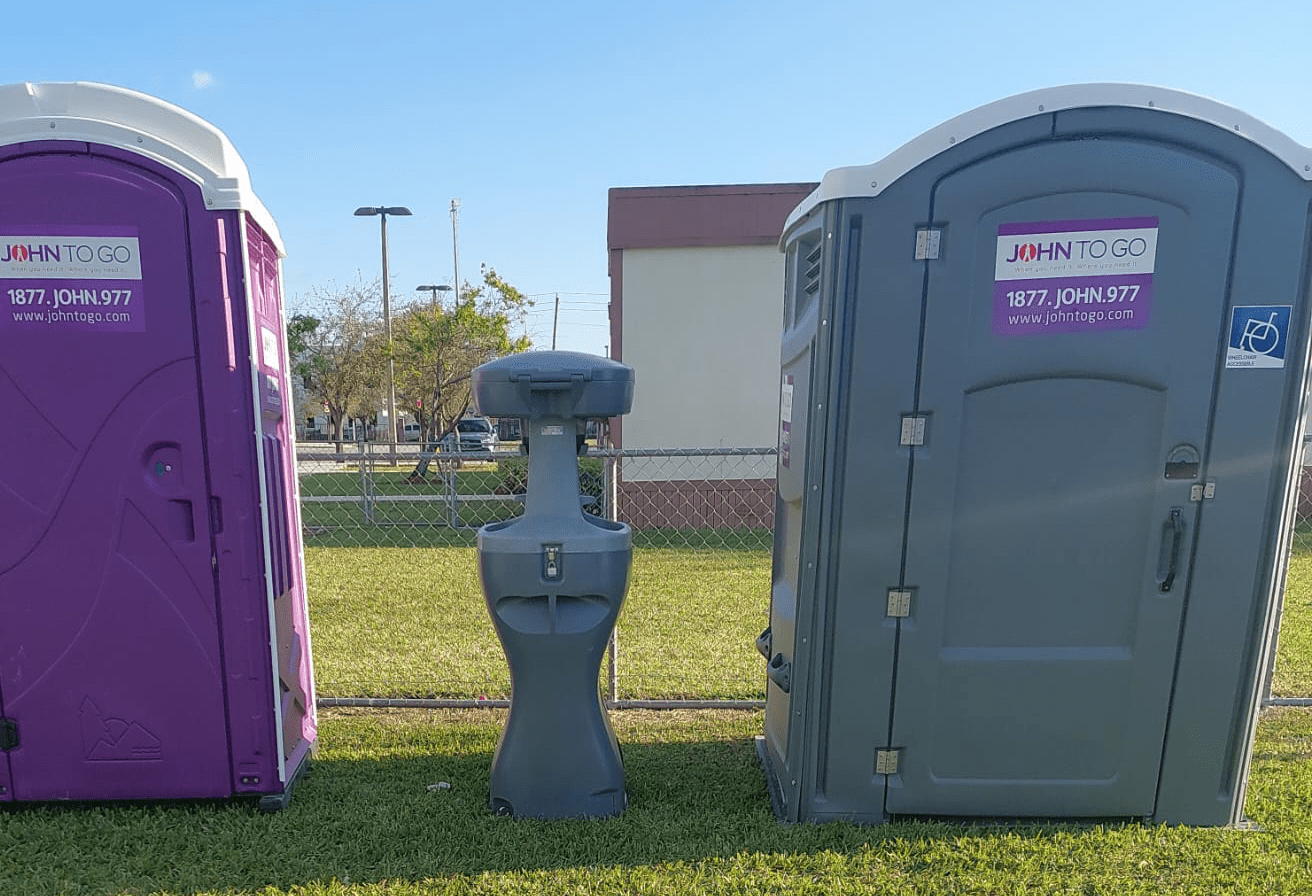 Big event organizers in the United States are government-mandated to provide ADA-prescribed amenities. The JTG ADA Handicapped Unit rises to the challenge with its 100% ADA-compliant features and design.
The model includes extra-wide doorways for easy wheelchair access, reinforced bars, handrails, customizable door closing speed, and thoughtfully designed interiors for people with special needs. In addition, this model also includes door-mounted mirrors and handles as well as large toilet seats for greater comfort.
For a Doral porta potty rental that is ADA compliant, the ADA Handicapped Unit is what you're looking for.
For VIP Events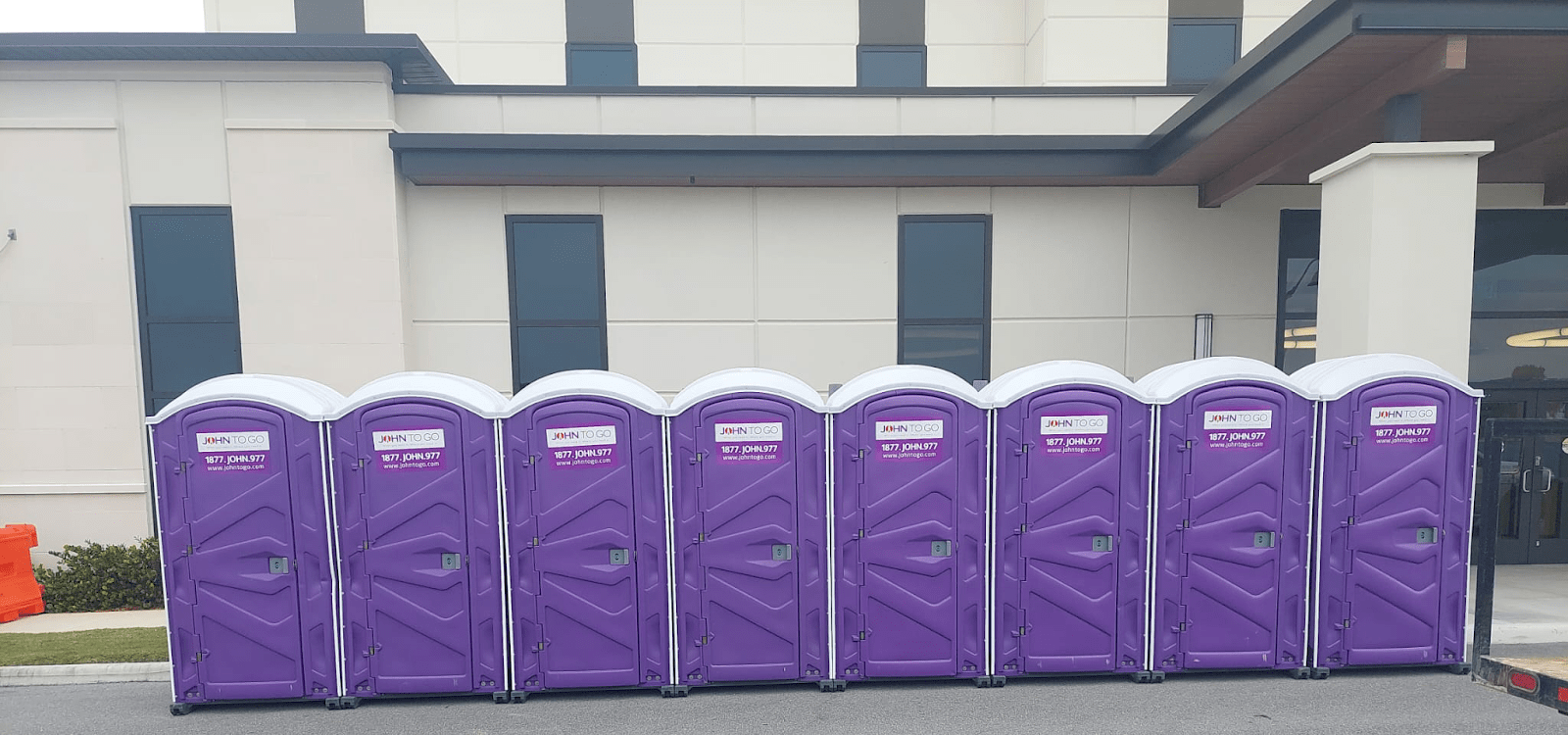 Organizing and hosting large events doesn't mean that your guests have to put up with the bare minimum. John To Go also offers more premium facilities that can keep high-paying guests feeling happy and satisfied.
Consider two of JTG's most sought-after models: the Ambassador Flush Deluxe and the Premium Event Unit.
Looking to rent a porta potty near Doral that offers a first-rate mobile restroom experience? Look no further than the Ambassador Flush Deluxe. With a modern and minimalist design, this extra-special model comes with:
A vanity area with mirror, sink, and toiletries
Flowing freshwater from its sink and toilet
A recirculation mechanism
Hands-free flush and faucet control via a foot-pedal
A shelf
Coat hook
Paper towels, and other convenient features
If you'd like to procure a larger version of the Ambassador Flush Deluxe, you can explore the Ambassador Oversize which is taller, supports heavier weights, and features wider doors. These units combine style with sturdiness and can easily be hauled and set up even in extreme weather conditions.
Maintain your event's posh look and feel with either of these high-end solutions from JTG. With extra amenities, sleek aesthetics, and convenient features, these premium bathroom rentals near Doral are ideal candidates for your next VIP event.
The Ambassador Flush Deluxe can be rented for a little over $300 while the Ambassador Oversize starts at $500 per month.
Slightly cheaper, at less than $200 monthly, JTG's Premium Event Unit has slightly toned-down features compared to the Ambassador Flush Deluxe and the Ambassador Oversize. This porta potty features extra spacious interiors, a sensor-activated flush, and a minimalist and ergonomic toilet seat and sink.
CHOOSE FROM OUR EXTENSIVE SELECTION OF PORTA POTTY RENTALS
FAQs On Porta Potty Rental
What is the average porta potty rental cost near Doral?
Porta potty rental prices near Doral range from $140 to $500 per month, depending on the area and features.
How do you empty a porta potty?
JTG's professional sanitation staff use a vacuum hose to empty toilets and transfer waste to a tanker truck. The waste collected then goes to a wastewater treatment facility for proper disposal and processing.
Is using a porta potty harmful to your health?
A well-designed, regularly cleaned, and professionally-maintained porta potty poses no danger to your health. On the contrary, it helps people attend to their needs in a sanitary way while preventing discomfort and unhygienic alternatives.
Where can I rent a porta potty near me in Doral?
If you need porta potty rental in Doral and nearby areas, contact John To Go, a trusted porta john rental near Doral. You can call us at (877) 564 6977 or contact us anytime via our 24/7 live chat agents or website contact form.
John To Go: Leader In Porta Potty Rentals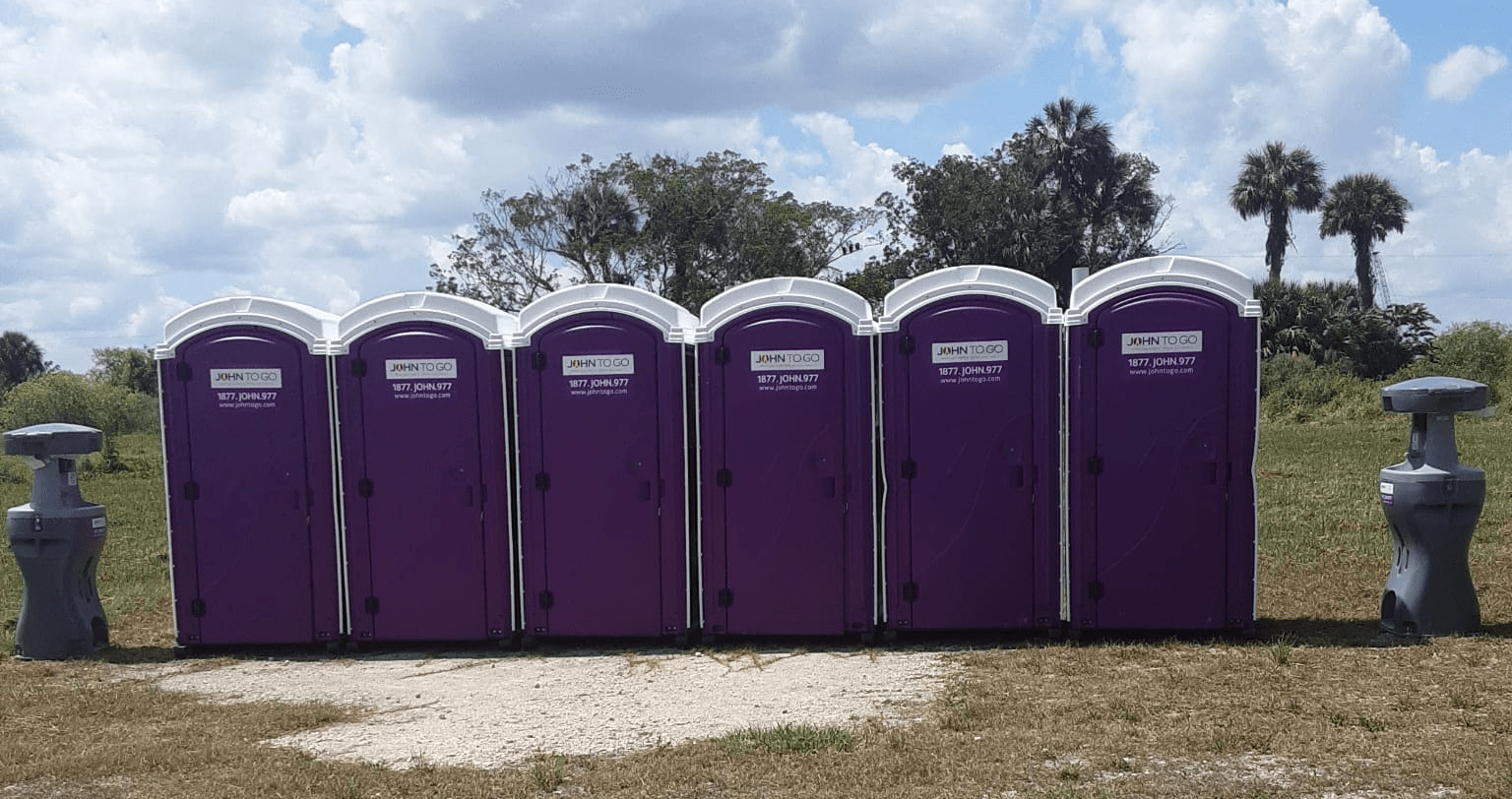 If you want to impress without the hefty price tag, our Premium Event Unit will offer your guests basic amenities that are sufficient for most types of events.
John To Go has been the go-to company for portable toilet rental near Doral since 2004. Event organizers, construction projects, and companies rely on JTG for sturdy, reliable, well-maintained, hygienic, and portable bathroom facilities.
JTG has a leading presence in the porta potty industry in the Tri-State area due to its excellent service, friendly professionals as well as updated and well-supplied units. We offer easy online booking, scheduled pickups and deliveries, and a smooth process at competitive prices.
If you're interested in a port o potty rental near Doral including restroom trailer rental near Doral, JTG can provide quotes quickly and can deliver its products and services even in challenging weather conditions.

(305) 722-5149
AREAS WE SERVICE NEAR DORAL:
Bal Harbour
Bay Harbor Islands
Biscayne Park
Coral Gables
Cutler Bay
El Portal
Florida City
Homestead
Indian Creek
Key Biscayne
Medley
Miami Lakes
Miami Shores
Miami Springs
North Bay Village
North Miami Beach
Opa-locka
Palmetto Bay
Pinecrest
South Miami
Sunny Isles Beach
Surfside
Sweetwater
Virginia Gardens
West Miami
HEAR FROM OUR CUSTOMERS:
Tom Talamini
Special Event - November 10, 2020
5 STAR SERVICE! The staff were friendly and professional. The delivery was on time as well as the pick-up. Bathroom trailer we rented was spotless, smelled nice and was fully stocked with extra paper towels, toilet paper and soap. Bathrooms were nicer than my house bathrooms. Wanted to keep the trailer. All my guests were in AWE of the quality of the bathrooms. Highly recommended.
Joanne De Simone
Special Event - November 06, 2020
This company has the absolute best customer service I've ever had the pleasure of experiencing. They are friendly and super responsive. Just a pleasure to do business with. I can't wait to use their services for my next event!
David Collado Bronx NYC
Special Events, August 15, 2018
Been using John to Go services for the past 10 (+) years for our annual block party celebration in my neighborhood, they are friendly, professional, their products are always clean, reliable and operate as described. Their prices also cannot be beat. I plan to continue using them for many many more years and have also recommended to friends and family. Very Happy Customer, Bronx NYC
Porta Potty Rentals Near You

Find out where to rent portable toilets