Looking to rent a porta potty near Miami Beach? We've got you covered. Are you hosting a large event that needs to accommodate your guests? Or are you a contractor looking to provide convenient facilities for your workers? When you need a dependable portable toilet rental, John To Go is the name you can trust. We offer the best port o potty rental in Miami Beach and have been providing high-quality, affordable Miami Beach porta potty rental to businesses, construction sites, event planners, and individuals since 2004.
Why Do You Need a Reliable Porta John Rental Near Miami Beach?
You need a reliable porta john rental near Miami Beach to get the most out of your Miami Beach event or construction project. Miami Beach is a city where the public can access beaches and parks year-round. It's also a hub for private events and construction sites, as well as temporary projects such as film shoots and music festivals. With so many people coming and going, it's vital that these events and sites provide adequate bathroom facilities for guests and workers. That's why portable restrooms near Miami Beach are a great fit for Miami Beach events and construction projects like highway pavement construction, bridges construction, etc.
Porta potties are a low-cost alternative to building permanent facilities for temporary projects, especially when you consider the many benefits of renting porta potties from John To Go. Here are just a few of them:
Your guests or workers will have the quality of experience they deserve at your event or site.
You'll save money on plumbing costs by avoiding the need to build permanent bathrooms with running water
You'll have a better chance of getting guests to stay longer at your event, which means more time to sell products or services to them (if applicable)
You'll have less litter in your event area because event-goers won't need to seek out public restrooms nearby.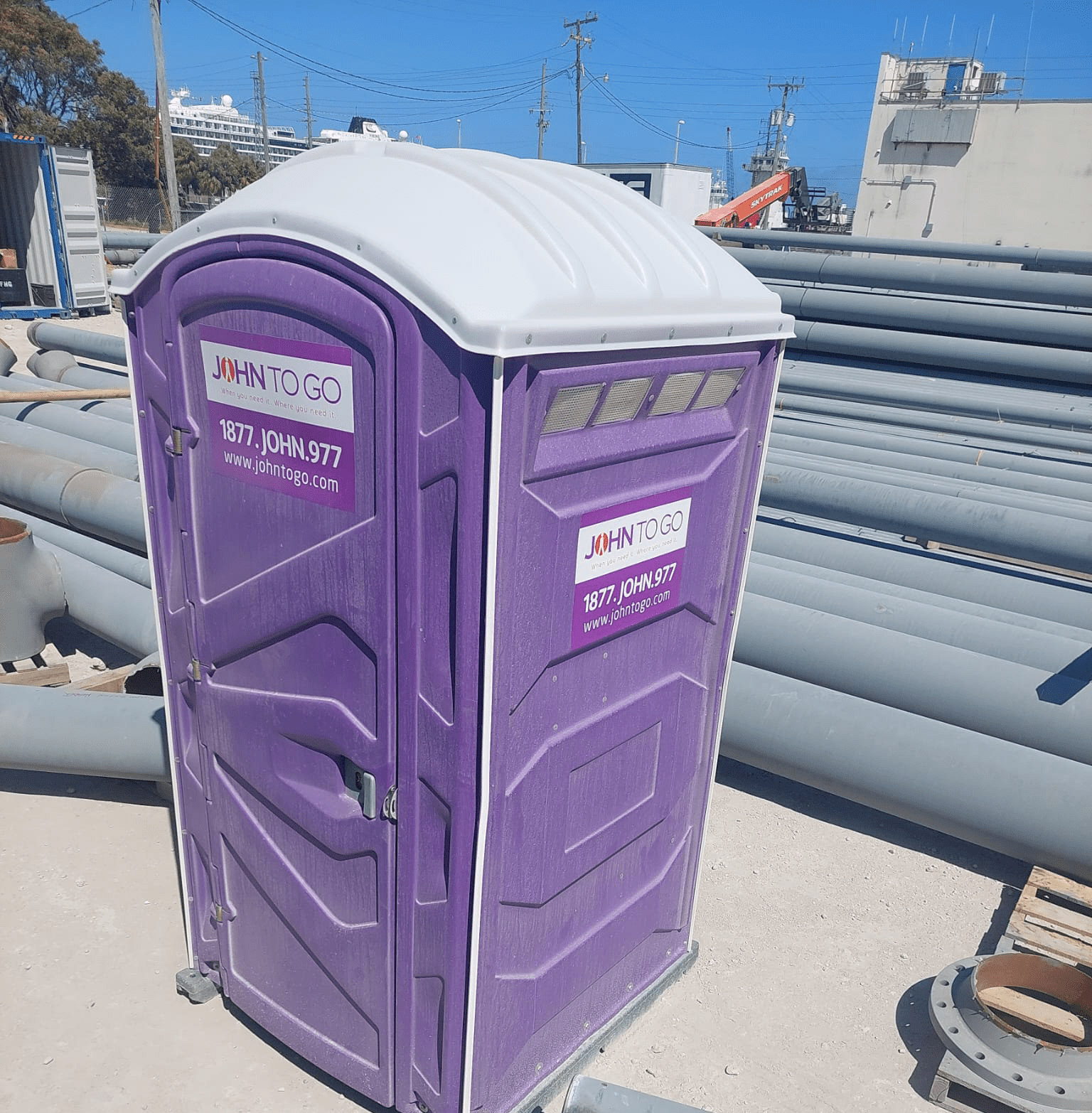 Porta Potty Rental for Construction Companies in Miami Beach
At any construction site, it's important to have a place for people to use the bathroom. Are you a road contractor involved in highway and bridge construction, or are you setting up a new skyscraper? You don't want your workers to have to go behind a tree to do their business. Portable toilets are an easy way to help meet the bathroom needs of your workers, especially if you're working on a project that doesn't have access to indoor bathroom facilities.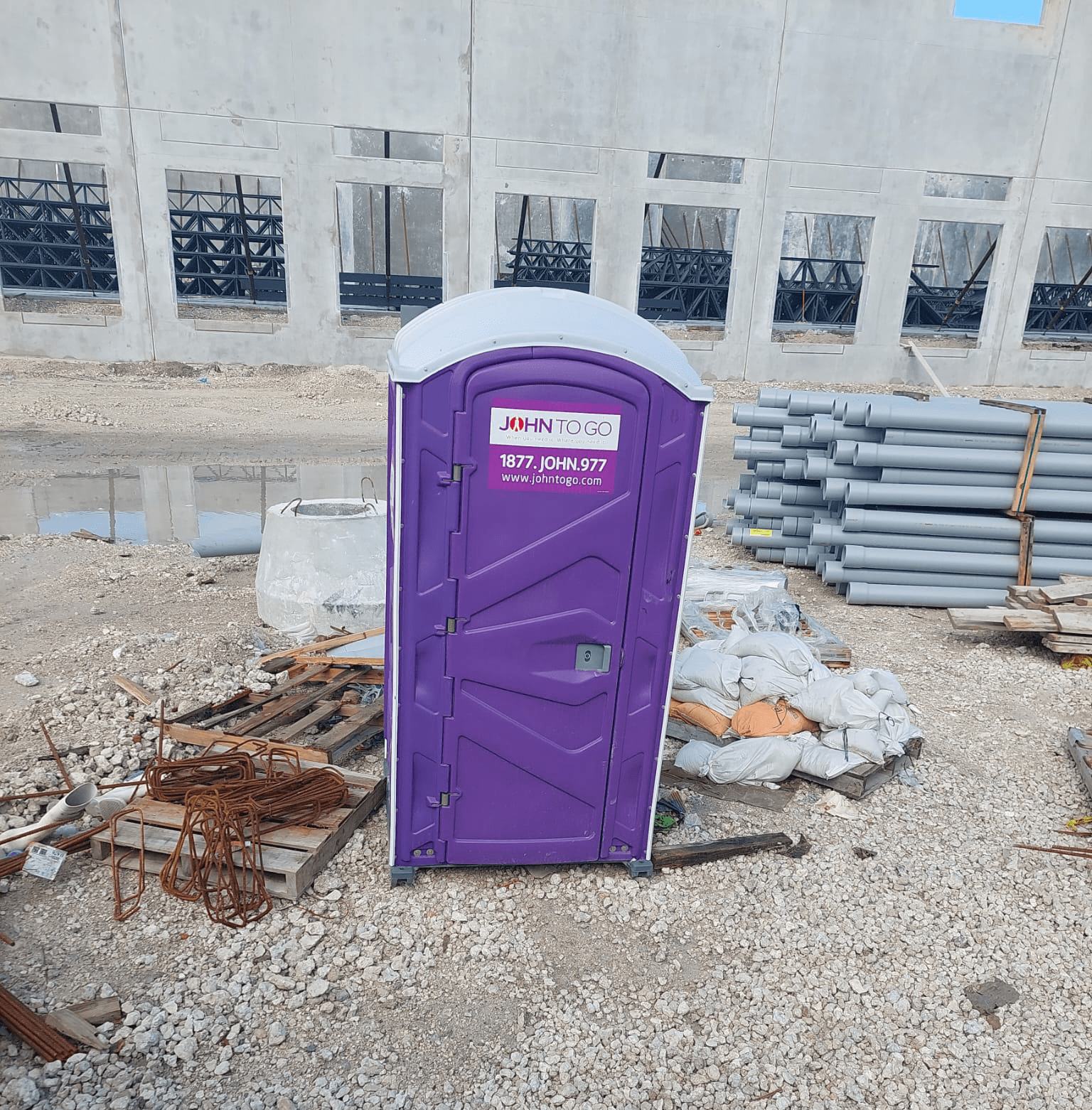 All active construction sites in different construction phases need a reliable portable bathroom rental near Miami Beach to keep workers happy and healthy so they can do their jobs well. Whether you're into commercial construction jobs such as bridge and highway construction, road building, or at various stages of new home construction, a bathroom rental near Miami Beach is important. And that's where we come in.
For years, John To Go has been in the business of meeting the portable toilet needs of construction companies in Miami Beach. We specialize in commercial, residential, road and bridge construction, and we have a track record of success in all these areas. We understand that ease-of-use is key for construction workers, who are often coming off a long, hard day on the job. So, we make sure our portable toilet service is reliable and our units are comfortable, easy to use, and of high quality.
At John To Go, we have the right product for your construction project site. We can equip you with urinal units, standard, non-flushing porta potties or deluxe flushing units. Building a skyscraper? We have porta potty lift units that can be raised to the level of construction. Our porta potty construction units are made of long-lasting polyethylene and feature a hard-wearing floor that is designed to stand up to the rigors of construction applications.
For those who desire flushing toilets, we offer a range of portable restrooms that include fresh water and waste water tanks along with a sink, hand sanitizer, toilet paper, soap dispenser, and mirror. With our restroom trailer rental near Miami Beach, your workers can get bathrooms that feel like those in a standard home. We also offer hi-rise construction porta potties that can be rolled into elevators or crane-lifted by a sturdy sling.
John To Go is fully licensed and insured to provide services throughout Miami Beach. We make it easy for you to get clean, well-maintained portable toilets and trailers delivered to your job site as often as you need them and serviced by our people so you can keep working without interruption.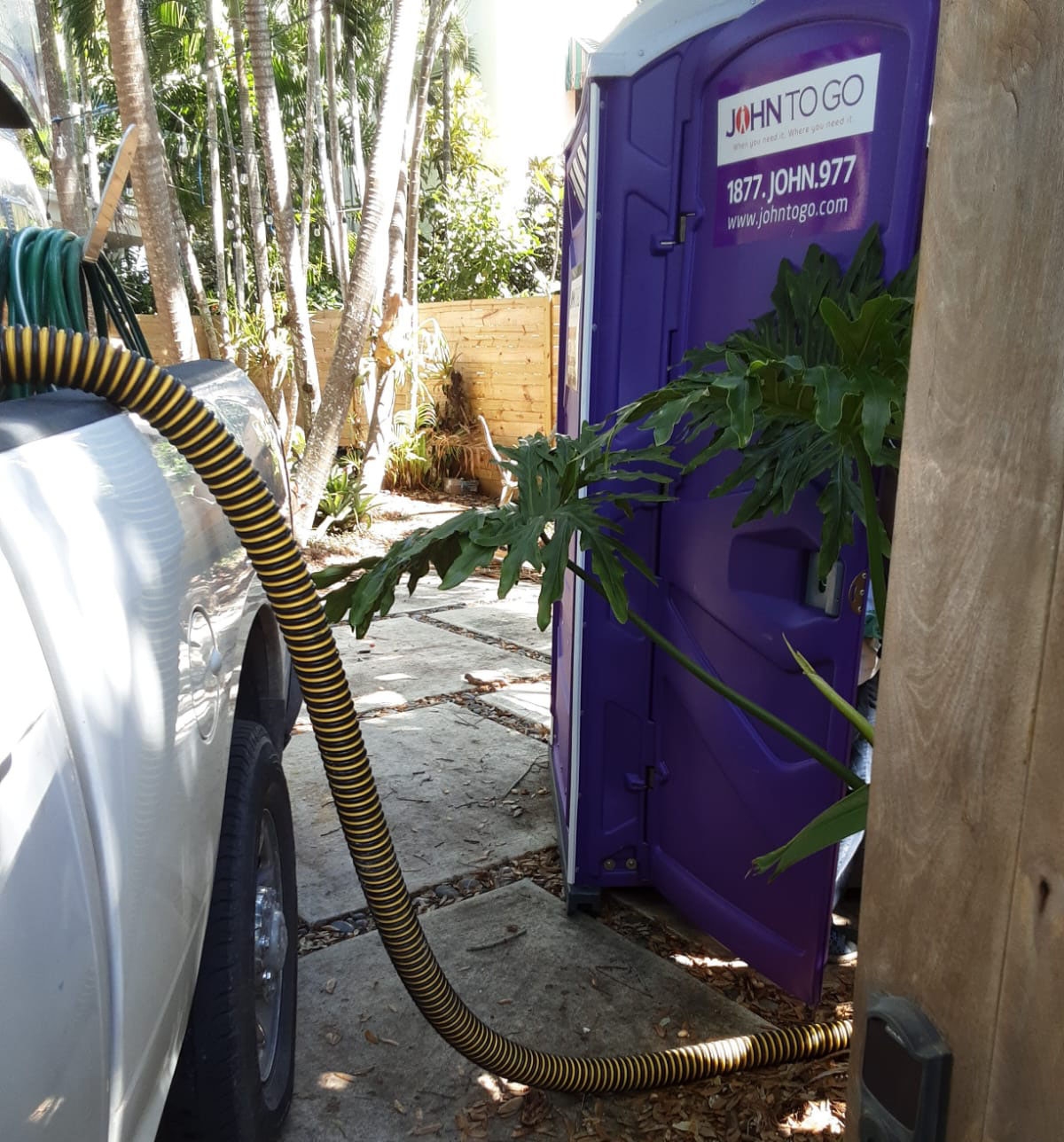 Port o Potty Rental in Miami Beach—Why Choose John To Go?
Welcome to John To Go, your first and last stop for reliable porta potty rentals near Miami Beach. At John To Go, we have a variety of portable toilet john models so you can find exactly what you need. If you're in the Miami Beach area and need to rent a porta potty near Miami Beach, you've come to the right place. Whether you're in the middle of a big construction project or are planning an event, we can help. Here's why you'll love going to us for all your Miami Beach porta potty rental needs.
Perfect and easy rental process We know you need a quick and easy way to rent porta potties for your event or Miami construction, and we've made it our business to make sure you get exactly what you need. No matter what kind of event or construction project you're planning, we ensure a smooth process by doing whatever it takes to deliver you the best porta potties on time, where and when you need them. And all it takes is for you to place your order on the site. Easy as pie, smooth as silk!
Easy quote system on site As a completely transparent port o potty rental in Miami Beach, we make it easy for you to see the quote for the porta potty units you need. Our online booking process is very easy. All you need to do is input the number of units you need and how long you need them. The price you see is the price you pay; there are no hidden costs!
We serve all kinds of customers Our porta potty services serve all kinds of customers, from construction workers working on large-scale projects like highways and bridges construction, to people who are throwing parties. With close to 20 years of experience in the business, there isn't a job that's too big or too small for us. We have many service trucks on the road to meet your every need! And whether you need to rent porta potty units for days, weeks, months, or years, we are the right company for you.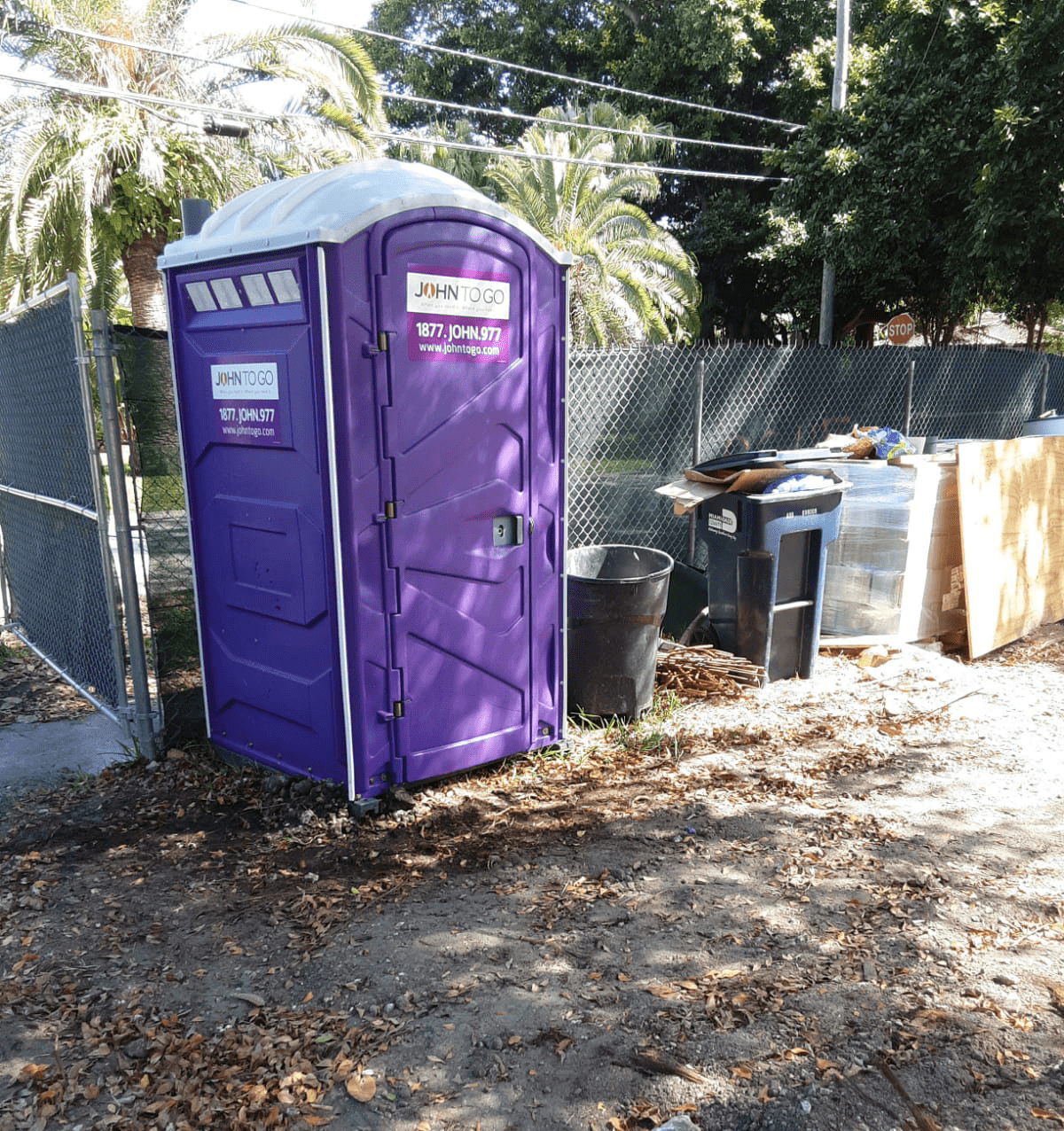 Excellent service We love serving the people of Miami Beach and want to make sure they have everything they need to be successful with their events and projects. That's why we're happy to serve the city's vibrant event industry and all of its construction projects. Our customer service is unbeatable as we constantly check in with our customers to make sure they're satisfied with every aspect of their experience. And that's how we proudly maintain a 98% customer retention rate!
Professionals to help you out We take pride in our service and our professionals, and are always happy to serve parties and events of all sizes. We specialize in finding the right porta potty for all your portable bathroom needs. Need help? Our friendly team is always available if you have questions about our services or want more information about what we offer! We have the best staff and the best equipment to keep things running smoothly, so you don't have to worry about anything. Our chat agents are available 24/7 to help you with anything along the way, be it regarding basic product info, checkout, servicing, or anything in between!
Excellent delivery service At John To Go, you can schedule your pickup or delivery, and we'll work around your preferences. We have a dedicated team that will deliver portable toilets right to your event, set them up, and provide you with the best experience possible. We are proud to serve anyone who needs porta potties in Miami Beach—from Bayshore Gardens, Coral Terrace, and Coral Park all the way down to Fisher Island. We can deliver to any address in the Miami Beach area, and we can even try to provide same-day service whenever possible.
Competitive cost Concerned about the cost of a Miami Beach porta potty rental? Don't worry! We offer the best prices in all of Miami Beach! With our affordable pricing options, you can rent your porta potty and get exactly what you need without breaking the bank.
Updated units Our portable potties are not only clean and well-maintained, but they are also available in a variety of styles. We offer both standard bathrooms and luxury bathroom options, so you'll always be able to find what you're looking for. We retire our units after 24 months of use so you can be assured that you're receiving modern, updated units. Need something that is handicap accessible? We've got that. Need something a bit more upscale for your guests? We've got that too! We offer portable toilets in standard sizes as well as larger ADA handicapped units that are ADA-compliant.
Frequent sanitation When you rent a porta potty in Miami Beach, you expect it to be clean and arrive on time. First of all, we get that. Second of all, we're the best at making it happen. Our porta potties are clean, durable, and easy to set up. Whether you request weekly servicing or something more frequent, we'll be there predictably to sanitize the unit, empty the waste tank, and restock supplies.
Well supplied units All of our toilets are designed to be easy-to-use and comfortable for all guests. We also provide hand washing stations and can even supply your facility with hot water if needed. Our units are already stocked with toilet paper and hand sanitizer, and they keep the environment clean and hygienic.
Work with locals Operating out of South Florida gives us plenty of experience working with tourists and residents alike, which means when you rent from us, you don't have to worry about any of that weirdness that can come from working with a company that doesn't understand the local culture. We know how important your event is to you, we're familiar with the landscape, and we'll do whatever we can to make sure everything goes smoothly.
We cover you in all weather conditions Our high-quality porta potties are made to withstand the hot weather and strong winds that come with being right by the ocean. In summer and winter, come rain or shine, John To Go is the place to go!
We stand behind our products At John To Go, we take pride in the quality of our products and give you a guarantee on every unit you rent from us. Our porta potties are durable and secure, and our company is one of the most highly rated companies in Miami Beach for porta potty rentals. Our performance history is exceptional, with all our customers giving us high ratings.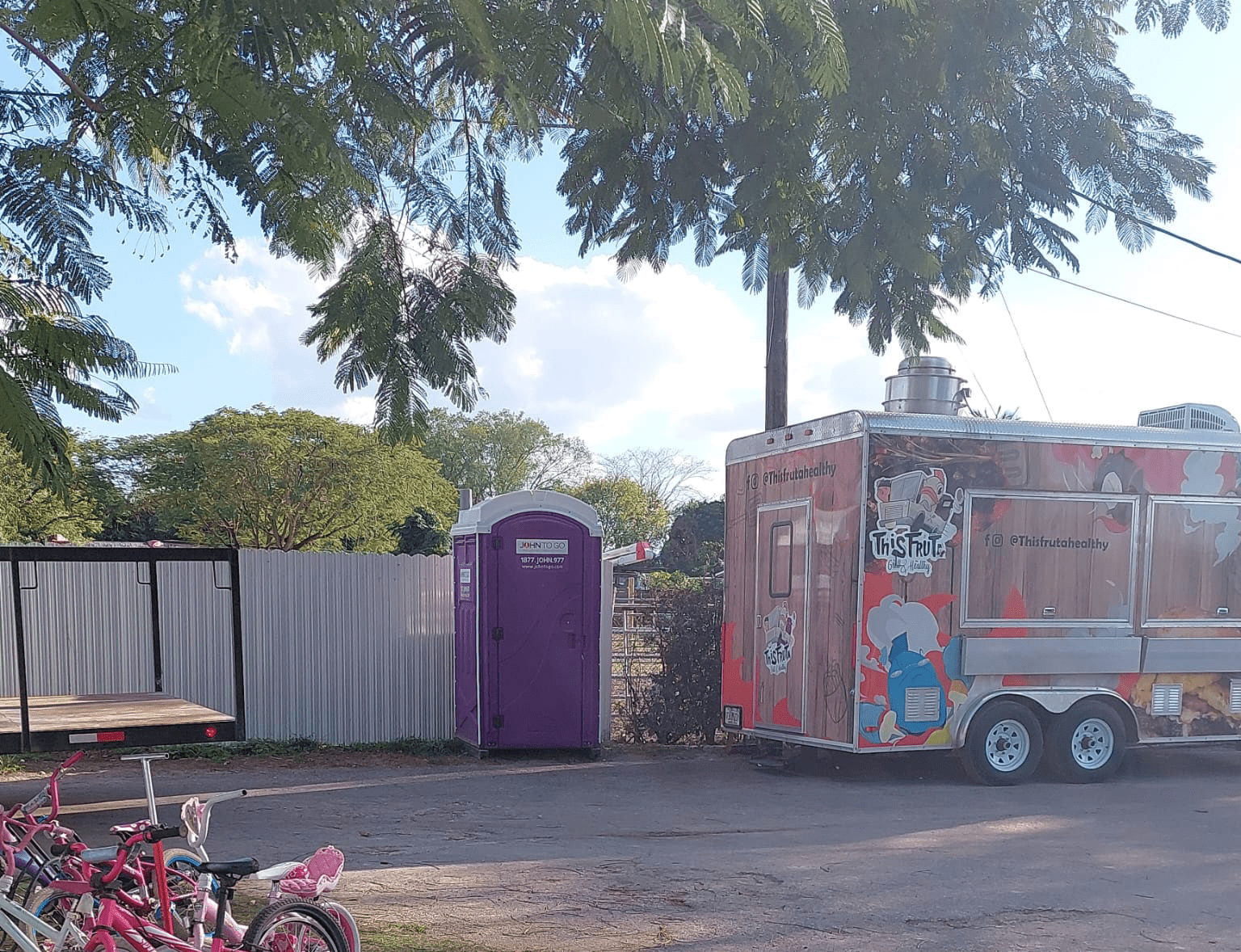 We look forward to meeting your needs!
Need a reliable porta potty rental near Miami Beach or want a fancy porta potty near Miami Beach? We know what it takes to make sure your portable restroom experience is just what you need—whether it's for a family reunion in Deerfield Beach or a construction crew in North Miami Beach. We'll be happy to help you find the right model for your needs and work with you to determine how many units will be needed at your site or event. For all your rental needs, we're just a call or click away! Give us a call today at (305) 722-5149, or chat with us on the site and let us know what we can do for you!
CHOOSE FROM OUR EXTENSIVE SELECTION OF PORTA POTTY RENTALS
FAQs
How much does it cost to rent a porta potty near Miami Beach?
What is the porta potty rental cost near Miami Beach? The cost of port a john rental near Miami Beach depends on factors such as type of porta potty unit and rental duration (the longer, the better). But a portable toilet rental near Miami Beach, typically for construction sites, starts under $160 a month.
Do porta potties smell?
It depends on how well the porta potties are cleaned. If an expert handles the cleaning and maintenance, porta potties are pleasant and odor-free.
How do you empty a porta potty?
To empty a porta potty, a porta potty service tank sections the waste in the porta potty out via a large vacuum attached to the truck. From there, it is disposed of properly by treating and breaking down the waste using microbes.
Where to rent porta potty?
You can start by doing a "porta potty rental near me" search. However, you need to choose a company with high user ratings and satisfaction (like John To Go), so you can be sure you're getting the best experience all-around!

(305) 722-5149
AREAS WE SERVICE NEAR MIAMI BEACH:
Bal Harbour
Bay Harbor Islands
Biscayne Park
Coral Gables
Cutler Bay
El Portal
Florida City
Golden Beach
Homestead
Indian Creek
Key Biscayne
Medley
Miami Lakes
Miami Shores
Miami Springs
North Bay Village
North Miami
North Miami Beach
Opa-locka
Palmetto Bay
Pinecrest
South Miami
Sunny Isles Beach
Surfside
Sweetwater
Virginia Garden
West Miami
HEAR FROM OUR CUSTOMERS:
Tom Talamini
Special Event - November 10, 2020
5 STAR SERVICE! The staff were friendly and professional. The delivery was on time as well as the pick-up. Bathroom trailer we rented was spotless, smelled nice and was fully stocked with extra paper towels, toilet paper and soap. Bathrooms were nicer than my house bathrooms. Wanted to keep the trailer. All my guests were in AWE of the quality of the bathrooms. Highly recommended.
Joanne De Simone
Special Event - November 06, 2020
This company has the absolute best customer service I've ever had the pleasure of experiencing. They are friendly and super responsive. Just a pleasure to do business with. I can't wait to use their services for my next event!
David Collado Bronx NYC
Special Events, August 15, 2018
Been using John to Go services for the past 10 (+) years for our annual block party celebration in my neighborhood, they are friendly, professional, their products are always clean, reliable and operate as described. Their prices also cannot be beat. I plan to continue using them for many many more years and have also recommended to friends and family. Very Happy Customer, Bronx NYC
Porta Potty Rentals Near You

Find out where to rent portable toilets