Why You Should Use John To Go for Your Porta Toilets Near Fort Lauderdale Needs
With gorgeous crystal clear beaches, an exciting boating environment, and weather that rarely dips below 60 degrees, it's no wonder why so many people flock to Fort Lauderdale year-round.
Whether you're putting together events for Florida travels, building in the booming economy, or simply having a get-together with the community, one thing you won't want to go without is a safe, clean, and reliable place for individuals to relieve themselves with porta toilets near Fort Lauderdale.
That's where John To Go comes into play. Over the past decade, John To Go has been in business, providing a fully-equipped and top-of-the-line porta toilet near Fort Lauderdale. No, really, give it a try. Search for "porta potty rental near me" in the Fort Lauderdale area, and you'll find John To Go pop up. That's because we're a reliable and successful company with continuous positive feedback from customers who've rented porta toilets near Fort Lauderdale from us in the past.
Keep reading to see why you should book John To Go for your Fort Lauderdale upcoming events.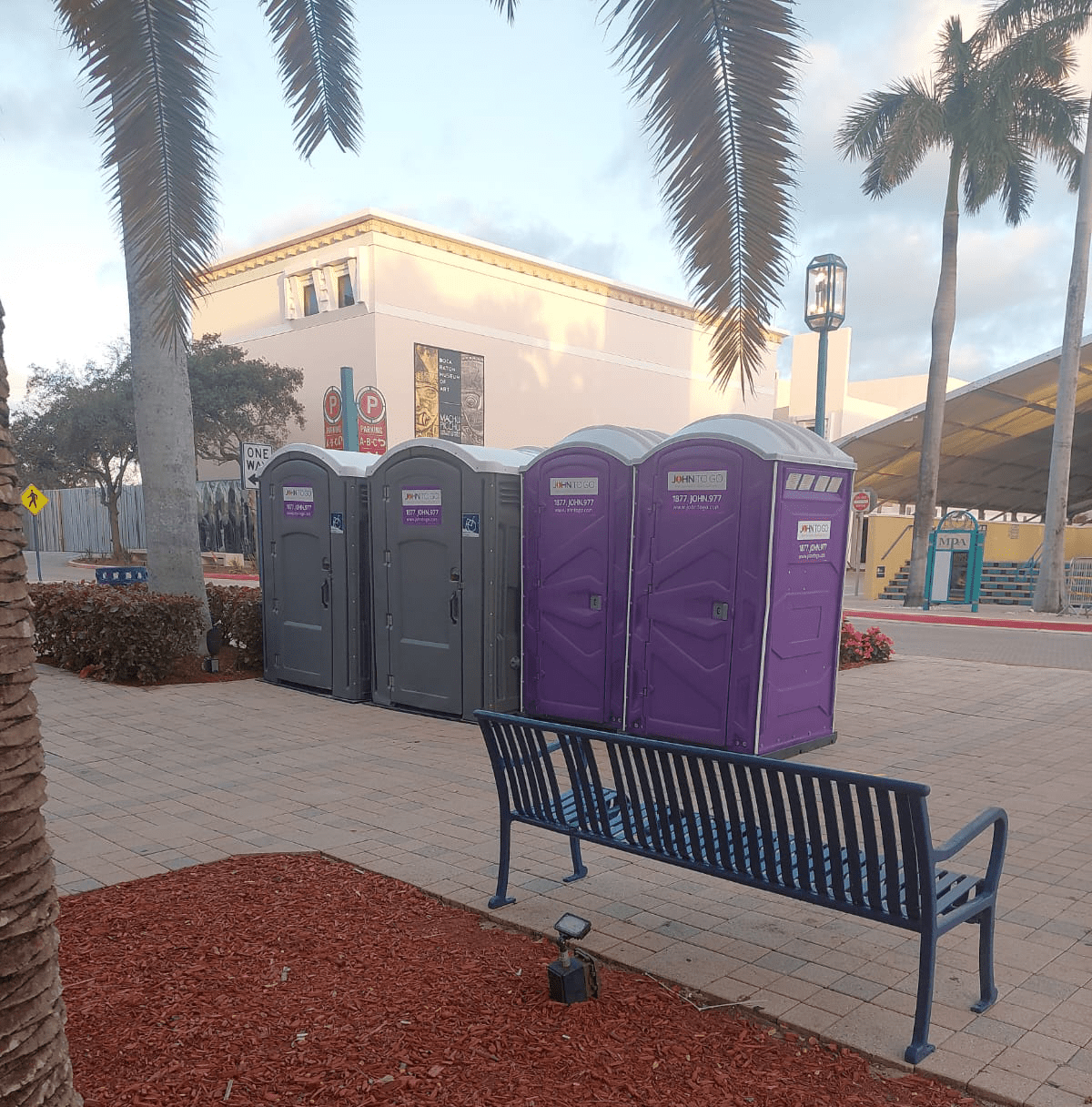 Who Needs Our Services?
At John To Go, we take pride in offering our services to all kinds of venues. Whether you're on a construction site or putting together Fort Lauderdale beach events, we can help. We proudly offer a wide range of services; whether you're looking for a restroom trailer for your charity events in Fort Lauderdale or need handwashing stations to keep guests safe at your Fort Lauderdale event venues, we've got you covered with all things related to porta toilets near Fort Lauderdale.
Why John To Go?
If you're looking to rent a porta potty near Fort Lauderdale - or other types of services - you should consider choosing John To Go. But why? What makes our company such a stand-out business compared to our competitors?
Here are some of the top reasons why John To Go will go above and beyond to satisfy your needs for a porta-john rental in Fort Lauderdale:
There is a reason why our valued customers have said things like, "Would highly recommend!" and "One call and everything was taken care of." That's because it's true. At John To Go, we know the importance of every customer. That is why we take the time to train our staff to be polite, courteous, and knowledgeable of all toilet rentals near Fort Lauderdale.
At John To Go, we make sure "the impossible is possible '' - even when it comes to porta toilets near Fort Lauderdale (and anywhere else). Our team is available around the clock to assist you. Call our team with any questions, comments, or concerns any time of day, and you will be greeted with a friendly attitude and and an accommodating smile.
It's not enough to promise we will serve your needs, whether you need a single port o potty rental in Fort Lauderdale or require multiple luxury portable restrooms near Fort Lauderdale. We also need to deliver.
Matching our goal of superior customer service, we also have many service trucks at the ready. Need an emergency portable bathroom rental in Fort Lauderdale the day of your event? No worries. Thanks to our many service trucks on the road, we will do everything we can to have you covered.
Unlike other companies, we don't leave any customers behind. We will stop at nothing to provide you with top-notch service regardless of your bathroom rental near Fort Lauderdale needs.
Easy Quote and Booking System on Site
Your time is valuable. We don't want you to get the go-around at John To Go. Instead, we want you to know exactly what you're going to pay. Most importantly, we want to make the process easy for you. That's why our website comes with a handy unit calculator to figure out how many porta potties or restroom trailers you'll need at your event space in Fort Lauderdale.
From there, you will get quoted immediately. No hassles, no gimmicks. The price you see is the price you pay. If you're happy with the price, use our easy booking system, and you are all set. It's never been easier to figure out pricing your porta toilets near Fort Lauderdale.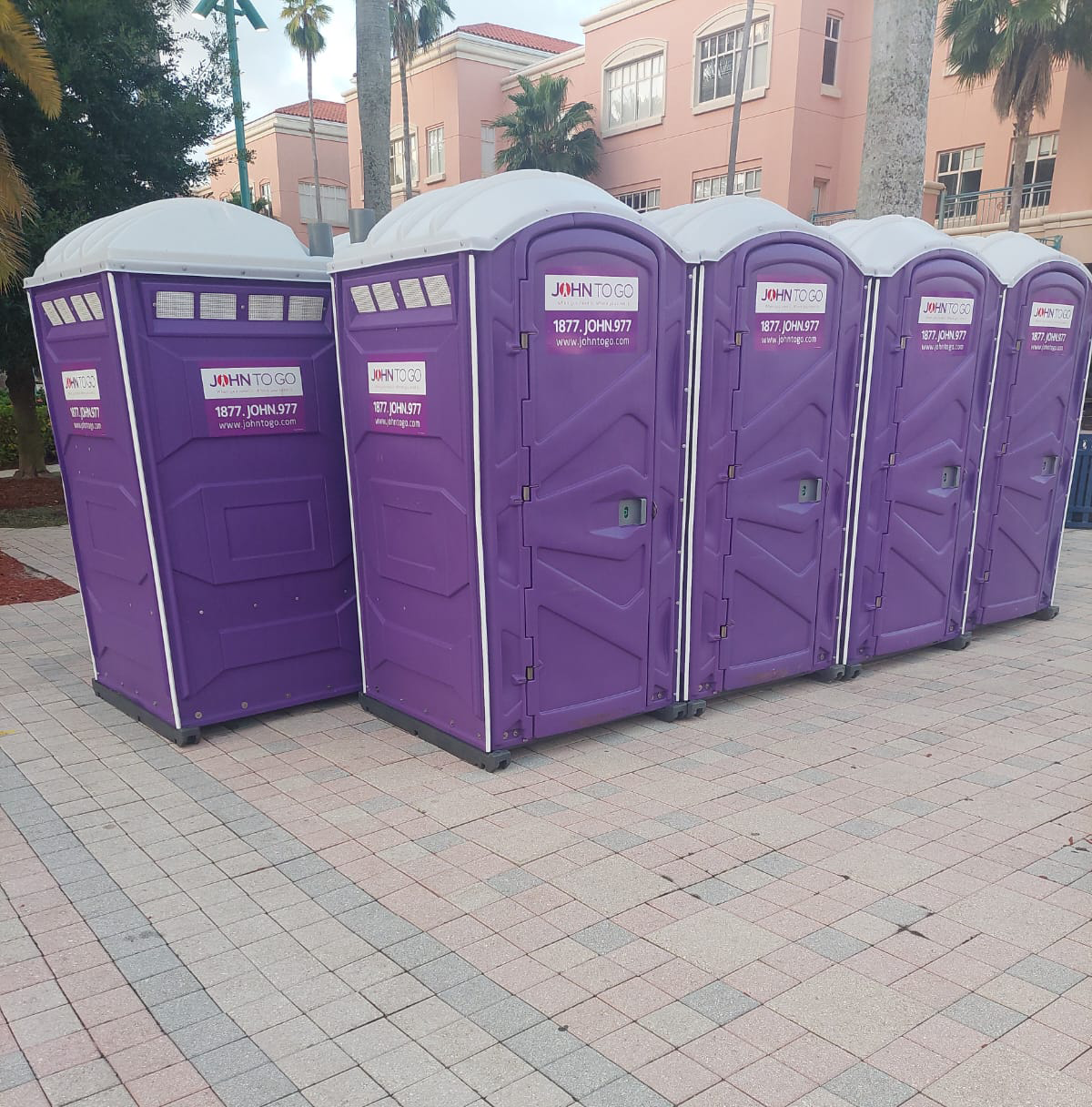 Some rent a porta potty near Fort Lauderdale companies will be challenging. You can spend countless hours simply trying to find out how many toilets you need, how much the price is, and finally, how to book.
The same isn't true for John To Go. We have handcrafted our website and customer service team to be efficient and straightforward, from start to finish. You won't find an easier or more streamlined place to rent portable bathroom near Fort Lauderdale.
Professionals to Help You Out
Whether this is your first time getting a restroom trailer rental near Fort Lauderdale or your 100th, we know that the process can still be somewhat wonky. You might not know the specifics, from cleaning to stocking and beyond.
That's just another step John To Go has taken. We have a team contrived of professionals to help you every step of the way, from the booking process to delivery. Our professionals will be able to answer all of your questions, as well as perform necessary cleaning and servicing on your porta potty near Fort Lauderdale.
When it comes to providing facilities for your events at Fort Lauderdale beach, you want the best of the best. Unfortunately, not all portable restroom rental near Fort Lauderdale companies will offer you that. The same isn't true for John To Go. We roll over our equipment every 24 months to ensure that the porta toilets near Fort Lauderdale that you receive won't disappoint when you need them most.
Whether you're holding Halloween events in Fort Lauderdale, fun Fort Lauderdale by-the-sea events, or other Fort Lauderdale family events, the last thing you want to do is end up with no supplies. We always ensure our units are well-stocked. We will visit long-term bathroom trailer rentals near Fort Lauderdale as often as once a week to restock your essentials (and more often if you specify so). That's the peace of mind you deserve.
In this day and age, most people are concerned with sanitization - especially if you're a manager or event planner in Fort Lauderdale. We ensure that all of our portable restrooms near Fort Lauderdale are sanitized religiously before being delivered. We also offer sanitizing stations for your Fort Lauderdale event locations.
We Stand Behind Our Products
When you decide to rent a porta potty near Fort Lauderdale, you want to choose a company that backs its products. At John To Go, we have supported our products for over a decade. We know we're a top-of-the-line porta potty rental near Fort Lauderdale company that won't disappoint - 100% satisfaction guaranteed.
We Cover You in All Weather Conditions
If you check your Fort Lauderdale calendar of events, you will notice one thing in particular: incredible weather. Fort Lauderdale is known for its pristine beaches and clear skies year-round. However, that doesn't mean that there isn't some rainfall along the way.
No need to panic. John To Go is ready and equipped to deliver your luxury porta-potty near Fort Lauderdale regardless of the weather, ultimately giving you the peace of mind you deserve.
You might be wondering - "What are porta potty rental prices near me?" This is a valid question. You don't want to overpay for your porta potty near Fort Lauderdale. Here at John To Go, we ensure our prices are always competitive. Our basic units are priced at under $160 per month for standard porta toilets near Fort Lauderdale, and pricing for short-term portable potties rentals and long term rentals may vary.
About Fort Lauderdale, Florida
With beautiful sunny skies around the clock and gorgeous beaches, Fort Lauderdale is the one-stop place to go for all of your outdoor adventures. It's the perfect getaway for beach and boat lovers or those who simply want to soak in the sun at local parks and recreational areas.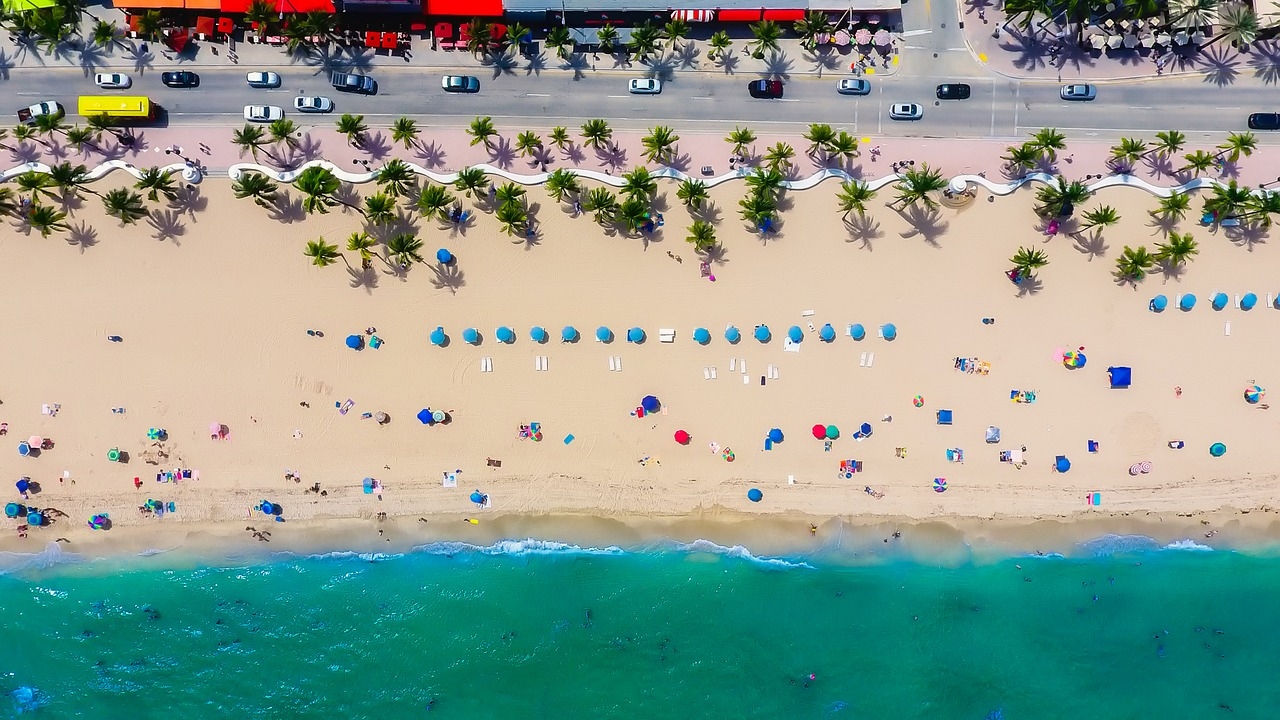 Seeing as there are many outdoor events in this location, it's no wonder why the query "Portable Toilet Rental Near Me" regularly occurs. This is because most events likely won't have any (or enough) restrooms to accommodate event-goers
Even if you're not hosting an event, you might still search to rent a porta potty near Fort Lauderdale. The economy is booming, which means many people are developing or renovating their space. This situation also calls for a portable restroom trailer near Fort Lauderdale.
Regardless of the "why" behind your rent a portable toilet near Fort Lauderdale needs, we are here to satisfy. Call or head over to our website today to learn more about how we can exceed your expectations with porta toilets near Fort Lauderdale.
CHOOSE FROM OUR EXTENSIVE SELECTION OF PORTA POTTY RENTALS
Frequently Asked Questions
What is the average cost of a Porta Potty?
Wondering what the porta potty rental cost near Fort Lauderdale might look like? Well, it depends on the type of portable bathroom you're renting. A fancy porta-potty near Fort Lauderdale will cost hundreds more than standard porta johns near Fort Lauderdale.
The length of time you require your bathroom trailer near Fort Lauderdale also plays a role. The longer you rent, the less expensive it will be per month.
Do porta potties smell?
If you're searching for "porta-potties near me near Fort Lauderdale," you clearly require a portable toilet. But you don't want the awful smell that is notorious for these units. John To Go ensures our units are well-ventilated and sanitized to diminish unpleasant odors.
Where to rent porta potty near me?
If you're looking to rent a porta potty near Fort Lauderdale, John To Go is a great option. We have an easy and streamlined quoting, booking, and delivery process, so that renting porta toilets near Fort Lauderdale is simple and streamlined. Try us out for your next event or occasion!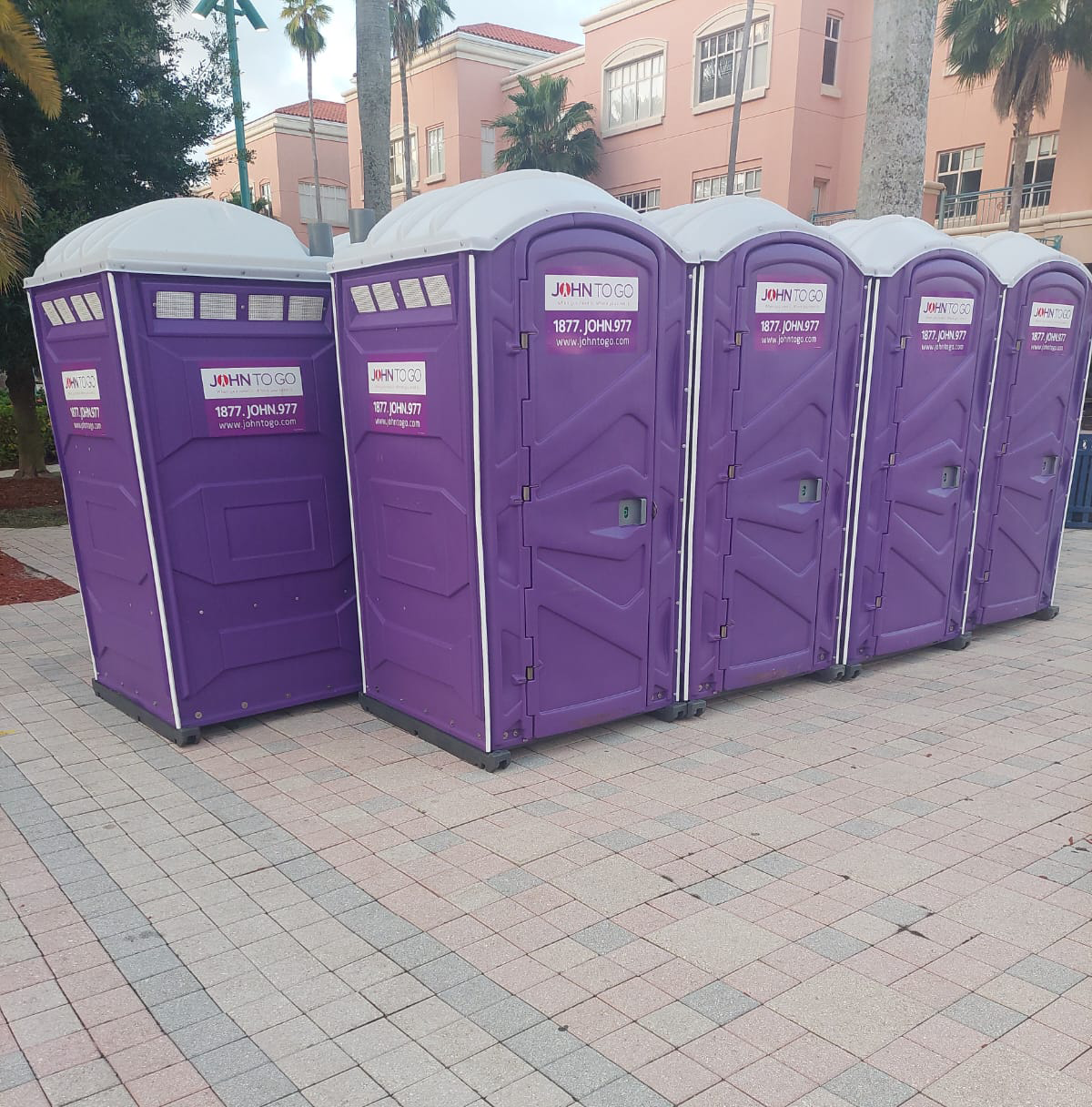 (305) 722-5149
AREAS WE SERVICE NEAR FORT LAUDERDALE:
Coconut
Creek
Cooper City
Coral Springs
Dania Beach
Hallandale Beach
Lauderdale Lakes
Lauderhill
Lighthouse Point
Margate
North Lauderdale
Oakland Park
Parkland
Pompano Beach
Sunrise
Tamarac
West Park
HEAR FROM OUR CUSTOMERS:
Tom Talamini
Special Event - November 10, 2020
5 STAR SERVICE! The staff were friendly and professional. The delivery was on time as well as the pick-up. Bathroom trailer we rented was spotless, smelled nice and was fully stocked with extra paper towels, toilet paper and soap. Bathrooms were nicer than my house bathrooms. Wanted to keep the trailer. All my guests were in AWE of the quality of the bathrooms. Highly recommended.
Joanne De Simone
Special Event - November 06, 2020
This company has the absolute best customer service I've ever had the pleasure of experiencing. They are friendly and super responsive. Just a pleasure to do business with. I can't wait to use their services for my next event!
David Collado Bronx NYC
Special Events, August 15, 2018
Been using John to Go services for the past 10 (+) years for our annual block party celebration in my neighborhood, they are friendly, professional, their products are always clean, reliable and operate as described. Their prices also cannot be beat. I plan to continue using them for many many more years and have also recommended to friends and family. Very Happy Customer, Bronx NYC
Porta Potty Rentals Near You

Find out where to rent portable toilets