Regardless of whether you're running a job site, putting on an event, holding a wedding, organizing a festival, or really assembling a large group of people for any reason, bathrooms and restrooms are going to be incredibly important to ensuring that your event, gathering, or project runs smoothly.
This is especially true if you're required to meet certain OSHA requirements, or if you have a large number of guests in an area where public restrooms and other types of sanitary facilities either aren't available, or aren't available in high enough supply to service your crowd.
There's really no other way to say it: Bathrooms are a necessity! And finding fancy porta potty near Manhattan events can be of utmost importance if you are arranging an event.
Rent A Porta Potty Near Manhattan, New York
Manhattan is a busy place. In many ways, it's not just a thriving metropolis—but an example of the pure American Dream.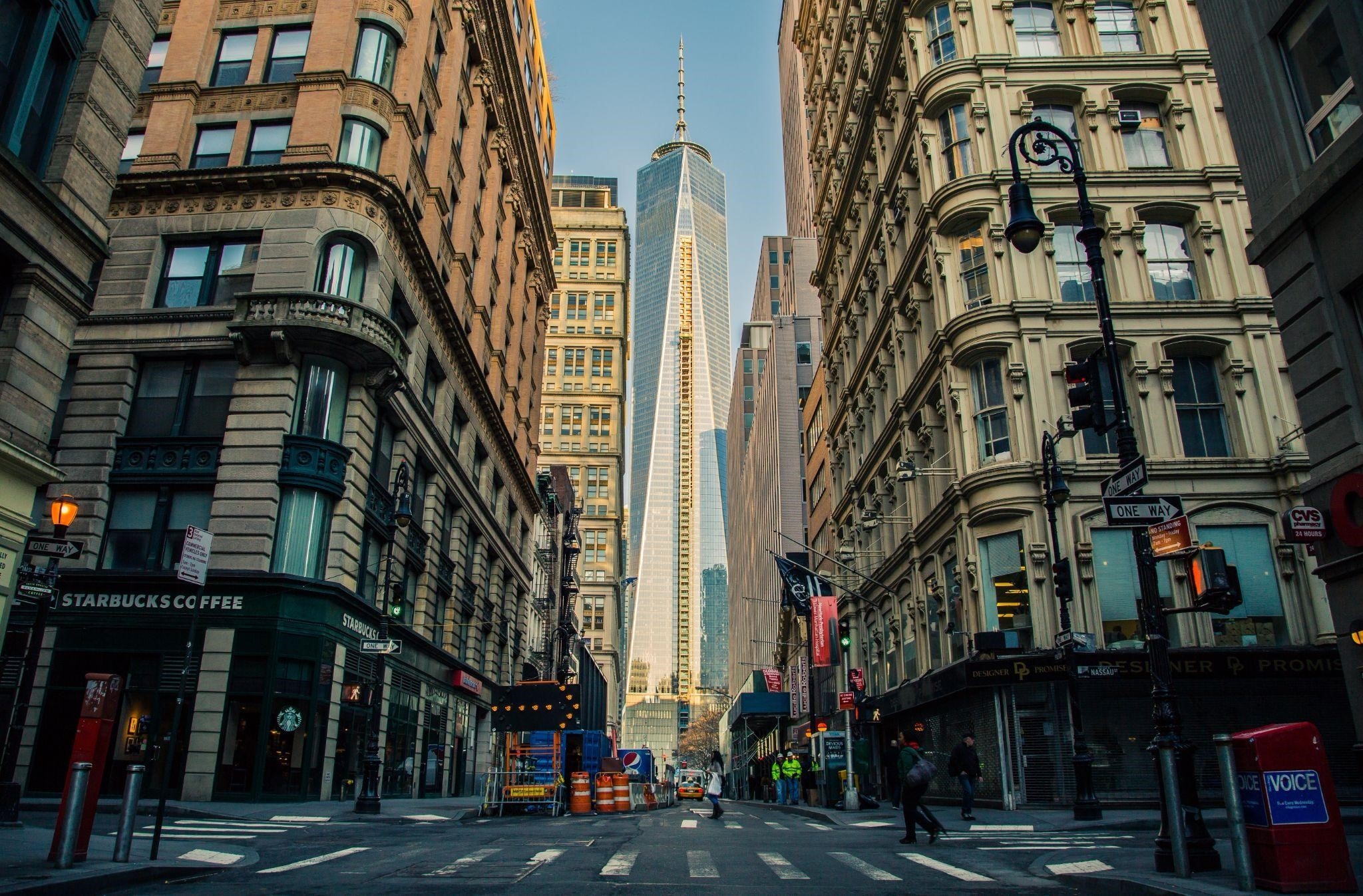 Everything you need is right around the corner. Everything is tight, traffic is crazy, it's loud, and it's exciting. There are stores and businesses everywhere, and there's no shortage of events, work sites, and gatherings where people enjoy coming together.
In fact, perhaps that's one of the greatest things about Manhattan.
In some ways, living in Manhattan can make you feel like a small fish in a big pond.
But the truth of the matter is that connectedness and community are important to the people of this city.
And one of the best ways to throw a successful event is to make sure that all of your guests have what they need.
And a portable bathroom rental near Manhattan is just one example of a crucial amenity that you can't go without.
And wherever a lack of available facilities may prove to be an issue, porta potties and restroom trailers are the best options to fix the problem.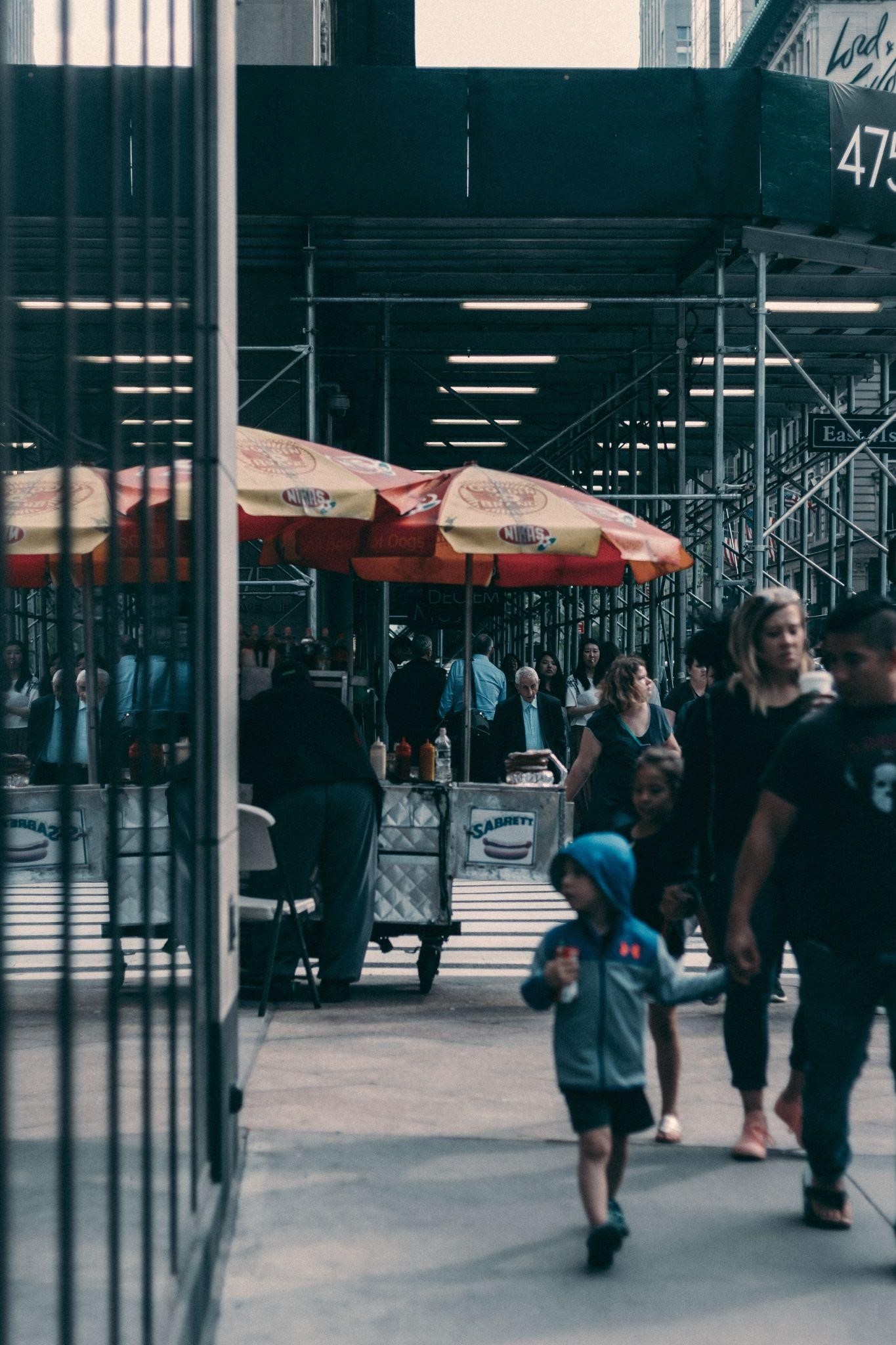 Whether you're throwing a party, holding an outdoor festival, planning a wedding, hosting a concert, or setting up a job site, you'll need to find portable restrooms near Manhattan that are easy to order, that come with great customer service, and that are priced affordably.
And for those occasions where you need options for a fancy porta potty near Manhattan , John To Go has you covered.
Event Porta Potty Rental Near Manhattan
If you plan to throw an event, then bathroom rentals near Manhattan are likely going to be on your 'to do' list.
But you can also consider a restroom trailer rental near Manhattan, or even a fancy porta potty near Manhattan if those types of amenities are a better match for what you're trying to provide for your guests.
We carry fancy porta potties like the JTG Ambassador Flush, restroom trailers like the Two Station Vegas Restroom Trailer, and more 'traditional' porta potty options, like the Purple Porta Potty: JTG Construction Unit.
Porta John Rental Near Manhattan: Providing Excellent Service To Our Customers
Getting a port o potty rental near Manhattan isn't as simple as simply finding a number to any old porta potty company and making an order.
Service is important, and company reputation is important.
There's also affordable pricing to consider. Although you may need a fancy porta potty near Manhattan, you're likely not looking to pay upscale prices.
At John To Go, we stand behind our products with excellent service and reasonable rates.
We carry a wide range of portable porta potty options, as well as a range of beautiful, functional restroom trailers.
If you need a portable restroom in the Manhattan area, that's what we specialize in.
Here are just a few reasons to consider John To Go for your Manhattan restroom trailer or portable toilet john rental.
Porta Potty Rental Near Me - Pickup And Delivery
We offer a perfect, smooth process/system for dropping off units, and then collecting them again.
You can schedule your delivery and pickup at times that work for you, your event, and/or your worksite, and you can always expect excellent delivery service.
Our easy online booking process also makes booking porta potty rentals a breeze.
Have questions? Ready to rent a fancy porta potty near Manhattan or any other part of New York City ? Contact us, we're glad to help all day any day.
Need a quick quote? Visit our home page.
It's easy.
Manhattan Porta Potty Rental - Length Of Rental
If you're looking for a long-term port a john rental near Manhattan, we've got you covered.
Not only do we cover short term events, but we also cover seasonal rentals and long term rentals.
We even clean them, stock them, and maintain them for the duration of the rental period.
In other words, when you're renting a fancy porta potty near Manhattan, you won't have anything to worry about. Our clients know they can feel confident that we'll handle all the details from A to Z.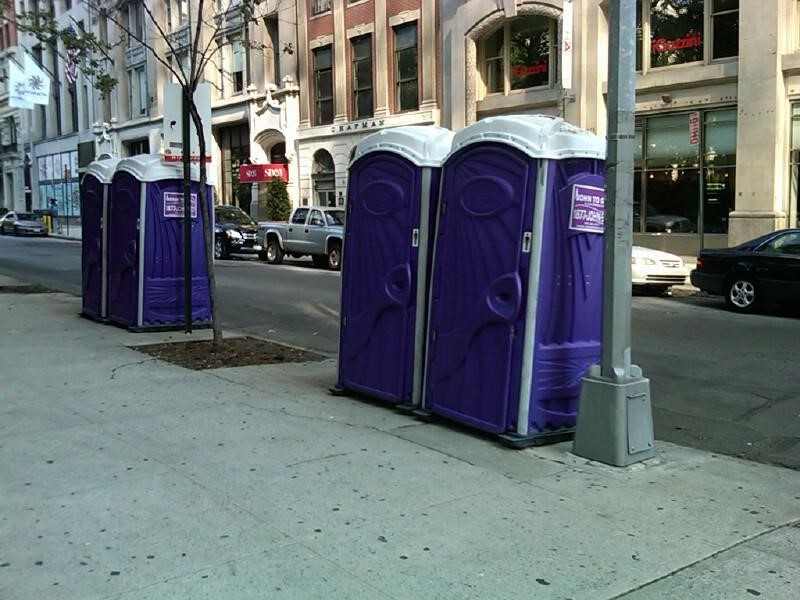 Highest Quality Portable Toilet Rental Near Manhattan
We stock a huge range of updated units, to ensure that the technology is current and that you'll have access to the best sanitary facilities available in Manhattan.
We also make sure to sanitize frequently, and have you covered in all weather conditions.
In other words—we make it so that you can do less worrying about porta potties, allowing you to get back to other important tasks that demand your attention.
Port O Potty Rental In Manhattan - Maintenance Made Easy
Among other benefits, renting a porta potty near Manhattan through John To Go will give you access to:
Excellent service
A fleet of readily available service trucks on the road
Professionals to help you out whenever you need it
Maintenance is a breeze when you order from us.
The last thing you need to deal with is to be forced to stop your work, planning, or partying to have to deal with 'unsavory' portable restroom issues.
This is why it pays to rent from pros who know how to keep the units maintained, who also strive to deliver top-level quality with every rental.
What Does A Porta Potty Rental Cost Near Manhattan?
Some people believe that a port a potty rental near Manhattan would be an expensive investment (this is Manhattan we're talking about, after all).
But the truth of the matter is that porta potty rental prices near Manhattan don't have to be outrageously expensive.
We maintain an easy quote system on our website, and offer competitive pricing.
This allows you to spend your money on other stuff you need, while getting a great deal on restroom rentals that won't break your budget.
FAQs - Porta Potty Rentals Near Manhattan
When it comes to portable restrooms near Staten Island you may have a few more questions before you're ready to choose something for yourself. And that's where we can help you out again. Here are a few of the most commonly asked questions, and what you need to know before you rent a porta potty near Staten Island.
What is the average cost of a Porta Potty?
Our porta potty prices tend to range from $125 to about $480 per month, depending on the make and model of the system you'd like to rent.
Do porta potties smell?
Porta potties sometimes get a bad reputation in terms of smell. But here's the thing. If you rent something like a flushable unit, or a restroom trailer, you really won't have to deal with any smell whatsoever, because these units are equipped with flushing mechanisms that get rid of waste. They're very similar to a normal public restroom.
How do you empty a Porta Potty?
John To Go actually handles this entire process for you, so you won't have to worry about it. But the long answer is this: We use sanitation equipment to either empty the waste holding tanks, or switch out the waste tanks (in the case of restroom trailers) during regular scheduled maintenance. This is performed automatically, on a timely schedule, whenever you rent from us.
How do they clean portable toilets?
Cleaning and sanitizing portable toilets is important—not just for sanitary reasons, but also for your overall health and safety and the health and safety of your guests.
Once again, this is a part of regular maintenance, and we perform this function regularly and in a timely fashion on all rented units.
Depending on the size of your crowd, you may want to spot-clean and sanitize units periodically as you would if you were cleaning a public restroom. Or, you can let us know that you'd like someone on-hand to do this for you, and we'll make it happen!
The long answer, however, is this:
Cleaning and sanitation is performed on porta potties and restroom trailers almost exactly as it's performed in public restrooms.
AREAS WE SERVICE IN MANHATTAN:
Midtown
Lower Manhattan
Harlem
Upper East Side
Upper West Side
Washington Heights
East Harlem
Chinatown
Lower East Village
Alphabet City
East Village
Lincoln Square
Financial District
Morningside Heights
Hamilton Heights
Inwood
Hell's Kitchen
Battery Park City
Chelsea
Yorkville
Hudson Heights
Two Bridges
Gramercy Park
NoHo
Greenwich Village
Stuyvesant Town
Koreatown
SoHo
Tribeca
Murray Hill
HEAR FROM OUR CUSTOMERS:
Tom Talamini
Special Event - November 10, 2020
5 STAR SERVICE! The staff were friendly and professional. The delivery was on time as well as the pick-up. Bathroom trailer we rented was spotless, smelled nice and was fully stocked with extra paper towels, toilet paper and soap. Bathrooms were nicer than my house bathrooms. Wanted to keep the trailer. All my guests were in AWE of the quality of the bathrooms. Highly recommended.
Joanne De Simone
Special Event - November 06, 2020
This company has the absolute best customer service I've ever had the pleasure of experiencing. They are friendly and super responsive. Just a pleasure to do business with. I can't wait to use their services for my next event!
David Collado Bronx NYC
Special Events, August 15, 2018
Been using John to Go services for the past 10 (+) years for our annual block party celebration in my neighborhood, they are friendly, professional, their products are always clean, reliable and operate as described. Their prices also cannot be beat. I plan to continue using them for many many more years and have also recommended to friends and family. Very Happy Customer, Bronx NYC
Porta Potty Rentals Near You

Find out where to rent portable toilets