If you're hosting an event of any kind, running a construction site, or for any reason need a porta potty in Staten Island, you'll want to know where to get them. And you've probably searched 'porta potty rental near me' a hundred times. The good news is, it's easy to find the right place, because John To Go is ready and waiting with the high quality products and options for porta john rental near Staten Island that will keep your guests, employees, and anyone else comfortable and happy with their facility needs.
What You Find with Porta John Rental Near Staten Island
When you're looking to rent a porta potty near Staten Island you want to know what you're getting into. You want to know that you can get the product you're looking for and that it's going to provide the service that you want. While you might think that all porta potties are the same or that getting one porta john rental near Staten Island is just like any other, that's not the case at all.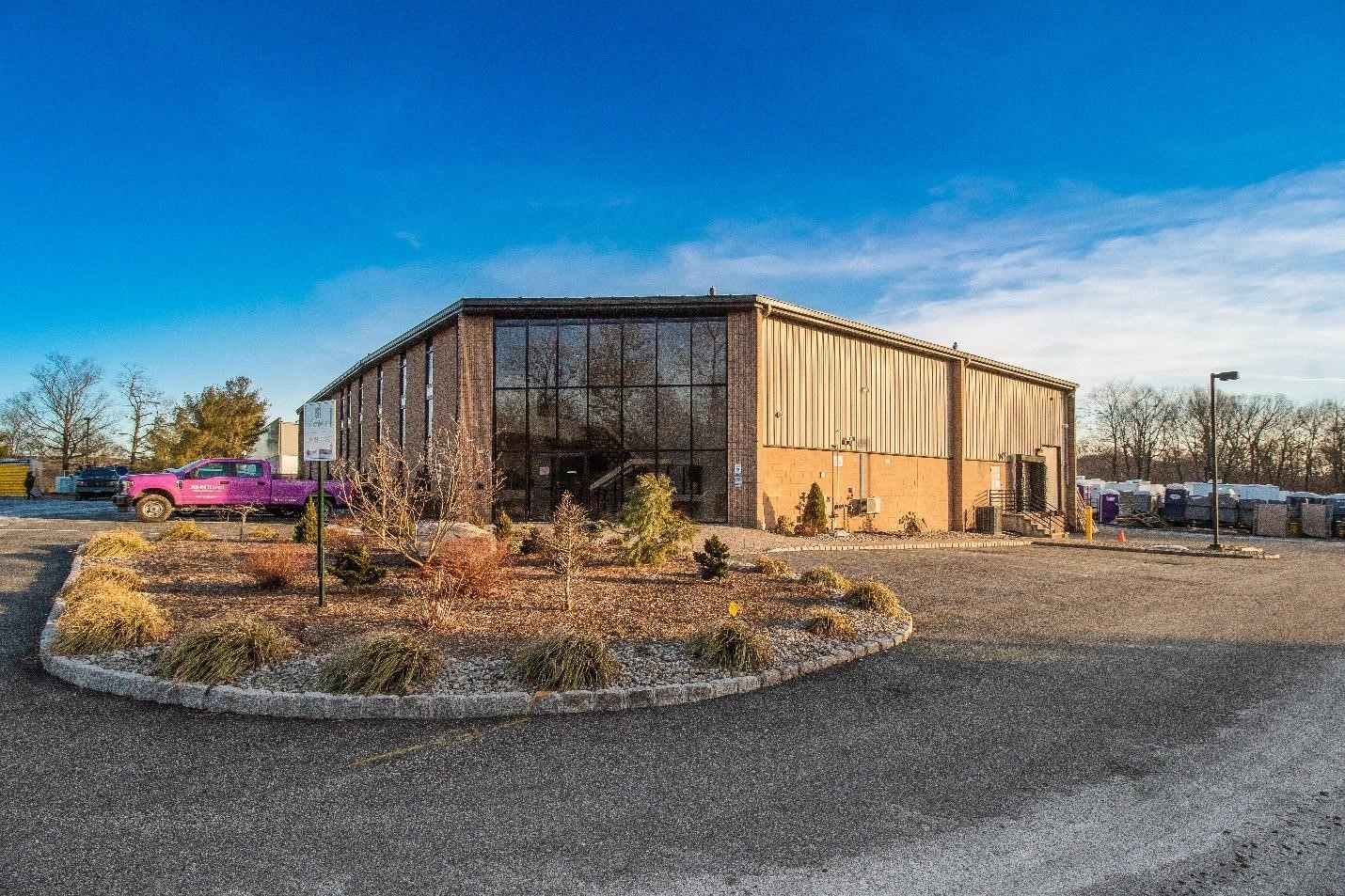 With John to Go you will find restroom trailers for short term use, long term use, construction, special events, and everything in between. And, even better, you'll find that they come in all different styles and sizes to make sure you and your team are always prepared for nature's call. All you need to do is figure out which one (or multiples) are right for your occasion.
We service the area in and around Staten Island, including New York and New Jersey. You'll find port a john rental near Staten Island from Bronx, Brooklyn, Dutchess, Manhattan, New York City, Orange County, Rockland County, Queens County and all the way to Bergen County, Essex County, Hudson County, Monmouth County, Morris County, Passaic County, Somerset County and Union County.
Porta Potty Options
If you need port o potty rental in Staten Island, you'll need to think about the different types that are out there, and especially with our team. We offer everything from standard construction porta potty rental near Staten Island to restroom trailers that come with everything you could possibly need.
Let's take a closer look at a few of the options that we have available for porta john rental near Staten Island, and you can check out even more right here or look for our restroom trailers here.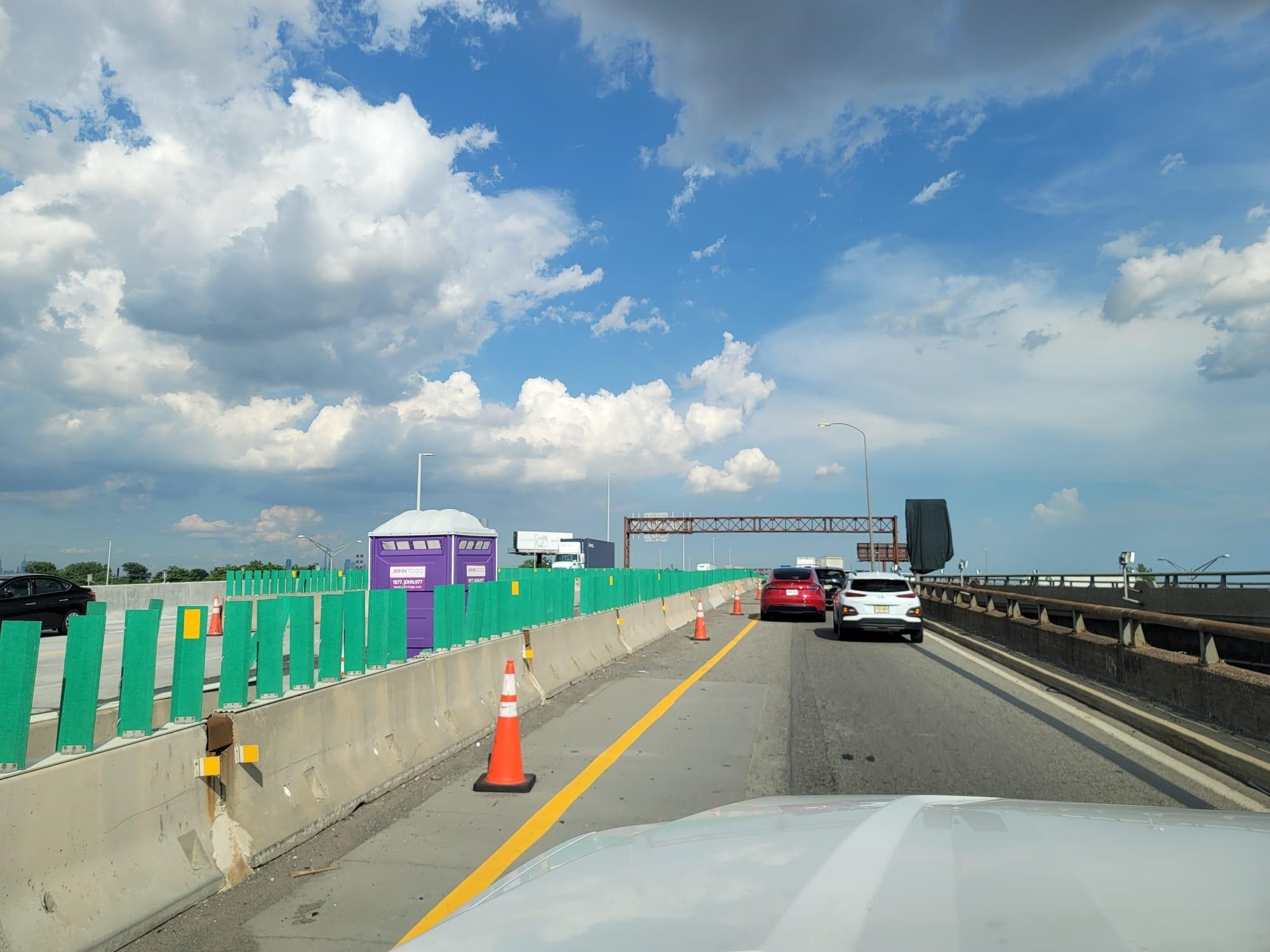 Construction Unit – Even our standard construction unit is still top-of-the-line when it comes to port a potty rental near Staten Island. That's because we offer durability and quality for every unit we rent. And, we make sure that they're a comfortable size for your team and stocked and serviced weekly.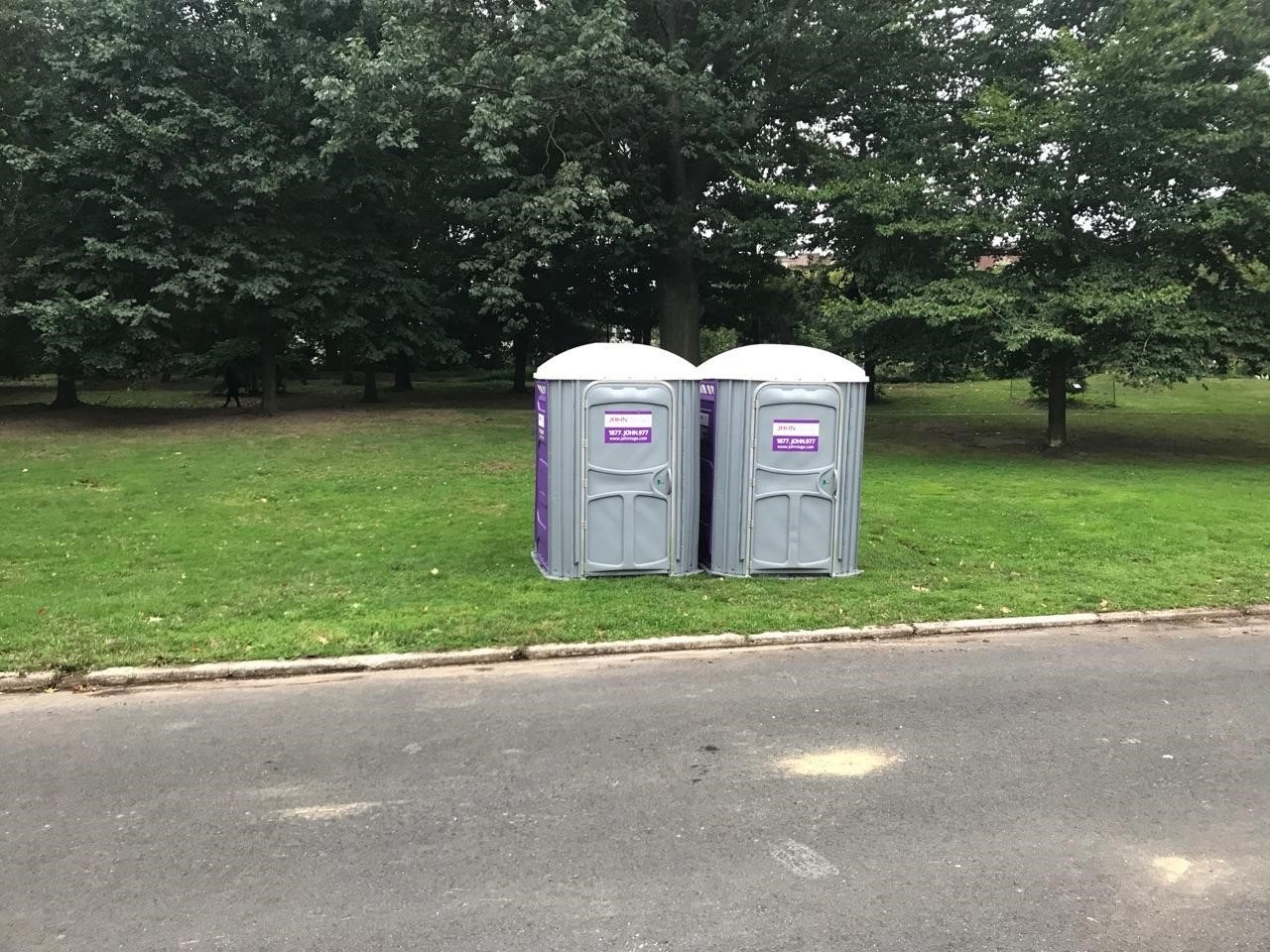 ADA Handicapped Unit – Providing handicap access to your bathroom rentals near Staten Island is always important and this unit gives a wider door to accommodate wheelchairs with ease. It also offers all of the other features and options that you need for your next event. (like add-ons for hand washing and sanitizer.)
Premium Event Unit – Use this top notch porta potty for your special events with plenty of space and ventilation as well as a translucent roof to make it bright and fresh. It's the best you're going to find when it comes to portable toilet rental near Staten Island.
Hi-Rise – Sometimes your construction projects take you above ground level and when that's the case you need porta potty rentals near Staten Island that can accommodate. That's where this unit comes in. It goes absolutely anywhere and is made with a steel frame and polyethylene to make it strong enough for lifting, even with a crane.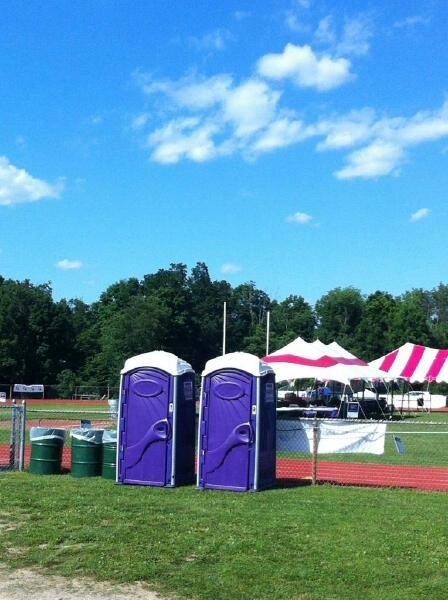 Ambassador Flush Deluxe – If you want the top of the line option for porta potty near Staten Island then this is the option you want. It has flush features you won't get with other porta potty options. Not to mention you'll get a fresh water sink and a vanity area (and a whole lot more).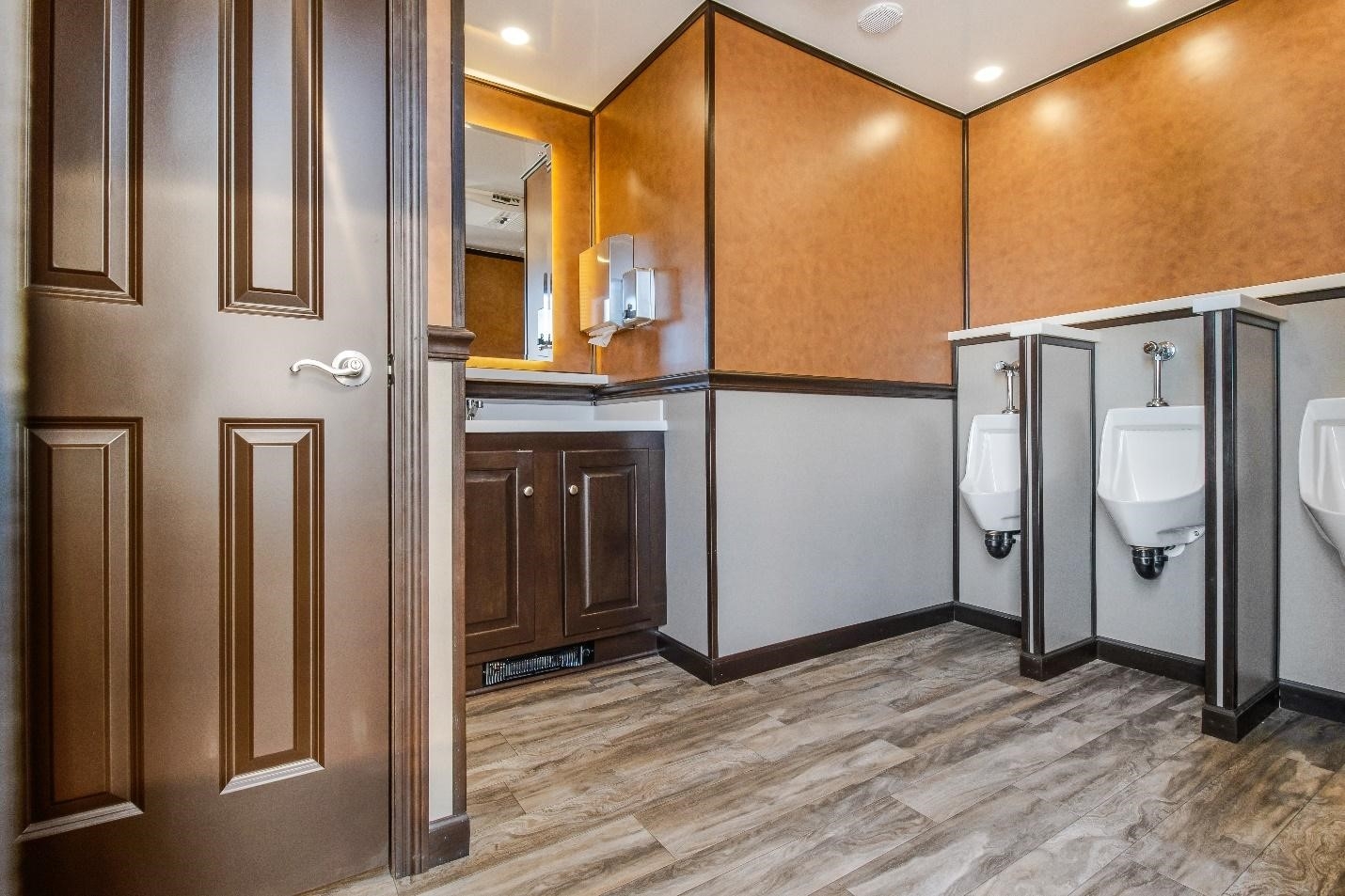 Restroom Trailers – If you're looking to upgrade from porta john rental near Staten Island, these high-end trailers come in all different sizes to accommodate different crowds. These trailers feature modern design and trimmings, stylish sinks, ample space, heating and cooling, plus much more. All you have to do is let us know how many people you're expecting and we can give you some advice about which of our units to choose. Although there is a jump in price when upgrading to restroom trailers, the value you get for the additional amount is well worth it!
Don't Forget the Add-Ons
If you're already getting restroom trailer rental near Staten Island or a port o potty rental near Staten Island, you may want to look at some of the additional options we have available. These include:
Fresh Water System

Lift Unit

Hand Wash Station

Foam Sanitizer Stand

Freshwater Tank

Saltwater Tank

Freshwater Tank Refills

ProPower Light

Security Booths

And more!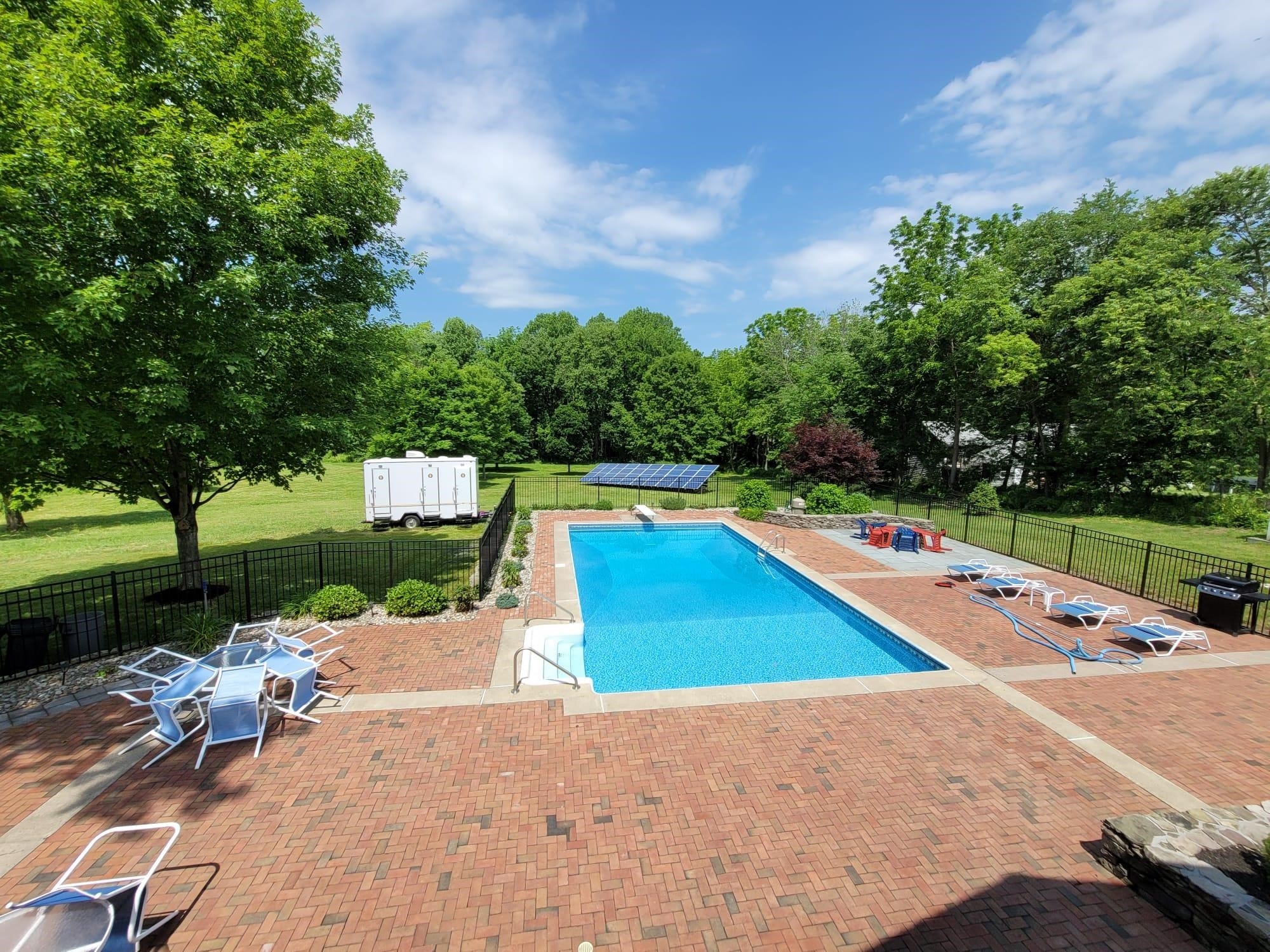 What We Have to Offer
No matter who you are or how many Staten Island porta potty rental units you need, our team can get a porta john rental near Staten Island to you in a jiffy. We have a number of service trucks on the road at any time, which means we can get to you quickly, whether you need a drop off, pickup, or service for your current portable toilet john.
Our units are updated and well supplied every time they leave our lot, because we know that you want the best of the best for any situation, whether it's your construction team, your guests at a special event, or the local sports teams enjoying the park.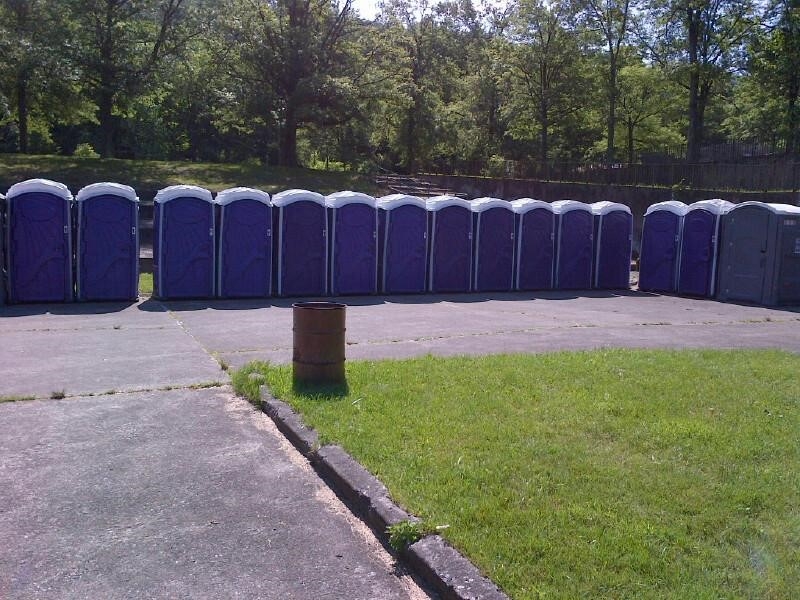 Even more, we stand behind every porta john rental near Staten Island so you can trust that you're getting the best and if anything goes wrong, we'll make it right. That's because this is more than just our job, it's something that we know is important to you and your business as well.
Setting Up Your Service
When you're ready for portable bathroom rental near Staten Island, all you need to do is check out our website. We make the quote system as simple as possible, so you can find out more about the different options available to you and decide what works for your situation quickly and easily.
Once you know what you want or need for your bathroom rental near Staten Island, you can complete the entire rental process online or reach out to our team of professionals for advice or assistance. Not to mention you get to set up the delivery that works for you and the pickup that you need.
We make sure that your unit (or units) is set up and ready to go no matter the weather, and no matter the quantity you need for porta potty rentals near Staten Island. Whether you're looking for only one porta john rental near Staten Island or a large setup for a special event, we've got you covered, with our friendly team of experts. And even better, we provide you with competitive costs to keep you going as long as you need.
CHOOSE FROM OUR EXTENSIVE SELECTION OF PORTA POTTY RENTALS
FAQs on Port a Potty Rental Near Staten Island
When it comes to portable restrooms near Staten Island you may have a few more questions before you're ready to choose something for yourself. And that's where we can help you out again. Here are a few of the most commonly asked questions, and what you need to know before you rent a porta potty near Staten Island.
Do porta potties smell?
If you take care of them properly, porta potties don't have to smell! And we make sure that our units are always taken care of properly to keep your event or workstation looking (and smelling) its best. The key is getting regular service based on the number of people using the unit, and we'll help you set up a schedule for yours.
Where to rent porta potty near me?
If you've been searching for restroom trailer rental near me then you already know there are plenty of options, but John to Go can help you get a porta john rental near Staten Island quickly and at a competitive price. All you have to do is reach out to our team and we'll help you figure out what units will offer the features you're looking for.
Will porta potty freeze?
For those who are curious, a porta potty is designed not to freeze in the winter, so you don't have to worry about your cold weather events or construction sites. That blue liquid in the waste holding tank makes sure that the water that is in there isn't going to get too cold, and that means you don't have to worry about freezing.
How much does it cost to rent a porta potty near me?
Well, that's going to depend on the specific unit that you're looking for. Different sizes and styles start at different prices, but you can reach out to us for a free quote for a porta john rental near Staten Island by checking out the contact us page. Our standard porta potty rental starts at around $200 and prices can vary from there based on your specific needs.
Don't miss out on the best porta potty rentals near Staten Island. When you work with John to Go you'll find everything you're looking for and then some. Whether it's a single, standard porta potty, or a whole fleet of our top notch restroom trailers, you'll be happy with our service every time. All you have to do is contact us, and get started on your quote.

(305) 722-5149
AREAS WE SERVICE IN STATEN ISLAND:
Arden Heights
Arrochar
Castelton Corners
Eltengville
Emerson Hill
Graniteville
Great Kills
Greenridge
Heartland Village
Huguenot
Mariners Harbor
Midland Beach
Oakwood
Park Hill
Port Richmond
Possville
Prince's Bay
Richmond Town
Rosebank
South Beach
St. George
Stapleton
Tottenville
West Brighton
Willowbrook
HEAR FROM OUR CUSTOMERS:
Tom Talamini
Special Event - November 10, 2020
5 STAR SERVICE! The staff were friendly and professional. The delivery was on time as well as the pick-up. Bathroom trailer we rented was spotless, smelled nice and was fully stocked with extra paper towels, toilet paper and soap. Bathrooms were nicer than my house bathrooms. Wanted to keep the trailer. All my guests were in AWE of the quality of the bathrooms. Highly recommended.
Joanne De Simone
Special Event - November 06, 2020
This company has the absolute best customer service I've ever had the pleasure of experiencing. They are friendly and super responsive. Just a pleasure to do business with. I can't wait to use their services for my next event!
David Collado Bronx NYC
Special Events, August 15, 2018
Been using John to Go services for the past 10 (+) years for our annual block party celebration in my neighborhood, they are friendly, professional, their products are always clean, reliable and operate as described. Their prices also cannot be beat. I plan to continue using them for many many more years and have also recommended to friends and family. Very Happy Customer, Bronx NYC
Porta Potty Rentals Near You

Find out where to rent portable toilets