If you are a business owner, an event organizer, or tour guide taking around sightseers who want a bite out of the Big Apple, you'll want to know that your crowd will have the ability to have mother nature's call heeded, come rain, shine or smog. Which is why you'll be glad to know John to Go's portable toilet rental in New York has been in operation for over sixteen years with dozens of happy customers in its database.
Whether taking in some Ophelia at Shakespeare-in-the-Park, marching in the St. Patrick's Day Parade or running in the 26-mile New York City marathon through the five boroughs with some 50,000 other participants, having clean and well-placed cheap porta potty rentals is one of the banal things in life that can make or break the day.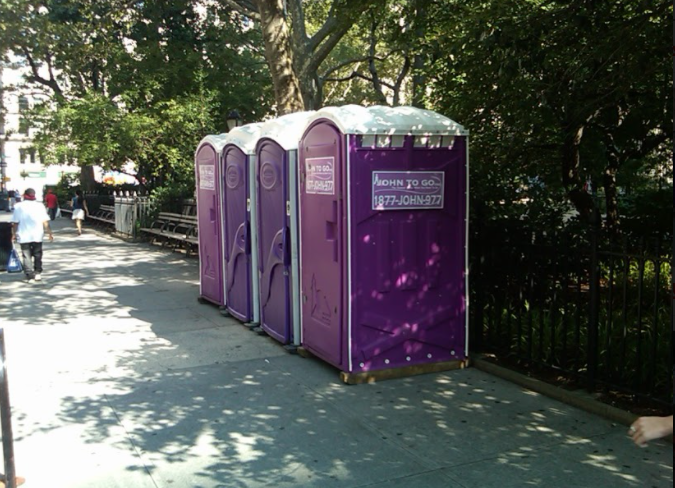 Counting on John to Go for all your Bronx, Brooklyn, Manhattan, Queens and Staten Island for all of your portable toilet rental in New York needs is a decision you won't regret. Leaders in port o potty rentals in the area for nearly two decades, when searching for 'Porta potty rentals near me' you'll find that John to Go is serious about stellar service, top-quality units and speedy turnover for those looking to rent a porta potty NY.
So next time you are visiting the Empire City or looking to pull off an event in the Capital of the World, you'll know who provides cheap porta potty rentals with all details accounted for.
From A to Z
In NYC, there is an endless parade of festivals, pop-up venues and outdoor fairs. Edgy concerts, high-stress movie shoots and various sporting activities, which, even if outfitted with indoor restrooms, often require additional ones. Construction sites, seasonal businesses and even birthday parties or outdoor family celebrations can necessitate some cheap porta potty rentals. With a steady stream of diverse requests, John to Go provides has models for all settings. From Construction Toilets to Restroom Trailers, from Shower Trailers to Fresh Water Systems, from Portable Sinks to Handicap Restrooms to Mobile Flush Toilets, finding a portable toilet rental in New York never got easier.
Standard units are 92 inches with a depth and width of 48 by 46 inches, special needs ones, as per the American Disabilities Act standards, are 62 by 62 inches, and also come with a safety bar and a larger seat for comfort. John to Go has other unique options like the Hi-Rise model and the Lift Unit which may be applicable for construction sites. And for a little luxury, the Ambassador Oversize Flush Unit comes with running water, flush capabilities and some extra amenities like a full length mirror, courtesy shelf and extra purse hooks.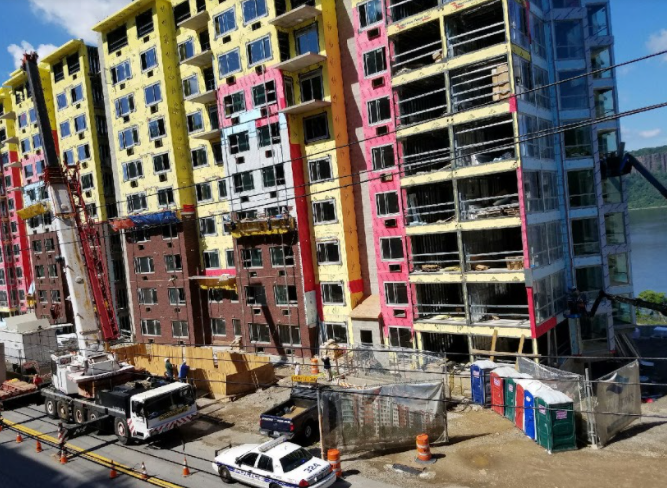 Special features are available like a translucent roof for extra light, generous ventilation and an external occupancy indicator. Add-ons like handwashing stations and sanitizer stands are also popular.
For large-scale events, John to Go's trailers with anywhere between two and ten stations per unit are convenient. Portable sink units with 12 stations, mirrors and paper towel dispensers are also a bonus. And for the occasional overnight, there are shower trailers available as well. Portable bathroom rental NY just got a whole lot more convenient, cheap and deluxe.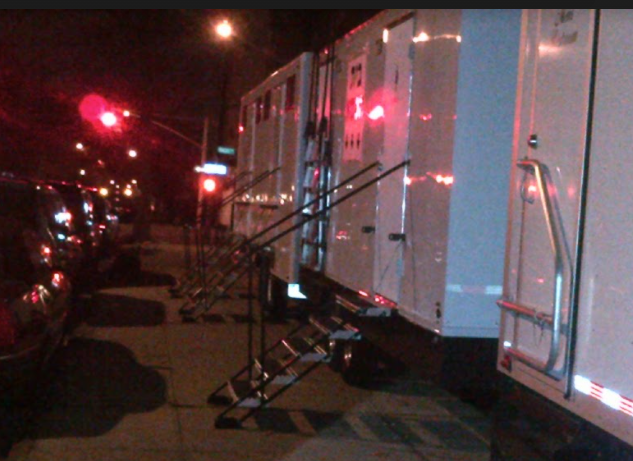 Navigating New York
New York may be famous for its Broadway shows and Empire State building, but it's also made a name for itself for its congestion, morning, noon and night.
As such, municipal authorities aren't too keen on having portable toilet rentals delivered in advance. "Even if an event is Sunday morning, we can't drop off on Friday or pick them up on Monday or Tuesday," says Abe Breuer, CEO of John to Go.
It's more like delivering those porta potty rentals as early as 4 a.m. that day and collecting them by midnight, giving new meaning to 'The City That Never Sleeps'.
"Every permit given out is timed very narrowly," he explains. Which means in a city pulsing with activity, from races to marathons to fairs, companies are hard pressed to meet the tight confines of the permits allowed for porta john rental NY. John to Go has made it its top priority to arrive within the city limits with all of its trucks, haulers and gear, to make sure everything is in tic-toc order.
"We pride ourselves on meeting our promise to arrive within the proper timeframe," says Breuer. He references the many contacts his team has developed over the years, which are helpful in getting the necessary documents and in wrapping up a job.
With an eye on timeliness, the company was surprised to once receive a severe email from the city for failing to pick up its units within its permitted slot. If a driver should check out, a truck get stuck, or a flat tire threaten the whole operation, John To Go has made it its business to see the job done.
"The organizers of the event called us, really upset, that the city was warning they would be barred from ever holding their parade again," he says. After multiple calls, John to Go confirmed its team had picked up the units as per the requirements; but still, Breuer wondered if perhaps a few units had been left behind. "Meanwhile the event organizer hopped on a train to see what was going on and I hopped in my car to head to the site as well."
As it turns out, the offending port-o-johns belonged to another company from another event.
And as it has long committed, John to Go can continue to flash its credentials as the company that will get bathroom rentals done well in New York and New Jersey. Despite the crowds and sleepless nights of NYC, you can count on John to Go for cheap porta potty rentals anytime. So go ahead and follow that link for 'Porta potty rentals near me' for a five-star experience!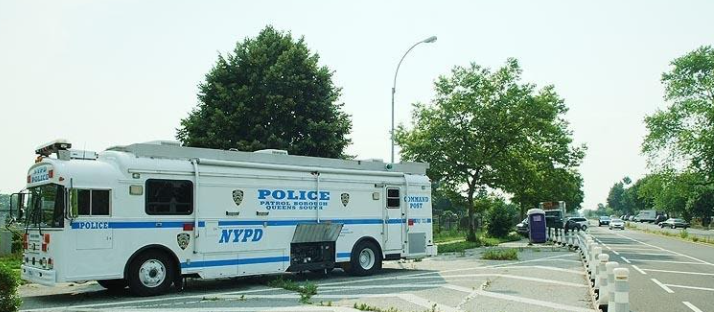 We service New York City and the entire tri-state area. So if you're hosting an event nearby in
Staten Island
,
Queens
, or across the border into
New Jersey
, we're here to service your every need.
CHOOSE FROM OUR EXTENSIVE SELECTION OF PORTA POTTY RENTAL
It's All About the Service
From that initial phone call or online request, John to Go has advanced procedures that kick in immediately, allowing their products to be delivered quickly, even with short notice.
With nearly 40 trucks on the road and a new one added every few months, John to Go is sure to have drivers fanned out around the region so its turnover time is stellar, come that rain, shine or smog — or snow, for that matter.
With trained professionals that deliver and service the units, John to Go services their products quickly so that there is no down-time for toilet users — and they have a host of positive reviews to prove it. Serious about sanitation, service workers are well trained to clean each customer's porta john rental with high-grade disinfectants and processes.
Dedicated to constant expansion and improvement, the company retires its units every 2 years in order to offer customers top-of-the-line options within the industry. John to Go always looks out for ways to better meet clients' porta potty needs.
Demystifying the Blue Stuff
Portable toilet rentals in New York and — everywhere really — are well known for their blue goo that sit in the basin of the toilet. Mystifying it will be no longer. It's all part of the cleaning process. The blue stuff is actually a blend of biocides, dye, fragrance and detergents, (biocides prevent the odor-producing bacteria from multiplying), which are what keep port o potties sanitized.
While traditionally these cleaning products were made out of toxic materials, since then manufacturers have gone more green, or blue in this case, and produced more eco-friendly and human friendly products to sanitize without harm. John to Go is on top of its cleaning supplies, purchasing the most effective and environmentally safe options.
A porta potty should be emptied once a week to reduce exposure to bacteria, which is why the company has many servicing trucks out on the road doing the work.
A vacuum is connected to the tanker truck, which has a big waste storage compartment. The contents of the porta potty are suctioned out, and then the sanitation process begins. Workers scrub down the entire unit to rid it of stray germs and make sure consumers have a pleasant and hygienic restroom. The basin is filled with fresh water and yes, some blue goo, and then the unit is quickly restocked so its supplies don't run low.
Easy as Apple Pie
With a user-friendly website, customers can quickly assess John to Go products, scan specific features, and make selections. After payment is received, the product is delivered without any further steps required. Portable bathroom rental NY has been streamlined for maximum efficiency and convenience.
So whether you are settling down for some quality performance on The Great Lawn of Central Park, slipping on your dancing shoes for some Salsa Music or perusing the outdoor Art Exhibition in lower Manhattan, rest assured that with John to Go your restroom needs will be well met.
Porta Potty FAQs
Here are some commonly asked questions about porta potty rentals.
Do portable toilets give off bad odor?
After a thorough cleaning and deodorizing, the mobile toilet units are pleasant and scent-free. With a solution of biocides, dye, detergent and fragrances, coupled with steady servicing, porta potties are clean.
How often does a porta potty need to be serviced?
Constant cleaning is the key to good hygiene and sanitation. Once a week cleaning for your mobile restroom is standard practice. However, if you have a large crowd, or many people using the mobile toilets, you may consider cleaning the units more often.
How is the tank emptied?
The contents of the porta potty service tank are suctioned out via a large vacuum attached to the truck. Waste is stored in a compartment in the truck until it is disposed.
What prevents the water and fluids inside a porta potty from freezing?
A mixture of methanol and rock salt prevent freezing during the winter, even when temperatures drop significantly.
How much does it cost to rent a porta potty per month?
A porta potty rental starts at $99 a month.
How quickly will my porta potty be delivered?
Your porta potty can be delivered super quickly. John to Go usually drops off the unit the day before your event and picks it up the day after the event. However, we can work with your requirements and limitations to remove the toilets faster.

(305) 722-5149
AREAS WE SERVICE IN/NEAR NEW YORK CITY:
HEAR FROM OUR CUSTOMERS:
Robin Klien
Special Events, August 01, 2018
Always professional, timely win delivery very responsive on follow up and most important the RR are CLEAN, well-stocked and really - lightly fragranced. We have used Johnstogo two years running now and will continue to use them. We highly recommend this company.
Kingvc
Special Events, July 25, 2018
Been doing business with you for a long time. You never disappoint. Thank you
Nihko Journeay
Special Events, July 20, 2018
We have job sites all over the US. John To Go, Inc. is the only one that we use for this area. Would recommend to any and all for their event or construction needs. Keep up the great work!
Porta Potty Rentals Near You

Find out where to rent portable toilets