Need a Portable Toilet Rental in The Bronx?
John to Go delivers high-quality, comfortable porta potties all over the borough. We know that you can't always tell us far in advance whether you'll need a porta potty rental near you, so we are ready to jump in at the last minute to get you your porta potties as quickly as possible to any Bronx location.
Why Rent a Porta Potty?
There are many reasons to rent a portable toilet. Porta potties are a necessity when planning a concert, fair, outdoor wedding, construction project or extensive renovation. Below we discuss some of the more popular uses of portable toilets in the New York area, based on our lengthy experience in the business.
Porta Potty Rentals in NY for Construction Projects
Construction projects are one of the leading consumers of porta potty rentals in NY. Since construction workers spend long hours on-site, they need stress-free and comfortable bathrooms. If the bathrooms are far away, this translates to longer bathroom breaks and less time doing actual work. For the sake of both efficiency and employee satisfaction, it's imperative that bathrooms are clean, pleasant to use and close by.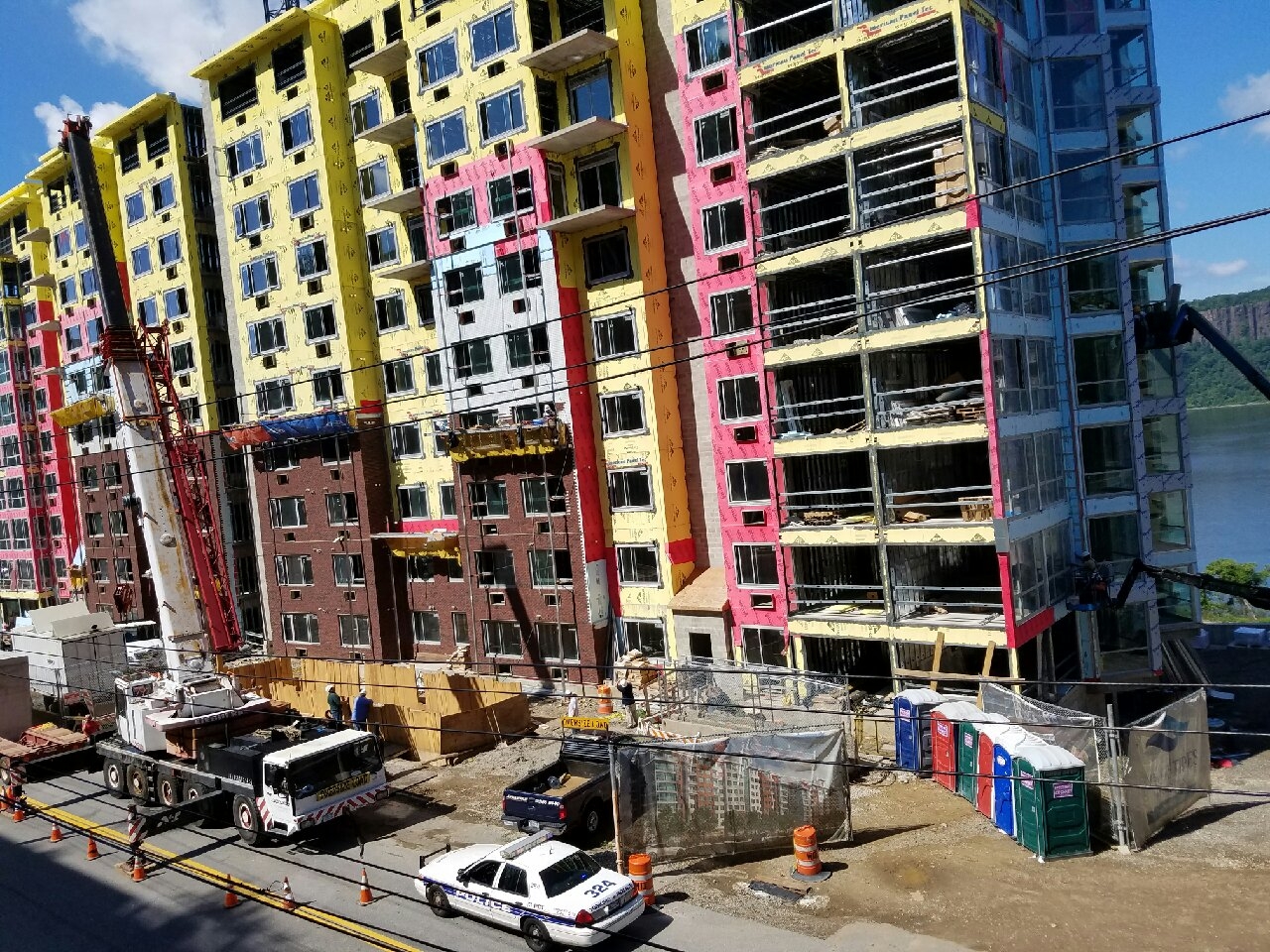 We service many construction sites, especially in the Bronx, and have gotten excellent feedback on both our products and our services. For example, builder and remodeler Andrew Naclerio has described John to Go as being "on time, reasonable, responsive, local. Easy to work with."
Port O Potty Rental Near You
If you're managing a construction project, road repair or renovation project, you'll need a port o party rental that maintains its quality for the long-term. We offer maintenance and service for as long as you need your portable bathrooms. Whether it's for a full-season or just a few weeks, you can count on us to keep your bathrooms cleaned and well-stocked for the full amount of time you need them.
One of our customers had this to say about using our port o potty rental services for the long-term: "John to Go has the solutions for your construction needs. They have been great to deal with for the ever changing needs for bathrooms and extra hand washing stations at our job site."
Porta John Rental in NY for Special Events
The second most popular purpose of porta john rental in NY is for special events. When you make an outdoor event, you must ensure that the comfort, cleanliness and appearance of the bathrooms match the quality of your event. And you certainly don't want your event tarnished by insufficient number of bathrooms, long lines and negative experiences.
At John to Go, we rent porta johns for special events all over NY, including the Bronx. We have processed orders for weddings, concerts, family barbecues, fairs and more.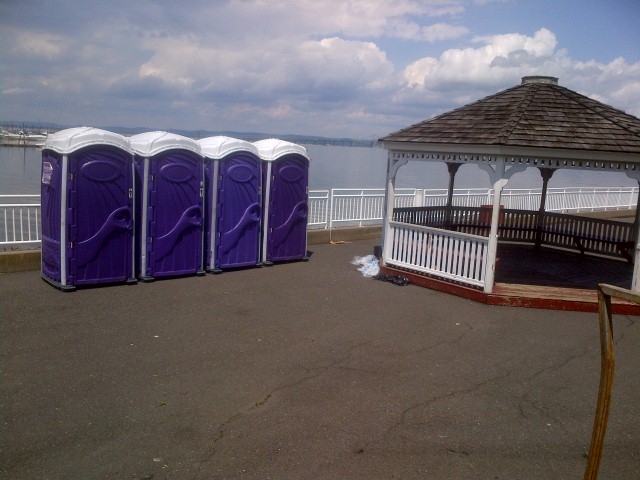 David Collado from Bronx, NY, is a long-time customer of John to Go. "I've been using John to Go services for the past 10 (+) years for the annual block party celebration in my neighborhood. Their prices cannot be beat and the units operate precisely as described… I continuously recommend them to family and friends."
Porta johns are also a great solution for an outdoor wedding. Andrea Proeschel reported that "the guests at my daughter's wedding were amazed at how luxurious the Rolls Royce portable bathroom could be, to the extent that word was spread to use the restroom :)."
Rent a Porta Potty in NY with Excellent Service
At John to Go, stellar service is our #1 priority. In order to rent a porta potty in NY, all you need to do is get in touch with our well-trained staff of human representatives. They will assist you with your reservation, from recommending how many toilet units you need to providing advice on which units to choose for your specific purposes. Our staff is friendly and eager to help and orders are processed speedily and easily.
We have units and maintenance services for every budget. You can choose to have your portable toilet rental in the Bronx fully-stocked and cleaned once a week - or more or less often, depending on use and how much you want to invest.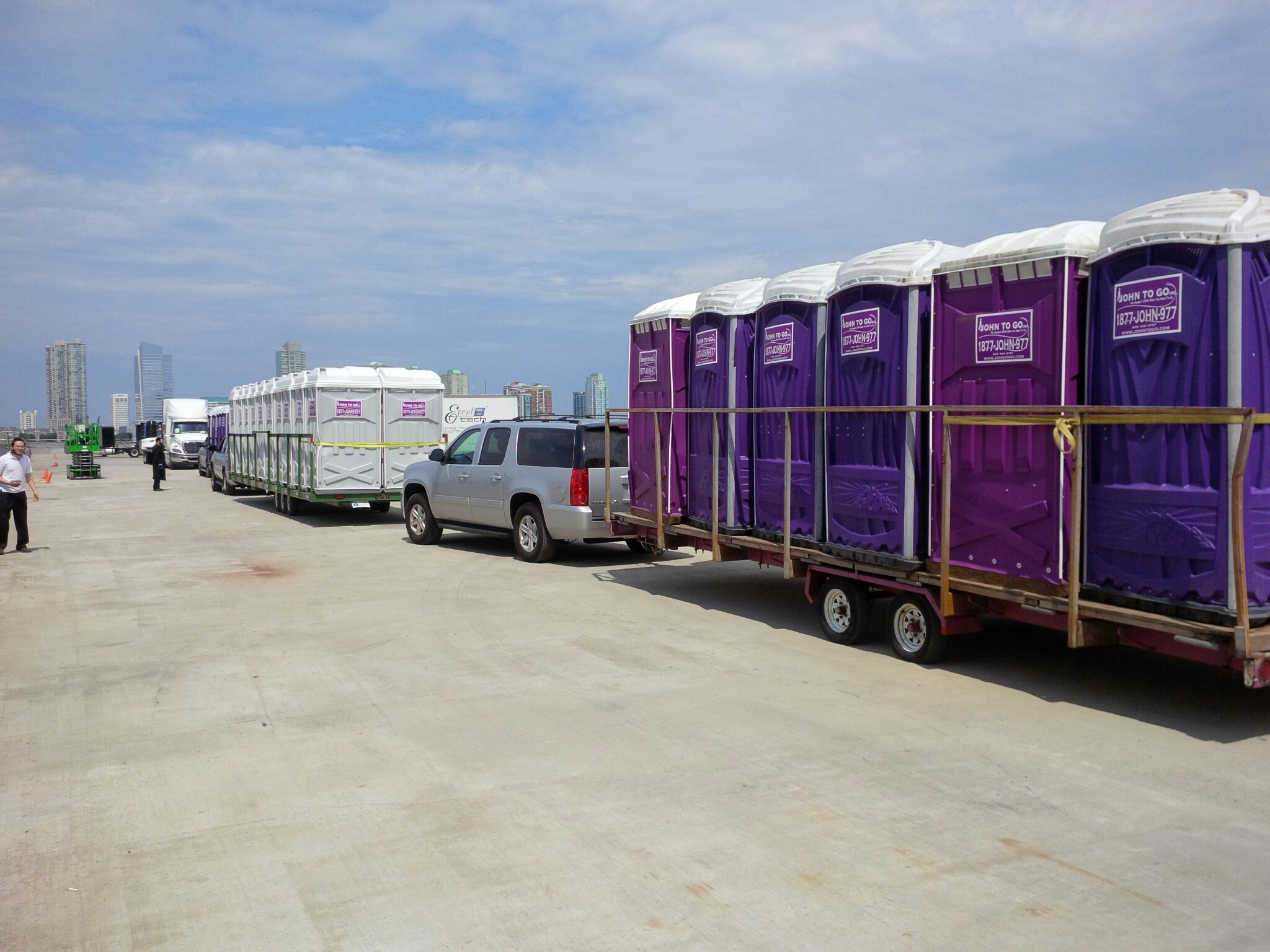 We aim to make the entire process as painless as possible for you. Once your order is processed, you don't have to do anything. Your units are delivered when you need them, even if it's a rush order, and they arrive fresh, clean and ready to use. They are also sanitized to reduce exposure to viruses and bacteria. All you have to do is put up signs letting people know where the bathrooms are situated.
FAQs - PORTA POTTY RENTAL IN THE Bronx, NY
What are portable toilets made of?
Portable toilets are constructed from strong, lightweight plastic. They feature non-slip rubber flooring, translucent roofs that let in sunlight and ventilation systems that keep odors out.
Do porta potties smell?
Surely you have used a porta potty that smelled terrible. This may make you nervous about renting a porta potty for your construction project or event. But at John to Go we use the best cleaning and deodorizing products available on the market, so your toilets smell fresh and are pleasant to use.
How do porta potty users wash their hands?
Most porta potties don't offer the ability to wash your hands with water on your way out. Instead, they have a hand-sanitizing dispenser mounted on a wall. At large events, there are often hand-washing stations outside the units for the use of the guests and patrons.
How do you dispose of human waste from portable toilets?
We take the waste water to a local facility and dispose of it according to the regulations of the wastewater facility. With port o potty rental from John to Go, you can be sure that the waste is being disposed of in the most sanitary way.
Is it bad for your health to use a porta potty?
You may have heard people say that portable bathrooms are infested with bacteria and bad for your health. A bathroom which isn't cleaned properly can harbor bacteria, but John to Go bathrooms are cleaned regularly and with the best products that safeguard your health. In fact, you are more likely to be infected with germs from sinks, door handles, toilet paper dispensers and even office keyboards!
How to keep portable toilets from freezing in cold weather?
One of the concerns of porta potty rental in NY is the cold winter weather. It can get really cold on some days! This is dealt with by mixing antifreeze with deodorizing water in the tank, which keeps the water fluid and unfrozen. So you can feel free to hold an event in the winter or continue construction through the colder months without worrying about toilet malfunction.
How many porta johns do I need for my event?
That depends on how many people are coming to your event. The rule of thumb is that you should have at least four units for every hundred people attending. It's always best to overestimate instead of underestimating, since an otherwise excellent event can be marred by the lack of sufficient bathrooms.
Where will the portable toilets be placed?
If you have a specific location in mind, we will do our best to accommodate you. However, in order to ensure safety and easy access for servicing, we may need to place them in a different location. We will work with you to choose a placement that is convenient for you and allows our trucks and employees to safely reach the toilets.
How much does port o potty rental in the Bronx cost?
That depends on your needs. The simplest units cost $99 per month and the more upscale ones are $295 for a month. We also offer add-ons such as freshwater tanks (where freshwater isn't otherwise available), handwashing stations and powerful lights. You can also rent security booths and restroom trailers from John to Go. Browse our port o potty rental options on the website to see which type is right for you.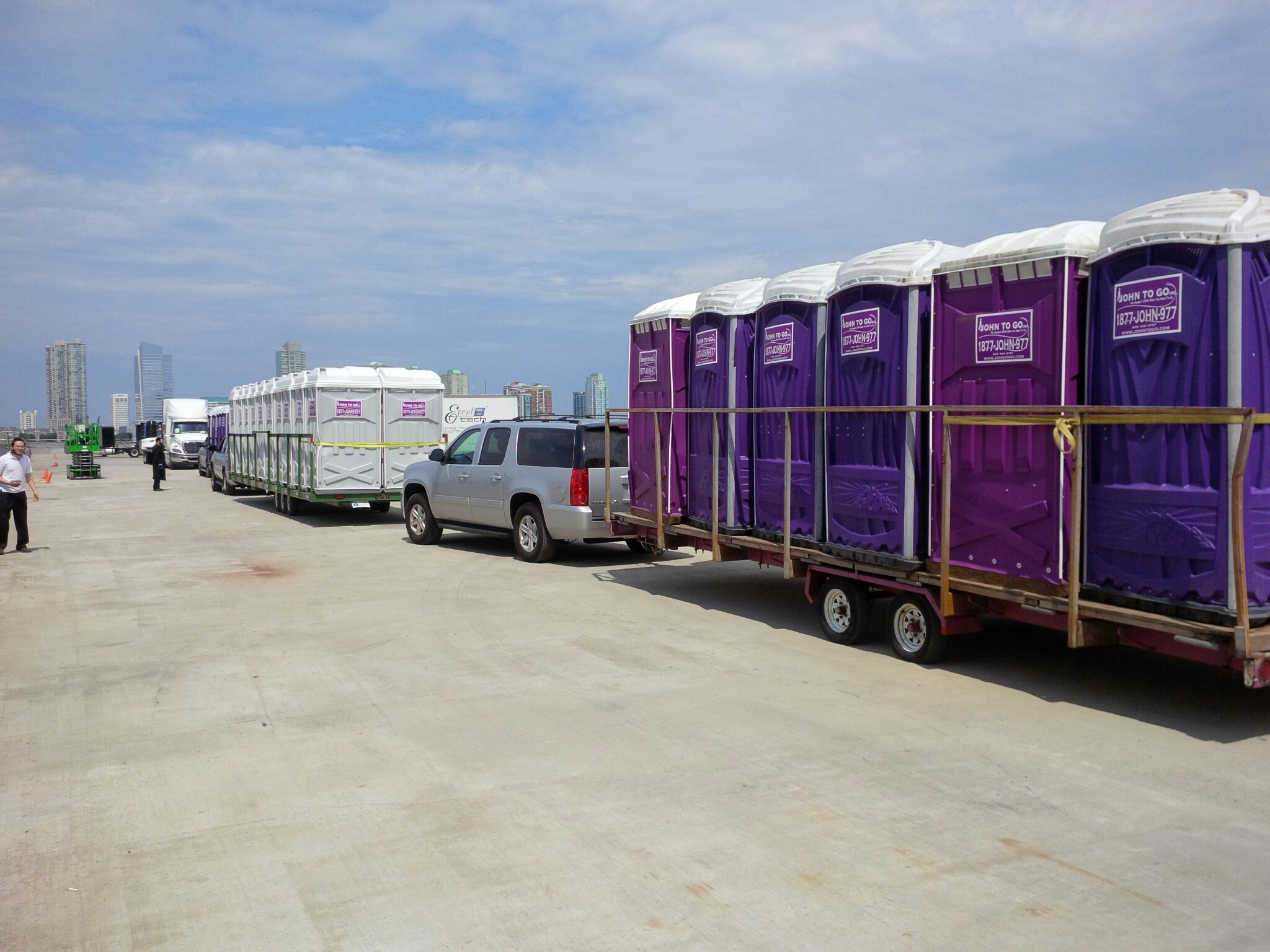 Are portable toilets cost-effective?
At first glance, you may be concerned about how much it costs to rent a porta potty in NY. But having enough bathrooms means that construction work can continue unabated, with only short breaks for bathroom use. And when people attending an event don't waste a lot of time standing on line for the bathroom, they have more time to shop and enjoy themselves. Ultimately, you save money by having the right amount of bathrooms in the correct location.
Where can I get a portable toilet rental near me?
The best way to find a portable toilet near you is by referral. Ask people who have needed mobile bathrooms for their own events or construction sites which companies serviced them well. And, if you're anyplace in New York or New Jersey, including all cities in the Bronx, Belmont, City Island, Riverdale, Throgs Neck, Tremont, Pelham Bay, etc. consider using our services.
Not sure whether we service your area? Just ask. Our customer service representatives will be happy to check your location and let you know what the toilet rental options are near you.
AREAS WE SERVICE IN/NEAR BRONX:
Baychester
Bedford Park
Belmont
Bronx
Bronxdale
Charlotte Gardens
City Island
Clason Point
Concourse Village
Co-Op City
Country Club
Dodgewood
East Tremont
Eastchester Bay
Eastchester Heights
Fieldston
Fordham
Fordham Hill
High Bridge
Hunts Point
Jamie Towers
Kings Bridge
Kings Bridge Heights
Locust Point
Melrose
Middletown
Morris Heights
Morris Park
Morrisania
Mott Haven
Park of Edgewater
Parkchester
Pelham Bay
Plaza Borinquen
Plaza De Los Angeles
Port Morris
Riverdale
Schuylerville
Silver Beach
Soundview Park Homes
Spencer Estates
Spuyten Duyvil
Throgs Neck
Tremont
Unionport
University Heights
Van Nest
Wakefield
West Farms
Westchester
Williams Bridge
Woodlawn
HEAR FROM OUR CUSTOMERS:
Stefanie Schmidt
Special Events, December 30, 2020
Excellent facilities. Clean. Delivered on time and exceeded expectations! Would highly recommend!
Frances Milligan
Special Events, March 12, 2018
Very courteous and well worth it
10 stree
Special Events, December 29, 2020
Best units and best service!
Porta Potty Rentals Near You

Find out where to rent portable toilets