Finding The Perfect Portable Bathroom In Hialeah Gardens
Called the sunshine state, a mention of Florida evokes an image of verdant palm trees and sublime 80 degrees. Home to the world's most popular summer destinations from sunny Palm Beach, Fort Lauderdale Beach, municipal and state parks to the pastel-colored art deco buildings along Ocean Drive, there's something for everyone here.
And given its central location, Hialeah Gardens is a convenient spot for events and get-togethers. Whether it's hosting a large outdoor music event at the Amelia Earhart Park, a cultural experience in art fests at Leah Arts District, or even just hosting a small gathering among friends and family, this charming city ticks all the right boxes.
Located in Miami-Dade County, it's fairly close to the heart of Miami, a lively and culturally diverse hotspot in southeastern Florida. And when you're putting together an event, no matter how big or small, the comfort of guests and visitors ranks foremost. This would include ensuring they have access to clean and hygienic restroom facilities.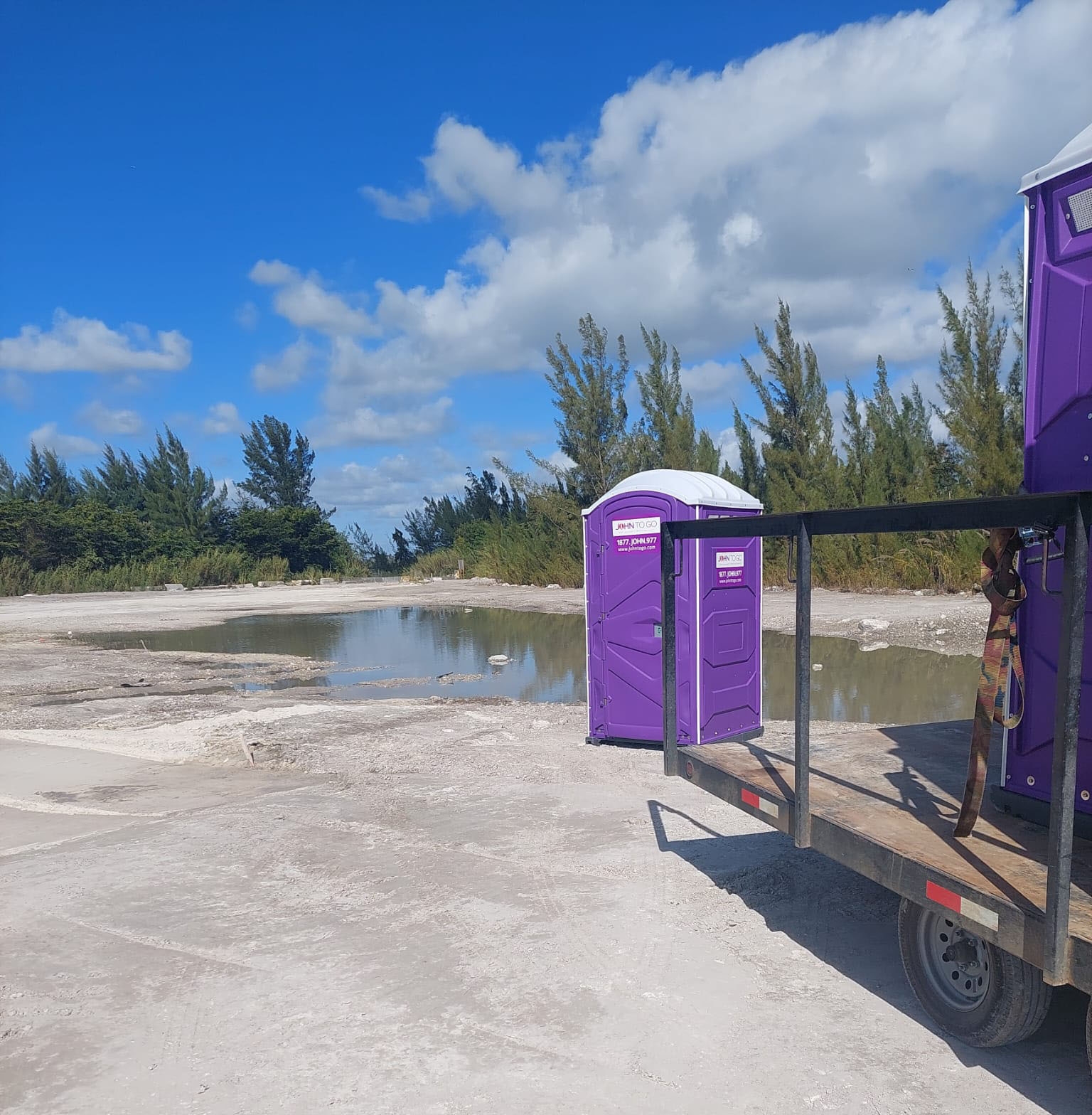 If you're scouring the net looking for a porta potty rental near Hialeah Gardens, say hello to John To Go. We have been in the business of delivering relief, convenience, and long-lasting porta potties right where you need them when you need them. So when you're looking for a fancy porta potty near Hialeah Gardens, the experts over at John To Go have exactly what you need to meet OSHA standards. As a popular supplier in the area, we can meet your needs for a fancy porta potty near Florida and beyond. With our range of portable bathroom trailers and equipment for outdoor events, festivals, construction areas, you can confidently rent a restroom near Hialeah Gardens and know that your needs will be well attended to. And that's not all. We have units to suit all preferences and budgets, from high-quality portable restrooms to an extensive collection of bathroom trailers.
Depending on your choice, the portable restrooms come equipped with all the amenities your guests or crew may need along with regular maintenance schedules to ensure the potties stay clean and hygienic.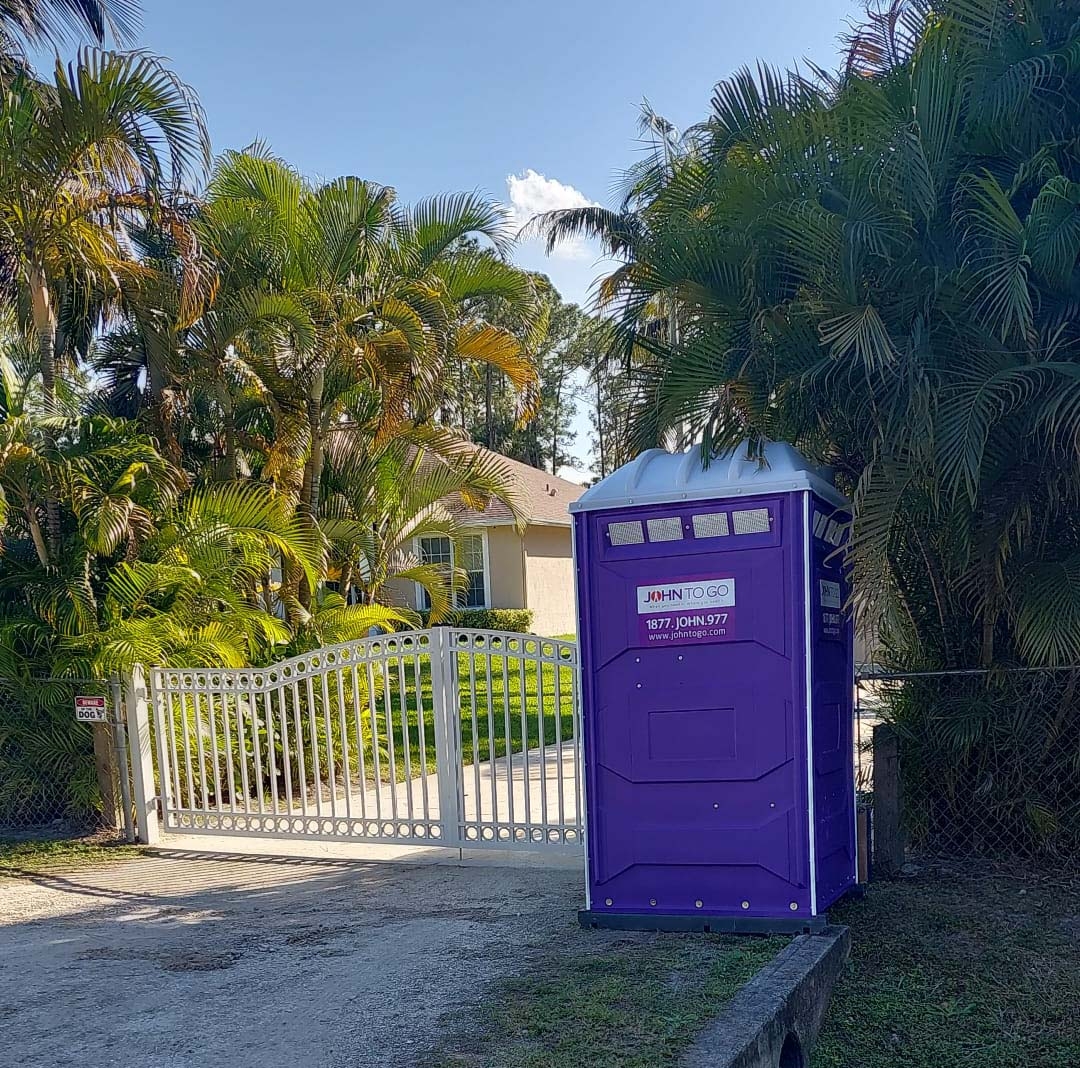 Why John To Go Is The Porta Potty Rental Service For You?
As a leading provider of portable sanitation services, John to Go caters to your unique needs, whether you're searching for a 'fancy porta potty near me' or looking to 'rent a restroom near me'. From portable restrooms, shower trailers, and handwashing stations to roll-offs, holding tanks, guard booths, and more, you'll find numerous options to choose from.
We regularly update our selection of bathroom rentals near Hialeah Gardens to meet our clients' evolving requirements. Here are some other reasons why customers and clients keep coming back to John to Go when they're looking to rest a restroom near Hialeah Gardens:
If you need a fancy porta potty near Florida? Our portable bathroom facilities are continuously updated with the latest in the sanitation industry, which may be new toilets with the latest technology, or recent breakthroughs with disinfection. With spacious and well-maintained units, we provide the sanctity and comfort of a traditional bathroom without all the fuss.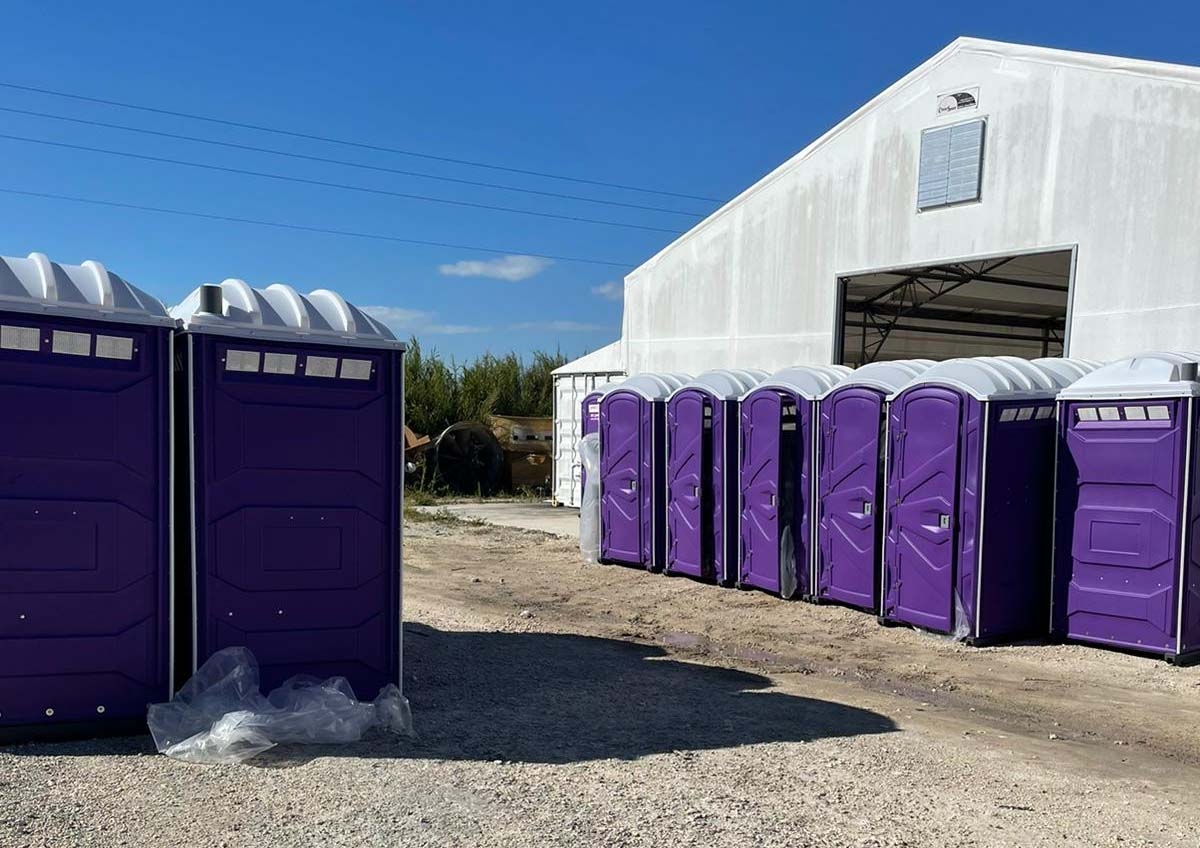 Luxurious Units To Choose From
If you need a fancy porta potty near Hialeah Gardens for a party or outdoor event functionality is crucial for any rental bathroom facility. And at John To Go, we ensure that our porta potties and restroom trailers are functional, convenient, and aesthetically pleasing to suit any type of event from small to large and formal to informal.
From single occupancy construction porta johns and 2 station restroom facilities, all the way to 10 station facilities with fully functional air-conditioning, heating, fireplaces, and sound systems, John To Go offers unparalleled sanitary amenities.
You can also choose from our various unit designs ranging from our modern-styled Rolls Royce rental trailer bathrooms to our white marbled Vegas rental bathroom trailer showers that come with cozy, marbled design interiors that are available to order through VIP To Go.
At John To Go, we also account for people with disabilities. Our single occupancy porta potties are compliant with the Americans with Disabilities Act and can be easily accessed by those with mobility issues. If that's not all, we also have a selection of luxury trailer stations for the differently-abled. If you're looking for a fancy porta potty near Hialeah Gardens, one call to the smart team at John To Go will take care of it all.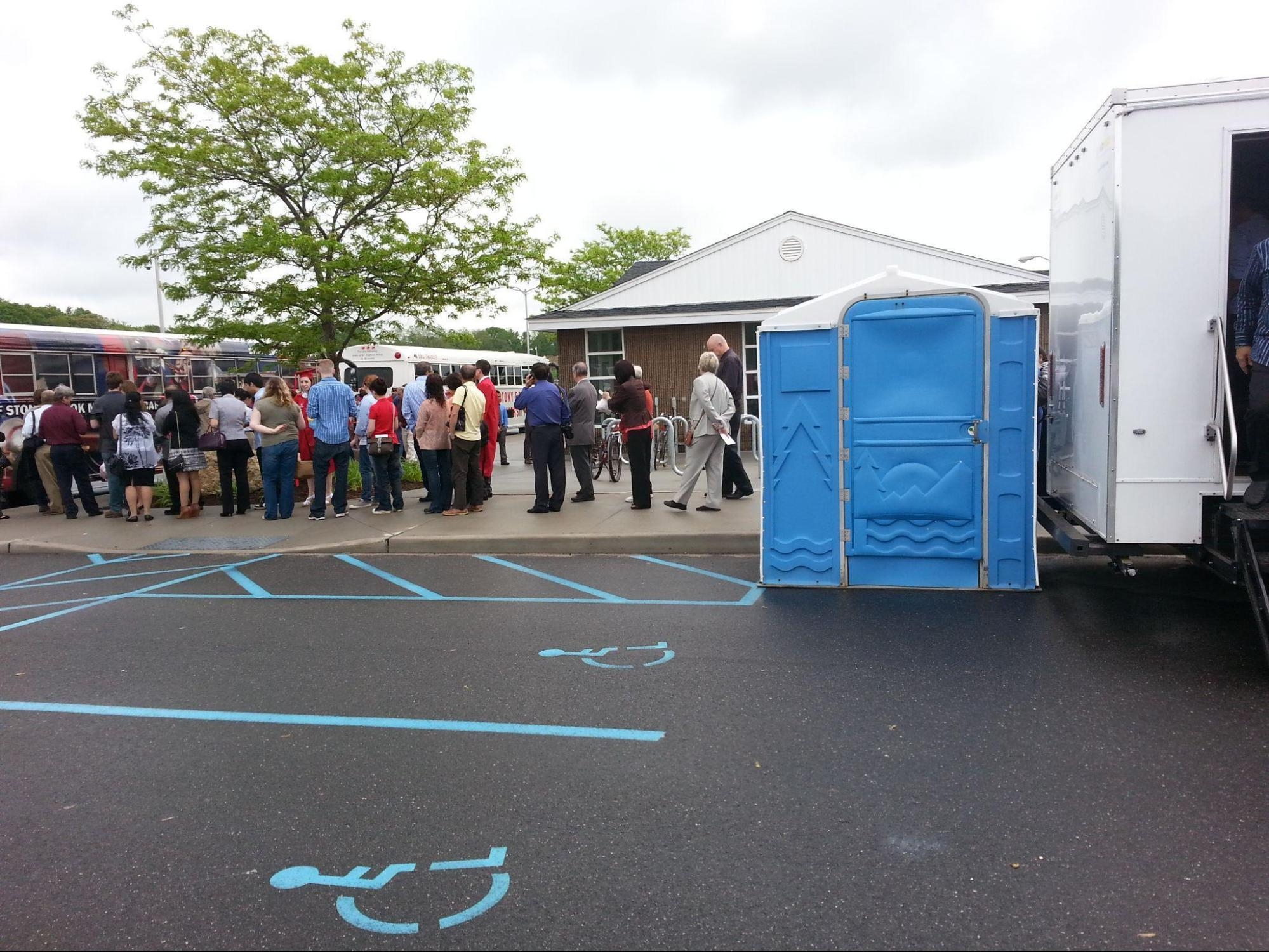 Run by a passionate and dedicated team, our website incorporates the easiest rental process in the business. From start to finish, you can rent a restroom near Hialeah Gardens and conveniently complete the entire process online (but feel free to contact us as well if you prefer!) Our unit calculator lets you know how many portable restrooms you'd need for your event or construction site. By providing your location and rental dates you can then get an instant price quote for a fancy porta potty near Florida and make a decision that delivers relief and convenience through a ready-to-use, fully stocked unit to your doorstep.
So, rent a restroom near Hialeah Gardens without the hassle and with all the convenience you deserve!
Finding bathroom rentals near Hialeah Gardens can be tough especially during the summer season. And if that's not enough, picking up these units can be a logistical nightmare, too, especially when you're caught up in planning an event.
Renting portable bathrooms or trailers with bathroom amenities has never been easier with John to Go's reliable portable toilet delivery service. This delivery service includes installation of your porta john too, making it as easy as possible to rent a fancy porta potty near Florida.
Our clients often stress about booking a portable restroom without accounting for the maintenance of the units. Whether you're renting a mobile bathroom for a short or long period, you need to ensure it is spick and span.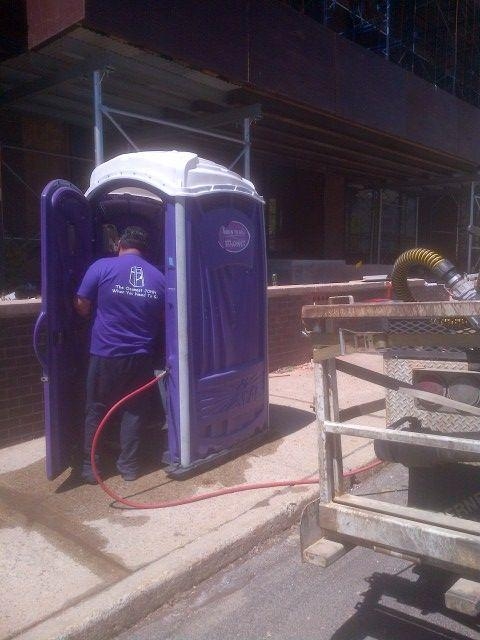 At John To Go, you can personalize your maintenance schedule with help from our experts. Once you've scheduled your unit's maintenance cycle, our dedicated sanitary experts will routinely maintain your rental units to ensure there's no stink or stain left behind. And even though the American National Standards Institute maintains that cleaning porta potties must be done once per week, at John To Go, we clean it as often as you'd like! With our strong presence in the South Florida area, our service trucks are constantly on the road to ensure that your fancy porta potty near Hialeah Gardens is up to par.
High-quality, luxury rental restrooms need not be expensive. Porta potty rental cost near Hialeah Gardens and surrounding areas can shoot up way above standard price during high demand holidays. But when you're looking to rent a restroom near Hialeah Gardens with John To Go, you can be sure that our rental prices remain fair and affordable. So if you're looking to rent a fancy porta potty near Florida, our goal is to streamline your experience.
We believe that bathrooms and showers should be easily accessible to all. We keep our prices down without sacrificing on quality or hygiene. We are also transparent in our dealings, and you will not be saddled with hidden charges. What you see on the quotation is what you pay. That's what we call service with relief!
Whether you rent one unit or a dozen, our dedicated team will keep your needs at the forefront of our priorities. Whether registration, delivery, installation, maintenance, or customer support, our team is always on hand to help.
We believe that our success is driven by genuinely caring for our customers—something everyone on the team is focused on.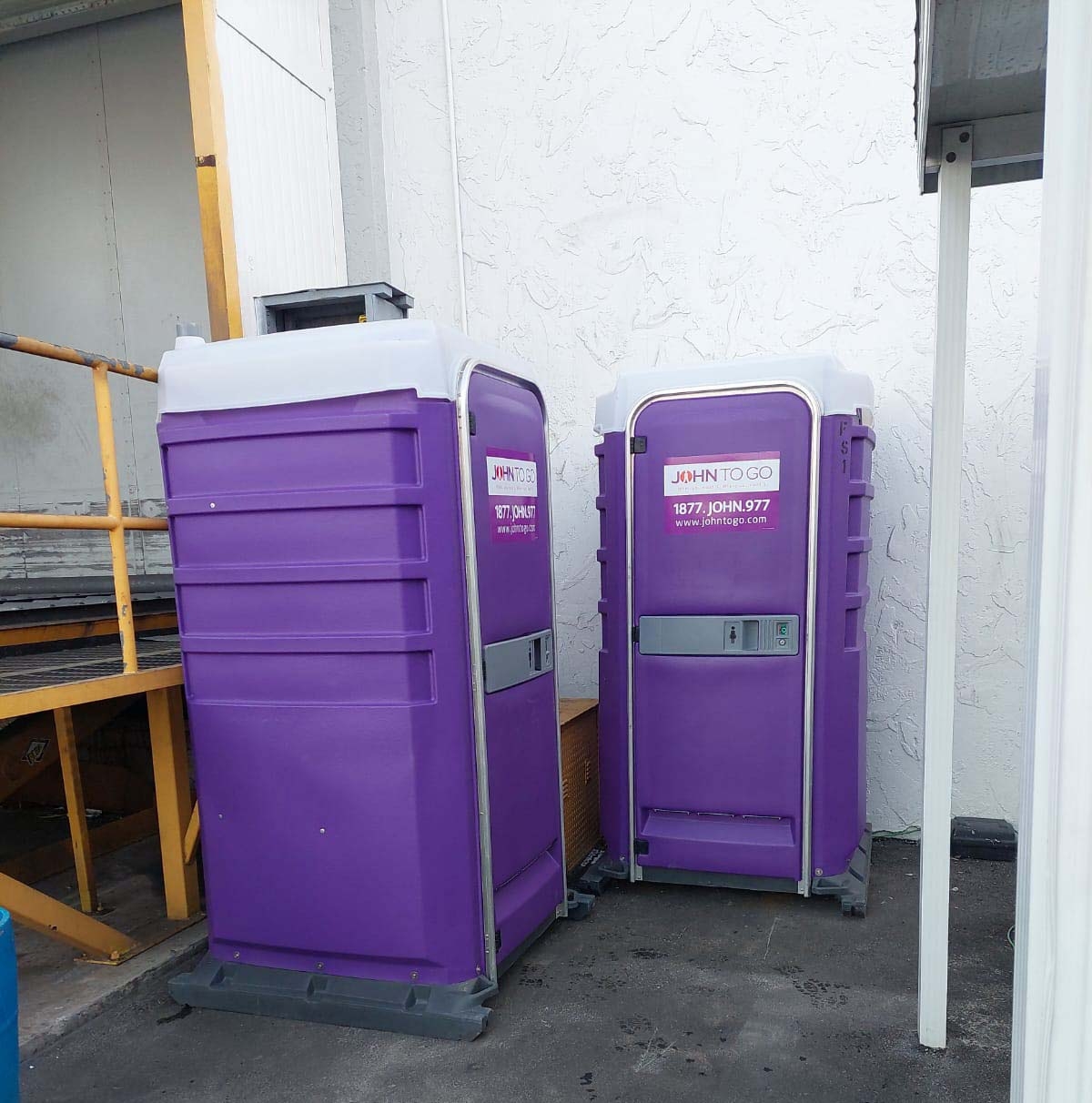 CHOOSE FROM OUR EXTENSIVE SELECTION OF PORTA POTTY RENTALS
Frequently Asked Questions
Our FAQs will help answer any questions you still have about our services and offerings.
Do porta potties smell?
A common misconception when considering renting portable toilets is that they are unsanitary and smell because of repeated use. This is true, but only if a portable restroom isn't designed, maintained, and cleaned well.
At John To Go, we are committed to cleanliness and ensure our units are regularly cleaned and sanitized. We only use quality cleaning products, and our deep cleaning process ensures that our restrooms are clean and safe enough for you to do the deed!
How do you empty a Porta Potty?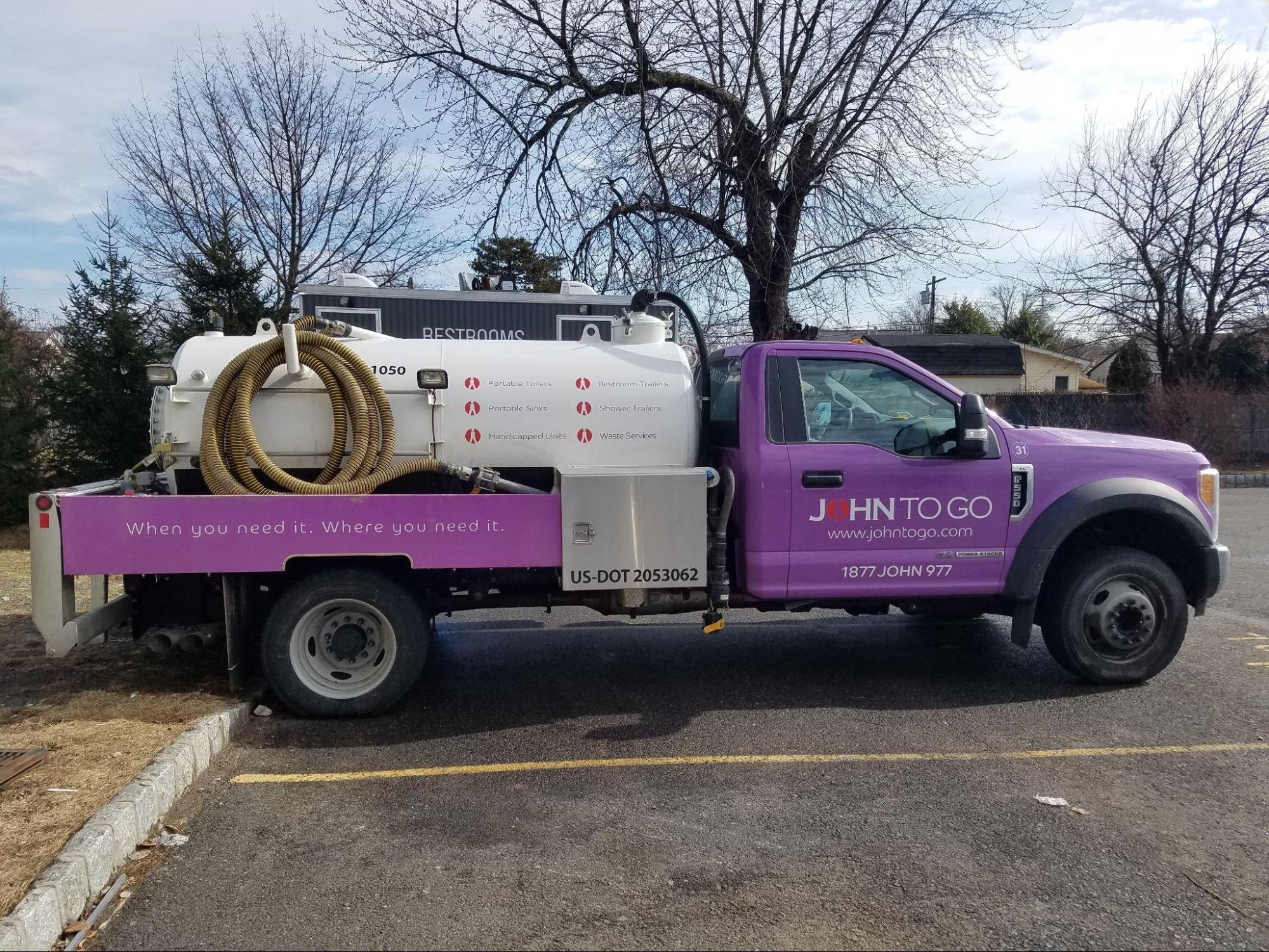 Waste management is our expertise, so emptying a porta potty is quite simple and easy! A vacuum hose is attached to the waste tank of a unit, which then sucks out all the waste that has been collected.
How often does a Porta Potty need to be emptied?
John To Go empties and cleans porta potties once a week to ensure they are properly maintained. Any longer than a week could lead to the growth of harmful bacteria. That is also why we assist our clients with a regular maintenance schedule at the start of the lease.
How much does it cost to rent a porta potty?
At John To Go, the prices of our basic construction unit start at under $160 per month, Even if you're looking for a fancy porta potty near Hialeah Gardens, our JTG Premium Event units are priced at just under $200 a month. Now that's what we call a relief!
Can Porta Potties be used indoors?
While there are no specific laws against using porta potties indoors, there are concerns of sanitation because of the gases these portable toilets release as they fill up. You can consider placing a porta potty in a place that gets direct sunlight for a large part of the day.
Where to rent a porta potty near me?
Have you ever found yourself asking, "Where do I rent a fancy porta potty near me?" Our services are available in New York, New Jersey, and Florida! So if you're looking for a port o potty rental near Hialeah Gardens, FL., then John To Go can definitely be your rental restroom provider of choice! Just visit our website today, or feel free to connect with us here We guarantee to make it a 100% positive and pleasant experience any time you want to rent a restroom near Hialeah Gardens!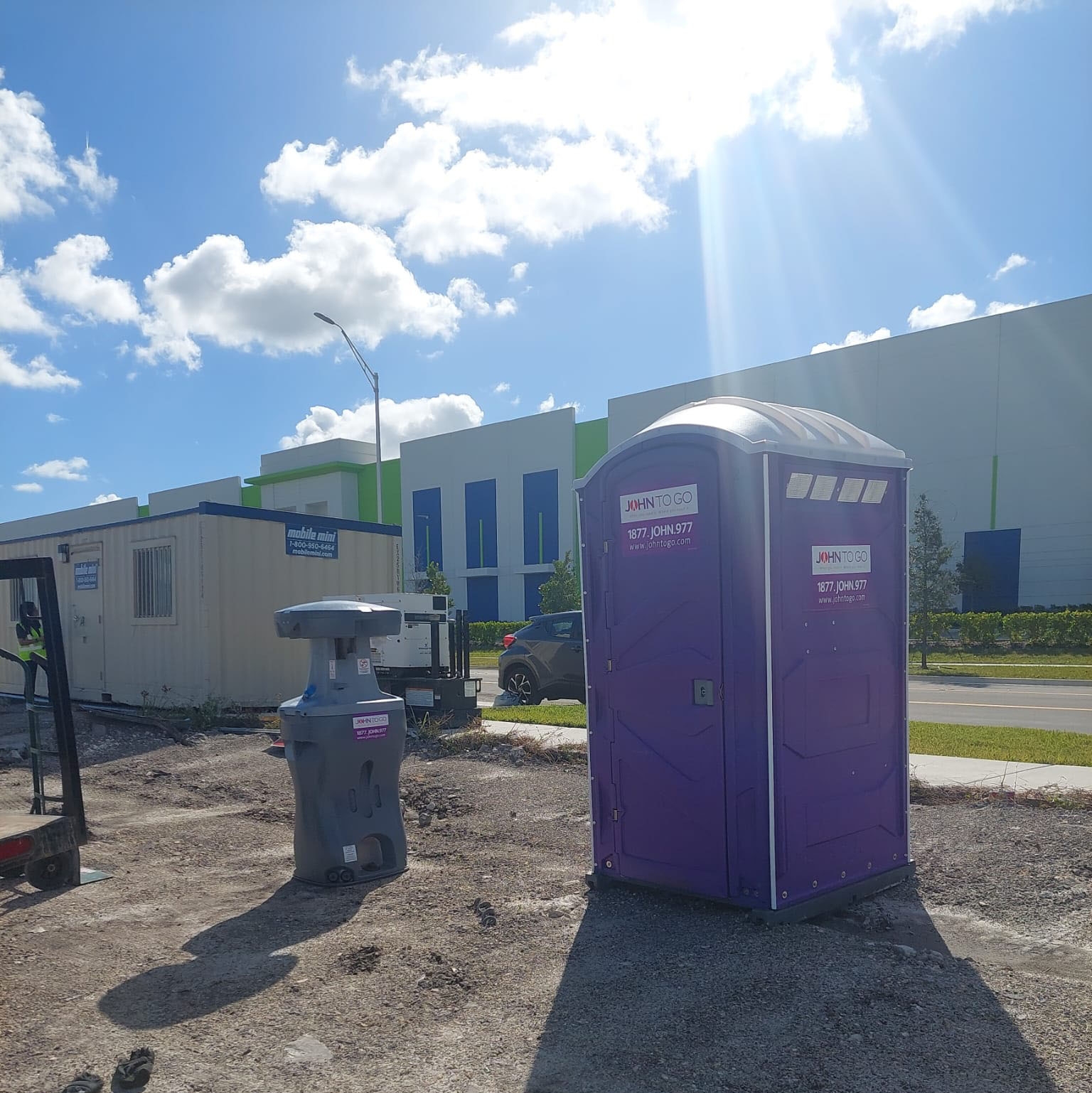 (305) 722-5149
AREAS WE SERVICE NEAR HIALEAH GARDENS:
Bal Harbour
Bay Harbor Islands
Biscayne Park
Coral Gables
Cutler Bay
El Portal
Florida City
Golden Beach
Homestead
Indian Creek
Key Biscayne
Medley
Miami Lakes
Miami Shores
Miami Springs
North Bay Village
North Miami Beach
Opa-locka
Palmetto Bay
Pinecrest
South Miami
Sunny Isles Beach
Surfside
Sweetwater
Virginia Gardens
West Miami
HEAR FROM OUR CUSTOMERS:
Tom Talamini
Special Event - November 10, 2020
5 STAR SERVICE! The staff were friendly and professional. The delivery was on time as well as the pick-up. Bathroom trailer we rented was spotless, smelled nice and was fully stocked with extra paper towels, toilet paper and soap. Bathrooms were nicer than my house bathrooms. Wanted to keep the trailer. All my guests were in AWE of the quality of the bathrooms. Highly recommended.
Joanne De Simone
Special Event - November 06, 2020
This company has the absolute best customer service I've ever had the pleasure of experiencing. They are friendly and super responsive. Just a pleasure to do business with. I can't wait to use their services for my next event!
David Collado Bronx NYC
Special Events, August 15, 2018
Been using John to Go services for the past 10 (+) years for our annual block party celebration in my neighborhood, they are friendly, professional, their products are always clean, reliable and operate as described. Their prices also cannot be beat. I plan to continue using them for many many more years and have also recommended to friends and family. Very Happy Customer, Bronx NYC
Porta Potty Rentals Near You

Find out where to rent portable toilets