The City of Sarasota is a vibrant, bustling place with plenty of fun activities. From incredible beaches to beautiful golf courses to some of the best restaurants and attractions in the world, there's something for everyone to enjoy!
The City of Sarasota is great for hosting memorable events, starting seasonal businesses, working on projects, or going on vacations. But no matter how stunning a location is, you cannot cover for shoddy planning. The fact remains that planning an event can be stressful; running a seasonal business is demanding; supervising a construction project is tiring, and planning the perfect vacation is not a walk in the park.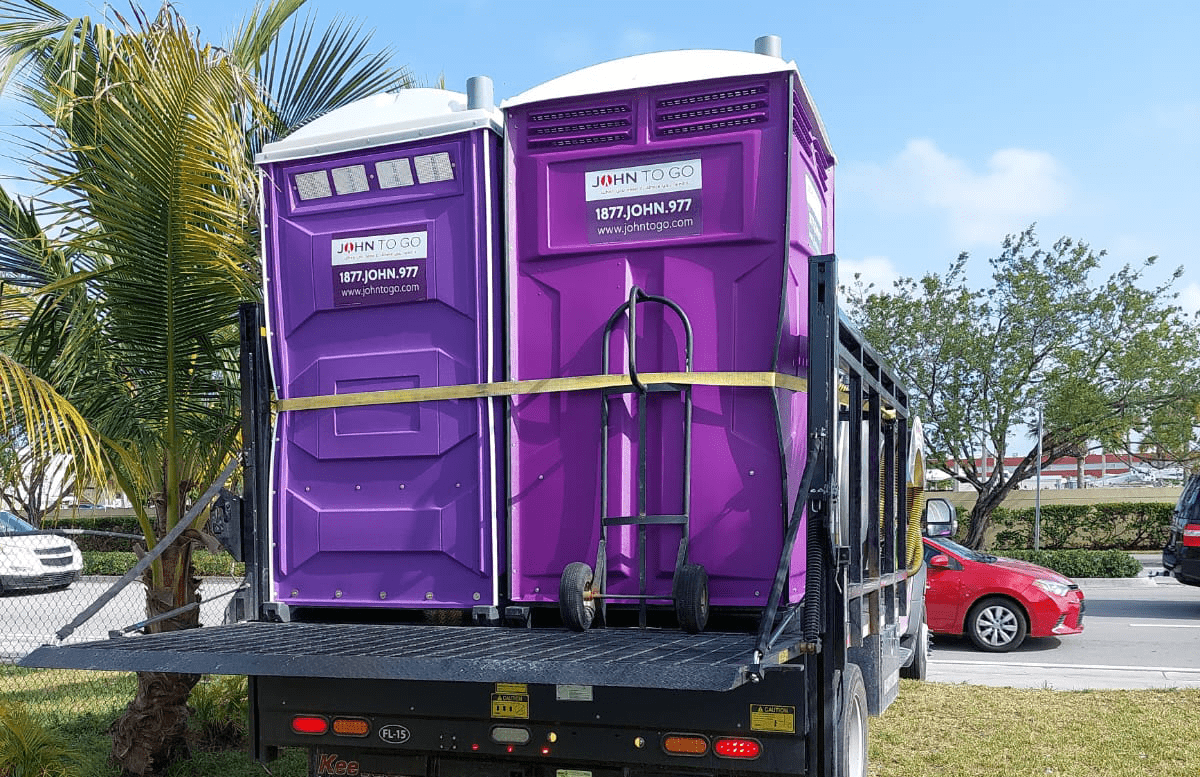 When stress, demand, and fatigue sets in, it's easy to forget or underestimate the things that matter the most. One of the easiest things to underestimate is the need for a portable restroom rental in Sarasota, Florida.
Whether you're hosting an outdoor event, managing a construction site, or running a seasonal business, you need to rent a porta potty near Sarasota. Portable restrooms in Sarasota, Florida, provide a convenient and hygienic option for those who need to use the restroom. But to meet this need, you need a reliable Sarasota porta potty rental company to provide clean, affordable, and comfortable porta-potty units. And this is where John To Go comes in.
At John To Go, we have the highest standards for port o potty rental in Sarasota. From single-unit rentals to large multi-unit rentals, our port-o-potty and restroom trailer units have all the amenities you need, such as hand-wash sinks, foot-flush toilets, running water, mirrors, central AC and heat, and more. So, if you ever need porta potties in the City of Sarasota, don't hesitate to reserve portable restrooms with us!
Avoid Mobile Restrooms Mishaps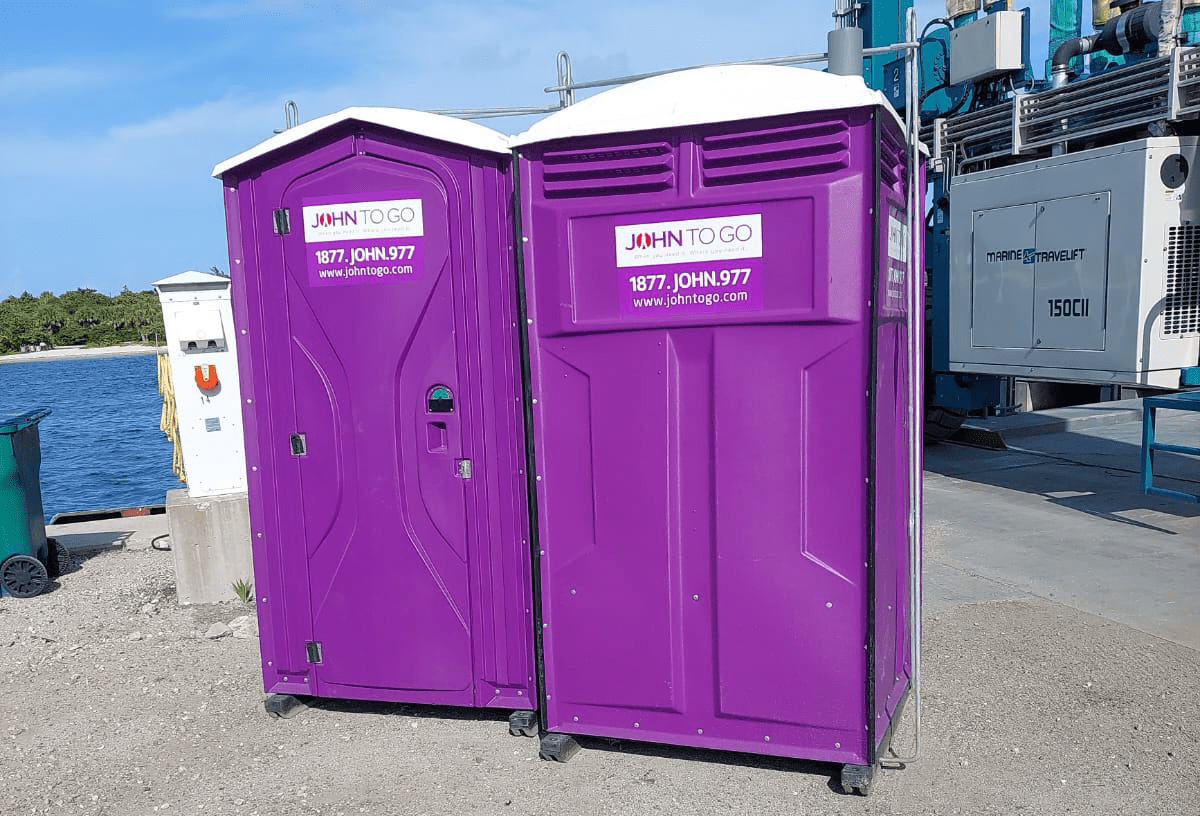 A variety of people and organizations in the city of Sarasota need porta-potties. Here are some cases where getting portable toilet rentals in Sarasota, Florida, is a non-negotiable option.
1 - Construction Site Supervisors
Construction sites in the City of Sarasota need portable toilets for workers working long days. The Purple Porta Potty is one of the most popular construction porta potty rentals in Sarasota, is easy to use and comes with features such as an outside occupancy indicator, a translucent roof for natural light, and an interior lock.
2 - Events Planners
Whether it's a music festival, a sporting event, or a community fair, John To Go provides solutions to ensure your event runs smoothly. Depending on the event you're organizing, you may need the JTG Premium Event Unit porta-potty or a restroom trailer.
A good rule of thumb is to plan for one restroom for every 50 guests. We recommend using a bathroom trailer if you have more than 100 people and want a luxurious restroom. But a porta-potty is the way to go if your party is smaller than that.
Another thing to consider is the type of event. If you are planning an outdoor wedding, we recommend renting a bathroom trailer because it is stylish and provides all the amenities you'll need. However, you should use multiple porta potties and washing stations if you are hosting a beer festival.
3 - Park Owners or Administrators
Many people often visit parks and recreational areas, and having a porta-potty onsite can help ensure that everyone has access to restroom facilities. Plus, it ensures that you don't need to worry about long lines at the restrooms. Not only does hosting a porta john rental near Sarasota give park goers a place to go when nature calls, but it also helps keep public parks clean and tidy.
4 - Beaches and Seasonal Business Owners
Have you ever been to the beach and felt like you needed to go to the bathroom, but there wasn't one in sight? It can be a real dilemma, especially if you're in a place with no public restrooms. That's why John To Go has created the perfect solution: a porta-potty for beaches.
Not only do porta potty rentals near Sarasota provide convenience, but they also keep your beach experience more sanitary. When you choose a Sarasota porta potty rental from John To Go, you'll get units that are made from durable and corrosion-resistant materials to withstand saltwater from the beach. Plus, they're lightweight and easy to transport and set up, so you won't have to tote around a heavy porta potty. And it's affordable too!
So, if you're looking for a convenient and affordable way to ensure your beach trips are as comfortable and sanitary as possible, check out porta john rental near Sarasota.
How to Choose Your Sarasota Porta Potty Rental Needs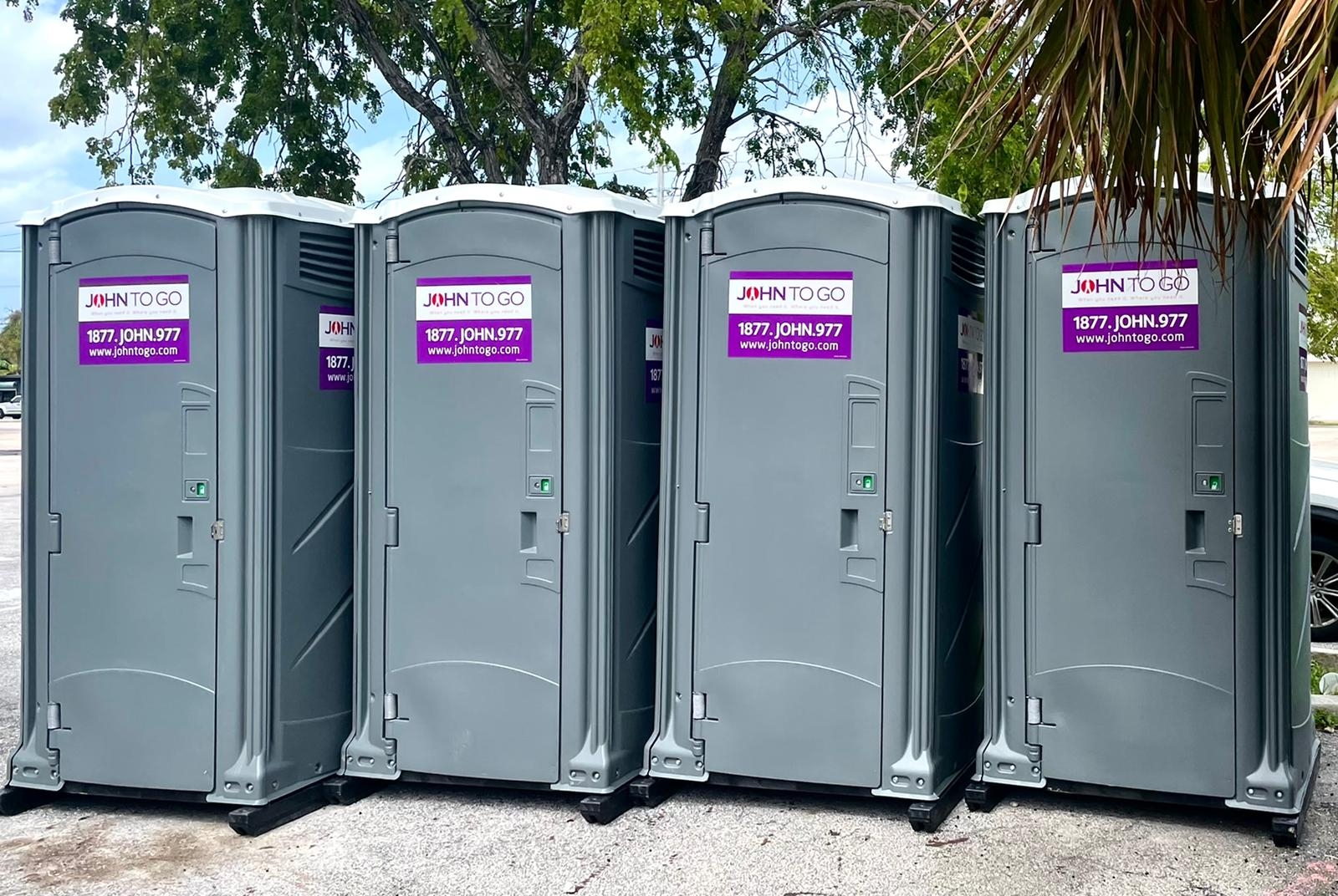 Are you planning an outdoor event or construction project and looking for the right porta john rental near Sarasota? Here are some pointers that can help you pick the perfect porta-potty for your event.
1 - Rent enough units
When selecting your porta potties, choose units with enough capacity to handle the size of your crowd. Use our online unit calculator to estimate the number of porta potties you'll need for your event to ensure everything is correct.
2 - Choose based on your event
Always consider the type of event you're hosting and match the needs of your guests to the right porta-potty. When considering the type of porta potty you'd need for the event you're hosting, you should understand that some porta-potties, like the bathroom trailers, are better suited for formal events. In contrast, others, such as the JTG ADA Handicapped Unit, the premium event unit, and the JTG construction unit, are more suitable for casual gatherings.
3 - Choose based on location
Finally, consider the location of your event. If you're hosting an event in a remote location, you may need to rent a porta potty near Sarasota designed for off-road use. Make sure you're renting the right unit for the terrain.
Choosing the right porta potty for your event can be tricky. Whether you are looking for budget-friendly porta-potty rentals or premium flushing units for special events, John To Go has you covered.
Port O Potty Rental in the City of Sarasota - Why Choose John To Go?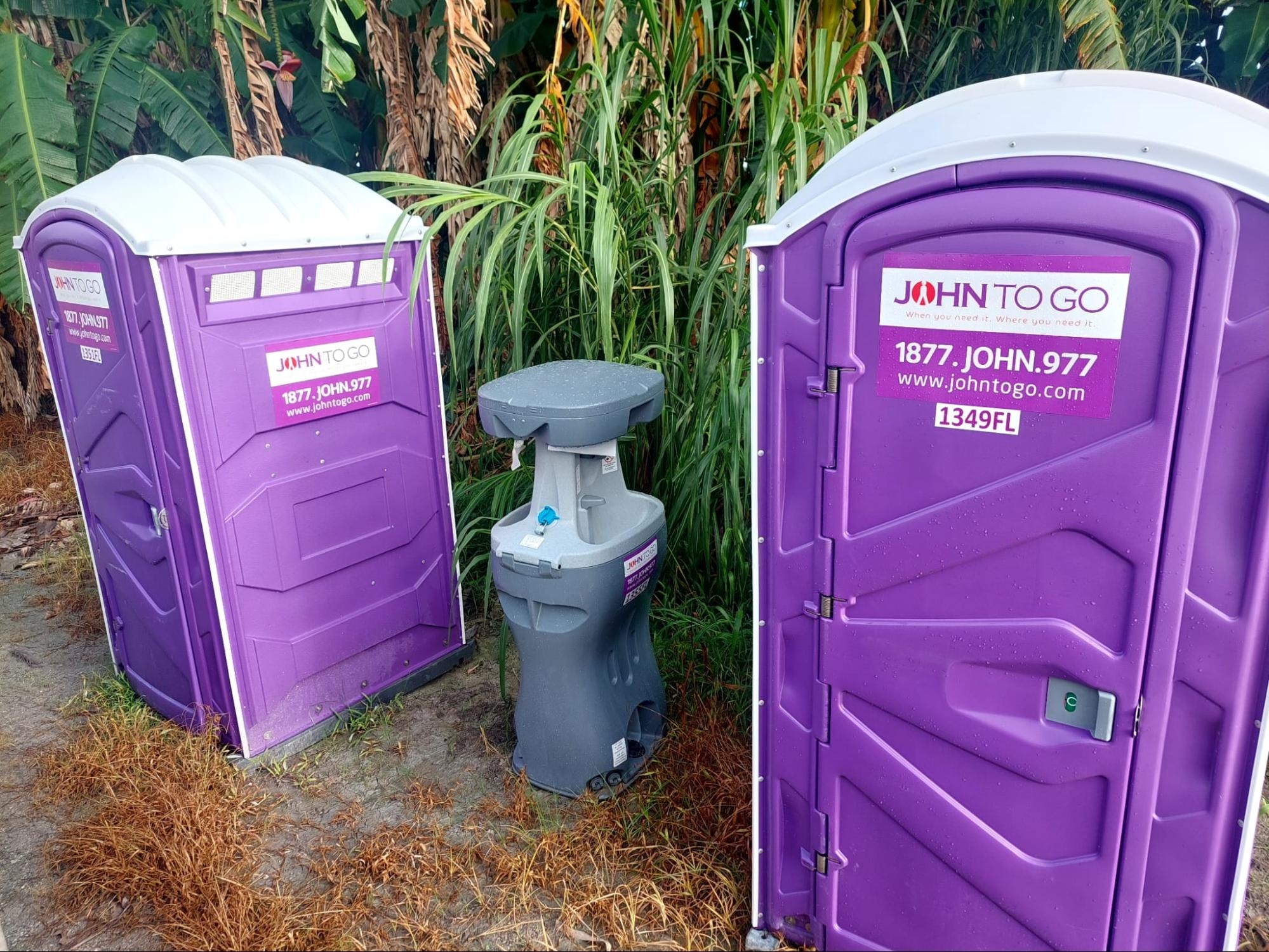 If you need a port o potty rental in Sarasota, look no further than John To Go! We are the premier provider of port o potty rentals in the city of Sarasota, as well as the County of Sarasota, and we can provide you with the perfect solution for all your needs. But why choose us?
1 - Highest quality porta potty
At John To Go, we pride ourselves on providing the best port o potty rental in Sarasota. We are dedicated to providing our customers with the highest quality porta potty rentals near Sarasota. We offer various options to suit your needs, from single-unit rentals for small events to multi-unit rentals for larger events. With our guidance, you can quickly get the right portable restroom for any event and set it up on time.
2 - Clean, hygienic units
Our porta potties are always clean and well-maintained, and our staff is friendly and knowledgeable. We use non-commercial green cleaning products that are highly effective yet gentle on the skin and friendly to the environment. Whether you rent a porta potty near Sarasota for the long or short term, we help you empty, clean, and maintain your units weekly!
3 - Competitive pricing
At John To Go, we offer competitive rates tailored to fit your budget. Whether you need a single porta potty for a small gathering or multiple units for a large event, we have a cost-effective and reliable solution. And yes, you get cheaper rates the more units you rent, or the longer you rent them for.
4 - Excellent customer service
In addition to providing the highest quality portable restrooms near Sarasota, we also offer exceptional customer service. Our knowledgeable staff is always available to answer any questions, and they can help you find the perfect port o potty rental in Sarasota for your needs. We are also proud to offer 24/7 customer service, so you can always count on us to be there when you need us.
5 - Flexible and fast delivery
At John To Go, we offer flexible delivery and pickup options, so you can get your port o potty rental when needed. We can even provide emergency delivery services if you urgently need a porta-potty!
Choose John to Go Today!
At John To Go, we understand that your event needs to be successful, and we are committed to ensuring that your porta-potty rental experience is as hassle-free as possible. With our top-notch customer service, high-quality units, competitive rates, 24/7 customer service, and flexible delivery options, you can count on us to provide you with the perfect Sarasota porta potty rental for your needs.
So, if you're looking to rent a porta potty near Sarasota, look no further than John To Go!
CHOOSE FROM OUR EXTENSIVE SELECTION OF PORTA POTTY RENTALS
Porta Potty Rental Near Sarasota—FAQs
What is the average cost of a porta potty?
The cost of a porta potty rental will vary depending on the type of unit you need, the length of rental, and any additional features you may want. Kindly review our portfolio to get pricing for the various porta potties we carry.
Do porta potties smell?
Porta potties only smell if not cleaned with the proper chemicals or emptied often enough. John To Go provides portable toilets and regularly cleans and deodorizes its units to minimize unpleasant odors. In addition, our porta potty units come equipped with ventilation systems to improve air quality.
How often do you empty a porta potty?
The frequency of emptying a porta potty depends on a few factors, such as the unit size, the event type, and the number of people attending the event. We empty your porta potty units at least once a week.
Is it bad for your health to use a porta-potty?
Porta-potties are only bad for your health if they do not have good ventilation and aren't cleaned regularly. At John To Go, we ensure all our porta potties are well-ventilated and emptied regularly to make them conducive and convenient for users.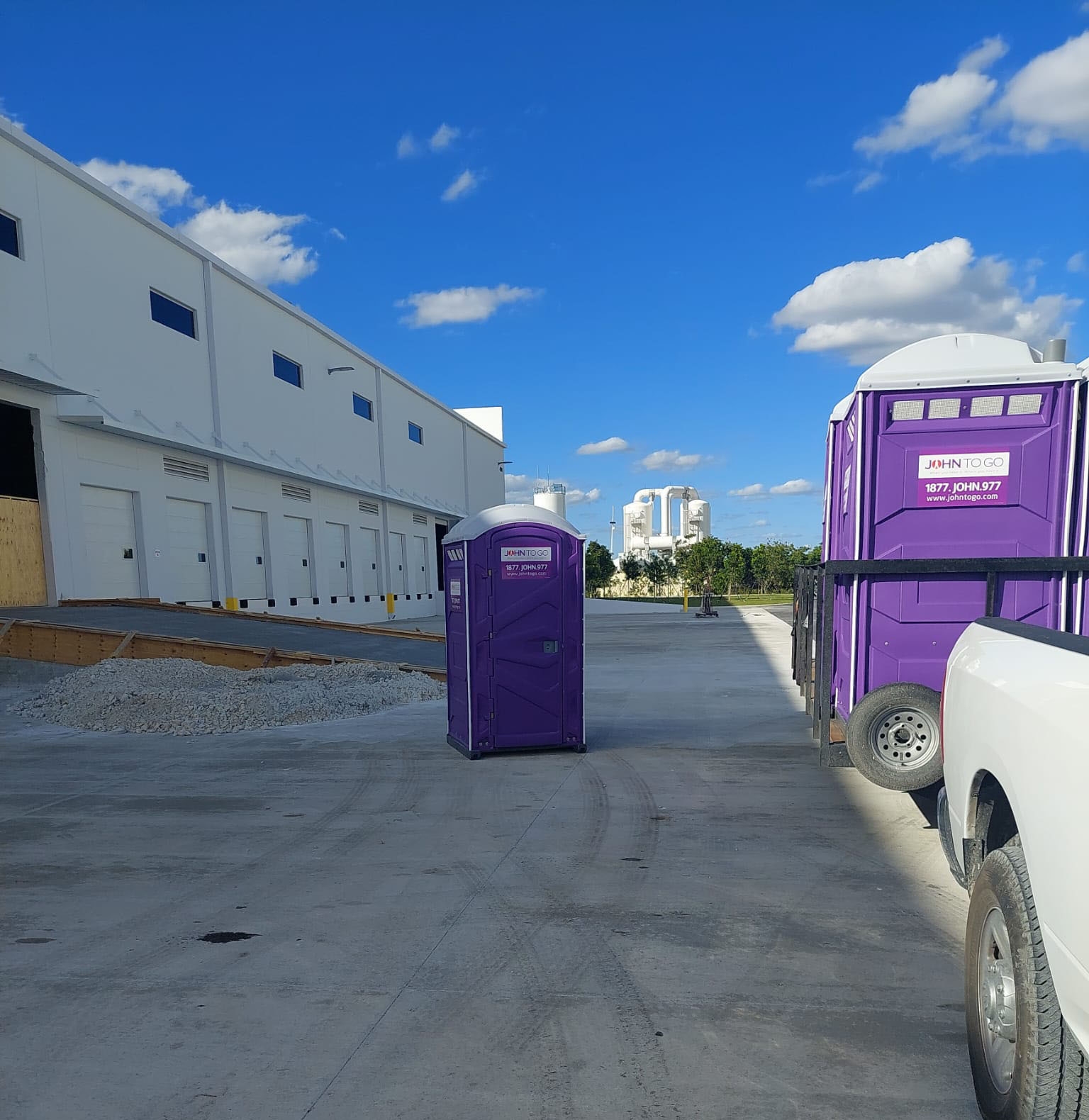 (305) 722-5149
AREAS WE SERVICE NEAR SARASOTA CITY:
Bee Ridge
Desoto Acres
Englewood
Fruitville
Gulf Gate
Kensington Park
Lake Sarasota
Lakewood Ranch
Laurel
Longboat Key
Nokomis
North Port
North Sarasota
Old Miakka
Osprey
Palmer Ranch
Pinecraft
Ridge Wood Heights
Sarasota Springs
Siesta Key
South Gate Ridge
South Sarasota
South Venice
Southgate
The Meadows
Vamo
Venice
Venice Gardens
Warm Mineral Springs
HEAR FROM OUR CUSTOMERS:
Tom Talamini
Special Event - November 10, 2020
5 STAR SERVICE! The staff were friendly and professional. The delivery was on time as well as the pick-up. Bathroom trailer we rented was spotless, smelled nice and was fully stocked with extra paper towels, toilet paper and soap. Bathrooms were nicer than my house bathrooms. Wanted to keep the trailer. All my guests were in AWE of the quality of the bathrooms. Highly recommended.
Joanne De Simone
Special Event - November 06, 2020
This company has the absolute best customer service I've ever had the pleasure of experiencing. They are friendly and super responsive. Just a pleasure to do business with. I can't wait to use their services for my next event!
David Collado Bronx NYC
Special Events, August 15, 2018
Been using John to Go services for the past 10 (+) years for our annual block party celebration in my neighborhood, they are friendly, professional, their products are always clean, reliable and operate as described. Their prices also cannot be beat. I plan to continue using them for many many more years and have also recommended to friends and family. Very Happy Customer, Bronx NYC
Porta Potty Rentals Near You

Find out where to rent portable toilets