Are you planning a big event, hosting a small party, handling a construction project, or anything in between? You want to make sure your guests or employees have everything they need to have a good time or work efficiently. And that's why you need a portable toilet john so your guests or workers can do their business when nature calls.
But how can you get a reliable porta john rental near Plantation? While you can easily do a "porta potty rental near me" search, you cannot be sure of the quality of the services you'll receive from a random porta potty rental provider. And that's where John To Go comes in.
If you need a reliable port o potty rental in Plantation, John To Go is the place to go! But why is JTG your go-to source when you need a portable bathroom rental near Plantation? It's because we have been helping people all over Plantation to meet their portable restroom needs for over 18 years. From porta potty rentals to restroom trailer rental near Plantation and everything in between, we're simply the best place to go for easy, fast, and reliable business. Our customer reviews and testimonials speak for us!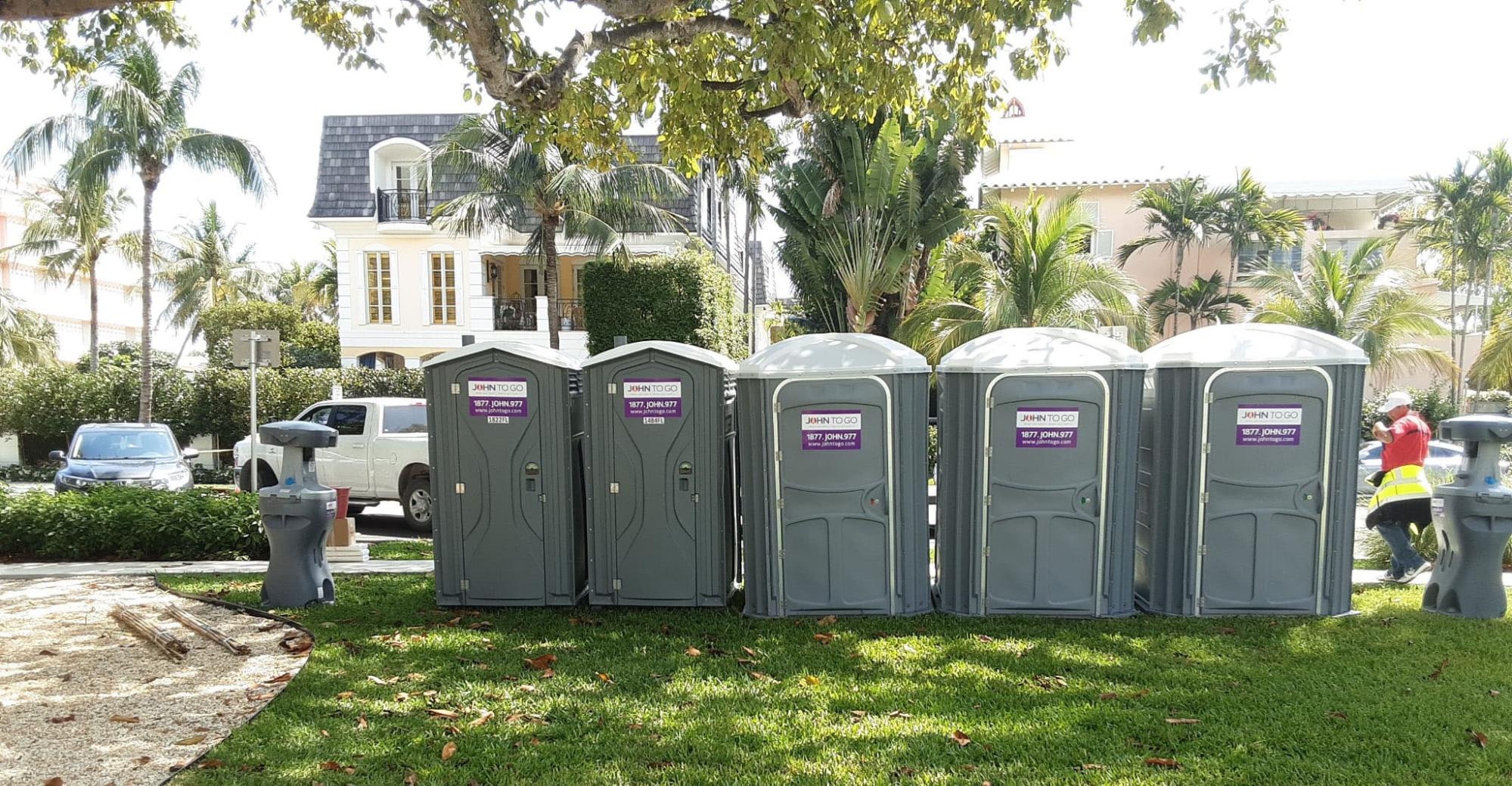 Renting Shower Trailers and Portable Restrooms Near Plantation, FL
So you need to rent a porta potty near Plantation? We know how important it is to take care of your guests and workers—which is why we offer a variety of porta potty options for you. Whether you need simple porta potties for a wedding, corporate party, construction site, or some high-end luxury units, we can help you create the perfect restroom environment. Here are some options for portable toilet rental near Plantation.
We also offer portable restrooms and shower trailers that can be set up at your next outdoor event. Other options include the Foam Sanitizer that helps your guests to keep their hands clean even when water is not available, the Fresh Water System for locations where water and sewer connections are not available, the JTG Handwash Station, and lots more!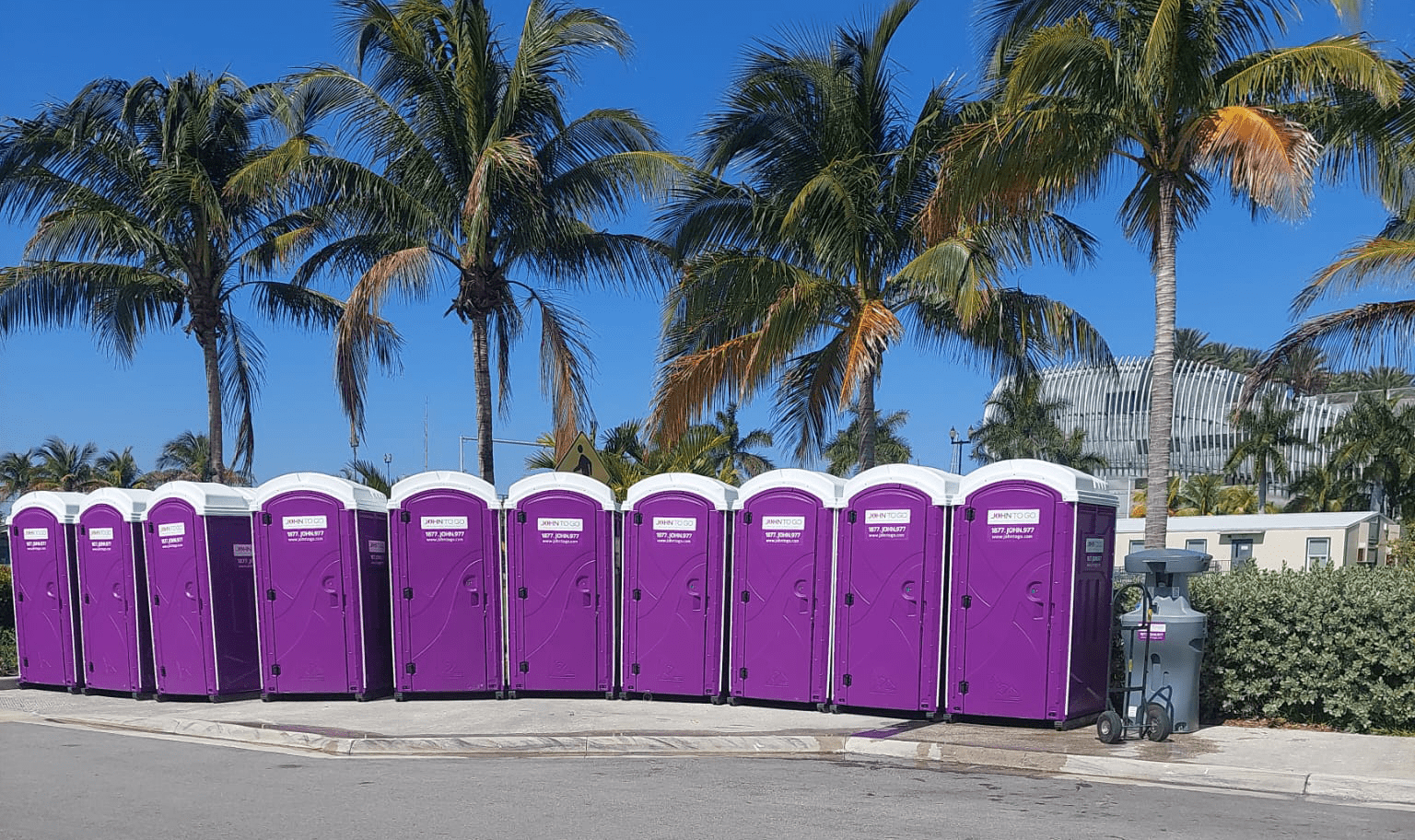 Why Choose JTG for Your Porta John Rental Near Plantation?
When you're in Plantation and need to rent a porta potty near Plantation, there's no one better than JTG! One important reason is that you enjoy great flexibility with JTG. You can rent a single unit for a one-time event, or rent multiple units at once for an extended period of time. Need a standard or fancy porta potty near Plantation? You have a variety of options to choose from, delivered on a schedule that works for you.
At JTG, we know that porta potty rentals can be a logistical headache to research, reserve, and follow up on. That's why we've got you covered with an easy quote system on site, excellent service, many service trucks on the road, and lots more. We're also proud to offer our customers a smooth process that is easy to navigate and make a reservation. If you'd like to reach out at any point (literally - 24/7!) our professionals are here to help you out every step of the way.
Here are just a few of the reasons why you can absolutely depend on JTG for a reliable and super satisfying experience when it comes to any Plantation porta potty rental.
We know that when it comes to porta potty rentals, everyone has different needs, and we always do our best to meet them. We pride ourselves on providing excellent customer service and support to our clients every step of the way! From advice on placement so they're easily accessible to an event calculator and construction calculator to let you know how many units you'll need, our seasoned professionals are always ready to help you out!
Many service trucks on the road

Our fleet of vehicles is always on the road, so we can get to you fast. This means that when you need to rent a porta potty for an event, we can provide it to you quickly—and without any hassle.

Easy quote system on site

Our quote system is easy and quick to use, so you won't have to spend time filling out forms. Our website quote system gives you an accurate price before you even commit to renting from us. All you need to do is enter the details of your event (number of guests, length of time) and we'll give you an instant quote. No more waiting around on hold or poring over documents!

Perfect, smooth process and system

Our process is smooth and simple from start to finish, so that there are no delays or interruptions at all during the rental process. Booking is easy and can be completed independently online or with the assistance of one of our helpful agents if you prefer. We don't want anything to get in the way of your party or work! Whether you're renting one or five porta potties, we make sure that everything is as painless as possible for you.

Professionals to help you out

We have professionals on hand who know how important it is for people in Plantation to feel like they're being taken care of by someone who understands their needs. Our professionals on staff will help guide you through every step of your rental process so that nothing goes wrong—and so that if anything needs to be adjusted, we'll take care of it immediately!

We are constantly updating our fleet of units with new models that have all the latest technology and safety features. You can be sure that no matter which size or type you need, it will be in pristine condition when we deliver it to your site.

Our portable restrooms are clean, comfortable, and spacious, and they come with all the amenities you'd expect. All of our units are well stocked with all supplies you need to keep your guests happy and comfortable!

We know how important it is for people to feel comfortable when they're using a porta potty. This is why JTG specializes in providing clean, sanitary, and convenient porta potties for your portable restroom needs. Before they leave our dock, we clean and disinfect all of our units so that you can always have a clean restroom environment every time you rent one from us!

Excellent delivery service

We are always available to deliver your porta potty units to wherever you need them, when you need them. And because whenever possible we accommodate same- or next-day delivery and pickup anywhere in Plantation County, you'll never have to worry about getting stuck without your restrooms for an event.

Easy online booking process

You can rent a porta potty near Plantation online in just minutes, and we'll deliver it straight to your doorstep. No need to worry about renting from multiple companies or coordinating delivery times—we take care of it all for you!

We stand behind our products

When you rent a porta potty from us, we make sure that it's up to code and safe for use. We inspect each unit before it goes out, so you can feel confident that nothing will go wrong with your rental.

We cover you in all weather conditions

Our units are built to withstand even the most extreme weather conditions, which means that even if there's some rough weather coming your way during your event, you can rest assured that JTG's units can be relied upon!

For example, we know that sometimes it rains—a lot—in Florida. That's why we provide waterproof porta john rental near Plantation that can withstand even the heaviest downpour of rain while still providing quality service to your customers or employees!

Flexible pickup and delivery

We understand that sometimes things come up, which is why we offer flexible scheduling options that let you modify pickups and deliveries with just a few clicks or taps on your screen.

At JTG, we believe that everyone deserves access to quality, affordable porta john rental near Plantation. It is our mission to provide good quality products at affordable prices so that everyone has access to proper restroom facilities no matter what kind of event they may be attending.

CHOOSE FROM OUR EXTENSIVE SELECTION OF PORTA POTTY RENTALS

Are Porta Potty Rentals Near Plantation Necessary?

If you're holding an event or running a business in Plantation, you may be wondering what the best way to handle bathroom rentals near Plantation is. You're probably weighing the options between going to rent a porta potty near Plantation or looking into public restrooms nearby. If you know what to look for, you can make the right choice for your event.

Portable toilets are great because they come with everything you need: a toilet, a sink and water supply, and even Handwashing stations. This makes them incredibly convenient for your guests—they don't have to worry about bringing anything with them when they go in or traveling a distance to one nearby! And since these units are typically portable, they can be moved around easily to accommodate different areas of your event space. They also get rid of waste on site, so there's no need for extra cleanup.

Plantation porta potty rental restrooms are perfect for outdoor events like concerts or fairs where there isn't a permanent restroom facility available nearby. They provide an affordable solution for those who don't want to risk losing business due to poor sanitation or safety concerns related to unsanitary conditions around the premises due to a lack of proper facilities for employees or visitors alike.

That's why we offer our services to businesses and event planners who want to ensure the comfort and safety of their guests while also saving money on the cost of porta potty services. So, if you're in the market for porta potty rentals near Plantation, Florida, look no further than JTG! And if you have any questions about what we offer or how our services work, don't hesitate to contact us today!

FAQs

Do porta potties smell?

When frequently cleaned and deodorized with a solution of detergent, biocides, dye, and fragrance, porta potties don't smell poorly. You don't have to worry about it giving off a bad odor to guests when stationed appropriately and cleaned thoroughly.

How often do you empty a porta potty?

That depends on how many people are using it, how often they use it, and what they put in there. On average, we empty and clean all portable toilet rentals at least once every week so that they are ready for use again every day!

What is the average cost of a porta potty?

So, what are the porta potty rental prices near Plantation like? You can get units for as low as $140 a month. The porta potty rental cost for your bathroom rental near Plantation will depend on a number of factors, such as the type of porta potty rental unit, duration of porta potty rental, rush delivery, etc.

Where to rent porta potty near me?

If you're looking for a porta potty rental near Plantation, look no further! You've found the right place. We have the best prices and selection of porta potties around, and we'll deliver them right to your doorstep. Call us today or check our website for more information about our inventory, pricing options, and availability in Plantation.

What is the best porta potty?

At JTG, we've got it all—from friendly service to an easy system for renting porta potties. You can rest assured that your needs will be met and your expectations will be exceeded. We provide the best service at the best price! No hidden costs!

(305) 722-5149
AREAS WE SERVICE NEAR PLANTATION:
Coconut
Creek
Cooper City
Coral Springs
Dania Beach
Hallandale Beach
Lauderdale Lakes
Lauderhill
Lighthouse Point
Margate
North Lauderdale
Oakland Park
Parkland
Sunrise
Tamarac
West Park
Weston
HEAR FROM OUR CUSTOMERS:
Tom Talamini
Special Event - November 10, 2020
5 STAR SERVICE! The staff were friendly and professional. The delivery was on time as well as the pick-up. Bathroom trailer we rented was spotless, smelled nice and was fully stocked with extra paper towels, toilet paper and soap. Bathrooms were nicer than my house bathrooms. Wanted to keep the trailer. All my guests were in AWE of the quality of the bathrooms. Highly recommended.
Joanne De Simone
Special Event - November 06, 2020
This company has the absolute best customer service I've ever had the pleasure of experiencing. They are friendly and super responsive. Just a pleasure to do business with. I can't wait to use their services for my next event!
David Collado Bronx NYC
Special Events, August 15, 2018
Been using John to Go services for the past 10 (+) years for our annual block party celebration in my neighborhood, they are friendly, professional, their products are always clean, reliable and operate as described. Their prices also cannot be beat. I plan to continue using them for many many more years and have also recommended to friends and family. Very Happy Customer, Bronx NYC
Porta Potty Rentals Near You

Find out where to rent portable toilets