Nestled conveniently between Fort Lauderdale and Miami, Davie, Florida, is the go-to for those seeking an escape from the city without being too far off from the hubbub of metropolis life. The area provides a small-town feel yet has plenty to do. From the enchanting Flamingo Gardens to the Buehler Planetarium and Observatory, there is something for everyone in Davie, Florida.
For outdoor events like these, venue planning can take a lot of time.
With all of its perks and beauty, it's no wonder why so many people are opting to head to Davie, Florida. Whether they're building their dream home or business complex, Davie, Florida, seems to be the hot spot to break ground.
Not only that but the area is continuously being revamped and rejuvenated to handle the influx of newcomers. That said, it's not uncommon to see road and bridge construction underway in Davie, Florida.
While all of this active construction is good news for the economy of South Florida, it also means there has been an uptick in people searching for a "port o potty rental in Davie." What should you do? If you're on the hunt for a port a john rental near Davie, Florida, consider John To Go.
Here's why John To Go might be your best bet for putting your "porta john rental near Davie" query to rest.

Why You Should Choose John To Go For Your Portable Bathroom Rental Near Davie Needs
When you're searching for a Davie porta potty rental, you might be overwhelmed with the number of companies offering portable toilet john units. Here's why you can put your port o potty rental in Davie hunt to bed and choose John To Go.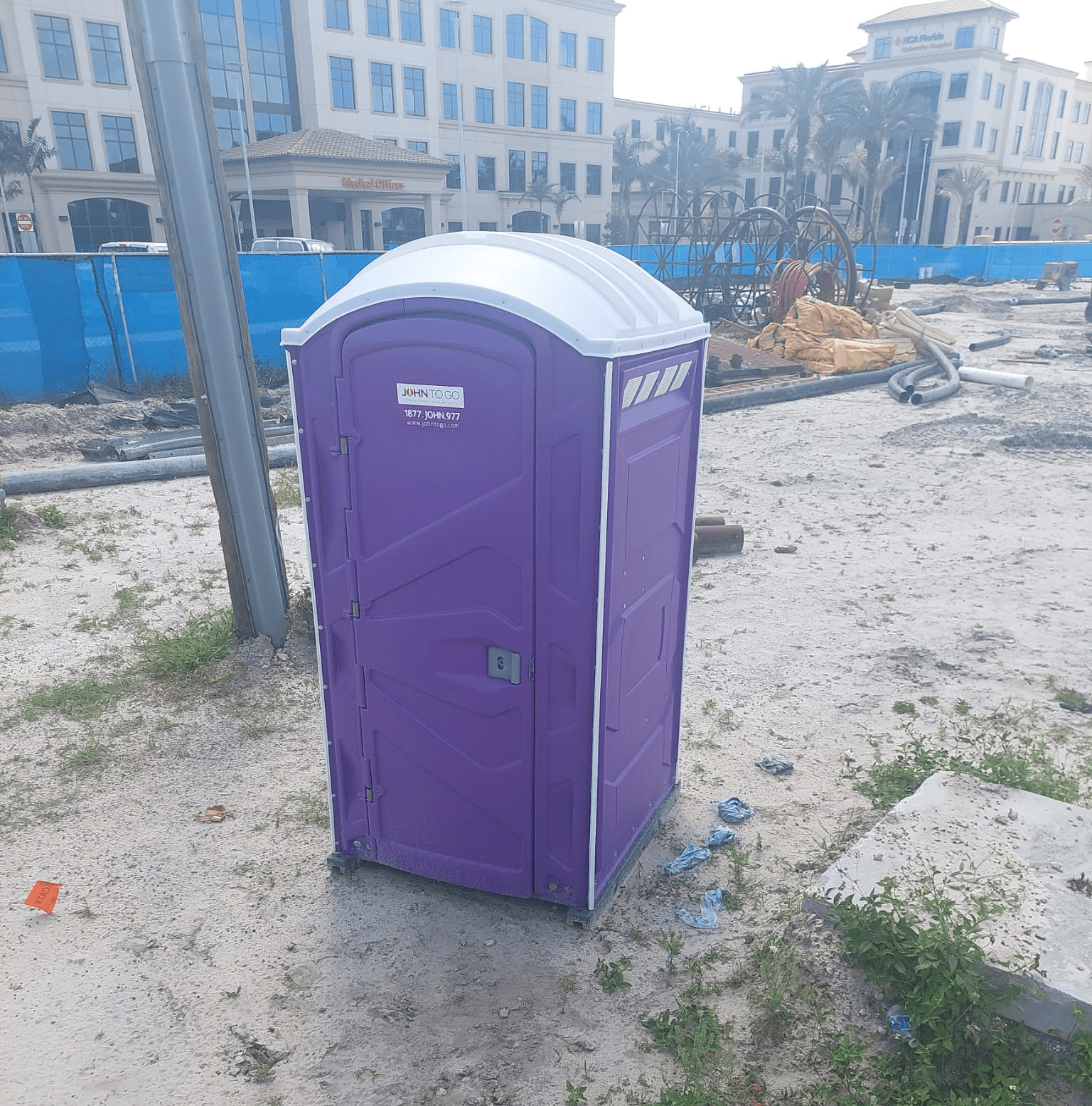 Equipped to Handle All Construction Projects and Events
The town of Davie, Florida, is undergoing constant construction. Here, you will find South Florida construction projects ranging from road building and bridge and highway construction to multiple stages of new home construction. While building a home from the ground up is different from the construction of a bridge project, there is one critical thing in common: both types of construction require services for their workers, such as a porta-potty.
That said, it's no wonder why road and bridge construction companies and types of home construction teams are actively searching for a bathroom rental near Davie.
John To Go is ready and equipped to handle all of your construction projects easily. We have construction-specific porta potties to meet your needs, too. For example, our Purple Porta Potty Unit is built with a superior structure, able to handle any construction site it sits on. The Hi-Rise Unit is perfect for towering construction, equipped with a strong steel frame and sling for lifting.
We have multiple rental trailers that come with two to ten stations, which means you will have plenty of room to suffice your query for portable restrooms near Davie.
But we don't stop at trailer porta-potty rentals near Davie. We offer a range of other products, such as single units, handwashing stations, and shower trailers.
Remember - your search for porta potty rentals near Davie shouldn't stop at the restrooms. Construction workers, whether they're a road contractor, constructing a replacement bridge (using FDOT standard specifications for road and bridge construction), handling commercial construction jobs, or working through house construction phases, they're going to get dirty. Workers and supervisors alike will enjoy having a spot to wash their hands or shower off before returning home to their families.
But don't worry - if you're just looking to rent a porta potty near Davie for an outdoor event in one of the picturesque areas of Davie, Florida, we can help, too.
Top-Notch Service
John To Go is undeniably equipped to handle all of your needs surrounding the construction project map, big and small. But that's not the only reason why you should opt for our services when looking to rent a porta potty near Davie.
When you use John To Go for your porta potty rental near Davie, you can expect high-quality and top-notch service every time. Our customer service team is waiting with a smile to help with all of your issues, whether you need a porta john rental near Davie for the construction of a bridge project or commercial construction jobs.
Need services for an open-ended project with unknown timeframes for completion? Our company provides excellent flexibility, which means you can rent our portable potty units without strict deadlines. This is ideal for large building projects that don't yet have an end date.
Have questions about porta potty rental near Davie? Our team is overflowing with knowledge and can promptly handle your crucial queries and respond to comments and concerns.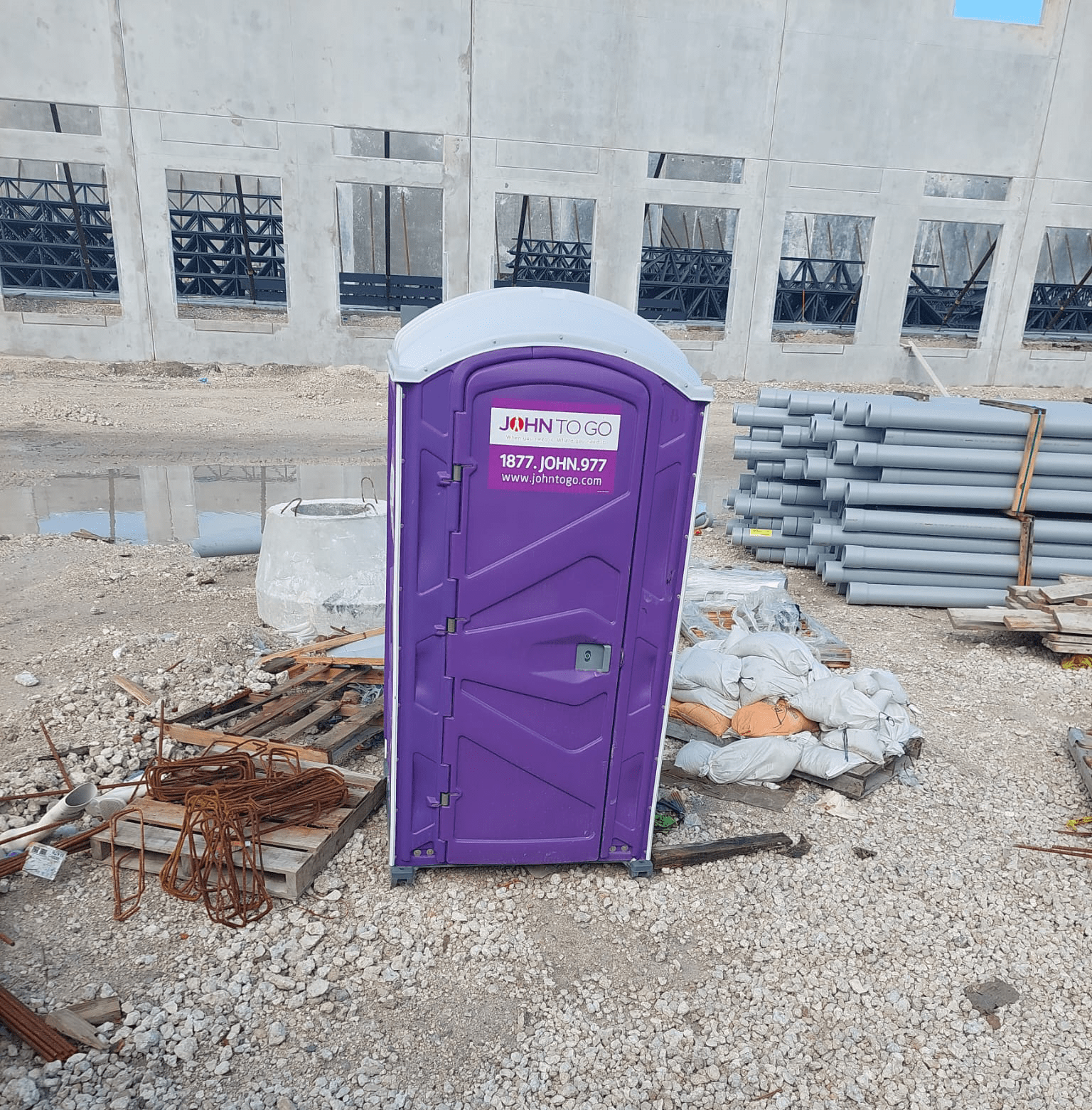 Easy Quote and Booking System and Competitive Prices
Most customers don't stop at their search for "port a potty rental near Davie." They're almost always looking for a good deal, too, which prompts the subsequent search, "porta potty rental cost near Davie."
At John To Go, we are proud to offer competitive prices that clients are continuously thrilled with. Not only that, but when you're considering renting one of our bathroom rentals near Davie, you can use our quick and easy quote system on our website. No guesswork, no gimmicks. Just ease of use finding out porta potty rental prices near Davie. And when you're ready to book, that's a breeze, too. Try it for yourself! We have chat agents standing by 24/7 to help with all of your questions or assist you in making a reservation.
It's our belief that we're the only rent a porta potty near Davie company that has NOT added a fuel surcharge!
Updated, Sanitized, and Well-Supplied Units
During a commercial renovation or highway pavement construction, the last thing you want to deal with is outdated and dirty portable toilets that have run out of essential supplies. Well, you never have to worry about these fears when you rent a portable toilet rental near Davie with John To Go!
All of our units are updated every 24 months for your convenience. We ensure they are in pristine and sanitized condition at all times. If you need to rent a porta potty near Davie for an extended period, one of our staff will come by weekly to sanitize and re-stock your porta potty near Davie with all the supplies needed.
Many Service Trucks on the Road
We understand that construction is happening swiftly in this area, and there may be last-minute needs for a port o potty rental in Davie. John To Go is prepared to handle these Davie porta potty rental emergencies with ease.
Give us a call, and we can provide your restroom trailer rental near Davie in no time. How? It's all thanks to our streamlined process paired with many service trucks on the road. With our trucks at the ready, all of the general contractors South Florida, FL, can have a port o potty rental near Davie in no time.
Excellent Delivery Service
With our highly-trained team and smooth booking process, John To Go can confidently provide your porta john rental near Davie. We make it easy to book a fancy porta-potty near Davie for events or porta john rental near Davie for construction purposes, whether it's road & bridge construction or different stages of home construction.
You can schedule your pickup and delivery with simplicity with John To Go. Even if you need to rent a porta potty near Davie abruptly, our staff will do whatever it takes to accommodate your needs. We even deliver and pick up in all weather conditions, which is critical for those sudden bouts of rain that can occur in Davie, Florida.
Regardless of when or where you need to rent a porta potty near Davie, rest assured our delivery team will have your Davie porta potty rental up and running in no time at all.
CHOOSE FROM OUR EXTENSIVE SELECTION OF PORTA POTTY RENTALS
FAQs
How far is Davie, Florida, from Miami?
Davie, Florida, is about a 40-minute drive from Miami. The proximity to this incredible, upbeat city makes Davie, Florida, one of the best spots for living. It's no wonder why there is so much construction happening in this neat town.
How many porta potties do I need?
It can be hard to pinpoint how many porta potties to rent. Well, John To Go is here to help in that aspect, too. Our website comes complete with a handy unit calculator. There is even a unique "construction unit calculator" that can determine how many units you need depending on the number of workers at your location.
In simple words, when you flush the portable toilet, the waste will be flushed to a tank. Since there is no sewer system, that's where the waste goes.
What is the average cost of a Porta Potty?
The cost to rent a porta potty near Davie will change drastically depending on the length of time the unit is rented and what type of unit is rented. John To Go can offer you a quote directly on our website. Keep in mind that the "basic" national price per week is $150.
Do porta potties smell?
Porta potties are known for their foul odors. Here at John To Go, we take the extra steps necessary to reduce the scent. For example, we clean and sanitize our units regularly to ensure no buildup of human waste, resulting in less smell overall.
Conclusion
If you're looking for a "porta potty rental near me" in Davie, Florida, or other nearby South Florida locations, you can depend on John To Go. We have a wide range of units to select from, making it the go-to for events and construction on highways and bridges, homes, and commercial spaces.
Ready to put an end to your search for a porta-john rental near Davie? Head to our website for an easy Davie porta potty rental quote and booking process, or give our helpful customer service team a call to rent a porta-potty near Davie today!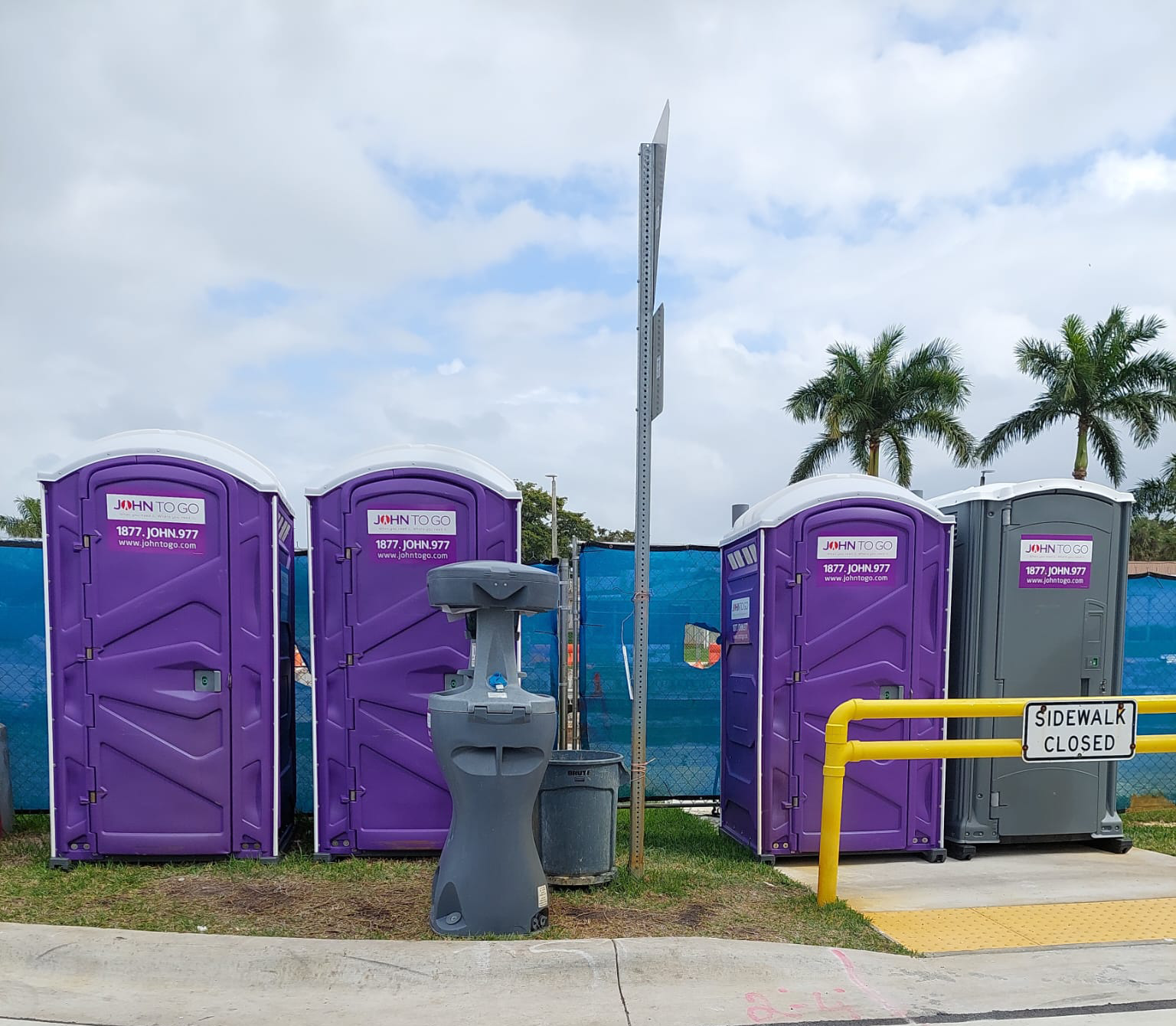 (305) 722-5149
AREAS WE SERVICE NEAR DAVIE:
Coconut
Creek
Cooper City
Coral Springs
Dania Beach
Hallandale Beach
Lauderdale Lakes
Lauderhill
Lighthouse Point
Margate
North Lauderdale
Oakland Park
Parkland
Sunrise
Tamarac
West Park
Weston
HEAR FROM OUR CUSTOMERS:
Tom Talamini
Special Event - November 10, 2020
5 STAR SERVICE! The staff were friendly and professional. The delivery was on time as well as the pick-up. Bathroom trailer we rented was spotless, smelled nice and was fully stocked with extra paper towels, toilet paper and soap. Bathrooms were nicer than my house bathrooms. Wanted to keep the trailer. All my guests were in AWE of the quality of the bathrooms. Highly recommended.
Joanne De Simone
Special Event - November 06, 2020
This company has the absolute best customer service I've ever had the pleasure of experiencing. They are friendly and super responsive. Just a pleasure to do business with. I can't wait to use their services for my next event!
David Collado Bronx NYC
Special Events, August 15, 2018
Been using John to Go services for the past 10 (+) years for our annual block party celebration in my neighborhood, they are friendly, professional, their products are always clean, reliable and operate as described. Their prices also cannot be beat. I plan to continue using them for many many more years and have also recommended to friends and family. Very Happy Customer, Bronx NYC
Porta Potties Near Me
When you're researching "porta potties near me," John To Go stands out as the go-to solution for all your portable restroom requirements. We understand that the need for a clean and reliable portable toilet service extends beyond just providing the unit itself.
That's why we focus on offering a comprehensive service package that takes care of all your needs, from the moment you first contact us to the time we complete the pickup. Our diverse range of portable toilet options ensures that we have something to suit every need and budget. With John To Go, you're not just renting a portable restroom—you're investing in a hassle-free experience that covers all the bases.