Considering a home remodeling project but unsure of how to accommodate the construction workers' toilet needs? Perhaps you're planning on hosting an event, like a birthday, wedding, concert, and need a local Pembroke Pines Porta Potty rental service.
Whatever your requirements, whether an outdoor event or construction site, being able to rent a Porta Potty near Pembroke Pines is as simple as calling John To Go.
Let's dive into why John To Go's well-maintained, hygienic, quality Porta Potties will be the highlight of any outdoor event in Pembroke Pines.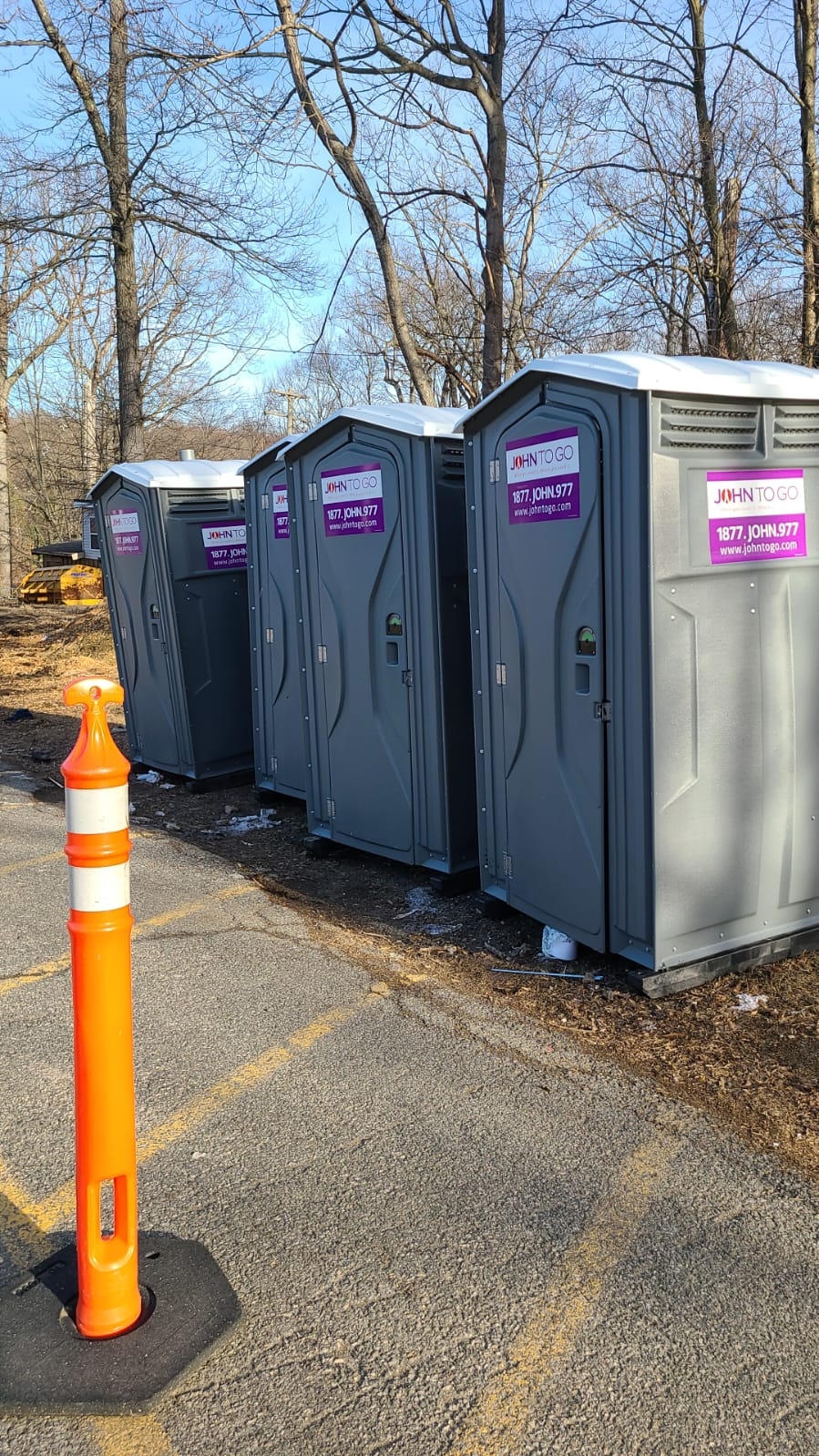 Rent a Porta Potty Near Pembroke Pines for Convenience
You know what we love about Pembroke Pines? As one of Florida's largest cities in Broward County, Pembroke Pines is simply bustling!
Located close to interstates, main highways, entertainment centers, tourist attractions, golf courses, commercial hubs, and parks, Pembroke Pines has an electrified metropolitan vibe.
It's also close to scenic beaches and green scapes that stretch into the distance. With so many lush landscapes, open-air venues, and grand parks in the vicinity, a Porta Potty rental in Pembroke Pines is a must!
Whether it's camping at C.B. Smith Park, canoeing at the Chapel Trail Nature Preserve, teeing off at Pembroke Lakes Golf Course, or dog walking at Pembroke Pines Dog Park, a Pembroke Pines porta potty rental will be a godsend for locals and tourists alike.
If you frequently host outdoor events, run open-air attractions, or oversee a construction project, having a reliable Porta Potty rental near Pembroke Pines will ensure you meet ADA and OSHA's requirements.
Imagine how much happier your guests, staff members, or workers will be when they don't have to run to find the nearest toilet or wait in line to use toilet facilities. With John To Go's Porta Potty rentals near Pembroke Pines, you can rent multiple standalone Porta Potties or high-end, well-stocked restroom trailers for any outdoor event.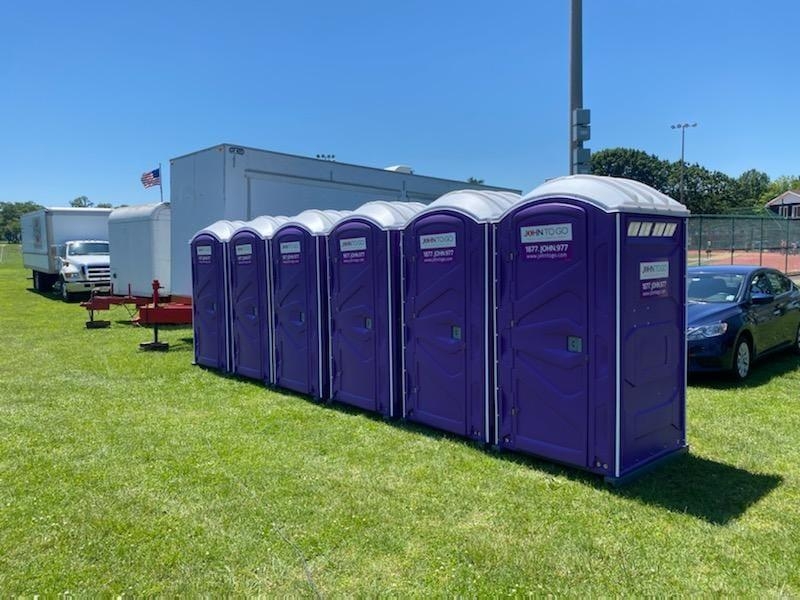 When you're searching for a Davie porta potty rental, you might be overwhelmed with the number of companies offering portable toilet john units. Here's why you can put your port o potty rental in Davie hunt to bed and choose John To Go.
Since Pembroke Pines is a prime location for residents, several housing projects are currently underway in the city. This kind of development in the area makes having a Porta John rental near Pembroke Pines essential for on-site workers.
After spending long hours outdoors, workers will want to use toilet facilities on site, which many construction companies fail to provide for remote locations. John To Go lets you rent a Porta Potty near Pembroke Pines at affordable rates to look out for the interests of your workers no matter how long (or short) the duration of your project.
Portable Toilet Rental Near Pembroke Pines: Things to Keep in Mind
If you've spotted a portable toilet john in the vicinity, you may think that there aren't options beyond what you've seen in use. However, John To Go provides a host of upscale options you may not be aware of for Porta Potty rental in Pembroke Pines that will leave you impressed.
But first, here are the things you should keep in mind before deciding which company to go with when you're looking to rent a Porta Potty near Pembroke Pines.
Delivery and Pickup Costs
When choosing portable restrooms near Pembroke Pines, it's important to consider the costs for delivery and pickup. These costs will fluctuate based on the kind of portable toilet or restroom trailer you choose. Things like location, type of setup, number of units, and how much workforce will be required to transport the units to a site will come into play. John To Go works with all kinds of budgets and rental timelines to fulfill your search for Porta Potty rentals near Pembroke Pines.While other providers may include additional costs after their initial quote, John To Go considers all factors and includes all appropriate costs within your initial quote. With us, you won't have to incur any surprise fees after completing a rental schedule.
Rental Period and Type of Event
Planning an outdoor wedding, festival, photoshoot, camping trip, or adventure activities? Then a Porta Potty near Pembroke Pines should have rental flexibility too.
You should be able to get the service you need, whether it's for a few hours, weeks, or even months at a time, as per your preferences. You'll find that John To Go Porta potties and restroom trailers are a truly remarkable addition to any outdoor event or setup.
Whether you need it for a construction or entertainment venue or even for single-day/weeklong events, we can provide a restroom trailer rental near Pembroke Pines for elaborate requirements or Porta Potties for short or long rental periods.
Number and Type of Units
How many bathroom rentals near Pembroke Pines you will need depends entirely on how many people you're hosting. If you plan to cater to 80 to 100 people at a time, restroom trailers make a great choice for a thoughtful, luxurious experience. A fancy Porta Potty near Pembroke Pines will be great for larger gatherings such as weddings where you expect upwards of 200 guests dressed in their finest.
Event organizers, project managers, and a venue's management can rent multiple units at a time and arrange them practically anywhere on location. You can even choose to set up Porta Potties for the physically challenged with John To Go's range of ADA-compliant units.
Maintenance and Hygiene
When you rent a Porta Potty near Pembroke Pines or even portable restroom trailers, the rental agreement must include a maintenance schedule. John To Go's cleaning schedule covers everything, from cleaning, stocking, and maintaining the portable bathroom rental near Pembroke Pines to meet the demands for a germ-free environment.
Pembroke Pines Porta Potty Rental: What Makes John To Go the Best
John To Go caters to anyone asking the question, "Is there a Porta Potty rental near me?" Our excellent support team handles and delivers Porta Potties and restroom trailers across Pembroke Pines. John To Go's fleet of 36 trucks (and counting) takes charge of delivery and pickup requests along predefined routes. These trucks are equipped to handle small and large orders throughout the year. Thanks to our smooth, streamlined process, our clients can comfortably schedule deliveries and pickups anytime, anywhere.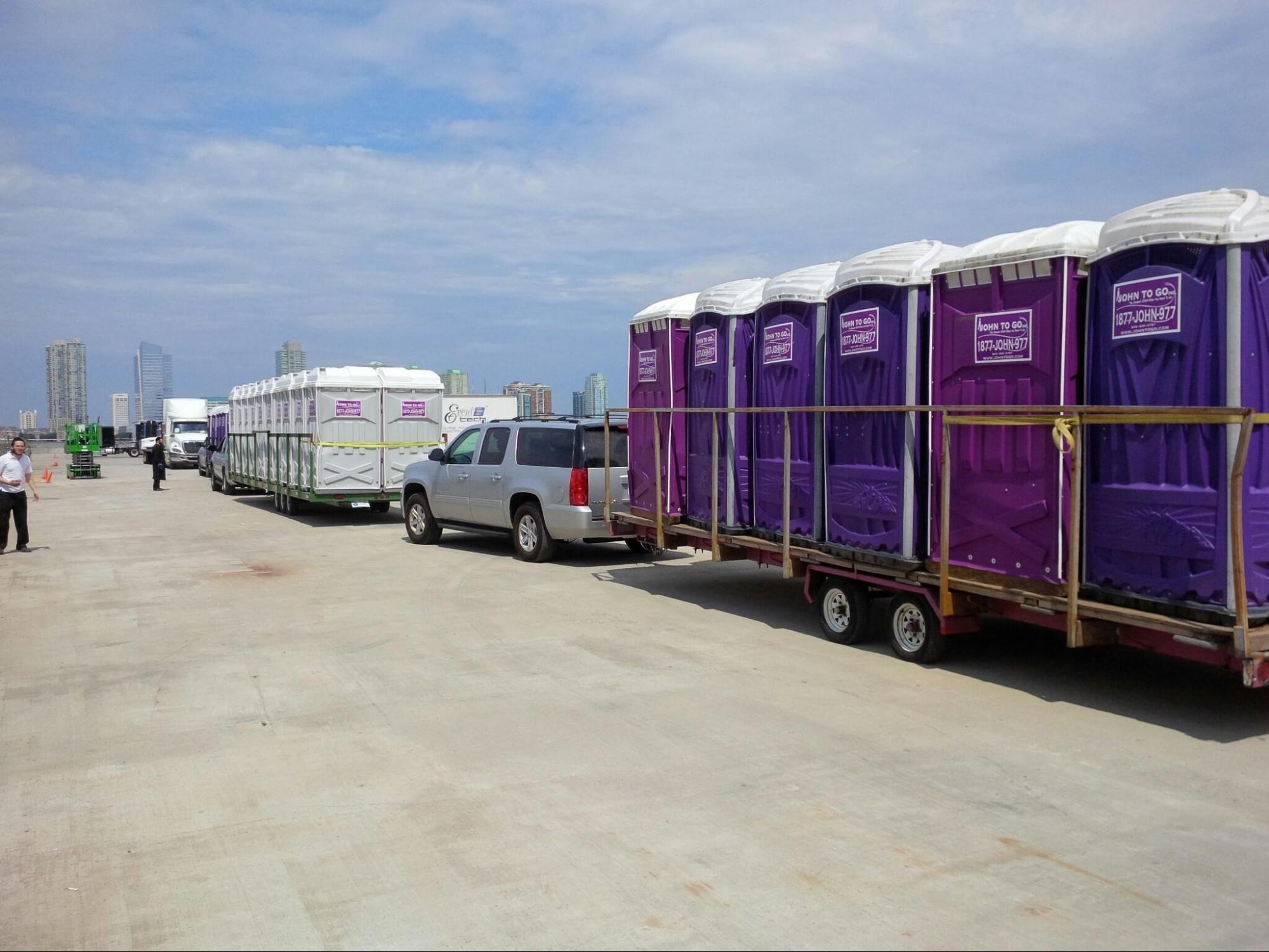 John To Go's Porta Potty rental prices near Pembroke Pines are the most competitive in Florida. You won't find a more cost-friendly, punctual, and reliable Porta John rental near Pembroke Pines. Our rental units are updated with the latest features and amenities to make users feel comfortable every time they visit a Porta Potty or portable restroom trailer. We're proud of how swiftly our team works to ensure that Porta Potties and restrooms are well-supplied, sanitized, and maintained throughout your chosen rental period.
CHOOSE FROM OUR EXTENSIVE SELECTION OF PORTA POTTY RENTALS
Residents and out-of-towners looking for a Porta John rental near Pembroke Pines will discover that we're a prime choice in Florida for bathroom facilities. In the following sections, we'll answer some pressing queries if you decide to rent a Porta Potty near Pembroke Pines.
FAQs
How Much Does It Cost to Rent a Porta Potty?
Depending on the number of units, the number of servicing days, and type of model you choose, the cost will fluctuate. Our rates are reasonable, and we have plenty of porta potty units available to keep up with the growing demands for porta potty rental in Florida. The Porta Potty rental cost near Pembroke Pines will go up slightly if you choose additional features, such as frequent maintenance, insurance, or a lock for the unit.
How Often Does a Porta Potty Need to Be Emptied?
Depending on the frequency of toilet visits, a porta potty needs to be emptied at least once a week. The more people that are likely to use the Porta Potties, the more regularly they will need to be emptied and cleaned by our team. You can choose the interval of days you'd like to schedule for maintenance.
Can Porta Potties Be Used Indoors?
Installing one indoors is not advised since the tank releases harmful gasses as it fills up. Keeping these units near people in a closed space can pose a health risk. Alternatively, for construction sites that need portable toilets on higher ground, John To Go's units can be hoisted by a crane and placed on any floor. This allows workers to make trips to the toilet comfortably.
How Much Water Do You Put in a Flushing Porta Potty?
Always remember to fill the tank no more than three-quarters with clean water. Simply unscrew the plastic cap and refill the tank when needed. Be sure to fill the tank as per the advised level, or it will affect how the potty functions.
How to Keep Porta Potty From Smelling?
Regular cleaning can keep a Porta Potty from smelling. Schedule maintenance visits with our team, who rely on fragrant deodorizing and cleaning solutions that eliminate nasty odors. That way, your rental Porta Potty will smell fresh and remain hygienic for anyone to use.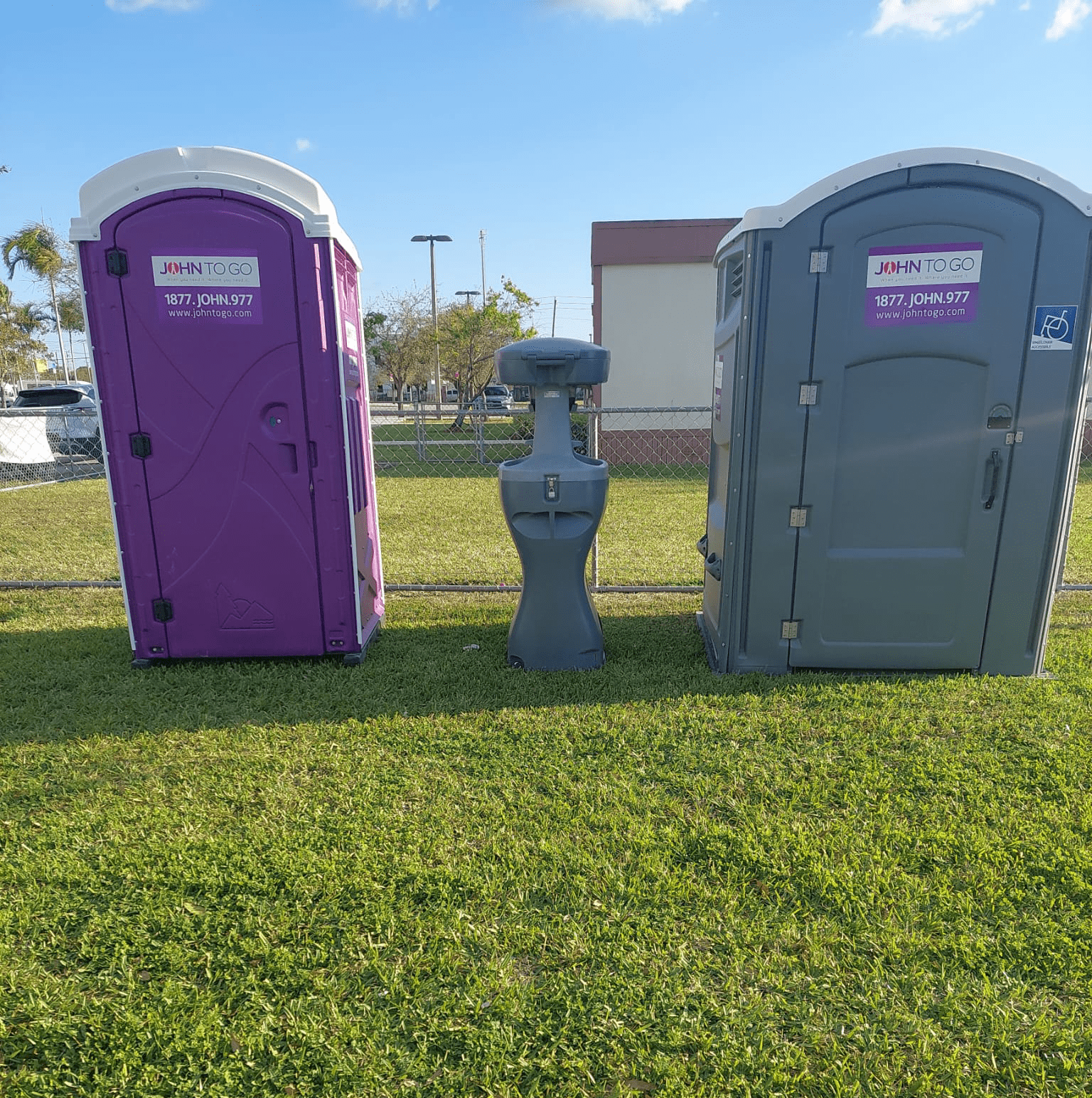 Our team is dedicated and highly trained to keep a customer's best interests in mind. So whenever you decide to look for a Porta Potty rental in Pembroke Pines, you'll be happy to find that John To Go meets safety and quality standards with utmost care. Feel free to contact our customer service team to help you with any queries you may still have.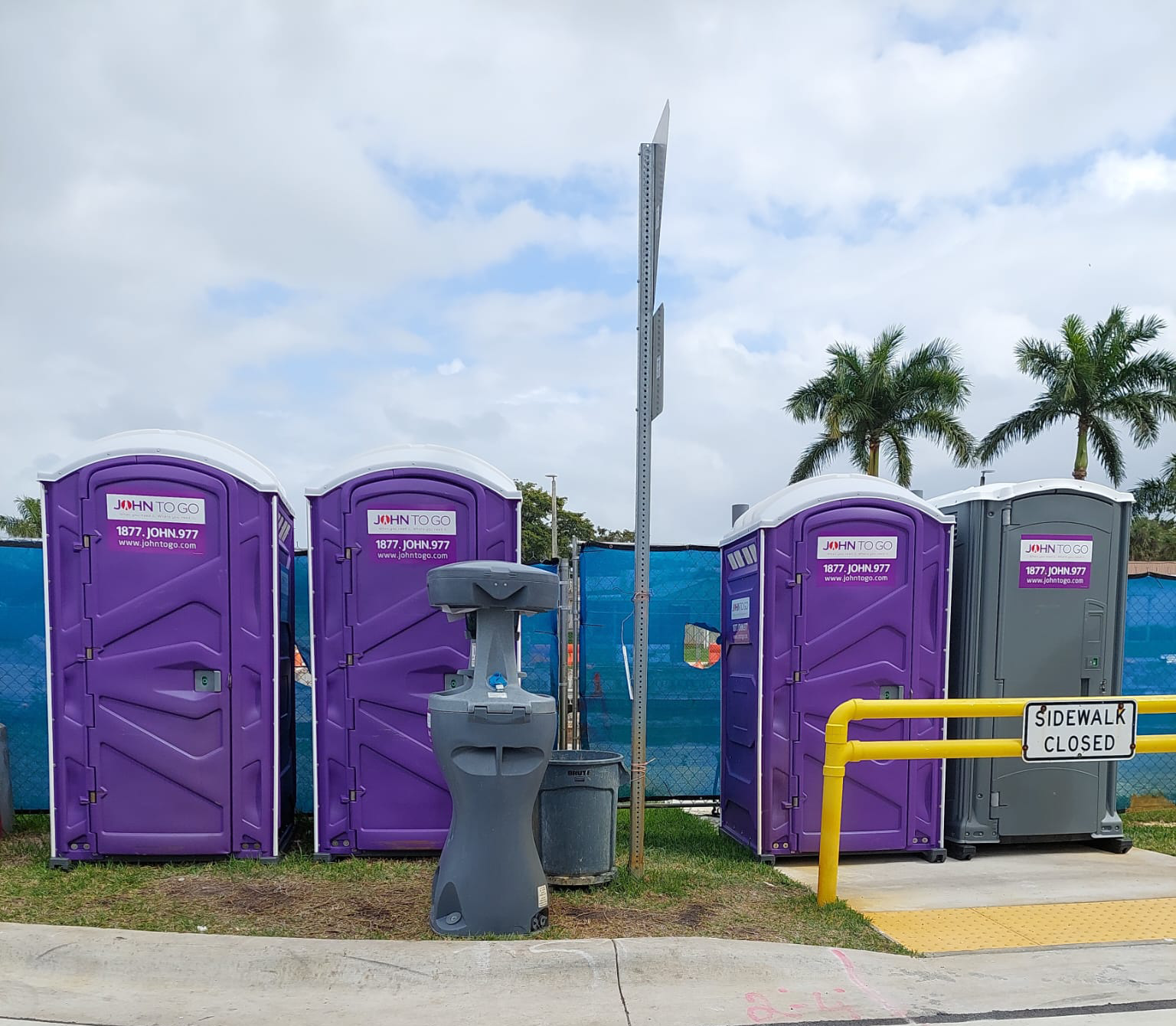 (305) 722-5149
AREAS WE SERVICE NEAR PEMBROKE PINES:
Coconut creek
Cooper City
Coral Springs
Dania Beach
Hallandale Beach
Lauderdale Lakes
Lauderhill
Lighthouse Point
Margate
North Lauderdale
Oakland Park
Parkland
Sunrise
Tamarac
West Park
Weston
HEAR FROM OUR CUSTOMERS:
Tom Talamini
Special Event - November 10, 2020
5 STAR SERVICE! The staff were friendly and professional. The delivery was on time as well as the pick-up. Bathroom trailer we rented was spotless, smelled nice and was fully stocked with extra paper towels, toilet paper and soap. Bathrooms were nicer than my house bathrooms. Wanted to keep the trailer. All my guests were in AWE of the quality of the bathrooms. Highly recommended.
Joanne De Simone
Special Event - November 06, 2020
This company has the absolute best customer service I've ever had the pleasure of experiencing. They are friendly and super responsive. Just a pleasure to do business with. I can't wait to use their services for my next event!
David Collado Bronx NYC
Special Events, August 15, 2018
Been using John to Go services for the past 10 (+) years for our annual block party celebration in my neighborhood, they are friendly, professional, their products are always clean, reliable and operate as described. Their prices also cannot be beat. I plan to continue using them for many many more years and have also recommended to friends and family. Very Happy Customer, Bronx NYC
Porta Potty Rentals Near You

Find out where to rent portable toilets