Hollywood is home to many special events. Located in Broward County on Florida's east coast, it's a destination that attracts tourists who love to party or enjoy an outdoor getaway year-round.
It's a bustling city with a string of recreational and cultural events every year, making it a hotspot for tourism and commercial activities. Sandwiched between Fort Lauderdale and Miami, the city's palm-dotted shores draw visitors and immigrants, resulting in a surge in residential and commercial developments in the area.
Recently, all roads lead to South Florida as real estate project pipelines are filled to the brim and many construction companies rise to the occasion. Along with this upturn comes an increase in demand for porta potty rental near Hollywood. Many contractors are in need of mobile restrooms for their job sites.
With the increase in tourists and residents settling in Hollywood and nearby areas, private and public outdoor events are also a hit. Beach weddings, parades, boat races, Memorial Day celebrations, St. Patrick's Day Festival, Star Spangled Spectacular, and other events add to the need for more mobile restrooms in the area. To support the growing need to easily rent a porta potty near Hollywood, we've expanded our services to the greater Hollywood area as well.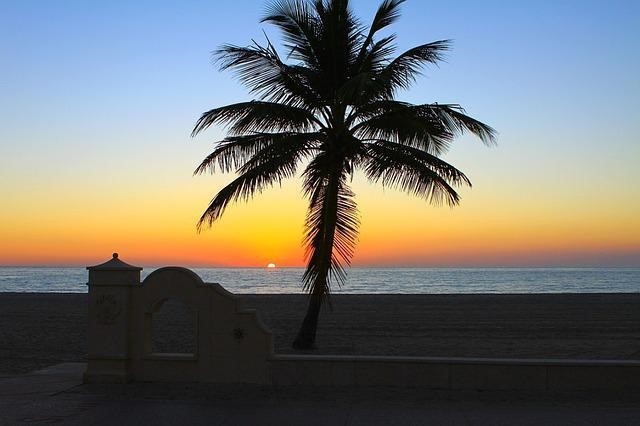 Meeting the Rising Demand for Porta Potties
In response to the region's booming need for porta potties Hollywood, John To Go is happy to be of service to meet those requirements. With John To Go, porta john rental near Hollywood is more accessible with our easy platform, 24/7 customer service, and reliable delivery.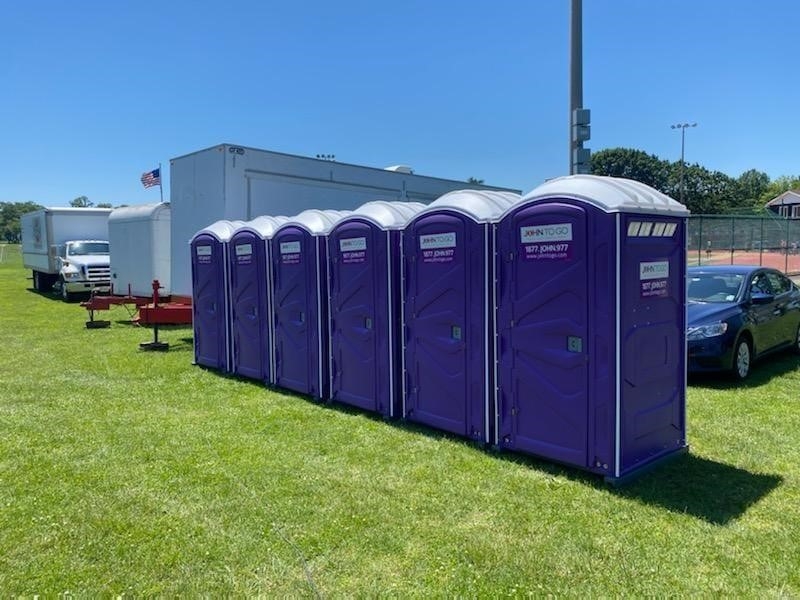 Where a large group of people gather or work together outdoors, access to clean and convenient restrooms is a must. These literal comfort zones make the venue more conducive to fun, safe, and efficient events and activities.
In South Florida, looking for a porta john rental near Hollywood City will point you to John To Go, a leading mobile restroom supplier in the area trusted by private individuals, companies, and local government agencies.
Whether you're an event organizer, a disaster relief responder, or representing a construction firm in Hollywood, FL, you can count on John To Go as your go-to provider of high-quality mobile restrooms near you. With a wide range of portable restroom options that suit various needs—from standard to ADA, easy lift, and luxury—we can cater to every type of activity and location.
Avoid Mobile Restrooms Mishaps
When you're organizing an outdoor fair, party, or event, hosting it well entails ensuring the guests and participants' utmost care and comfort. You wouldn't want them to have a hard time finding a place to use the restroom, powder their nose, or wash their hands.
Imagine the discomfort and worry of not being able to respond to toilet needs and clean up properly. People might leave the event feeling worried about health risks and inadvertently turn your party from fab to flop.
Meanwhile, on construction job sites, a lack of adequate and accessible porta johns can negatively affect workers' efficiency. As a project's success rests heavily on your greatest asset, your on-site workforce, it's necessary to ensure that their needs are taken care of. Investing in facilities such as good quality restrooms and sinks to help your staff maintain their hygiene can impact their productivity and dedication to their work. Ultimately, your employees' overall outlook and satisfaction could lead to a satisfactory project outcome.
No matter how grand or big-ticket your event or project is, overlooking amenities as basic as portable toilets can have negative consequences: discomfort, inefficiency, health and contamination risks, and even legal liabilities.
Why Choose John To Go?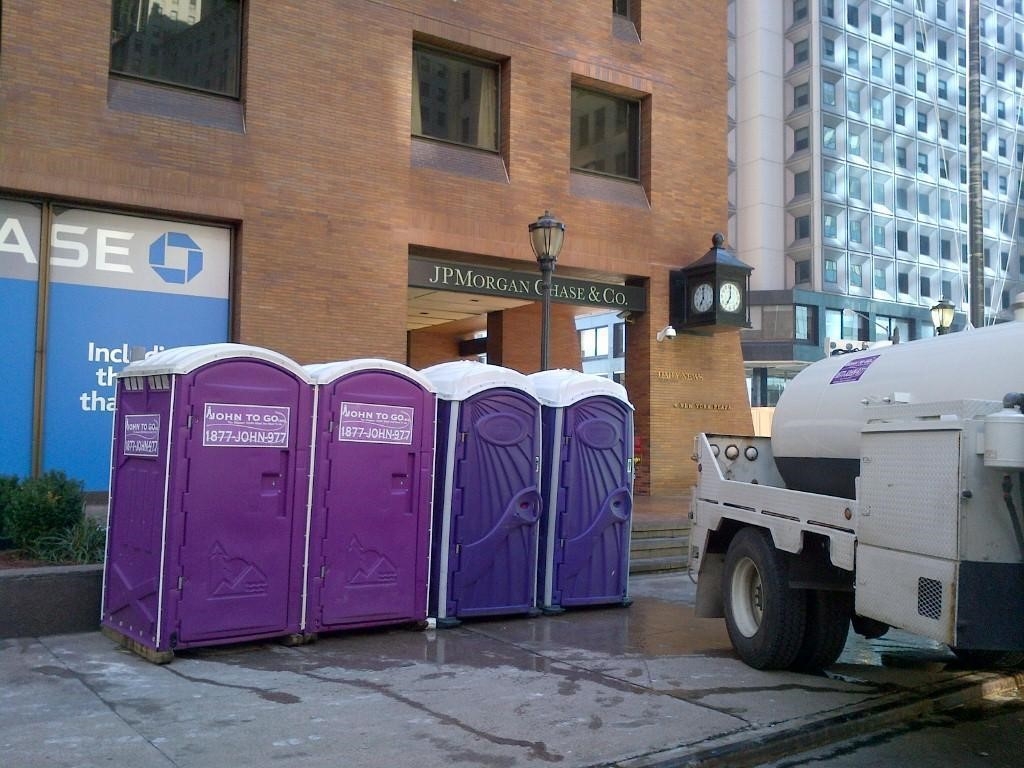 Top Quality Products and Service
There are several reasons why we're the go-to provider of porta john rental near Hollywood, FL. We offer well-designed and maintained units that cater to various needs and settings, from construction to deluxe events. Our team performs expert cleaning and deodorizing of each unit on our premises before delivery and every week during the rental period on your site, so that construction sites sanitation is maintained in premium condition.
Furthermore, we regularly update our units to ensure optimum functionality and durability. We provide a streamlined service that allows you to request a quote, book, schedule delivery or pickup, and pay for your order all in one convenient online space.
When you want to rent a porta potty near Hollywood, we can quickly dispatch your porta potty order and transport them real-time to your site with our trucks on standby and on the move in your region.
Our products and services maximize the value you get by providing cost-efficient features, auxiliary supplies, prompt on-site maintenance service, and add-on services and amenities at a lower cost than what other service providers offer.
Whether it's in the middle of a rainstorm or a scorching heatwave, you can rent a porta potty near Hollywood that will provide durable and reliable units that can withstand harsh conditions.
As much as we can, we install them on your site and make sure that we deliver your expected quality and quantity no matter the weather in your area.
John To Go Mobile Restroom Options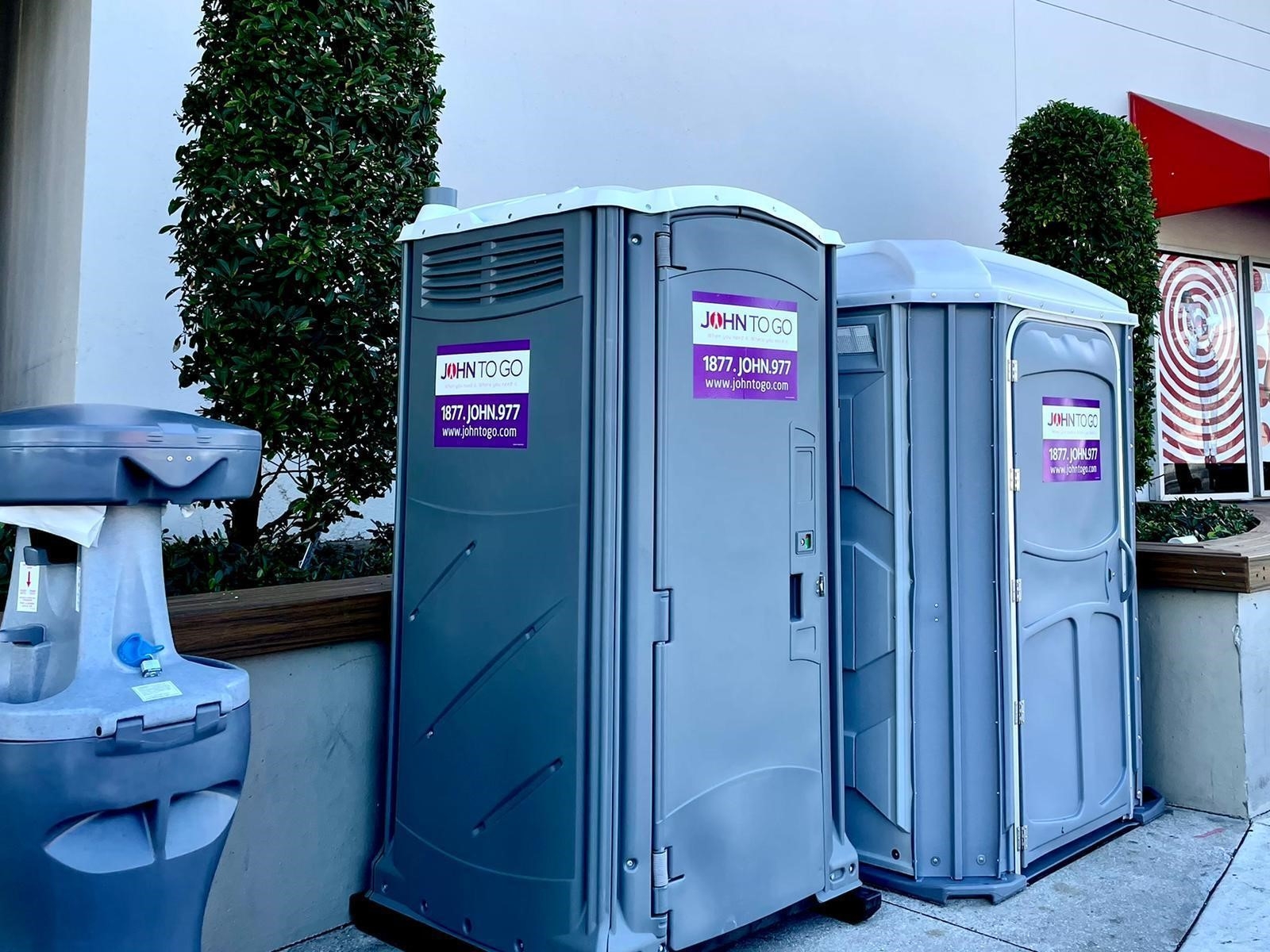 John To Go has locations in South Florida, New York, and New Jersey, and has been tapped by event organizers and businesses to take care of portable restroom requirements in these areas. We are the best choice for your Hollywood porta potty rental needs, thanks to our wide selection of porta potty units, restroom trailers, sink trailers, sanitizing stands, and freshwater tanks.
At John To Go, all our units meet local, state, and OSHA (Occupational Safety and Health Administration) requirements, providing you with compliant and reliable restrooms for your event or work site.
All John To Go units are designed with a translucent roof for better lighting, good ventilation, an interior lock, an outside occupancy indicator, a toilet paper dispenser, and hand sanitizer.
Learn more about the different porta john units from JTG that are each designed for specific requirements:
Each JTG ADA Handicapped Accessible Unit is 100% ADA-compliant, featuring ramps, extra-wide doorways for easy wheelchair access, reinforced bars, handrails, customizable door closing speed, and an interior space that fully caters to special needs.
Each ADA unit also features a door-mounted mirror and handle and a large toilet seat for greater comfort. Search no further if you're looking for a portable bathroom rental near Hollywood, FL that complies with ADA requirements. JTG is a trusted provider of high-spec porta potty units.
John To Go is the name you can trust for high-quality bathroom rental near Hollywood, FL if you're looking for options for your construction projects in the area. With needs-centric unit designs, the Purple Porta Potty brand is a must-have for ensuring the comfort and health safety of your workforce.
These porta potties have a sturdy and spacious interior and a non-splash urinal. Great for residential or commercial construction sites and outdoor affairs, this JTG unit is your best bet for a trusty and accommodating port o potty rental in Hollywood, FL and nearby areas. Consider your Florida project's on-site restroom needs covered with JTG's hardworking units.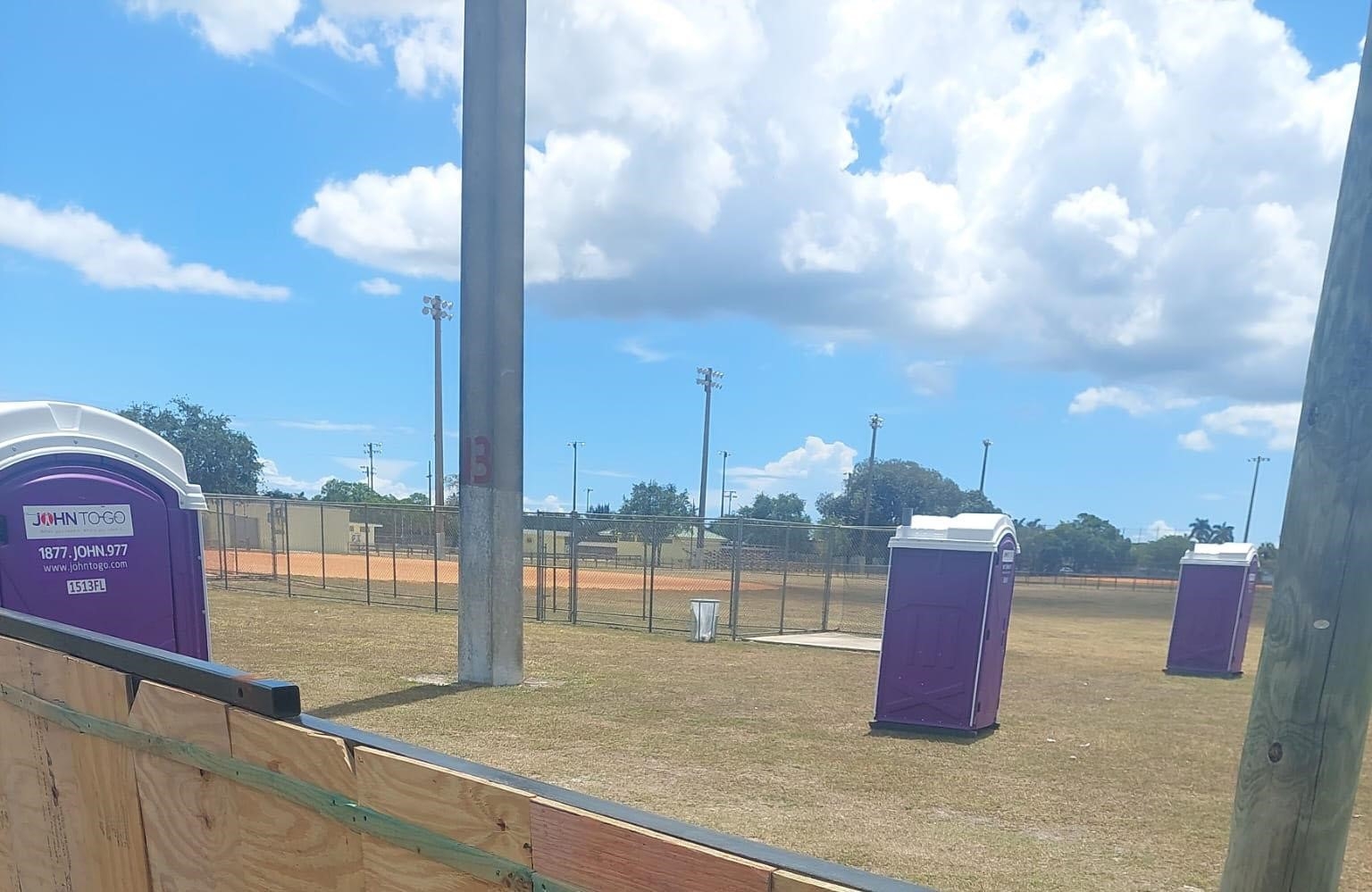 Specifically designed for high-rise construction sites, the JTG hi-rise unit is a highly portable mobile restroom that can easily be rolled into elevators with its tough steel castors. It is also designed with a sturdy sling to be easily hoisted by crane to the upper floors, bringing it where your workers are.
The Hi-Rise elevates form and function with its practical, cost-efficient, and safe use. It comes with a steel frame and polyethylene construct, steel locking casters, and a tough exterior for privacy and durability.
For construction sites seeking porta potty rentals near Hollywood, FL this unit will fully address your needs
Another good option for multi-story projects is the JTG lift unit. It comes with a sturdy sling that you can attach to the skid of a standard unit for easy lifting with a crane. This unit offers a roomy interior, non-splash urinal, outside occupancy indicator, and outside emergency access.
When you want to rent a porta potty near Hollywood for high-traffic events like races, concerts, or beer festivals, urinals are a necessity to provide convenient walk-through restroom facilities. Each shell unit has four urinal stations to maximize space and service.
The JTG urinal unit comes with hand sanitizers and two 70-gallon urinal trough waste tanks. These urinals meet your needs for portable restrooms near Hollywood for your major events.
Rent a porta potty near Hollywood that offers stylish comfort. This upscale product is perfect for events with VIP guests and for those who want to experience a luxurious restroom experience outdoors. Its flush and wash capabilities give it en-suite bathroom functionality and style.
Roomy with a minimalist contemporary design, it comes with freshwater flowing in the sink and toilet, a recirculating toilet, a sanitary foot pedal for hands-free flushing and faucet control, a vanity area equipped with a sink, soap, and mirror, and other extra features.
It also comes in an oversized variety with extra plush and modern features, making it perfect for special gatherings or family outdoor camps.
Enjoy this fancy porta potty near Hollywood for your next outdoor party and wow your guests with its aesthetics and convenience. These bathroom rentals near Hollywood are not only stylish but sturdy enough to be transported and installed even amid harsher weather conditions.
Another modern mobile restroom that exudes fine quality and functionality, the premium event unit comes with lush features like extra roomy interiors, hands-free flush control, and modern, ergonomic toilet seat and sink design.
John To Go provides just the right mobile restroom solutions when you need to rent a porta potty near Hollywood. There is a portable toilet john that precisely meets your requirements, whether you're enjoying a family trip, planning a large-scale event, or managing a large-scale construction project in the area.
CHOOSE FROM OUR EXTENSIVE SELECTION OF PORTA POTTY RENTALS
Common Questions About Renting a Porta Potty Near Hollywood
What is the average cost of a Porta Potty?
Porta potty rental cost near Hollywood start at about $140 per month for basic porta potty units commonly used on construction sites. Meanwhile, a porta potty used for events and other luxury, oversized units may cost between $250 - $500, depending on add-on features and services.
I'm in Hollywood, is there a porta potty rental near me?
John To Go has locations in Hollywood City and nearby areas that are ready to cater to your requirements. You can make reservations online through our website and place your orders anytime. With a heavy focus on South Florida, we can quickly respond to your request with bathroom rental accommodations.
How do they clean portable toilets?
John To Go provides frequent maintenance that involves checking water levels, removing waste, and restocking toilet paper and air freshener. We use only the best cleaning and deodorizing products in the market to ensure a thorough disinfection process. John To Go generally services porta potties on a weekly basis unless specified otherwise.
Is it bad for your health to use a porta potty?
Not if the porta potty is well-cleaned and disinfected regularly and the tank system is engineered to keep odor and waste from leaking and contaminating surfaces and the air. A porta potty can actually help with healthcare by providing a hygienic way to respond to nature's call.
At Your Service
John To Go is easily within your reach in the Hollywood area and nearby cities. Rent a porta potty near Hollywood without worry when you sign up for JTG's reliable products and services. Get in touch with us to help you plan and provide for your mobile restroom needs for events and projects large or small. With JTG, we help you make your project and event successful by ensuring superior sanitation, nothing less.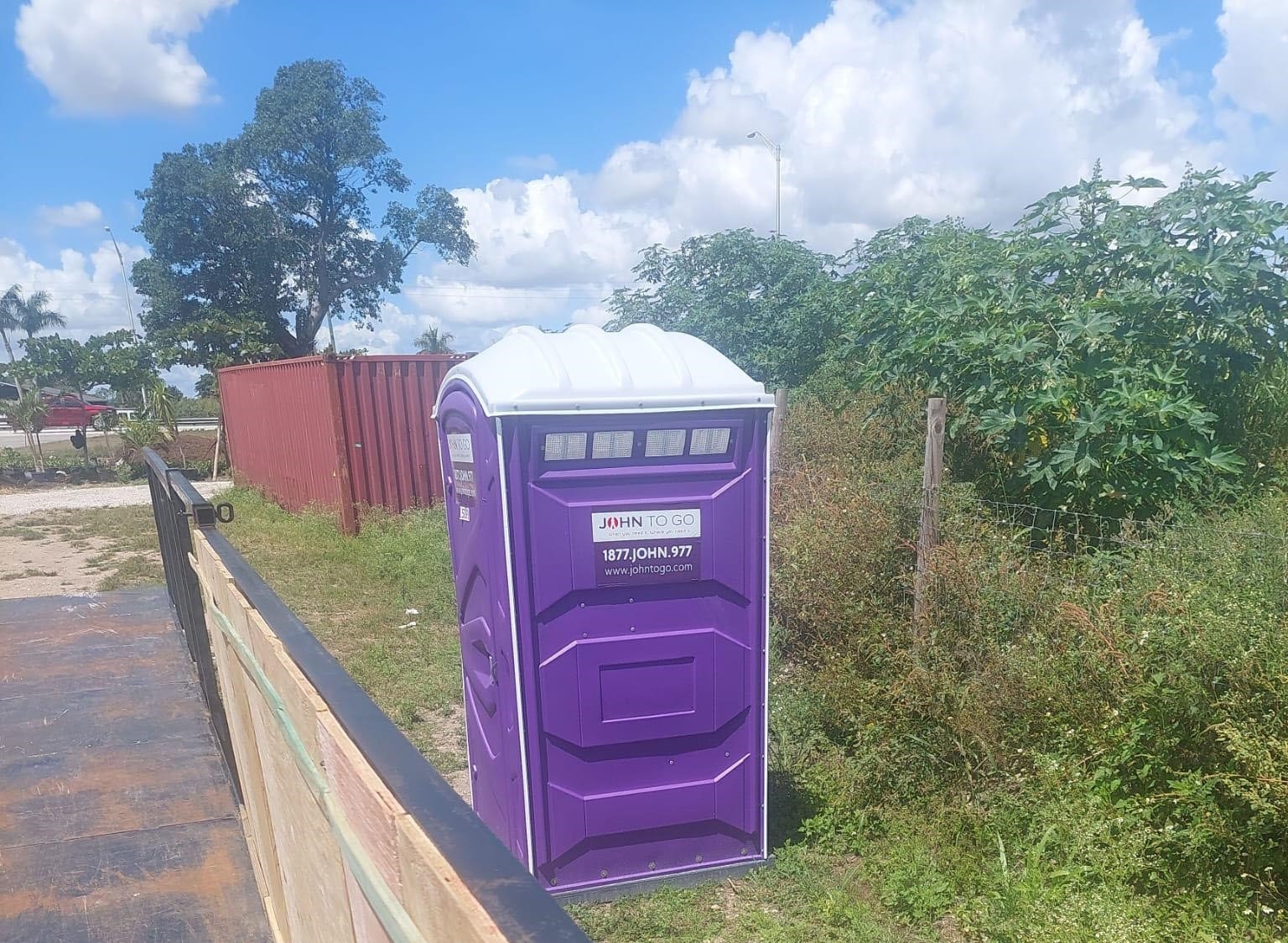 (305) 722-5149
AREAS WE SERVICE NEAR HOLLYWOOD CITY FLORIDA:
Coconut
Creek
Cooper City
Coral Springs
Dania Beach
Hallandale Beach
Lauderdale Lakes
Lauderhill
Lighthouse Point
Margate
North Lauderdale
Oakland Park
Parkland
Sunrise
Tamarac
West Park
Weston
HEAR FROM OUR CUSTOMERS:
Tom Talamini
Special Event - November 10, 2020
5 STAR SERVICE! The staff were friendly and professional. The delivery was on time as well as the pick-up. Bathroom trailer we rented was spotless, smelled nice and was fully stocked with extra paper towels, toilet paper and soap. Bathrooms were nicer than my house bathrooms. Wanted to keep the trailer. All my guests were in AWE of the quality of the bathrooms. Highly recommended.
Joanne De Simone
Special Event - November 06, 2020
This company has the absolute best customer service I've ever had the pleasure of experiencing. They are friendly and super responsive. Just a pleasure to do business with. I can't wait to use their services for my next event!
David Collado Bronx NYC
Special Events, August 15, 2018
Been using John to Go services for the past 10 (+) years for our annual block party celebration in my neighborhood, they are friendly, professional, their products are always clean, reliable and operate as described. Their prices also cannot be beat. I plan to continue using them for many many more years and have also recommended to friends and family. Very Happy Customer, Bronx NYC
Porta Potties Near Me
When you're researching "porta potties near me," John To Go stands out as the go-to solution for all your portable restroom requirements. We understand that the need for a clean and reliable portable toilet service extends beyond just providing the unit itself.
That's why we focus on offering a comprehensive service package that takes care of all your needs, from the moment you first contact us to the time we complete the pickup. Our diverse range of portable toilet options ensures that we have something to suit every need and budget. With John To Go, you're not just renting a portable restroom—you're investing in a hassle-free experience that covers all the bases.