Pompano Beach in Broward County is fast becoming one of the most popular spots in South Florida. With its sunny beaches, award-winning restaurants, world-class fishing, coral reefs, and water sports, Pompano Beach represents the warmth and relaxation Florida is justly famous for.
John To Go For Your Beachfront Wedding's Sanitation and Bathroom Needs
One of the many things Pompano Beach is famous for is its beach weddings.
If you've envisioned reciting your vows while the sun is setting on azure waters, you'll also need to take care of your guests' sanitation and bathroom needs. Providing bathroom rentals near Pompano Beach, John To Go is your ideal partner for leasable and mobile toilets. You can rely on us to take care of this small yet vital detail regardless of the type of outdoor event you're having.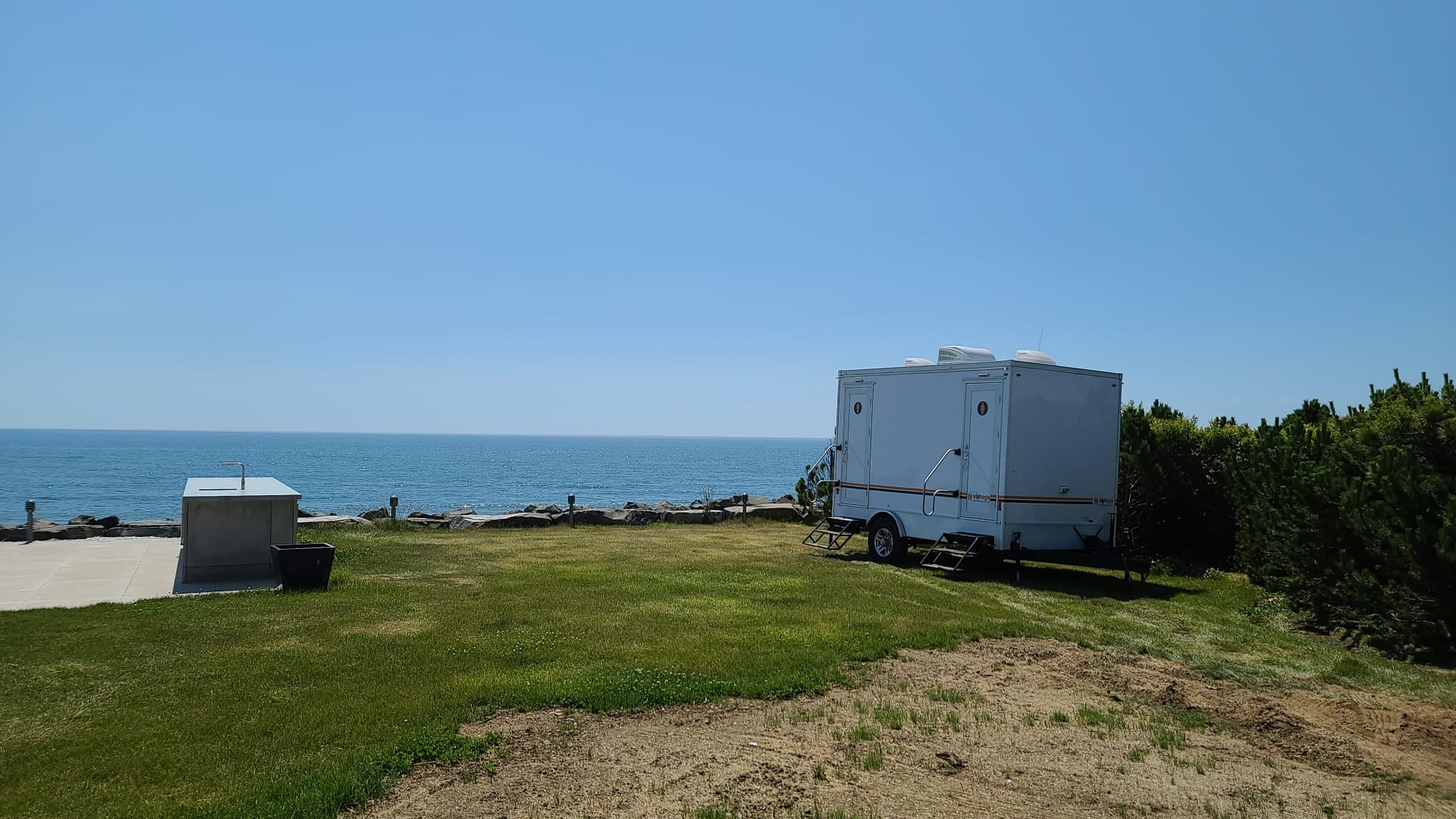 Whether you're hosting your wedding at the Pompano Beach Pier, the Hillsboro Lighthouse, or one of the private beaches in and around the Florida Gold Coast, you can count on us for portable toilet rentals near Pompano Beach.
Regardless of how simple, elaborate, or fancy your wedding is, we have a wide range of Pompano Beach porta potty rental units you can choose from. For a fancy porta potty near Pompano Beach, consider our more premium models. In addition to all the essentials, they come with spacious interiors, generous ventilation, shelves, attractive interiors, and more. As a more upscale option, our restroom trailers offer luxury, comfort, class, and hotel-like interiors.
Just take a look at our wide range of restroom trailers and deluxe porta potty options for your Florida events.
John To Go for Event Porta Potty Rental Near Pompano Beach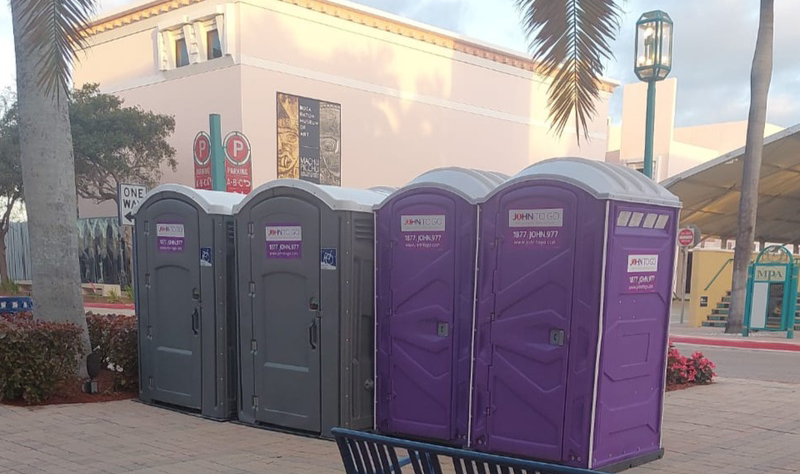 In addition to weddings, our facilities are perfect for other types of events.
Pompano Beach attracts tourists to its pristine beaches and natural parks. Give them a holiday party to remember by making any public event you host convenient and easy in terms of sanitation.
Whether it's a seafood festival, a beach fishing rodeo, or even a music and arts festival in Florida, we have a wide variety of porta potty rentals near Pompano Beach for all your special events.
Clean and convenient restrooms are important to visitors. Providing them with clean and comfortable ways to relieve themselves and freshen up will make your event more memorable and will keep them coming back for more.
We also offer porta john rental near Pompano Beach for other occasions and purposes such as: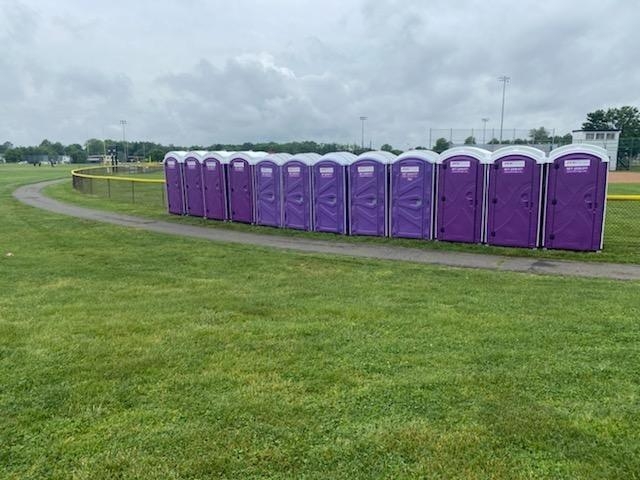 John To Go: Offering a Wide Range of Pompano Beach Porta Potty Rental Options
To cater to a wide variety of uses and events, we've assembled a diverse range of portable restrooms near Pompano Beach.
Big events with a large number of guests such as beach parties, barbeques, and picnics require convenient walk-through facilities. Each JTG urinal features four urinal stations that optimize space and facilitate a quicker walk-through. It also comes with two 70-gallon urinal trough waste tanks and hand sanitizers.
Ambassador Oversize Flush Unit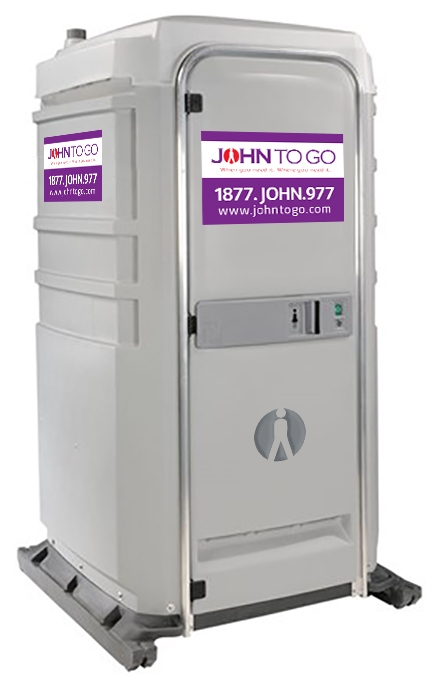 Got a fancy event? Follow through with comfortable amenities that your guests will appreciate like our Ambassador Oversize Flush Unit. This John To Go premium portable toilet john has all the essentials plus modern and luxurious amenities to make its users feel extra special.
Its list of creature comforts includes a vanity area with full-size mirrors, contemporary designs, foot-controlled flushing toilets, sinks with running water, hand sanitizers, paper towel dispensers, shelf and coat hooks, and a 40-gallon waste tank.
The Ambassador Oversize Flush Unit is one of the more premium porta potty rentals near Pompano Beach — perfect for a stylish, upscale event.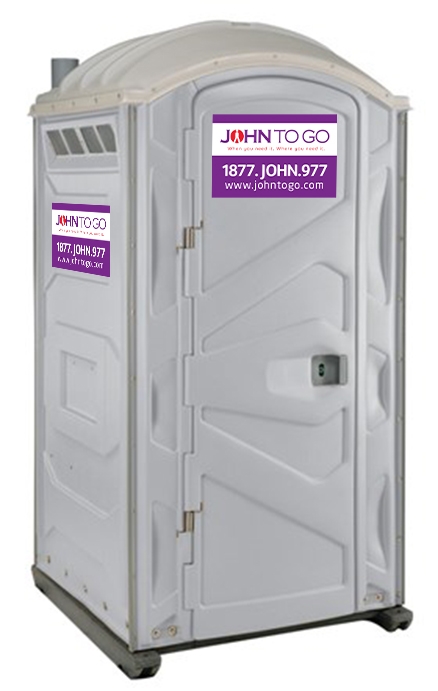 When people think of porta potties, they imagine cramming themselves and maneuvering into tight spaces. The JTG Premium Event Unit, however, can change this popular perception with its more roomy interiors and translucent ceiling. These innovations make the space more welcoming and allow natural light to enter, improving ventilation.
This is a great Pompano Beach porta potty rental option when you want to thoroughly impress your guests with a more comfortable user experience.
Built for convenience, it also has interior locks, non-splash urinals, and outside occupancy indicators.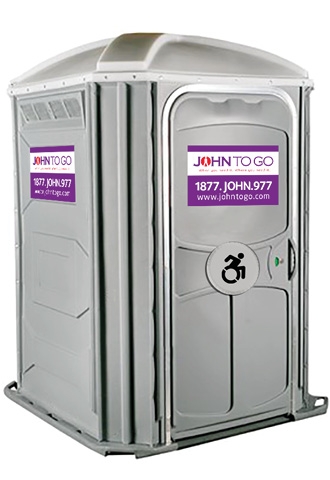 John To Go's fleet of mobile restrooms includes JTG ADA Handicapped Units, enabling you to rent a porta potty near Pompano beach that caters to the needs of those who are differently abled.
Our ADA-compliant units feature extra-wide doorways and ramps for easy wheelchair or baby stroller access. They incorporate wider seats, safety bars, handrails, and many other features for the convenience of those who need them.
Like all our other units that keep comfort and convenience top of mind, our handicapped come equipped with hand sanitizers, outside occupancy indicators, toilet paper dispensers, interior locks, and a translucent ceiling for better lighting.
Renting Pompano Beach porta potty rental units for those who are mobility challenged will help create a caring and compassionate environment for your event or project.
Need a Pompano Beach Porta Potty Rental? Go With John To Go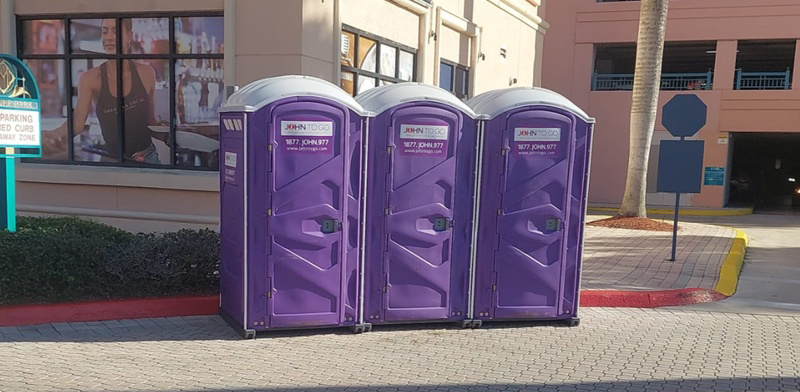 Even the most happening big-budget event can fall flat if there are poor or no facilities for people to relieve themselves and attend to their personal needs. As an event organizer or project manager, you can be a good host by having comfortable and convenient toilet facilities that are regularly sanitized by John To Go.
As the leading Pompano Beach porta potty rental provider, John To Go has the facilities, tools, and manpower you need to complete your event experience.
Here's what you can look forward to by choosing John To Go for your bathroom rentals near Pompano Beach:
We make your Pompano Beach porta potty rental as easy as A-B-C. From your initial inquiry via phone or online, we have a seamless and efficient process to accommodate your needs. We ensure you get the portable toilets you require and that they're delivered as quickly as possible, even if it's on short notice.
But don't just take our word for it. We have hundreds of positive reviews from satisfied customers, proving that when it comes to sanitation, we have the expertise and facilities to give you nothing but top-notch service.
Our great service goes hand-in-hand with our top-of-the-line portable toilet units.
Each unit is equipped with thoughtful and comfortable features to ensure comfort and cleanliness. Our units are well-maintained and well-designed. We check them regularly and maintain them while they're deployed. We also routinely retire units at least every two years so that only serviceable and functional facilities remain in rotation.
We can also make recommendations on where they can be placed and the number you require. This helps ensure that your guests will have the amenities they need so your event can be a roaring success.
Guaranteed Cleanliness and Sanitation
Although porta potties have gained an unsavory reputation for being unhygienic and unpleasant to use, with John To Go, that's a concern you don't have to worry about. We have a properly-trained staff that sanitizes and maintains our restrooms at regular intervals to ensure that they're clean and usable for the duration of your lease.
Before delivering our units, John To Go cleans and inspects each porta potty rental near Pompano Beach to ensure that they're sanitized and fresh for use.
We have a large fleet of trucks in the Pompano Beach area. No matter your requirement, you'll get them where and when you need them.
Delivery Even Under Challenging Weather Conditions
Are heavy rains predicted for your event? With John To Go, bad weather isn't an issue. Your port o potty rental in Pompano Beach will still arrive on time.
After being in operation for close to 20 years, we have well-planned logistics and maintain high standards for our services and deliveries. We can adapt to challenging weather conditions and strive to meet our commitments come rain or shine.
If affordable Pompano Beach porta potty rentals are what you need, you've come to the right place. John To Go provides quality services and facilities at pocket-friendly prices.
CHOOSE FROM OUR EXTENSIVE SELECTION OF PORTA POTTY RENTALS
FAQs on Portable Bathroom Rental Near Pompano Beach
Unsure how to get a porta john rental near Pompano Beach? Or perhaps you have a few questions on how our services work?
To address common concerns, we put together a list of FAQs for your convenience.
Do porta potties smell?
Ours don't. We thoroughly clean and deodorize our units before and after any rental by using safe detergents, biocides, and fragrances. Since commercial cleansers may adversely affect users, we choose consumer-friendly sanitizing products.
How do they clean portable toilets?
In general, portable toilets have dedicated sanitation staff who arrive on location with pumper trucks that feature large storage tanks. The septic waste is vacuumed from the portable toilets with large hoses and transported from the venue, making the toilets usable once more. The interior of the unit is also washed down and sanitized during servicing. John To Go ensures continuous usability of your toilets by regularly having its team perform necessary sanitation and maintenance tasks such as these.
What is the best porta potty?
Is it bad for your health to use a porta potty?/h4>

The key thing to watch out for in porta potties is the blue water level in the tank. As long as the waste stays below that level, a porta potty is safe to use. This is because the blue liquid is a disinfectant that kills harmful viruses and bacteria.
John To Go uses chemicals that effectively dissolve organic material as well as kill viruses and bacteria in the tank. Aside from disposing of the collected waste, we also sanitize our restrooms to ensure that they're ready and pleasant to use.
If you have questions that haven't been addressed in these FAQs, you can always contact us and we'll be happy to help you out. We also have a live chat function on our site where you can ask questions 24/7 and receive a quick reply.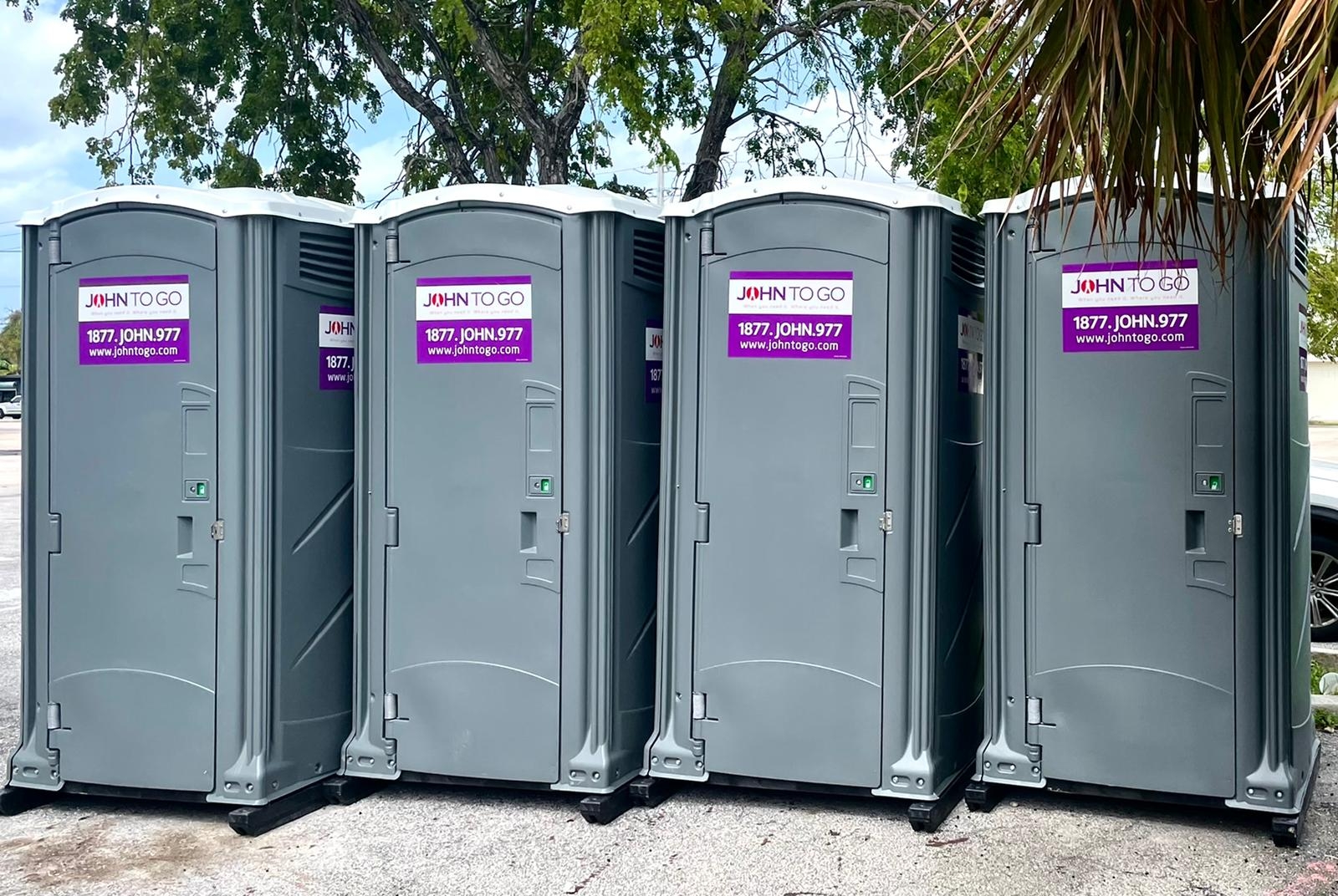 (305) 722-5149
AREAS WE SERVICE NEAR POMPANO BEACH:
Coconut
Creek
Cooper City
Coral Springs
Dania Beach
Deerfield Beach
Hallandale Beach
Lauderdale Lakes
Lauderhill
Lighthouse Point
Margate
North Lauderdale
Oakland Park
Parkland
Sunrise
Tamarac
West Park
Weston
HEAR FROM OUR CUSTOMERS:
Tom Talamini
Special Event - November 10, 2020
5 STAR SERVICE! The staff were friendly and professional. The delivery was on time as well as the pick-up. Bathroom trailer we rented was spotless, smelled nice and was fully stocked with extra paper towels, toilet paper and soap. Bathrooms were nicer than my house bathrooms. Wanted to keep the trailer. All my guests were in AWE of the quality of the bathrooms. Highly recommended.
Joanne De Simone
Special Event - November 06, 2020
This company has the absolute best customer service I've ever had the pleasure of experiencing. They are friendly and super responsive. Just a pleasure to do business with. I can't wait to use their services for my next event!
David Collado Bronx NYC
Special Events, August 15, 2018
Been using John to Go services for the past 10 (+) years for our annual block party celebration in my neighborhood, they are friendly, professional, their products are always clean, reliable and operate as described. Their prices also cannot be beat. I plan to continue using them for many many more years and have also recommended to friends and family. Very Happy Customer, Bronx NYC
Porta Potty Rentals Near You

Find out where to rent portable toilets