Have you ever gone to a big event or even a public park and used a porta potty there? Chances are you have, and the experience you had may have been … less than stellar. Unfortunately, far too many people have had those negative experiences and that's what John to Go wants to change. We want you to have a great experience with each and every one of our restroom trailers, and we want you to offer the same service to your customers, employees, attendees, and more.
John to Go is the premier option in Southern Florida, with trucks ready to go whenever and wherever you need them. Our porta potty rentals near Miramar are clean, high quality, and ready when you are. In fact, each of our units is sanitized and emptied frequently to keep your guests, team, and anyone else feeling comfortable at your event. If you're in need of portable bathroom rental near Miramar, you're in the right place.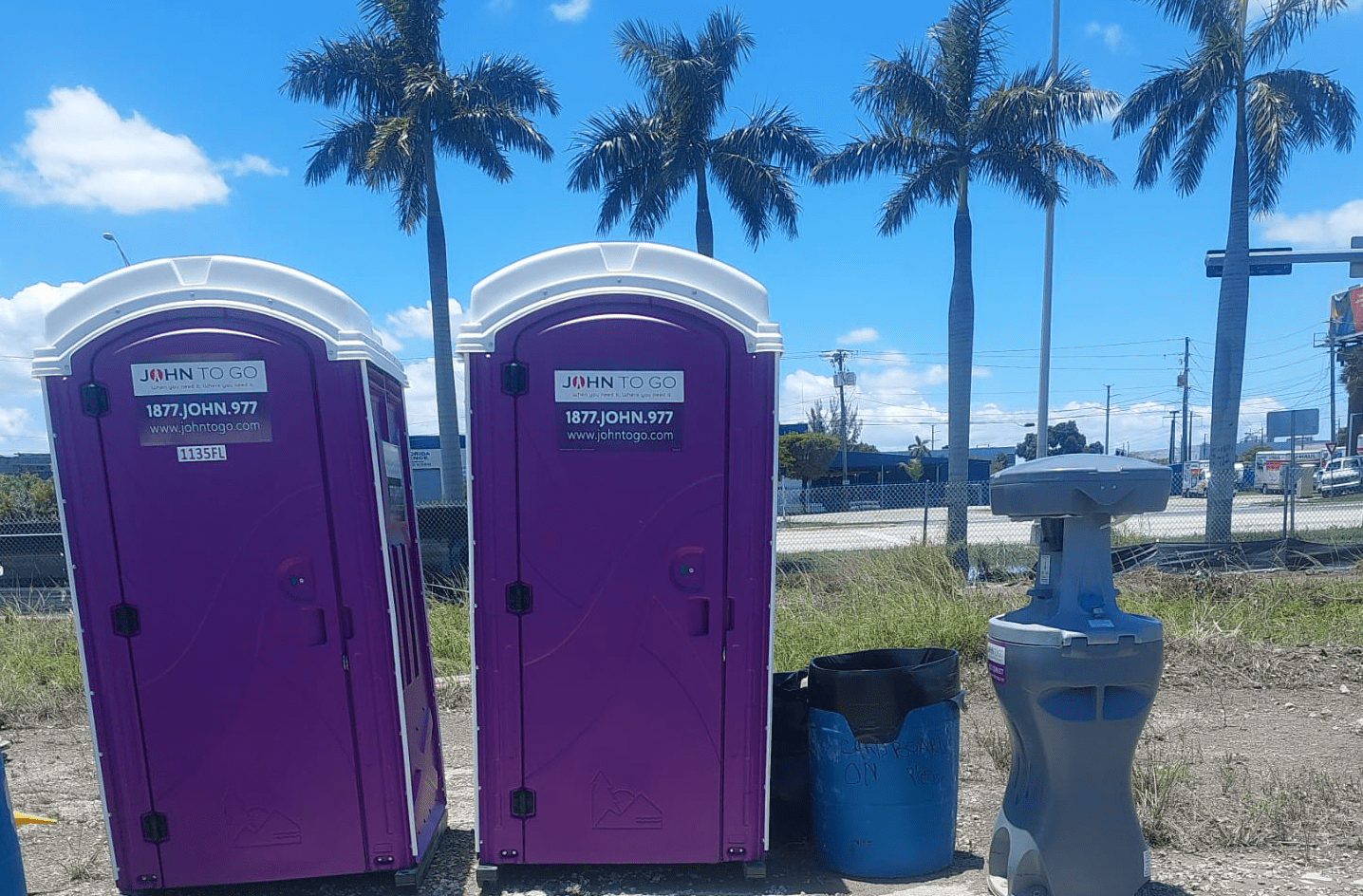 Known as the third best city in the US for retirement, Doral is also flourishing with residential and commercial construction projects.
Who Needs Our Services?
There are plenty of people who can use our services because there are plenty of reasons there may not be a standard bathroom available. Just a few situations where you might need port o potty rental in Miramar are:
Campgrounds/campsites
Outdoor wedding
On-location filming/production
And much more!
The truth is, there's no end to the reasons that you might need to rent a porta potty near Miramar. And that doesn't just mean porta john rental near Miramar either. It also means things like shower trailer rental, washing sinks, sanitizing stands, urinals, and much more as well. Because you and your guests want to be as comfortable as possible, right?
How We Change the Porta Potty Experience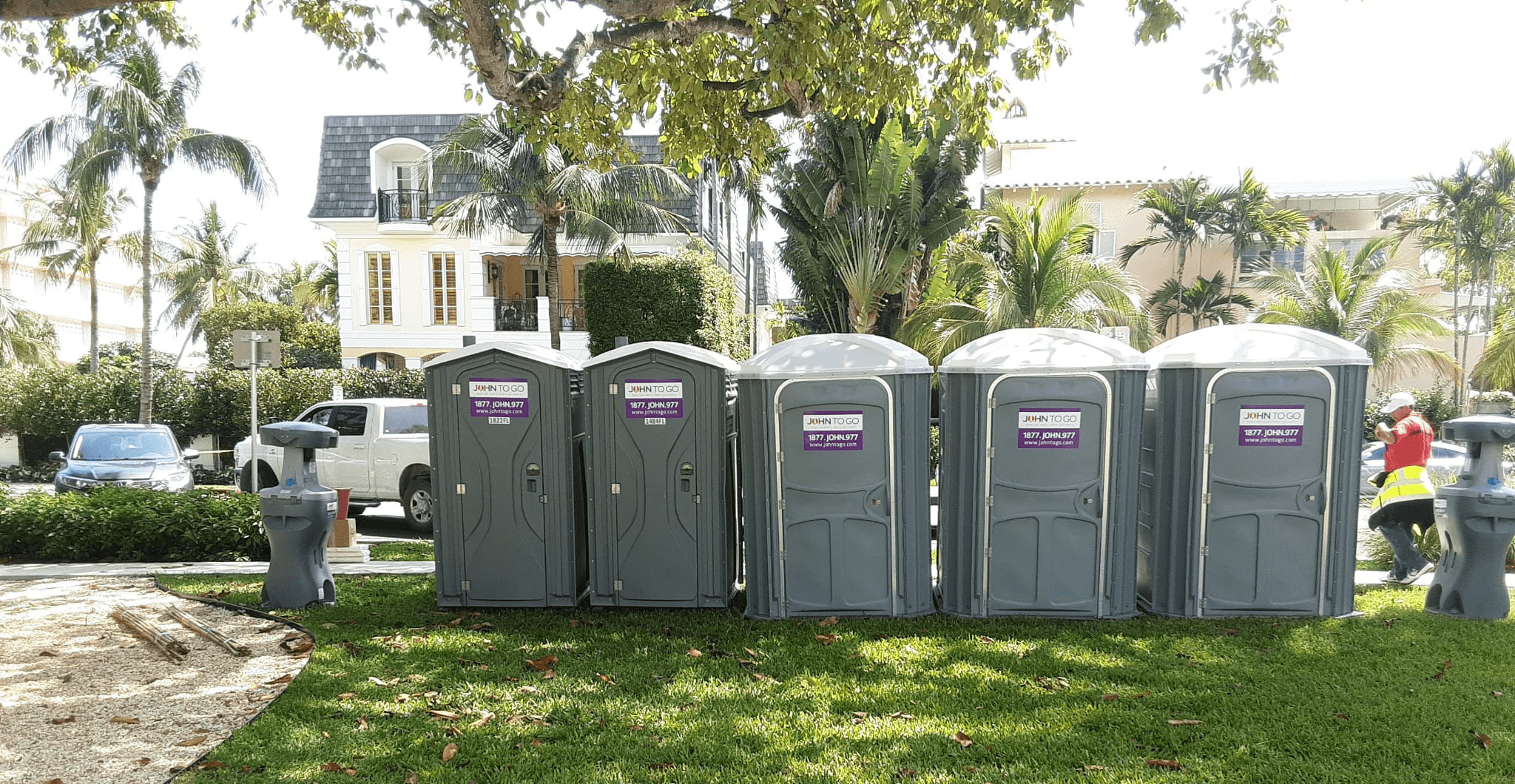 We change the world of porta potties in some very big ways. The first, is by making sure that when you rent a porta potty near Miramar, you're getting a high quality unit. Because we turn over our inventory of porta potty rentals every 18-24 months, any unit you receive from us will be in new condition. We make sure that any restroom trailer or port a john rental near Miramar is comfortable, easy-to-use, and exactly what you need for any situation.
We also help you decide on exactly what type of system you need, because when it comes to porta john rental near Miramar, we have the best you'll find. And we have plenty of different options as well. That way, you can be prepared for any situation, big or small with restroom accommodations that are perfectly suited to your needs.
Our team can help you figure out just what type of porta johns you need and even how many you need for the size of the event you're hosting. We offer everything from single porta potties for parties and home construction projects to multiple multi-shower and multi-restroom trailers. Whatever you need, we can be there in no time, ready to go.
Unlike other porta potty rentals near Miramar, we don't just drop off and forget about you either. We make sure that each unit is right where you need it, set up, fully stocked, and ready to use. We even take care of cleaning and sanitizing on a regular schedule according to the schedule you'd like. But there's still more.
The Best of What You Need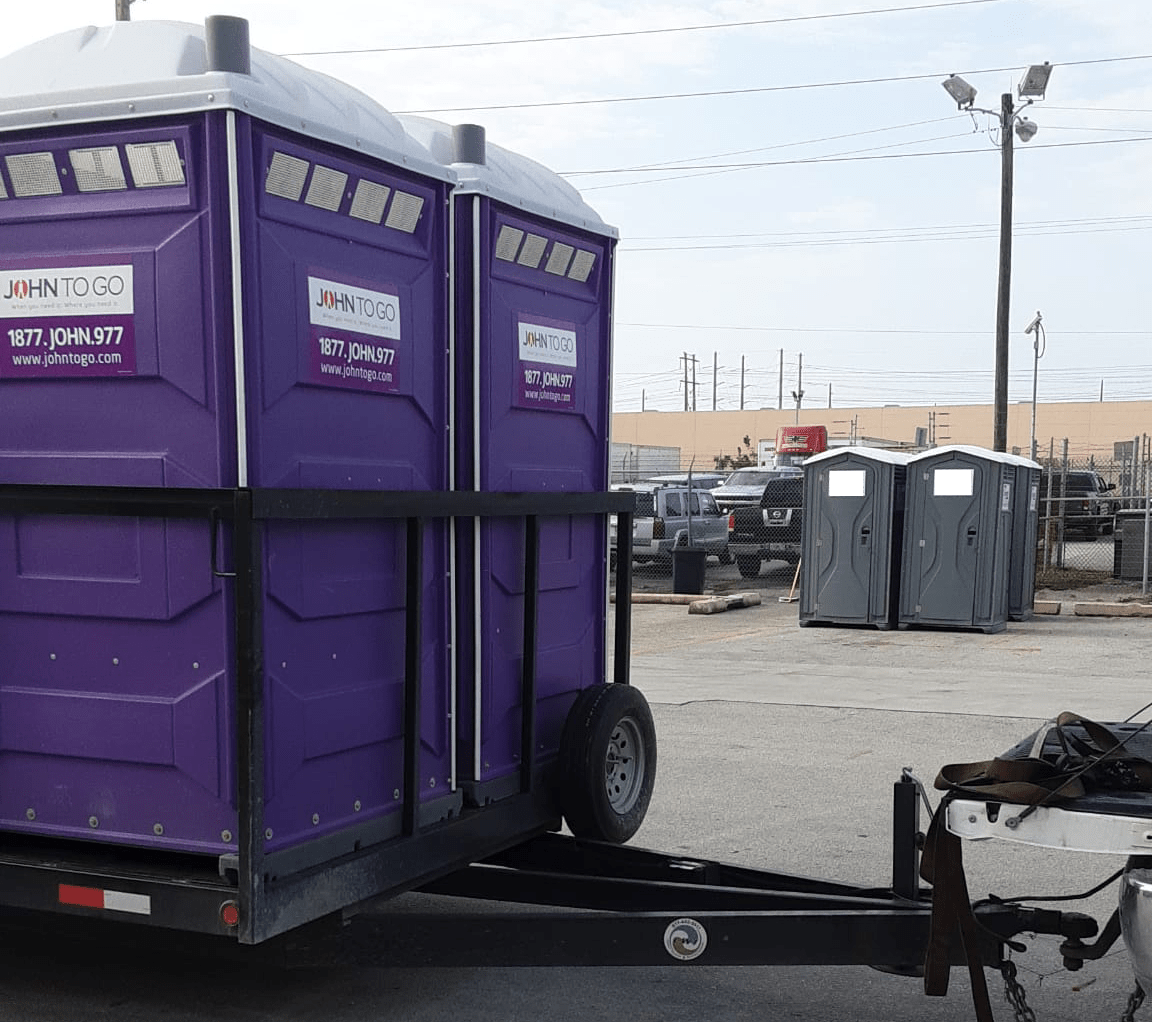 When you're ready for Miramar porta potty rental you want to work with a team that offers quality. That doesn't just mean the quality of our port o potties and restroom trailers (although those are pretty great too). It also means the services and other features that we have to offer. That includes things like:
Quick and easy quotes
Simple rental process
Professional support along the way
Frequent sanitizing
Well-supplied units
Competitive rates
Scheduled delivery and pickup when it works for you
The key is making sure that when you do your research on porta potty rental near you, you call John to Go or check out our user-friendly website to find out about the different options available and just how to set up the schedule that works for you.
When you've got everything set up, you can rest assured that your porta potty will be well taken care of as well. That's because we have plenty of service trucks on the road that take care of everything that you need, whenever you need it. And we do it through a smooth process that works, every time.
Our team of professionals is there when you need us and we let you enjoy your event when you don't. Because we know that the porta john is the part we're best at and you can handle the rest.
Our Porta Potty Offerings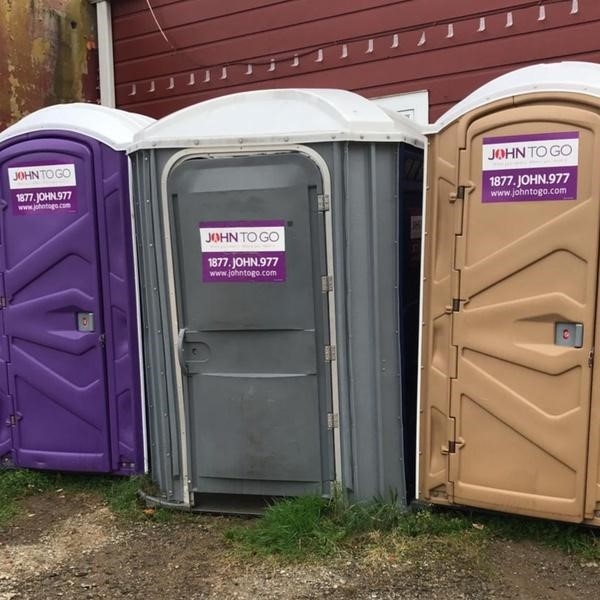 So, just what kind of units are you looking for? If you're not sure, then you're in the right place. We can help you figure out exactly what you need and then get it delivered fast. That's because we have a top notch delivery service and an easy booking process that's all online.
Take a look at our updated units to find out more about how porta john rental near Miramar can work for you.
Extensive Port a Potty Options
Our standard purple porta john units are definitely a great option for most situations and events. But there are options there as well. For example, you may need an ADA accessible unit, or a flushing one, or perhaps something that is designed specifically for construction sites. Let's take a little closer look.
Construction units
These construction porta potties are designed to keep your team feeling comfortable while on the job site. Whether it's a large-scale construction project or something small, having a porta john can definitely help keep everyone going and this one is designed with ventilation, plenty of space, hand sanitizer, and non-splash urinals.
When you use a standard porta potty you don't get the same experience as using a bathroom, and that isn't as comfortable for everyone. With these flushing porta john systems you're definitely going to feel more comfortable because you get a flushable toilet, plus there's a vanity area.
Want something that's going to really give your guests or your team an upscale feeling when using the porta potty? Well then, our premium options are the way to go. These premium porta johns are larger, to make sure everyone feels comfortable when they need to use the facilities, and they still come with all of the features of our standard options.
Of course, you can also find a selection of ADA accessible porta potties available to make sure everyone is able to use the facilities. This is great for special events where you'll have people attending from the general public. The larger units are compliant with all ADA requirements, including extra-large doorways for easy access.
Trailer Options
You can find restroom trailers that range from double station up to 10 station systems. And that means you're good for up to 1,000 people. We even offer ADA compliant trailers that make sure every one of your guests are able to comfortably use the facilities.
Restroom trailers aren't your standard porta potties. They're full rooms with individual stalls, urinals, lighting, multiple sinks, cabinets, and a whole lot more. It's just like the restroom you would expect inside of a hotel or upscale environment, but on wheels.
Need some extra spaces for washing up? Well, if you're hosting an outdoor event of any type you just might. So, why not add a sink trailer to your site? Or even shower trailers that offer your guests a space to get cleaned up, no matter how long they might be on location.
Let's Get Started!
So, are you ready to book a restroom or shower trailer for your next event? Well then, it's time to give us a call or check out our booking pages to get started on your booking process. The good news is, it's super easy. You can select the trailer or trailers that you need and book in just a few minutes.
Once you do, we'll get everything ready for you so you can sit back and relax (or focus on all the other things you need for your event). We'll handle the port o potties.
CHOOSE FROM OUR EXTENSIVE SELECTION OF PORTA POTTY RENTALS
FAQs
When it comes to Miramar porta potty rental, we know there are some important questions that you need answered. So take a look at some of the most common ones here.
Where to rent porta potty?
If you're looking at port o potty rental in Miramar you should look no further than John to Go. You'll find everything that you need here and then some. In fact, we provide you with the right units for anything you might have going on. So please let us know what your specific needs are and we'll step right in!
Do porta potties smell?
The porta potties you have seen at carnivals and other outdoor events may have had a bad smell to them. That's what happens with the old fashioned port o potties and especially if they're not well maintained and cleaned. Our porta potties are always cleaned and sanitized regularly. Also, we offer flush toilets and stations with sinks for better cleaning, which means that waste is moved away from the unit.
Is it bad for your health to use a porta potty?
It is not bad for your health to use a porta potty. These restrooms, when properly maintained, are just as safe and sanitary as any other public restroom. Since we make sure to keep our units cleaned regularly they are actually cleaner than a regular public restroom in many cases.
How often does a porta potty need to be emptied?
This depends on the size of the unit that you choose and the number of people that are using it. Each of our porta potties has a recommended number of people to use it. If you stick within those ranges the units can generally go a week before they need to be emptied. If you have more than the recommended number of people using a single unit, however, you may need to have it emptied and cleaned more frequently.
Will porta potty freeze?
A porta potty that is being properly maintained will not freeze and will continue to function the same way during the colder months of the year as it does during the warm months. The important thing is to rent your system from a professional team that keeps it functioning the right way. This ensures that you and your guests are ready to go whenever you need your porta potty.
If you're ready to get a port o potty rental in Miramar, make sure you contact John to Go to find out more about our options.

(305) 722-5149
AREAS WE SERVICE NEAR MIRAMAR:
Coconut
Creek
Cooper City
Coral Springs
Dania Beach
Deerfield Beach
Hallandale Beach
Lauderdale Lakes
Lauderhill
Lighthouse Point
Margate/li>
North Lauderdale
Oakland Park
Parkland
Sunrise
Tamarac
West Park
Weston
HEAR FROM OUR CUSTOMERS:
Tom Talamini
Special Event - November 10, 2020
5 STAR SERVICE! The staff were friendly and professional. The delivery was on time as well as the pick-up. Bathroom trailer we rented was spotless, smelled nice and was fully stocked with extra paper towels, toilet paper and soap. Bathrooms were nicer than my house bathrooms. Wanted to keep the trailer. All my guests were in AWE of the quality of the bathrooms. Highly recommended.
Joanne De Simone
Special Event - November 06, 2020
This company has the absolute best customer service I've ever had the pleasure of experiencing. They are friendly and super responsive. Just a pleasure to do business with. I can't wait to use their services for my next event!
David Collado Bronx NYC
Special Events, August 15, 2018
Been using John to Go services for the past 10 (+) years for our annual block party celebration in my neighborhood, they are friendly, professional, their products are always clean, reliable and operate as described. Their prices also cannot be beat. I plan to continue using them for many many more years and have also recommended to friends and family. Very Happy Customer, Bronx NYC
Porta Potty Rentals Near You

Find out where to rent portable toilets