The beautiful city of Fruitville is a cute little place with lots of history and charm. And that's why this city in Sarasota County is the perfect place for heartwarming events. Thanks to the ever-welcoming Florida weather, there's no end to residents and visitors flocking to the city's many events, festivals, and parks.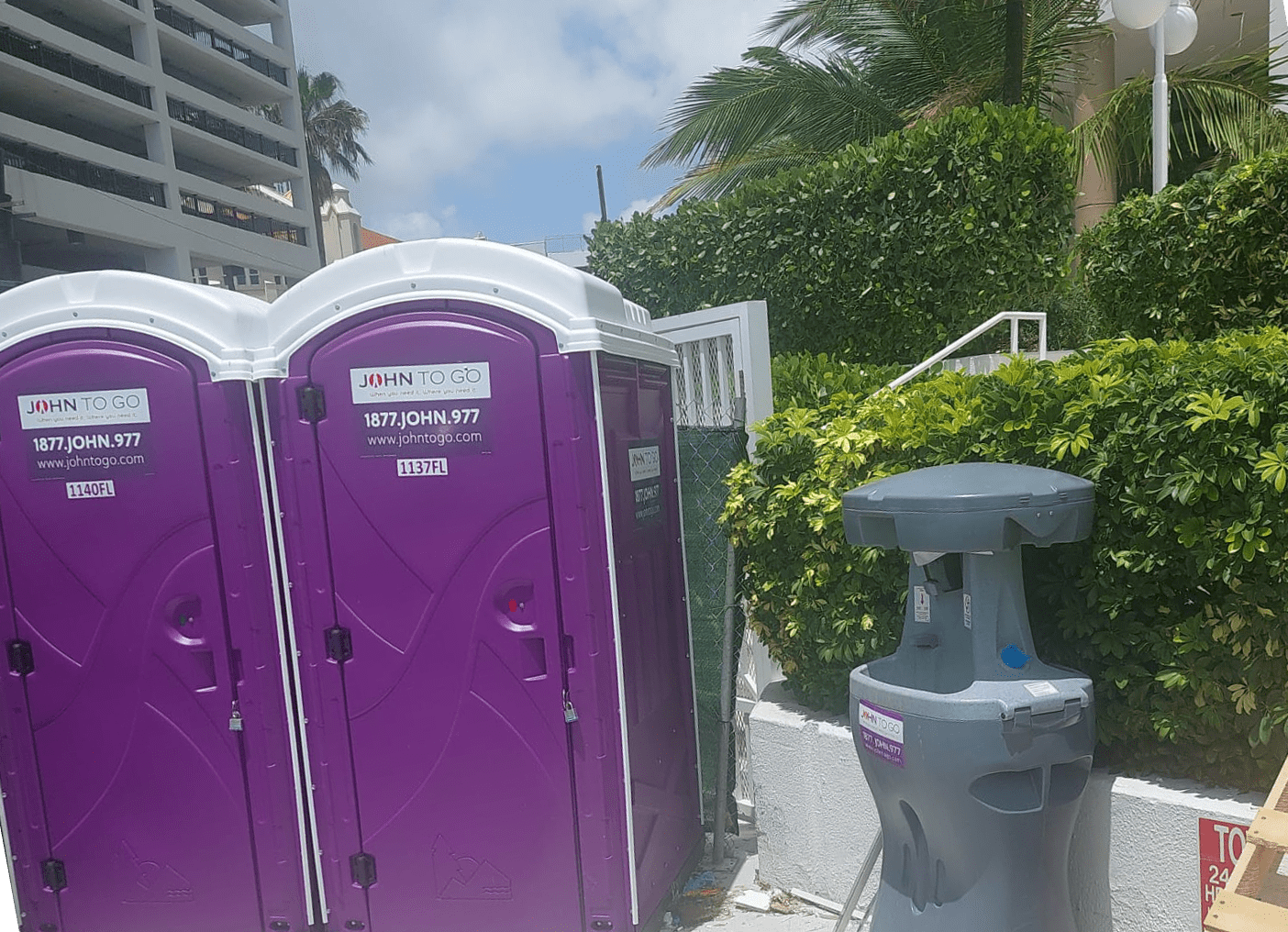 Why Choose John to Go?
But with all the excitement and activity comes the need for reliable, clean portable restrooms in Fruitville. When guests come to an event, they'll need to do their business. When visitors go to the park, they'll surely want to take a whizz. And when construction workers are on-site, they want to be able to relieve themselves. And this is where the need to rent a porta potty near Fruitville comes in.
Having an outdoor event without a porta-potty or restroom trailer can be a nightmare for your guests. Visiting the park without a porta john can dampen all the fun. And a construction site without portable toilet john can cause stress to workers. Your guests or workers shouldn't have to go out of their way to find a public restroom; this is why having easy access to Fruitville porta potty rental units at your event, park, business, or construction site can be a game-changer. And this is where we come in.
At John To Go, we have the perfect porta john rental near Fruitville, including restroom trailers for luxury outdoor events and construction sites. We have a large selection of units available in both standard and luxury models, so whatever your needs and budget are, we'll have something that will fit them!
Who Needs a Port o Potty Rental in Fruitville?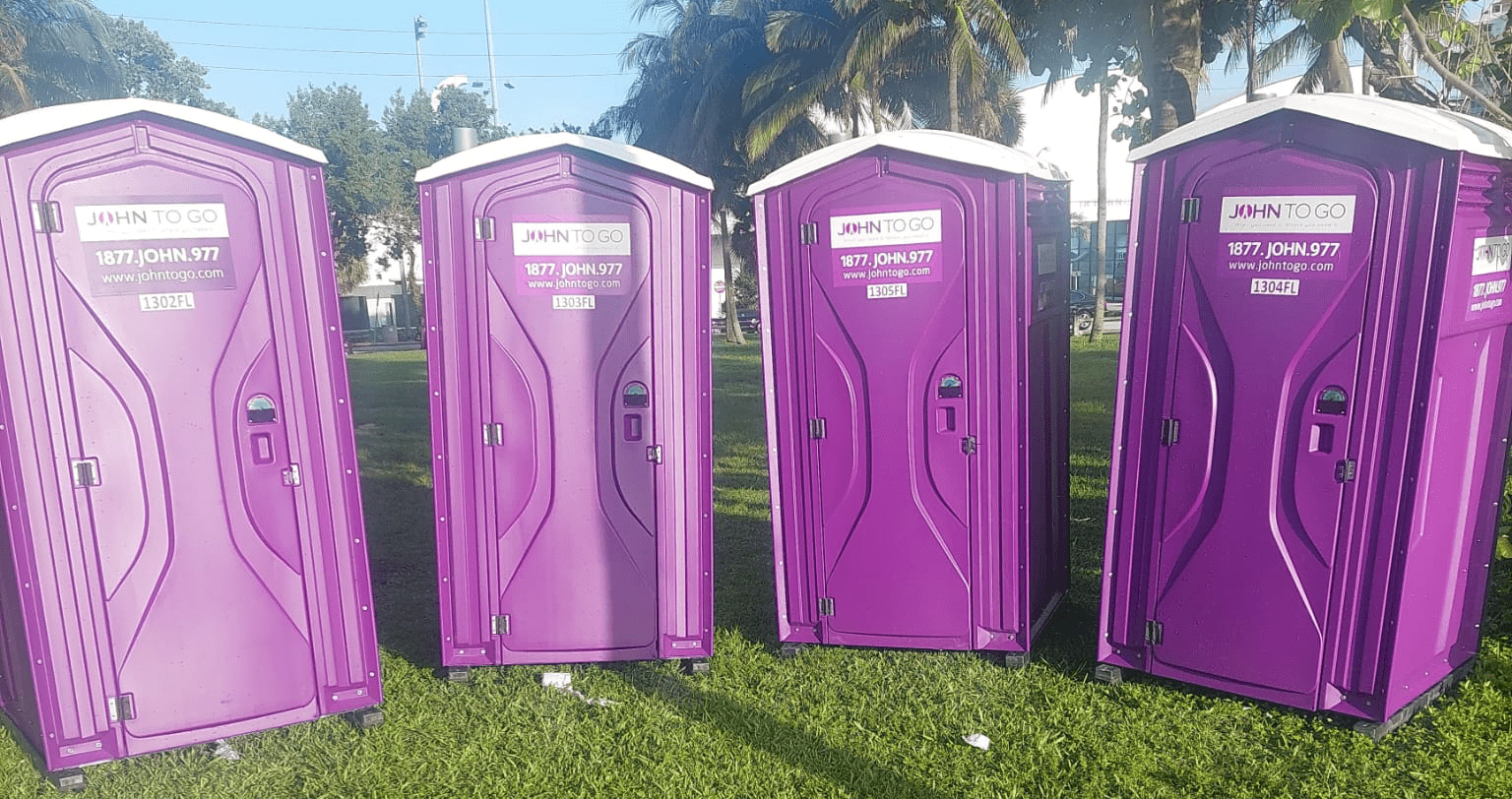 Wondering if you need to rent portable restrooms in Fruitville, Florida? Many individuals and organizations may need a portable restroom rental in Fruitville, Florida, to accommodate their crowds for short or long-term use. For example, if you're an event planner, a construction supervisor, a park manager, etc., you need a reliable company for porta potty rental near Fruitville that you can reach out to as often as relevant.
Here's a list of business types that may need a reliable portable bathroom rental in Fruitville, Florida.
1. Construction companies
Since construction sites require reliable and portable sanitary restrooms for the duration of their work, portable toilet rentals in Fruitville, Florida can be useful for construction sites with no permanent restrooms available for workers.
The standard porta potty unit for general construction is the JTG Construction Unit — durable, construction-grade quality restrooms. And for high-rise construction projects, you may opt for the John to Go Hi-Rise Unit or Lift Unit—lightweight units that can be easily lifted by cranes or lifts. Our units are regularly cleaned and maintained to meet the highest standards of cleanliness. We also offer hand washing stations and accessories to ensure your workers stay clean and hygienic.
2. Event organizers
Fruitville is the perfect place for events in Sarasota County. That's why event planners and organizers seek to find a reliable supplier for porta john rental near Fruitville. With lots of outdoor weddings, festivals, concerts, and other events, our Premium Event Unit is the perfect fit to accommodate large crowds. If you're expecting special guests, you should opt for the premium Ambassador Flush Deluxe. And if you want people to have extra space to change and get ready (such as at a wedding), restroom trailers are perfect. You can also make your events more inclusive of handicapped individuals with the ADA Handicapped Unit.
3. Property management companies
Whilea property is undergoing construction or renovations, it may not have access to a functioning bathroom. In these cases, you need to rent a porta potty near Fruitville to provide a convenient and temporary solution for workers and contractors. You can get the Construction Unit to cater to your contractors' needs. If you are operating a large area (like an Estate) where many people work simultaneously in different locations, you should get several construction units and scatter them throughout the area.
4. Sports teams and events
Fruitville is home to many parks like Payne Park, Rothenbach Park, Celery Field, etc., where a range of athletic and outdoor recreational activities can take place, ranging from football and soccer to softball and tennis. So, for sporting events, you'll usually require a portable washroom in Fruitville, Florida, or a restroom trailer for players so they can do their business, shower, and change. For the spectators and crowds, you can provide the Premium Event Unit.
5. Emergency services
Porta potty rentals can be helpful in emergencies, such as natural disasters, where there is a need for temporary restrooms. When natural disasters like hurricanes, severe storms, or tornadoes occur in Fruitville, many people may be displaced from their homes. When this happens, they will surely need a place to shower and do their business as they wait for the storm to pass and for recovery efforts to deem their homes safe to return to. And this is where getting a John to Go emergency porta potty and/or the shower restroom trailer rental in Fruitville, Florida, becomes important for those relocated for days at a time.
6. Seasonal Businesses
If you own a seasonal business like lawn care and landscaping, pool cleaning, summer camp, surf school, etc., you need to rent a porta potty near Fruitville. For instance, if you run a lawn care or pool cleaning company, the need to use the restroom can hit your workers when they least expect it. Instead of stopping at gas stations or assuming clients will let them use their restrooms, your crew should have their bathroom arrangements. So, getting portable restrooms can benefit your workers when they want to use the restroom while on the job, especially where no permanent restrooms are available.
7. Amusement parks and carnivals
Amusement parks and carnivals require porta potty rentals near Fruitville. In cases like this, you will require different porta potty units. For example, you may need a urinal porta potty designed for guests. Other porta-potty units you should install include the Premium Event Unit and restroom trailers to provide extra comfort for guests. Throwing a carnival without providing somewhere for attendees to do their business is a scenario we'd all like to avoid.
8. Beaches
Having a porta potty can make it easier and more convenient for beachgoers to use the bathroom. A porta potty rental near Fruitville is a necessary and convenient solution for providing beach bathroom facilities, helping maintain health and sanitation, and providing convenience for beachgoers.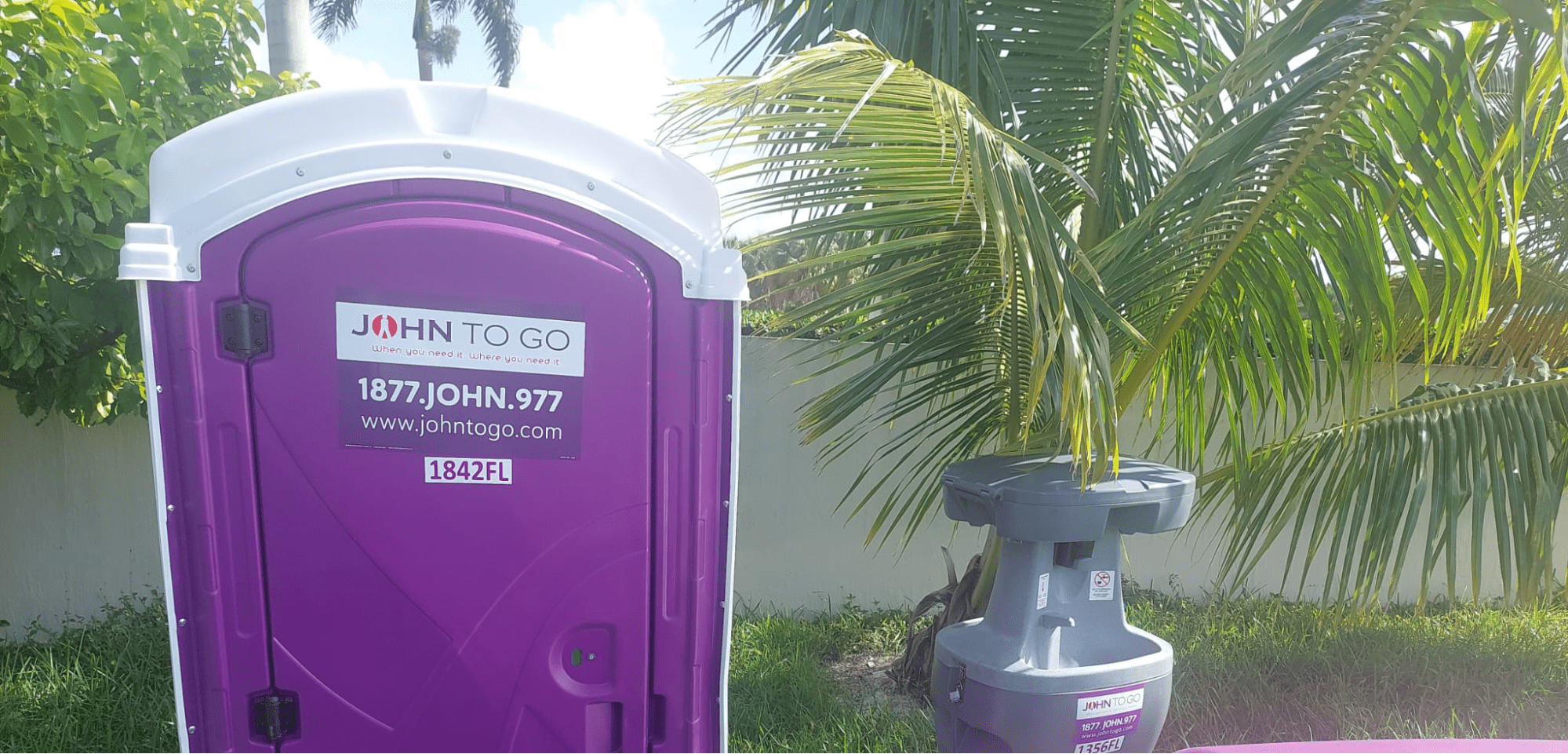 How to Choose a Fruitville Porta Potty Rental for Your Needs
When choosing the right porta potty rental for your needs in Fruitville, there are a few key factors to consider. Here are some tips to help you find a rental that suits your needs.
1. Determine the size and type of event or activity you are planning
Knowing how many people will be using a porta potty can help you choose the right number of porta potty rental units you'll need. Also, knowing the caliber of guests will help you determine the type of units to rent. For example, if you're hosting a beer festival, you will need more urinal units than if you were hosting a wedding party with the same number of guests or participants.
John To Go offers stylish porta potty units and restroom trailers that accommodate up to 1,000 people. To have an overview of the size and type of restroom trailer or porta-potty you will need for your event, you can contact us or use our unit calculator to determine how many units you need for events.
2. Think about your budget and the rental period
Porta-potty rentals are generally more affordable for more extended rental periods. So if you know you will need the units for an extended period, it may be more cost-effective to rent them long-term. For example, if you run a seasonal business, you can rent a porta potty near Fruitville that will service your location for the duration of the season.
3. Consider any additional features or amenities you may need
When choosing a Fruitville porta potty rental, it is essential to consider any additional features or amenities necessary for your event or construction project. For example, if you're hosting a large event where people come to play in the park, you might need to get hand washing stations so people can wash their hands when it gets dirty. Or if you'll be hosting an outdoor event at night, you'll need portable lighting so people can easily locate the restrooms and be safe around them.
Why Rent a Porta Potty Near Fruitville With John to Go?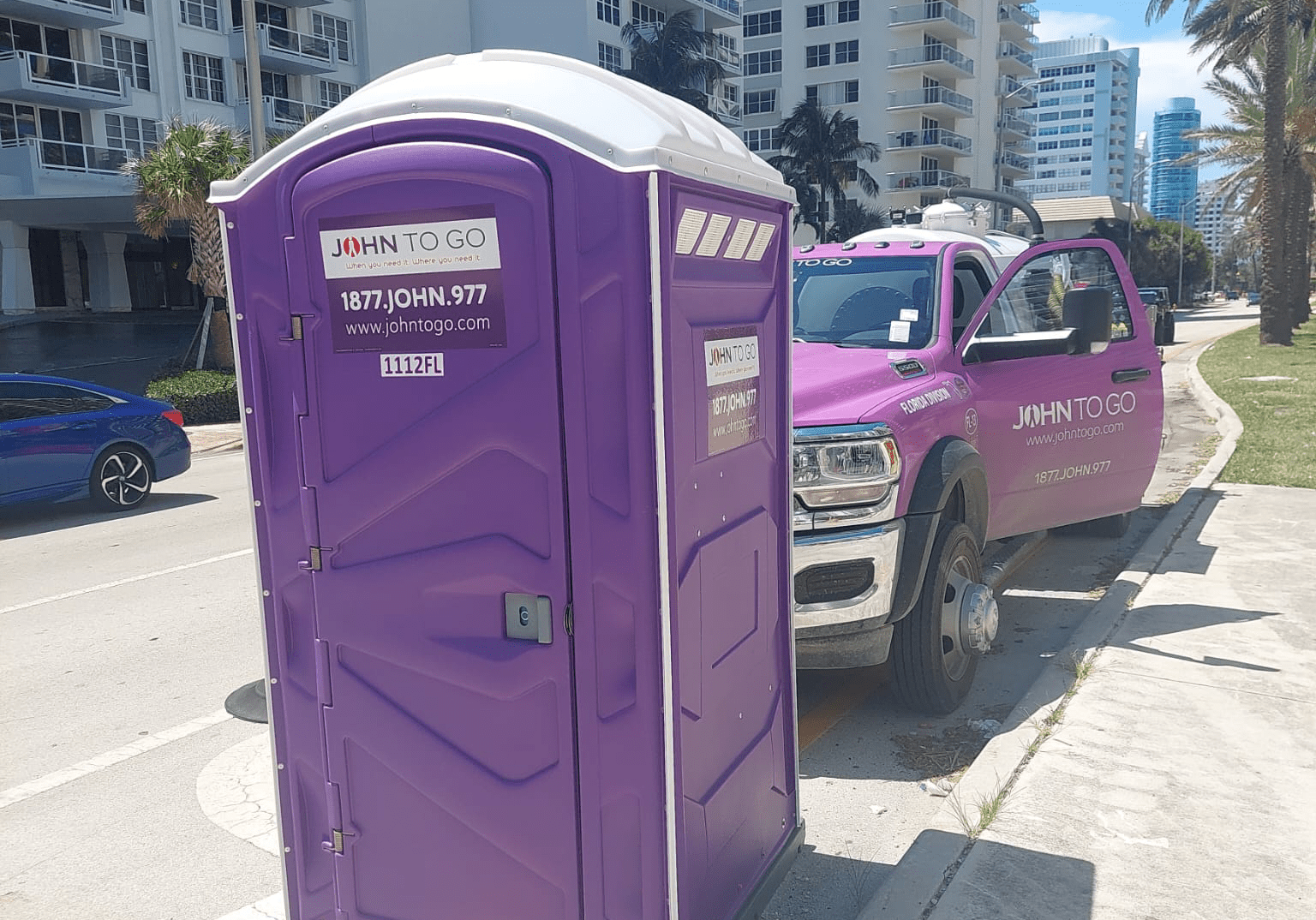 Do you need a convenient, clean, and reliable solution for portable restrooms at your upcoming event, seasonal business, or construction site? Look no further! At John to Go, we offer top-quality porta potty rentals near Fruitville that will exceed your expectations.
Here are a few key reasons why you might choose John To Go for your porta-potty rental needs in Fruitville.
1. Reliability
When you choose John To Go, you can count on us to deliver and set up your units on time and handle all maintenance and upkeep. We have a reputation for providing excellent customer service and reliable, top-quality porta potty units.
2. Cleanliness
We understand the importance of cleanliness when it comes to portable restrooms, which is why we regularly clean and maintain our units to ensure that they meet the highest standards of cleanliness.
3. Wide range of options
We offer a wide range of options for porta-potty rentals, including different sizes and styles to suit your needs. Our team can help you find the perfect fit for your event or construction project.
4. Flexible rental periods
We offer flexible rental periods to meet your needs, whether you require a short-term or long-term rental. Our team can help you find the perfect balance between your needs and budget.
5. Customization
We offer a range of options for customizing your porta-potty rental to suit your specific needs. You can select from different styles, sizes, and accessories. Our team works with your schedule to set up, service, and pick up according to your timing and needs.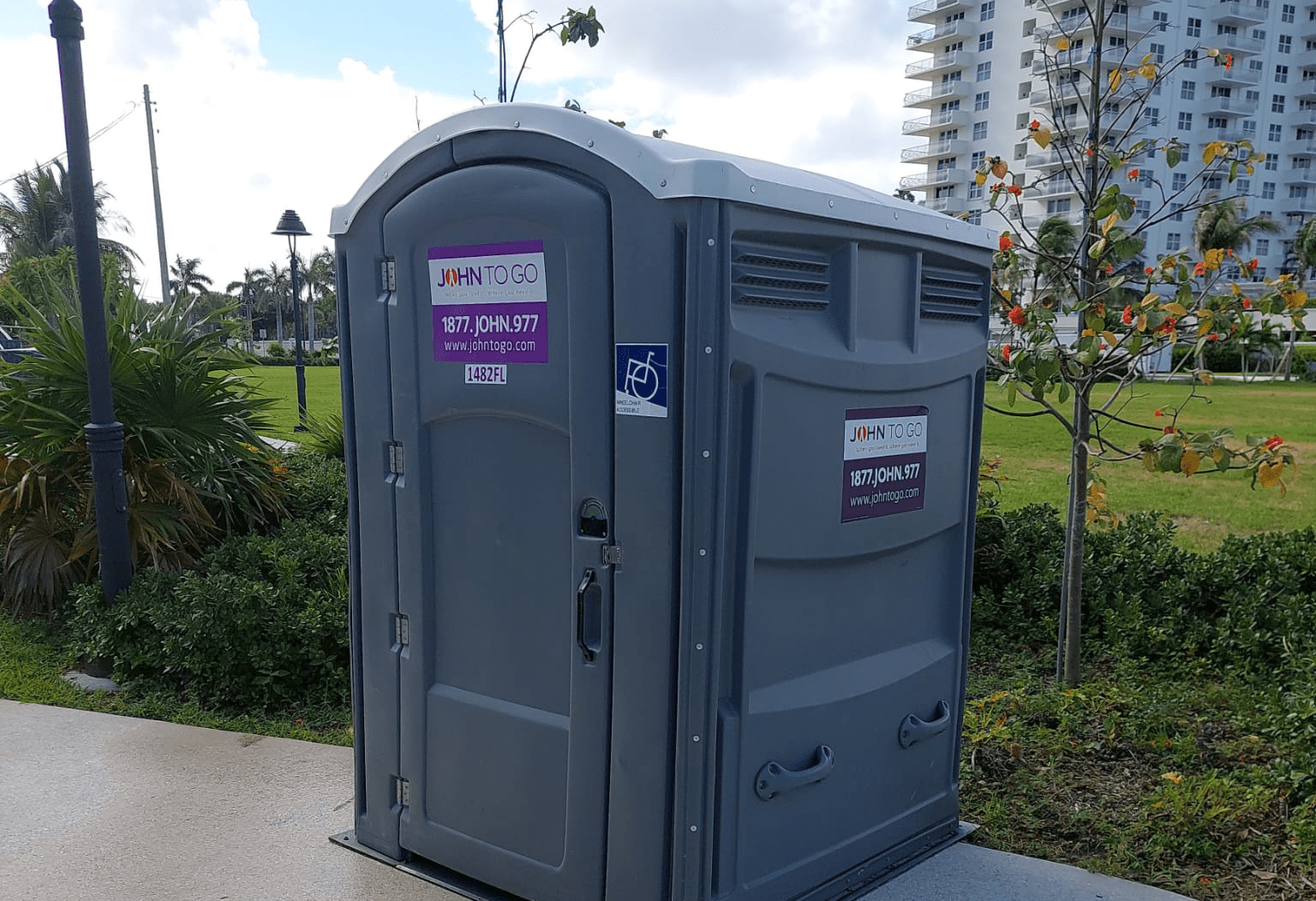 Don't Wait Any Longer; Choose John To Go Today!
When renting portable restrooms near Sarasota, you want a company you can trust. John To Go has been providing quality porta potties for decades. And in the process, we have built ourselves a reputation for providing excellent customer service and spotless units.
If you're hosting an outdoor event, such as a wedding, festival, or sports tournament, you know how important it is to have clean and accessible restrooms for your guests. Whether you rent several purple porta potties, our premium deluxe unit, or luxurious restroom trailers, you can feel confident knowing that your guests will benefit from a comfortable and sanitary restroom experience.
We understand that finding the right porta john rental company in Fruitville, Florida is important to you, which is why we offer a wide range of options and a knowledgeable team to assist you in making the best decision for your needs. We can provide the perfect solution for your portable restrooms, so don't hesitate to contact us for more information or to request a quote!
CHOOSE FROM OUR EXTENSIVE SELECTION OF PORTA POTTY RENTALS
Fruitville Porta Potty Rental FAQs
1. How do you clean your portable toilets?
Portable toilets are typically cleaned using high-pressure water and a disinfectant solution. The inside of the unit is thoroughly sprayed with the cleaning solution and rinsed with water. The exterior is cleaned and disinfected. Once the unit is clean, it's restocked with toilet paper and hand sanitizer supplies.
2. How often do you empty a Porta Potty?
The frequency of emptying a porta potty will depend on the size of the unit and the amount of use it receives. Generally, standard units should be emptied every 100-150 uses or about once a week for a unit in constant use.
3. How do you empty a Porta Potty?
Porta potties are designed to be self-contained and easy to service. The waste is stored in a holding tank inside the unit and emptied by our sanitary professionals. The process typically involves attaching a hose to the tank and emptying the contents into a larger holding tank or truck, which is then transported to a treatment facility.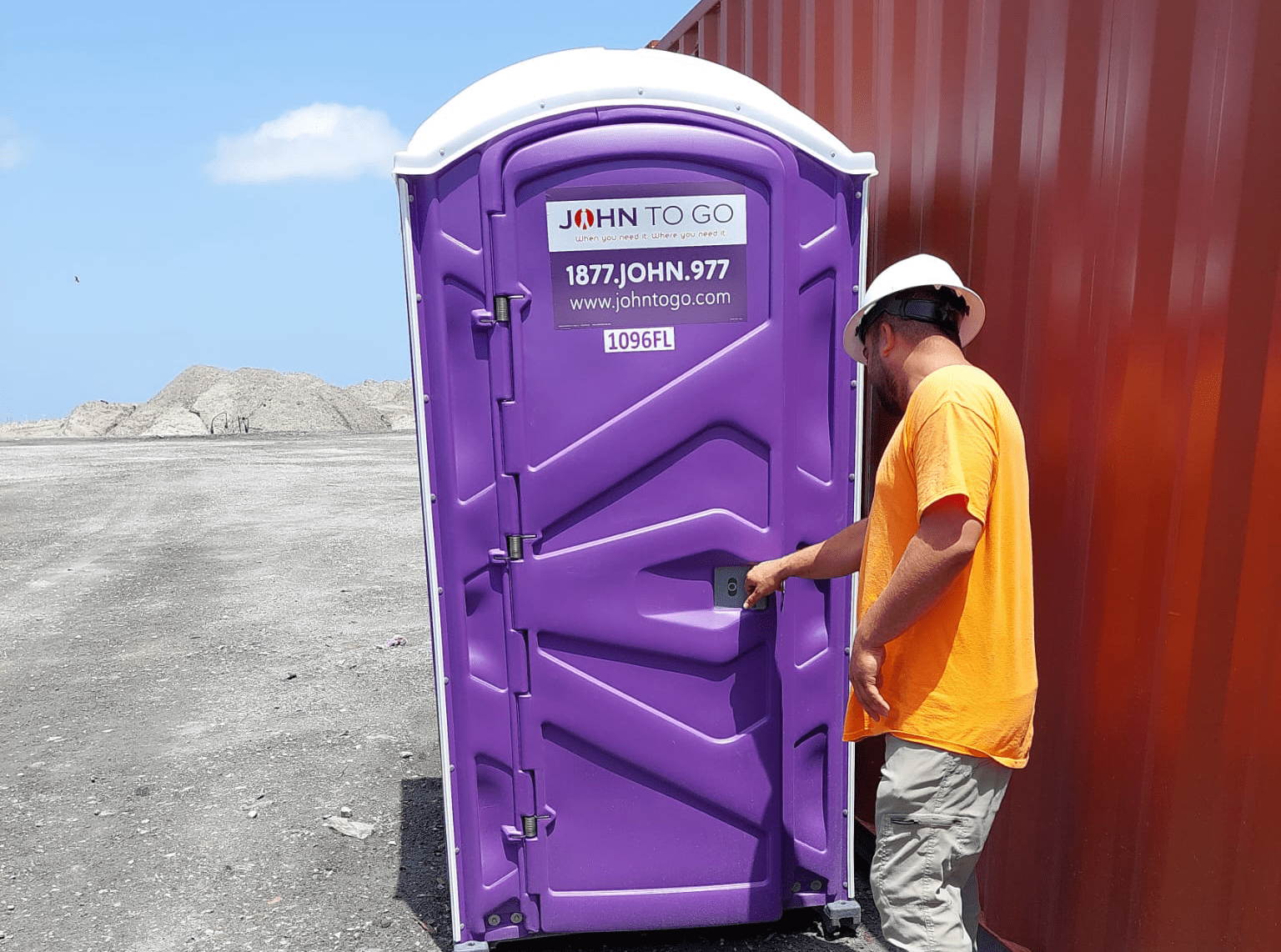 (305) 722-5149
AREAS WE SERVICE NEAR FRUITVILLE:
Bee Ridge
Desoto Acres
Englewood
Gulf Gate
Kensington Park
Lake Sarasota
Lakewood Ranch
Laurel
Longboat Key
Nokomis
North Sarasota
Old Miakka
Osprey
Palmer Ranch
Pinecraft
Ridge Wood Heights
Sarasota Springs
Siesta Key
South Gate Ridge
South Sarasota
South Venice
Southgate
The Meadows
Vamo
Venice
Venice Gardens
Warm Mineral Springs
HEAR FROM OUR CUSTOMERS:
Tom Talamini
Special Event - November 10, 2020
5 STAR SERVICE! The staff were friendly and professional. The delivery was on time as well as the pick-up. Bathroom trailer we rented was spotless, smelled nice and was fully stocked with extra paper towels, toilet paper and soap. Bathrooms were nicer than my house bathrooms. Wanted to keep the trailer. All my guests were in AWE of the quality of the bathrooms. Highly recommended.
Joanne De Simone
Special Event - November 06, 2020
This company has the absolute best customer service I've ever had the pleasure of experiencing. They are friendly and super responsive. Just a pleasure to do business with. I can't wait to use their services for my next event!
David Collado Bronx NYC
Special Events, August 15, 2018
Been using John to Go services for the past 10 (+) years for our annual block party celebration in my neighborhood, they are friendly, professional, their products are always clean, reliable and operate as described. Their prices also cannot be beat. I plan to continue using them for many many more years and have also recommended to friends and family. Very Happy Customer, Bronx NYC
Porta Potty Rentals Near You

Find out where to rent portable toilets